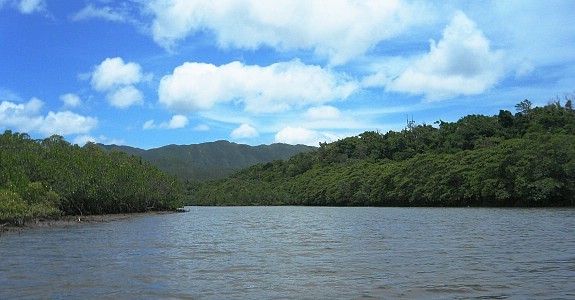 Iriomote Island (西表島, Iriomotejima) is Okinawa's second largest island. Largely undeveloped, nearly 90 percent of the island is covered by dense jungle and mangrove forests, much of which makes up the Iriomote National Park, the southernmost of Japan's national parks.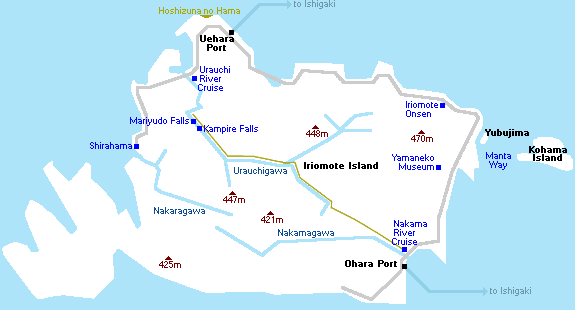 The island's attractions are based around tours to Iriomote's abundant nature including sea and river kayaking, fishing and sailing. Other activities can be enjoyed either on tours or individually such as beaches, snorkeling and various hiking trails, the most challenging of which is a 20 kilometer path through the interior of the island which should only be tackled by experienced and well prepared hikers.
| | |
| --- | --- |
| Kayaking tour to the interior of the island | A mangrove lined river |
Iriomote is also a popular scuba diving destination especially at Manta Way, the strait between Iriomote and nearby Kohama Island, where schools of manta rays congregate in spring and summer. Diving tours are available for all skill levels.
The island is also home to the Iriomote Yamaneko, a type of wildcat, which was discovered in 1965 and is only found on Iriomote Island. The chances of encountering an Iriomote Yamaneko are low as the nocturnal, house cat sized animal is an endangered species that is thought to number less than 100 individuals.
The reef around Hoshizuna Beach
River Activities
Most of the island's interior is covered in dense jungle accessible by a number of rivers that head inland from the sea. Jungle boat cruises are organized on the island's two longest rivers, the Urauchigawa (Urauchi River) and Nakamagawa (Nakama River), and guided kayak tours operate on both of those as well as many of the smaller rivers around the island.
Urauchi River Cruise
Boat Departures: 9:00 to 15:30
Closed: No closing days
Fee: 1800 yen
Urauchi River is the largest river on Iriomote and is found near Uehara Port on the north western side of the island. The hour long cruises travel along the Urauchi River to a trailhead from where it is a 45 minute walk through the jungle to two beautiful waterfalls. Guides only speak Japanese, although an English pamphlet is provided.
Nakama River Cruise
Boat Departures: boats depart only during high tide
Closed: No closing days
Fee: 1540 yen
The Nakama River Cruises start in the south of the island in Ohara and travel inland to a large mangrove tree where you can get off and walk around for a few minutes before catching a return boat. The hour long cruise has Japanese speaking guides who describe the river and mangrove trees along the way.
Kayak River Tours
Fee: around 6000 yen for a guided 3-hour tour
Kayak tours are offered on the mangrove lined Urauchi and Nakama Rivers as well as many of the smaller rivers around the island. Each river has one or two companies operating on it, with 2-hour guided tours starting at about 4000 yen per person (reservations should be made in advance). Unguided kayak rentals are also available on Urauchi and Nakama Rivers as well as a few of the smaller rivers.
Beaches
Iriomote has its share of beautiful beaches which offer swimming, snorkeling and diving opportunities. Most of the beaches around Iriomote do not have any public facilities, and some of them can only be reached by boat as the island's coast is only partially accessible by car.
When using the beaches always beware of strong currents that can pull you out to sea and poisonous creatures such as Habu Jellyfish, a type of box jellyfish, that are most prevalent from June to October. Signs in English inform about the dangers while some beaches have netted off swimming areas. Although stings are rare, if stung you should pour vinegar over the sting, remove any tentacles, and seek medical help as it may become life threatening.
Hoshizuna no Hama
Admission: Free, no parking fees
Hoshizuna no Hama means star sand beach, and is so named because the grains of sand found here are shaped like tiny stars. However, the sand is actually the skeletons of small one-celled organisms that live among the sea grass. This beach offers great snorkeling and swimming, but is rather shallow during low tide. There are no public facilities at the beach besides the parking lot.
Other Attractions
Yubujima Suigyu Cart Ride
Hours: 9:00 to 17:00
Closed: No closing days
Fee: 1400 yen includes entry to the islands botanical garden
Yubujima is a small island separated from Iriomote by a shallow, sandy strait. Water buffalo take carts filled with visitors to the island where there are restaurants, souvenir shops and a botanical garden. The cart rides are interesting, if not touristy, and some cart drivers describe the island's history and play the sanshin (Okinawan stringed instrument).
Yamaneko Museum (Iriomote Wildlife Conservation Center)
Hours: 10:00 to 16:00
Closed: Mondays, Dec 29 to Jan 3, days following national holidays, and June 23
Fee: Free
This museum serves also as a refuge for Iriomote Yamaneko that are rescued after being injured by cars. The wildcats can only be viewed through a live video feed, while the rest of the museum has displays on the ecology of the Yamaneko and other animals found on the island. English explanations are provided throughout the museum.