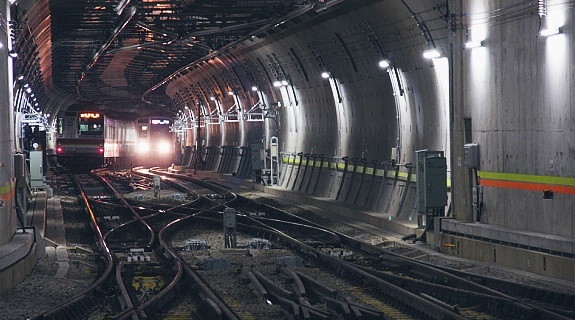 Tokyo Metro (formerly known as Eidan) is one of Tokyo's two subway operators. It runs nine of the metropolis' thirteen subway lines, while Toei operates the other four.
While the nine Tokyo Metro lines provide access to many of Tokyo's city centers and tourist attractions, they alone do not provide the perfect solution for getting around Tokyo. Instead, they are best used in combination with the Toei subway lines and the urban JR lines, especially the JR Yamanote Line.
Simplified Network Map of Tokyo Metro:
(move cursor over subway line name to highlight a single line)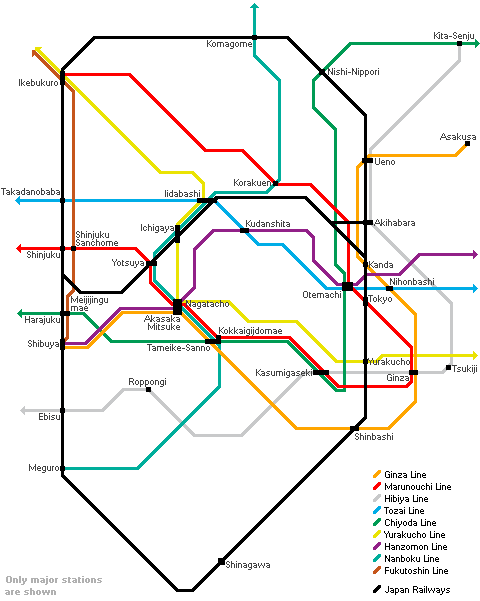 To provide more convenient connections between the suburbs and the city center, several Tokyo Metro lines provide through service onto other companies' railway lines rather than terminating at their final stations:
Hibiya Line: to Tobu Isesaki Line and Tokyu Toyoko Line
Tozai Line: to JR Sobu Line, Toyo Rapid Railway and JR Chuo Line
Chiyoda Line: to JR Joban Line and Odakyu Railway
Yurakucho Line: to Tobu Tojo Line and Seibu Ikebukuro Line
Hanzomon Line: to Tokyu Denentoshi Line and Tobu Isesaki Line
Nanboku Line: to Tokyu Meguro Line and Saitama Rapid Railway
Fukutoshin Line: to Tobu Tojo Line, Seibu Ikebukuro Line and Tokyu Toyoko Line
Fares:
Tokyo Metro fares range from 170 to 310 yen depending on how far you travel. A one day pass for unlimited use of Tokyo Metro on one calendar day is available for 710 yen, but note that special passes for visitors are sold at Narita Airport and Haneda Airport for only 600 yen for a 1-day version and 980 yen for a 2-day version.
A day pass valid on both Tokyo Metro and Toei subway lines is available for 1000 yen, but note that a special ticket for tourists, the Tokyo Subway Ticket, is sold at Narita Airport and Haneda Airport for 800 yen for a 1-day pass, 1200 yen for a 2-day pass and 1500 yen for a 3-day pass.
Suica and Pasmo prepaid cards, as well as eight IC cards from other major cities of Japan, can be used on Tokyo Metro. However, the Japan Rail Pass is not valid on subways, because subways are not operated by JR.
Any Questions? Ask them in our question forum.