Haneda Airport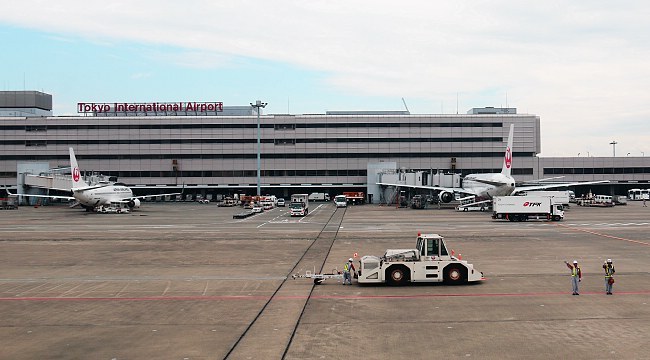 Haneda Airport (羽田空港, Haneda Kūkō, HND), formally known as Tokyo International Airport, is located less than 30 minutes south of central Tokyo, considerably closer to the city center than Narita Airport, Tokyo's other airport. Compared to Narita Airport, Haneda Airport handles way more domestic flights, but fewer international flights. With over 60 million passengers per year overall, Haneda Airport is by far Japan's busiest airport and ranks among the world's five busiest airports.
Haneda Airport was opened in 1931. In 1978, the then newly constructed Narita Airport took over most of Tokyo's international air traffic, while Haneda Airport was designated to handle the capital's domestic air traffic. Haneda Airport resumed handling an increased number of international flights in 2010 with the completion of a new runway and a new international terminal building; however, most international flights (except those to nearby Asian destinations) were banned to often inconvenient early morning and late evening slots.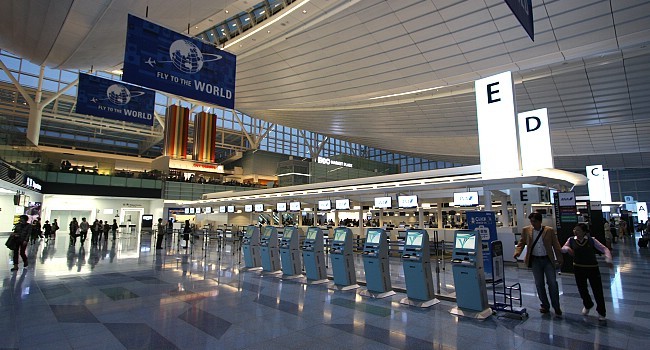 In 2014, the international terminal was increased in size by 50 percent, and the airport started handling a certain amount of intercontinental flights during the more convenient daytime hours. In addition, the "Royal Park Hotel The Haneda" was opened inside the international terminal building. One part of the hotel is inside the transit zone, allowing transit travelers to overnight without passing immigration.
Domestic flights use the airport's two other terminals: terminal 1 is mainly used by JAL, while terminal 2 is mainly used by ANA. Free shuttle buses operate frequently between all terminal buildings (outside of the security check). Transit passengers between the domestic and international terminals may also use the monorail or Keikyu Railway for free if they get a special transit pass at the information counter. In addition, ANA and JAL operate direct buses for checked-through passengers between the secure areas of the international and their respective domestic terminals to further reduce transit times.
How to travel between Haneda Airport and Tokyo Station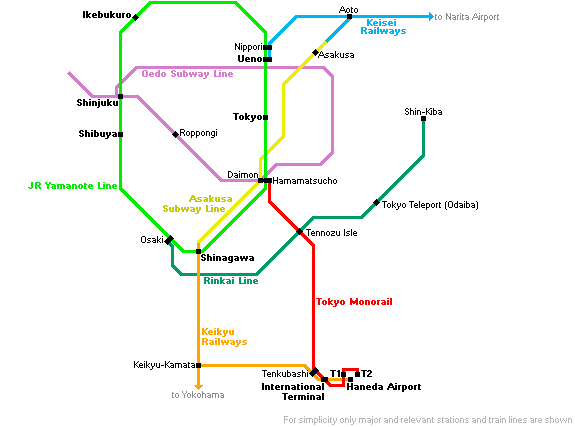 By Tokyo Monorail
1 transfer, 30 minutes, 650 yen, frequent connections
Take the JR Yamanote or JR Keihin-Tohoku Line from Tokyo Station to Hamamatsucho Station (5 minutes, 160 yen) and transfer to the Tokyo Monorail to Haneda Airport (20 minutes, 490 yen).
By Keikyu Railways
1 transfer, 35 minutes, 580 yen, frequent connections
Take the JR Yamanote or JR Keihin-Tohoku Line from Tokyo Station to Shinagawa Station (10 minutes, 170 yen) and transfer to the Keikyu Airport Line to Haneda Airport (20 minutes, 410 yen).
By limousine bus
Direct, 25-45 minutes, 930 yen, 1-2 connections per hour
Limousine buses to Haneda Airport depart Tokyo Station every 30 to 60 minutes. Depending on the traffic situation, the one way journey usually takes between 25 and 35 minutes and costs 930 yen.
Above fees refer to transportation to/from the international terminal. Fees to the domestic terminals may be slightly higher. The fees and schedules are subject to change. For the current yen exchange rate, click here.
Means of access to/from Haneda Airport
Keikyu Railways
15 minutes, 410 yen to Shinagawa Station
First arrival at 5:29; last departure at 0:01
Keikyu Railways connects Haneda Airport with Tokyo's Shinagawa Station and the Asakusa Subway Line, as well as Yokohama and Kanagawa Prefecture.
Keikyu offers discount ticket packages to arriving tourists that combine the Keikyu ride from the airport to central Tokyo with day passes for the subway lines by Tokyo Metro and/or Toei.
Limousine Bus
30-80 minutes, 620-2000 yen to various places in central Tokyo
First arrivals around 4:30; last departures around 1:00
Multiple bus companies offer connections to various places in Tokyo and neighboring prefectures, including direct connections to major hotels.
Taxi
A taxi ride into central Tokyo typically costs between 5,000 and 11,000 yen depending on the destination and time of the day (there is a surcharge during late night; typically 20% between 10pm and 5am).
Late night and early morning flights
Many international flights arrive and depart in the early morning (between 4am and 6am) and the late evening (between 10pm and 2am). Travelers with flights arriving after 10pm or departing before 7am should note that public transportation to/from central Tokyo does not run 24 hours and are advised to use a hotel at the airport. Taxis remain available, but are a relatively expensive option with fares to central Tokyo costing between around 6,000 (Shinagawa area) and 11,000 (Ikebukuro area) yen in the late evening and early morning.
Late night transportation
The Tokyo Monorail and Keikyu Railways stop operation shortly after midnight. The last services still provide a connection to the JR Yamanote Line at Hamamatsucho Station and Shinagawa Station respectively, from where the Yamanote Line can take you to most of Tokyo's main districts, including Shinjuku, Shibuya, Ikebukuro and Tokyo Station by around 1am. But note that many hotels do not allow late-hour check-ins.
Airport bus companies operate a few late-night connections from Haneda Airport's international terminal to various places in Tokyo and Yokohama until around 2am, but note that they are more expensive than buses departing before midnight (typically twice the regular fare). Places connected by these late-night buses include Tokyo Station, Ginza, Akihabara, Shinjuku, Shibuya, Ikebukuro, Shinagawa and Yokohama Station.
Early morning transportation
The first connections to the airport by the Tokyo Monorail and Keikyu Railways arrive at the international terminal around 5:15 and 5:30 respectively, while early morning buses from central Tokyo and Yokohama start arriving around 4:30. Places connected by these early-morning buses include Tokyo Station, Ginza, Akihabara, Shinjuku, Shibuya, Ikebukuro, Shinagawa and Yokohama Station.
Hotels around the airport
Haneda Airport's international terminal is open 24 hours and could serve vigorous budget travelers as a place to spend their first or last night. Two hotels are located inside the domestic terminals of the airport and one hotel in the international terminal. Note that buses, monorails and trains stop running between the terminals around midnight, and that it is not possible to walk between the international and domestic terminals. A taxi ride between the international and domestic terminals costs around 1500 yen:
Accessible in a short train or taxi ride (1500 to 2000 yen) from the international terminal building are a few hotels around the Otorii and Anamori-Inari Stations of the Keikyu Airport Line: