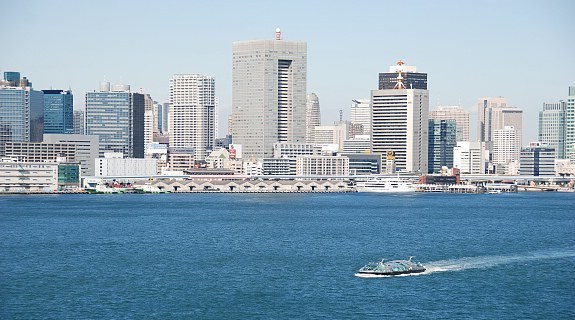 Located on a bay and having rivers as convenient transportation routes, Tokyo has a few ferry companies that tourists may find useful. The Water Bus (水上バス, Suijō Basu) services are an enjoyable alternative to trains or subways when traveling between destinations that are near the water.
The locations that are most notably convenient for water bus access are the man made islands of Tokyo Bay, especially the Odaiba shopping and entertainment district. Many water buses also travel along the Sumida River, one of the city's most famous rivers. The many bridges that span the river have each been designed differently. Boats along the river provide access to Asakusa and Ryogoku.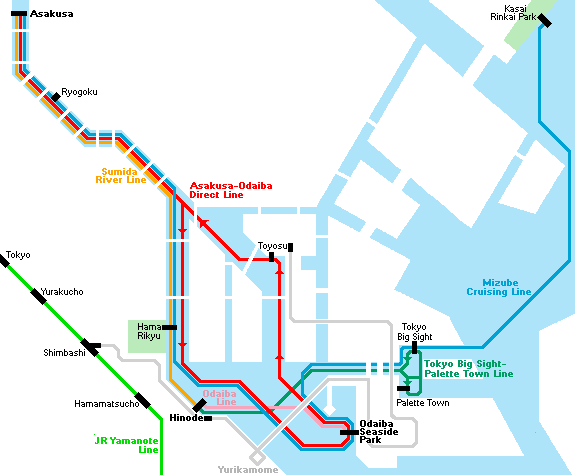 Most of the water buses are operated by the Tokyo Cruise Ship Company. The Asakusa-Odaiba Direct Line (50 minutes, 1560 yen, 2-4 boats per day) is one of the most popular routes because of its boldly designed Himiko boats with panoramic windows. The boats do not run on the second Tuesday and Wednesday of each month (except for August).
The Sumida River Line runs from Asakusa to Hama Rikyu garden (35 minutes, 980 yen, 1-2 boats per hour). The dock at Hama Rikyu is located within the garden's paid grounds, and admission to the garden is included in the price of the boat ticket. After Hamariku, the boats then travel a further five minutes to the Hinode Pier (40 minutes, 780 yen from Asakusa), where a transfer can be made to boats bound for Odaiba. Note that Hama Rikyu is not served by boats in direction of Asakusa.
The Odaiba Line travels from Hinode to Odaiba Seaside Park (20 minutes, 480 yen, about two boats per hour). The Tokyo Big Sight-Palette Town Line travels to both the Tokyo Big Sight and Palette town attractions (about 25 minutes, 410 yen, 5 boats per day), but two boats per day only travel to Tokyo Big Sight and none of the boats run on Mondays and Tuesdays (except in the case of national holidays).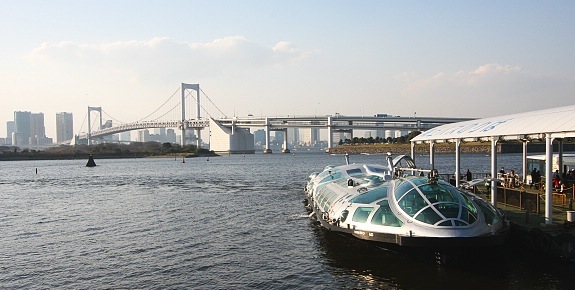 Some other convenient water bus lines are operated by the Tokyo Metropolitan Park Association. The Mizube Cruise Line travels from Ryogoku on the Sumida River to Odaiba (1 hour, 1130 yen, about 3 boats per day). The boats also stop at Hama Rikyu garden, where disembarking requires paying the garden's entrance fee (300 yen). On most days, there is one boat which connects Ryogoku, Asakusa, Odaiba and Kasai Rinkai Park (2 hours and 1650 yen from Ryogoku, 50 minutes and 1130 yen from Odaiba).
There are some other cruises available that include lunch or dinner so that customers can enjoy a meal on the water. These cruises usually take about two hours and make a round trip that ends at the departure point. Prices depend on the meal and typically vary from 6,000 to 15,000 yen.