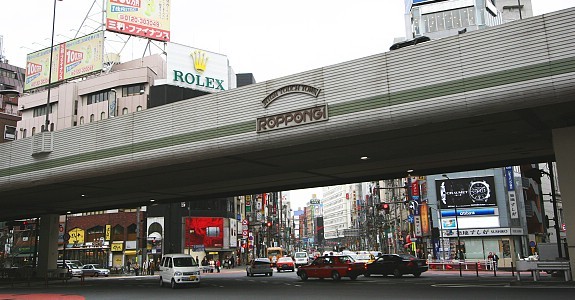 Roppongi (六本木, lit. "six trees") is a district in Tokyo that is well known as the city's most popular nightlife district among foreigners, offering a large number of foreigner friendly bars, restaurants and night clubs. Roppongi and the surrounding districts of Azabu, Hiroo and Akasaka are home to many embassies and a large expat community.
Two of Tokyo's largest recent redevelopment projects, Roppongi Hills and Tokyo Midtown changed the district's face over the past decade and expanded Roppongi's appeal to a wider range of visitors and residents with their elegant retail, leisure and residential space, offices and luxury hotels.
Thanks to the appearance of several art museums, Roppongi has also developed a reputation as a cultural center. The National Art Center is Japan's largest art museum, and together with Roppongi Hills' Mori Art Museum and Tokyo Midtown's Suntory Museum of Art form the "Art Triangle Roppongi".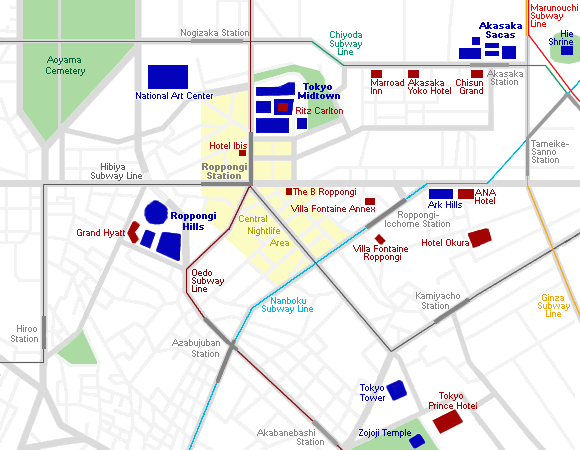 Tokyo Midtown (more details)
Another city within the city, Tokyo Midtown was opened in 2007 and offers similar residential, commercial and entertainment facilities as Roppongi Hills. The complex also has a museum, the Suntory Museum of Art, as well as stylish shops and restaurants. The top floors of the 248 meter Midtown Tower, the tallest building in Tokyo, make up the Ritz-Carlton Tokyo, one of the city's best hotels.
National Art Center Tokyo
Open: 10:00 to 18:00 (some exhibitions open until 20:00 on Fridays)
Admission ends 30 minutes before closing
Closed: Tuesdays (or following day if Tuesday is a national holiday),
mid December to early January
Admission: Varies with each exhibition
Opened in early 2007, the National Art Center Tokyo (Kokuritsu Shin-Bijutsukan) is Japan's largest art museum. The museum maintains no permanent collection, but rather provides a venue for various, temporary exhibitions.
Roppongi Nightlife
Roppongi has been a popular nightlife district among foreigners for decades. Unlike other entertainment districts in Tokyo, it offers many restaurants, bars and clubs, which are easily accessible for foreigners or even cater specifically to the expat community.