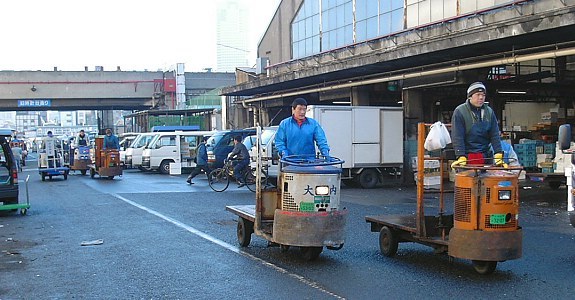 Tsukiji Market (築地市場, Tsukiji Shijō) is a large wholesale market for fish, fruits and vegetables in central Tokyo. It is the most famous of over ten wholesale markets that handle the distribution of fish, meat, produce and flowers in Tokyo. Tsukiji Market is best known as one of the world's largest fish markets, handling over 2,000 tons of marine products per day. It is scheduled to move to a new site in Toyosu in November 2016.
The sight of the many kinds of fresh fish and other seafood and the busy atmosphere of scooters, trucks, sellers and buyers hurrying around, make Tsukiji Market a major tourist attractions. In fact, the numbers of visitors have increased so much over recent years, that they have become a problem to the course of business, as the aging market's infrastructure was not anticipated to serve as a tourist spot.
Tsukiji Market consists of an inner market where most of the wholesale business and the famous tuna auctions are taking place, and an outer market whose retail shops and restaurants cater to the public. A few restaurants are also found in the inner market. In order to avoid interference with business, different rules should be followed when visiting the different areas of the market:
A basic map of Tsukiji Market: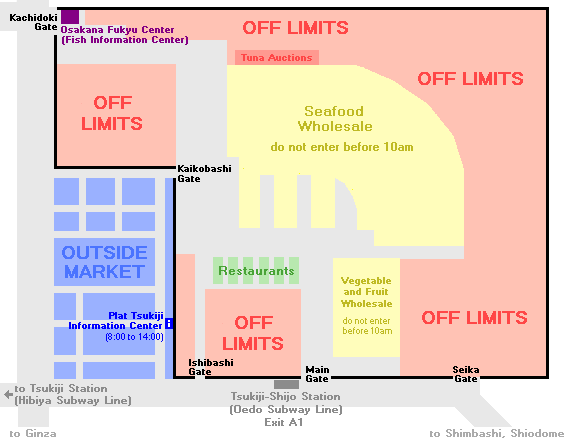 Visiting the tuna auction
The number of visitors to the tuna auction is limited to 120 per day, the maximum number which the market's infrastructure can accommodate. Tourists, who wish to see the auction, have to apply at the Osakana Fukyu Center (Fish Information Center) at the Kachidoki Gate, starting from 5:00am (or earlier on busy days) on a first-come, first-serve basis. A first group of 60 visitors will be admitted to the auction between 5:25 and 5:50, while a second group of 60 visitors will be admitted between 5:50 and 6:15.
Visitors usually start lining up hours before 5am, and the maximum number is likely to be exceeded, in which case later arriving visitors will not be able to see the auction. Successful applicants will be able to view the auction from a designated visitor area. It is not allowed to view the auction from anywhere else or to use flash photography or to interfere with the business action in any other way.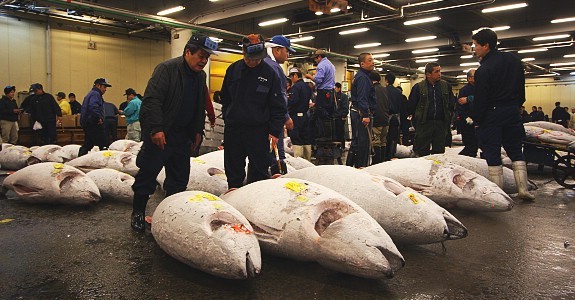 Tuna Auction
Visiting the wholesale area
The wholesale area consists of hundreds of small stands in a large, crowded hall, where buyers and sellers hurry along narrow lanes with their carts and trucks. It is an exciting area for tourists to view and photograph the fish and the action, but it is also an area where tourists are likely to interfere with the professionals at work.
Consequently, in order to prevent accidents and interference with business, tourists are not allowed into the wholesale area before 10am, when the peak of the business activities take place. Even when visiting after 10am, tourists are asked to refrain from bringing any luggage into the market and to be constantly alert of what is happening around them to avoid blocking traffic.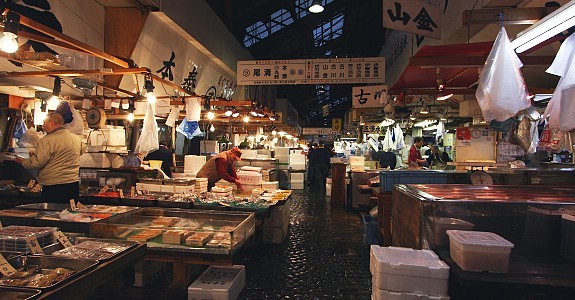 Wholesale Area
Visiting other areas of the market
Instead of visiting the inner market, tourists are encouraged to visit Tsukiji's outer market, which is located just adjacent to the inner market and caters to the public. The outer market consists of a few blocks of small retail shops and restaurants crowded along narrow lanes. Here you can find all sorts of food related goods, knives and fresh seafood and produce for sale in smaller (than wholesale) portions.
A visit to Tsukiji Market is best combined with a fresh sushi breakfast or lunch at one of the local restaurants. There are restaurants both in the inner and outer market area, which are typically open from 5:00 in the morning to around noon or early afternoon.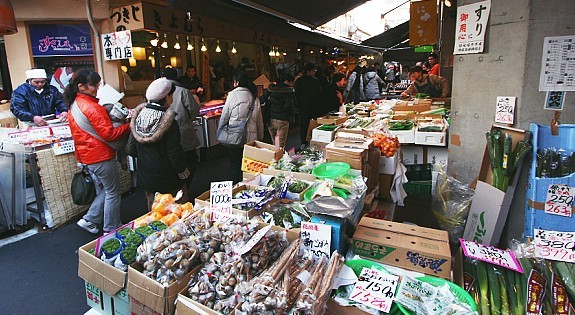 Outer Market
A few more general rules for visiting Tsukiji Market
Since Tsukiji Market is a site where serious business is conducted, it is important for visitors not to interfere with the action by adhering to the following additional rules:
| | |
| --- | --- |
| | Do not enter areas restricted to authorized personnel! |
| | Do not obstruct traffic! |
| | Do not bring large bags or suitcases into the market! |
| | Do not enter the market in high heeled shoes or sandals! |
| | Do not bring small children or pets! |
| | Do not smoke in the market! |
| | Do not touch anything! |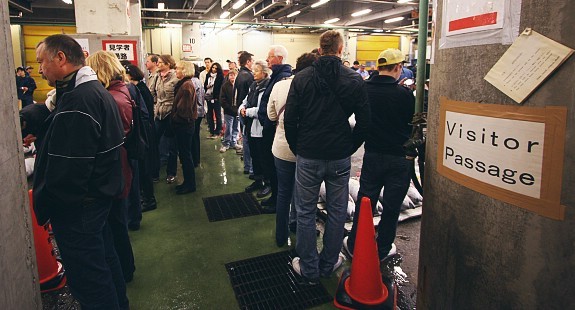 Visitor area for viewing the tuna auction