Aquariums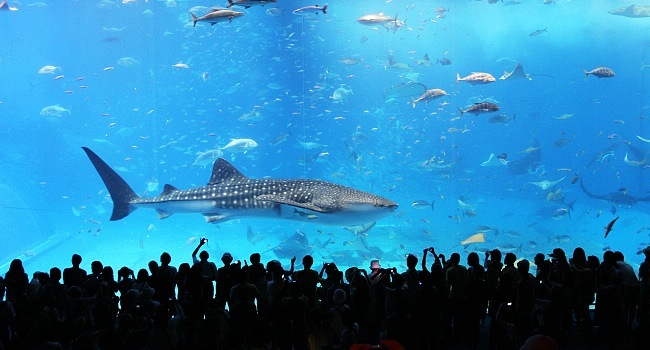 As an island country, Japan has a history and culture that are inseparably tied to the sea. Not surprisingly, aquariums are both numerous and popular attractions found across the country. Many of these are modern facilities, with new aquariums still being built and older ones renovated, which typically feature a large main tank as well as some focus on local marine and aquatic habitats.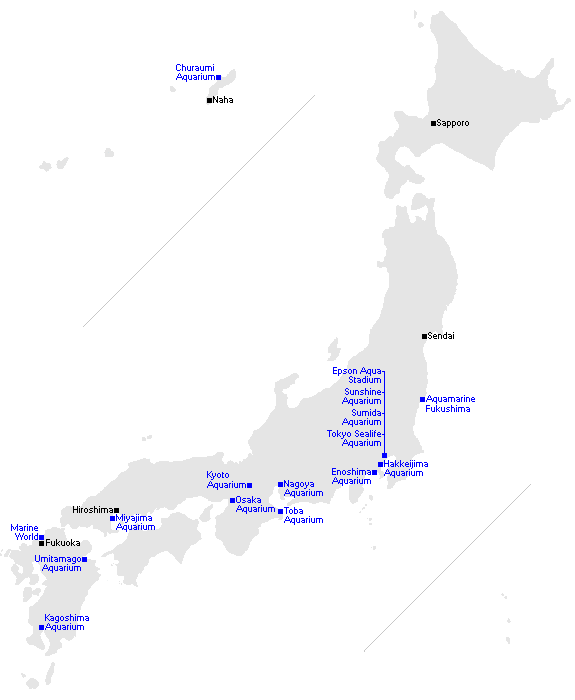 Tohoku
Tokyo
Tokyo
Sunshine Aquarium (more details)
Renovated in 2011, the Sunshine Aquarium is a modern, indoor aquarium located on the 10th floor of the Sunshine City shopping complex in Ikebukuro. The aquarium exhibits sea creatures from the different oceans and tropical forests around the world.
Tokyo
Tokyo Sealife Aquarium (more details)
The Tokyo Sealife Aquarium is one of several attractions found at Kasai Rinkai Koen, a large, seaside park built on reclaimed land on the outskirts of central Tokyo. The aquarium's main tank immerses visitors into the center of a school of yellowfin tuna and bonito.
Tokyo
Epson Aqua Stadium (more details)
Part of the Shinagawa Prince Hotel complex across from Shinagawa Station, Epson Aqua Stadium is a medium sized indoor aquarium with a variety of sea creatures on display. The aquarium features a dolphin pool where frequent shows are held. Just outside the aquarium is a small amusement park with a virtual ride theater and an indoor rollercoaster.
Around Tokyo
Enoshima
Enoshima Aquarium (more details)
The Enoshima Aquarium is a large, modern aquarium found along the beach across the bridge from Enoshima. Much of the aquarium, including its two story tall main tank, displays the diverse aquatic life found locally in Sagami Bay. The aquarium also has dolphin shows, penguins and seals and an excellent jellyfish display.
Chubu Region
Nagoya
Port of Nagoya Public Aquarium (more details)
Nagoya's aquarium at the Port of Nagoya is one of Japan's larger and better aquariums. Housed in two separate buildings, it displays various marine mammals including dolphins, orca and beluga whales, as well as other marine creatures from the five aquatic regions between Japan and the Antarctic Ocean.
Kansai Region
Osaka
Osaka Aquarium (more details)
Widely considered Japan's second best aquarium after Okinawa's Churaumi Aquarium, Osaka Aquarium introduces the sea life of the Pacific Rim. Visitors enter on the 8th floor and spiral their way downward around a large central tank which houses a whale shark. Several of the tanks span multiple floors making it possible to observe the animals from different perspectives.
Kyoto
Kyoto Aquarium (more details)
The Kyoto Aquarium is a modern aquarium complex a 20 minute walk west of Kyoto Station. Targeted at local school children rather than foreign tourists, the new facility does not rank among Japan's outstanding aquariums, but does offer attractive displays about a variety of different aquatic environments including Kyoto's local rivers.
Chugoku Region
Kyushu
Okinawa
Okinawa Honto
Churaumi Aquarium (more details)
Located in subtropical Okinawa Prefecture, Churaumi Aquarium is unequivocally Japan's best aquarium. Its massive tank, home to several whale sharks and the aquarium's main attraction, is one of the largest in the world. The aquarium also has a variety of different exhibits such as a shark tank, bioluminous fish and several animal shows.