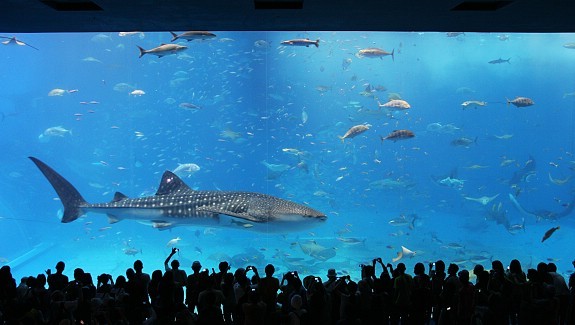 Kuroshio Tank
The Churaumi Aquarium (美ら海水族館, Churaumi Suizokukan) is widely considered Japan's best aquarium. It is the main attraction of the Ocean Expo Park on the former grounds of the 1975 International Ocean Expo in northern Okinawa Honto. The aquarium was completely redesigned and reopened in 2002.
The highlight of a visit to the Churaumi Aquarium is the massive Kuroshio Tank, one of the largest in the world. The tank takes its name from the warm Kuroshio current which plays a large part in the variety of Okinawa's of marine life. The tank contains a wide variety of species, the most striking of which are the giant whale sharks and manta rays.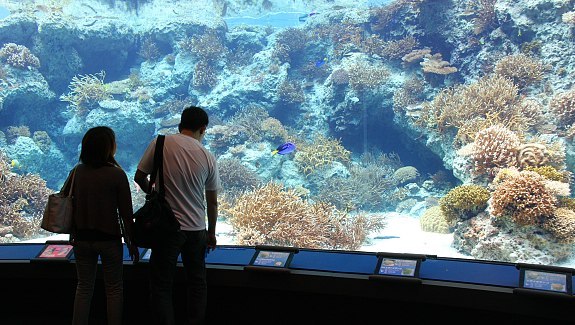 The aquarium is spread out over three floors with the entrance on the third floor and the exit on the first floor. Directly after the entrance there is a pool where visitors can touch living starfish and seashells with their own hands. Next there is a tank with the world's first large scale exhibit of living coral.
The route through the aquarium then leads past the Kuroshio Tank, where visitors will likely want to spend quite a bit of time. Feeding shows are held twice daily. Located just beside the tank is a high definition movie theater about Okinawa's marine life.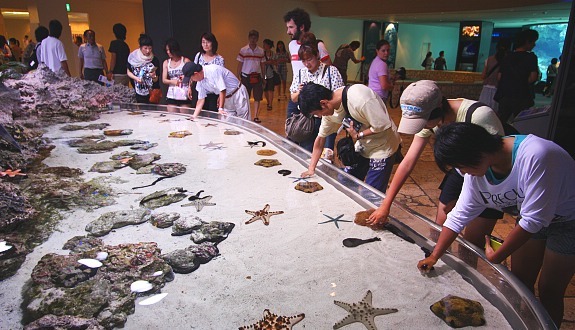 Past the Kuroshio Tank there are a few more interesting tanks and displays including an area dedicated to sharks with live tiger sharks and bull sharks. Another area is dedicated to marine life in the extremely deeps waters of Okinawa and includes displays of various bioluminescent fish.
In addition to the main aquarium building, there are a few outdoor pools near the waterfront where animal shows of dolphins, sea turtles and manatees can be viewed free of charge. There are only a few shows per day, so visitors might want to check show times before entering the aquarium.