Mihama American Village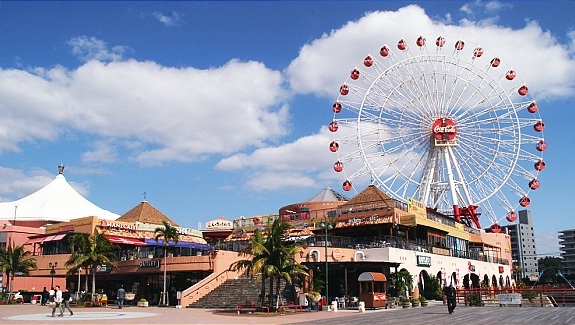 The Mihama American Village is a large entertainment complex located in central Okinawa Honto. Many American military bases are located in the area, and the entertainment complex' theme of Americana provides a nostalgic pleasure for residents of the bases as well as an interesting diversion for the locals. The Mihama American Village resembles a big American outdoor shopping mall with lots of shops, restaurants, cafes and a large parking lot.
The most recognizable feature of the American Village is the large Ferris Wheel. The Americana theme is found at many establishments, such as fashion shops selling American brand clothing or restaurants specializing in hot dogs and hamburgers. American and Japanese movies are shown at the Mihama 7 Plex movie theater. Just a few steps away along the waterfront is Sunset Beach. Facing westward, the beach is a good place to catch the sunset and is a popular spot for barbecues.