Shuri Castle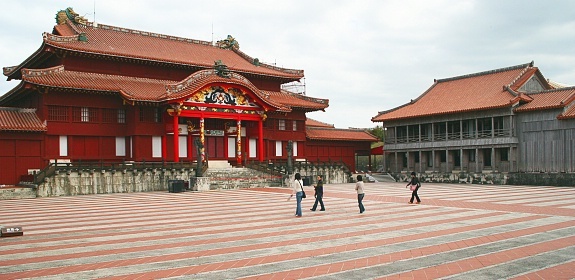 A city district of Naha today, Shuri is the name of the former capital of the Ryukyu Kingdom. Shuri Castle (Žñ—¢é, Shurijō) served as the administrative center and residence of the Ryukyu kings for several centuries until Okinawa became a Japanese prefecture in 1879. The castle is included as one of the UNESCO World Heritage designated Castles of the Ryukyu Kingdom sites.
Shuri Castle was originally built in the late 1300s, and played an integral role in the political unification of the island. Wars and fires destroyed the castle multiple times over the centuries, most recently in the Battle of Okinawa in 1945. The current buildings are beautiful reconstructions dating from 1992. The approach to the castle's central buildings leads through multiple gates, including the well known Shureimon Gate. The castle's hilltop location allows for nice views over Naha along the way.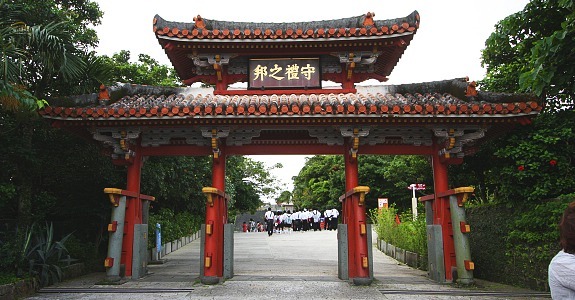 Shureimon Gate
On the top of the hill stands the caste's main hall, the Seiden. The former venue of major affairs of state and ceremonies, the Seiden is the most lavishly decorated building and a landmark of Okinawa. Its architectural design and vermilion color differ significantly with those of castles on mainland Japan.
Una Plaza extends in front of the Seiden and was used for ceremonies in the past. It is encircled on the other three sides by the Hokuden (North Hall), Nanden (South Hall) and the Hoshinmon (Hoshin Gate). The Hokuden and Nanden served as administrative buildings and venues to welcome envoys from China and mainland Japan respectively.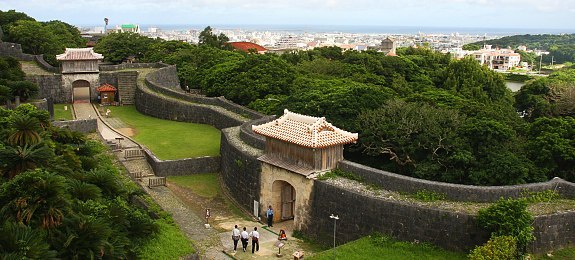 Outer gates of Shuri Castle and Naha Port visible in the distance
The interiors of the castle buildings can be explored by visitors in a circular route, beginning with the Nanden. Informative exhibits are on display outlining the history of the Ryukyu Kingdom as well as the interaction with the Japanese mainland and China. Historical artifacts, both made on the island and received during foreign trade, are also on display.
While the interiors of the Hokuden and Nanden are constructed like modern museums, the interior of the Seiden has been rebuilt in its original style. Visitors are able to get a feel for the splendor that surrounded the Ryukyu kings. A replica of the king's throne and crown are among the exhibits.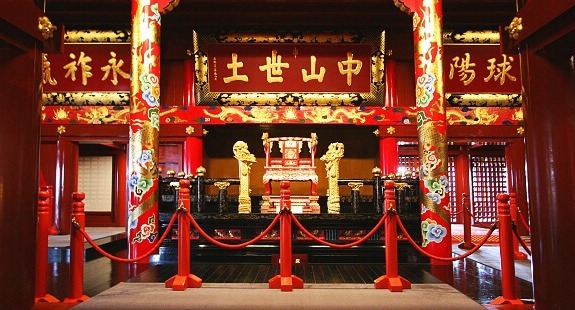 The throne of the Ryukyu king inside the Seiden