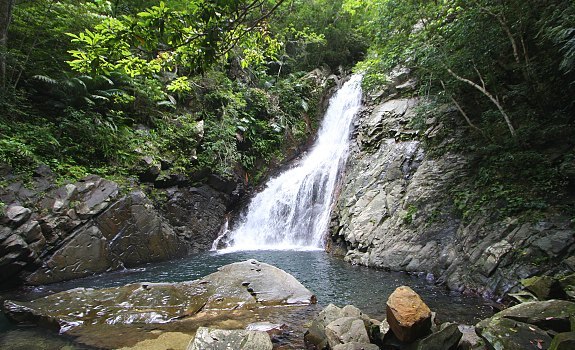 Hiji Waterfall is located in the northern Yambaru area of Okinawa Honto, where the population density is very low and the majority of land is covered by natural forests. The waterfall can be accessed in an attractive and easy hike along a nature trail through the forest. The trail was damaged by a typhoon in 2012 but reopened in April 2013.
The trailhead is about two kilometers inland from the main road along the island's western coast. At the trailhead there is a gate where an entrance fee must be paid. From there, the distance to the waterfall is about 1.5 kilometers, and the hike takes about 40 minutes one way. The trail is well maintained, and there are quite a few steep sections with stairs along the way. One of the highlights of the walk is crossing a suspension bridge that spans a valley 17 meters below.
The trail comes to an end at the Hiji Waterfall, which makes an impressive sight. Nestled in the forest, the waterfall is about 26 meters tall. The sound of the running water and the tranquil atmosphere of the forest make the waterfall a good spot for a rest before making the return trip to the trailhead.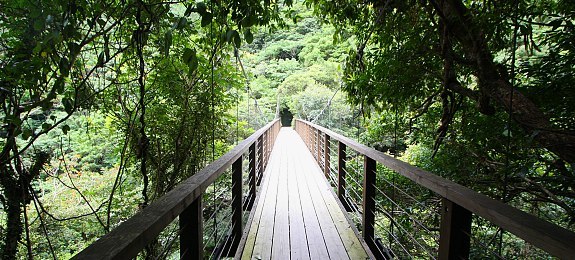 At the trailhead there is a campground that visitors can make use of as an alternative to visiting Hiji in a day trip. The campground offers picnic tables and elevated wooden decks which tents can be set up on. The fee is 2000 yen per tent site and night.
Because of the Yambaru area's small population there has been much less human encroachment on the habitat of the area's wildlife than elsewhere on Okinawa Honto. Accordingly, a much larger diversity of wildlife can be found in the area. Travelers who keep alert of their surroundings will have the chance to see a number of animals unique to the area, such as particular species of bird, turtle, snake and lizard.
Information about the Yambaru area's wildlife and hiking trails can be found at the nearby Ufugi Nature Museum, which is located about one kilometer inland from the main road along the coastline. The museum has illustrative maps and displays about the area's wildlife and is free to enter.
| | |
| --- | --- |
| A Ryukyu Robin | A Ryukyu Black-Breasted Leaf Turtle |