On April 1, 2014, the consumption tax increased from 5% to 8%, causing widespread changes to transportation fares. This page has not been updated yet, and some of the fees and fares in this section may not be up-to-date.

The Nakijin Castle Ruins are located on the Motobu Peninsula in northern Okinawa Honto, about 90 kilometers from Naha, and about a ten minute car ride from the Ocean Expo Park.

By bus

Take highway bus number 111 from Naha to Nago Bus Terminal (90 minutes, 2040 yen from Naha Bus Center; 105 minutes, 2130 yen from Naha Airport; 1-2 buses/hour) and transfer to bus number 65 or 66 that run counterclockwise and clockwise respectively in a loop around the peninsula. Get off at Nakijin Joseki Iriguchi (今帰仁城跡入口, 45-60 minutes, 770-970 yen, 1-2 buses per hour), from where it is a 15-20 minute walk uphill to the castle ruins.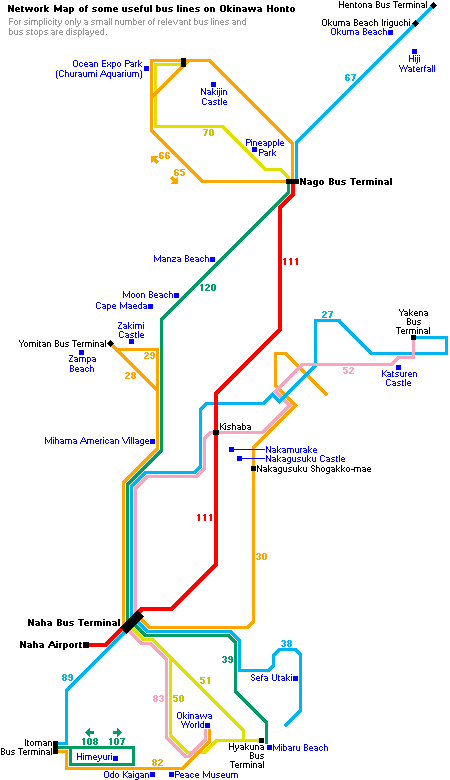 By car
By car, take the Okinawa Expressway from Naha all the way to its northern end near Nago (1000 yen one way) and then follow regular roads across the Motobu Peninsula to the Nakijin Castle Ruins. In total, the journey takes about two hours one way (more during rush hours).
How to get to and around Okinawa Honto