Access and Orientation in Nikko
How to travel between Tokyo and Nikko
Nikko is located about 125 kilometers north of Tokyo and makes a good one or two day trip from Tokyo. Nikko is connected with Tokyo by Tobu Railways and Japan Railways (JR):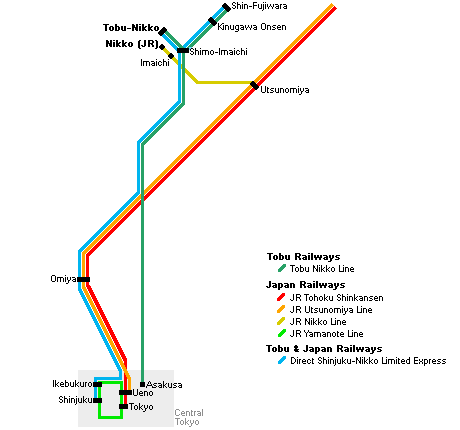 By Tobu Railways from Asakusa Station
The Tobu terminal station in Tokyo for trains to Nikko is Tobu Asakusa Station, which can be accessed by subway (Ginza and Asakusa Subway Lines).
There are hourly rapid trains between Asakusa and Nikko, which take about two hours and cost 1360 yen one way. In the morning and afternoon, there are also a few limited express trains (all seats reserved), called "Kegon", which only take 105 minutes, but are twice as expensive as the rapid trains.
Tobu is offering various free passes, which include the round trip from Tokyo to Nikko and unlimited use of buses in the Nikko area. The Japan Rail Pass is not valid on Tobu trains.
By limited express from Shinjuku Station
Direct limited express trains, cooperated by Japan Railways (JR) and Tobu Railways, connect JR Shinjuku Station with Tobu Nikko Station. The one way journey takes two hours and costs 4000 yen. All seats are reserved.
Because the trains between Shinjuku and Nikko partially use the tracks of Tobu Railways, the Japan Rail Pass does not fully cover the expenses of the journey. However, thanks to a special agreement, the JR East Pass and JR Kanto Area Pass do cover the entire trip.
By Japan Railways (JR)
Take the JR Tohoku Shinkansen (from Tokyo or Ueno Station) to Utsunomiya Station and transfer to the JR Nikko Line. With a good connection at Utsunomiya, the one way trip takes about 100 minutes. Due to its high cost (about 5000 yen one way), this option is attractive to holders of the Japan Rail Pass, JR East Pass and JR Kanto Area Pass.
From Narita Airport
Travel between Narita Airport and Nikko leads via Tokyo. However, the trip is also possible without making a transfer in central Tokyo by taking a highway bus from the airport to JR Utsunomiya Station (about 3 hours, 4200 yen one way, departures every 60-90 minutes) and then the JR Nikko Line to Nikko (45 minutes, 760 yen, 1-2 departures per hour). Only the train portion is covered by the JR passes.
Above fees and schedules are subject to change. For the current yen exchange rate, click here.
Orientation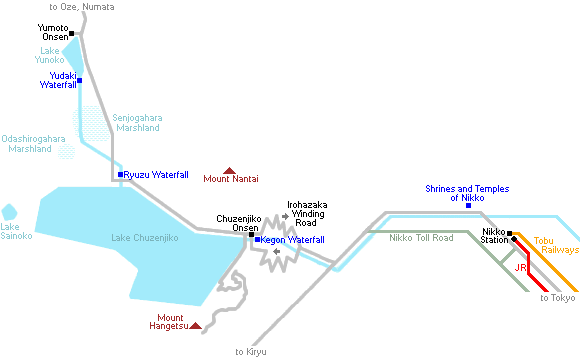 All of Nikko's famous shrines and temples are clustered together in one area, about two kilometers from the Tobu and JR Nikko Stations. You can access them by bus (10 minutes, 310 yen one way or 500 yen for a day pass) or on foot in about 30-40 minutes by walking up Nikko's main street.
Two bus lines can be used to access the shrines and temples:
Buses in direction of Lake Chuzenji stop at "Shinkyo" and "Nishisando" bus stops along the way, from where the shrines and temples are a 5-10 minute walk. Furthermore, there is the World Heritage Meguri loop bus, that circles around town every 15 minutes and stops a little bit closer to the shrines and temples. Get off at the "Omotesando" stop for Toshogu and Rinnoji or the "Taiyuinbyo-Futarasanjinja-mae" stop for the Taiyuinbyo and Futarasan Shrine.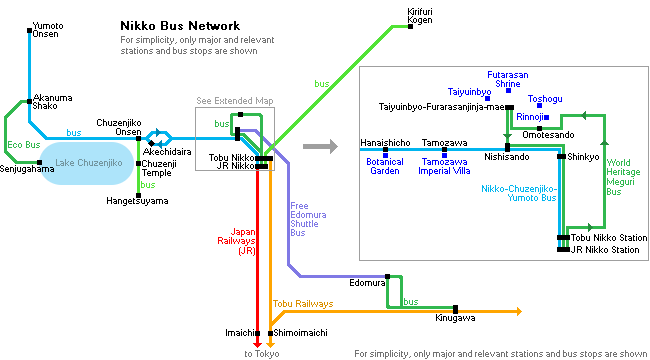 Buses connect central Nikko with the Okunikko area, including Lake Chuzenji and Yumoto Onsen in Nikko National Park. A one way trip to Lake Chuzenji takes about 50 minutes and costs 1150 yen; to Yumoto Onsen it takes about 80 minutes and costs 1700 yen. A 2-day pass for unlimited bus rides between Nikko and Lake Chuzenji is available for 2000 yen at Tobu Nikko Station, while a 2-day pass for unlimited rides between Nikko and Yumoto Onsen is available for 3000 yen.
Be aware, that during the autumn leaf season in October, traffic between central Nikko and Okunikko (Lake Chuzenji and Yumoto Onsen) can be very heavy, and buses can incur heavy delays, especially on weekends. If possible, avoid visiting Nikko on weekends and visit during the week.
Map of Central Nikko: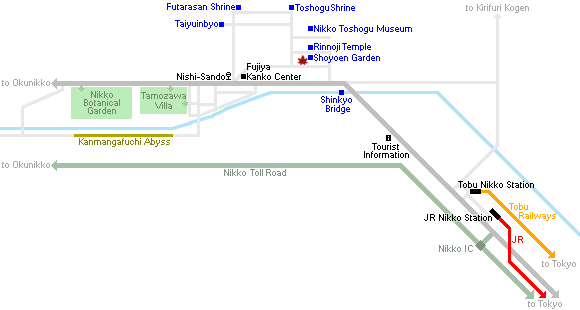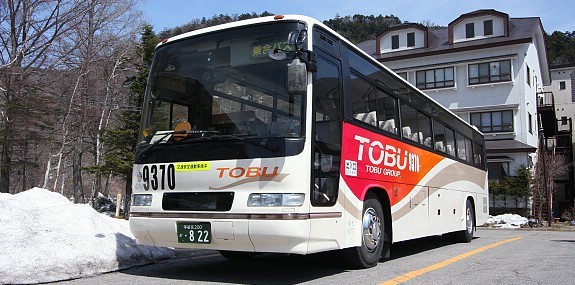 Tobu Bus in Yumoto Onsen