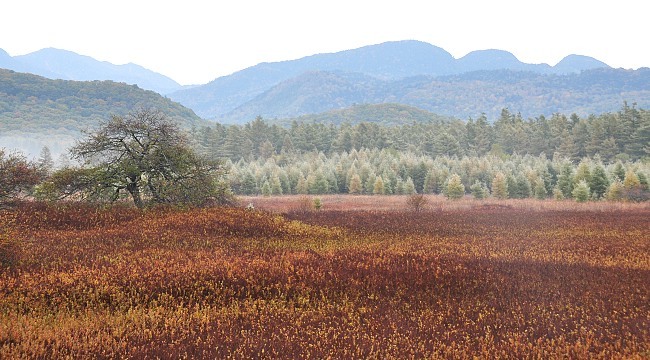 At an altitude of 1400 meters above sea level, the Senjogahara Marshland (戦場ヶ原, Senjōgahara) covers the plateau between Lake Chuzenji and Yumoto Onsen. It offers some of the best hiking in the Nikko National Park and is particularly beautiful during the autumn leaf season in October when the marshland's grasses turn into a reddish yellow and the larch trees into a shiny gold.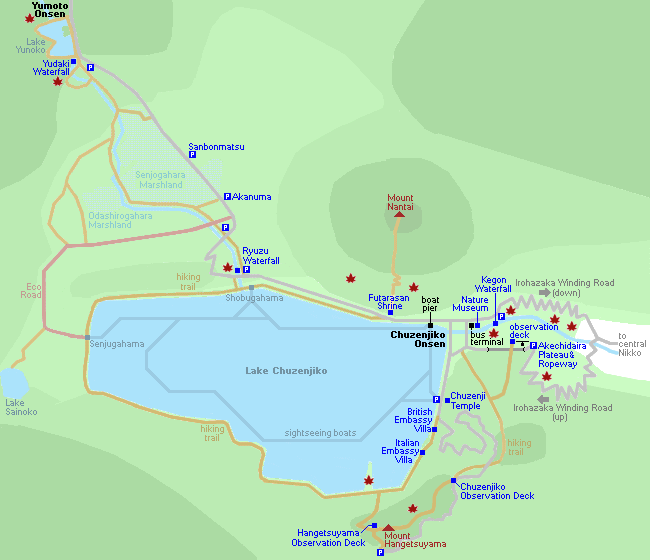 The Senjogahara Plateau Nature Trail follows Yukawa River during most of its course between Yumoto Onsen and Ryuzu Waterfall near the shores of Lake Chuzenji. The hiking trail offers excellent views of the marshland and surrounding mountains, and it takes around 2.5 to 3 hours to complete. Not far from Senjogahara lies Odashirogahara, a smaller but equally idyllic marshland, which is worth a detour or separate visit.
During winter, the marshland is usually covered by several centimeters of snow typically between December and March, during which the hiking trails may not be passable. But when enough snow accumulates, visitors can see a different side of the marshland by walking along the hiking trails on snowshoes. There is also a course network for cross-country skiing north of the Sanbonmatsu parking lot.
A couple of rest houses at the Sanbonmatsu parking lot offer snowshoe rentals for around 500 yen for two hours or 1000 yen per day. Cross-country ski rentals go for 1800 to 2000 yen per day. There are also guided half-day tours available, but advance reservations are required, and English instructions may be limited.