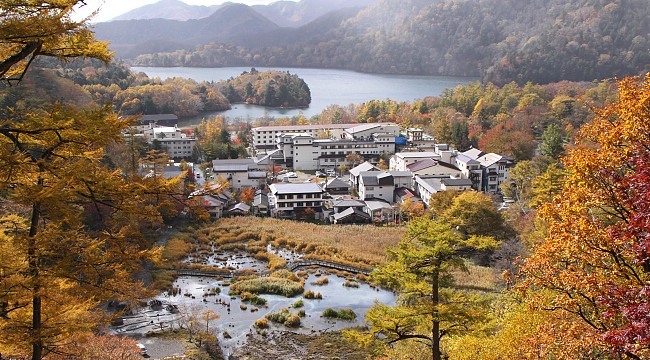 Yumoto (湯元, literally "origin of hot water") is a small hot spring town in the back of Okunikko and part of Nikko National Park. The town is attractively located next to Lake Yunoko (lit. "hot water lake") and consists mainly of ryokan with hot spring baths.
North of the town stands Onsenji, a Buddhist temple with a small hot spring bath open to the public. Next to the temple is Yunodaira Marsh, where most of the town's hot water bubbles up from the ground. Some hot water is also bubbling along the northern shore of Lake Yunoko, and a pleasant sulfur odor hangs over the whole town.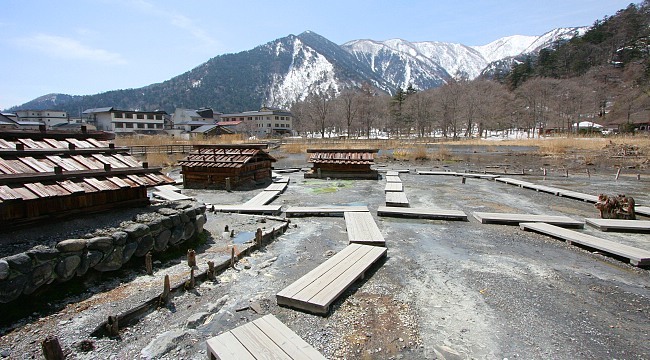 Immediately south of Lake Yunoko, the lake's calm waters suddenly plunge down a steep, 70 meter high slope. The spectacular waterfall is called Yudaki (lit. "hot water waterfall"), but the water of neither the lake nor the waterfall are actually warm.
From Yudaki starts the attractive Senjogahara Plateau Nature Trail, leading along Yukawa River (lit. "hot water river") through the woods and across the marshland of the Senjogahara Plateau to Ryuzu Waterfall at the shores of Lake Chuzenji.
Autumn colors around Yumoto Onsen are usually best around mid October.