Lake Chuzenji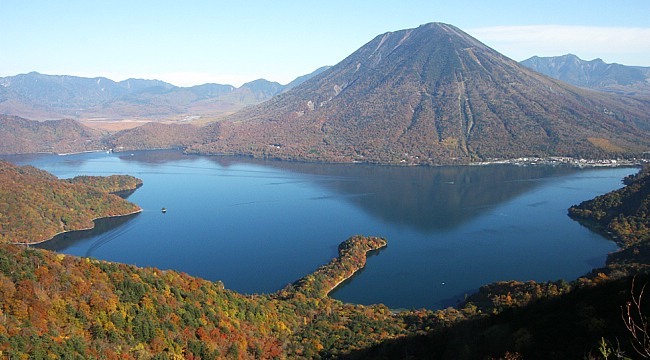 Lake Chuzenji ('†'TŽ›ŒÎ, Chūzenjiko) is a scenic lake in the mountains above the town of Nikko. It is located at the foot of Mount Nantai, Nikko's sacred volcano, whose eruption blocked the valley below, thereby creating Lake Chuzenji about 20,000 years ago.
Chuzenjiko' shores are mostly undeveloped and forested except at the lake's eastern end where the small hot spring town of Chuzenjiko Onsen was built. The town is also the site of Kegon Waterfall, the most famous of several waterfalls in Nikko National Park. Another popular waterfall, Ryuzu Waterfall, is located at the northern shores of Lake Chuzenji where Yukawa River discharges into the lake.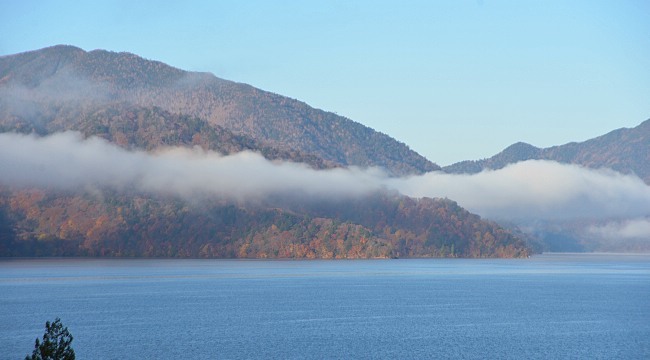 Lake Chuzenji from around Chuzenjiko Onsen
Chuzenjiko is especially beautiful in mid to late October, when the autumn colors reach their peak along the lake's shores and surrounding mountains. And during Japan's hot summers, the lake's high elevation (1269 meters above sea level) keeps the area cool and comfortable, which in the past has attracted foreign embassies to build recreation villas along its shores.
It is possible to hike around the entire 25 kilometer circumference of Lake Chuzenji via hilly lakeside walking trails. Alternatively, the lake can be enjoyed from sightseeing boats that depart from Chuzenjiko Onsen. Panoramic views from above are possible from along the Chuzenjiko Skyline, an eight kilometer long former toll road which can now be used free of charge.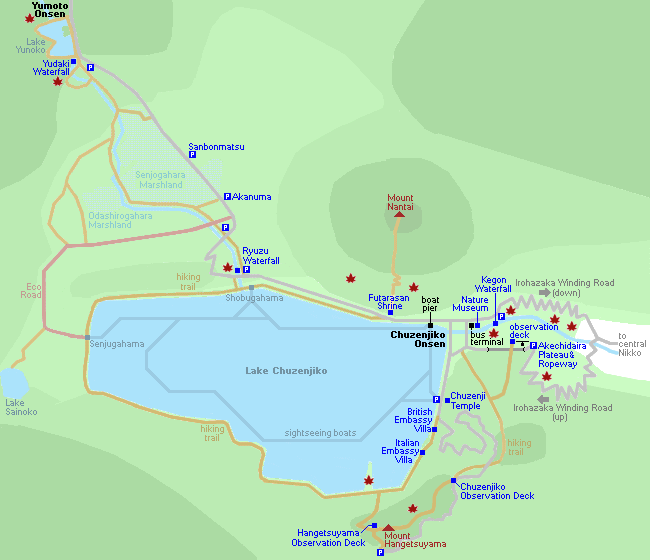 Irohazaka Winding Road (more details)
This famous road connects Lake Chuzenji with the town of Nikko down in the valley. It ascends more than 400 meters and is named "Iroha Slope" because its 48 turns used to equal the number of characters in the Japanese syllabary, formerly referred to as "iroha". Autumn colors along the road can usually be enjoyed from mid October to early November, and are a cause of traffic jams.
Akechidaira Plateau (more details)
Ropeway Hours: 8:30 to 16:30 (December to March: 9:00 to 15:30)
Ropeway Fare: 730 yen (round trip)
Located at the top of the Irohazaka Winding Road, shortly before reaching Lake Chuzenji, the Akechidaira Plateau is a small parking lot with panoramic views over the winding road and the valley below. A ropeway lifts visitors in three minutes from the parking lot to an observation platform with views of Kegon Waterfall in combination with Lake Chuzenji.
Chuzenjiko Onsen
Chuzenjiko Onsen is a touristy hot spring resort town at the eastern shores of Lake Chuzenji and at the foot of Mount Nantai. The small town consists mainly of souvenir shops, hotels and ryokan, but also offers some sightseeing spots, including Chuzenji Temple, a Futarasan Shrine, a nature museum and, most of all, Kegon Waterfall. It is also the departure point of sightseeing cruises of the lake.
Kegon Waterfall (more details)
Elevator Hours: 8:00 to 17:00
Elevator Fare: 550 yen
The almost 100 meter tall Kegon Waterfall (Kegon no taki) is the most famous of Nikko's many beautiful waterfalls. It can be viewed free of charge from an upper observation platform or from an observation platform at the waterfall's base, which is reached via a paid elevator ride.
Nikko Natural Science Museum
Hours: 9:00 to 17:00 (November to March: 10:00 to 16:00)
Admission: 510 yen
The Nikko Natural Science Museum, which stands just next to the Chuzenjiko Onsen bus terminal, explores the history and ecology of Nikko National Park. The displays are informative and well presented with multilingual explanations. A large, multi screen video display highlights Nikko's four seasons.
Futarasan Shrine
Hours: 8:00 to 17:00 (November to March: 9:00 to 16:00)
Admission: Free
The second of Nikko's three Futarasan Shrines stands at the shores of Lake Chuzenji, at the base of sacred Mount Nantai. The shrine marks the trailhead of the hiking course to the summit. Futarasan's main shrine stands down in central Nikko, while the third shrine stands on the summit of Mount Nantai.
Chuzenji Temple (more details)
Hours: 8:00 to 17:00 (shorter hours in winter)
Admission: 500 yen
Chuzenji Temple was built around a unique statue of Kannon. Many centuries ago the statue was carved out of a tree trunk that still stands today with its roots in the ground. The temple also affords nice views over the lake which was named after it.
Italian Embassy Villa
Hours: 9:00 to 16:00 (until 17:00 in July and August)
Admission: 100 yen donation
Closed: December through March and Mondays
This elegant complex was the former summer residence of the Italian Ambassador to Japan. It is located on the southeastern shore of Lake Chuzenji and was recently donated to Tochigi Prefecture and opened to the public.
Mount Hangetsuyama (more details)
Hours: Always open
Admission: Free viewing platform
Mount Hangetsuyama lies at the southeastern corner of Lake Chuzenji. The observation deck close to the top of the mountain offers great views onto the lake and Mount Nantai. During fall each year, autumn colors add to the scenery viewed from here, making this a popular autumn leaf spot.
Sightseeing Boat Cruise
Available from mid April through November
Sightseeing cruises are another way to view the area and get around. Cruises depart from the pier in Chuzenjiko Onsen and range from ten minute shuttles across the lake to Chuzenji Temple (160 yen) to 60 minute round courses (1500 yen). Besides Chuzenji Temple, boats serve Shobugahama Pier near Ryuzu Waterfall and Senjugahama at the lake's western end.
Ryuzu Waterfall (more details)
Hours: Always open
Admission: Free viewing platform
Ryuzu Waterfall ("dragon head waterfall") is named for its resemblance to the head of a dragon. This waterfall is one of Nikko's most famous autumn color spots, usually at the peak of its autumnal beauty in early October.