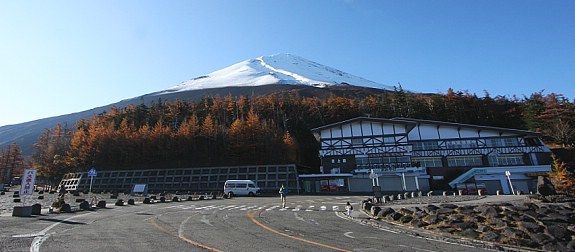 The Fuji Subaru Line 5th Station (also known as Yoshidaguchi 5th Station or Kawaguchiko 5th Station) lies at approximately the halfway point of the Yoshida Trail, which leads from Fujiyoshida Sengen Shrine at the mountain's base to the summit of Mount Fuji. It is the most popular of the four 5th stations on Mount Fuji and the best developed and easiest to access by public transportation from Tokyo. The Fuji Subaru Line 5th Station is accessible almost year round, snow conditions permitting, and is a popular sightseeing spot even outside of the climbing season.
The station is reached by the Subaru Line, a scenic toll road up Mount Fuji's lower northern slopes, that begins in Kawaguchiko Town. The toll road costs 2060 yen and may temporarily get partially closed in winter in times of heavy snow. Furthermore, the road is closed to private vehicles during the majority of the climbing season (July 10 to August 31, 2016), during which time climbers can take shuttle buses from Kawaguchiko Station to the 5th station.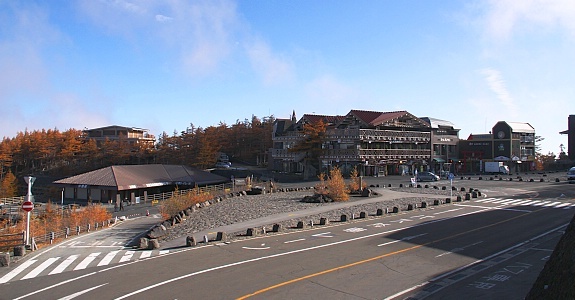 The Fuji Subaru Line 5th Station provides parking lots, coin lockers and a few restaurants and shops, as it is the last chance for departing climbers to stock up on supplies at reasonable prices before they head out. Items such as hiking sticks, snacks, bottles of water and oxygen may be purchased here, although they are also available along the trail, albeit at prices that increase as you climb higher.
At 2300 meters above sea level, the Fuji Subaru Line 5th Station offers a commanding view of the Fuji Five Lakes area below, making it a popular spot even for those who are not intent on climbing the mountain. An observation point with unobstructed views of Fujiyoshida City and Lake Yamanaka can be found at Komitake Shrine behind the shops.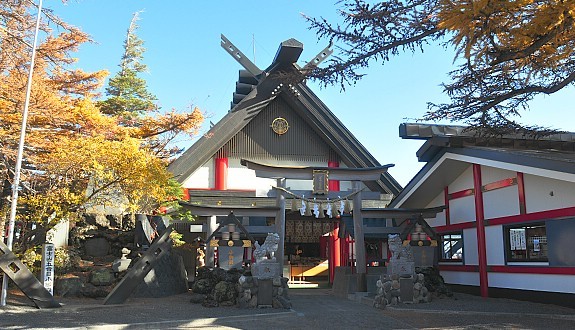 The Yoshida Trail is the most popular trail to the summit, and some sections can get very congested during the climbing season, especially above the 8th Station. On the positive side, there are a lot of mountain huts along the trail and separate uphill and downhill tracks. The trail also has good views of the sunrise for those who do not make it to the summit in time. The ascent via the Yoshida Trail takes roughly five to seven hours, and the return journey about three to five hours.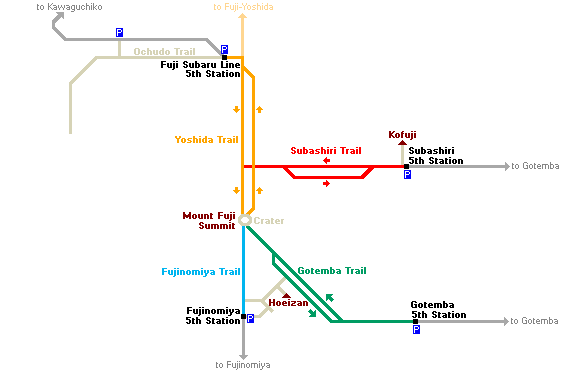 Besides the trail to the summit, there is the Ochudo Trail, which might be of interest to day trip and off season visitors who cannot hike to the summit but still wish to do some walking around the mountain. Rather than up the mountain, the Ochudo Trail leads around the mountain at about the same elevation. A five kilometer section of the trail can be walked from the Fuji Subaru Line 5th Station westwards. It also provides a connection to some of the more remote parking lots.
| | |
| --- | --- |
| Entrance to the Yoshida Trail | Ochudo Trail |