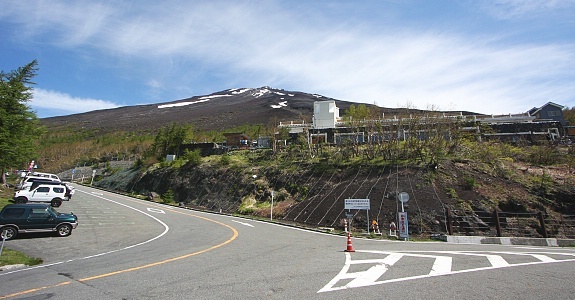 The Fujinomiya 5th Station is the second most popular and second most developed of the four fifth stations on Mount Fuji. It is the easiest to access by public transportation from western Japan, and is served by direct buses from Shin-Fuji and Mishima Stations along the JR Tokaido Shinkansen.
The windy road to the 5th station, called the Fujisan Skyline, used to be a toll road, but it is now free to use. However, the road is closed to private vehicles during the entirety of the official climbing season (July 9 to September 11, 2016) when shuttle buses instead operate to nearby parking lots and train stations. The road is also closed during winter from late November to late April.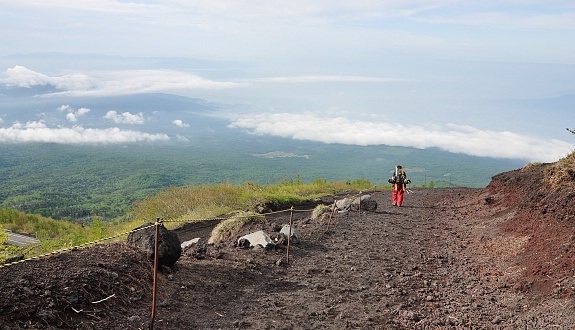 Besides a lot of parking lots, the Fujinomiya 5th Station offers a shop, restaurant and toilets. As with the shops found at the other fifth stations, this is the last chance for climbers to get food, water, oxygen, and other supplies at reasonable prices before the costs skyrocket at higher elevations.
At 2400 meters above sea level, the Fujinomiya 5th Station is the highest of the fifth stations, and the Fujinomiya Trail is the shortest route up Mount Fuji. The ascent takes 4-7 hours, while the descent takes 2-6 hours. There are about half a dozen mountain huts along the way. The Fujinomiya Trail is the only route that is not split into separate ascending and descending trails, which can result in congestions on busy days during the climbing season. Note also that the trail does not offer views of the sunrise before reaching the summit.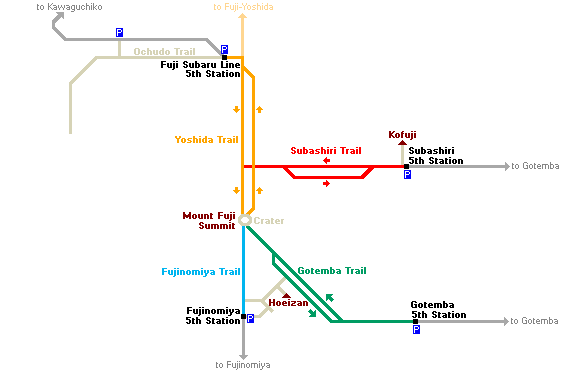 Besides the trail to the summit, Fujinomiya 5th Station offers a shorter hiking trail to Hoeizan, a nearby secondary peak with a crater on the southeastern slope of Mount Fuji. Hoeizan was formed in 1707 and 1708 during the Hoei Era of the Edo Period, when Mount Fuji last erupted.
The trail to Hoeizan branches off the Fujinomiya Trail at the 6th station, and it takes about 30 minutes to reach the crater rim from where nice views of Hoeizan's crater and peak can be enjoyed. Hikers can then return to the 5th Station via a circular route or continue for another 30-60 minutes through the crater and up to the peak of Hoeizan on the opposite side of the crater.
From its 2693 meter high peak, Hoeizan offers an unobstructed, panoramic view down to the Pacific Ocean and as far away as Tokyo on a clear day. The return trip down into the crater includes a short "sand run" similar to the Osunabashiri of the Gotemba Trail and is considerably faster than the ascent.