Eating our way through Kaminoyama Onsen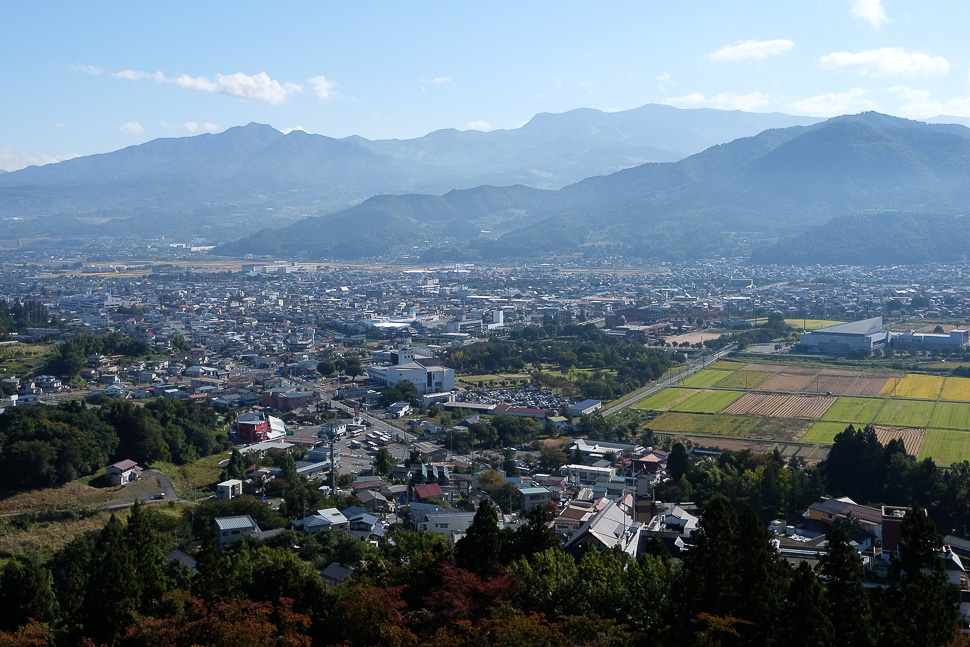 Kaminoyama Onsen at the foot of Mount Zao
Earlier this week we headed out to Yamagata Prefecture to check out Kaminoyama Onsen, a historic onsen town at the foot of Mount Zao. The area's hot springs were discovered back in the mid-1400s when, according to legend, a traveling monk witnessed a crane heal its wounded leg by soaking it in the marshes. Word spread from there, and the onsen grew in reputation until it eventually rose in the ranks to become one of the "three famous hot springs of the Tohoku Region".
While we didn't have enough time or stamina to try out all seven of the town's public baths, not to mention the multitude of ryokan baths, we did stop by the historic Shimo Oyu public bath to experience its healing waters. The atmospheric bath serves like a neighborhood sento, and travelers can rub elbows with the locals who frequent the bath. Visitors to the town can also enjoy five beautiful foot baths situated around Kaminoyama Onsen, which have recently been outfitted with free wifi service so you can browse the internet while soaking your weary feet!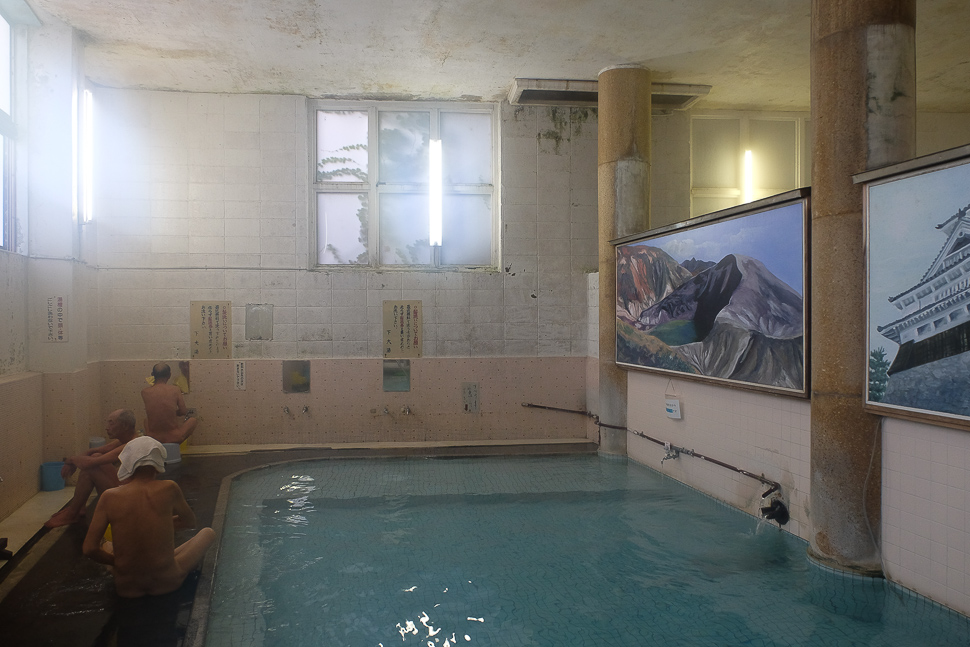 Shimo Oyu hot spring bath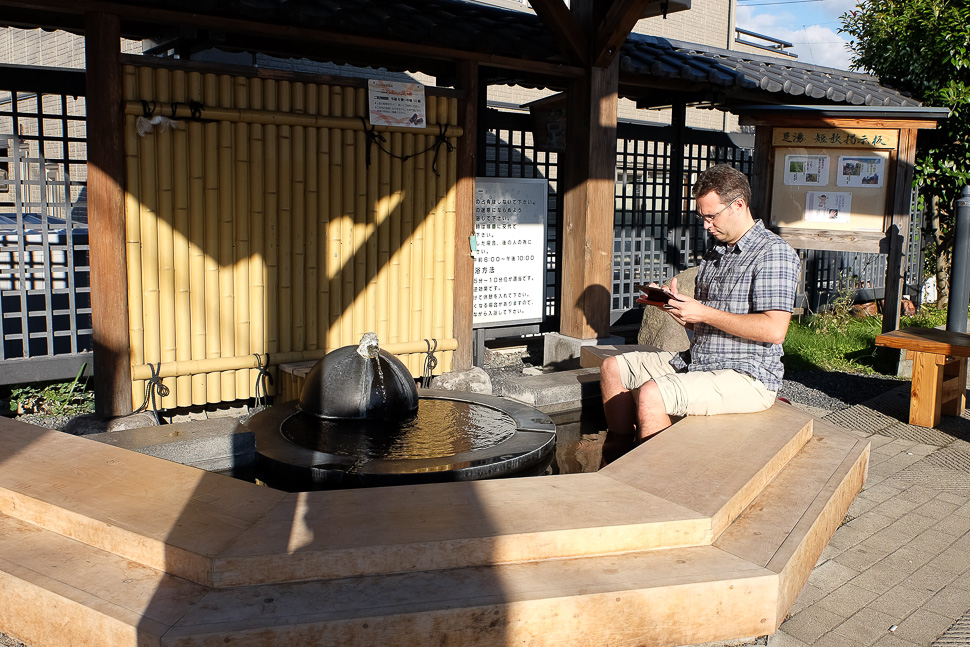 Surfing the web while soaking in one of the town's foot baths.
Like many visitors to Japan, we like to travel on our stomachs, and a big goal of this trip was to seek out and eat some of the local Kaminoyama specialties. The first on our list was tamakonnyaku, skewered konnyaku balls simmered in soy sauce and seasoned with grated mustard, a type of traditional fast food. We visited Konnyaku Banjo, a popular restaurant and shop specialized in konnyaku. Konnyaku Banjo not only serves excellent tamakonnyaku, but also entire course meals featuring konnyaku prepared in various ways. We ordered a kaiseki ryori course and were treated to an amazing assortment of dishes that had konnyaku mixed in innovative ways, including konnyaku sashimi, konnyaku abalone, fried konnyaku scallop, and my personal favorites, konnyaku shark fin and konnyaku soba. Although the meal wasn't vegetarian, I was very much reminded of shojin ryori (vegetarian monk's cuisine) in the skillful ways that konnyaku was used in the meal to substitute meat and fish.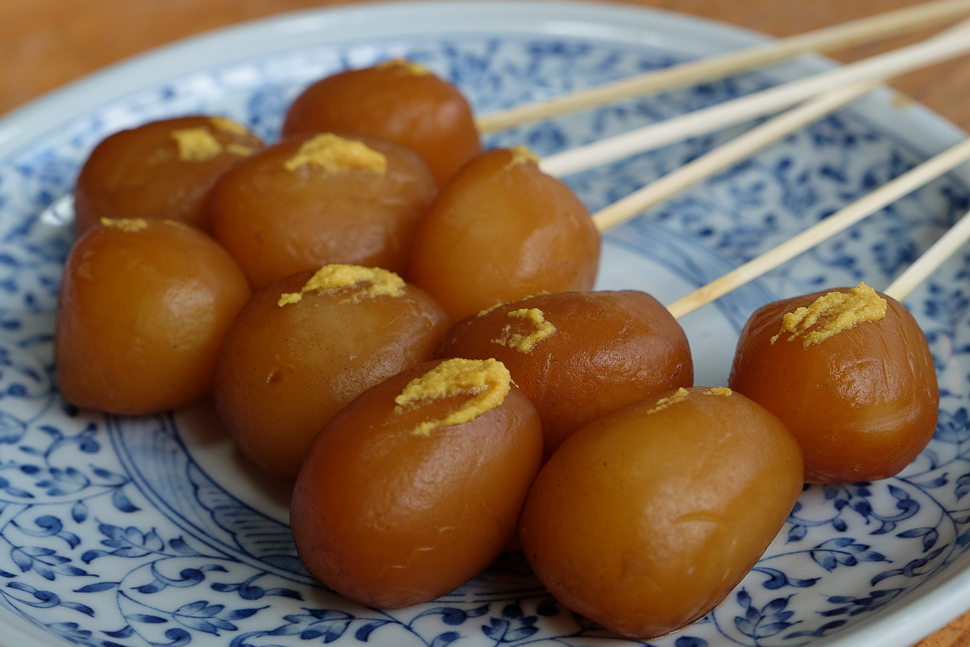 Tamakonnyaku skewers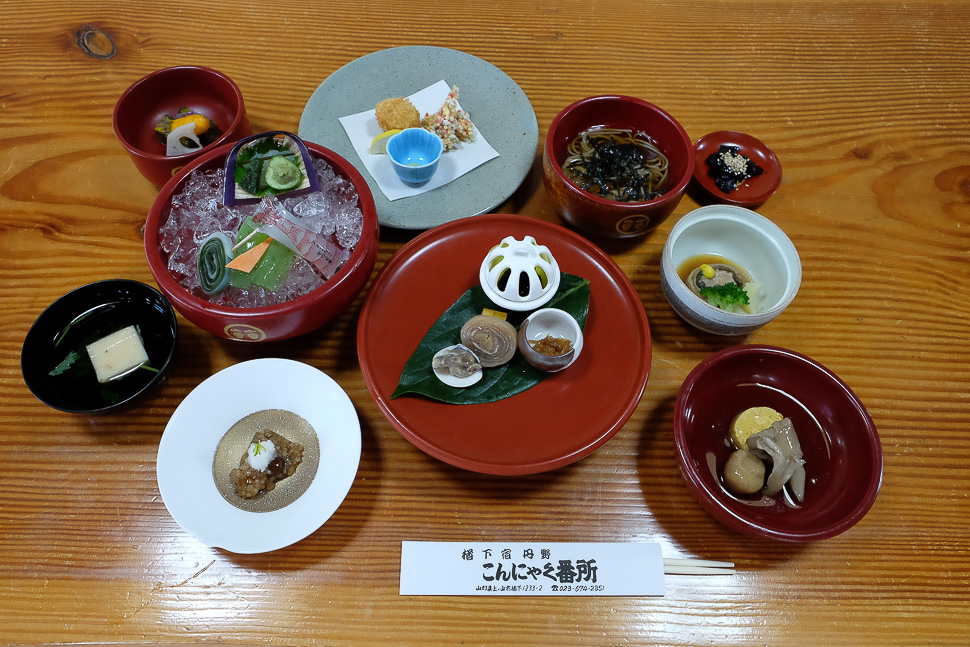 An amazing konnyaku kaiseki meal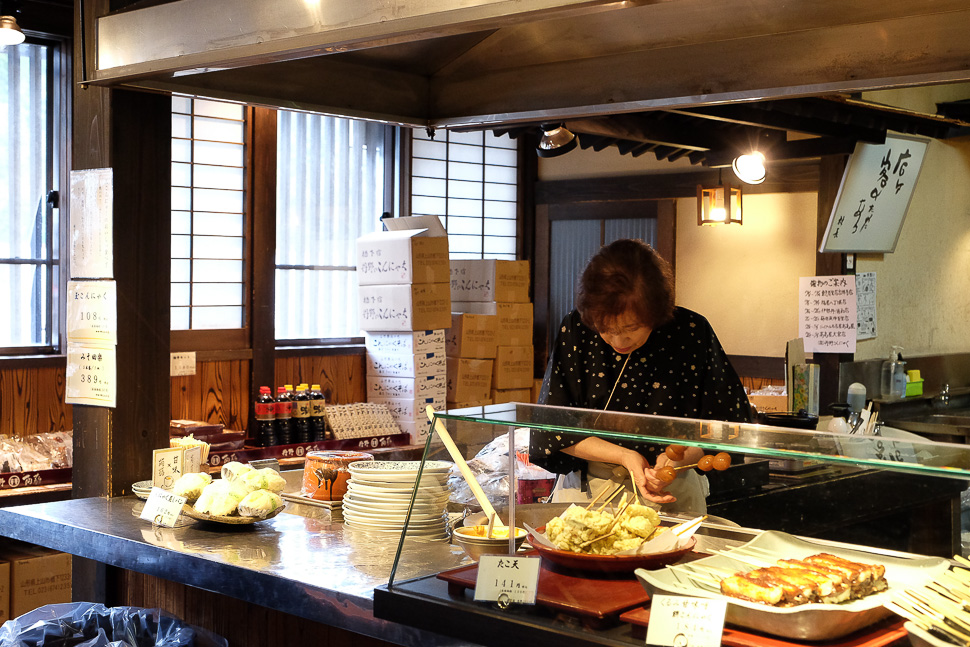 Konnyaku is prepared in countless ways at Konnyaku Banjo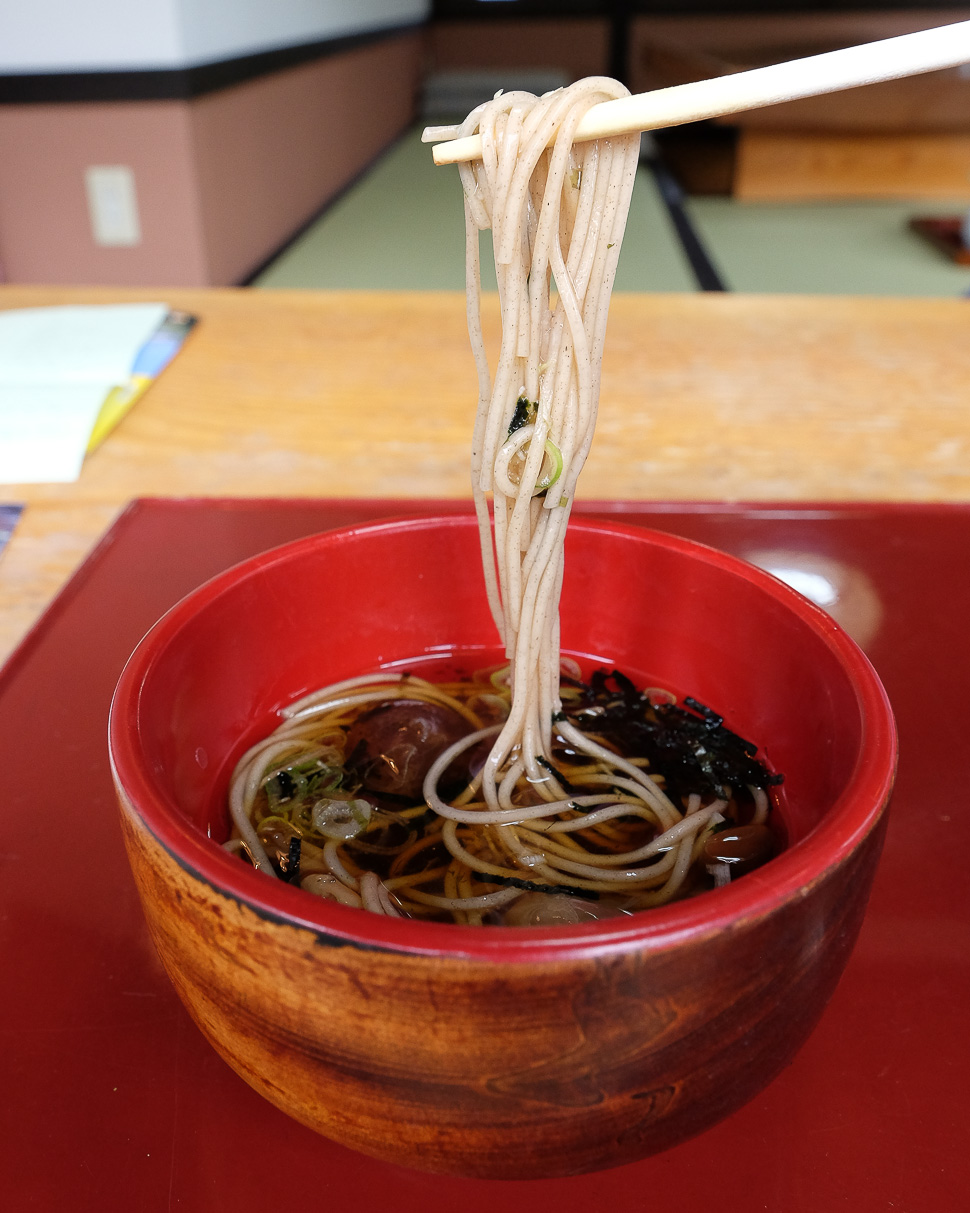 Konnyaku soba was virtually indistinguishable from regular soba
Speaking of soba, Yamagata is one of Japan's soba centers. Lots of soba restaurants can be found around Kaminoyama, and the one that we visited, Takara-tei, serves handmade noodles made fresh each morning. We all ended up ordering different versions of the jidori chicken soba, which paired a wonderfully robust broth made of local chicken and leeks with their signature noodles. I tried the shiru soba, where you dip the noodles into a cup of hot broth before slurping them up. Delicious!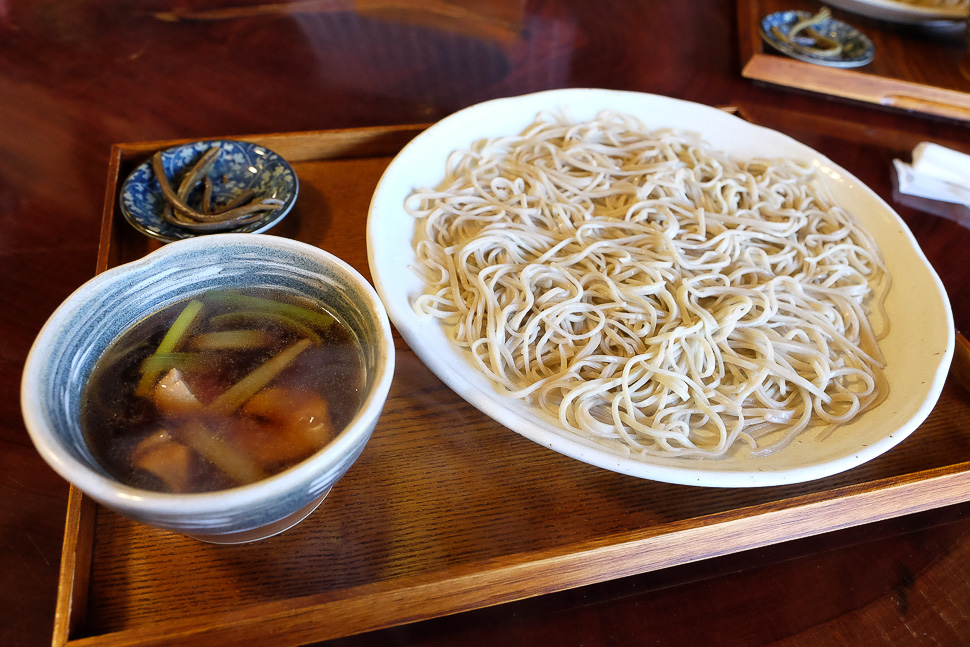 Jidori Shiru Soba at Takara-tei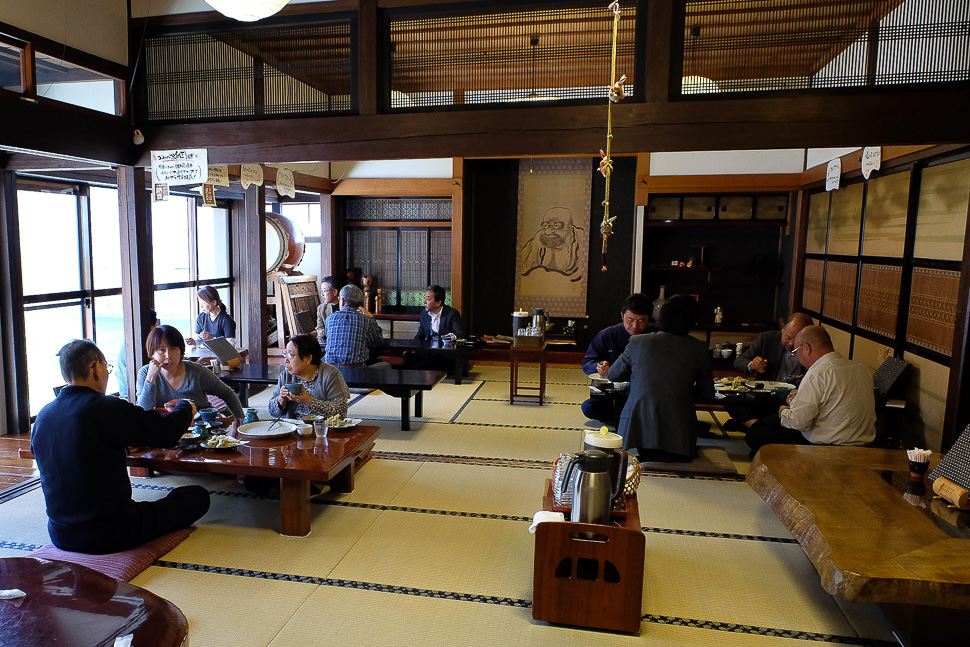 The dining area of Takara-tei
And of course, what is a visit to Yamagata without eating Yonezawa Beef, which is considered one of Japan's premium beef brands. The succulent and tender meat comes from nearby Yonezawa City, however it is served at many of Kaminoyama's ryokan including the celebrated "Nihon no yado Koyo" where we stayed for the evening. Similar to Kobe Beef, Yonezawa Beef is a prized delicacy and just melt-in-your mouth amazing. We sampled it in sukiyaki, where the tender meat is simmered in a slightly sweet soy sauce base and then dipped in raw or coddled egg.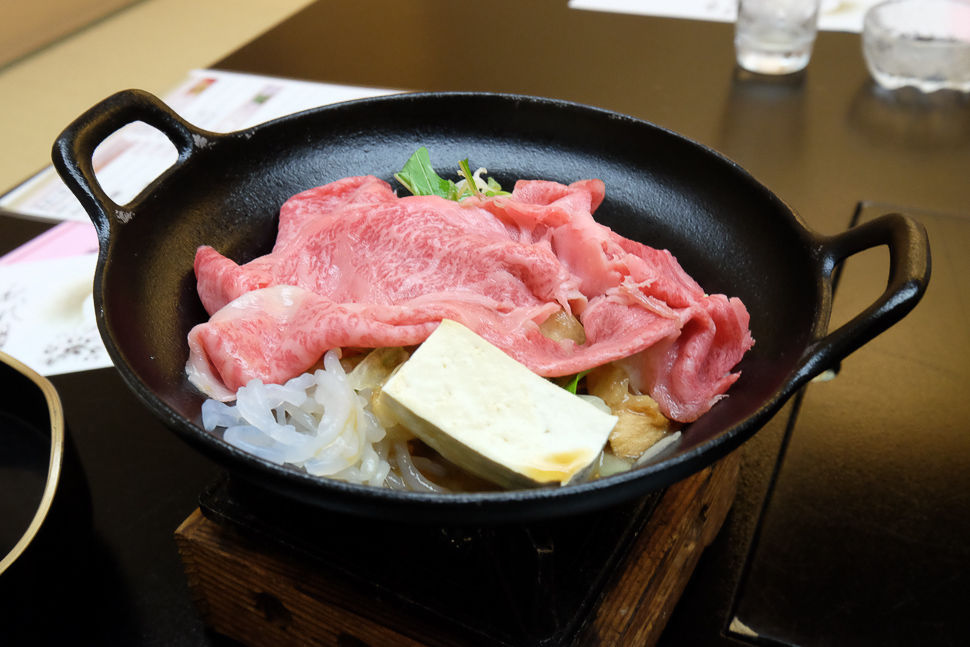 Yonezawa Beef Sukiyaki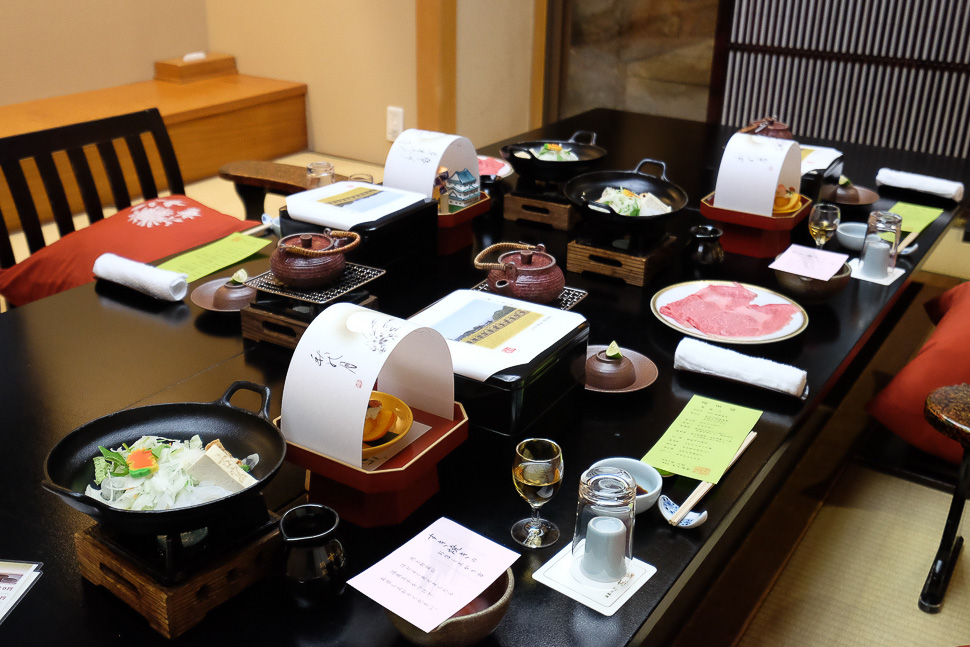 Our dinner at Nihon no yado Koyo was top notch
Yamagata is also quite famous for its cherries, which can be enjoyed at many of the local fruit farms. Unfortunately for us, the cherry season falls into June and July, so we were too late to enjoy them. On the other hand, Kaminoyama's fruit farms produce some amazing grapes and are also famous for their pears. We had to try these, so we paid a visit to Takahashi Fruit Land where you can participate in fruit picking.
The grapes and pears were both amazing, but I was most impressed with the variety and subtle differences between the different types of grapes. We tried more than half a dozen delicious varieties, but I think my favorites were the Shine Muscat, the Peonies and the Rosario Rose. The La France pears are a particular Kaminoyama specialty, but we were slightly early for their season which starts around late October. We tried the juicy Marigetto Maria variety which were in season instead and were not disappointed.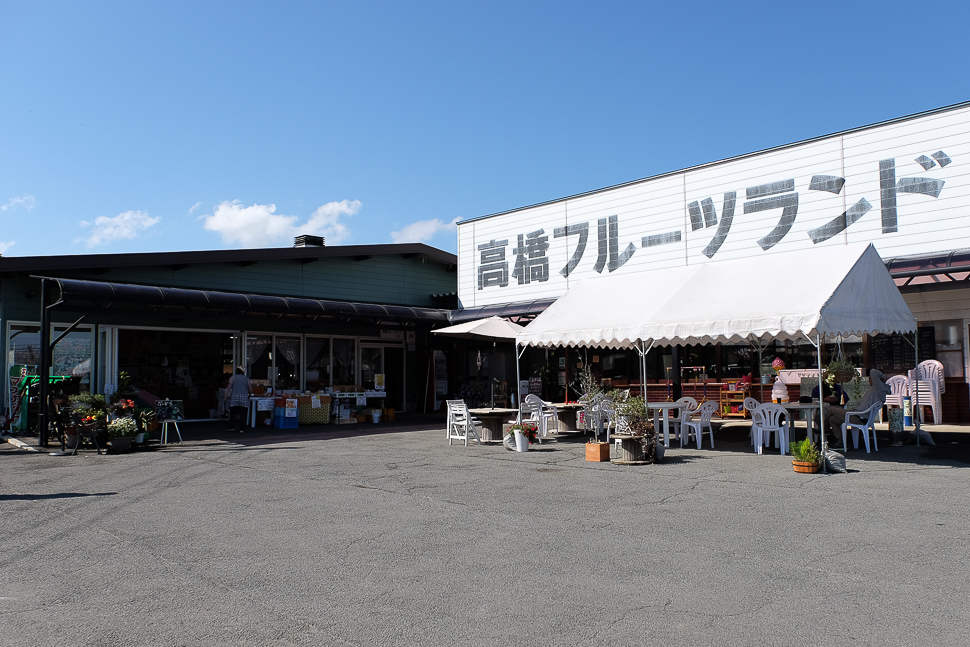 Takahashi Fruit Land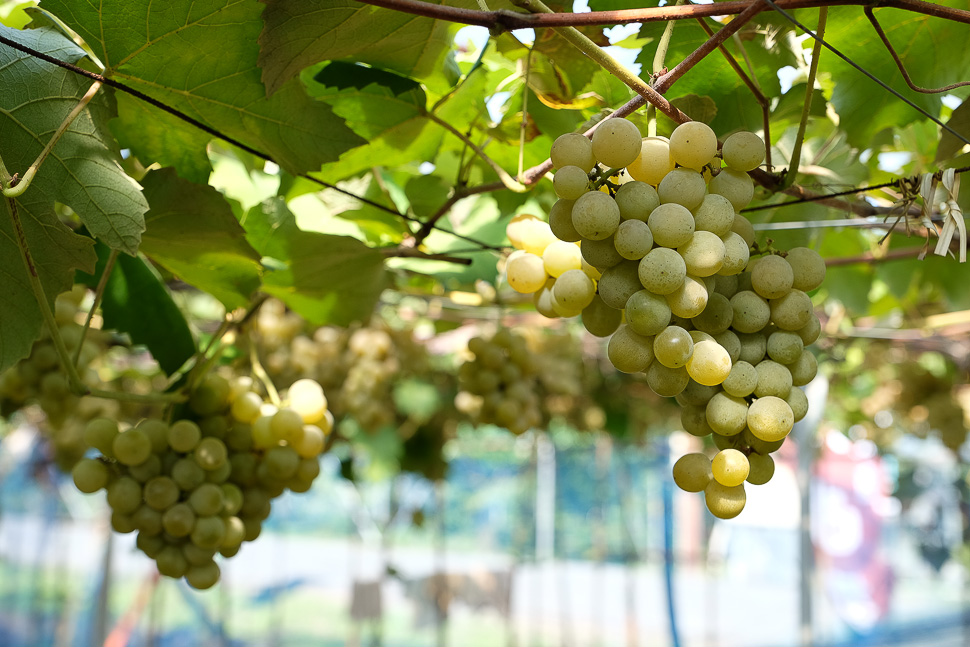 So many grapes, so little time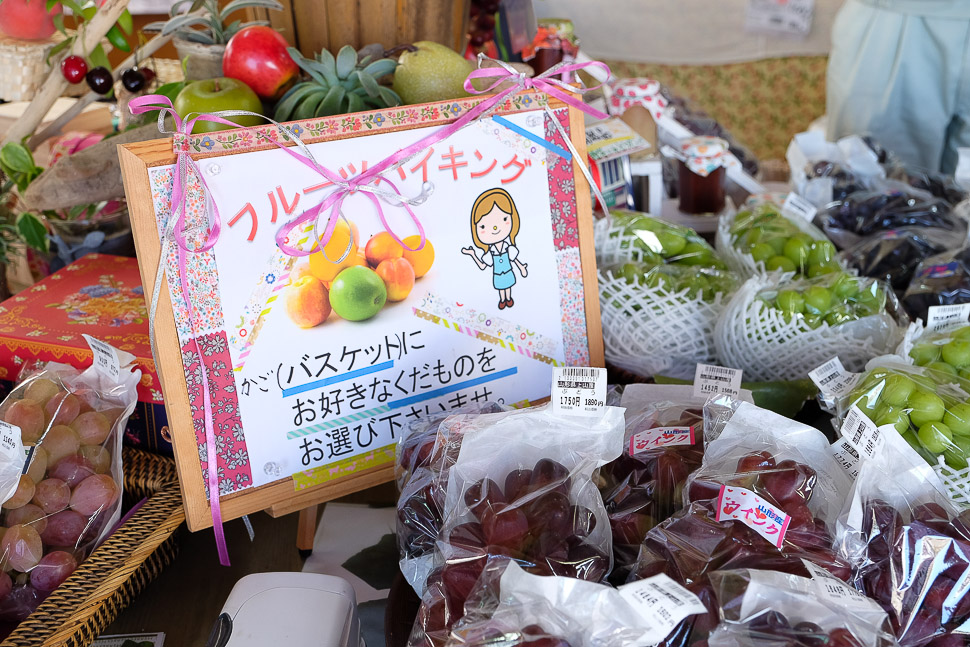 Choosing just a few to bring home was harder than it looks. So much sampling had to be done to be sure I got the right ones!
Look at all those beautiful pears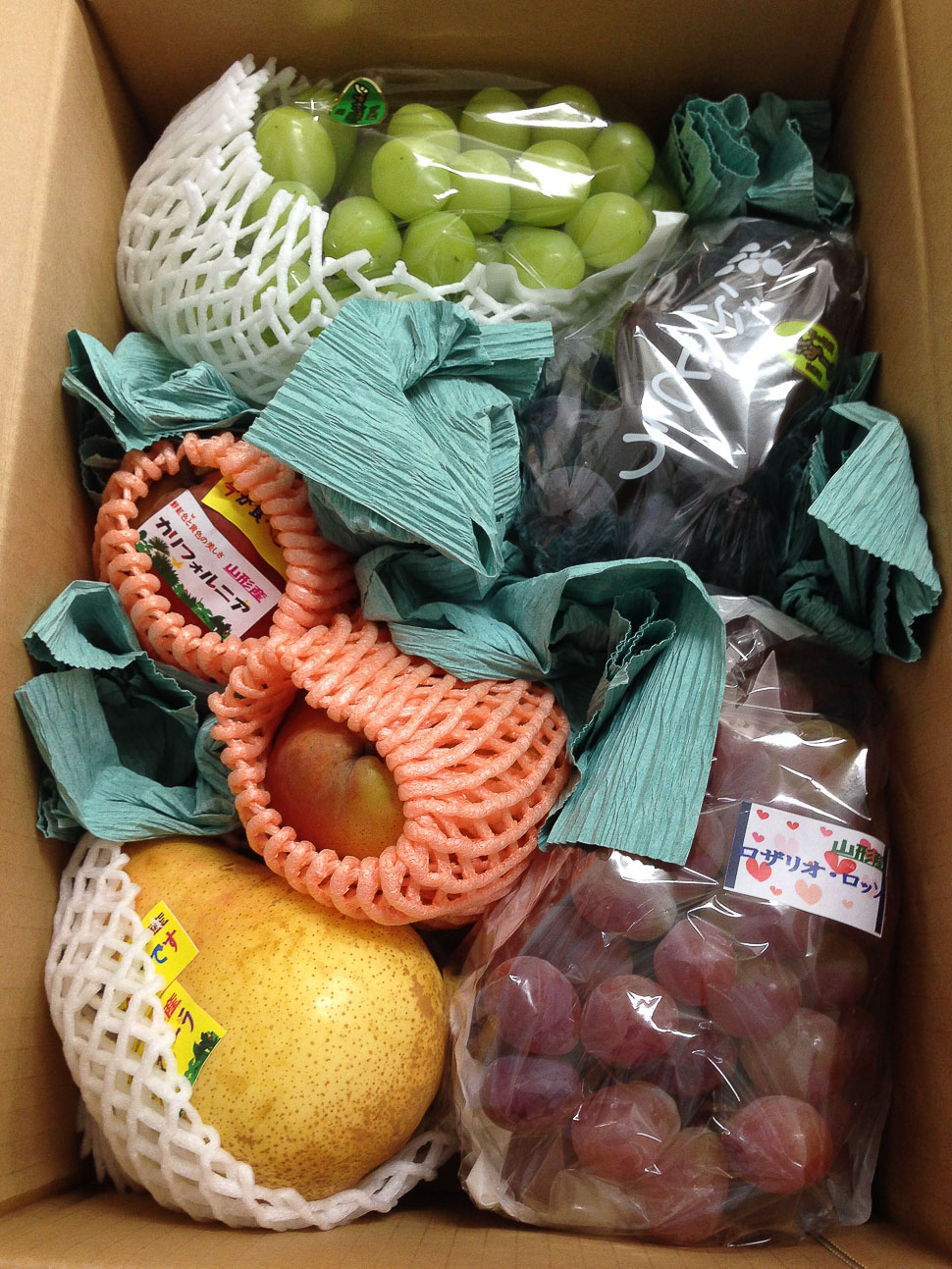 It was a hard decision but I finally settled on three types of grapes and two kinds of pears
The fruit farms around Kaminoyama Onsen produce a lot of wood in the course of maintaining their orchards, which would normally become waste. Many of these trees, such as pear, persimmon and cherry, have wood that is prized by woodworkers, and a shop in Kaminoyama called Kudamono Utsuwa has found a unique way to recycle these trees that would otherwise be thrown away: they use them to make beautiful woodcraft dishware, utensils and other household items. Their products allow people to enjoy the fruit trees long beyond their fruit bearing lives.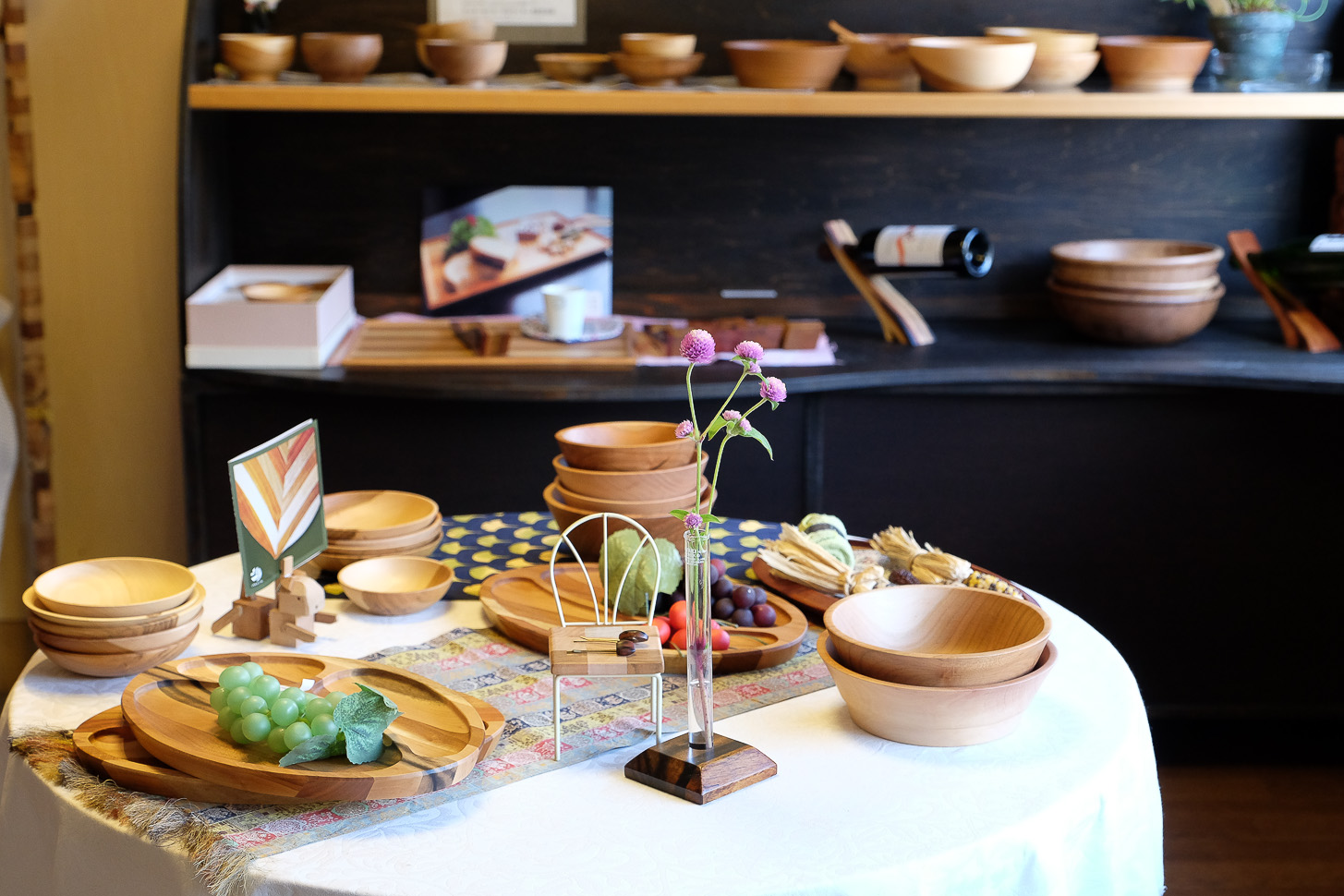 Dishware and other household goods in the Kudamono Utsuwa shop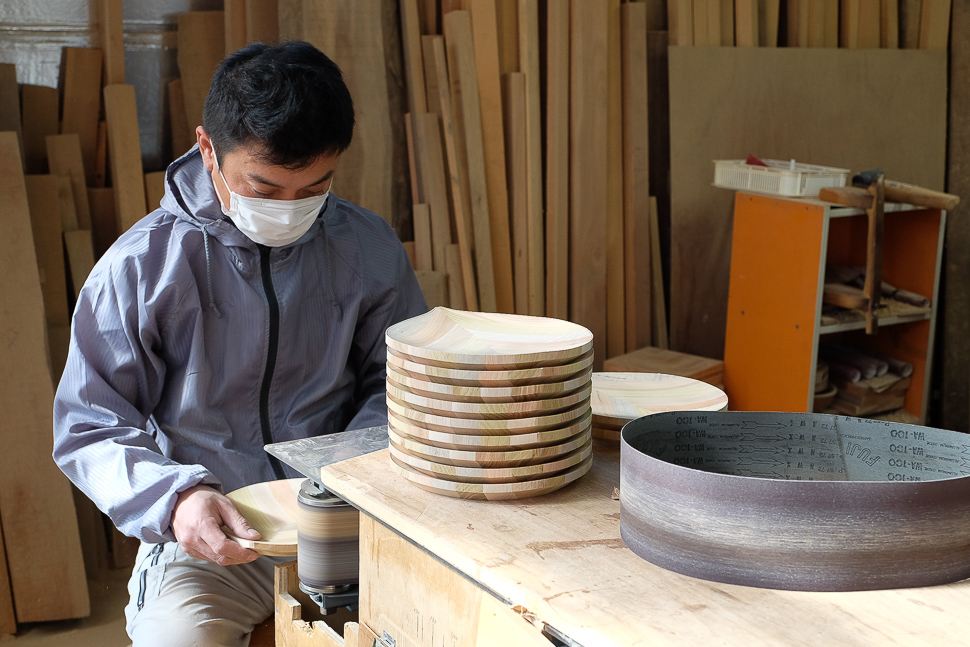 Sanding plates made of the wood harvested from fruit orchards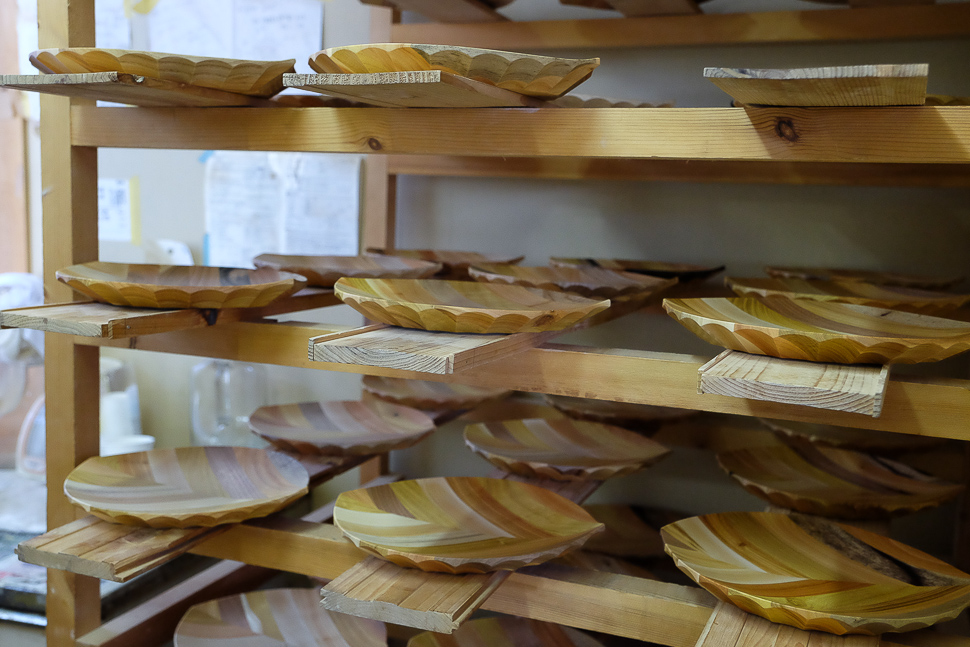 Finished plates on the drying racks
An interesting thing that we learned on our trip is that while Yamagata produces some nice sake, Kaminoyama Onsen is better known for its wineries. There are about a dozen of them spread around the prefecture, and Kaminoyama is home to two of them: one a nearly century-old institution in the Japanese wine world, and the other a young upstart pushing the envelope of innovation. Both offer winery tours (Japanese only, reservations recommended), and we paid a visit to each to learn about their products.
The older of the two is the Takeda Winery, which was established in 1920 on 15 hectares of hillside in northern Kaminoyama. The winery sells a varied product line, including a premium sparkling wine served to the world's leaders at the G8 Summit held in 2008 at Lake Toyako in Hokkaido. On the tour we were able to see the grapes in the vineyard and the casks that line the cellars, but the highlight was being able to watch the workers sort bushels of grapes that were destined to become red wine.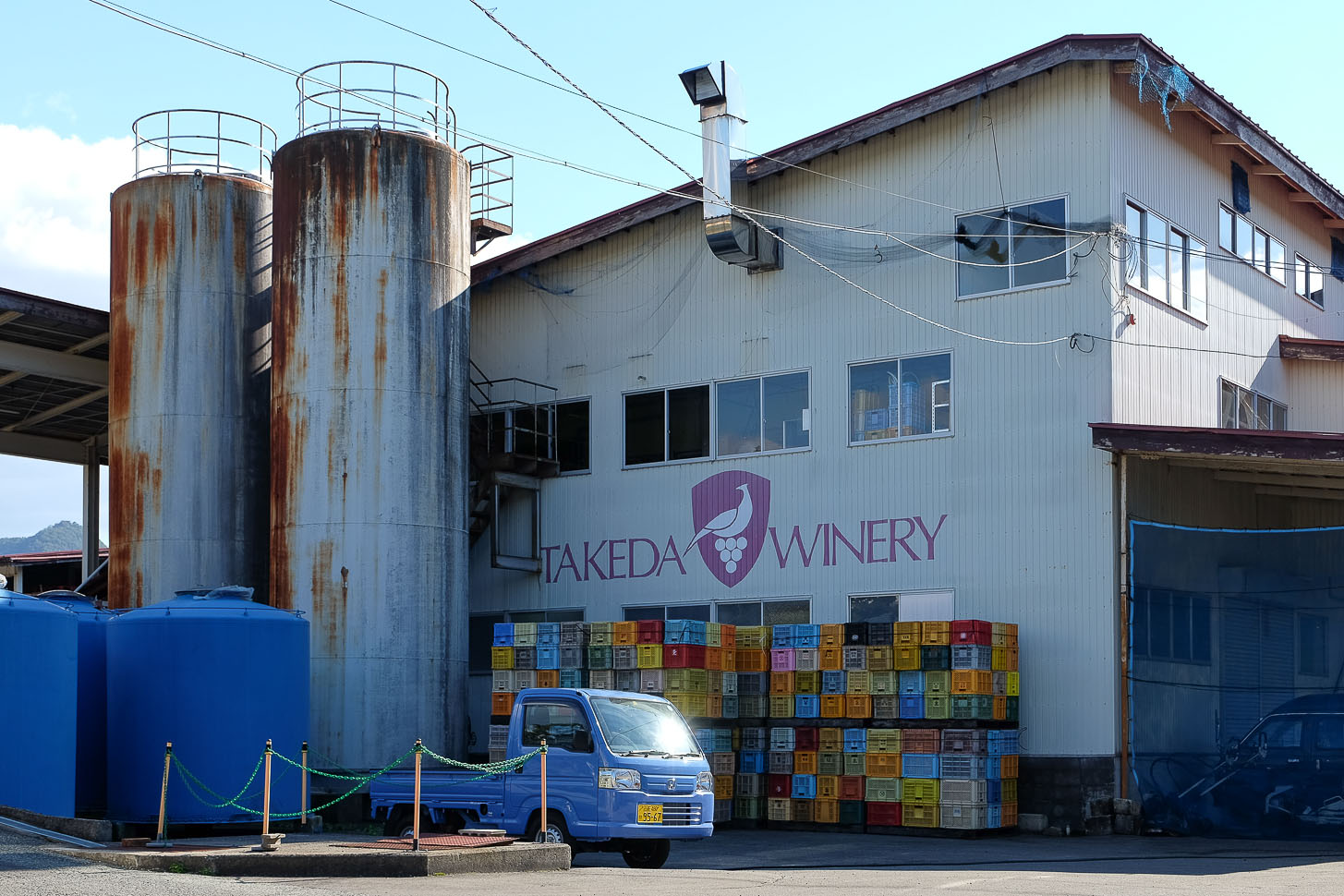 Takeda Winery has been in operation for 95 years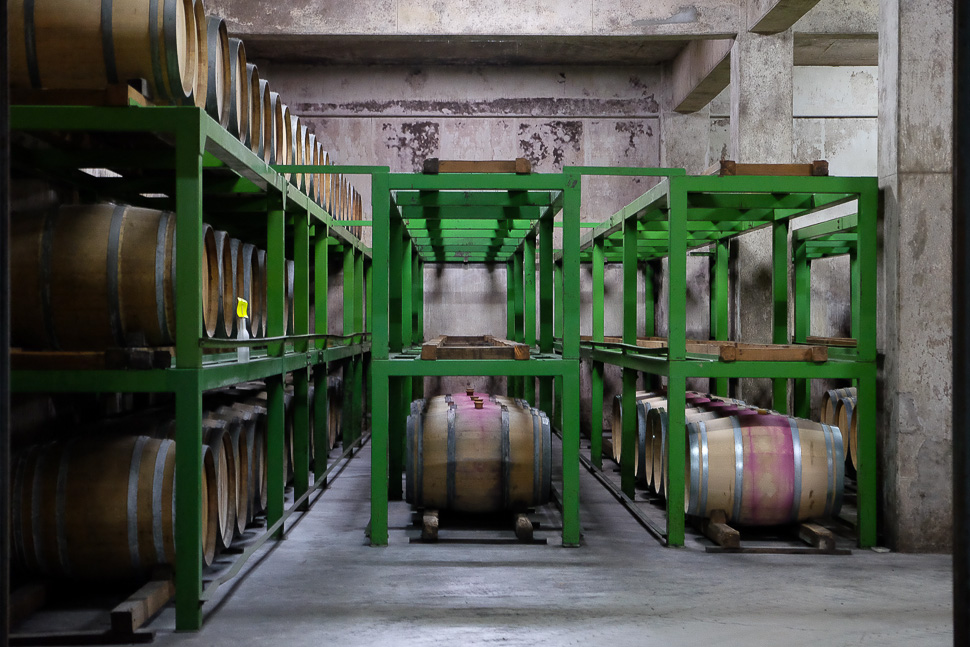 The Cellars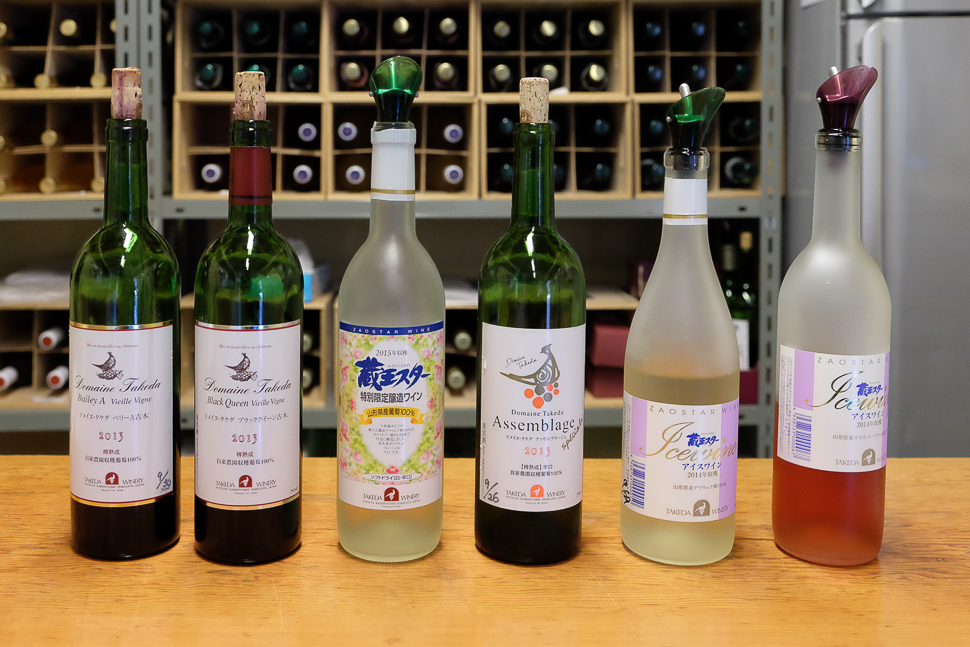 The winery offer tastings of several of their products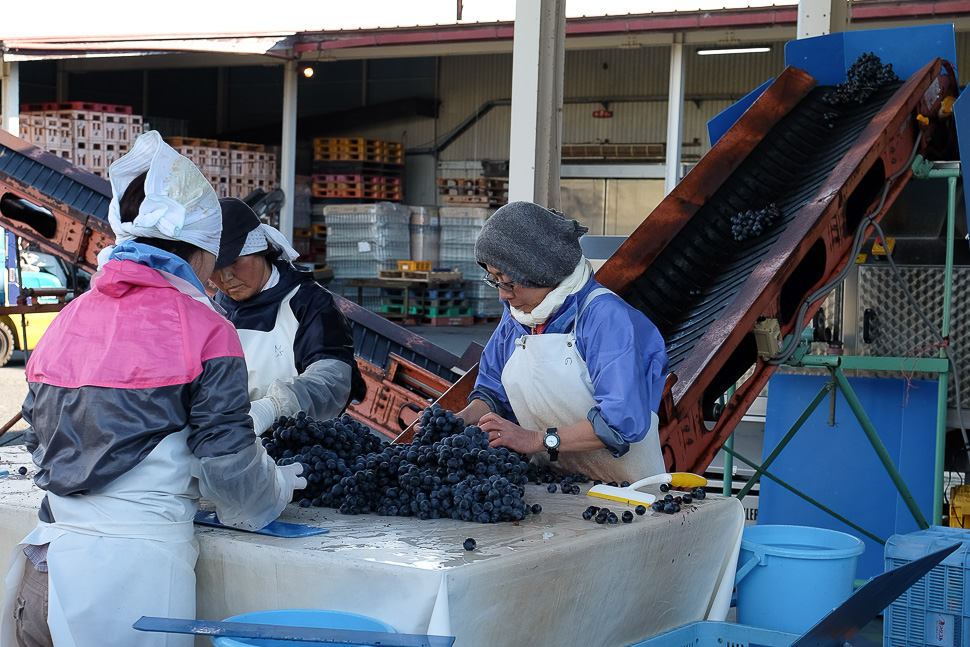 The company president (right) sorting grapes that will be made into red wine
The second winery in Kaminoyama Onsen is Woody Farm and Winery in the foothills of Mount Zao. Woody Farm was already an established fruit farm, but just a few years ago they started a winery to produce small batches of domain wine made from grapes grown on their vineyards. Their first wines were completed in 2013, and now they offer eight types for sale as well as sparkling wines made from local pears. The flavor of the sparkling pear wine is very much like champagne and paired nicely with the dried fruit that they also make and sell on the farm.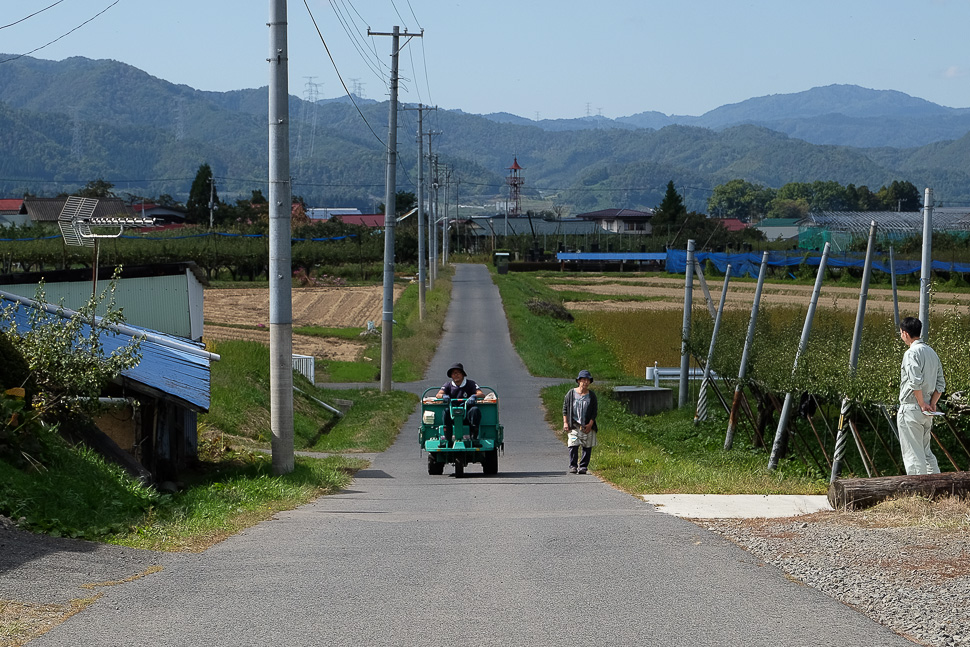 Woody Farm and Winery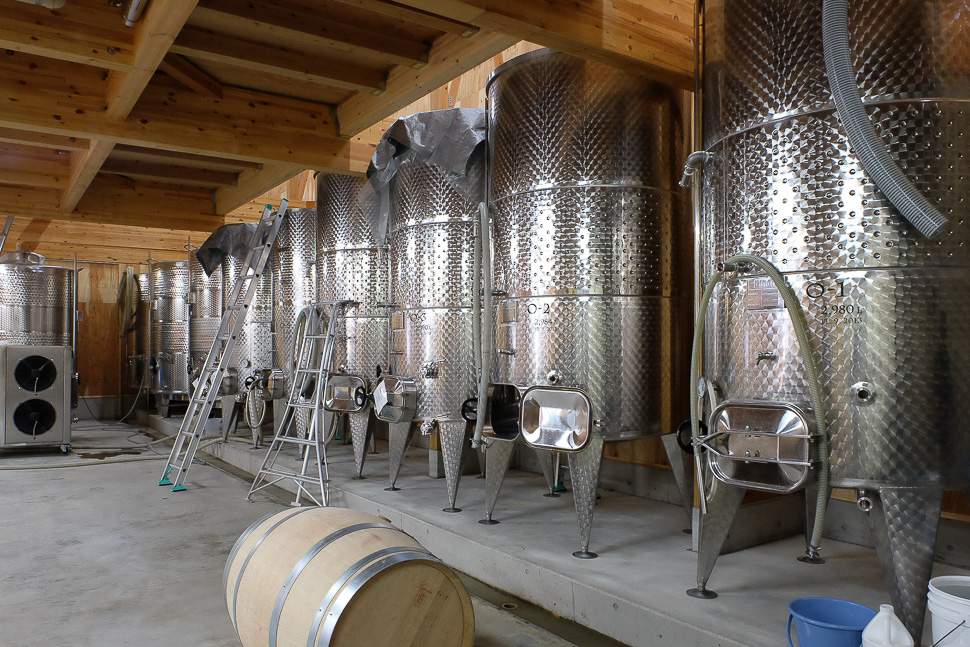 Shiny stainless steel fermentation vats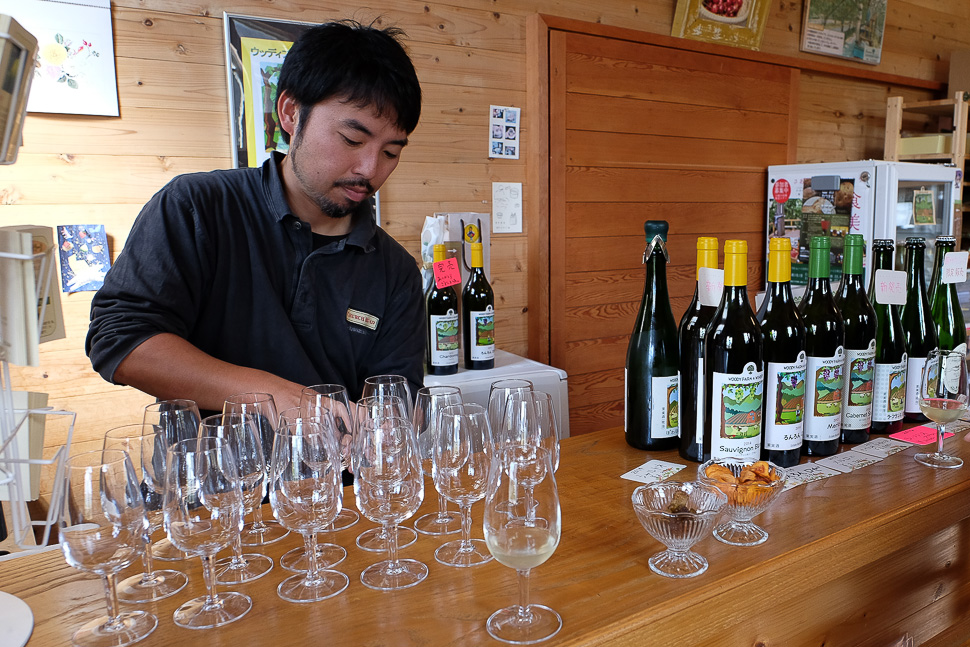 The winery offers wine tasteings so that you can try their various products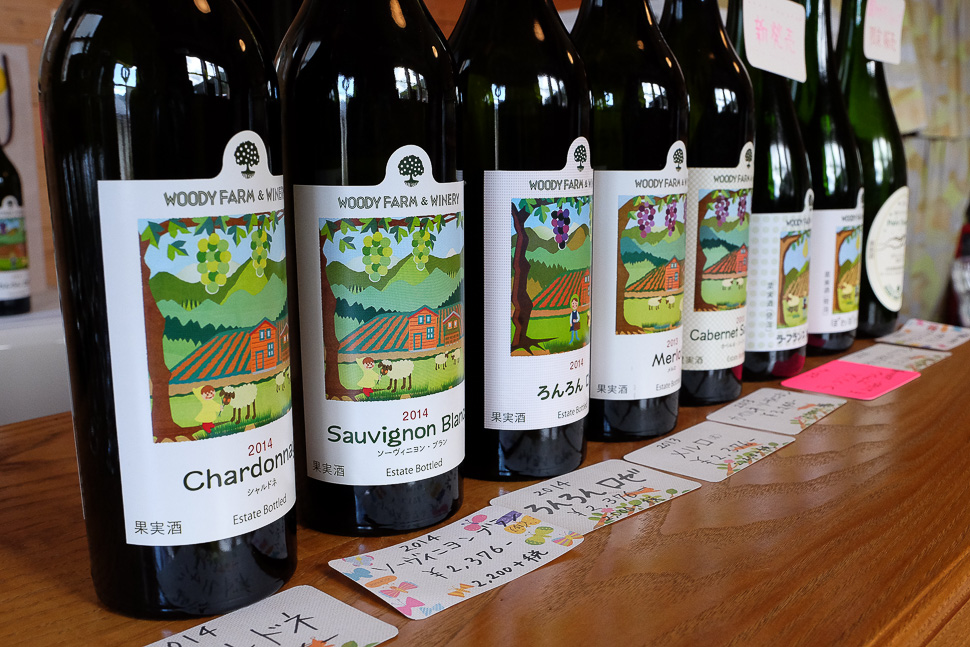 Their wines feature whimsical labels designed by a friend of the winery workers