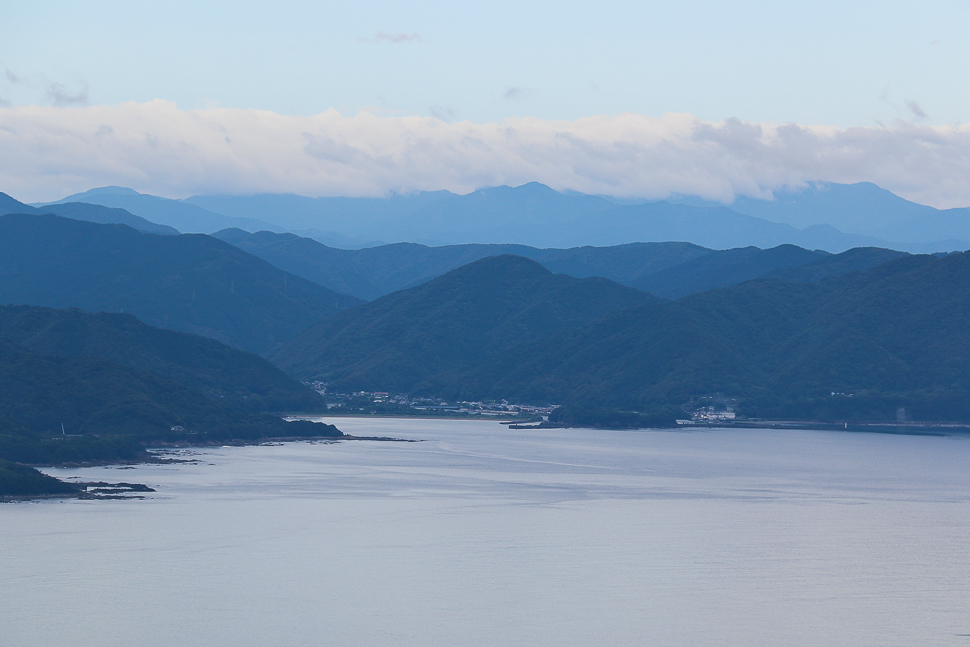 View from near the top of Ashizuri Peninsula
Kochi Prefecture is a hidden gem that is definitely off the beaten track. It's one of those places that lots of people say they want to go to but never really make it. Once you make it there, you'll find lots of beautiful and rustic scenery in the countryside, some parts where it seems like modernisation never reached (but there's still mobile network and I am sure optic fiber internet). The prefecture is relatively long, and unless you only stay in Kochi City, a rental car is recommended to move around. Traveling between places takes time, and many attractions are not served by public transport. One of the attractions that the prefecture is known for is the Shikoku 88 temple pilgrimage, which connects temples affiliated to Kobo Daishi who introduced Shingon Buddhism into Japan.
About 1200 years ago, Kobo Daishi, one of Japan's most significant religious figures, traveled across Shikoku and stopped at 88 power spots, praying for the protection of mankind against disaster, and temples were erected in the places he stopped at. Over time, people started to follow in the footsteps of Kobo Daishi, traversing the 88 temples and praying for a variety of reasons, and this pilgrimage became known as Ohenro. Pilgrims are known as Ohenro-san and can typically be identified by their white top, walking stick and woven grass hat, although the outfit is not compulsory for completing the pilgrimage. It is said that pilgrims never do their pilgrimage of the 88 temples in Shikoku alone as the spirit of Kobo Daishi is always with them.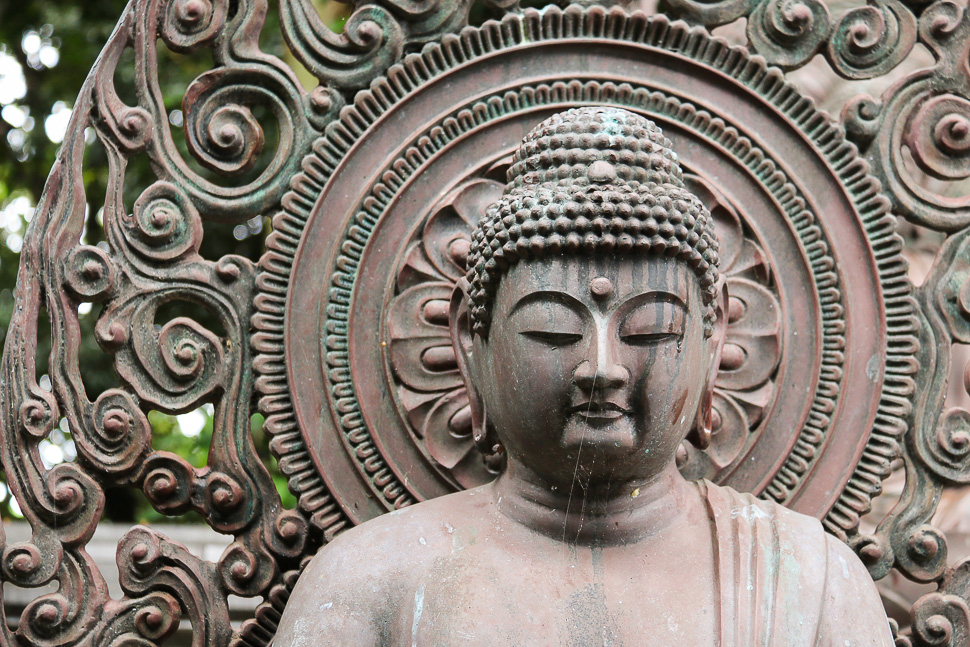 An image of Buddha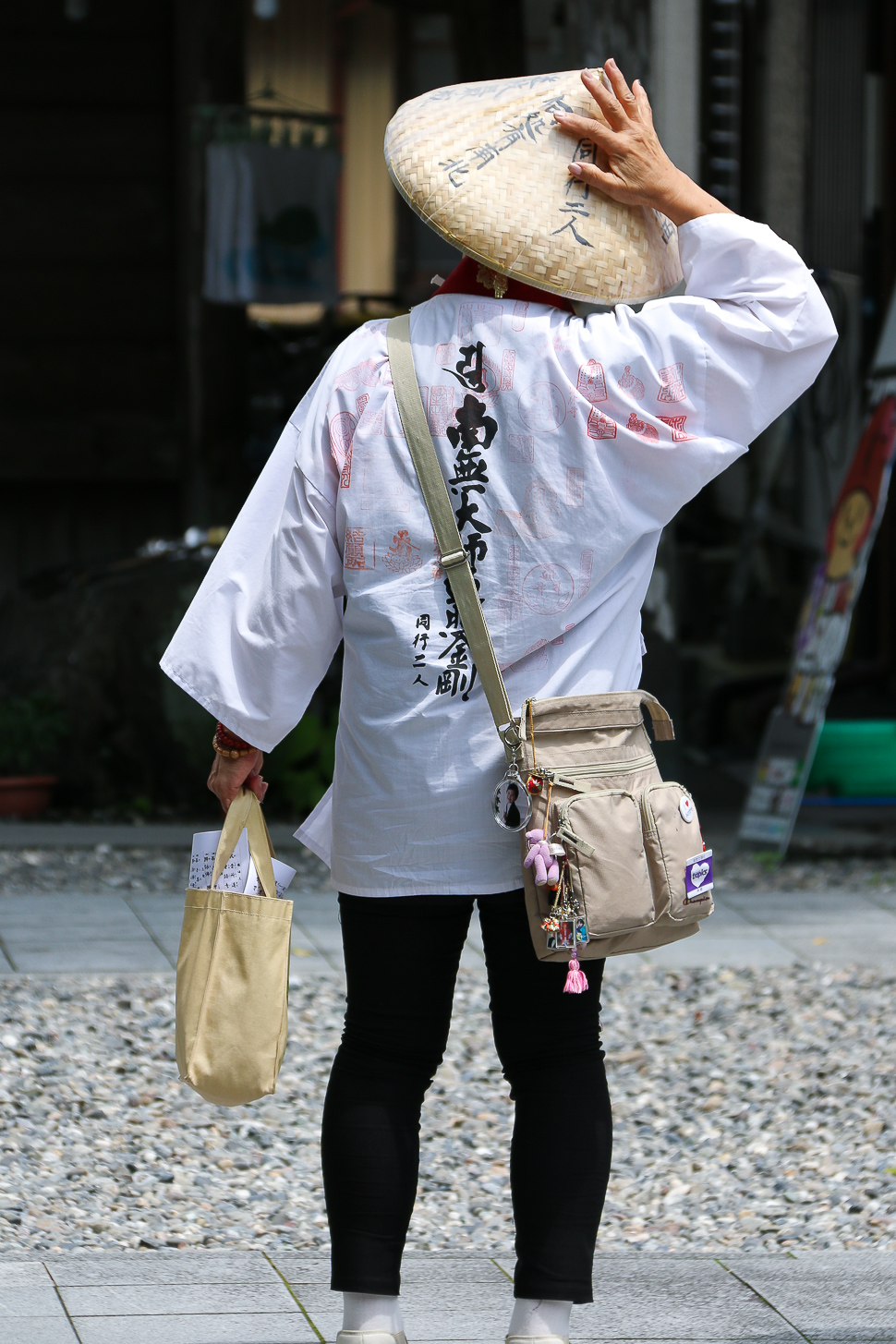 A pilgrim visiting a temple
The Ohenro is traditionally traversed on foot, and it takes an average of 50 days to cover the roughly 1400 kilometers! These days, there are bus tours taking pilgrims around the temples, and modern conveniences such as taxis and rental cars make the pilgrimage a lot easier. Ohenro can be done all year round, but most pilgrims tend to approach it in spring and autumn when the weather is neither too cold nor hot.
There are several ways to go about the Ohenro. The most typical way is clockwise starting in Tokushima. In leap years like this year, 2016, it is common to do the pilgrimage in a counter-clockwise direction. Note that while some people prefer to visit all 88 temples in one go, it is also acceptable to do the pilgrimage in parts.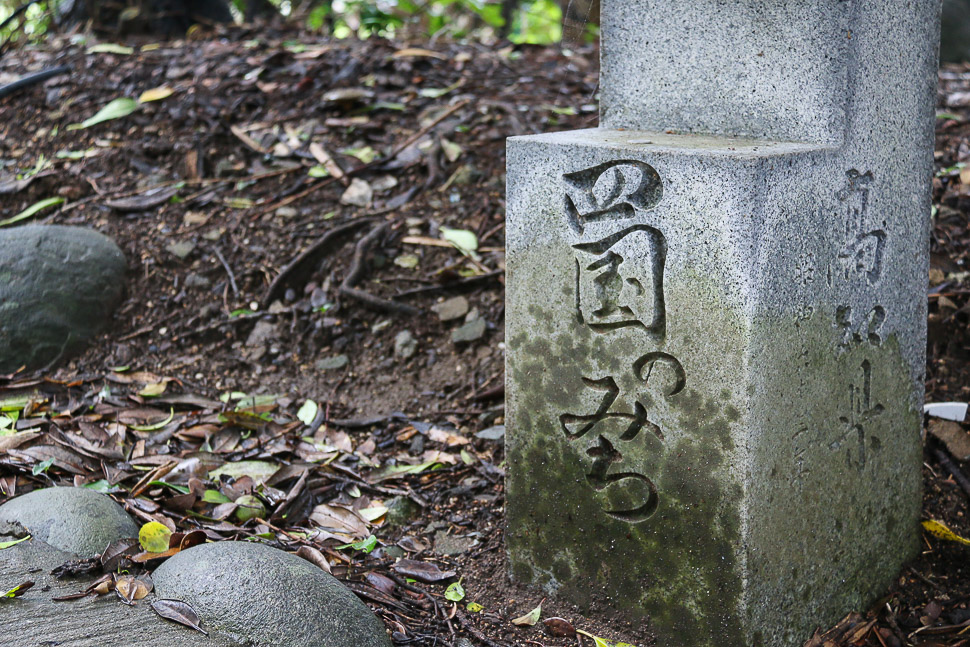 Stone marker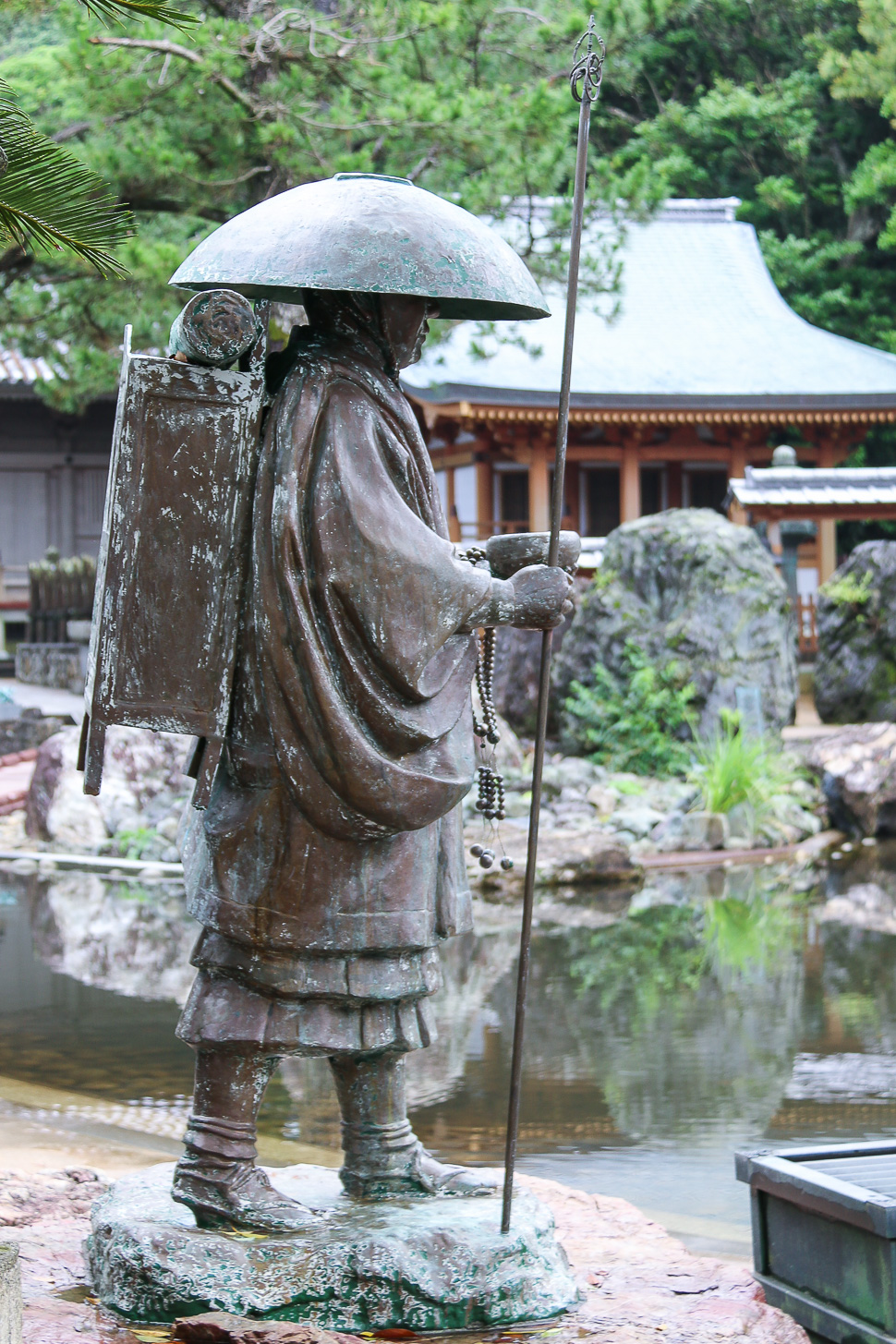 Statue of Kobo Daishi
Kochi Prefecture is home to 16 temples (numbers 24-39) on the Ohenro, including the most remote temples on the route. My trip to Kochi was too short to have covered all of them, and I only managed three temples, visiting them in counter clockwise order of course! But for all the talk about Ohenro, Kochi Prefecture has more to offer than just the temple pilgrimage. I also visited a number of spots between the temples, and all I can say is the Kochi countryside is stunning.
For this visit to Kochi Prefecture, I headed southwest, starting at Tatsukushi Coast (Tatsukushi Kaigan) which is about three hours by car from Kochi Ryoma Airport. The sandstone coast was formed about 20 million years ago, and visitors can walk around part of it in about 30 minutes. Tatsukushi Coast is not particularly massive, but for some reason I felt a little dwarfed by it just contemplating its age and formation. Mother Nature has her ways of showing us who's the boss of creation and art, and the shoreline was filled with a number of natural wonders. Glass boat tours are offered on fair weather days at 1560 yen for an hour in the open water. I also took the opportunity to visit the nearby Seashell Gallery, which is housed in one of Japan's top 100 modernist buildings selected by Docomomo, a non profit organisation for the conservation of buildings of the modern movement. Over 3000 different types of shells and corals collected from the Tatsukushi coast over the years are on display in the gallery.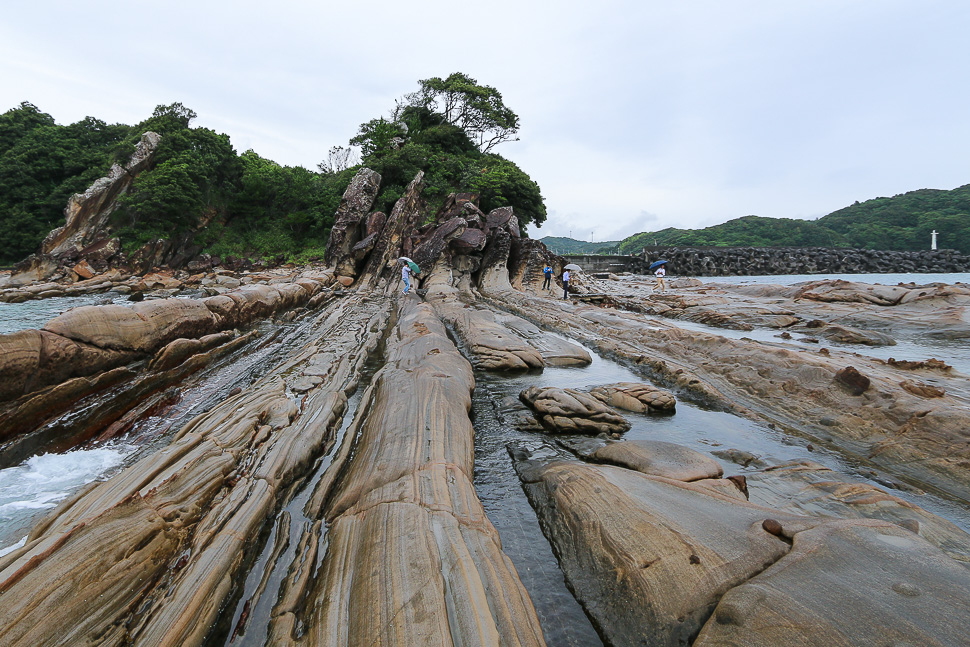 The sandstone coast stretches relatively far out in the sea at low tide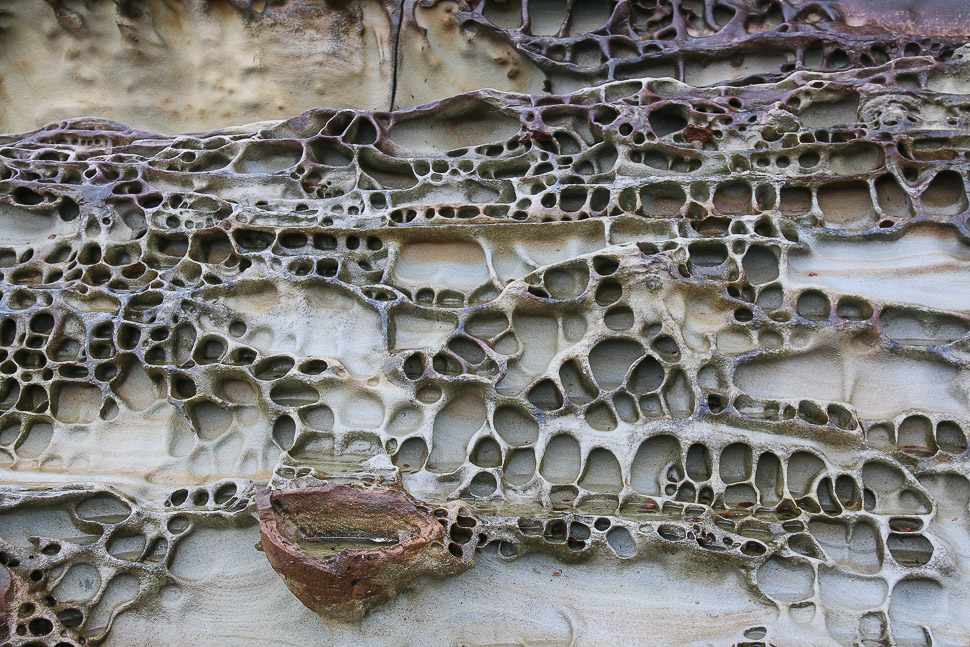 Round holes bored by salt and water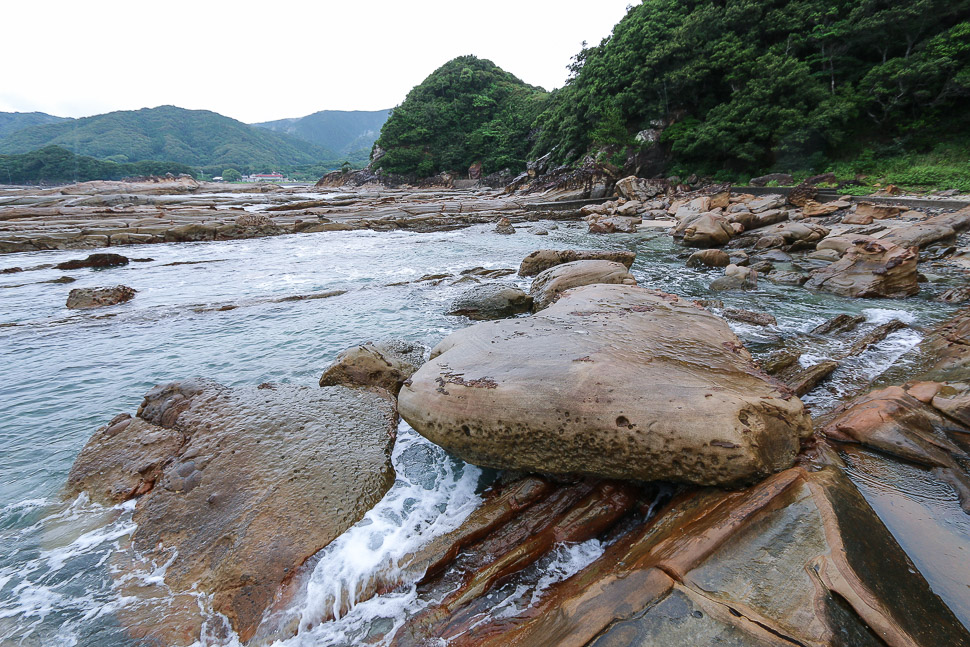 Mother Nature's way of showing her love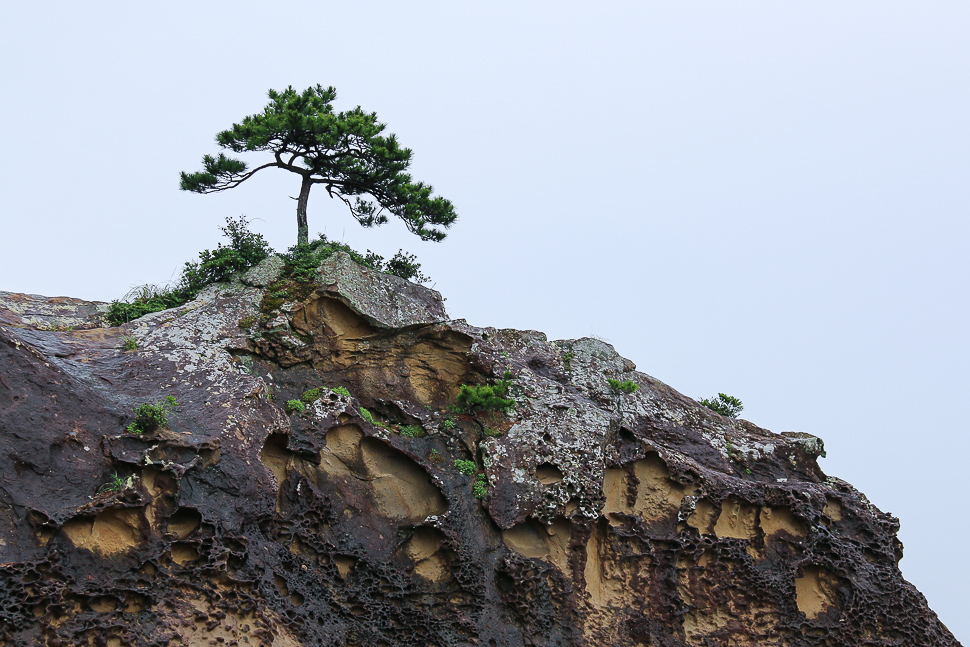 Tiny tree on the hill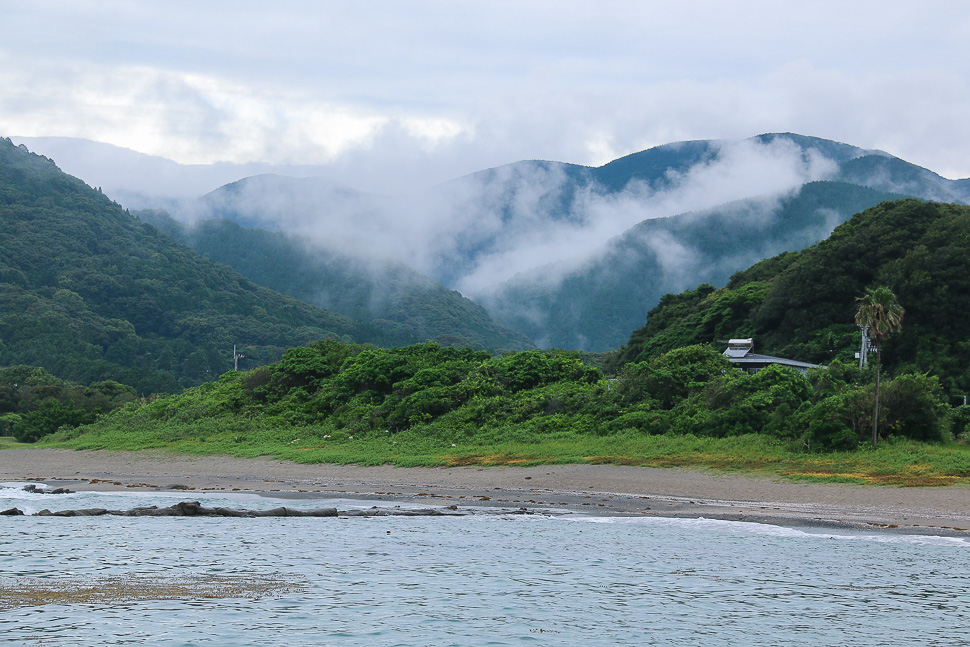 Low hanging clouds just after a downpour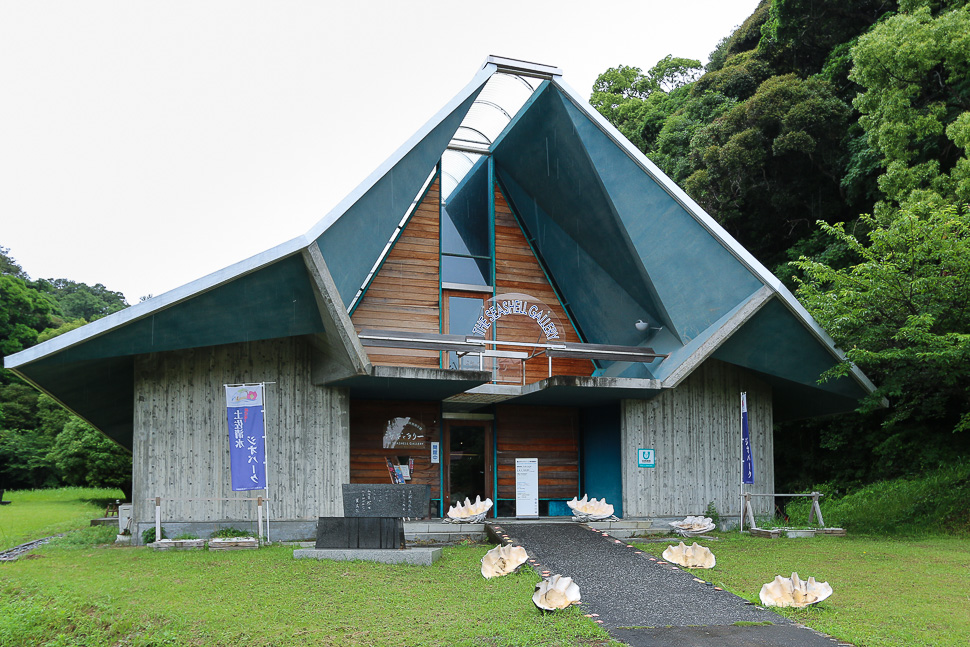 The Seashell Gallery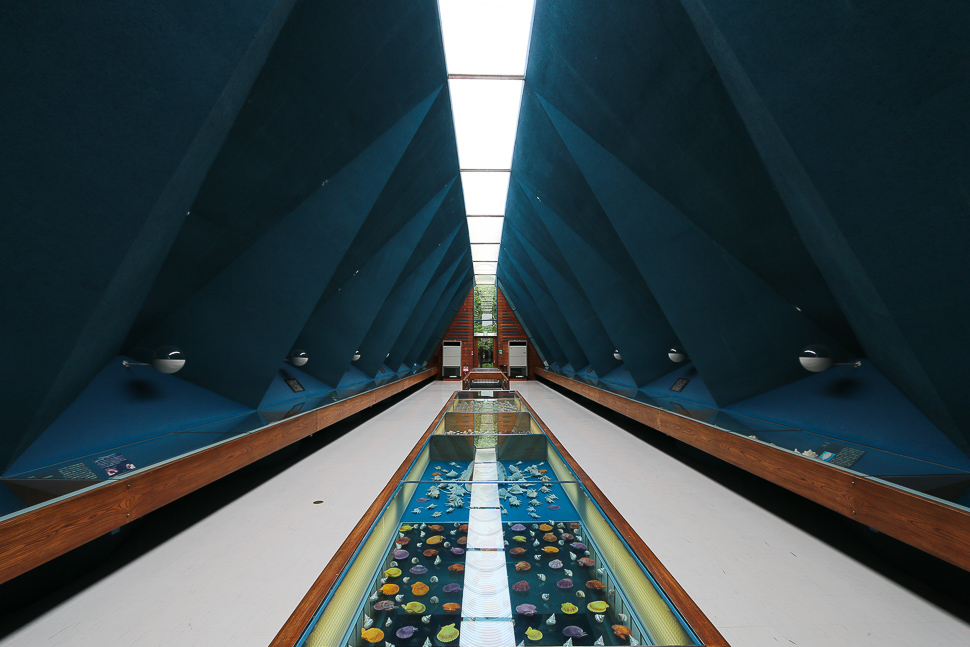 Inside on the second floor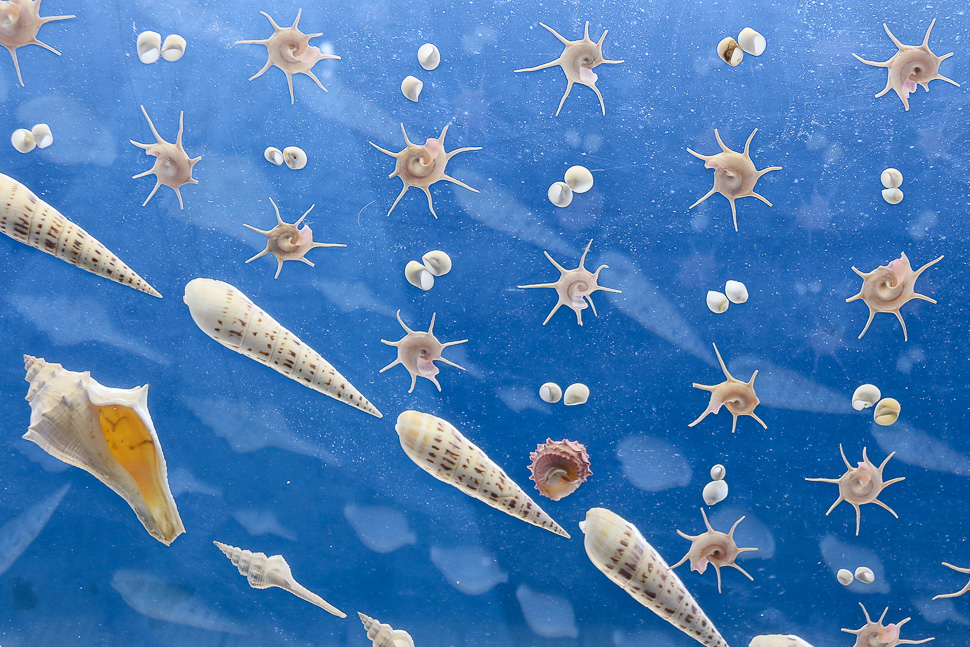 Part of the massive seashell collection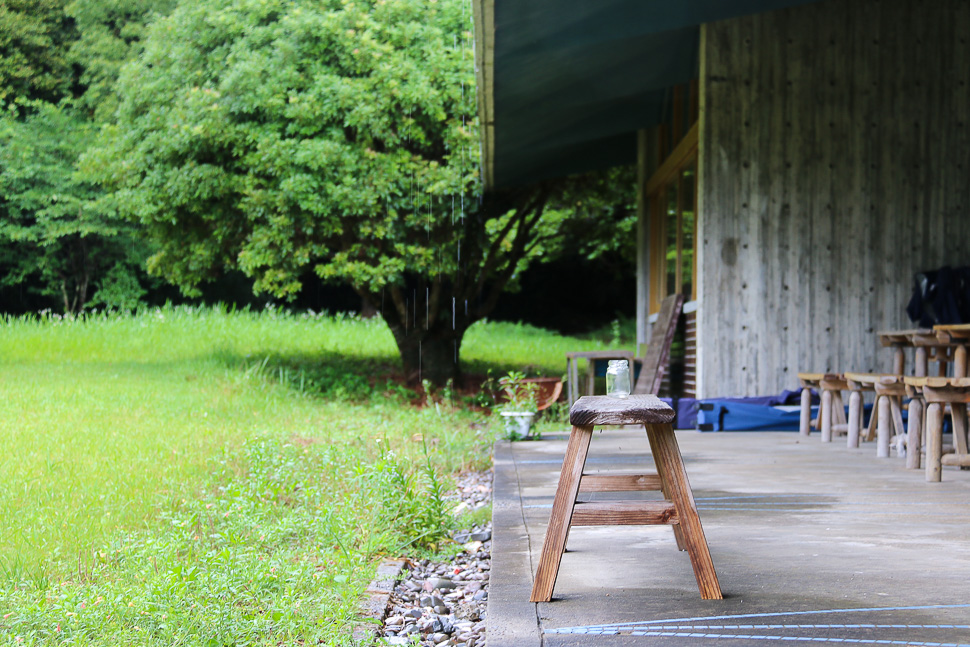 This makes me want to sit on the bench and contemplate about life and the universe
From the Tatsukushi Kaigan, I made my way westwards to my first temple, the Kongofukuji, temple number 38 on the pilgrimage. This temple is located near the tip of the Ashizuri Peninsula, and is the most isolated temple on the entire pilgrimage. It is about 94 kilometers from Iwamotoji (number 37) and 74 kilometers to Enkoji (number 39)! In the vicinity of Kongofukuji are the "Seven Wonders of Ashizuri", which are interesting formations related to Kobo Daishi.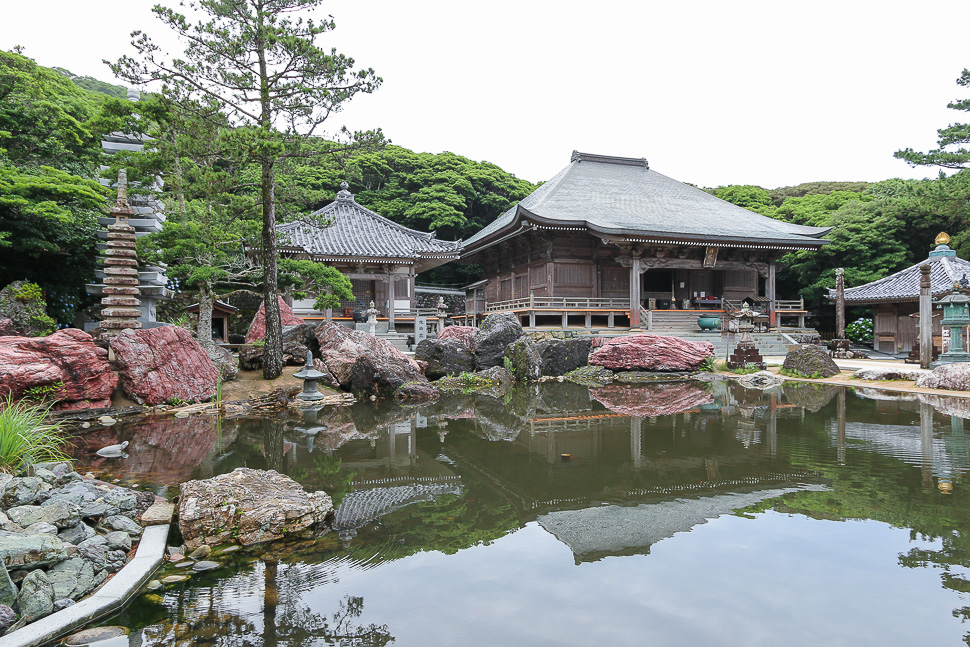 View of the main hall at Kongofukuji across the pond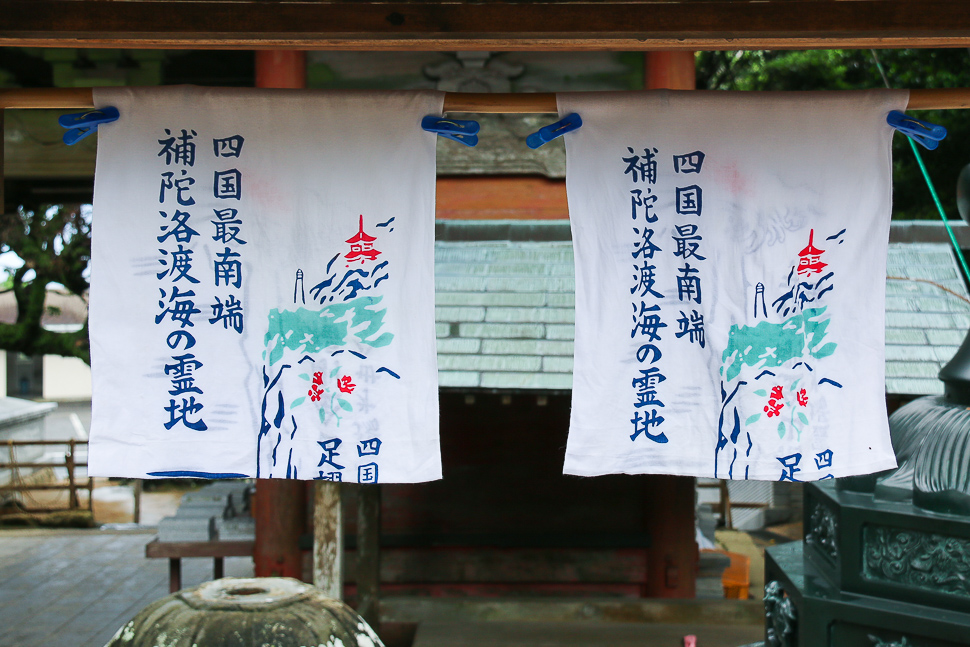 Towels hanging to dry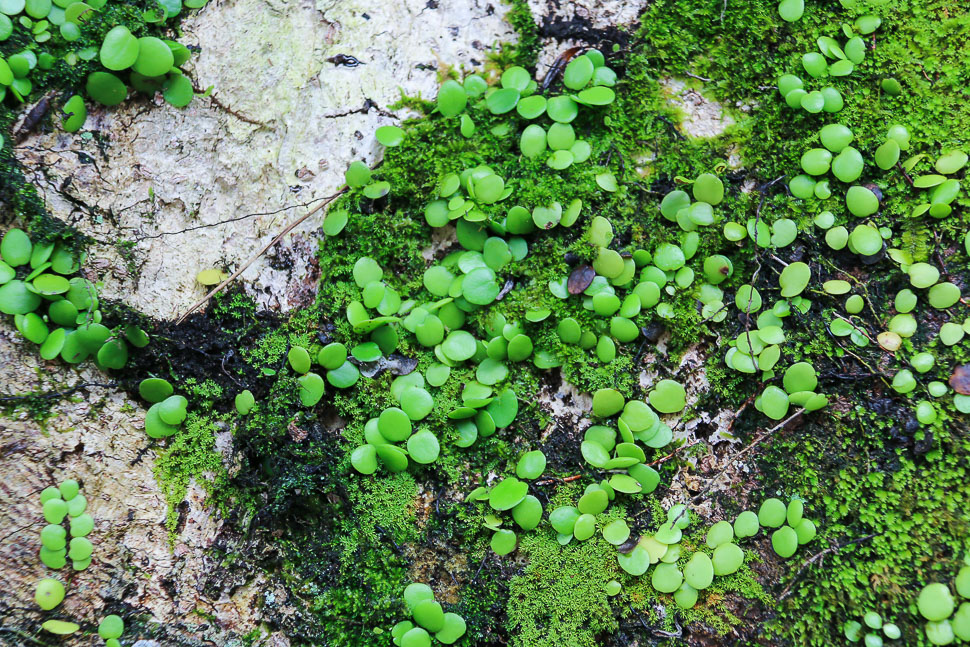 A bit of greenery on the stones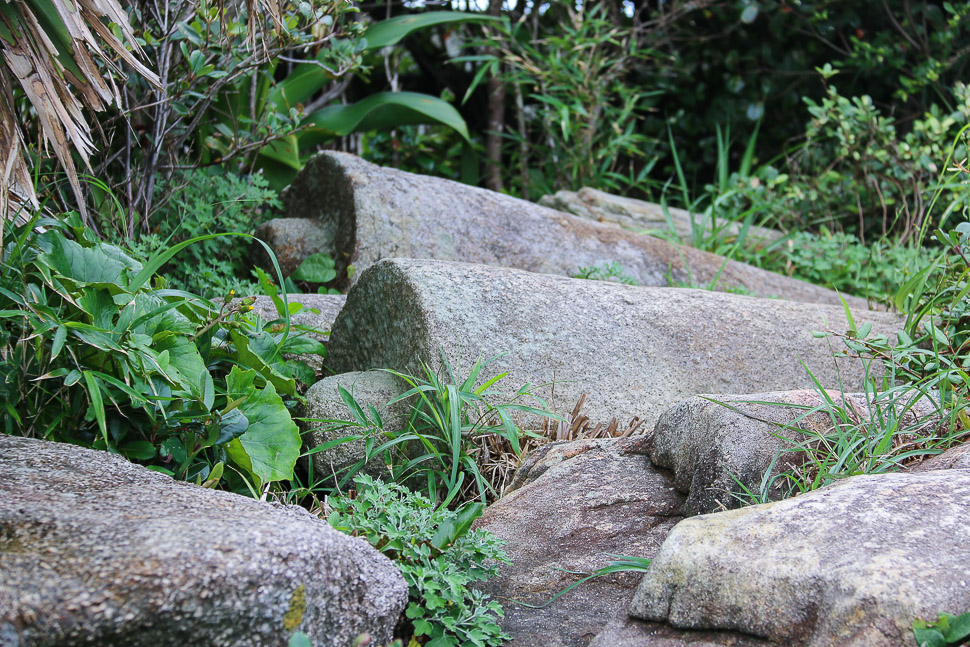 Three legs of a torii remain near the cliffs from when Kobo Daishi failed to build one overnight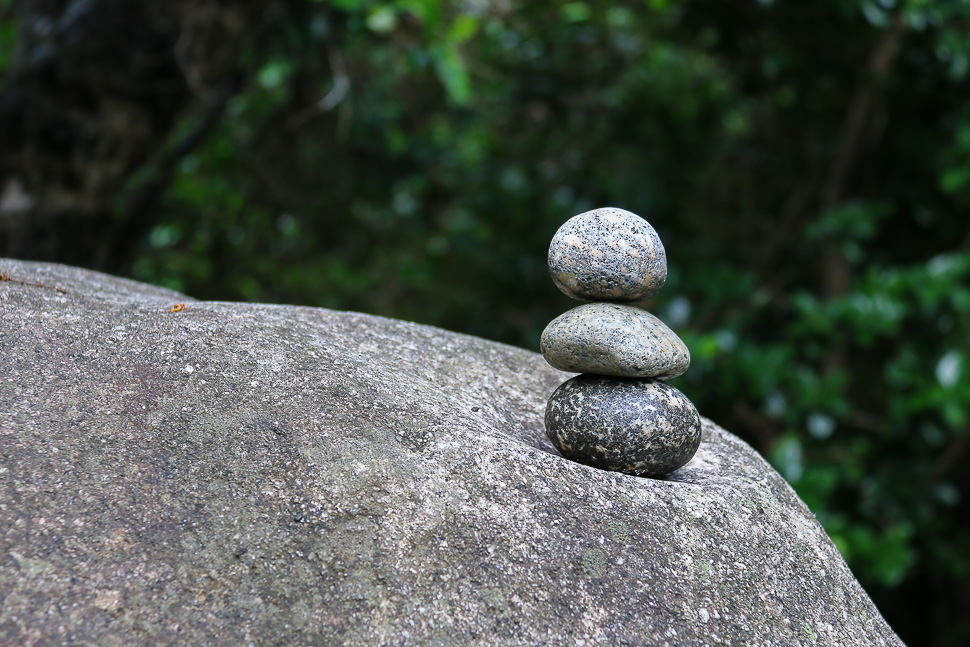 You're a filial child if you can move the large rock enough so that these smaller ones fall off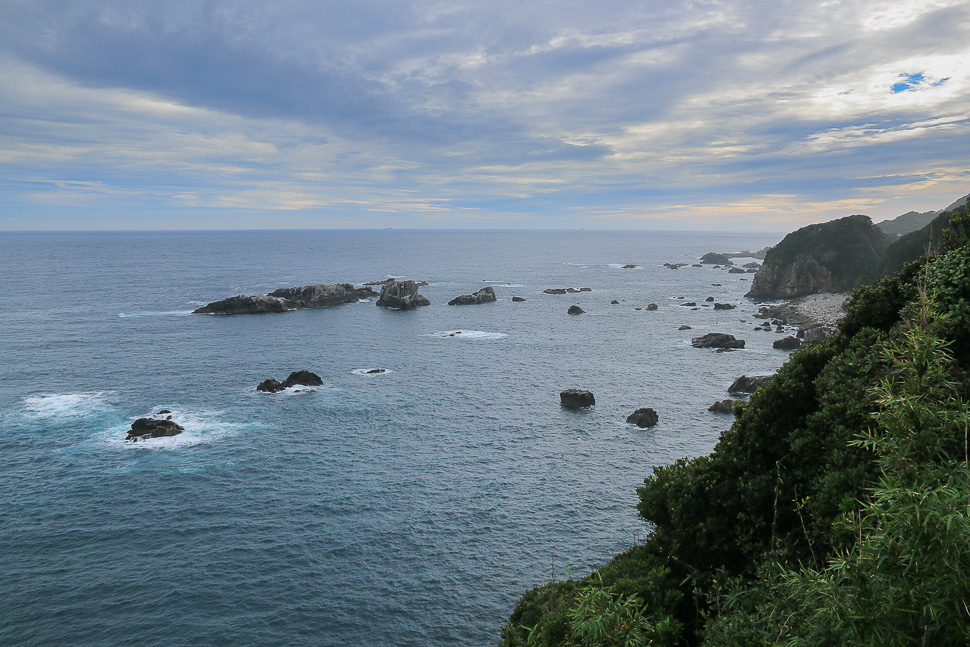 The Ashizuri Coast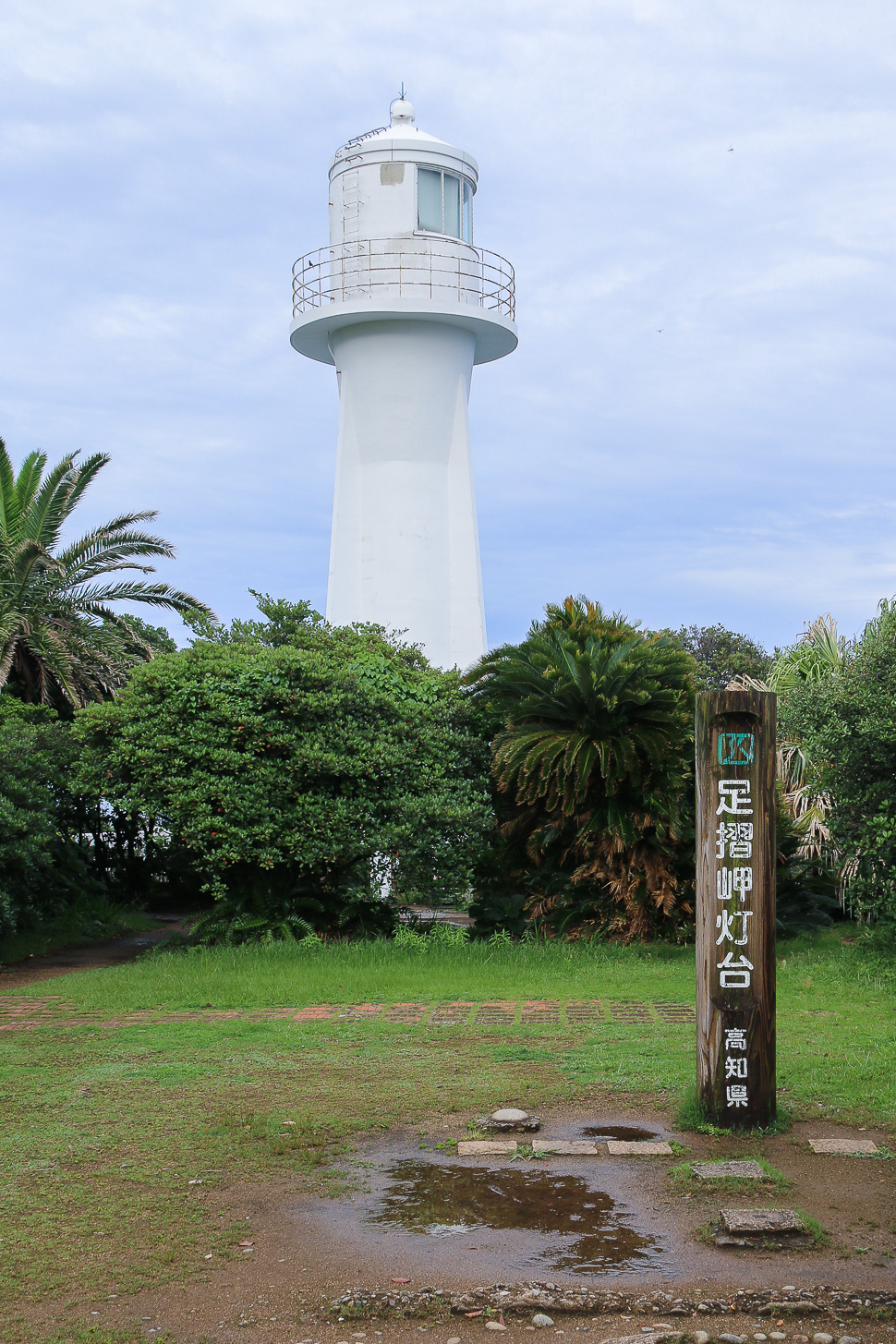 Ashizuri lighthouse
When pilgrims reach a temple, they start with a symbolic cleansing of their mind and heart through the washing of their hands and mouth at the purification trough near the entrance of the temple. From there they usually move on to the main hall to offer prayers before praying at the other halls. Pilgrims typically get their white tops stamped at the temple, while others have their temple record book filled out by the temple staff.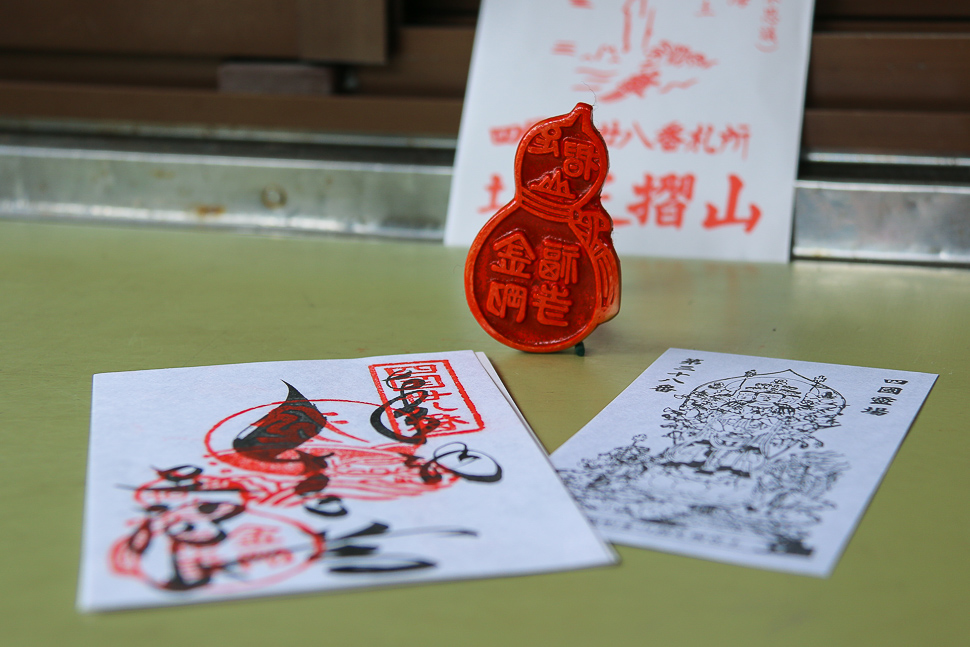 A sample of what you can get for your temple record book
About an hour from Kongofukuji is one of the widest and longest rivers in Japan, the 196-kilometer long Shimanto River. Of the many bridges constructed across the river, about 22 are specifically designed to submerge, or "sink", when the water level gets high. I visited Sada Chinkabashi, Shimanto River's longest "sinking" bridge at 291.6 meters, and the one furthest downstream and closest to the sea. The bridge can scarcely accommodate one vehicle and pedestrian side by side with a width of 4.2 meters. It is easy to differentiate between the tourists and locals who drive across the bridge as the locals don't stop before crossing the bridge while tourists are a little more cautious.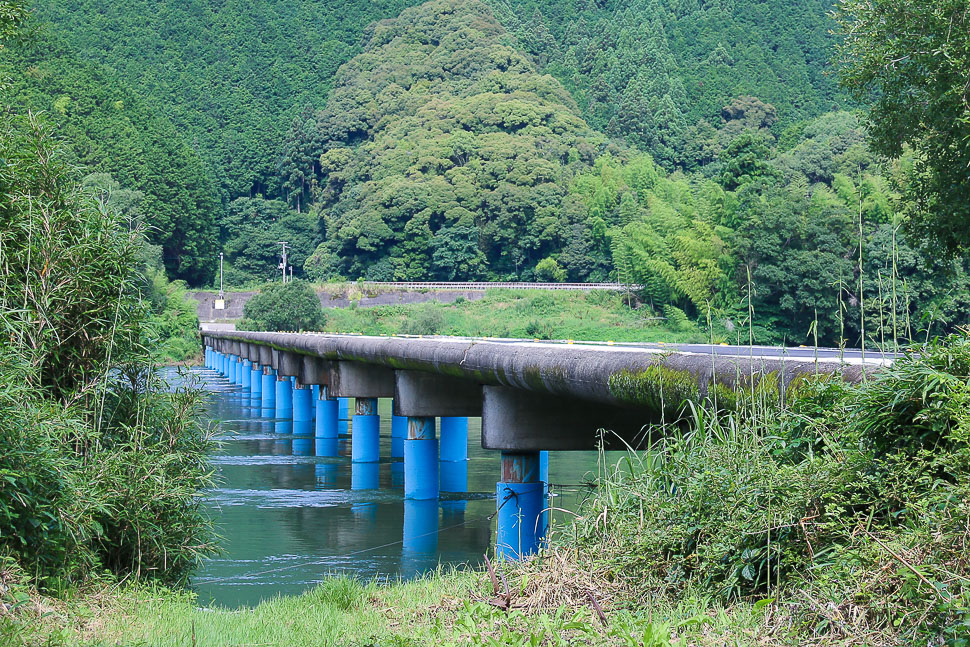 Sada Chinkabashi Bridge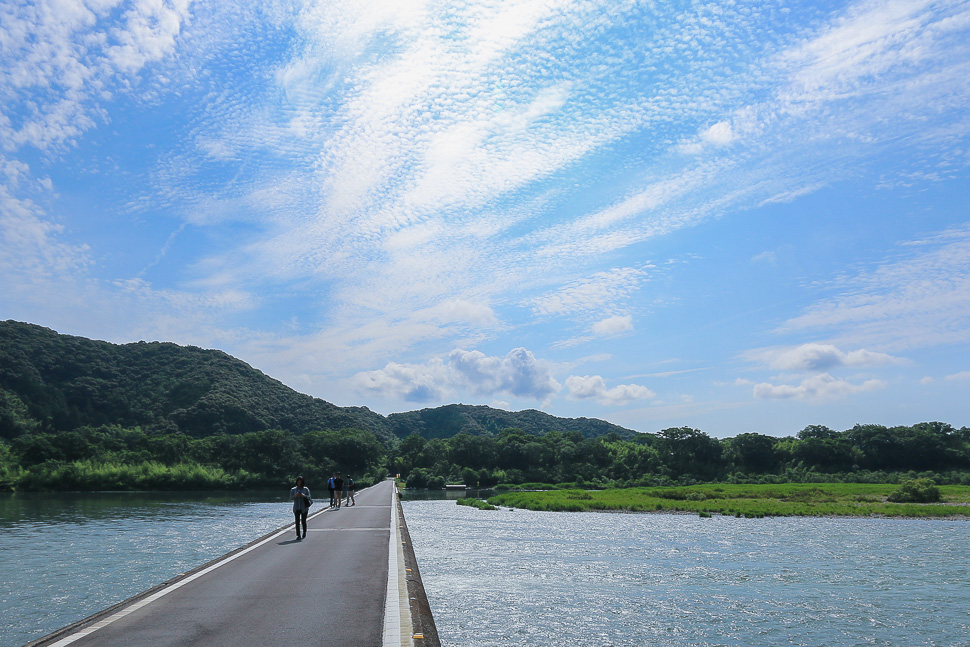 There's enough space for people and a single vehicle side by side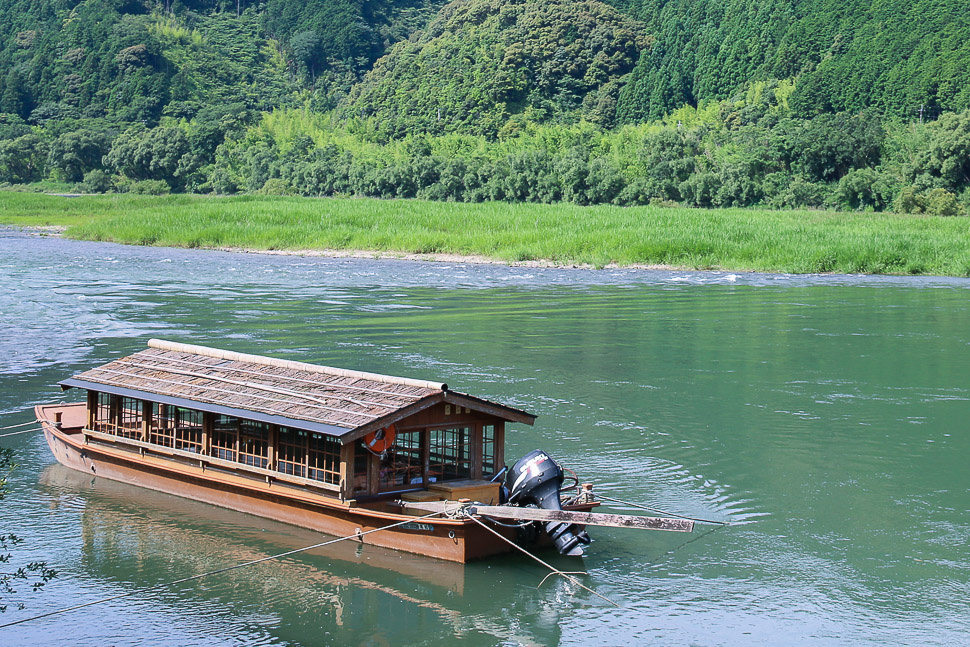 Boat ride along part of the river available here
Hydrangeas were in bloom when I visited and I managed a small detour to see them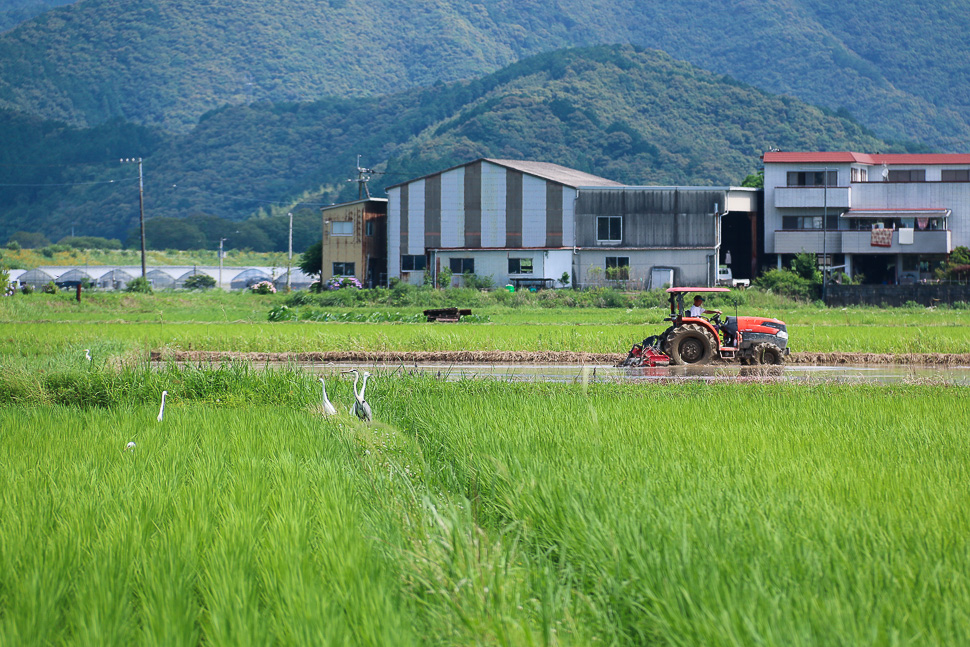 Rice fields near the hydrangeas
It took over an hour to drive from Sada Chinkabashi to my next destination, Iwamotoji Temple. Like I mentioned before, Iwamotoji is 94 kilometers from Kongofukuji, and it takes about two hours to drive or 20-25 hours to walk the same distance. One of the main attractions at Iwamotoji is the roof of its main hall. 575 pieces of drawings were donated from all across the country when the main hall was renovated about 40 years ago.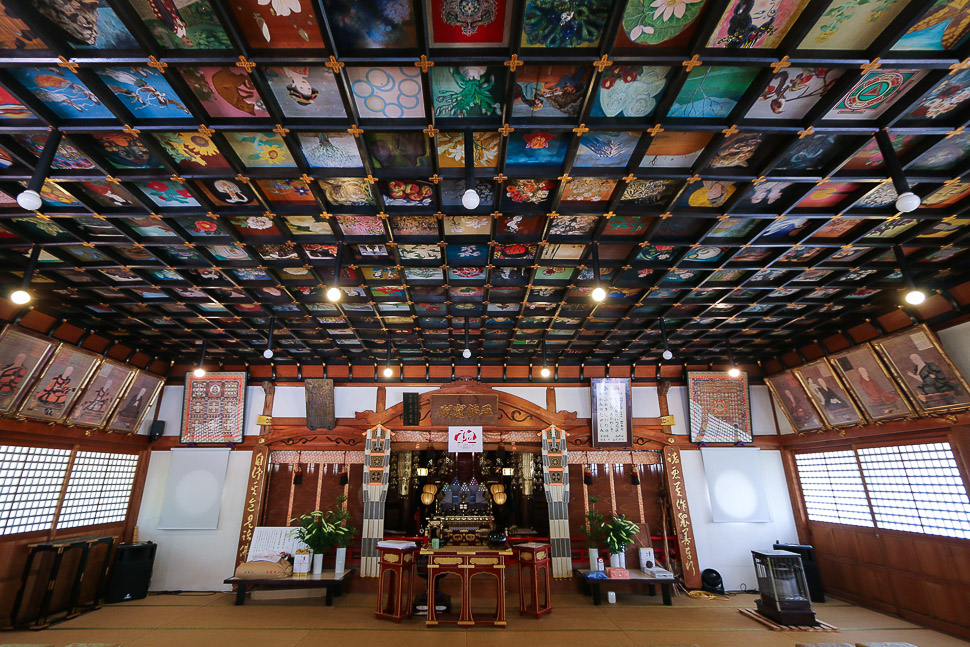 The colorful ceiling at Iwamotoji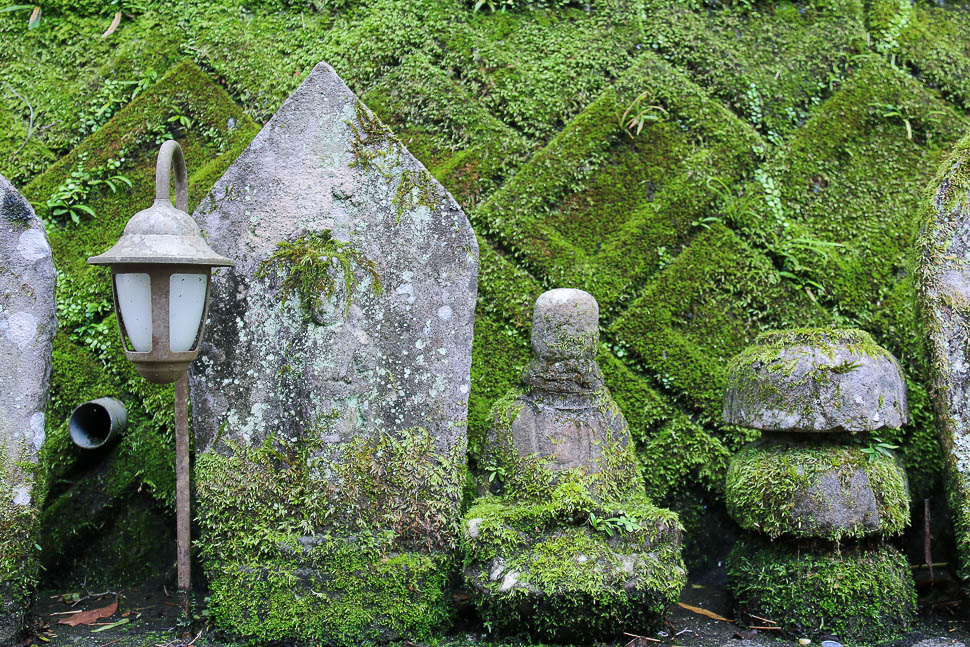 Stone statues surrounded the main hall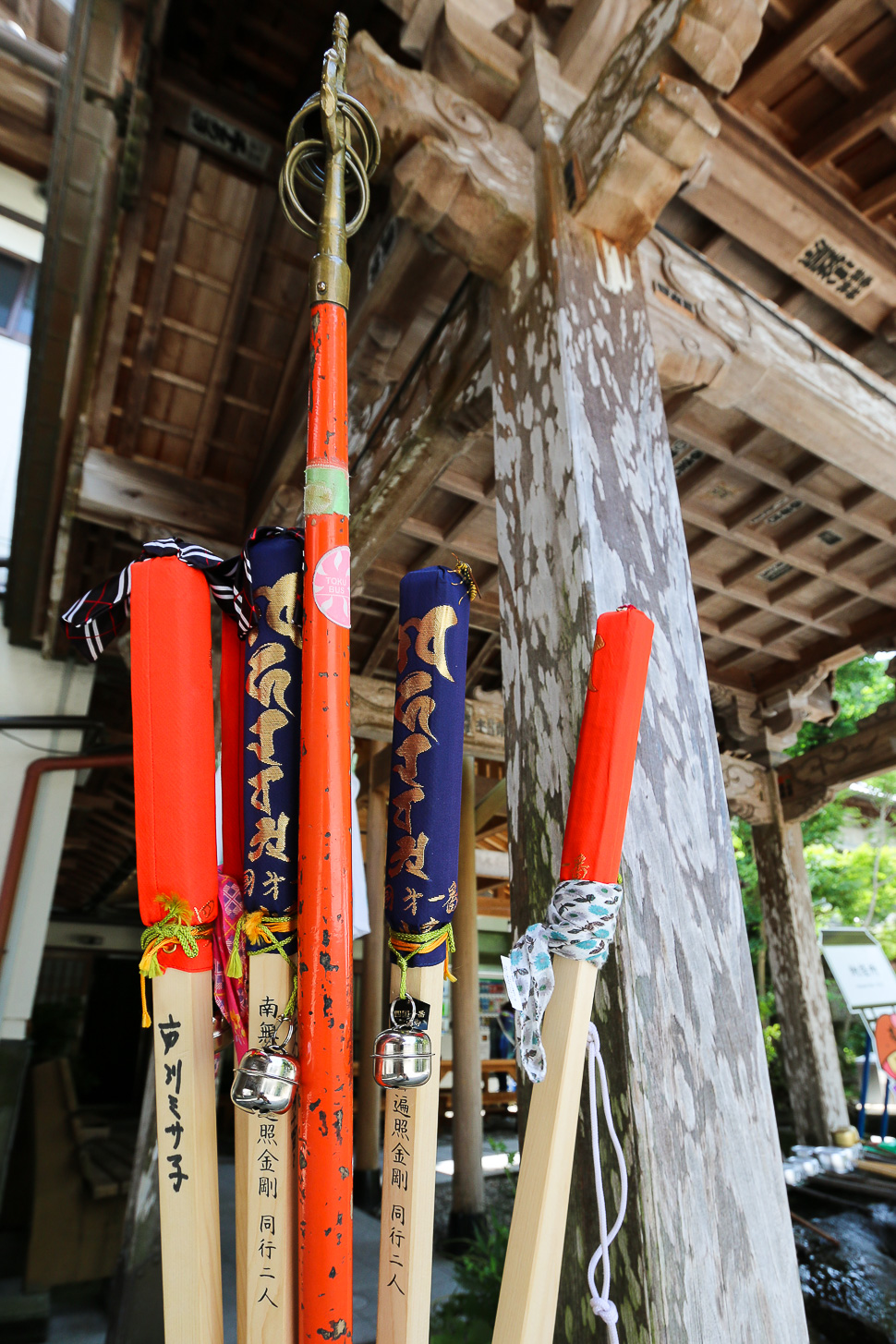 Walking sticks near the entrance of the temple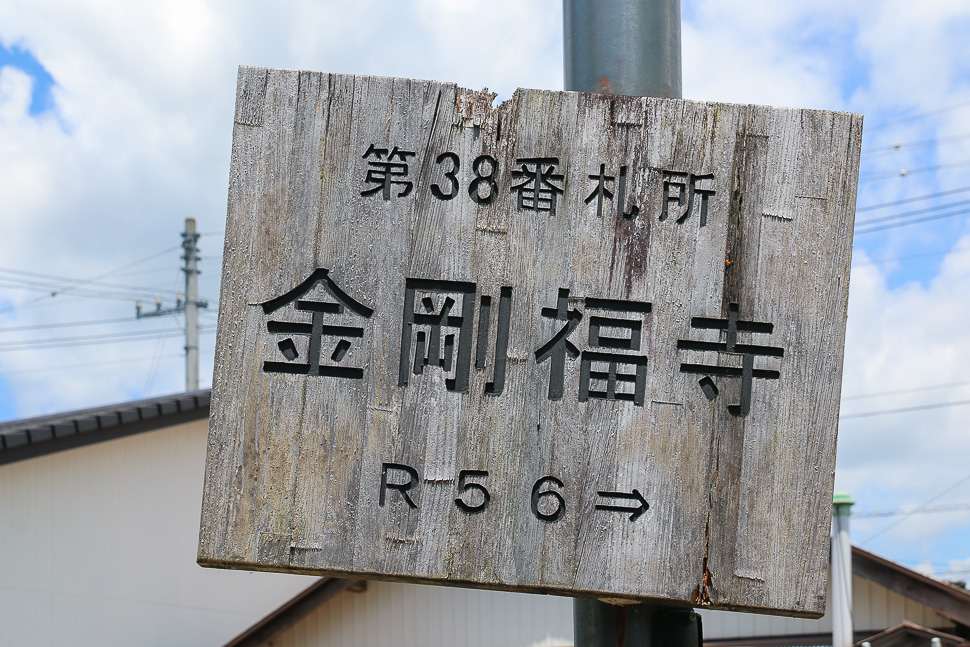 Signage pointing to the next temple, Kongofukuji
About a block from Iwamotoji is Hanpei, a cafe built in a traditional house (kominka). It is a great place to take a break after visiting the temple and spend a few hours just relaxing and enjoying the surroundings. The place was so lovely that I almost didn't want to share the information!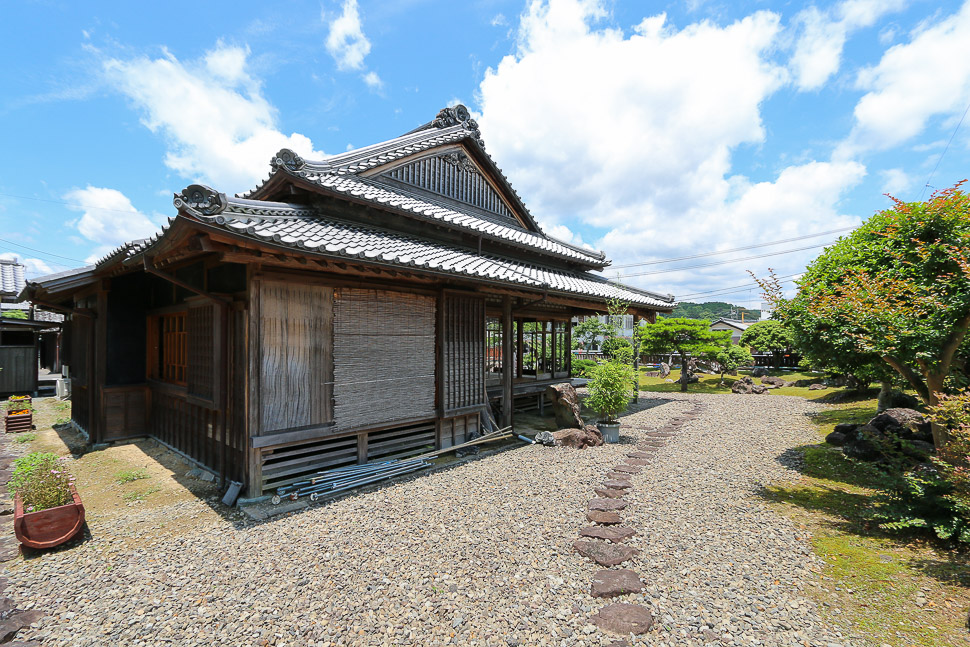 Hanpei and its garden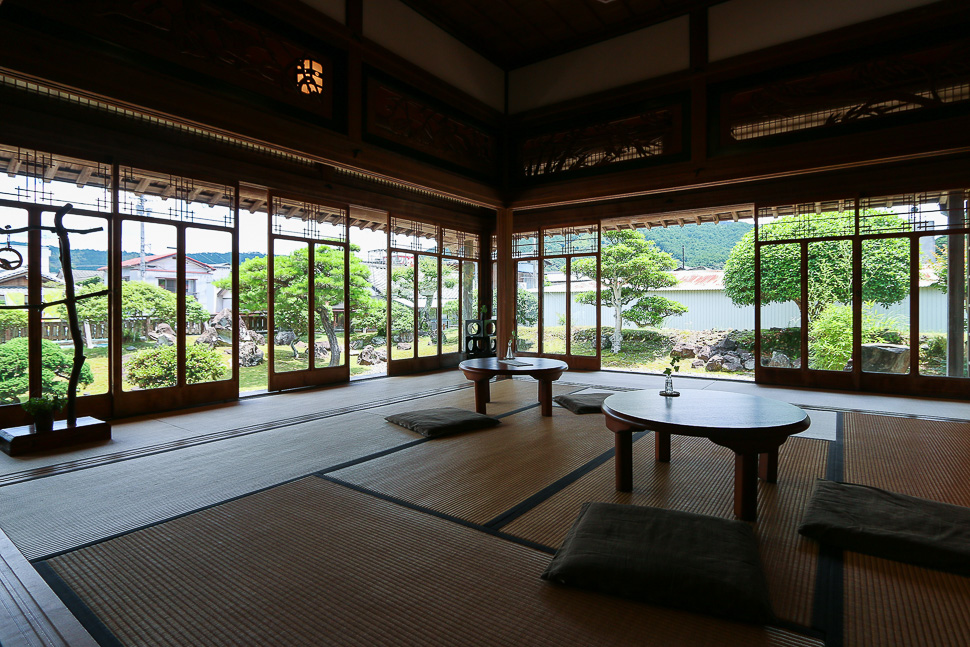 Looking out from inside the cafe
Reluctantly leaving Hanpei, I made my way to my last spot for this trip, Chikurinji (temple number 31) in Kochi City. The main approach up to the 1200-year-old temple is flanked by a simple moss garden. It was totally unexpected, having not seen moss gardens at the previous temples and absolutely beautiful and refreshing to see. I must have spent what seemed like a ridiculous amount of time trying to get too many pictures of moss and attempting to capture komorebi (light filtering through the tree canopy).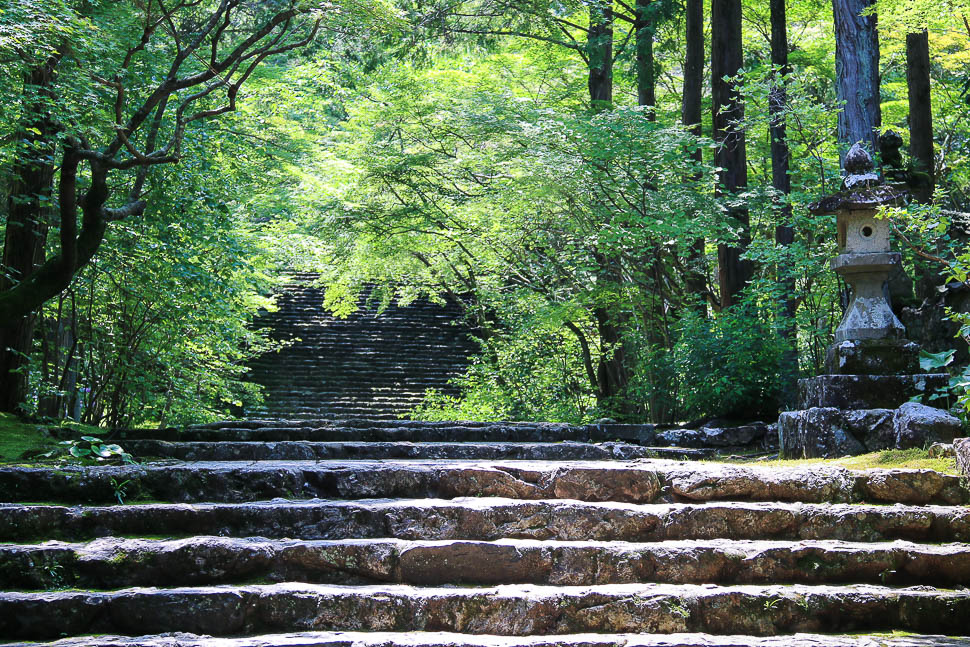 Main approach to Chikurinji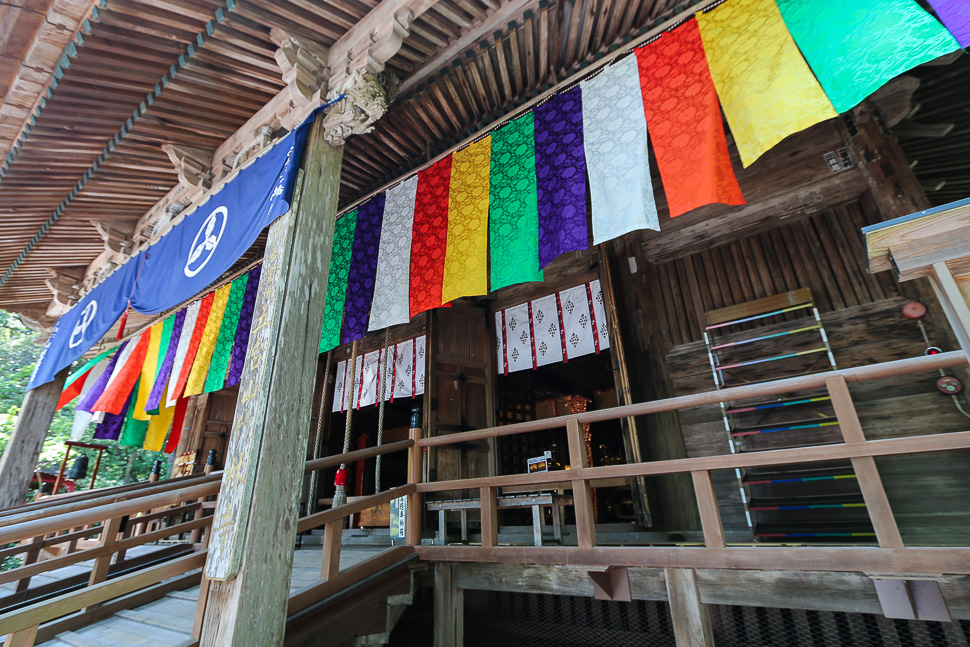 Colorful flags at the main hall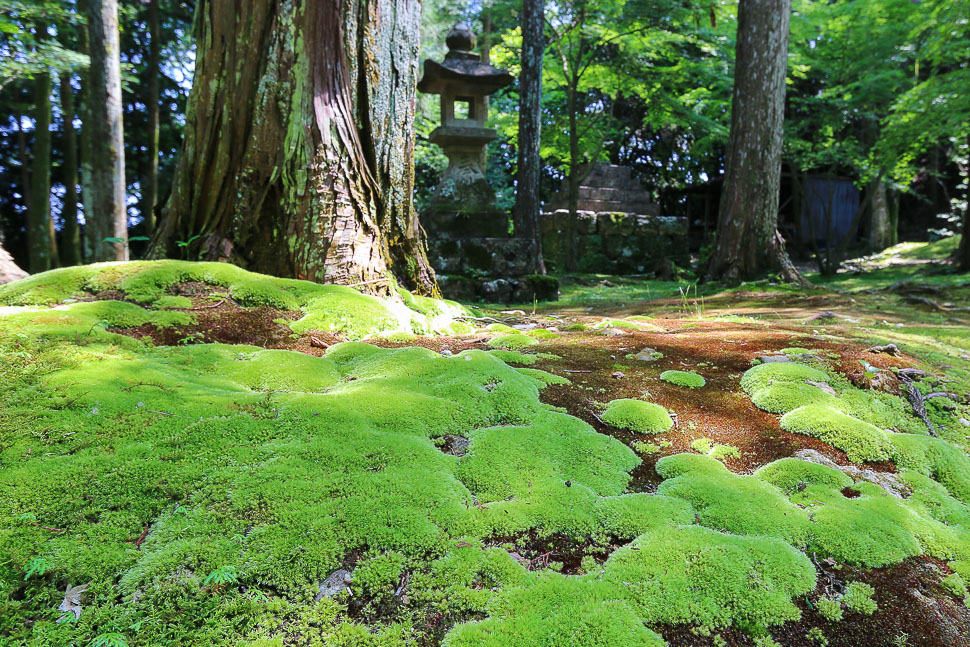 Moss everywhere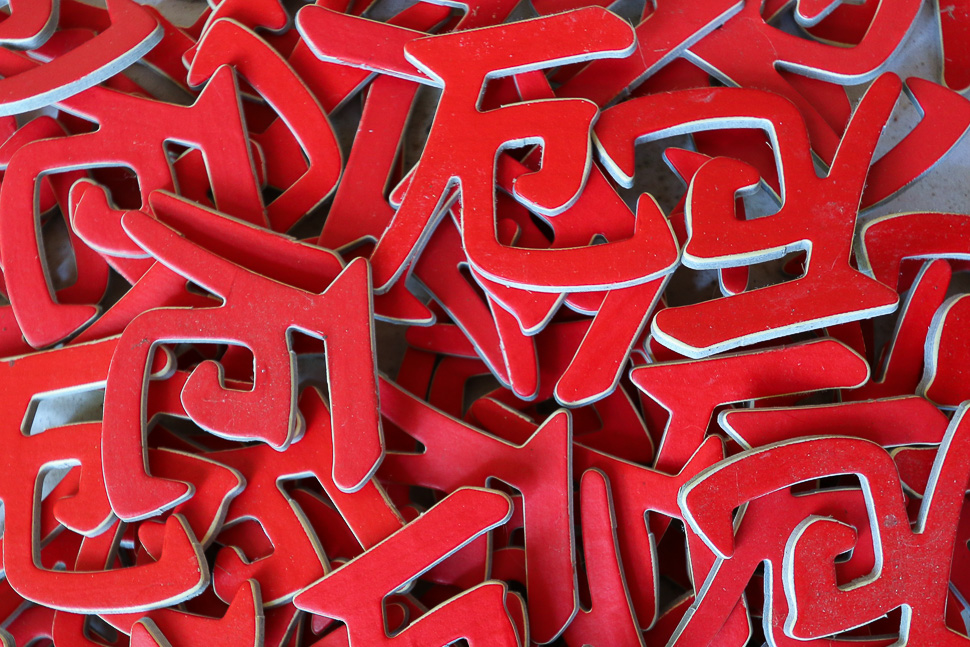 This character, Yaku, means misfortune or bad luck, and are taken out of the wooden boards that believers write on in hopes that they will have good fortune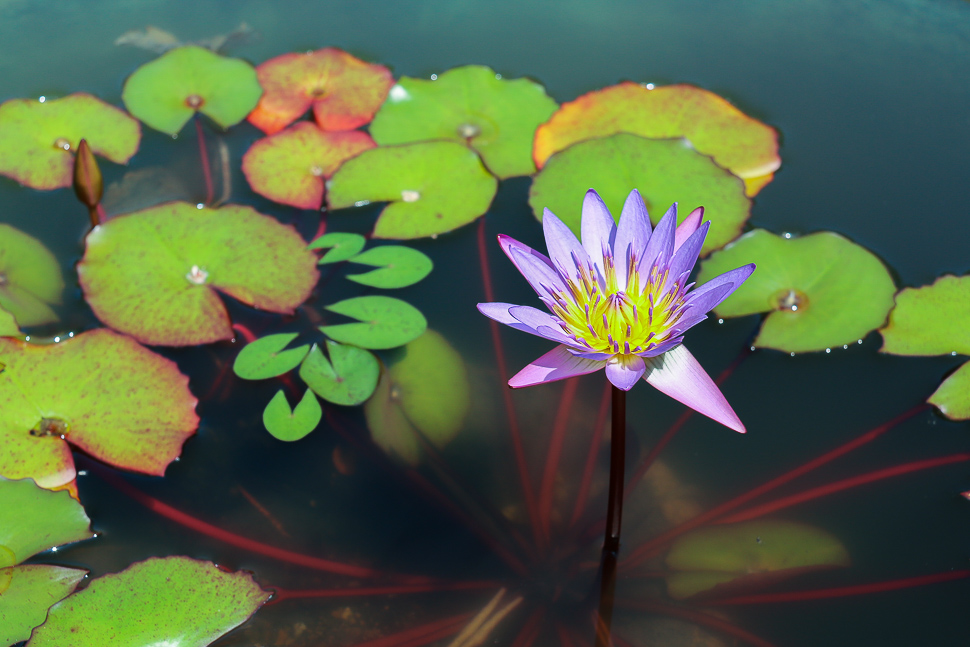 Lotus flower
One wouldn't usually associate temples with modern architecture, but Chikurinji's bone crypt (nokotsudo) was constructed out of wood and reinforced concrete in 2013. The sleek and modern lines of the building helped it blend into the temple surroundings instead of sticking out like a sore thumb, a modern structure where everything else is old. The single story building was awarded a prize from the Architectural Institute of Japan for its design in 2016.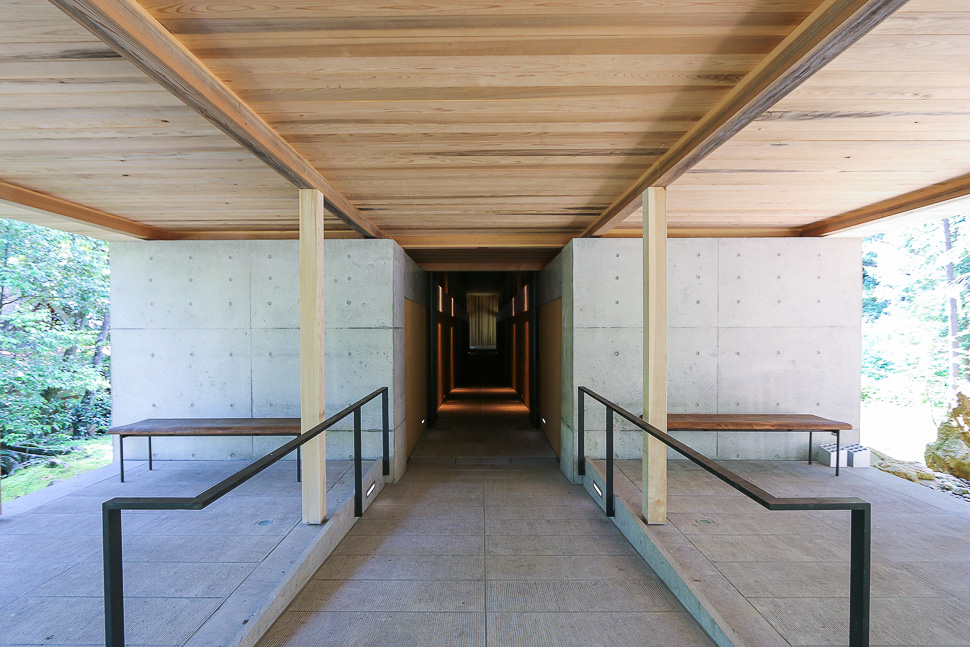 Looking into the Nokotsudo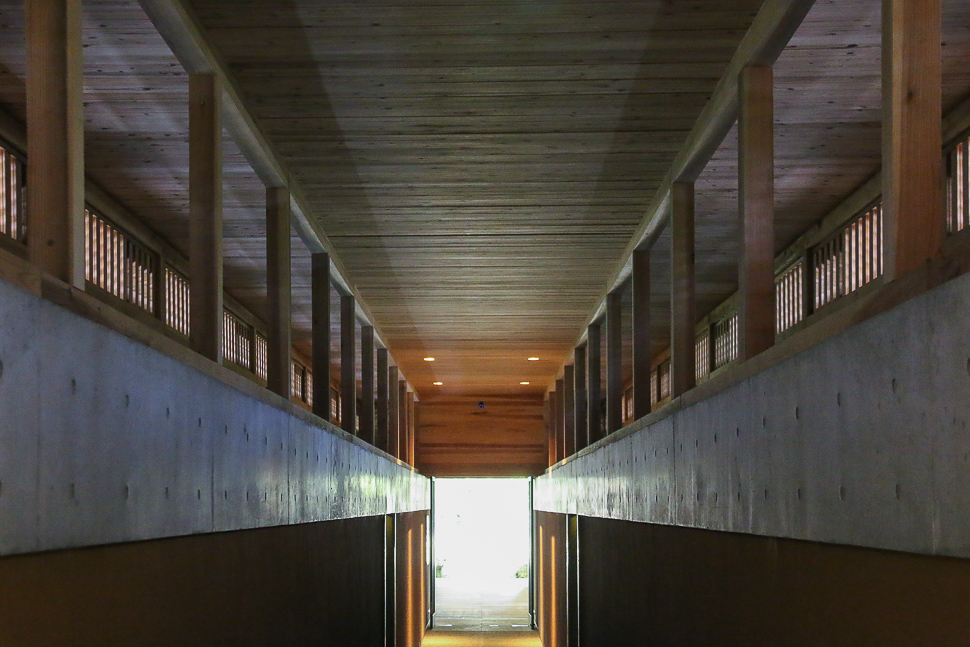 Serene inside the crypt
Therein ended my Kochi adventure, and I made my way back to Kochi Ryoma Airport to catch a flight back to Tokyo. Even though it was a short trip, it was a good primer into the prefecture. Next time I'd be sure to spend more time to slowly take in the sights and enjoy a slowlife outside of the big city.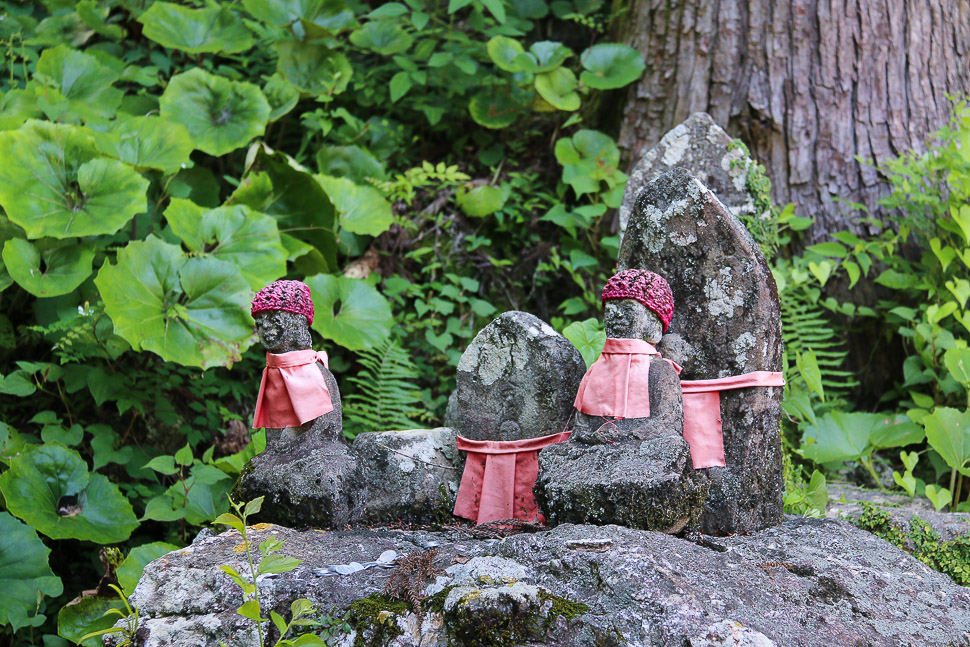 Stone statues inside the garden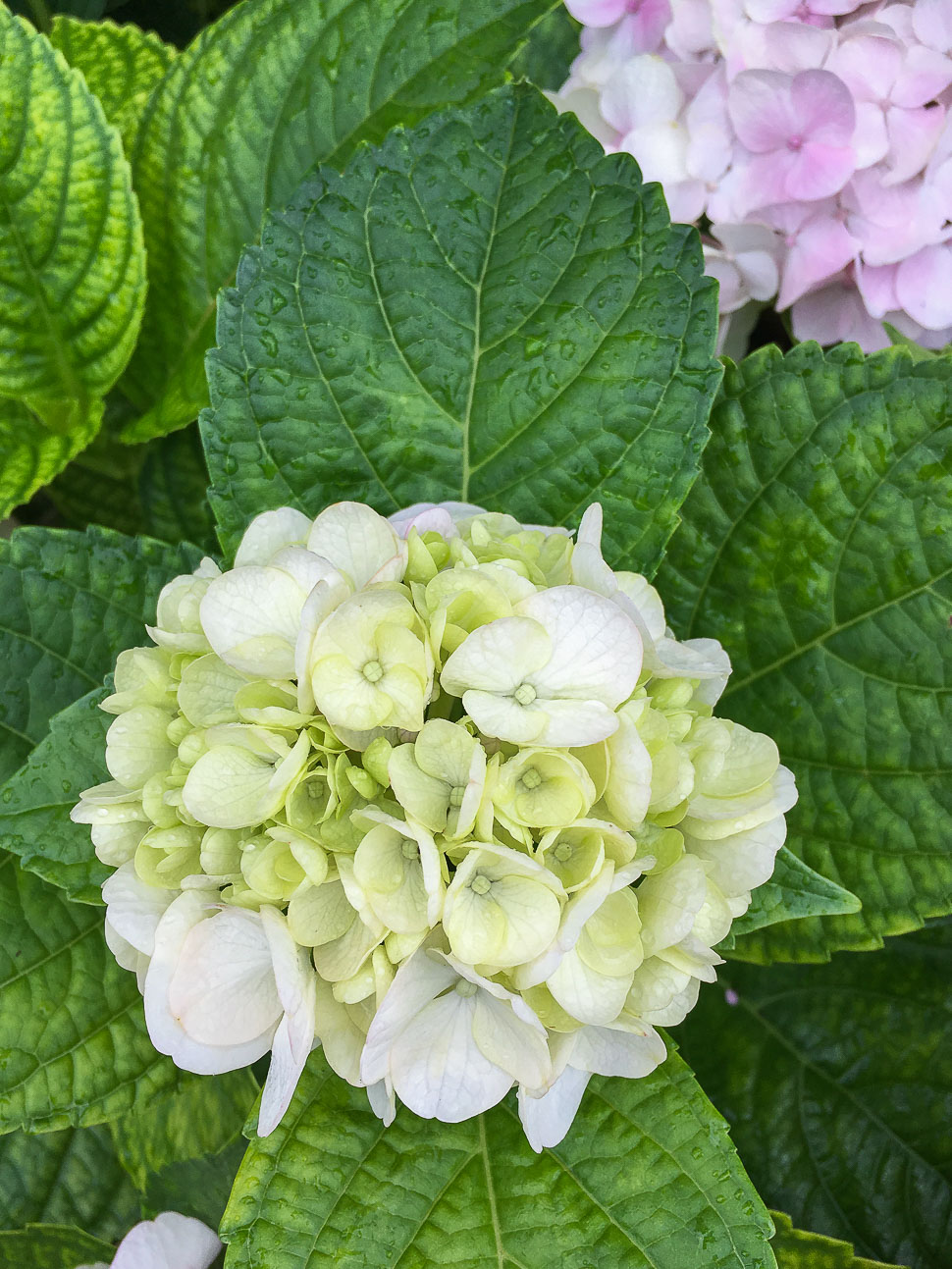 Hydrangea in bloom
If you're not sure as to where to go for your next adventure in Japan, consider Kochi and leave the typical tourist route (Tokyo-Osaka-Kyoto) behind. Visit Kochi Japan (http://visitkochijapan.com/) - Kochi Prefecture's official tourist information website - has suggested itineraries and recommendations on attractions to visit in the prefecture, and has an extensive database on things to see, do, eat as well as places to stay. Definitely worth checking out to get some ideas for your next trip to Kochi, and equally as useful for those already in the prefecture.
Link