A sunny day out in Shizuoka City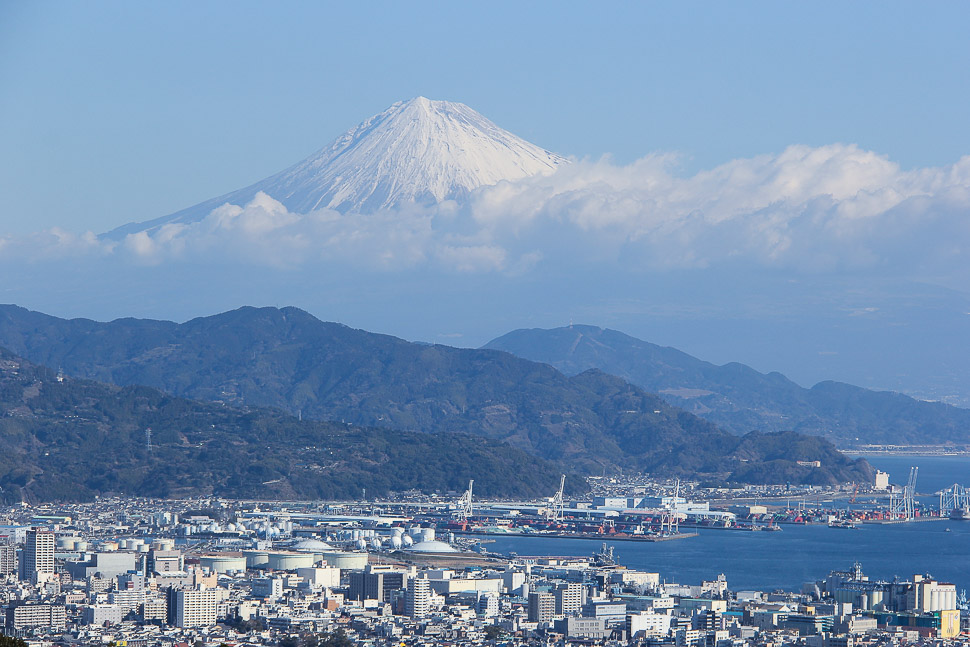 Snow-capped Mount Fuji partially obscured by low hanging clouds
Shizuoka City is in the middle of Shizuoka Prefecture, a one hour Shinkansen ride and an easy day trip from Tokyo. For those who want to view Mount Fuji, the mountain can be seen from most places in Shizuoka City when the skies are clear, and it is hard to avoid seeing it. I arrived at Shizuoka Station at around 9am to blue skies and warmer temperatures (compared to Tokyo). I spent the day seeking out some of the best spots in the city, visiting about six different spots. It was a leisurely trip without rushing despite the shorter daylight hours in winter, and I'm sure I would be able to squeeze in a little more during the summer months. I traveled by car for this trip, but all the places I went to are also accessible by local buses.
Shizuoka City has been improving its services for foreign tourists. One of the perks is a free pocket wifi rental service that allows visitors to use a wifi router on their holidays in Japan (up to fifteen days) and drop it off at major airports in the country. The device has to be picked up at the tourist information center outside the north exit of Shizuoka Station.
I started my tour of Shizuoka by heading up Nihondaira, a plateau with an elevation of 307m. I stopped at the beautiful Nippondaira Hotel a few meters below the summit. The hotel was renovated recently in 2012 and boasts views of Mount Fuji. I went to their expansive garden and was blown away by the view. It was just surreal seeing the mountain loom behind the city, like I was looking at a huge silkscreen backdrop. I saw old men armed with their tripod and cameras staking out places in the garden for their money shot, and ladies admiring the same view while sipping tea in the hotel lounge.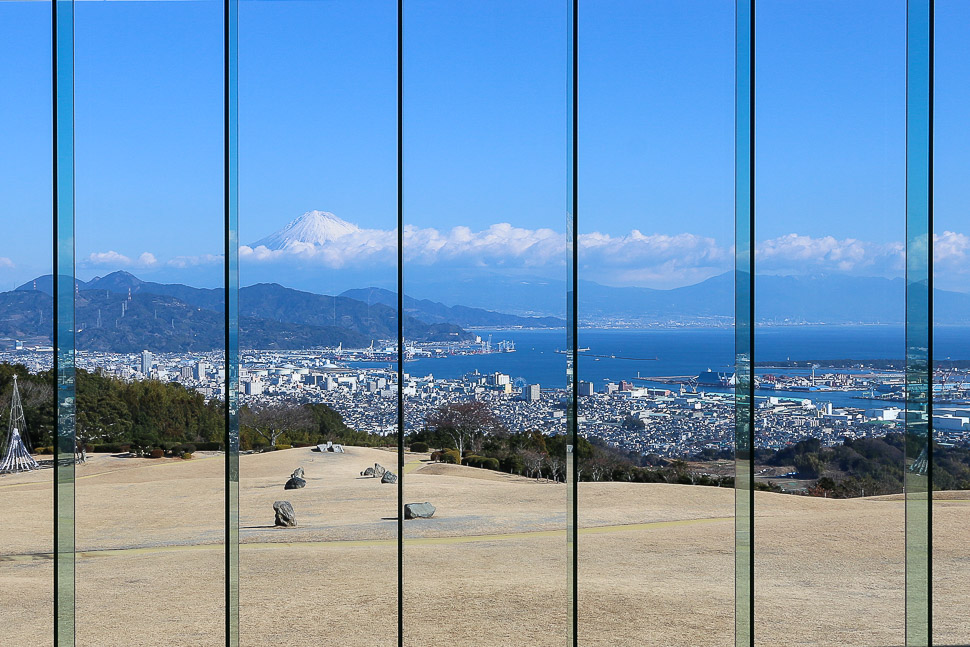 Through the impeccably clean windows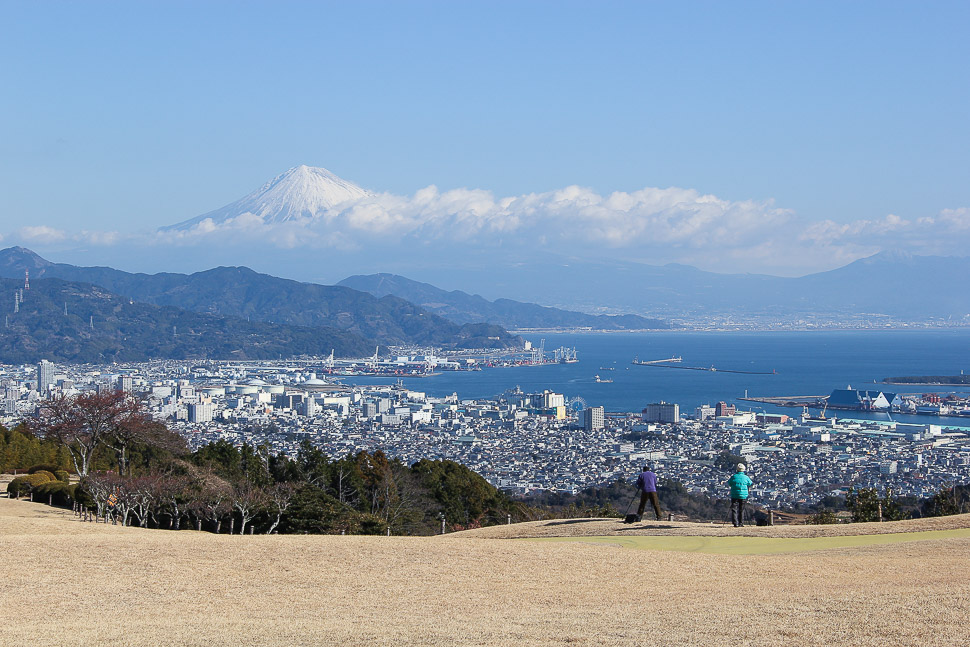 Photographers framing their pictures in the garden
After Nihondaira, I went to Miho no Matsubara, one of the "New Three Views of Japan" and part of the UNESCO Fujisan World Cultural Heritage Site. Miho no Matsubara is made up of about 30,000 pine trees on a small peninsula facing Suruga Bay. The visit really starts from the main road where there is a pine tree-lined boardwalk leading to the beach, but most visitors head straight for the waterfront to get a view of Mount Fuji.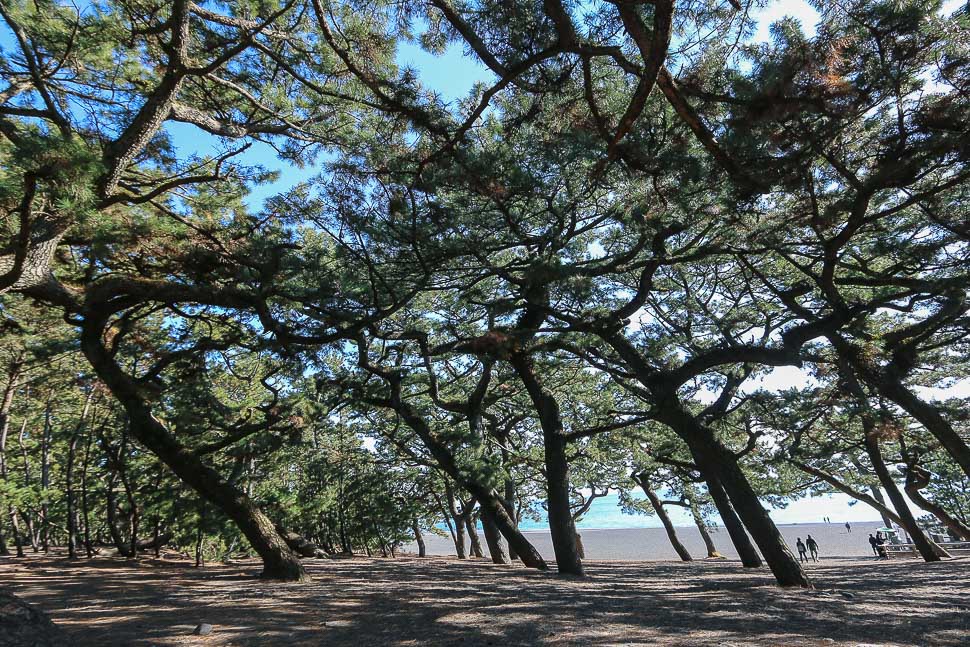 Inside the pine grove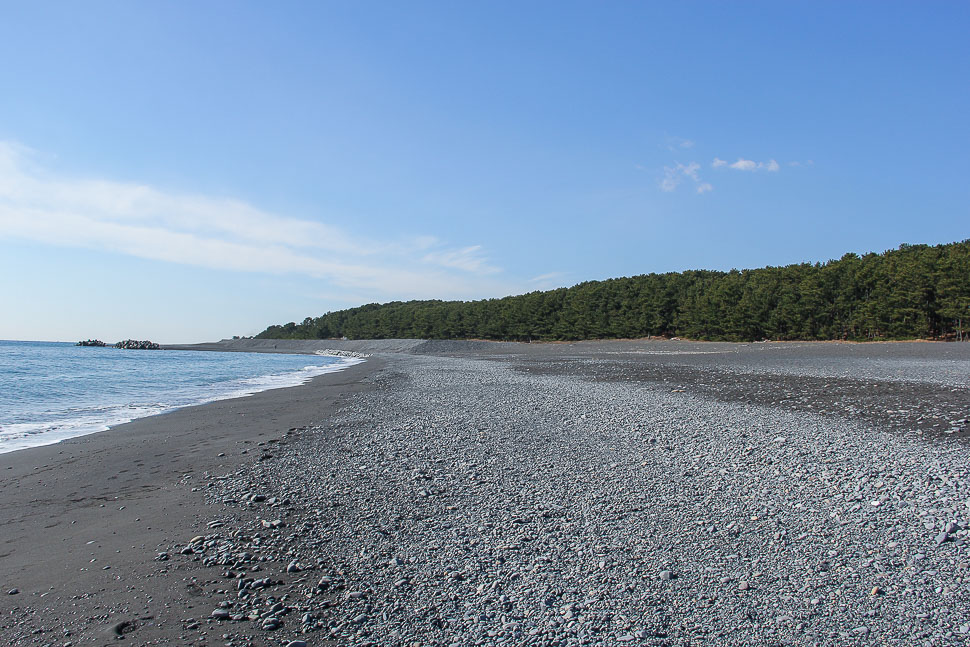 Pine trees lining the shores of the beach
Not far from Miho no Matsubara is Shimizu Port, one of the busiest ports in Japan alongside Kobe and Yokohama. The port brings in about half of the tuna that comes through Shizuoka Prefecture, and that's no small thing considering that 90% of tuna entering Japan comes through the prefecture! A visit to a fishing port is not complete without seeing the fish market and eating at one of the restaurants. So, off I went to Kashinoichi Market to check out what was on sale. The fish market is simple and easy to navigate, with most shops selling fresh seafood or a mix of dried and processed products. I had a beautiful sashimi donburi (rice bowl) for lunch at one of the market's more popular restaurants. The generous portions of sashimi were all very fresh and clean tasting, and I even had a waterfront view.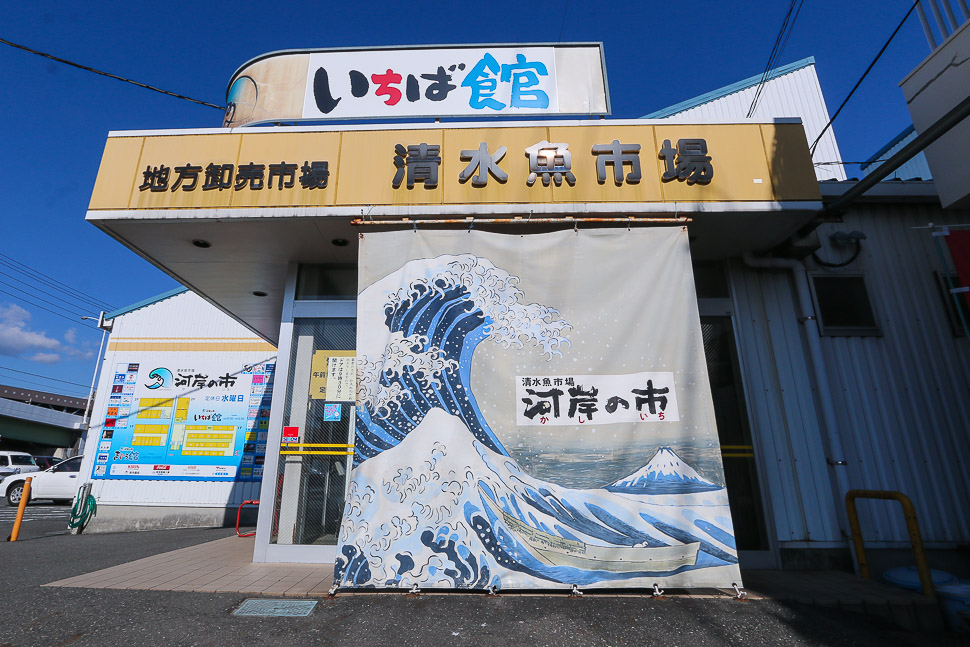 Entrance to the Kashinoichi Market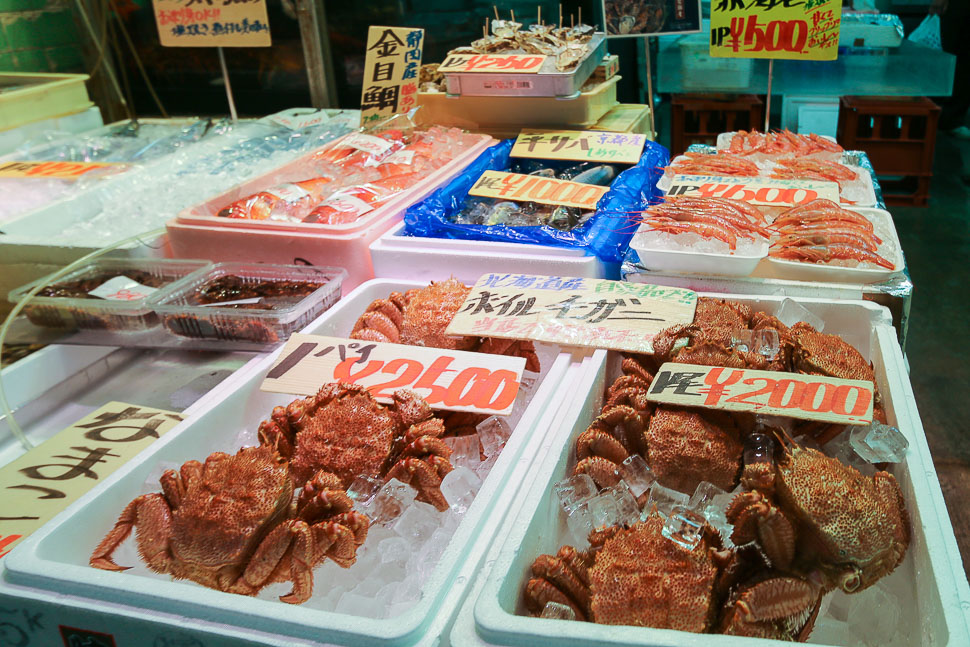 Live seafood on sale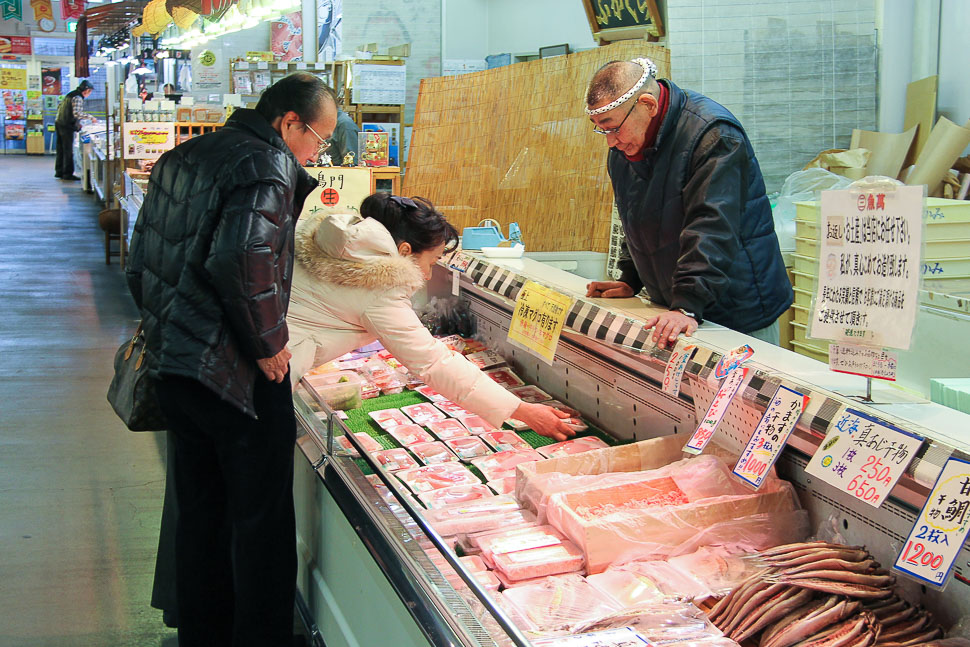 Picking ingredients for tonight's dinner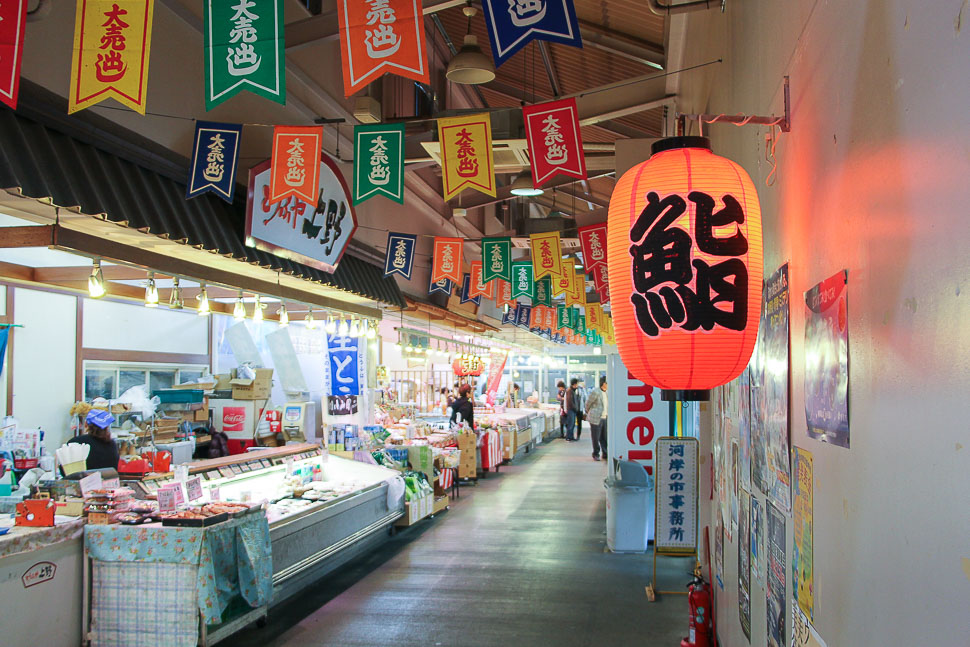 Restaurants and seafood shops in the market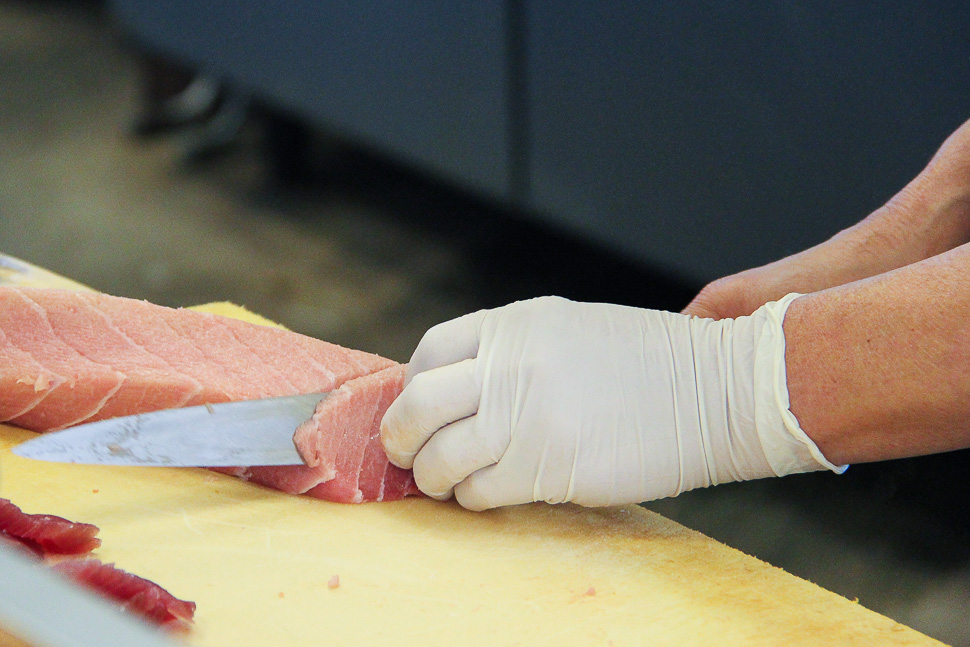 Slicing tuna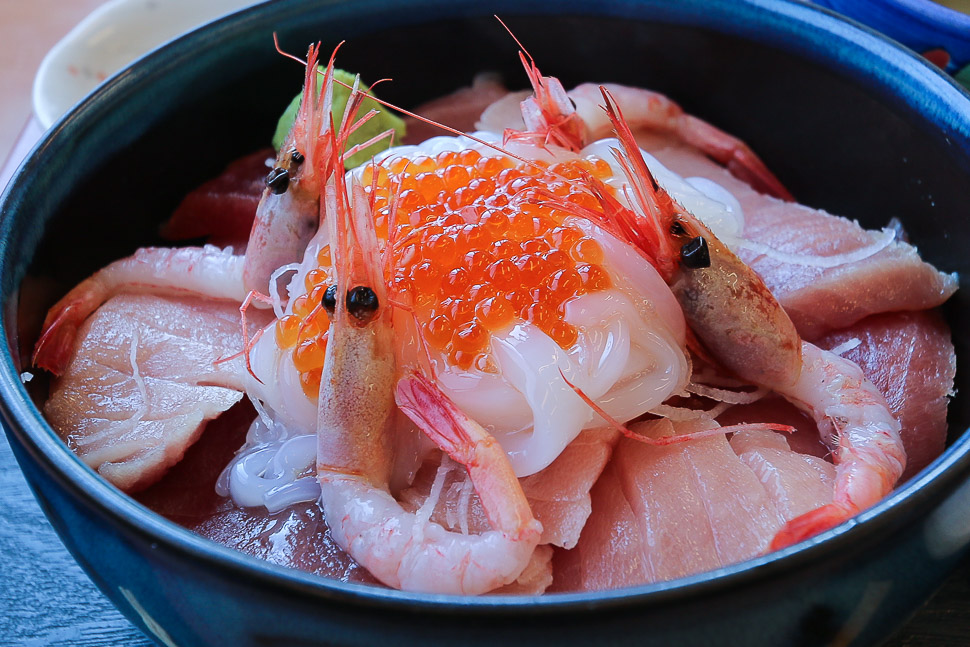 My huge sashimi rice bowl with tuna, sweet shrimp, squid and salmon caviar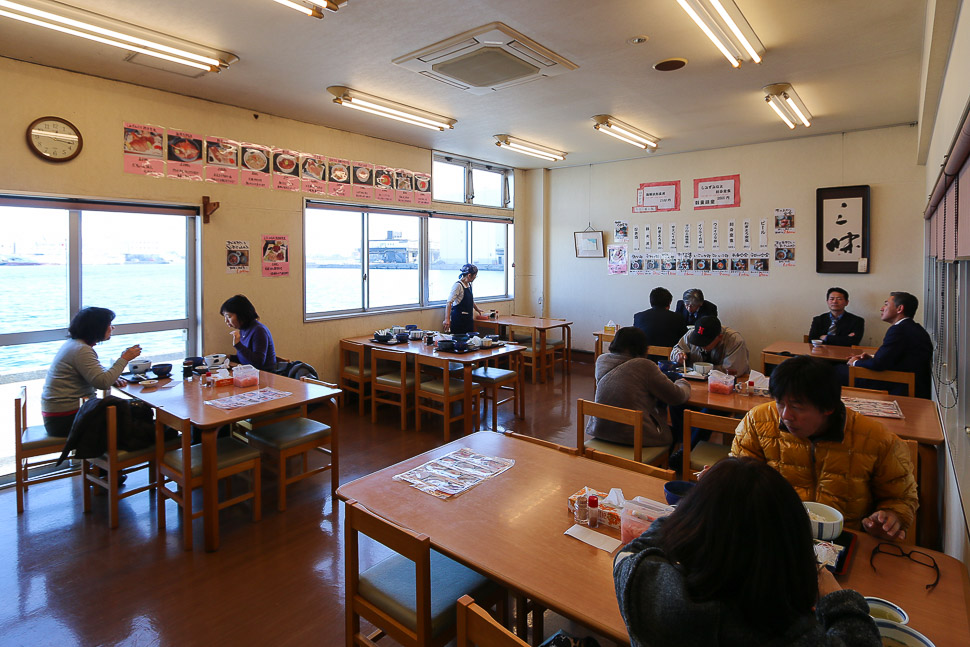 Inside the restaurant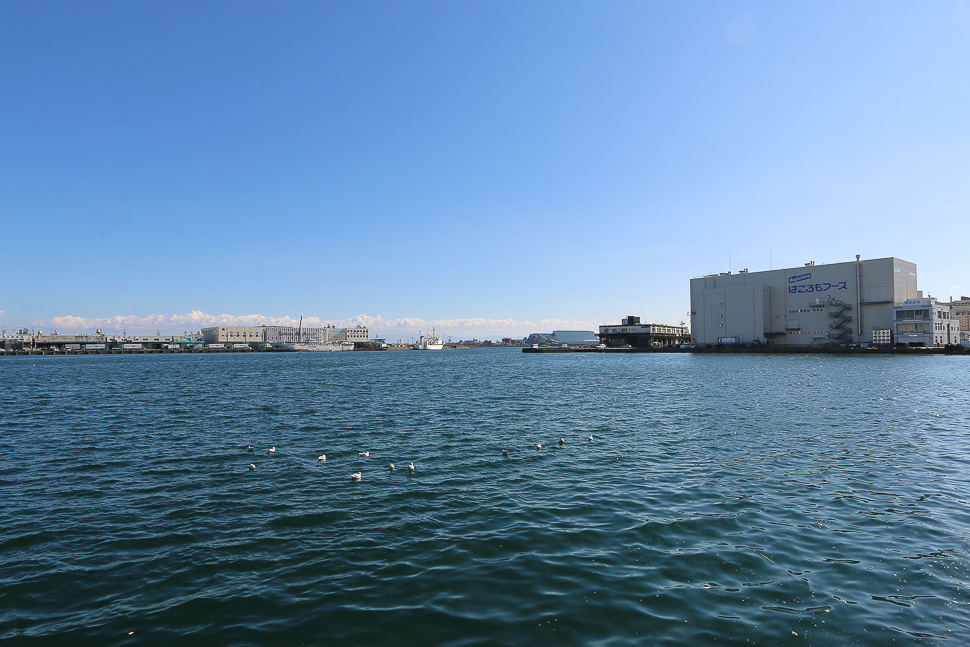 Dining in the port means you'd always have a waterfront view
From the port, I made my way to the Tsunekichi Strawberry Farm at the base of Nihondaira. I was still full from my huge donburi lunch and wondered how I was going to enjoy the strawberries, but my worries were unfounded when I arrived at the farm. All things strawberry invaded my senses, and I knew I was ready. My guide, Kawashima-san, was a weathered strawberry cultivator and knowledgeable farmer. I got to enter a strawberry greenhouse, which smelled amazingly sweet, and learned about how the farm pioneered growing strawberries on rock faces (ishigaki) instead of in raised pots or in the ground.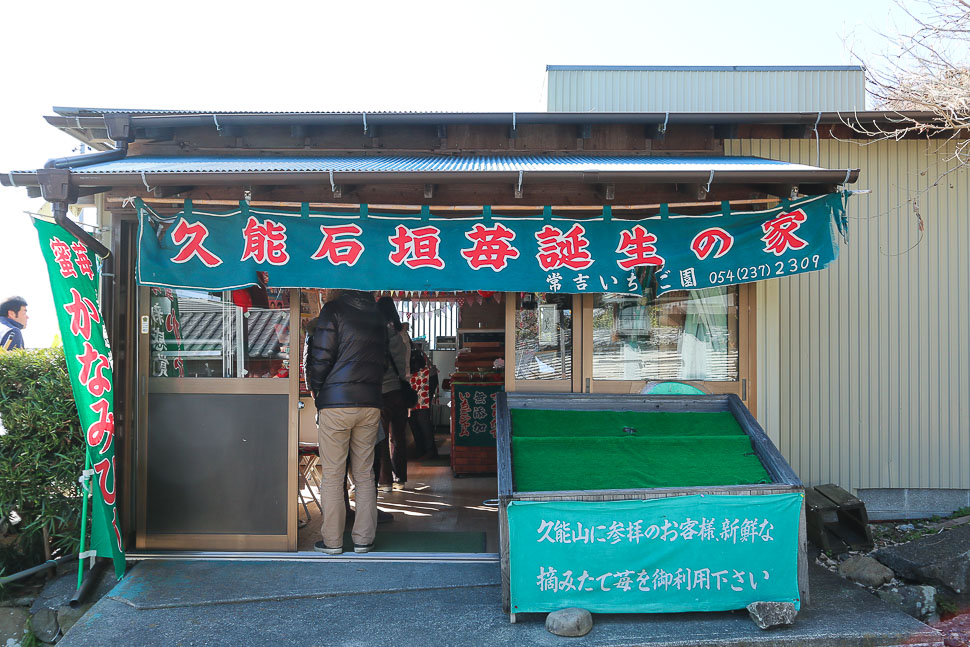 Shopfront of the Tsunekichi Strawberry Farm
Among other strawberries, the farm grows some berries of the Fukuba variety, one of the first domestic cultivars, registered during the Meiji Period (1868-1912). The shape of the fruit is skinny and longish, quite unlike the typical strawberry we have grown accustomed to. I was able to try one Fukuba strawberry. The fruit tasted even better than it smelled - not sickly sweet, but light, refreshing and juicy - easily one of my best strawberry experiences and putting a huge grin on my face.
Tsunekichi Strawberry Farm also offers strawberry picking, but reservations have to be made well in advance. For those popping by, there may be strawberries and homemade strawberry jam (limited stock) for sale at their small shopfront. But, fret not, Route 150 along Suruga Bay is lined with many more farms offering picking of ishigaki strawberries. Note that some require reservations while others allow for walk-ins.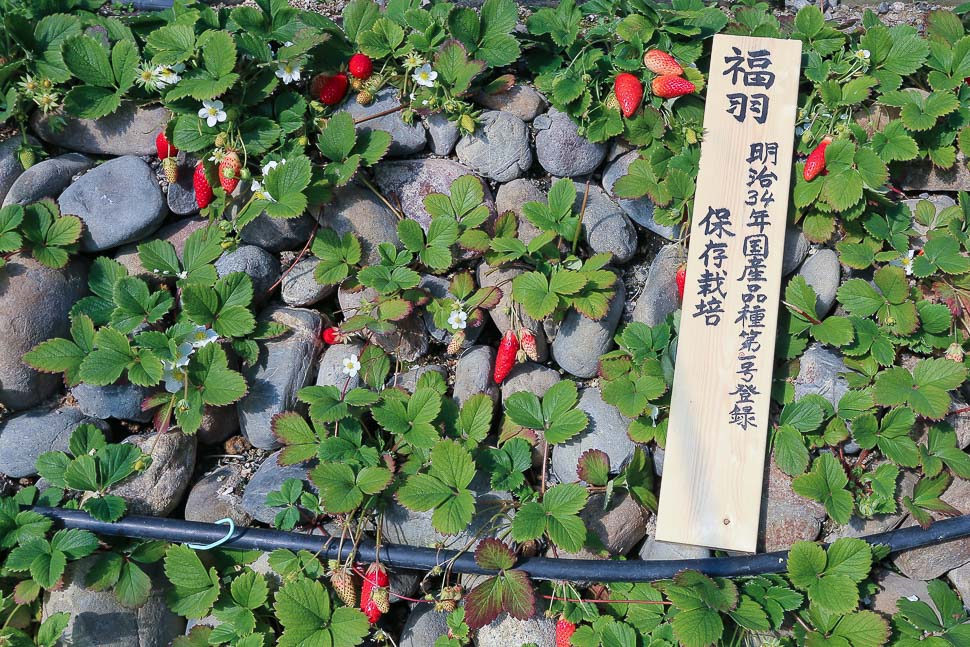 Fukuba variety, you can see that the fruit resemble small chilies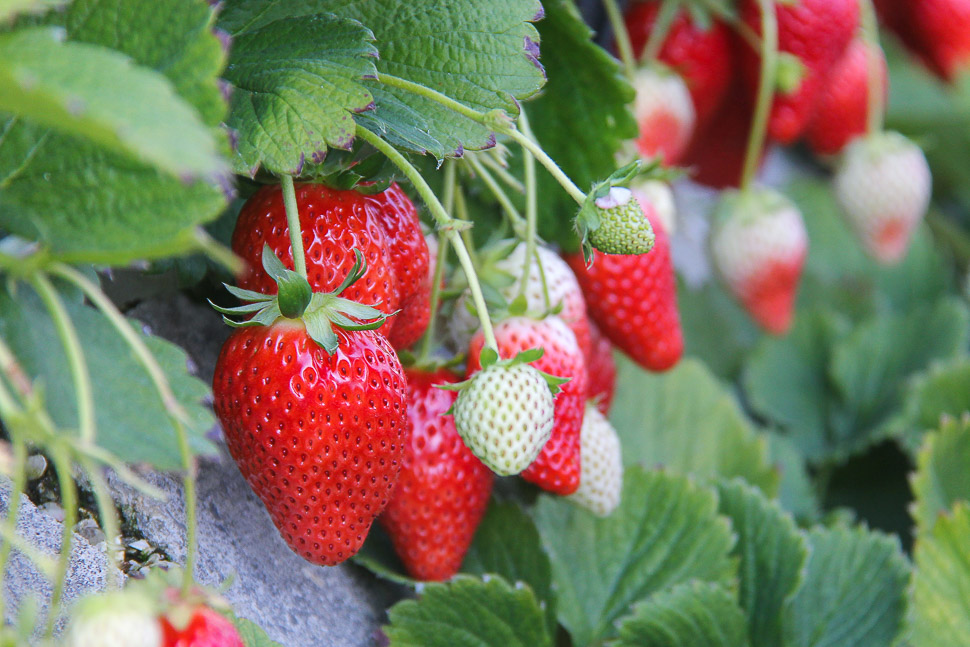 I learned that the head of the strawberry - the part that is connected to the plant - is typically sweeter than the bottom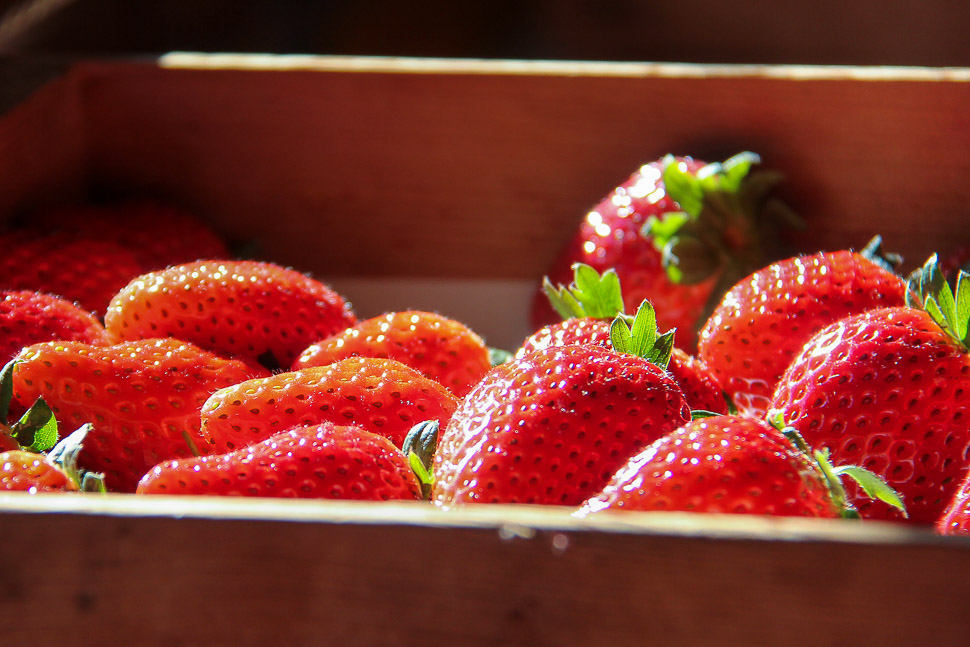 Harvested strawberries sitting in a wooden tray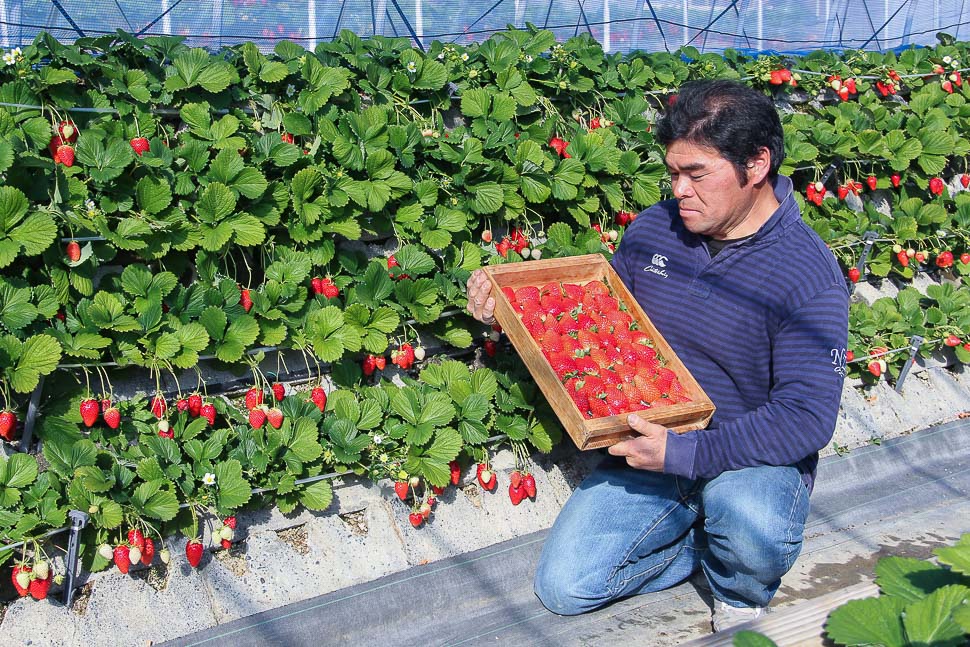 I would be looking like a proud dad too if my babies were perfect like that
After a satisfying lunch and dessert, it was time to get crafty. I headed for Sumpu Takumishuku, a craft village that showcases different kinds of traditional Japanese crafts with an emphasis on the ones native to Shizuoka City, like bamboo crafts (take sensuji zaiku), doll making (hina ningyo) and doll accessories (hina gu). Opened in 1999, the village has exhibitions on traditional craft history, displays meticulously-made traditional crafts and offers hands-on activities for indigo dyeing, bamboo crafts and pottery amongst others. I walked around the spacious village and checked out the various craft exhibitions before making a bamboo coaster to end my tour. All I had to do was to assemble the prepared parts, but it was not as easy as it looked, and my clumsy fingers broke a couple of parts. It was an interesting experience nonetheless and fun for all ages.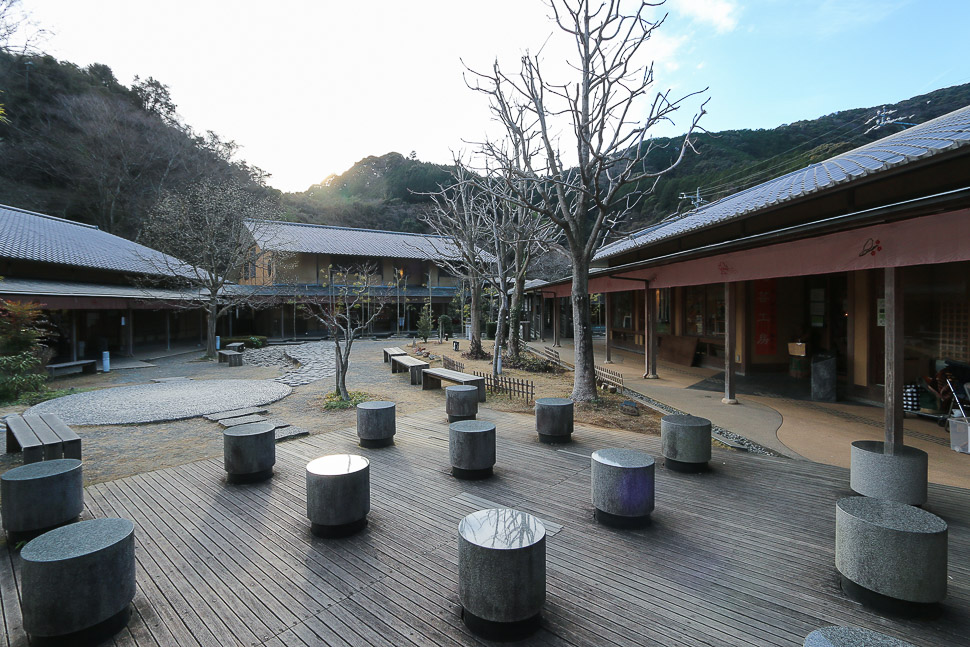 Inside the spacious Sumpu Takumishuku compound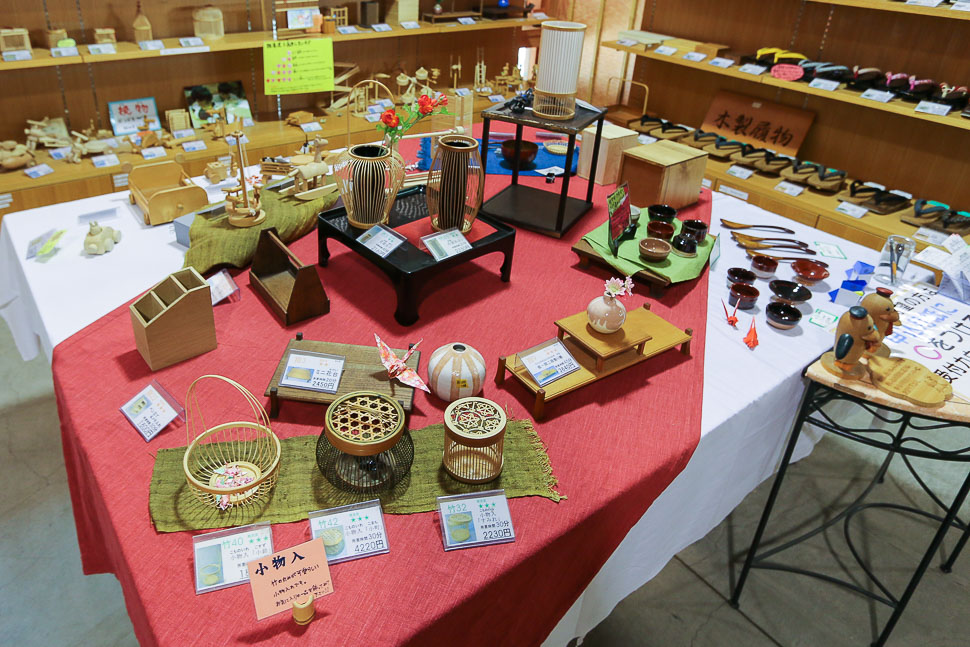 Bamboo crafts on display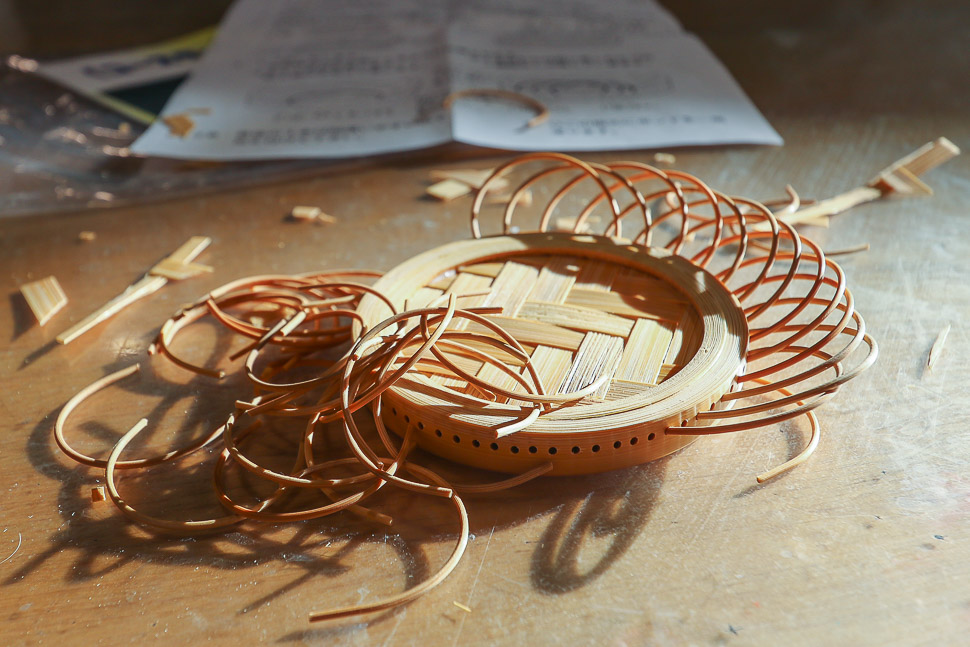 Midway through my handiwork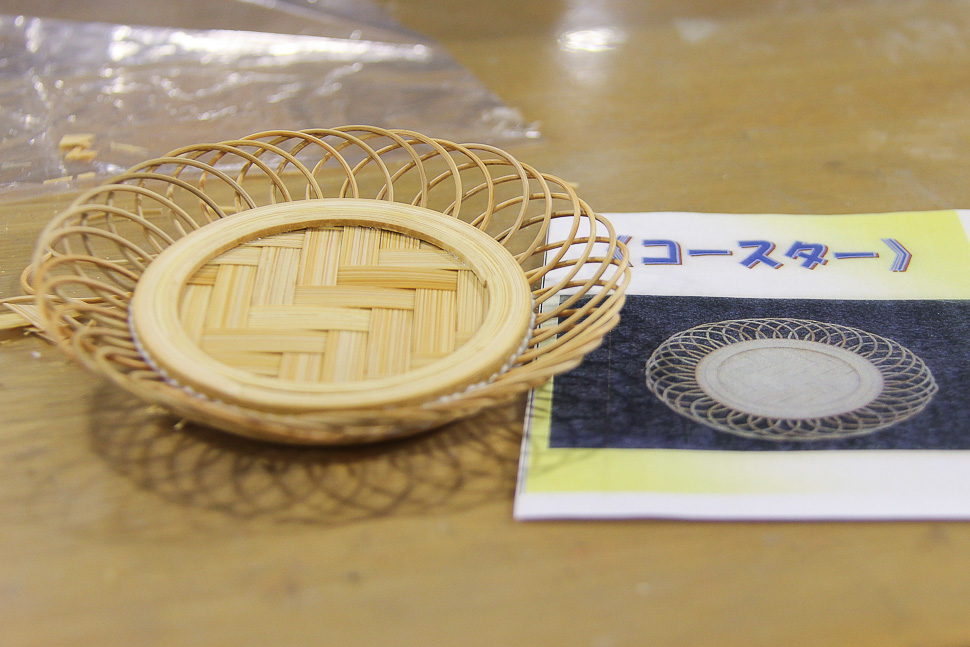 Made a bamboo coaster all by myself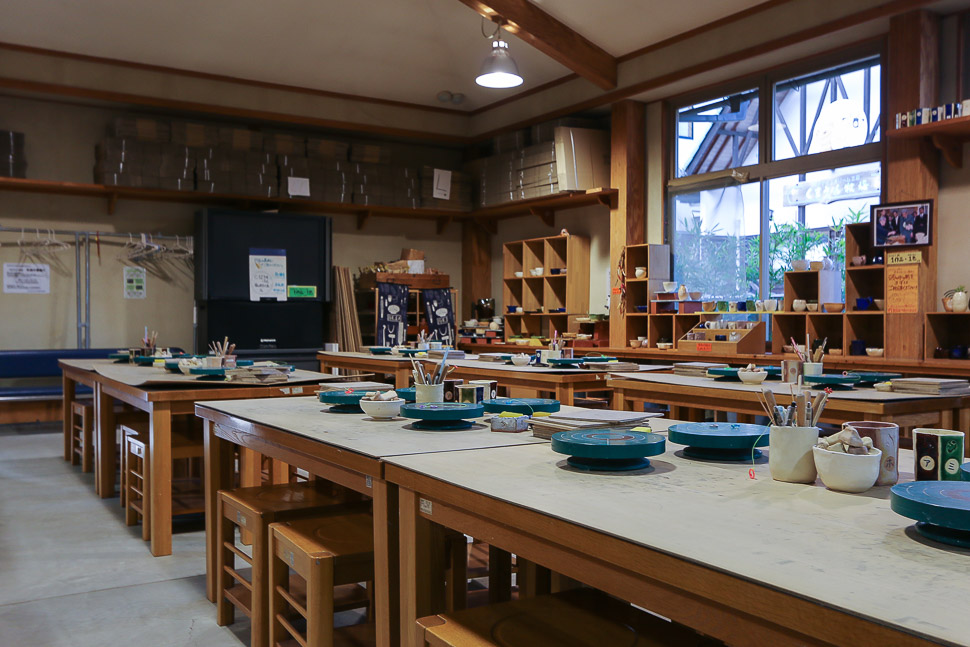 Part of the pottery studio, where visitors can create something and have it delivered after completion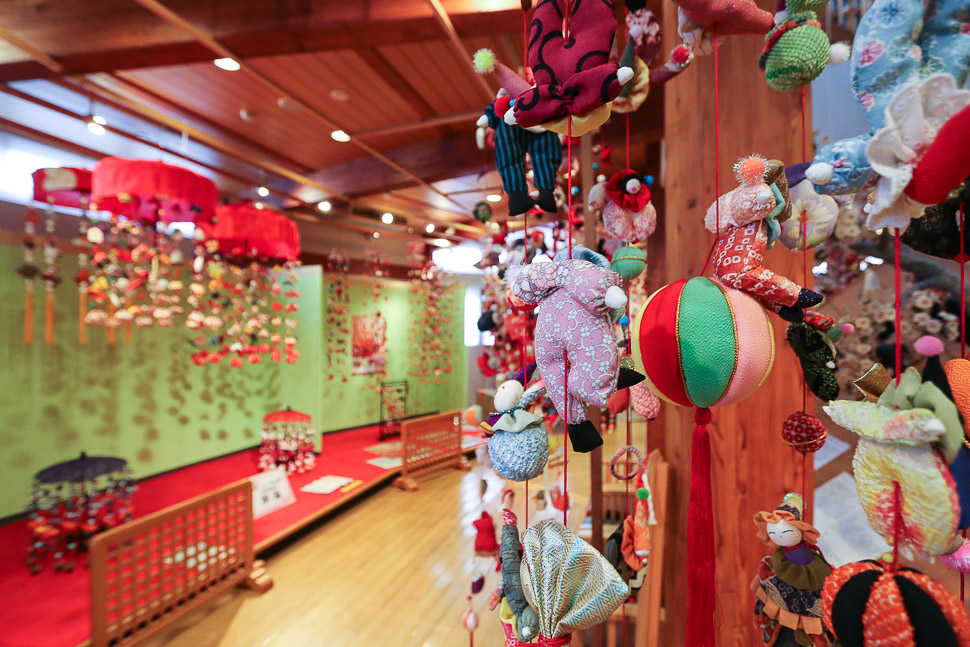 Hanging charms where each item has a different meaning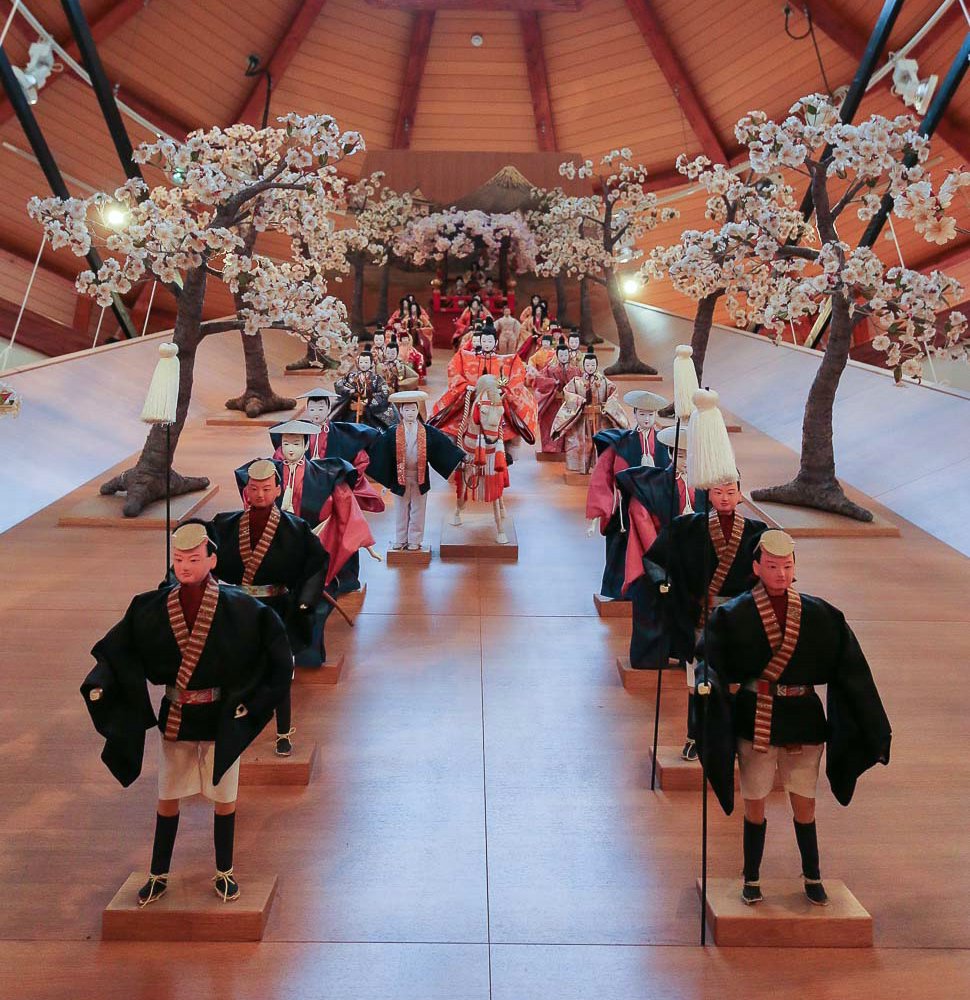 A huge display showing part of a historic procession between post towns
My last stop for the day was Fugetsuro, a short walk from the north exit of Shizuoka Station. This restaurant and event facility occupies the land where the last Tokugawa Shogun, Tokugawa Yoshinobu, lived from 1869-1888 after relinquishing his position. Only the garden remains from that period, and buildings surround it. There is a small exhibition introducing the life of the last shogun, displaying items related to him. I took a short stroll through the garden and ended at the restaurant where I was to have a sake pairing dinner.
There are only 27 sake sommeliers (current at print) in Japan, three of whom are in Shizuoka. Fugetsuro's sommelier is Yosuke Haneda, who specializes in Shizuoka sake. I had a brief lesson on sake varieties and brewing techniques, and also got to try the representative Shizuoka sake, Kikuyoi, a junmai ginjo sake. I learned that Shizuoka sake is made with a type of yeast from Shizuoka Prefecture. It was very handy to have a sake sommelier to explain the types and varieties, and being able to ask questions and learn more about sake in Japan, just like in a private class. Haneda-san recommended junmai-shu to accompany my dinner as the taste was light enough to not interfere with the flavors of the food.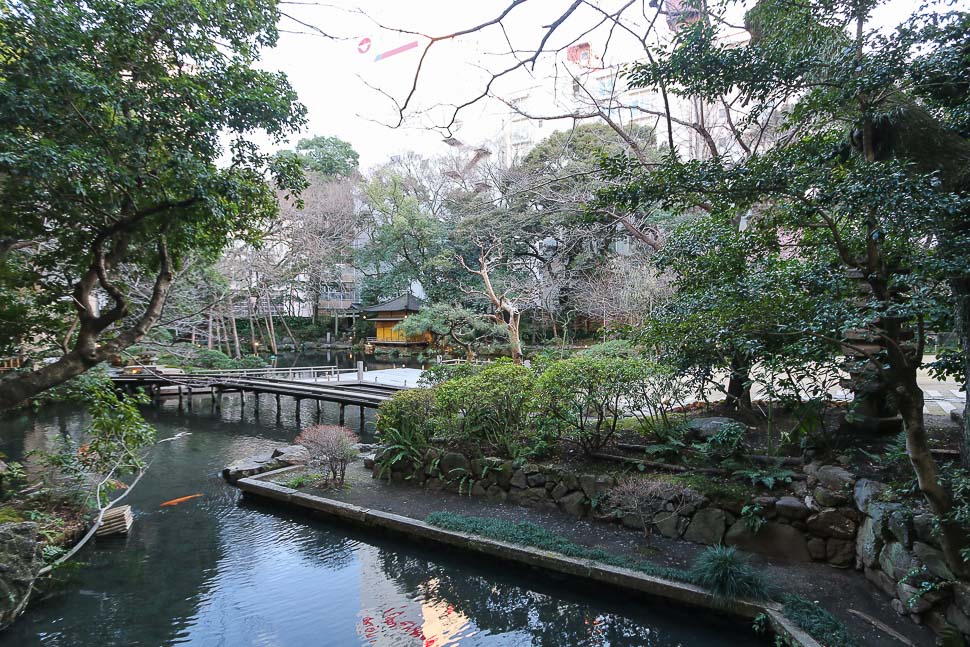 The garden with a pavilion on the lake is illuminated in the evenings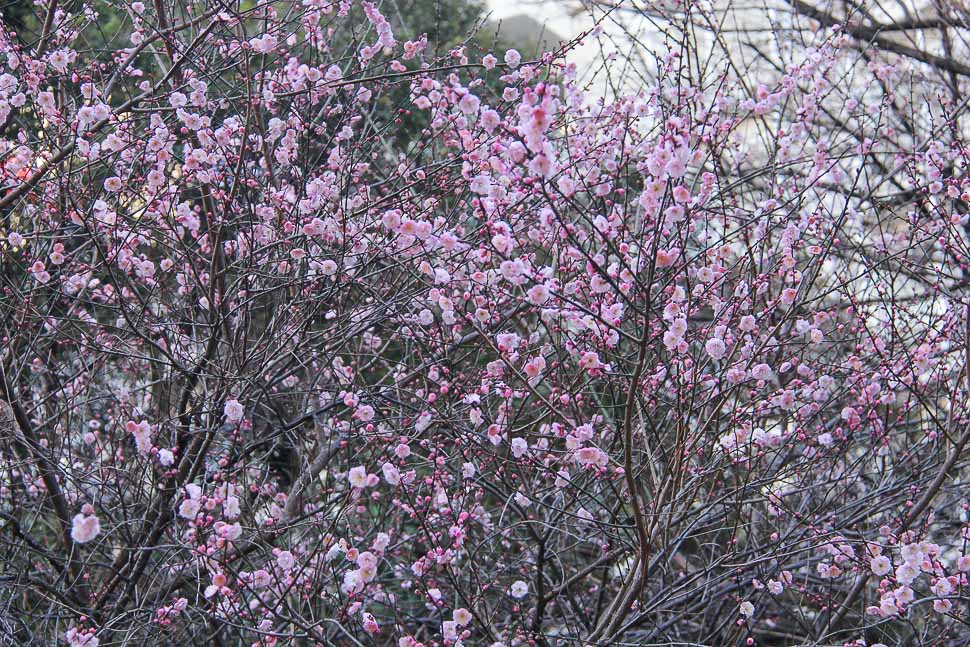 Plums were starting to blossom when I was there in mid-January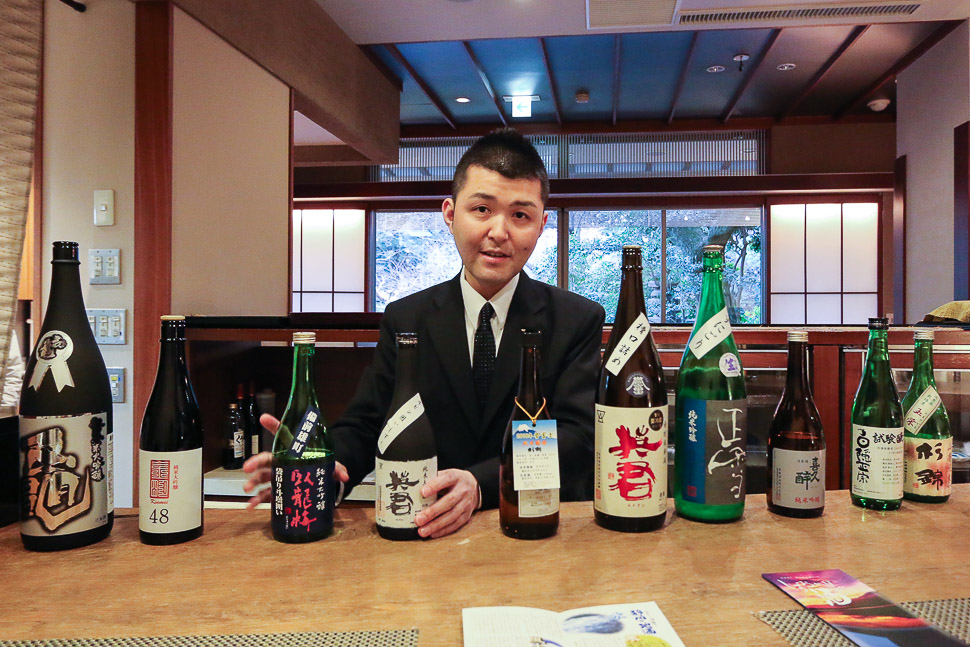 Haneda-san, the sake sommelier giving me a crash course on sake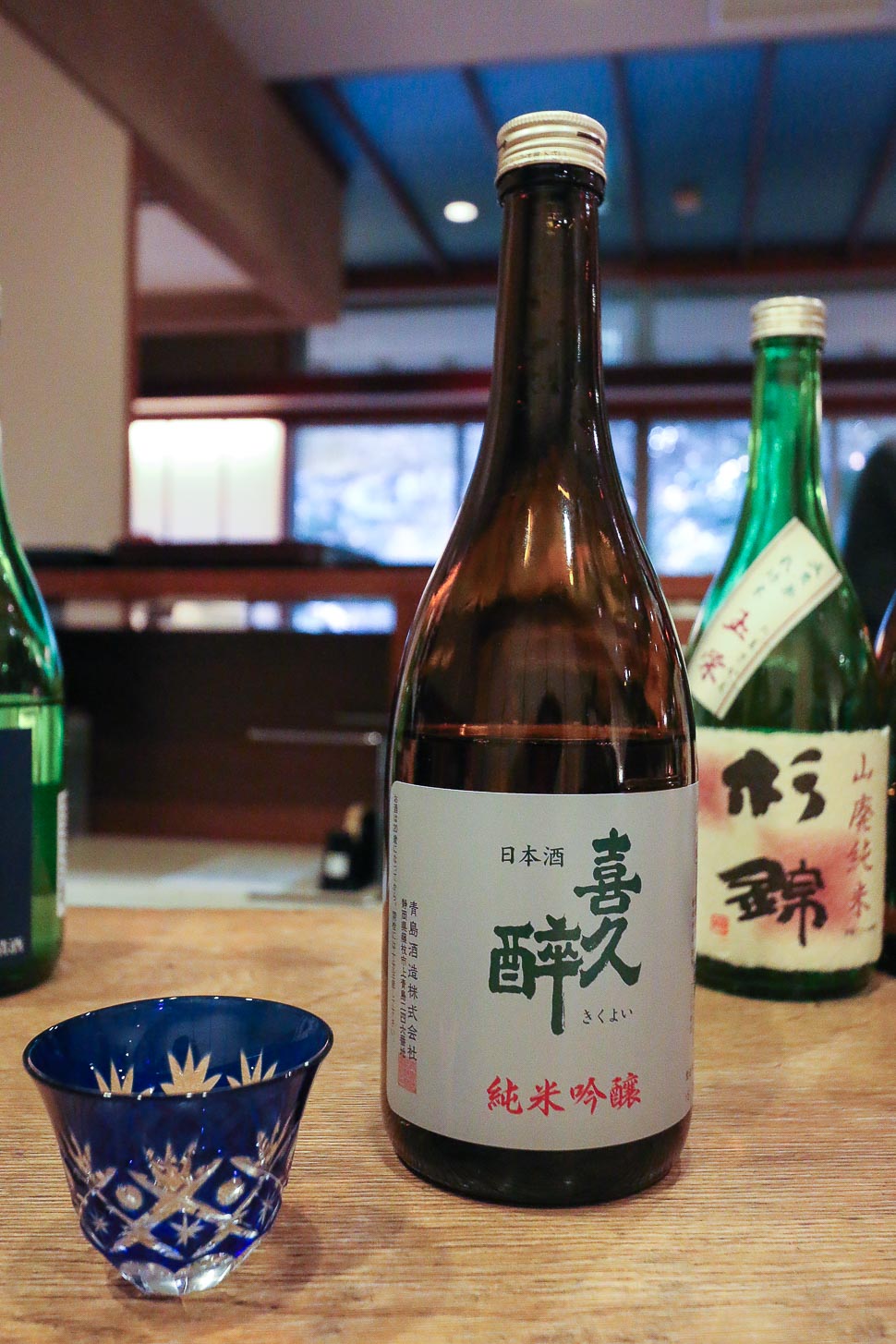 The representative Shizuoka sake, Kikuyoi, was served in a beautiful glass cup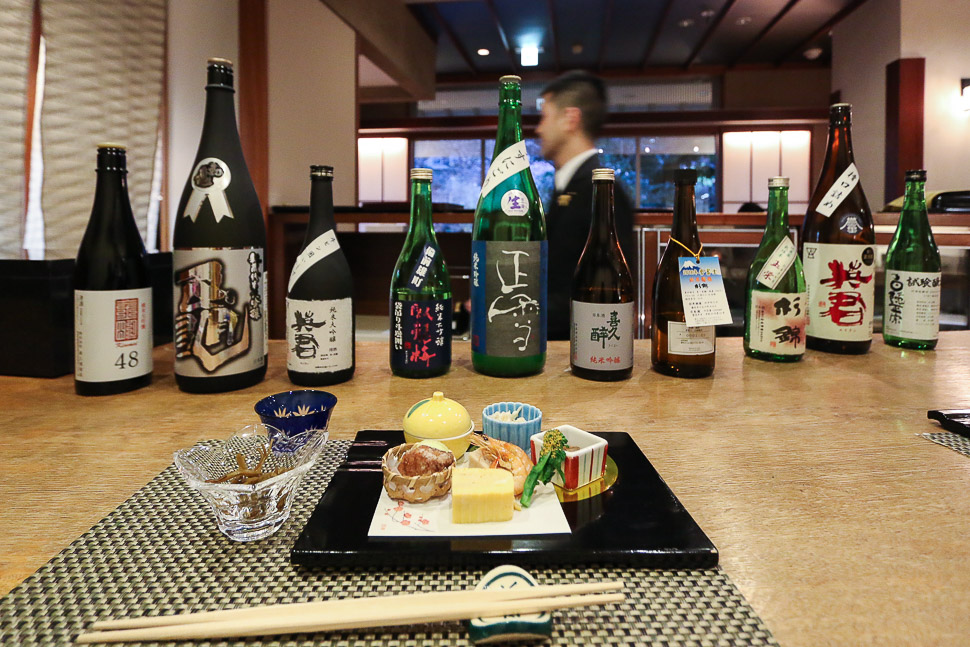 More sake with part of my dinner
Just like that, it was dark and my day in Shizuoka was over. It passed by quickly, and I went home dreaming about Mount Fuji, strawberries and sake.