Wakakusa Yamayaki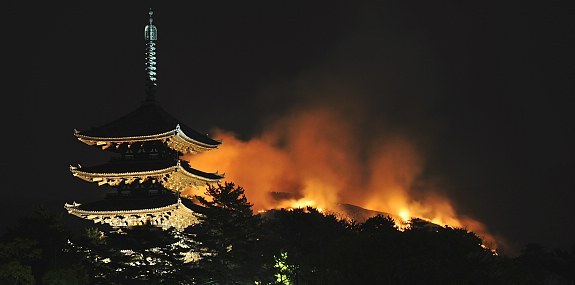 The next Wakakusa Yamayaki is scheduled for January 23, 2016
(or January 30 in case of bad weather)
The Wakakusa Yamayaki is an annual festival during which the grass on the hillside of Nara's Mount Wakakusayama is set on fire. The mountain is located at the eastern end of Nara Park, and when it is set alight it can be seen throughout the city. The burning of the mountain itself is preceded by a fireworks display. The festival takes places every year on the fourth Saturday in January, but may be delayed to the following Saturday in case of bad weather.
Todaiji Temple, Kofukuji Temple and Kasuga Shrine are all involved with the ceremonies of the festival. The Wakakusa Yamayaki has been taking place for hundreds of years and its precise origins are unclear. One theory claims that the burning of the mountainside began during boundary conflicts between Nara's great temples, while another claims the fires were used to drive away wild boars.
| | |
| --- | --- |
| Procession | Torches being lit near the Mizutani Bridge |
The festival officially begins at noon, after which a variety of minor events take place around the base of Wakakusayama. The most interesting minor attraction is a throwing competition of giant rice crackers (sembei) that takes place from 13:00 to 15:00. Travelers will recognize the sembei as giant versions of the rice crackers that are on sale throughout Nara Park as food for the wild deer.
Shortly before 17:00, a procession of about 30 people, involved in lighting the mountain on fire, departs from the Silk Road Exchange Hall in Nara Park towards the mountain, making a stop at the Mizutani Bridge along the way in order to lit the torches. Around 17:30, the procession arrives at the base of Wakakusayama where several hundred spectators have already gathered, and a large bonfire is lit part way up the mountainside, just past the barrier restricting access to the public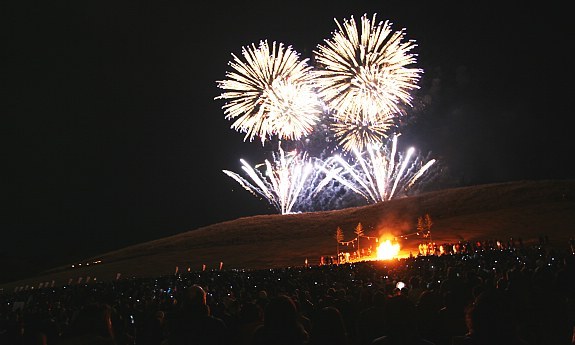 Fireworks and the festival's bonfire seen from the base of the mountain
At 18:00, a firework display is held for about 15 minutes. Afterwards, the fire from the bonfire is used to set the grass on the mountainside alight, and the fire gradually spreads all across the mountain. It usually takes 30 minutes to one hour for the entire area to burn, depending on the conditions of the grass each year. When the grass is dry, the entire mountain is burnt relatively quickly, while wet conditions can result in only slow and partial burning of the grass.
Because of Wakakusayama's elevation over Nara, both the fireworks and the fire are visible throughout the city. In addition to the view from the base of the mountain, there are several other good vantage points throughout Nara Park and the city. The view can also be enjoyed from further away, for example from the former Heijo Palace site.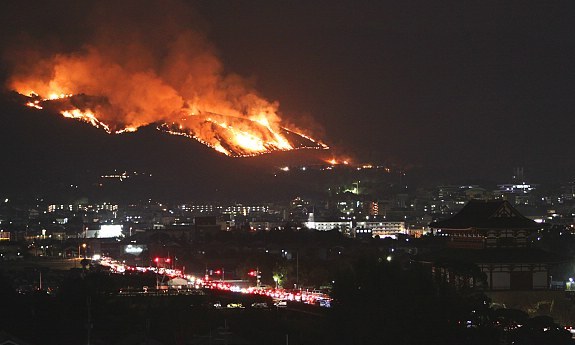 The Wakakusa Yamayaki seen from the distance