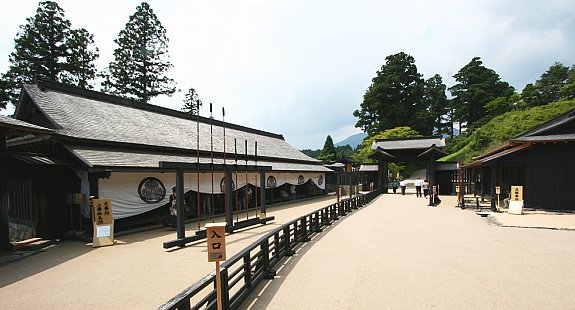 Hakone used to be an important checkpoint to control traffic along the Tokaido (東海道, Tōkaidō), the highway which linked Tokyo with Kyoto during the feudal Edo Period. Today, a short, cedar lined passage of the old Tokaido and a reconstruction of the Hakone Checkpoint (箱根関所, Hakone Sekisho) are located between Moto-Hakone and Hakone-machi along the shore of Lake Ashinoko.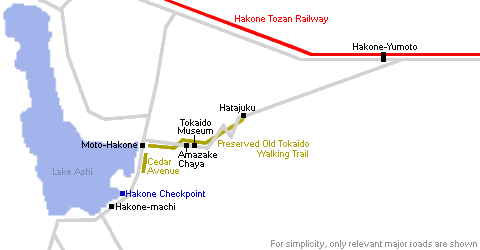 In spring 2007, the reconstruction of the Hakone Checkpoint was completed after three years of construction work. The checkpoint now appears true to its original form, including gates, fence, housing for officers and foot soldiers, a prison chamber and a lookout tower. The Hakone Sekisho Shiryokan, a small museum with various related exhibits, stands nearby.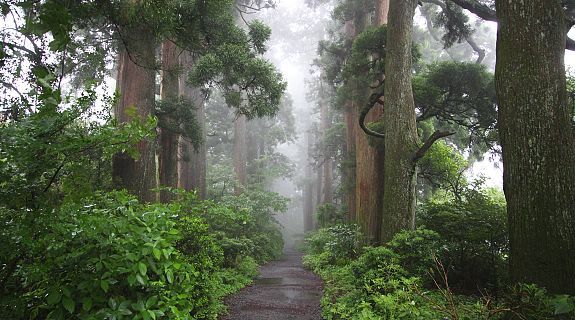 It is possible to walk a longer passage of the old Tokaido (also referred to as Kyu-kaido, 旧街道) between Moto-Hakone and Hakone-Yumoto. Some of the original stone pavement remains, and the best preserved section leads from Moto-Hakone to Hatajuku (75-100 minutes) via the Amazake Chaya, a tea house serving amazake (hot, sweet rice wine) and various Japanese style snacks.
A few steps past the Amazake Chaya stands the Tokaido Museum, a small museum which features life size reconstructions explaining the purpose of and life along the long road to Tokyo. Between Hatajuku and Hakone-Yumoto (90-120 minutes), the trail follows the road, which is neither particularly scenic nor pleasant to walk due to car traffic and the absence of a side walk for pedestrians.
Preserved stone paved road of the Old Tokaido between Hatajuku and Moto-Hakone