A popular and attractive way of visiting Hakone is by circling the region with five different means of transport (train, cablecar, ropeway, boat and bus), using the Hakone Free Pass.

The round course outlined below starts and ends in Hakone-Yumoto and circles the Hakone region in the counter-clockwise direction. Of course, it is also possible to follow the course in the opposite direction or to start and end somewhere different.

If you leave early in the morning, it is possible to completed the Hakone round course in a one day trip from Tokyo. However, we recommend allocating two days and one night to your visit, preferably with a stay at a ryokan with hot spring baths.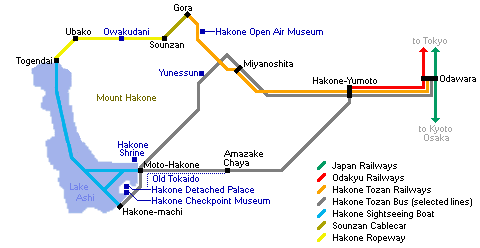 Hakone-Yumoto to Gora
by Hakone Tozan Railway
35 minutes, departures every 10-20 minutes
The Hakone Tozan Railway winds itself through a narrow, densely wooded valley, gaining more than 300 meters in altitude. Several hot springs and the Hakone Open Air Museum are located along its route.
Gora to Sounzan
by Hakone Tozan Cablecar
10 minutes, departures every 20 minutes
The Hakone Art Museum and Gora Park are located in Gora along the cablecar route.
Sounzan to Togendai
by Hakone Ropeway
30 minutes, constant departures
Nice views of Mount Fuji and the national park can be enjoyed from the ropeway when visibility is good. A transfer of ropeways is required at Owakudani, where travelers can observe volcanic activities.
Togendai to Hakone-machi
by Hakone Sightseeing Boat
30 minutes, departures every 30-60 minutes
Nice views of Lake Ashi, the surrounding wooded mountains and Mount Fuji can be enjoyed from the pirate ship shaped boats when visibility is good. Most ships operate from Togendai to Hakone-machi and then continue to Moto-Hakone.
Moto-Hakone to Hakone-Yumoto
by Hakone Tozan Bus (line H or K)
35 minutes, departures every 15-20 minutes
Visit Hakone Shrine in Moto-Hakone and then return by bus to Yumoto, possibly with a stop at Yunessun along the way (by bus line H). Alternatively, you could walk a section of the Old Tokaido and catch a bus from the Amazake Chaya or Hatajuku back to Yumoto (by bus line K).