Hakone Hot Springs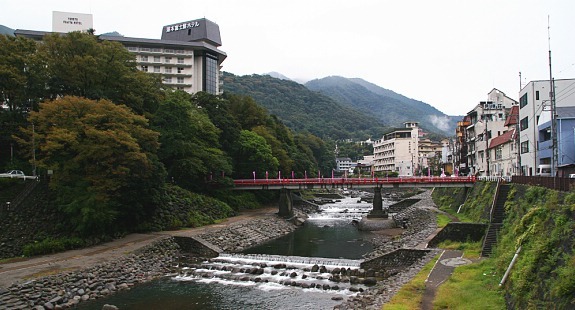 Hakone has been one of Japan's most popular hot spring resorts for centuries. Nowadays, more than a dozen springs provide hot spring water to the many bath houses and ryokan in the Hakone region.
Yumoto, at the entrance to the Hakone area near Odawara, is Hakone's most famous hot spring with a particularly long history, high quality water and numerous baths and inns. Many more hot spring facilities are found across the hills and valleys of Hakone and along the shores of Lake Ashi.
Visitors can enjoy a hot spring bath in public bath houses or ryokan. Many ryokan open their baths not only to staying guests but also to daytime visitors. While staying guests can use the baths for free, daytime visitors pay an admission fee of typically between 500 and 2000 yen.
Below is a list of some of Hakone's better baths open to the general public (shown in blue on the map):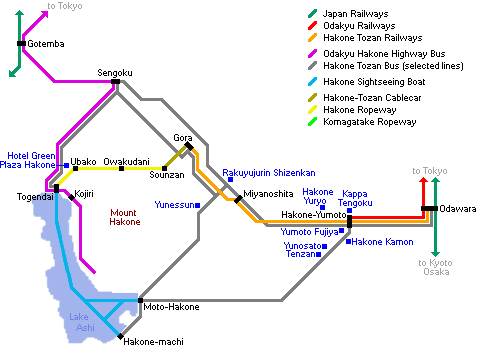 Yumoto
Tenzan
Hours: 9:00 to 23:00 (entry until 22:00)
Admission: 1300 yen
Collection of nicely done hot spring pools, most of which are outdoors at the foot of a wooded slope. The bath house is a beautiful traditional Japanese style building. A short walk from Oku-Yumoto Iriguchi bus stop (bus line K).
Hakone Kamon
Daytime Hours: 10:30 to 17:00
Daytime Admission: 1950 yen
Overnight Stay: From 27,000 yen per person with two meals
Multiple outdoor baths made of stone and wood including sauna and baths made of large ceramic pots. A cup of tea is served after the bath. Short shuttle bus ride from Yumoto Station (100 yen).
Hakone Yuryo
Hours: 10:00 to 21:00 (weekends until 22:00), entry ends one hour before closing
Admission: 1400 yen
Hakone Yuryo is a tasteful public bath opened in spring 2013 on the former site of the Hakone Begonia Garden. The facility features gender segregated indoor and outdoor baths with nice views into the forest. There is also a large selection of private baths (additional fees apply) for families and couples that wish to bath together. A free shuttle bus operates every 10-15 minutes to/from Hakone Yumoto Station.
Yunosato Okada
Hours: 6:00 to 9:00 and 11:00 to 23:00 (entry until 22:00)
Admission: 1450 yen (1000 yen before 9:00)
Various pools, most of which are outdoors. Nice views of the valley can be enjoyed from the bath house, but unfortunately not from the pools. 10 minute shuttle bus ride from Yumoto Station (100 yen).
Kappa Tengoku
Daytime Hours: 10:00 to 22:00
Daytime Admission: 800 yen
Overnight Stay: From 3,000 yen per person without meals
Outdoor baths in the wooded slope just above Yumoto Station. The wooden bath house is slightly run-down but remains atmospheric. A five minute walk from the station.
Yumoto Fujiya Hotel
Daytime Hours: 12:00 to 20:00
Daytime Admission: 1800 yen
Overnight Stay: From 18,000 yen per person including 2 meals
Not to be confused with the historic Fujiya Hotel further up the valley, this hotel opens its baths to non-staying guests. The admission fee seems steep considering the hotel's rather average indoor and outdoor baths without views. Across the river from Yumoto Station.
Miyanoshita
Rakuyujurin Shizenkan
Hours: 10:00 to 19:00 (closed Wednesdays)
Admission: 2500 yen
Attractively located on the densely wooded, steep slope of the valley with outdoor baths on wooden terraces. This bath house is old and atmospheric, if overpriced. A few steps from Hotel-mae bus stop.
Kowakudani
Hotel Kowakien Yunessun
Yunessun Hours: 9:00 to 19:00 (until 18:00 from November to February)
Mori no Yu Hours: 11:00 to 21:00
Admission: 2900 yen (Yunessun), 1900 yen (Mori no Yu), 4100 yen (both)
More water park than hot spring, this resort is split into two areas: "Yunessun" with themed pools and water attractions (bathing suits required), and "Mori No Yu" with traditional hot spring baths (no bathing suits). Located across the street from Hotel Kowakien.
Sengoku
Hakone Green Plaza Hotel
Daytime Hours: 12:00 to 15:00 (closed 1st and 3rd Thursday each month)
Daytime Admission: 1600 yen
Overnight Stay: From 15,000 yen per person including 2 meals
This hotel's large rotemburo (outdoor baths) are some of the surprisingly few baths in Hakone that have views of Mount Fuji on clear days. A short walk from Ubako Station along the Hakone Ropeway.
Ratings:

best of the best

best of Japan

outstanding