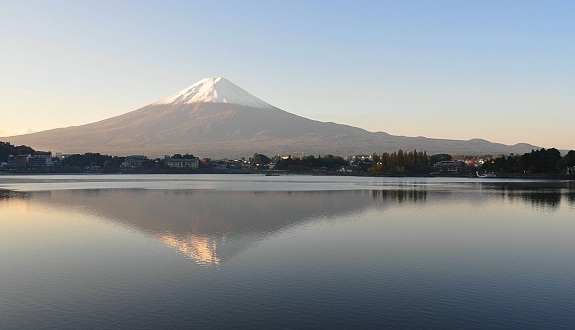 Mount Fuji from Lake Kawaguchiko
The Fuji Five Lakes (富士五湖, Fujigoko) are made up of Lake Kawaguchiko, Lake Yamanakako, Lake Saiko, Lake Shojiko and Lake Motosuko at the northern base of Mount Fuji.
The five lakes were formed hundreds of years ago by lava flows which dammed up rivers during Mount Fuji's multiple eruptions. Interestingly, three of the lakes, Saiko, Shojiko and Motosuko are still connected with each other by underground waterways and consequently maintain the same surface level of 900 meters above sea level.
Lake Kawaguchiko (more details)
13 kilometer circumference
Lake Kawaguchiko is the most easily accessible and most developed of the five lakes. Its eastern shores are populated by hotels and ryokan, while its western shores remain calm and mostly undeveloped. The best views of Mount Fuji are from the northern shores, but there are good views of the mountain from almost all around the lake. Kawaguchiko Town, on the southeastern side of the lake, serves as the region's transportation hub.
Lake Yamanakako (more details)
13 kilometer circumference
Lake Yamanakako is the largest and easternmost of the five lakes. The lake has good views of Mount Fuji, especially from its northern coast. It is the second most developed lake with small towns at each end and it is popular for various water and lakeside outdoor activities such as wind surfing and tennis.
Lake Saiko (more details)
10.5 kilometer circumference
Lake Saiko is only one kilometer west of Lake Kawaguchiko, however it is barely developed, possibly due to the fact that its view of Mount Fuji is partially blocked by other mountains except at the lake's western tip. Lake Saiko is a nice destination for outdoor activities, such as fishing and boating, and there are several camp sites located along its shores.
Lake Shojiko (more details)
2.5 kilometer circumference
Lake Shojiko, by far the smallest of the five lakes, is located another five kilometers west of Lake Saiko, and is sparsely developed with just a few hotels along its northern shore. It offers nice views of Mount Fuji from all around and good fishing and other outdoor activities.
Lake Motosuko (more details)
13 kilometer circumference
Lake Motosuko is the westernmost of the five lakes and has good views of Mount Fuji, including the view which appears on the back of the 1000 yen bill. The shores are barely developed except for a few campgrounds. Outdoor activities and water sports such as wind surfing, boating and fishing are popular around the lake.
Any Questions? Ask them in our question forum.
Onsenji Yumedono Ryokan
This fantastic hotel offers three different styles of accommodation, catering to a variety of tastes and budgets. Prices from 4,500 yen.
Pension Cosmos
A small inn in a forest near Kawaguchiko. From 6300yen. Enjoy trails to the Mt.Fuji view, grilled steak and Fujisan beer.
Hotel Mt. Fuji
Built to provide a view of Mt. Fuji, this luxury resort hotel is 1,100 meters above sea level. The mountain truly towers in front of you.
Highland Resort Hotel & Spa
The only official hotel of the Fuji-Q Highland amusement park, famous for Guinness World Record roller coasters. See majestic Mt. Fuji from the hotel.
Fuji View Hotel
Enjoy captivating lakeside views of Mt. Fuji at our charming Lake Kawaguchi hotel amid some of Japan's most beautiful scenery.
Kawaguchi-ko Station Inn
Just in front of Kawaguchiko Station. An inexpensive inn with beautiful views of majestic Mt. Fuji.
Fuji Lake Hotel
Free Wi-Fi & free transfer. Great location facing Kawaguchiko. Enjoy grand Mt.Fuji views from some rooms, private onsen bath and observation deck. 12000JPY+.
Shinkansen from Kawaguchiko station to...
1 reaction, last updated 14 hours ago
Shibazakura Liner Bus timing 2015
2 reactions, last updated 34 hours ago
Traveling within Japan
5 reactions, last updated 45 hours ago
Fujisan Fujikko passport can be used or...
3 reactions, last updated 3 days ago
Kawaguchiko (Fuji San), what to do
2 reactions, last updated 4 days ago
JR pass from Kawaguchiko
4 reactions, last updated 5 days ago
Shibazakura to Shin-Fuji
3 reactions, last updated 6 days ago
Fuji Hakone Pass
2 reactions, last updated 7 days ago
Driving Mt. Fuji: Any traffic...
3 reactions, last updated 12 days ago
Buses from Kawaguchiko to Nagoya Station?...
2 reactions, last updated 12 days ago
Entrance fee for the Fuji 5 lakes
1 reaction, last updated 14 days ago
Chureito pagoda 400 step
5 reactions, last updated 18 days ago
Shibazakura 2015
1 reaction, last updated 20 days ago
Kawaguchiko to kyoto
2 reactions, last updated 21 days ago
Fuji Shibazakura Festival 2015
2 reactions, last updated 26 days ago
Can Fujikyu Fujigko Passport Light be...
2 reactions, last updated 28 days ago
Lake Kawaguchiko Northern Shore access
0 reactions, last updated 28 days ago
Best Ryokan to see Mt Fuji
5 reactions, last updated 28 days ago
Where can I buy Fujisan Fujikko passport?...
2 reactions, last updated 28 days ago
Lakes in the Fuji five lakes region
1 reaction, last updated 31 days ago