How to travel between the Fuji Five Lakes and Kyoto

By shinkansen
Take a direct Hikari train on the JR Tokaido Shinkansen from Kyoto Station to Mishima Station (two hours, 11,000 yen, one direct train every two hours) and transfer to a Fujikyu bus to Kawaguchiko Station (1.5 hours, 2260 yen one way, see timetable) in the Fuji Five Lakes region. There are additional train connections between Kyoto and Mishima that require a transfer along the way.
Japan Rail Pass holders can save a little bit money by taking local JR trains from Mishima to Gotemba (one transfer of trains at Numazu along the way) and then board the Kawaguchiko bound Fujikyu bus at Gotemba Station (1 hour, 1510 yen one way, see timetable) instead of Mishima Station.
The Japan Rail Pass is valid on Hikari and Kodama trains along the JR Tokaido Shinkansen as well as on local JR trains between Mishima and Gotemba, but the buses between Mishima, Gotemba, and Kawaguchiko are not covered.
By bus
Fujikyu Bus operates a daily overnight bus between Kawaguchiko and Osaka, stopping in Kyoto (Kyoto Station Hachijo Exit) along the way. The one way trip from Kyoto takes about 9.5 hours and costs 8,200 yen. A round trip ticket is available for 14,800 yen and must be used within ten days.
Above fees and schedules are subject to change. For the current yen exchange rate, click here.
Orientation
The two major transportation hubs in the Fuji Five Lake region are Kawaguchiko Station and nearby Fujisan Station (formerly known as Fujiyoshida Station), both located along the Fujikyu Railway Line. From these two stations, buses depart into all directions, providing access to the five lakes and other attractions.
Bus Network Map: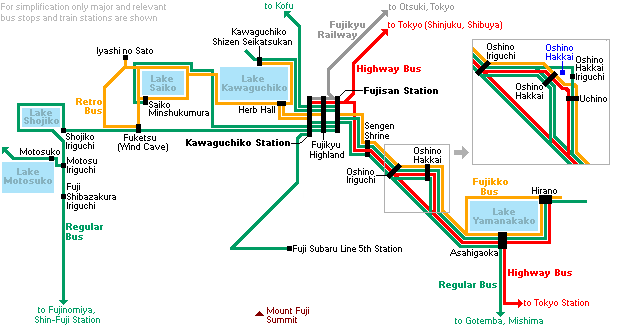 The retro buses are generally the easiest way for tourists to get around. There are two lines starting from Kawaguchiko Station: the Kawaguchiko Line (buses every 15 minutes) runs along the eastern and northern shores of Lake Kawaguchiko, while the Saiko Line (buses every 30 minutes) runs along the southern shore of Lake Kawaguchiko and around Lake Saiko. A pass for unlimited use of boths lines on two consecutive calendar days costs 1200 yen.
For transportation between Fujiyoshida, Oshino Village and around Lake Yamanakako the Fujikko Bus can be useful, although buses run only once every one or two hours. A 2-day pass for unlimited use of the Fujikko bus on two consecutive calendar days costs 1340 yen, while a cheaper version for 1030 yen covers just the area between Oshino and Yamanakako, not including Fujiyoshida.
Apart from the retro buses and the Fujikko Bus, there is a network of regular buses, which can be useful for access to the more remote Lake Shojiko and Motosuko, as well as in direction of Oshino, Lake Yamanakako and Gotemba. Another bus line of interest connects Kawaguchiko Station with Fuji Subaru Line 5th Station halfway up the mountain.
A rental car can also be a convenient way to get around, especially if visiting places outside of central Kawaguchiko. A few rental car outlets can be found near Kawaguchiko Station. Similarly, a rental bicycle can be an attractive way to get around, although some roads in the region are rather busy and distances between the lakes are considerable.
Special Tickets
Several passes are available for the Fuji Five Lake area, which can provide savings and comfort:
Fuji Hakone Pass (8000 yen)

The Fuji Hakone Pass is a pass for foreign tourists, which provides access from Tokyo and transportation within the Fuji Five Lakes region and the neighboring Hakone area.

Fujigoko Enjoy Ticket (4350 yen)

This ticket combines a round trip by highway bus from Shinjuku to Kawaguchiko or Yamanakako (regular cost: at least 3500 yen) with a 2-day pass for either the retro bus or the Fujikko bus (regular cost around 1200 to 1340 yen). It also qualifies for discounts on selected local tourist attractions. It is valid for up to seven days. The ticket can be purchased at the bus terminal in Shinjuku.

Fuji Q Highland Plans

There are various discount travel plans available for a visit to the Fuji Q Highland amusement park. The plans combine access by bus with park passports and in some cases accommodation.

Fujisan Fujigoko Passport

This ticket provides unlimited use of Fujikyu buses around the Fuji Five Lakes, including the retro buses and the Fujikko bus on two consecutive calendar days. The pass is sold at the Fujikyu ticket counters at Kawaguchiko Station, Fujisan Station, Mishima Station, Shin-Fuji Station, Fujinomiya Station, Gotemba Station and the Asashigaoka/Yamanakako bus stop. Two versions are available: one that also includes the entire Fujikyu Railway Line (3550 yen) and one that includes Fujikyu trains only between Kawaguchiko and Shimoyoshida Station (2550 yen). The following map shows the pass' coverage area:
Hotels
around Fuji Five Lakes