The JR Kanto Area Pass is a rail pass for exclusive use by non-Japanese passport holders, providing unlimited travel on JR trains (including shinkansen and limited express trains) and selected non-JR trains in the Kanto Region on three consecutive days.
JR Kanto Area Pass

Adult

8,300 yen

Child (6-12 years)

4,200 yen
Validity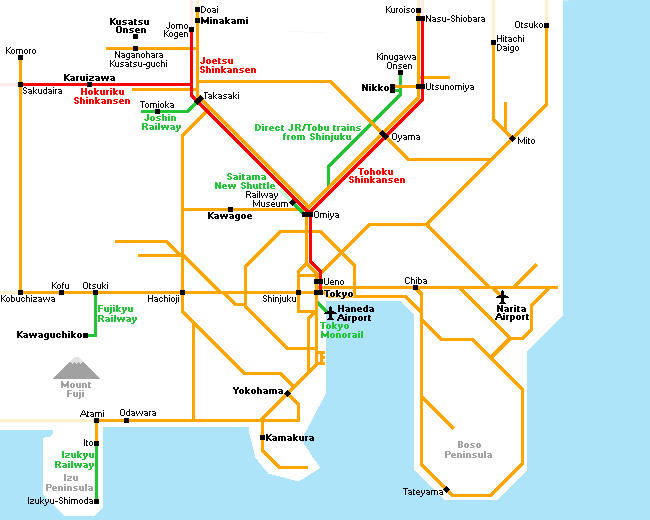 | | |
| --- | --- |
| 1) | Unlimited use of local, rapid, express, limited express and shinkansen trains operated by JR East in the Kanto Region as well as parts of Nagano, Yamanashi and Shizuoka Prefectures. |
| 2) | Unlimited use of the following non-JR trains (local, rapid, express and limited express): |
| 3) | The pass is not valid on the Tokaido Shinkansen (which is not operated by JR East). A supplement fee has to be paid on Hayabusa trains along the Tohoku Shinkansen and when riding the observation car of limited express trains by Fujikyu Railway. There are also a small number of JR trains, which partially run on the tracks of different railway companies which are not fully covered by the pass (except those on tracks of the Izukyu and Fujikyu Railways). |
| 4) | Seat reservations can be made for free. |
| 5) | The pass is valid on three consecutive calendar days. |
| 6) | Only holders of a non-Japanese passport can use the JR Kanto Area Pass, including foreign residents of Japan. |
| 7) | During winter, the separately purchasable "Gala Option Ticket" allows pass holders to take the Joetsu Shinkansen beyond the pass' coverage area to Gala Yuzawa Station for visiting the Gala Yuzawa ski resort. In 2014/2015, this optional ticket is available for 1000 yen between December 20, 2014 and May 6, 2015. The ticket is valid on a single calendar day during the validity period of the Kanto Area Pass and can be purchased at the same locations as the pass (see below). |
Points of Sale
The JR Kanto Area Pass is sold at Narita Airport, Haneda Airport and Tokyo, Shinagawa, Shinjuku, Shibuya, Ikebukuro, Ueno and Yokohama Stations.
Assessment
The JR Kanto Area Pass can be a very good value, and is particularly useful for travelers who plan to make multiple side trips from Tokyo to popular destinations outside the city such as Nikko, the Fuji Five Lakes, the Izu Peninsula, Karuizawa or the onsen towns of Gunma Prefecture. Below are the approximate round trip fares for popular side trips, illustrating that the JR Kanto Area Pass for 8,300 yen can pay off relatively easily:
| | |
| --- | --- |
| To Nikko | 3,000 yen (by Tobu Railways), 10,000 yen (by shinkansen) |
| To the Fuji Five Lakes | 3,500 yen (by bus), 7,000 yen (by limited express train) |
| To Shimoda | 12,000 yen (by limited express train) |
| To Kusatsu Onsen | 10,000 yen (by limited express train) |
| To Karuizawa | 10,000 yen (by shinkansen) |
| To Kamakura | 2,000 yen |