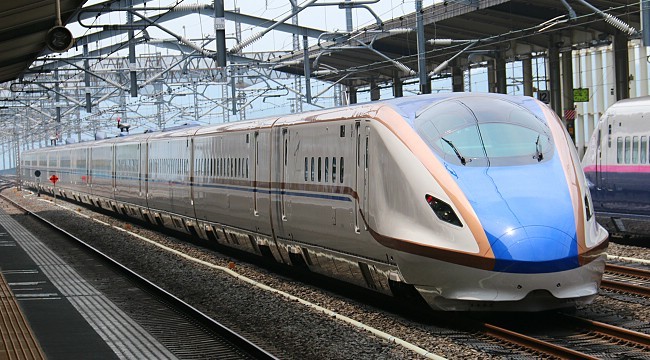 The Nagano Shinkansen (長野新幹線, Nagano Shinkansen) is a shinkansen line that connects Tokyo with Nagano. It was opened in 1997 in time for the Nagano Winter Olympics and is operated by the East Japan Railway Company, commonly known as JR East. Formally known as the Hokuriku Shinkansen, this shinkansen line will be extended to Kanazawa on March 14, 2015.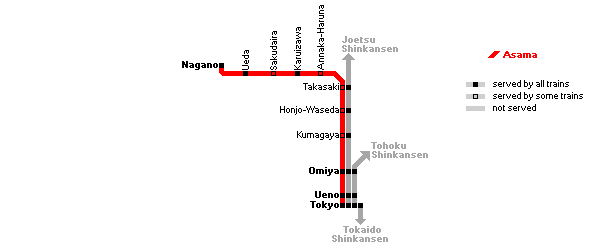 The Asama, named after the large active volcano on the border between Gunma Prefecture and Nagano Prefecture, is the only train category along the Nagano Shinkansen. It operates between Tokyo and Nagano Stations with various stopping patterns. Two types of train sets are used: one with 8 cars and one with 12 cars. The 12-car train sets carry one Gran Class car, the first class service by JR.


Note: For simplification, some rare train compositions and stopping patterns are omitted.

Extension to Kanazawa
With the extension of the shinkansen line from March 14, 2015, three additional, new train categories will be introduced along the Hokuriku Shinkansen. All of them will be covered by the Japan Rail Pass:
The Kagayaki will be the fastest train category along the Hokuriku Shinkansen. On its 2.5 hour journey between Tokyo and Kanazawa, it will stop only at Ueno, Omiya, Nagano and Toyama. The Kagayaki features twelve cars, one of which is Gran Class, the first class service by JR.

The Hakutaka is the slower of the two train categories that run along the entire length of the Hokuriku Shinkansen. It skips most stations between Tokyo and Nagano, but stops at most of the stations beyond Nagano. The Hakutaka features the same train sets as the Kagayaki.

The Asama will continue running just between Tokyo and Nagano, using 8-car train sets without Gran Class.

The Tsurugi will shuttle between Kanazawa and Toyama Station, providing travelers arriving by limited express train from Osaka and Kyoto with a connection to Toyama.

Any Questions? Ask them in our question forum.