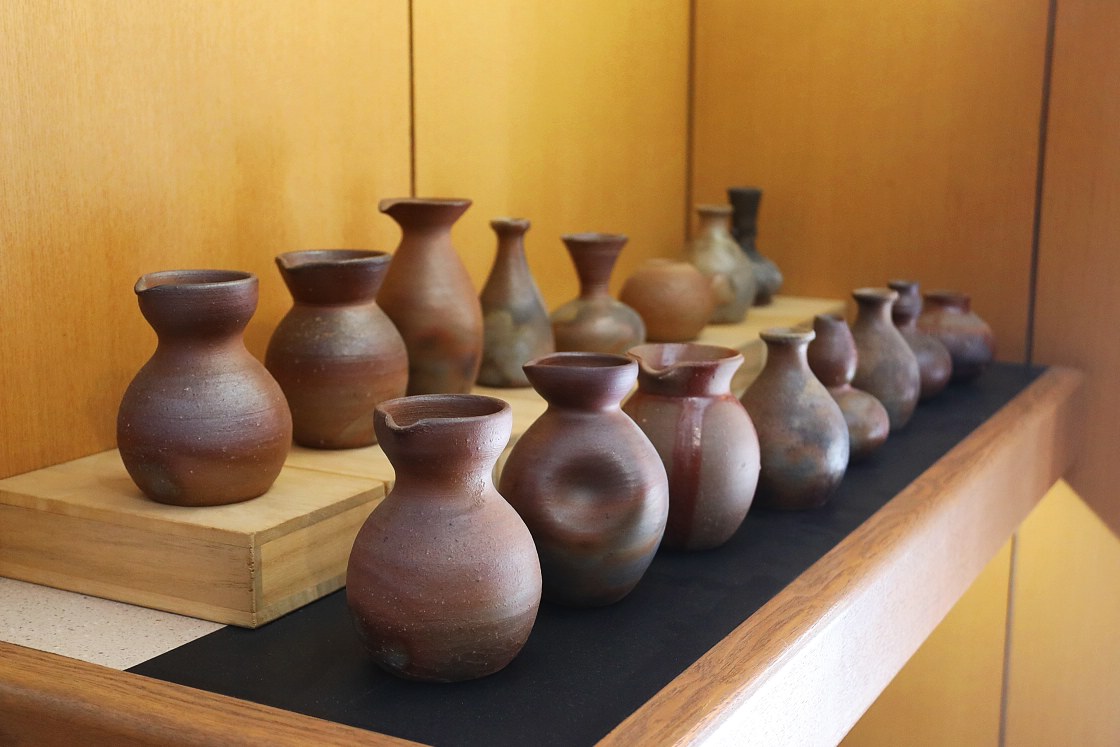 Matt Evans Staff Writer,
japan-guide.com
With archaeological finds believed to date as far back as 14,500 BC, it is clear that Japan boasts one of the world's most ancient pottery traditions. By embodying aesthetic ideals like impermanence, earthiness and the occasional, startling beauty of desolate things, pottery as an art form has always had a very special place in Japanese culture, and Japanese pottery continues to inspire artists around the world.
As one of Japan's six great pottery traditions, Bizen ware emerged during the Kamakura Period but can trace its origins still further to the Heian Period and beyond. Taking its name from the former province in what is today eastern Okayama Prefecture, it is unusual in that it is always fired in a wood-burning kiln and traditionally left unglazed, creating a certain rustic charm while allowing distinct features imparted during the firing process known as yohen to shine through.
As a pottery lover myself, I was delighted to dig deeper into this fascinating local art form on a recent three-day trip to Okayama Prefecture, roughly following the same itinerary as a group tour operated by the Bizen Pottery Association and available to book online.
Day 1
Located in Okayama Prefecture on the shores of the Seto Inland Sea, Bizen is a sleepy, rural city with rolling hills and open countryside to the north and an attractive bay dotted with islands to the south. From Tokyo, the journey took a little under five hours, beginning with a shinkansen ride to Himeji, followed by two local trains to Imbe Station with one easy change at Banshu-Ako.
At the station I was met by Funahashi-san, Executive Director of the Bizen Pottery Association and my guide for the trip. Together we made our way to the nearby Bizen Pottery Museum for a quick introduction to the basics and the chance to see some outstanding pieces by local artists.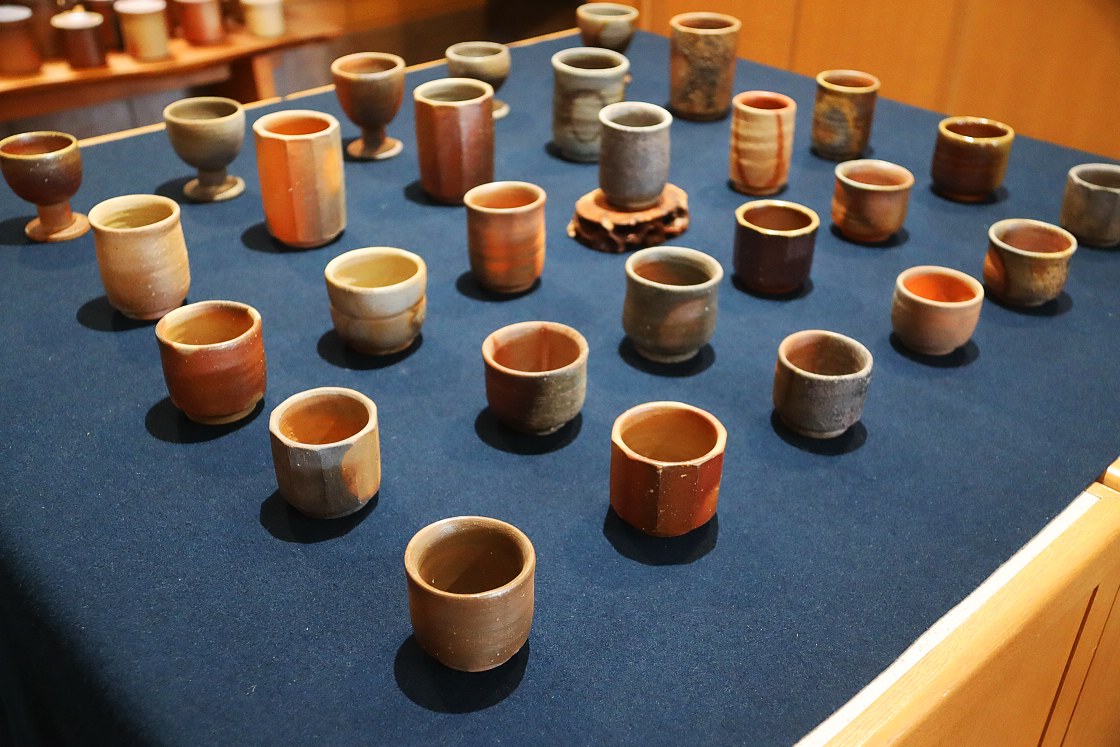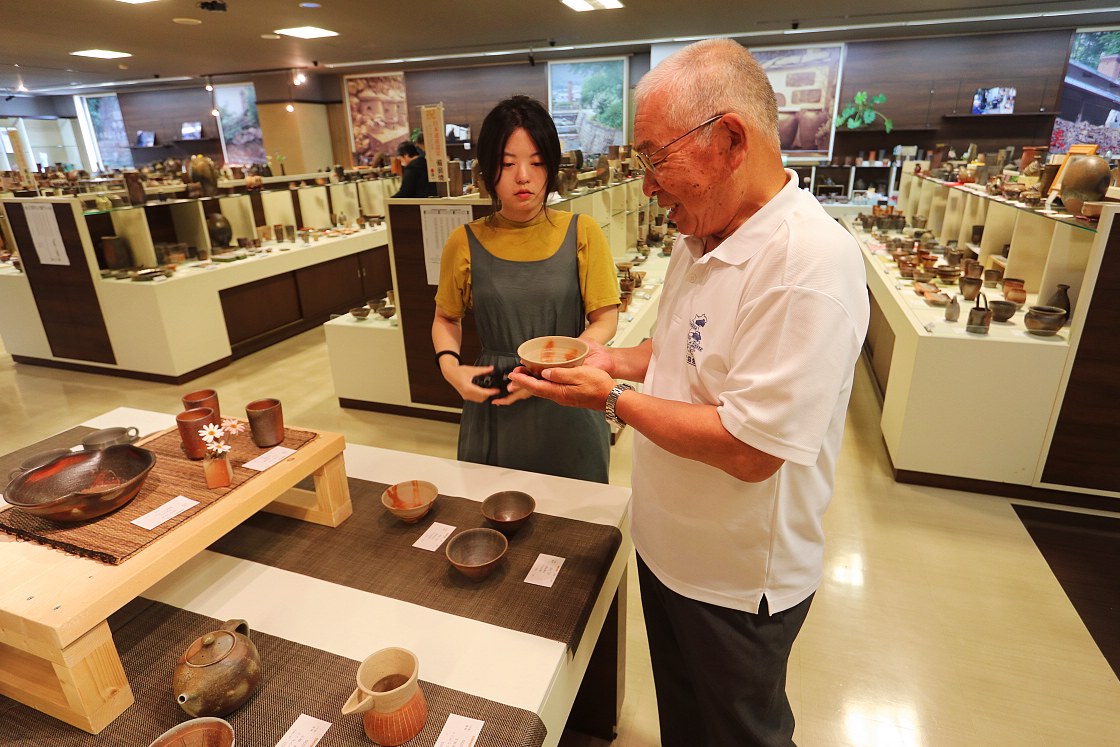 With a little time to spare, we set out on a very quick stroll of the Imbe area - the birthplace and beating heart of Bizen ware. We would be returning for a more thorough look the next day, but for now I was content to breathe in the local atmosphere and drop into two of the many inviting ateliers selling pottery of all shapes and sizes.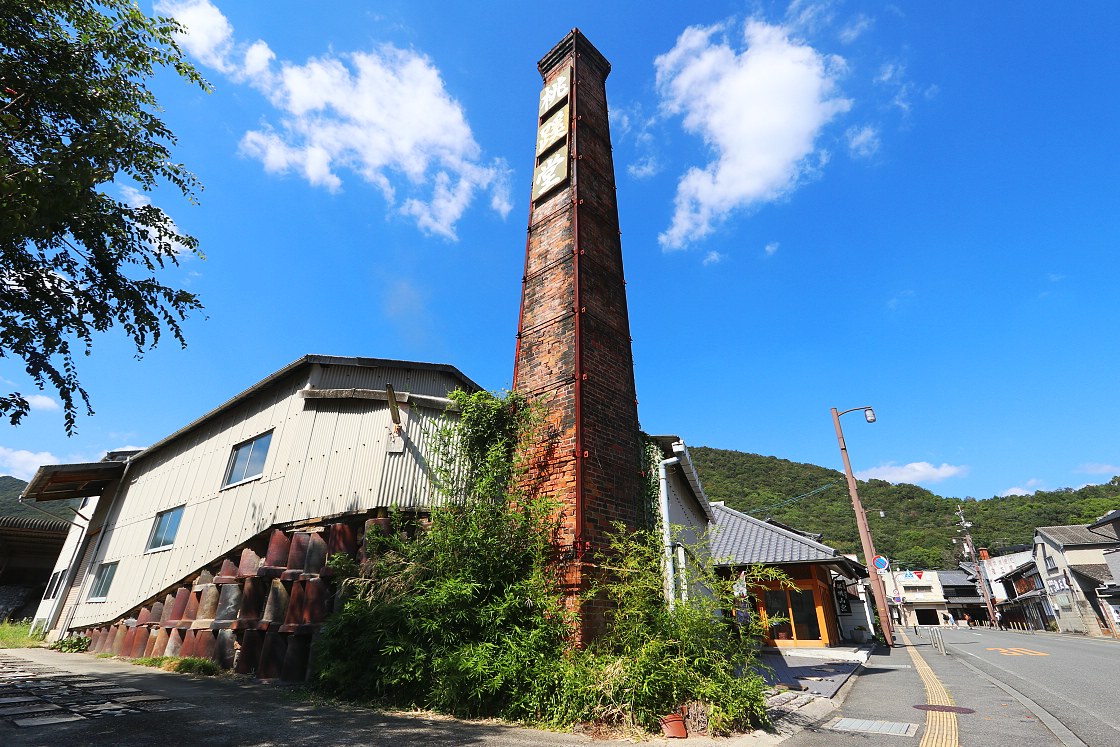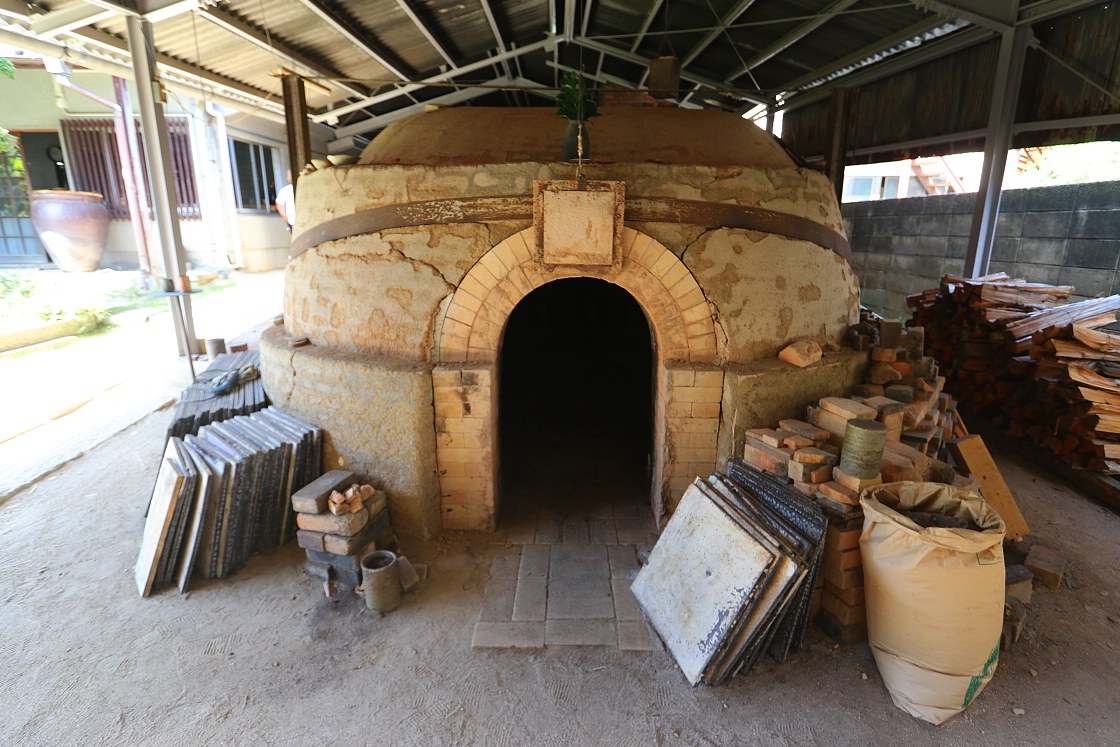 Before long it was lunchtime, so we took a 20-minute drive east along the coast to Hinase. Just around the corner from Hinase Station we made a stop at Uma Uma, an unfussy hole-in-the-wall eatery specializing in okonomiyaki, a dish somewhat resembling a pancake packed with shredded cabbage and one's own choice of savory fillings. We ordered the latter made in the local style - light on vegetables, heavy on huge, juicy oysters - also known as kakioko.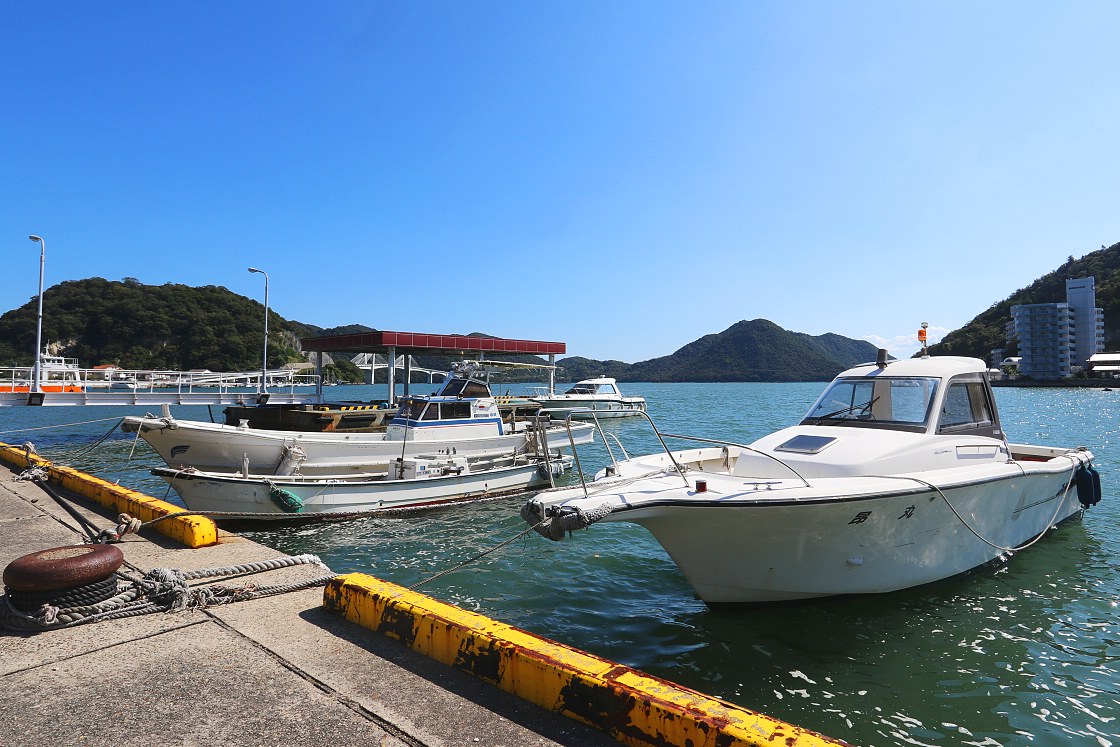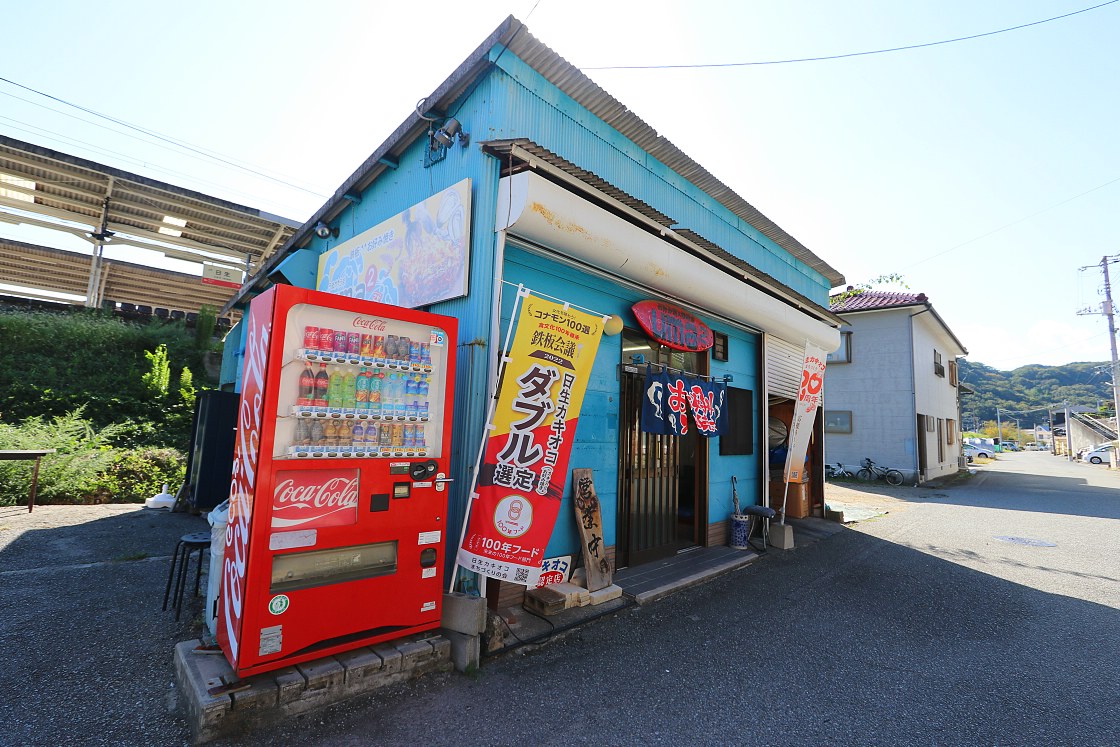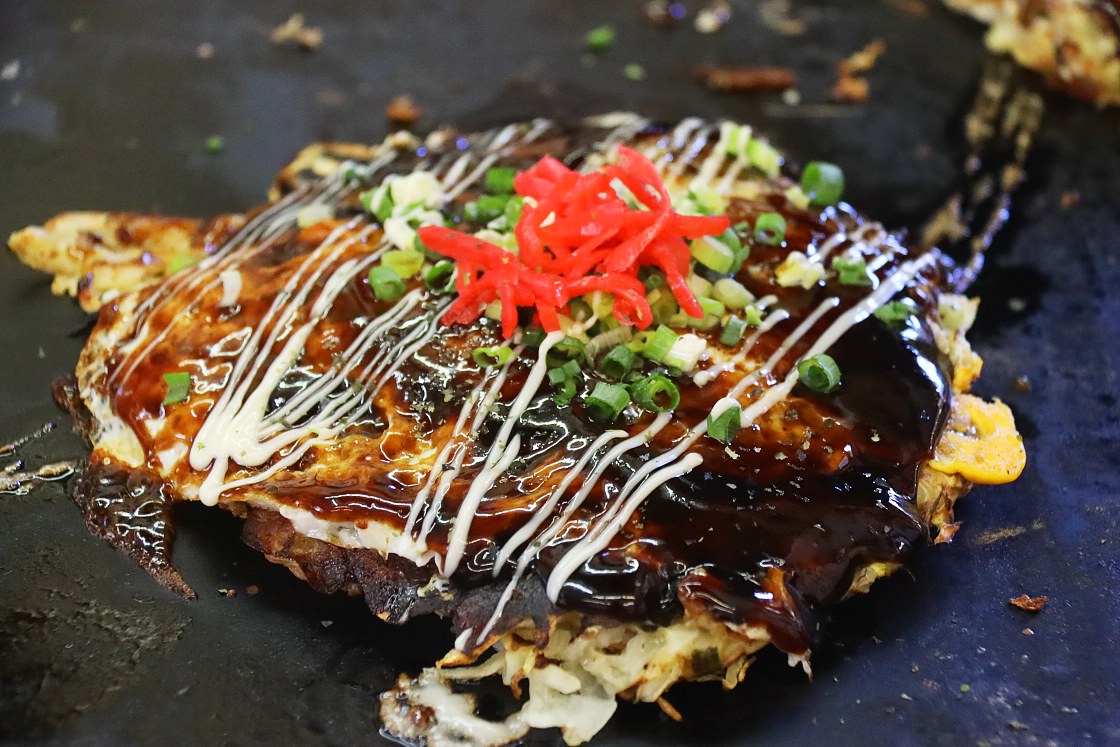 After saying our thanks for the meal, we were soon back in the car and winding our way northwest along a country road, past rolling hills and more potter's homes, evidenced by little chimneys and stacks of firewood. A 20 minute drive brought us to the Shizutani Gakko - one of just a handful of regional schools established in the Edo Period.
Set against rounded, pine-covered hills and with features reminiscent of Chinese architecture, it feels a little like stepping into an imagined monastery from old brush-and-ink landscape paintings. Waiting for us at the entrance was Koyama-san, the Shizutani Gakko's Director of Youth Education and our guide for today's visit.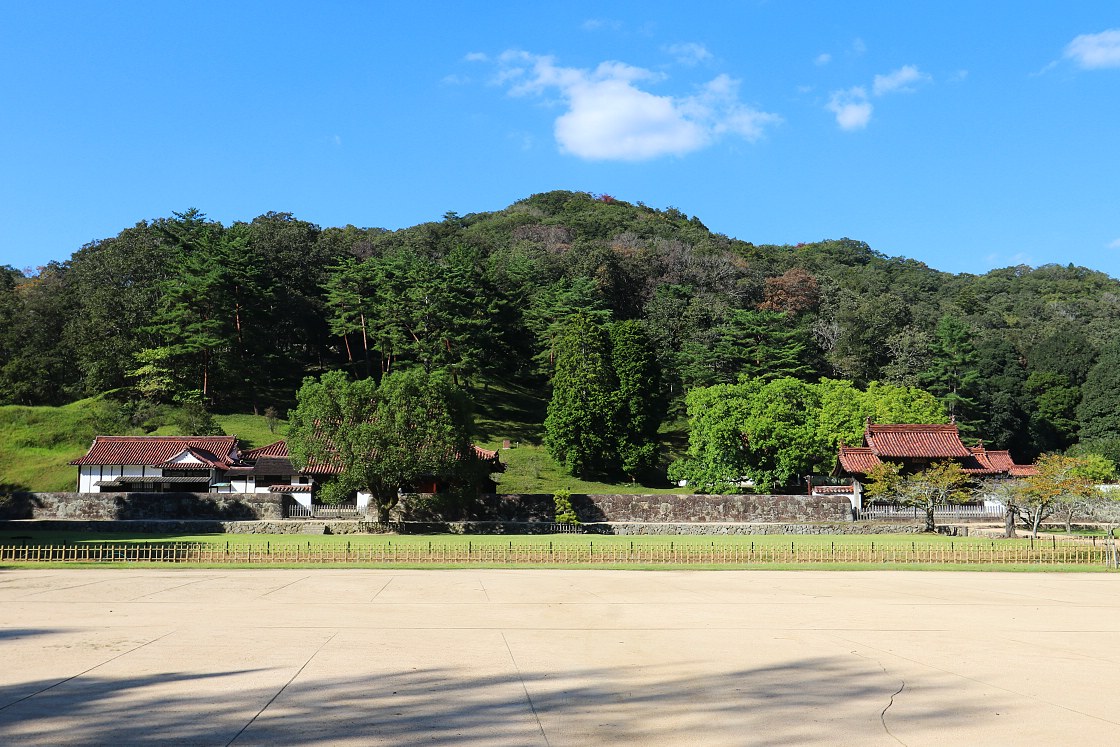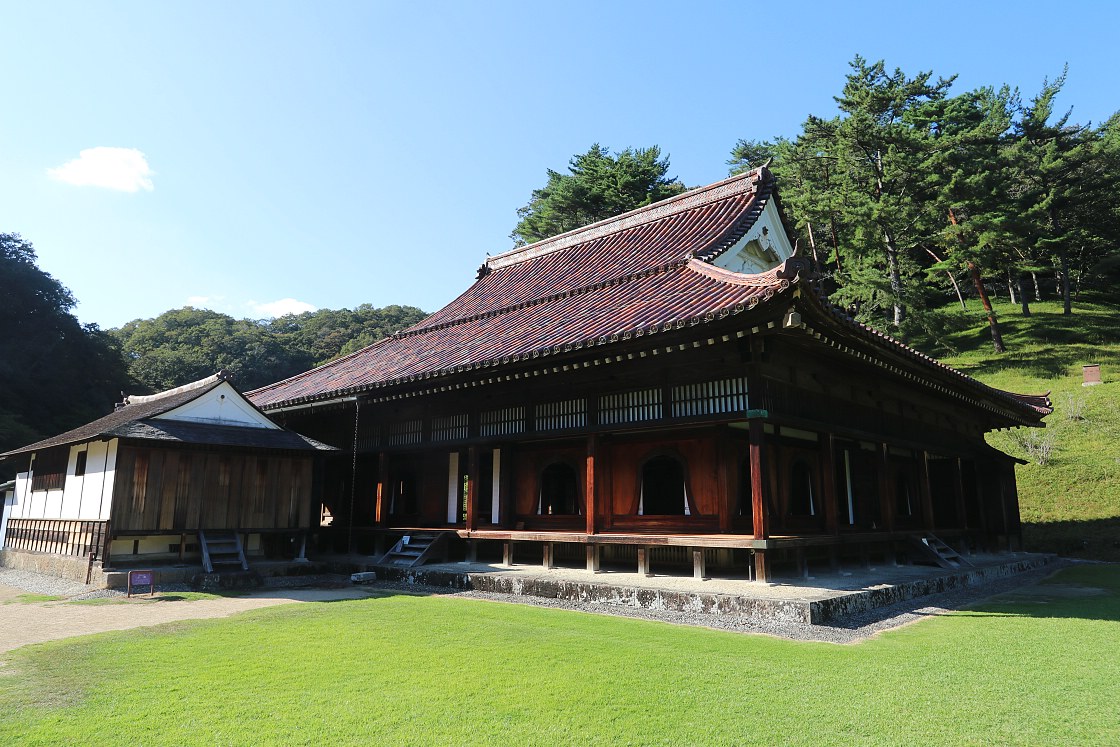 The school's history can be traced to 1666 when the lord of Bizen domain, Ikeda Mitsumasa, visited the area on a survey of his lands. Struck by its natural beauty and ideal conditions, he resolved to build a school where children of samurai and commoners alike could be educated along Confucian lines - a great rarity in feudal times.
Mitsumasa was even far-sighted enough to gift the nearby village of Kitani to the school, providing it with its own income and protecting it from future political entanglements. Although he would not live to see it, his vision was finally completed in 1701 by Nagatada Tsuda - a senior retainer and civil engineer credited with numerous surviving historic landmarks throughout Okayama Prefecture.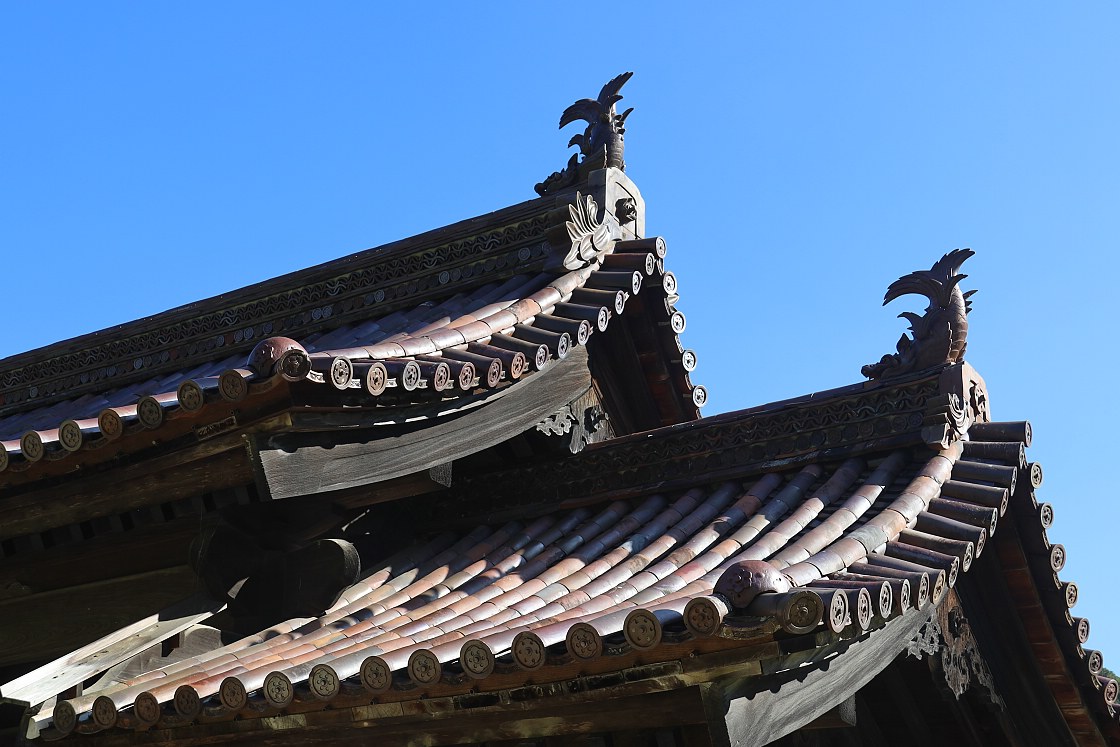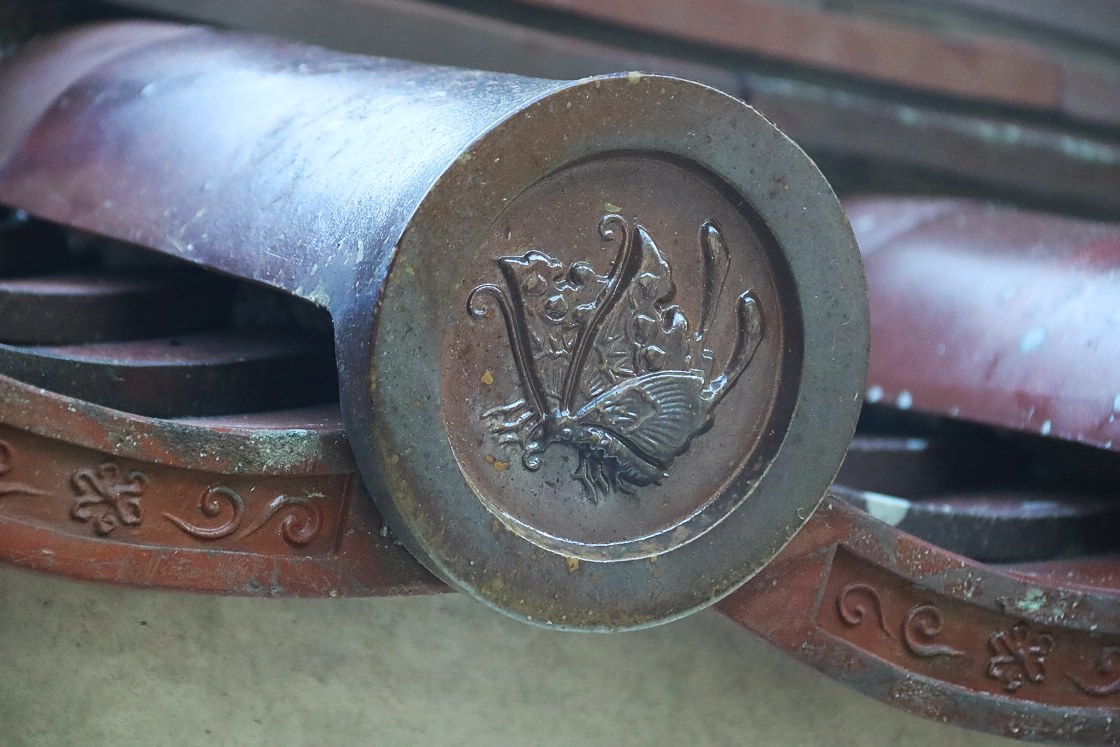 At the heart of the complex is the Kodo or teaching hall, an elegant timber structure capped with a gracefully curving hip and gable roof, its tiles giving off the distinct red sheen of Bizen ware pottery. Looking inside, it was clear that the hall was not just architecturally beautiful but functionally brilliant - bell-shaped windows on all sides allowed in enough natural light to minimize the need for dangerous candles and lamps, an imperceptible swell to the paneled ceiling creates near-perfect acoustics and the lacquered floor - polished for centuries by sitting students - has kept its mirror shine without the need for re-lacquering or other repairs.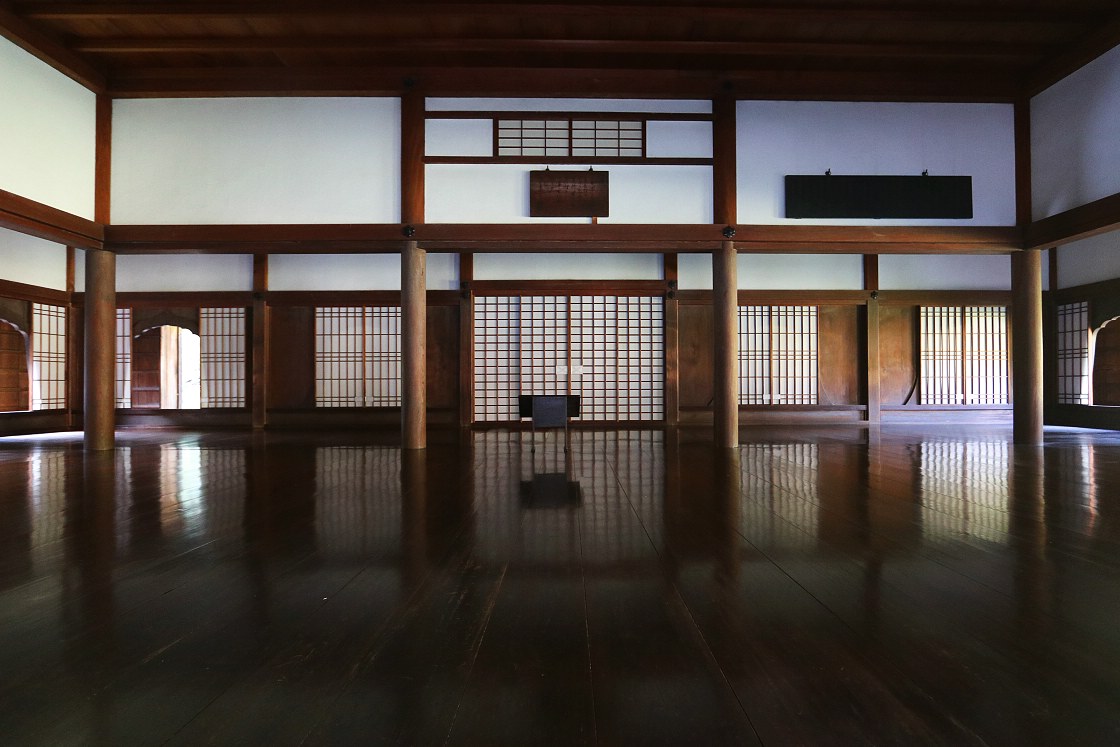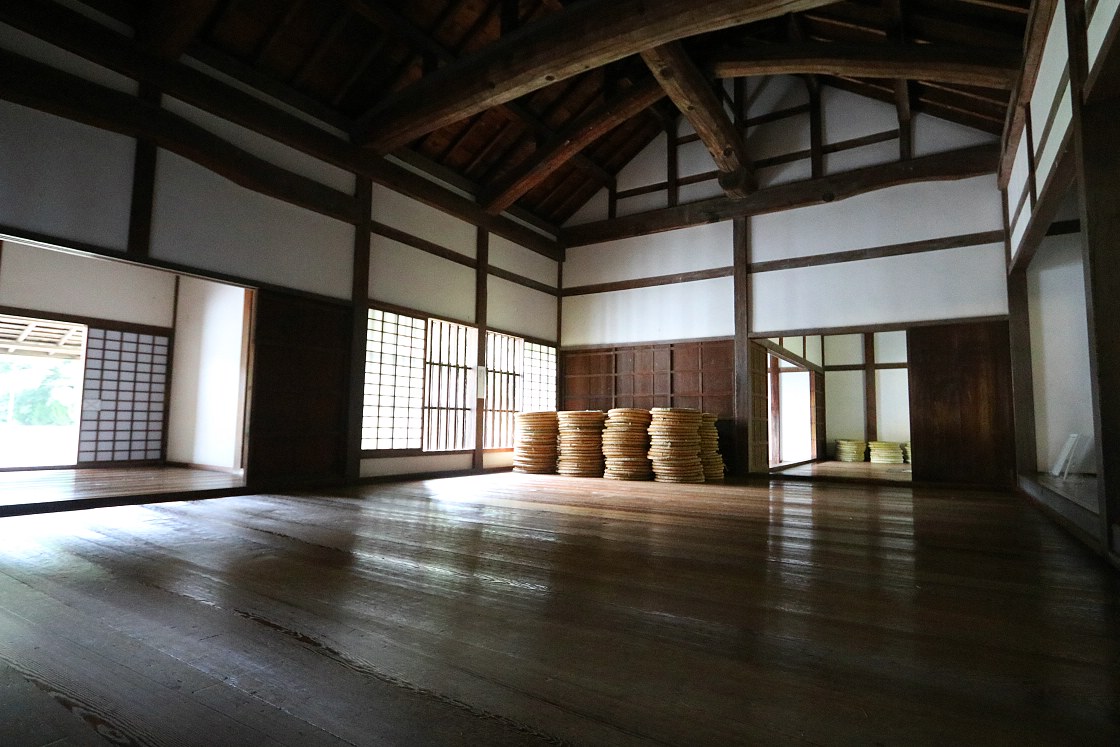 The Kodo connects to a small guest wing in the style of a teahouse that was used by feudal lords of Okayama domain and other visiting dignitaries, while two separate shrine buildings stand to the rear of the school's main precinct, one dedicated to Confucius himself and the other to Ikeda Mitsumasa.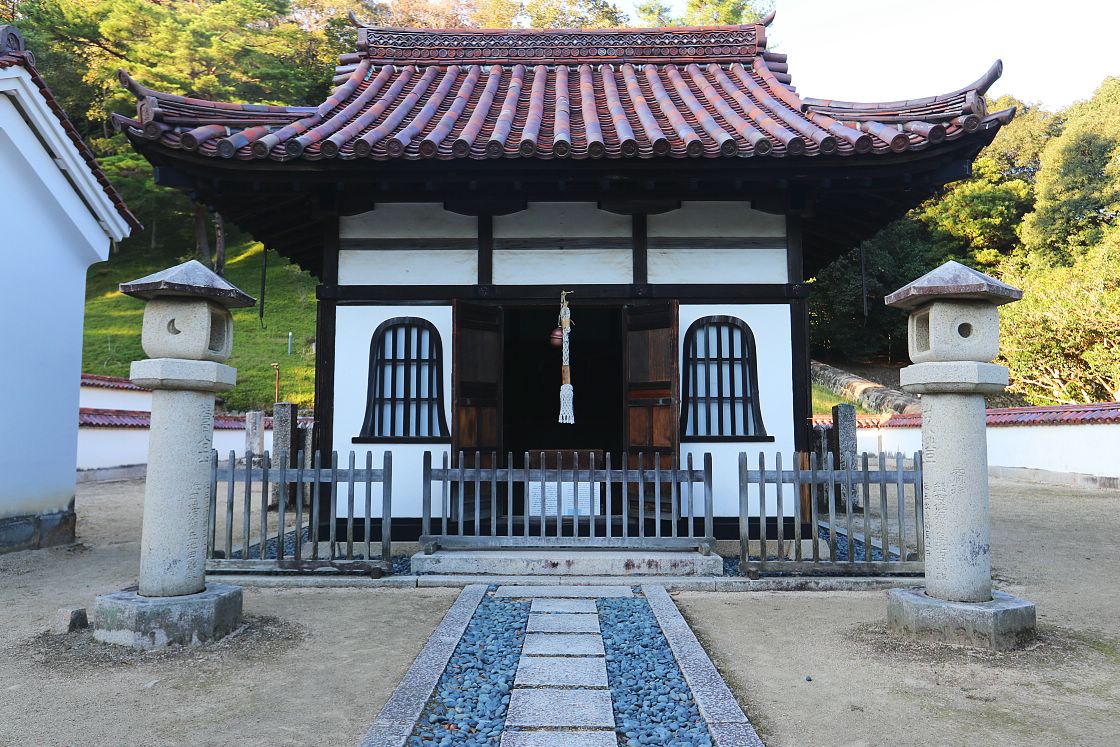 After a fascinating look around the school complex courtesy of Koyama-san, my first day in Bizen was already coming to an end. Soon, we were threading our way back towards the town and our accommodation for the evening.
Day 2
Our second day in Bizen began with another visit to Imbe, this time to meet celebrated local pottery artist Yamamoto Ryuichi for a hands-on experience at his studio.. A third-generation master craftsman, Yamamoto-san was taught by his father and grandfather - the latter designated a living national treasure - and has continued to win accolades in the course of his own storied career. Before putting hands to clay, Yamamoto-san took us through a few of his pieces to explain exactly what Bizenyaki means and some of its key features.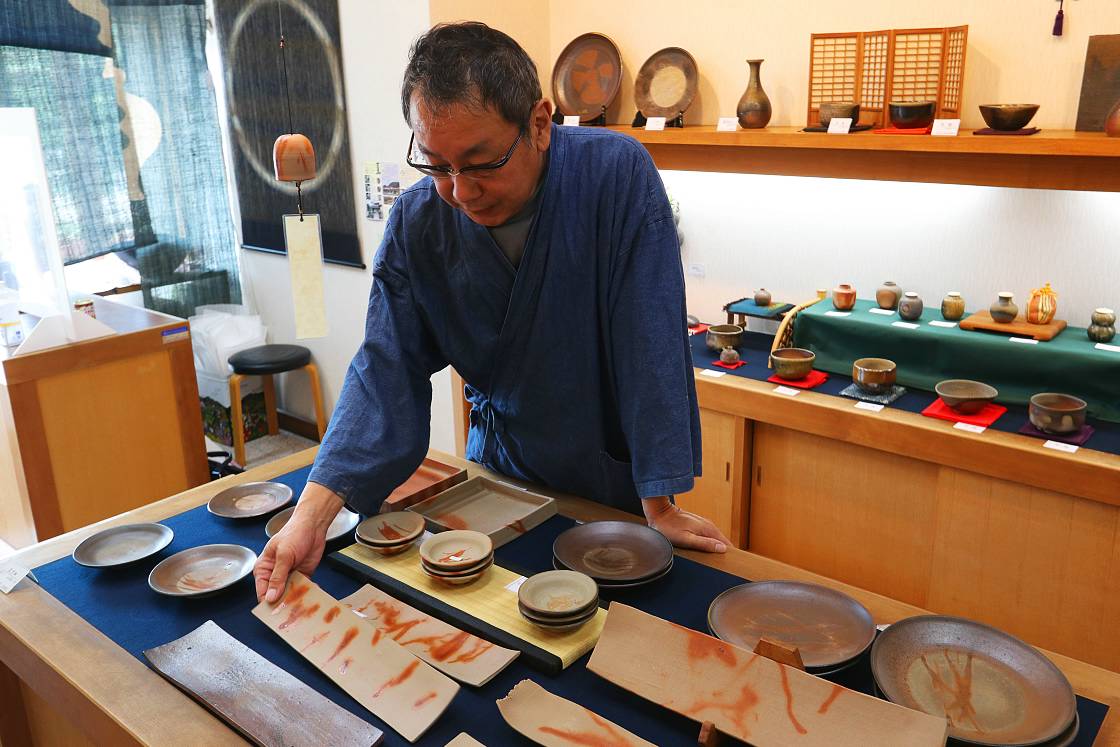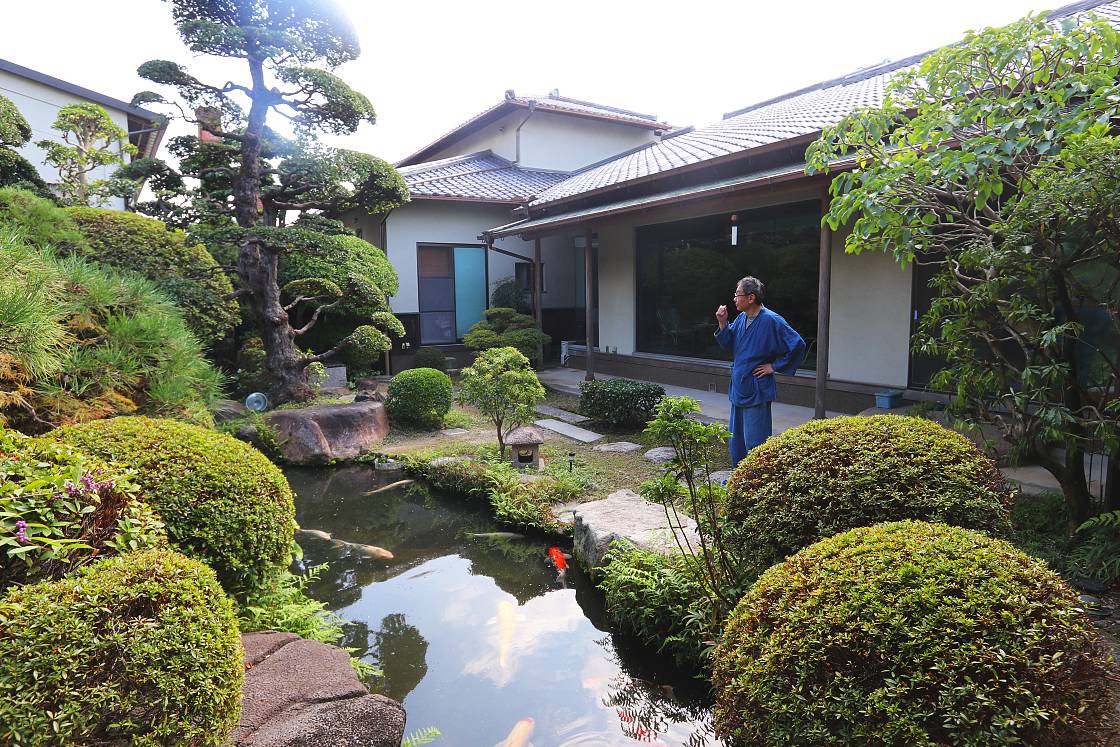 Even without the use of glaze, artists of the Bizen tradition can use a variety of techniques to add color and texture, known as keshiki, or scenery. This could be as simple as stacking pieces so as to partially shield surfaces from the ash thrown up from the wood fire, creating lighter patches called fuseyaki, or wrapping the pieces in softened rice straw, reacting under extreme heat with iron in the clay to create red or brown markings in a technique called hidasuki.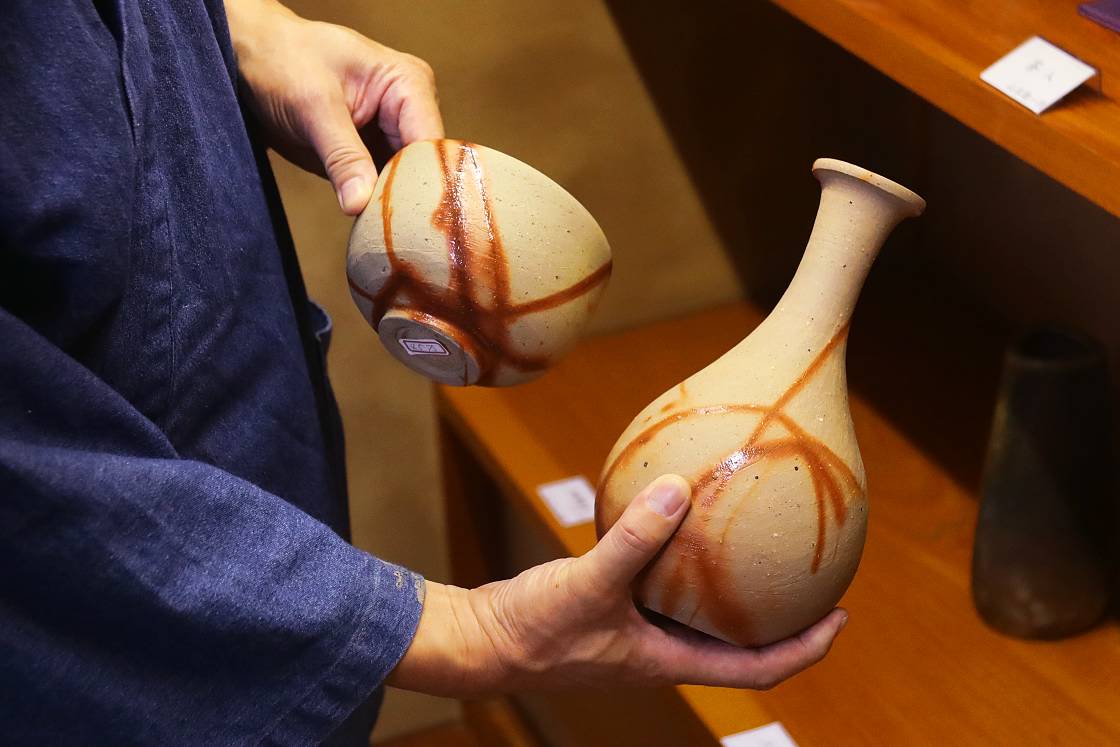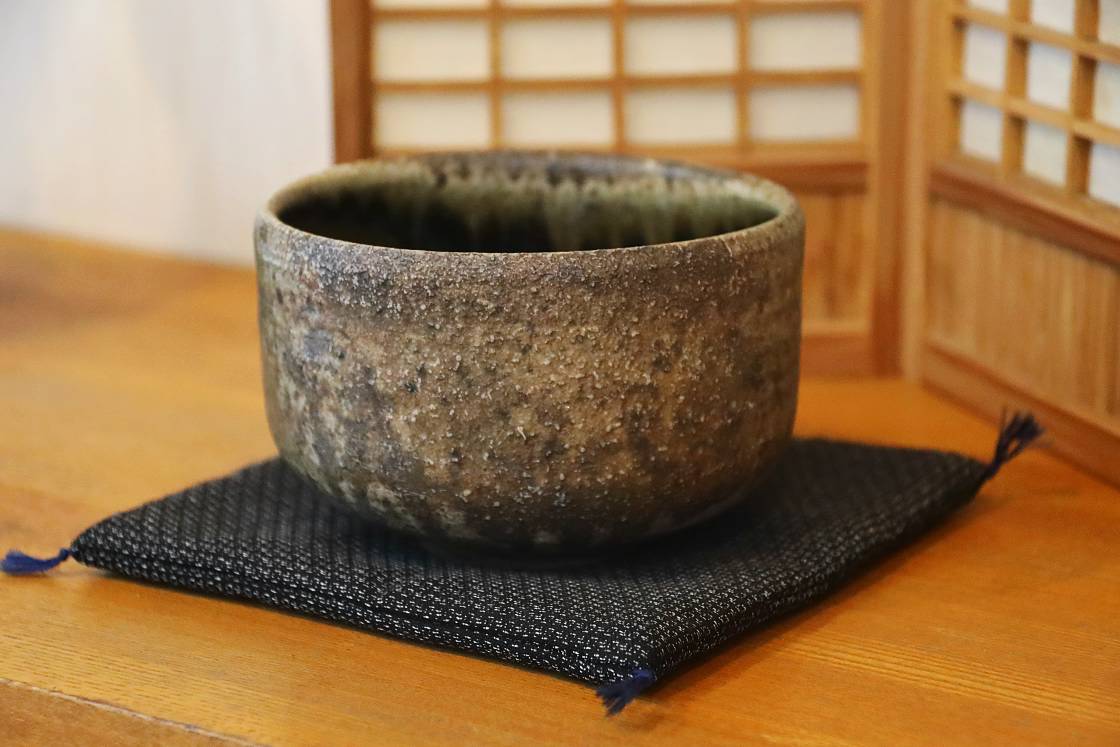 With the basics covered, it was time to move on to the practical part of today's experience. Taking our seats at hand-operated potters' wheels, we watched intently as Yamamoto-sensei formed a ball of clay into a small cup before trying it ourselves - a fascinating process and, of course, far harder than it looks!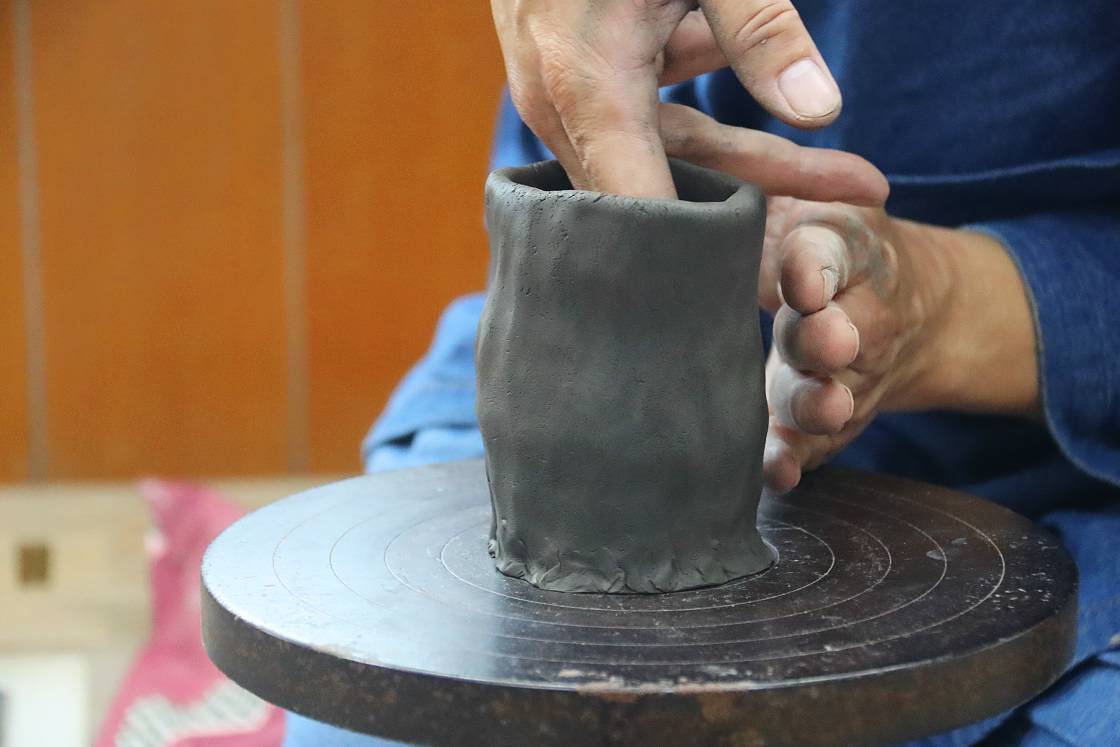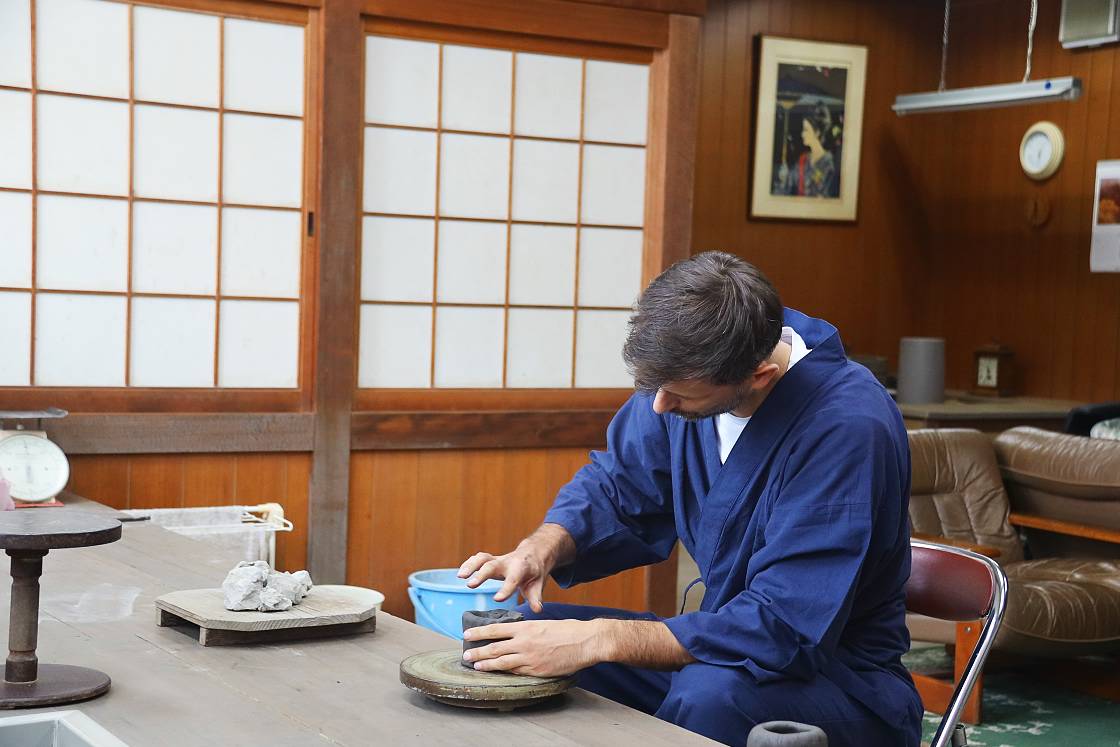 From here we moved on to electrically powered wheels to create a tokkuri, or sake flask. This soon proved to be much more complicated, but there was something incredibly satisfying about feeling the clay take shape as it spun between my fingers. The end result was a little too squat and more than a little crooked, but it was still a real delight to be able to hold something I had made myself.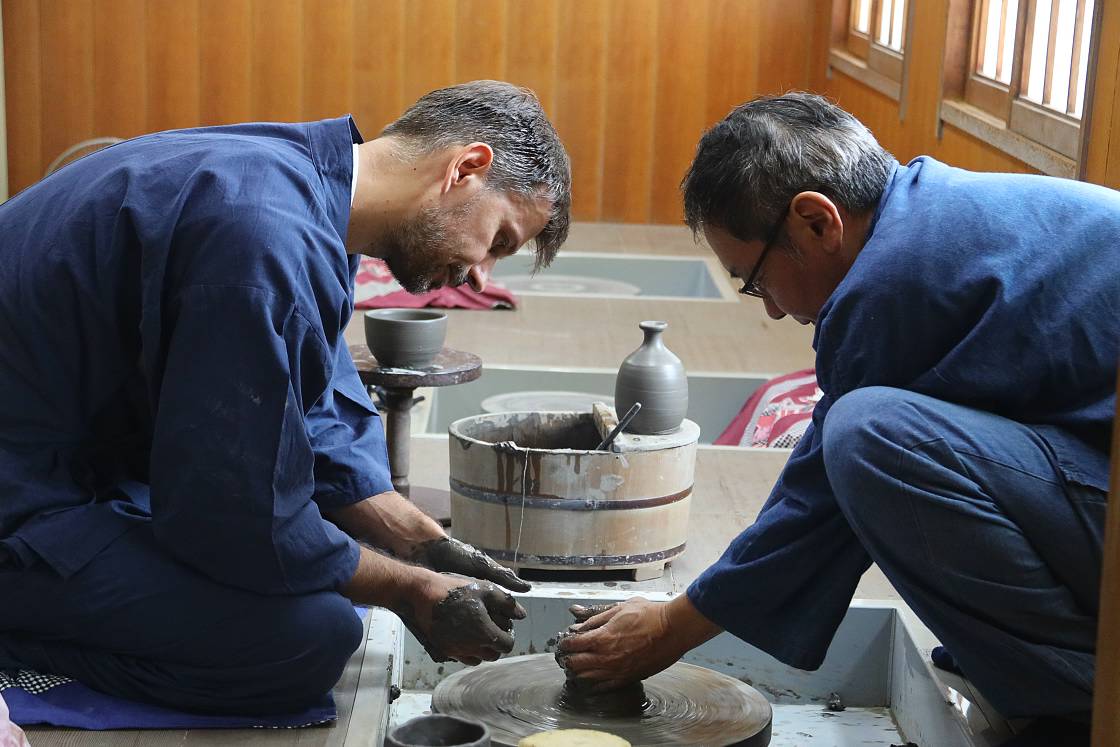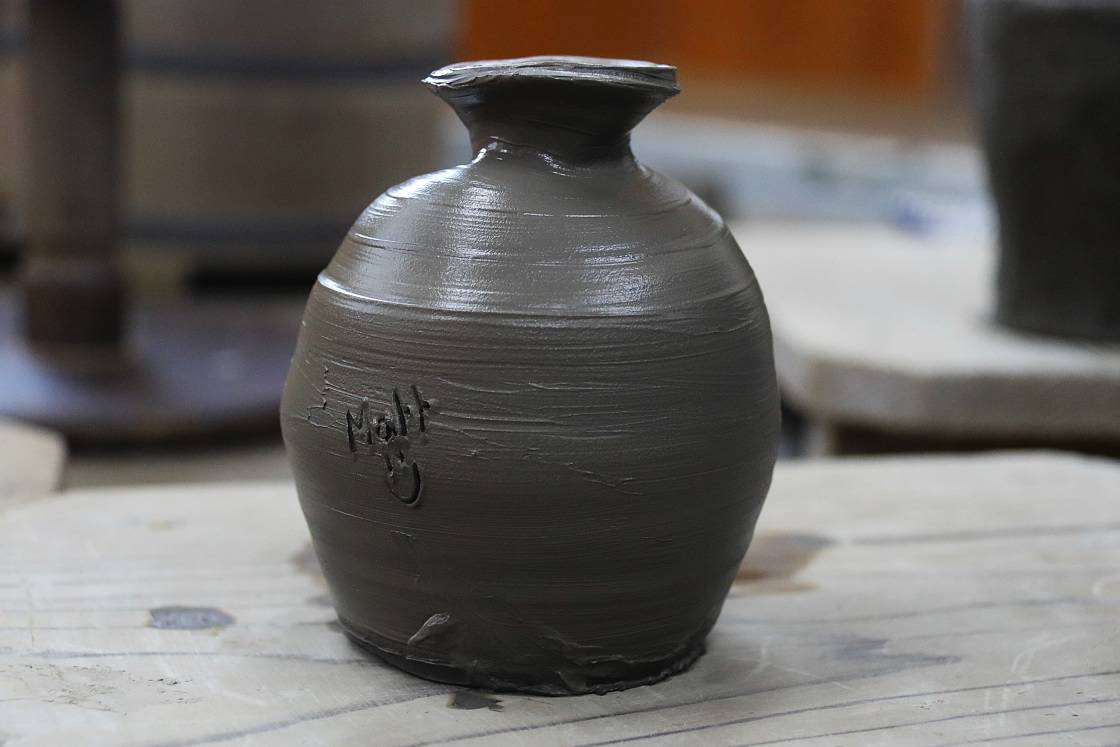 After our hugely rewarding session with Yamamoto-sensei, we said our goodbyes and set out to see a little more of the surrounding town, beginning with a brief stop by a hillside rice farm offering a pleasant view of Imbe's rooftops and chimneys. From here, we made our way to Amatsu Jinja, an attractively folksy little shrine in leafy surroundings, decorated with dozens of ceramic animal figures in the local style.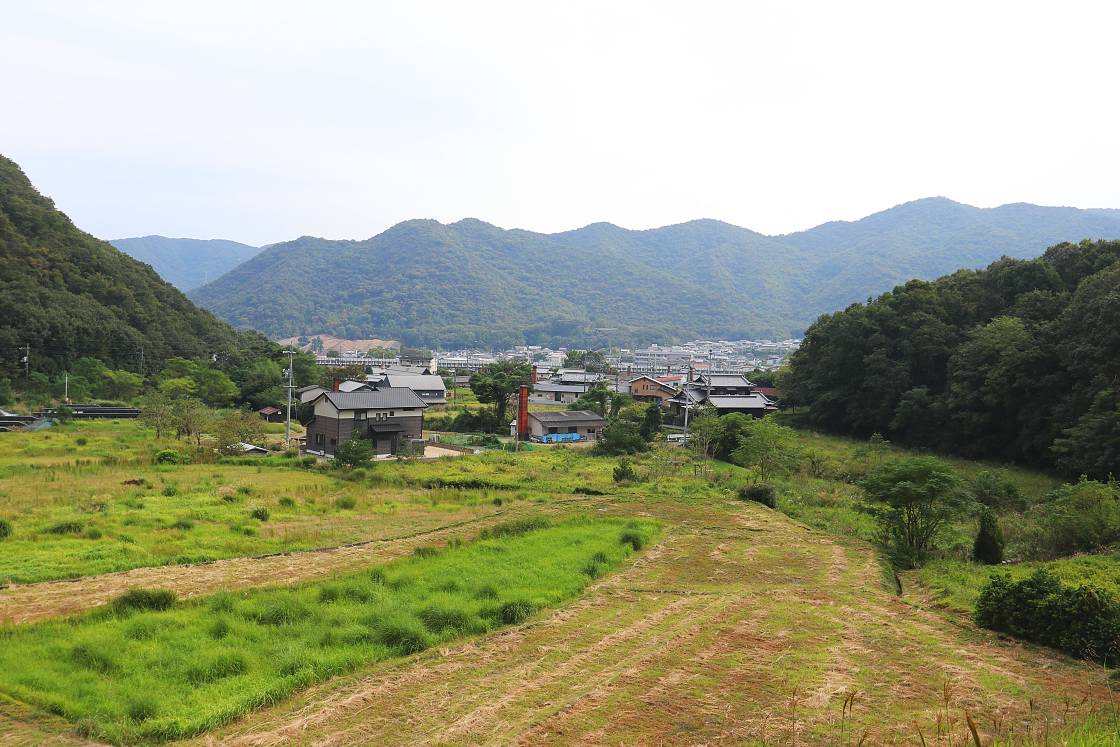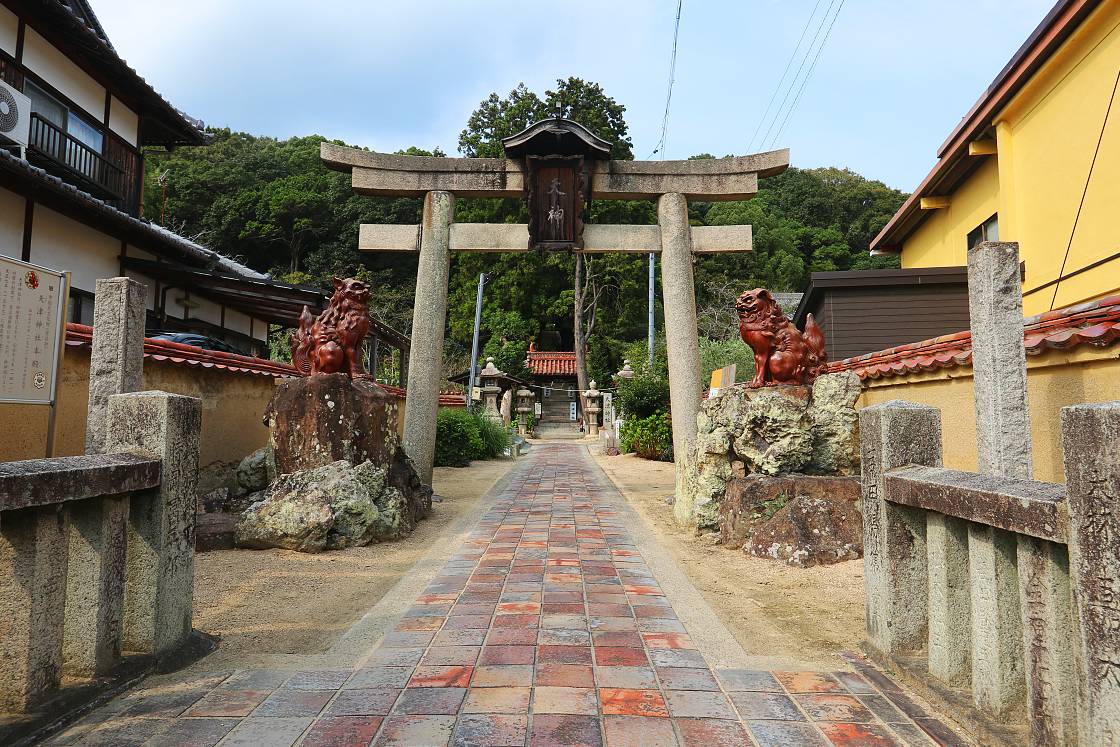 Although much about the shrine has been lost to history, local aural traditions place its founding as early as 1411. Originally dedicated to the Shinto deity of medicine, it was later rededicated to Sugawara Michizane, a poet and court bureaucrat of the Heian Period who was posthumously deified after political maneuverings led to his expulsion and death. It is said that Sugawara, later to become the patron deity of learning and wisdom, stopped to rest in the vicinity on his way to exile in Dazaifu, Fukuoka Prefecture.
After checking out the main building, we took a wooded path further up the hill, soon arriving at a separate sub-shrine known as Inabe Jinja. Built in 1929 by local potters with timber gifted by Ise Shrine, it remains an important symbol of pride in the community and still hosts the Bizen Ware Pottery Association's annual festival every year on May 15th.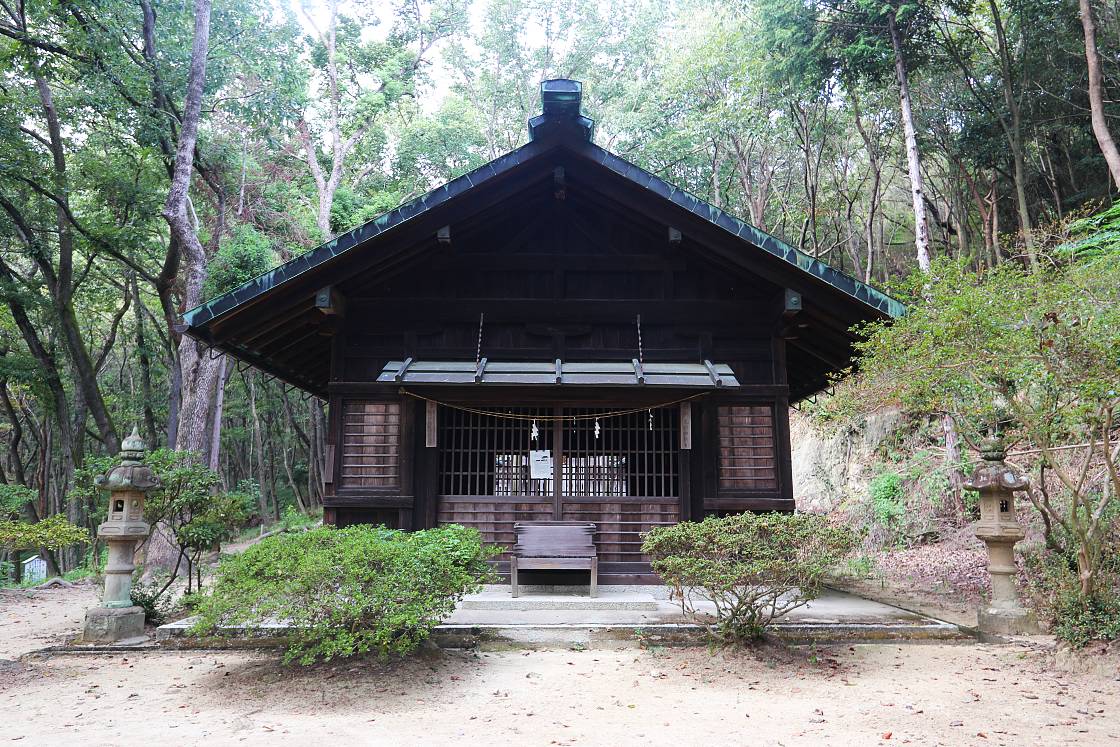 Continuing just a little further uphill along the path, we made our final stop on the mountain at a pleasant viewing spot with the town spread out below us.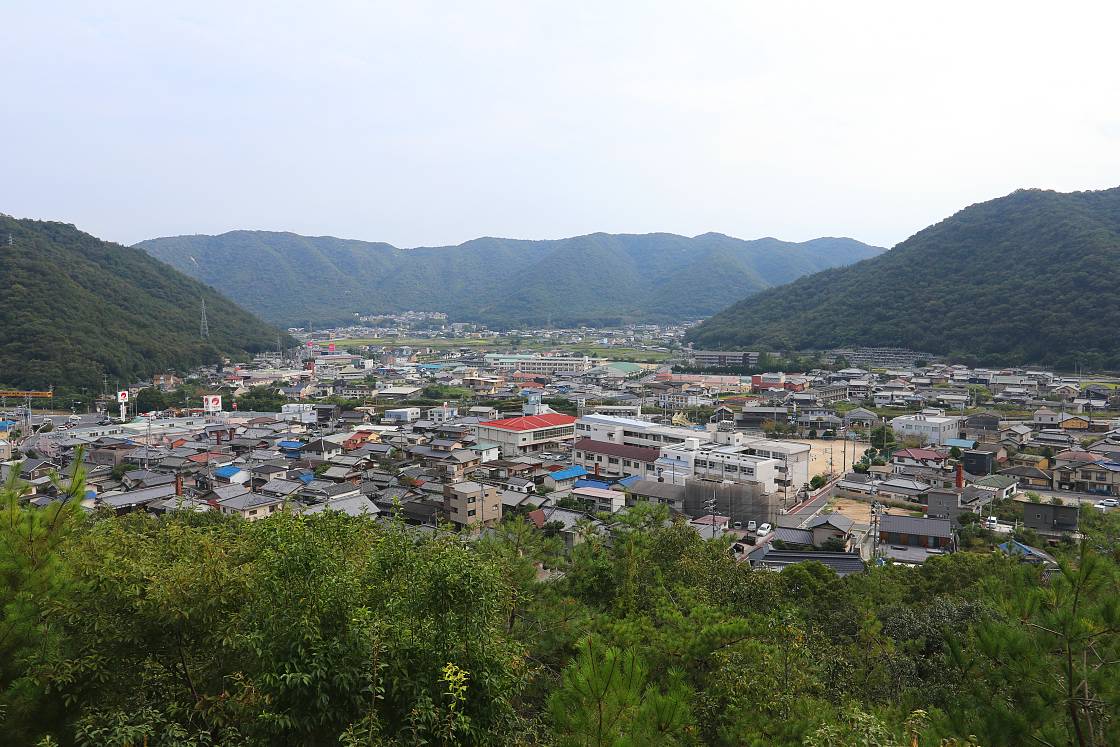 Back in our guide's car, our next stop took us about 20 minutes out of the town and into an open expanse of rice fields, fringed by woodland and low lying hills. Here we visited a little shrine called Takuraushi Jinja, known for its unusual prayer ritual. In the days before industrialization, locals would come here to pray for the safety and well-being of cattle - then used primarily for work rather than meat. Over the years, oxen would be largely replaced by machinery, but their traditional connection with the shrine has continued to the present.
With no buildings to speak of, the shrine is instead known for some 300,000 miniature Bizenyaki cows, piled behind a simple standing altar within the sacred precinct. Visitors can choose to buy one from a little shop and, after making the customary two bows, two claps and one more bow to the altar are invited to exchange it with another from the pile, which can then be taken home for good luck. Despite its simplicity, there was something at once charming and serene about the space, and I found I could easily understand its local reputation as a power spot.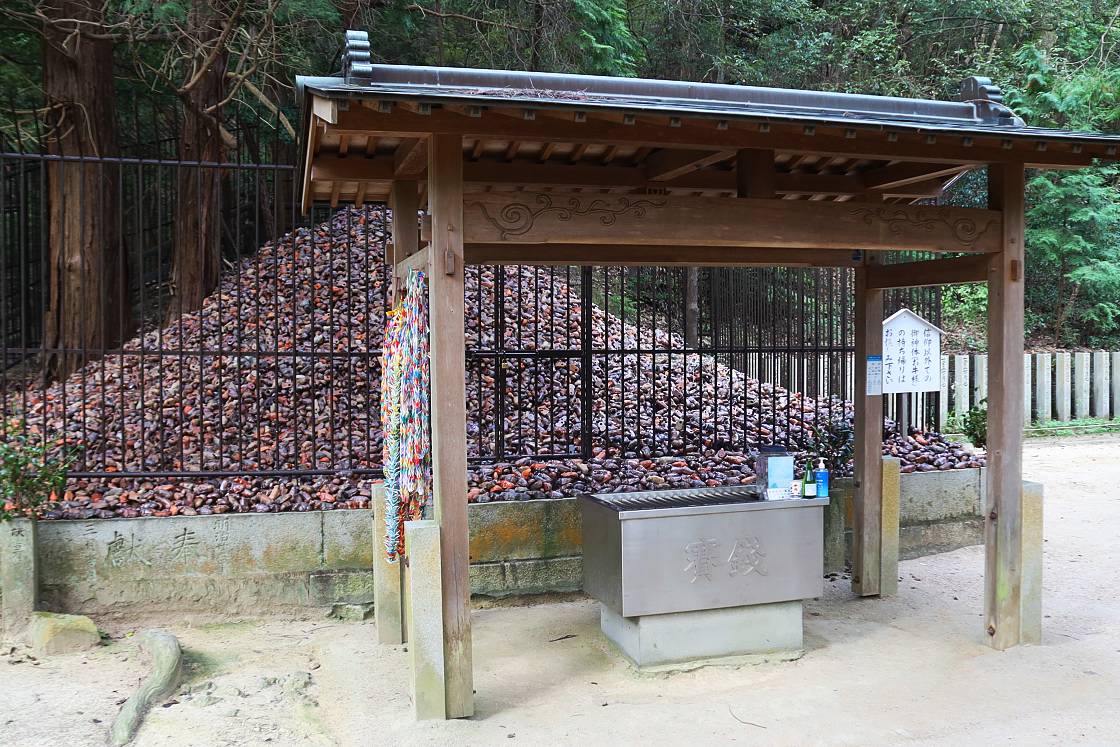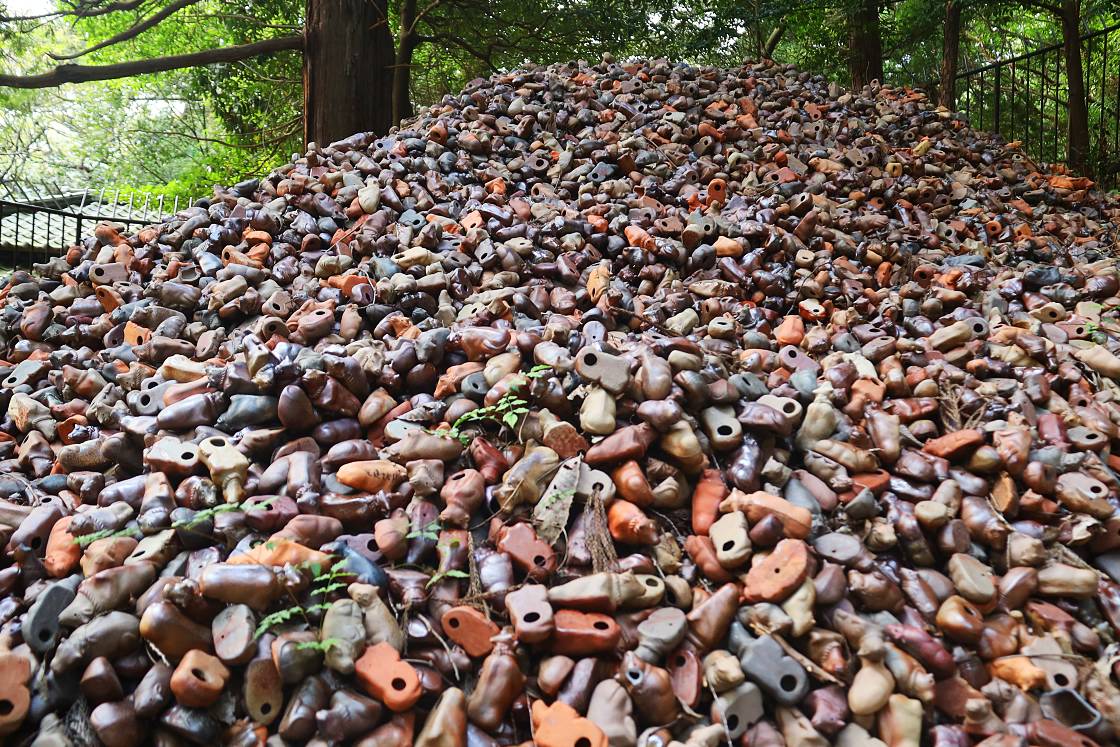 Having already explored a few spots around Bizen and the countryside, it was at last time to set out in the opposite direction for a closer look at some of the islands visible from the shore. Leaving the shrine behind, a 20-minute drive brought us back to Hinase Port, where we boarded the Norinahalle - a combined ferry and cruise ship offering a leisurely 60-minute tour of the bay while making the occasional stop for island residents. Taking its name from the Japanese for ügcome aboardüh in Kansai dialect, the boat features an eye-catching red and white design courtesy of Mitooka Eiji, the acclaimed product designer behind the luxury Kyushu Seven Stars Railway and many other trains.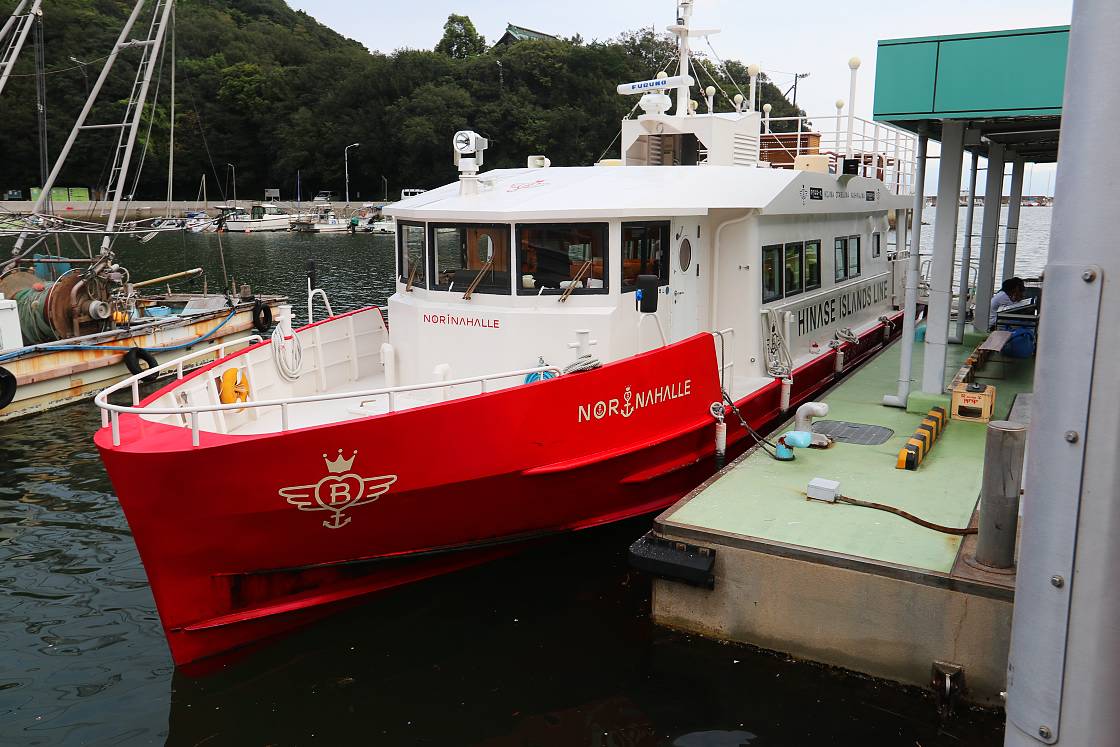 Casting off from the dock, we were soon chugging past the largest island in Okayama Prefecture, called Kakuijima. Although currently home to fewer than 10 residents, the island boasts a surprisingly interesting history having served as a hunting reserve, horse farm and even a penal colony during the early Edo Period before its complete abandonment from 1710 to 1947.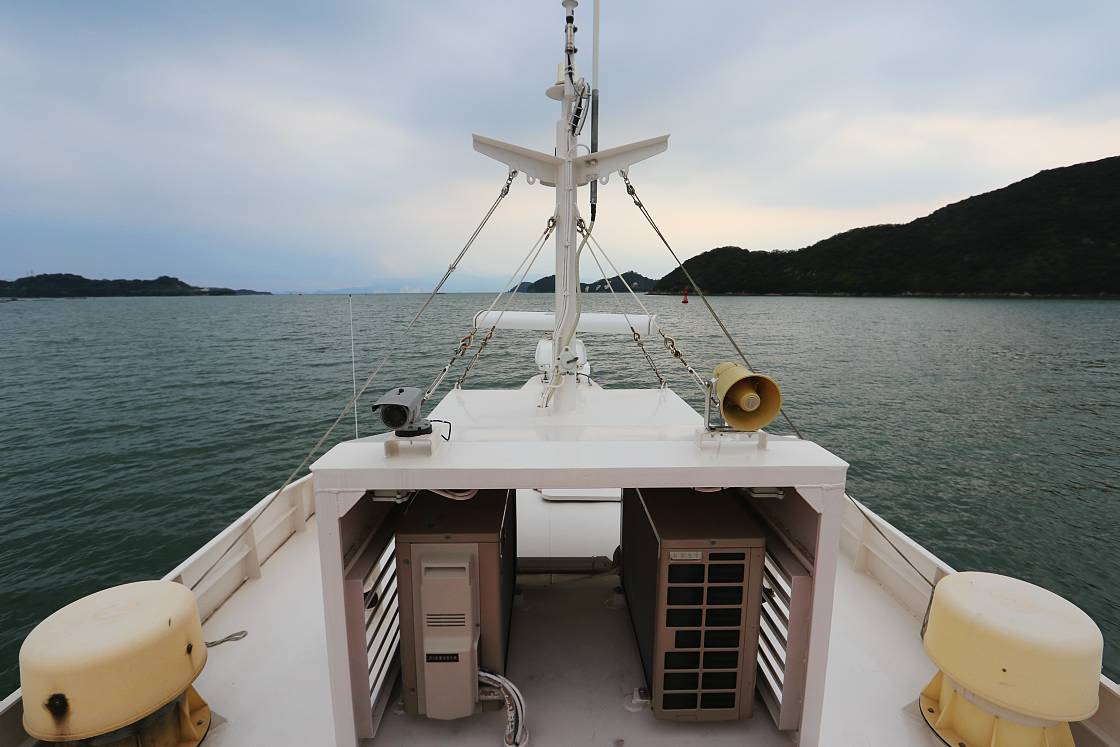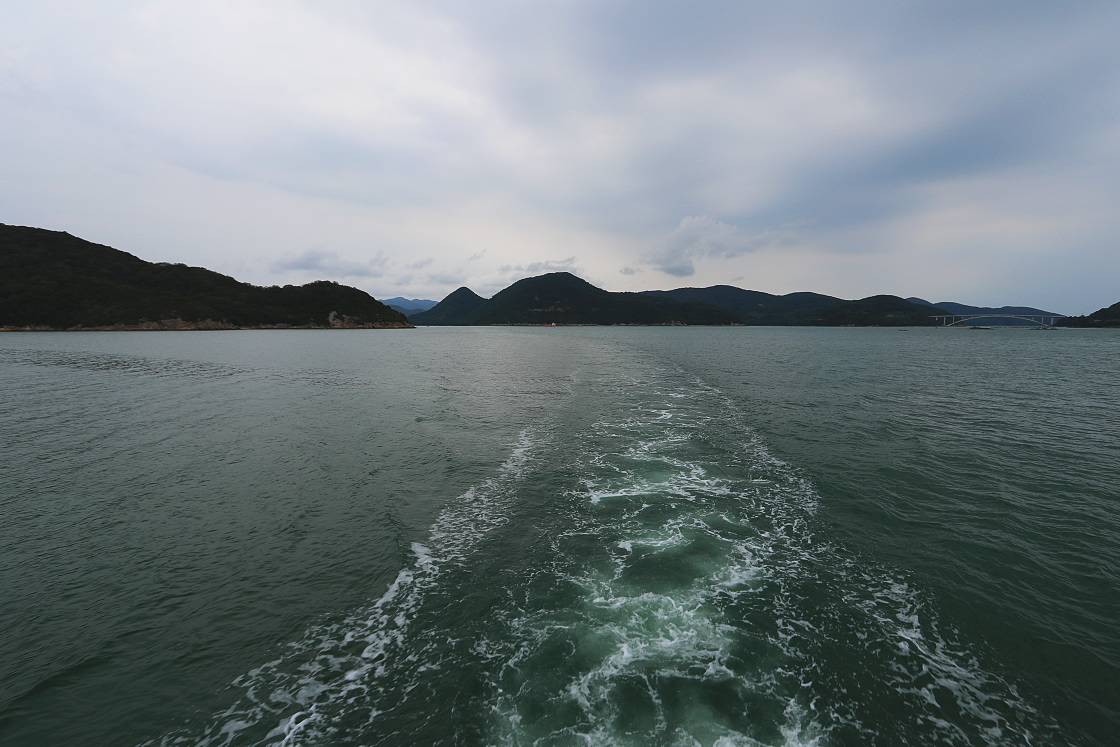 After a brief stop at Kojima - a smaller island dotted with brightly colored holiday homes - we continued on our way towards Otabujima. Officially listed in 2006 as one of Japan's 100 most important fishing villages, the island is home to around 45 permanent residents with many more commuting across the bay to work in and around its little port. It also boasts a surprising number of historical sites, including a 110 meter wharf known as the Genroku Dock. Completed in 1697 by Nagatada Tsuda - the same high ranking samurai charged with finishing the Shizutani Gakko - the wall has aged remarkably well, and although I only saw it for a few moments my mind immediately went back to the Shizutani Gakko's beautifully rounded stone fence.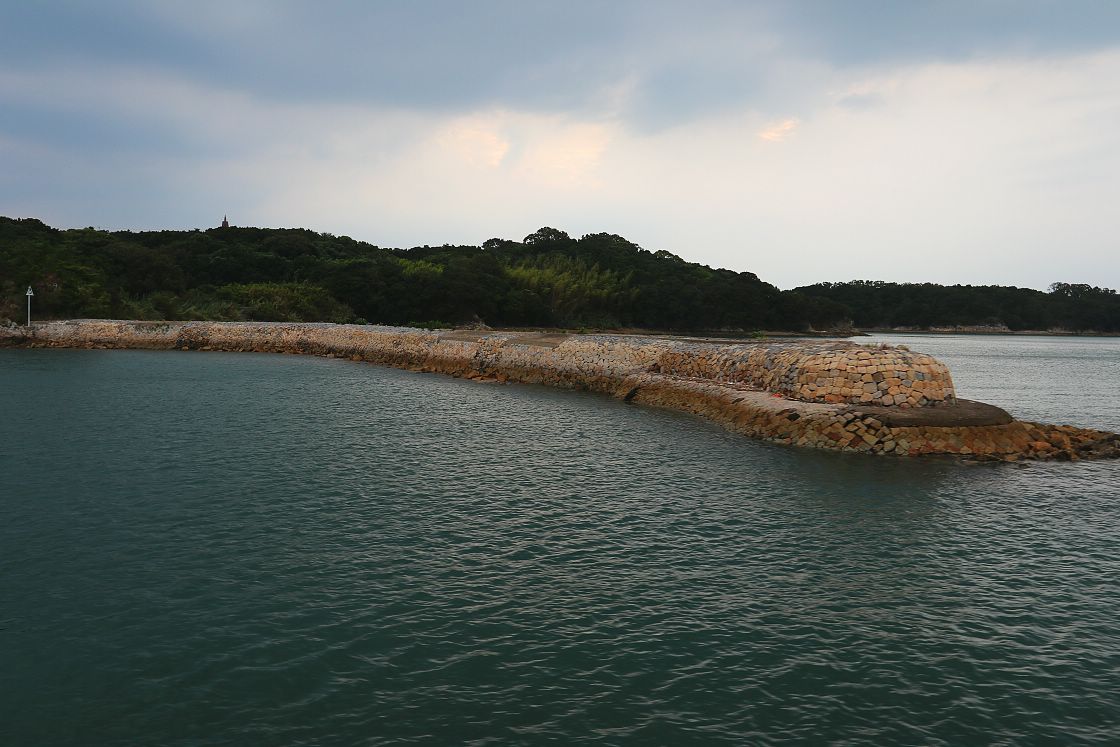 With the sky rapidly darkening overhead, we made our final stop at Kashirajima, another small island with its own little fishing port, immediately to the south of Kakuijima and connected to it by a 218-meter suspension bridge. Jumping into a car waiting for us at the quayside, we were whisked back to the mainland for our final stop of the day - a beautifully prepared seafood feast at Ryokan Tsuriko with Yamamoto-sensei from this morning's pottery experience.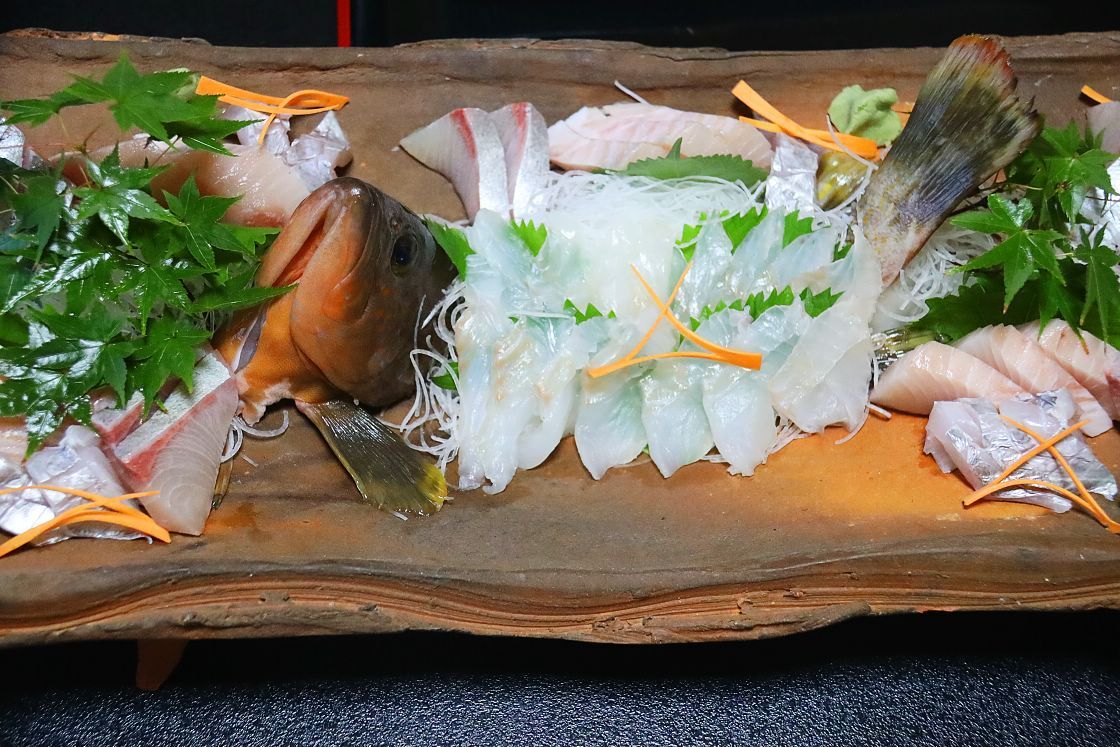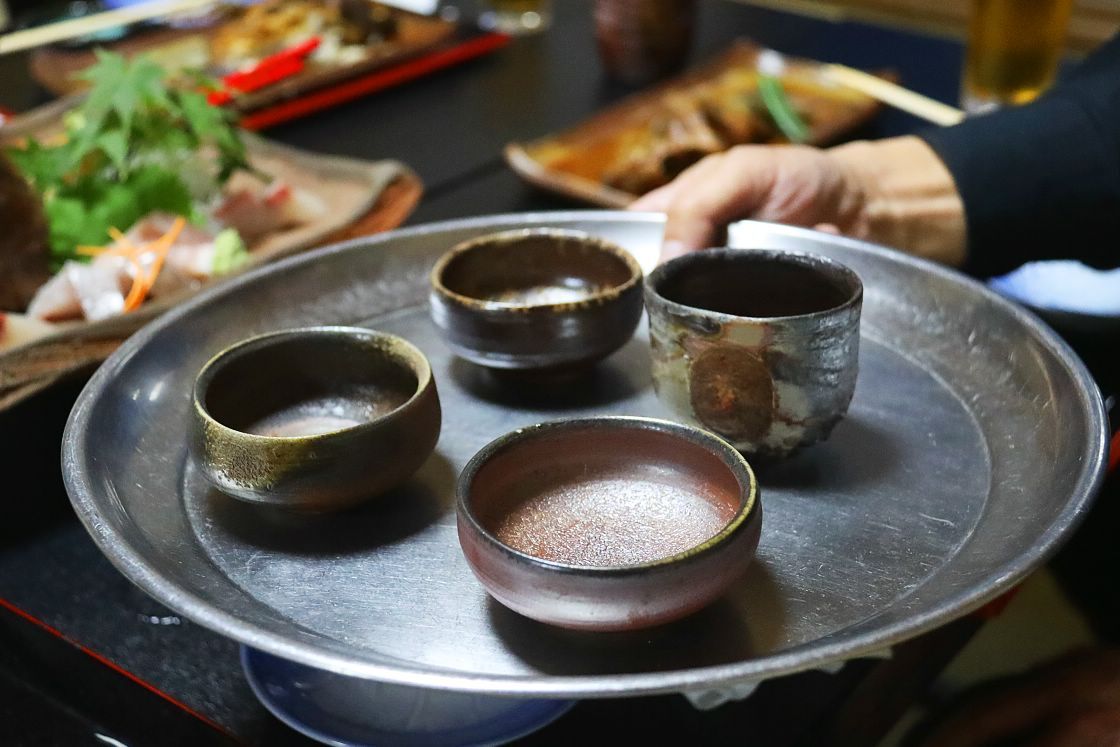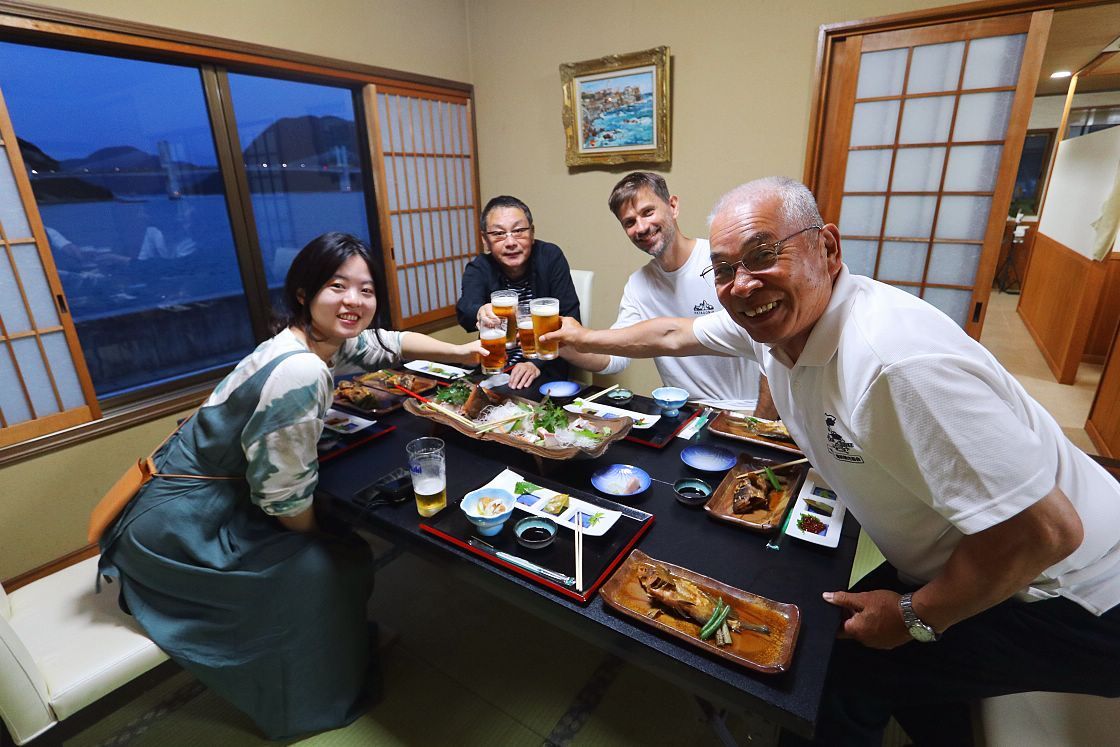 Day 3
Still flush with enjoyment from the previous evening's excellent food, sake and excited conversation, I made an early start the next morning for a visit to the Ebisuya Araki Ryokan, located just by the coast a few minutes' drive northeast of Imbe. It is here that visitors on the regular group tour program spend their first night, and get to enjoy a meal with local craftspeople just like I had the night before.
Stepping into the ryokan's entrance hall we were met by Araki-san, the okami, or landlady, who very politely welcomed us in for a tour of the building. This, I soon realized, was much larger than I initially thought - extending from the deceptively humble entrance, past display cases heavy with beautiful Bizen ware pieces, through multiple courtyards and along corridor after corridor lined with tatami-floored dining and guest rooms. Throughout, the ryokan maintains a pleasantly nostalgic feel, with decor and original fittings from Japan's Taisho and Showa periods.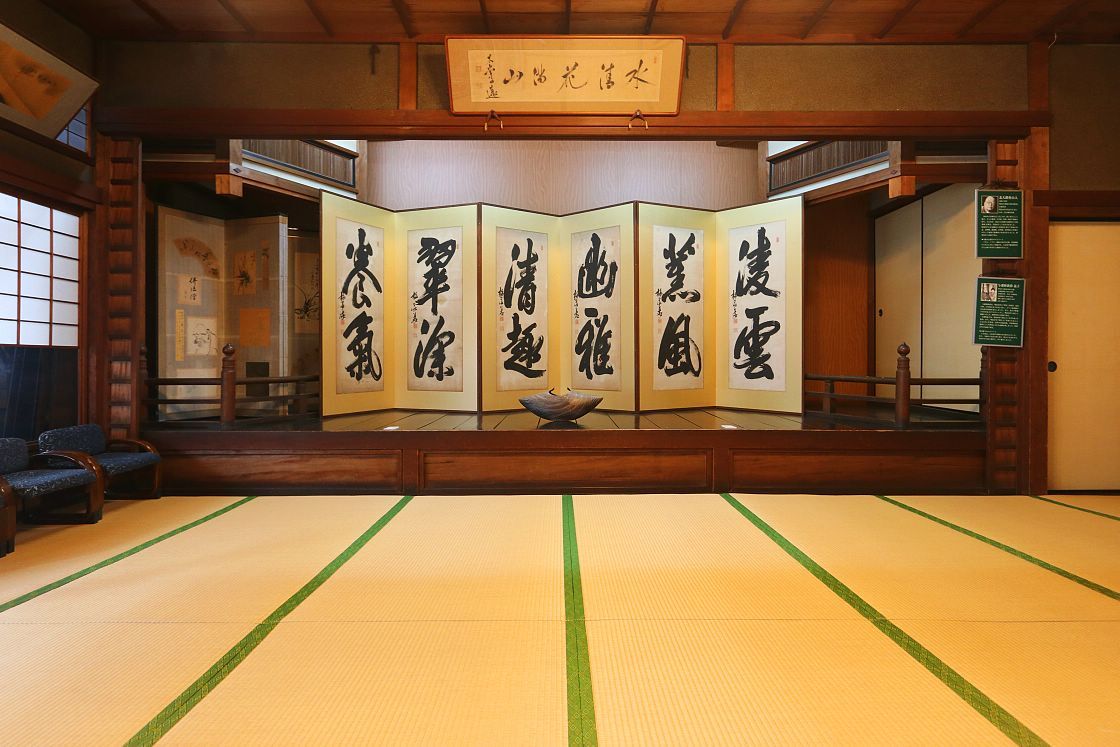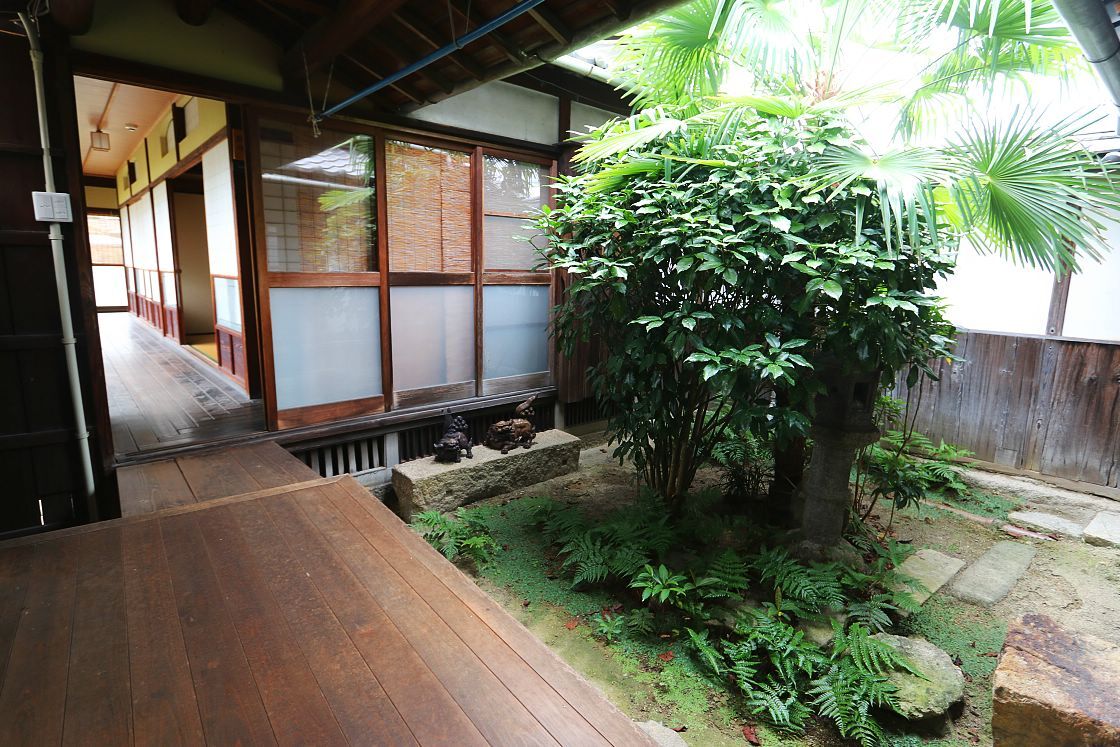 As the landlady explained, the building's history goes back even further to the early Edo Period, when her family ran a prosperous business shipping local fish to be sold in Osaka. After its transformation into a high-class guesthouse in 1856, the ryokan went on to host many distinguished writers, artists and even the Emperor Meiji, some of whose stories are proudly displayed on helpful plaques throughout. From chatting to the establishment's okami - the nineteenth generation of her family to live and work here - it seems the tradition of attracting celebrities of all kinds continues even today.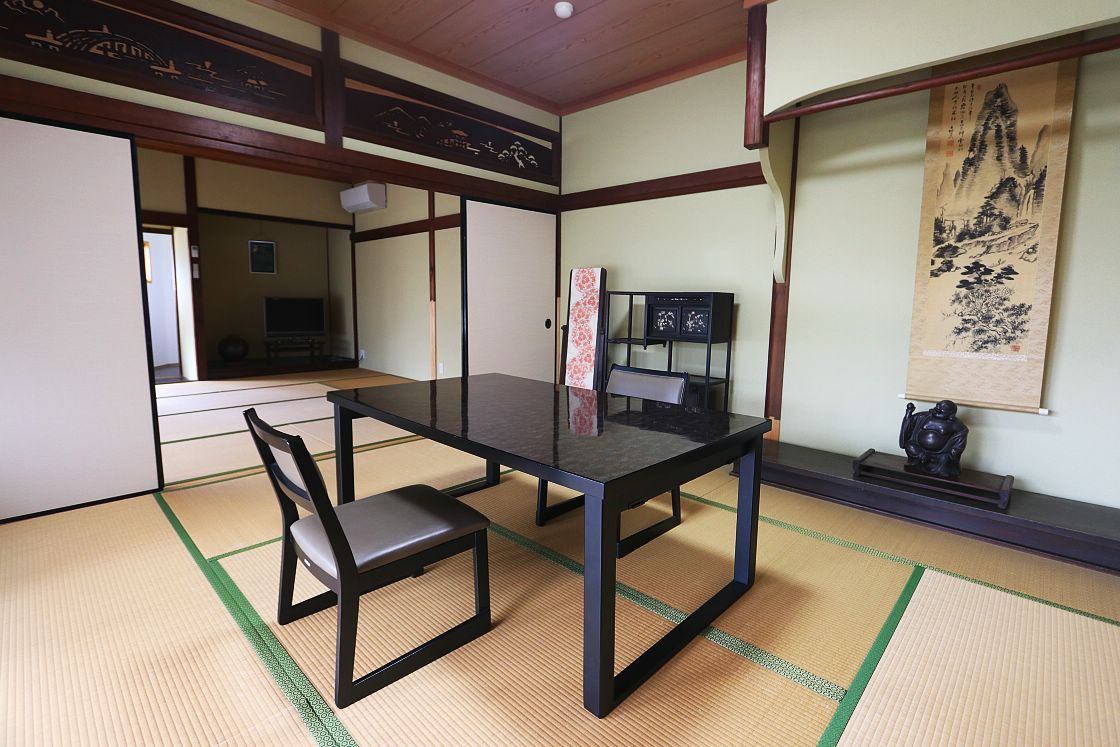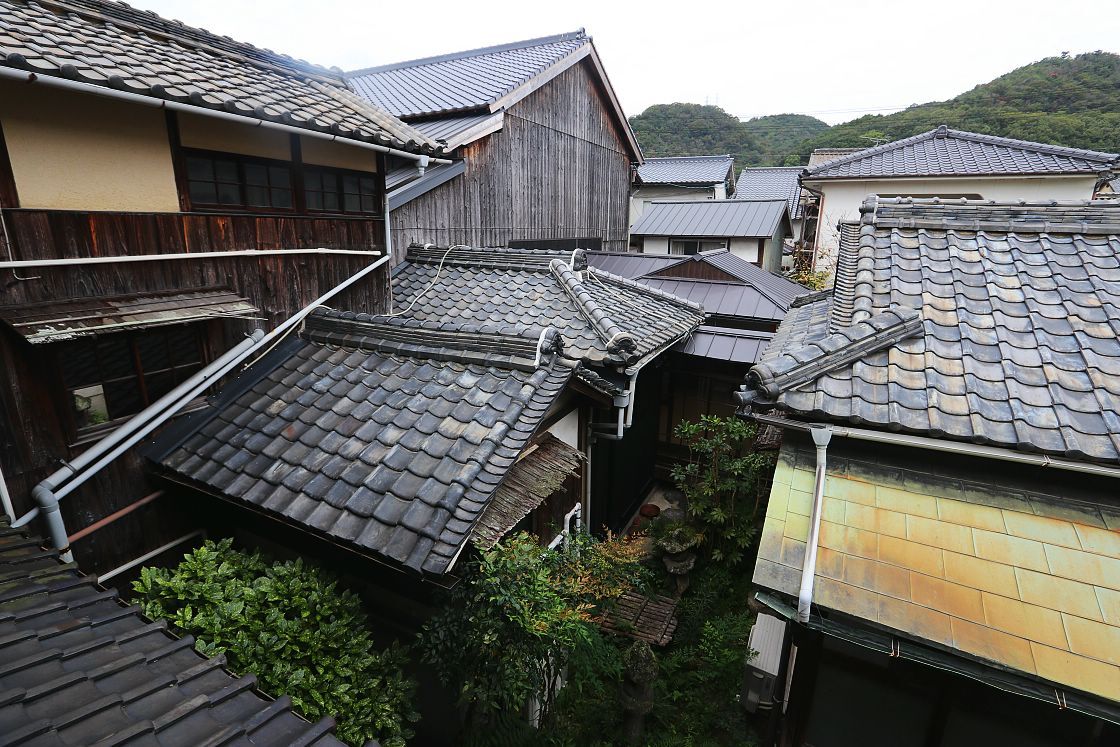 Saying a cheery goodbye to the ryokan staff, we continued a little way along the coast for a brief but fun stop at the Iri Manaichi Market - a busy local market selling locally caught fish, fresh produce and various kinds of kitchenware. After two days of sightseeing, it was a real delight to rub shoulders with local people and soak in the excited, hungry buzz of shoppers in search of a tasty bargain.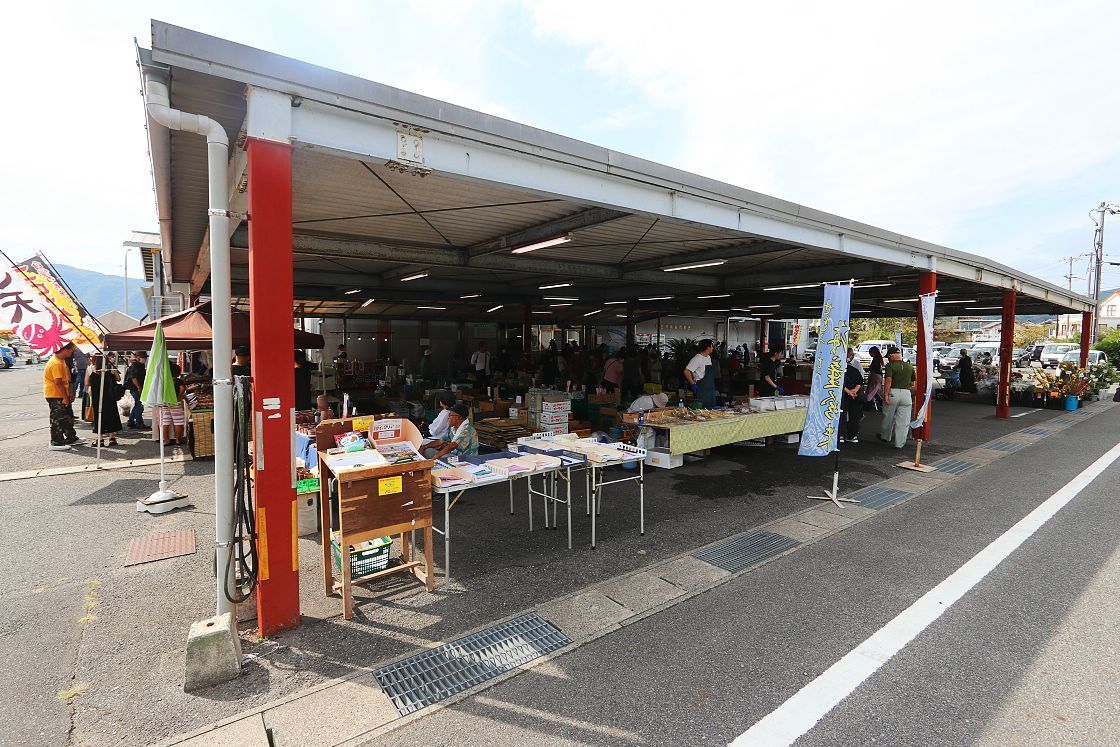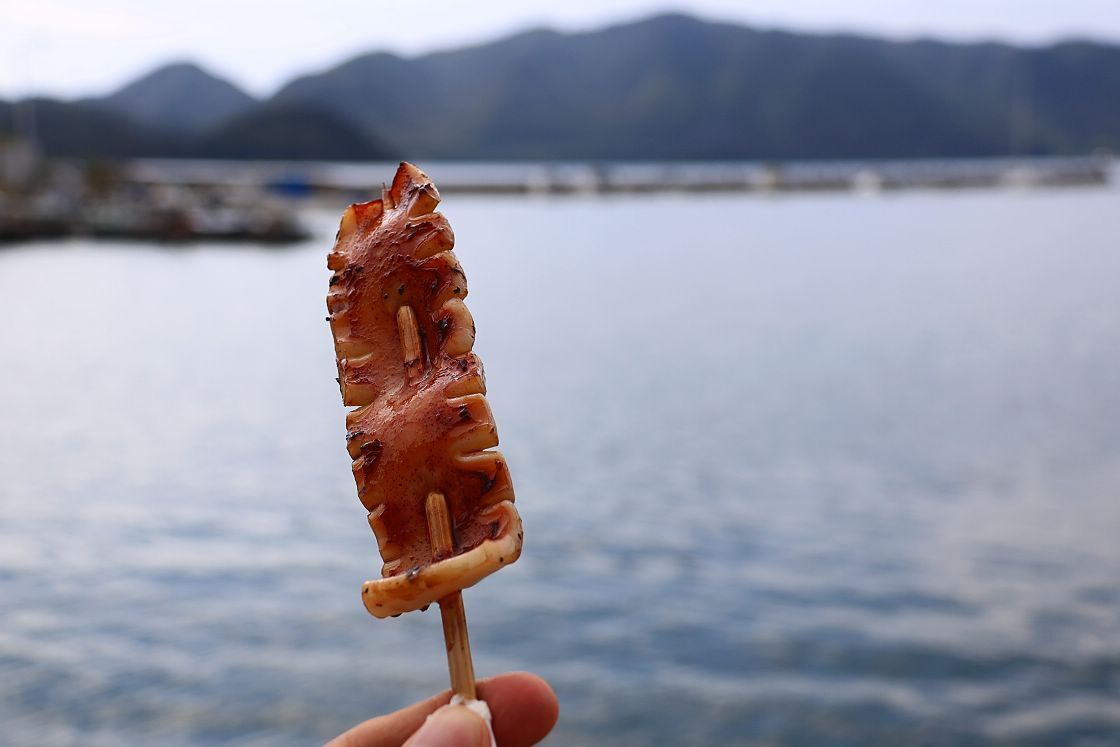 The final stop of my trip was back on Kashirajima, not far from where the Norinahalle dropped us off the previous afternoon. Located on the island's northeast shore with a sweeping view of the bay, Hinase Umi Lab is a community-led project striving to protect the vital ecosystems of the Seto Inland Sea through unique educational programs.
Here, guided by fisherman and other local experts, groups of schoolchildren set out in canoes to collect damaging plastic waste from the surrounding waters, or take classes in biodiversity in a well-equipped classroom space.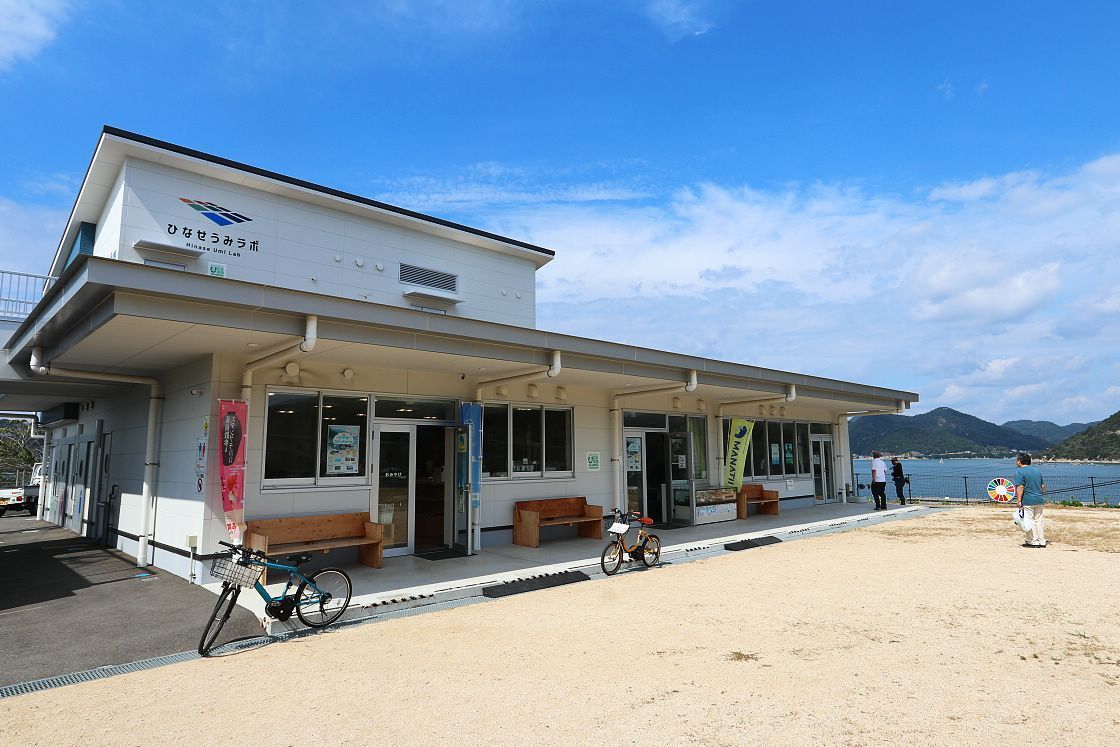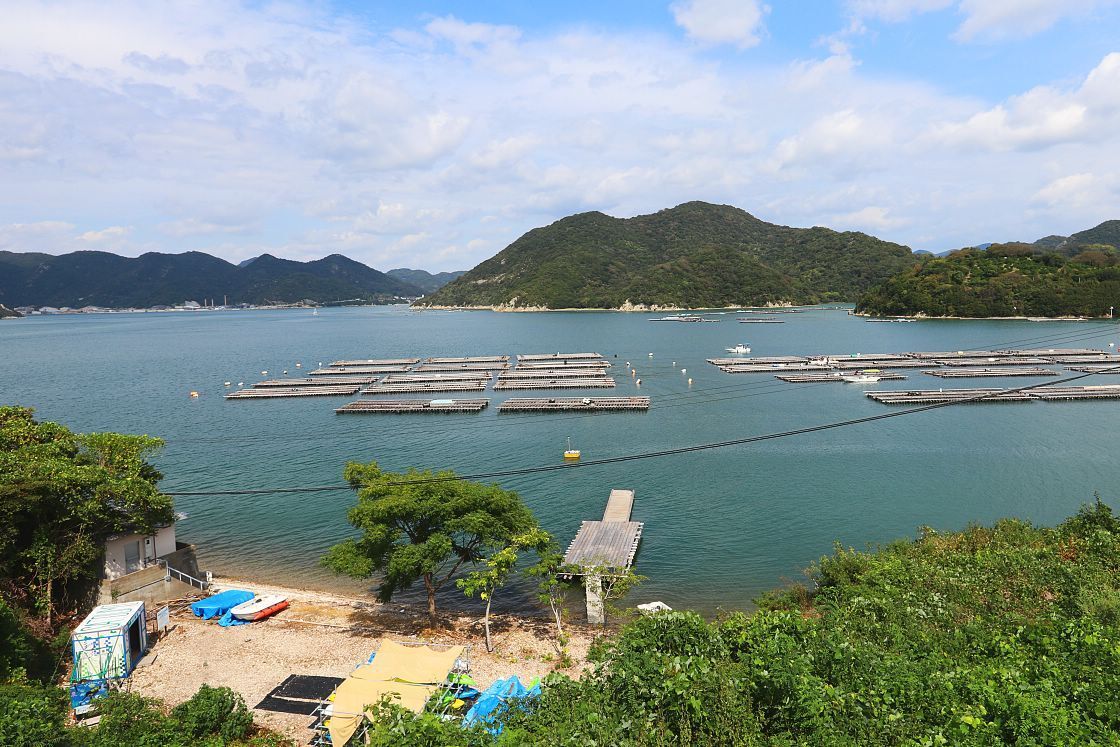 Since its founding about 30 years ago, one of the project's most important and successful efforts has been encouraging the regrowth of amamo, or eelgrass - an aquatic plant known to play an essential role in protecting the seabed from erosion while providing shelter and nutrition to many species of sea life.
With a little time to spare before lunch, I jumped at the chance to get in a kayak myself for a quick paddle around the bay. The Seto Inland Sea, with its calm waters and distant hills in every direction, has always been one of my favorite places to mess around in boats.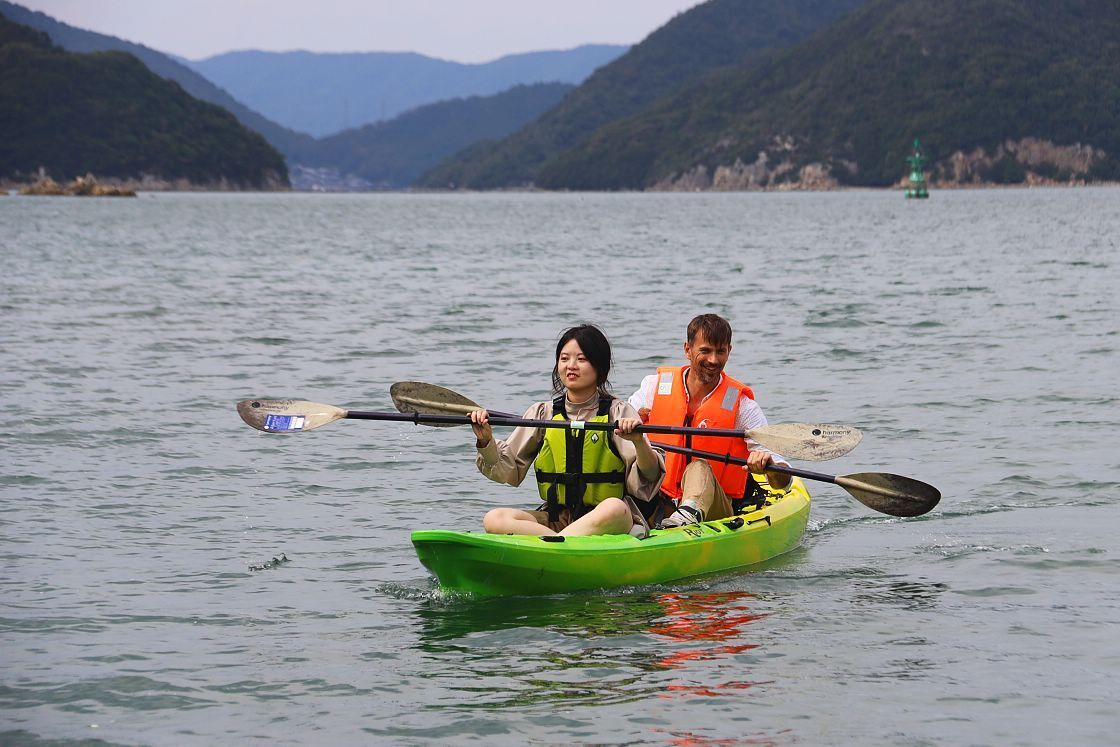 After a quick circuit of the oyster rafts spread across the bay, it was time to return to shore for a final meal with the group. Taking our seats at the center's upper floor, I ended my time in Bizen with a delicious seafood pasta lunch and a beautiful view out towards the mainland.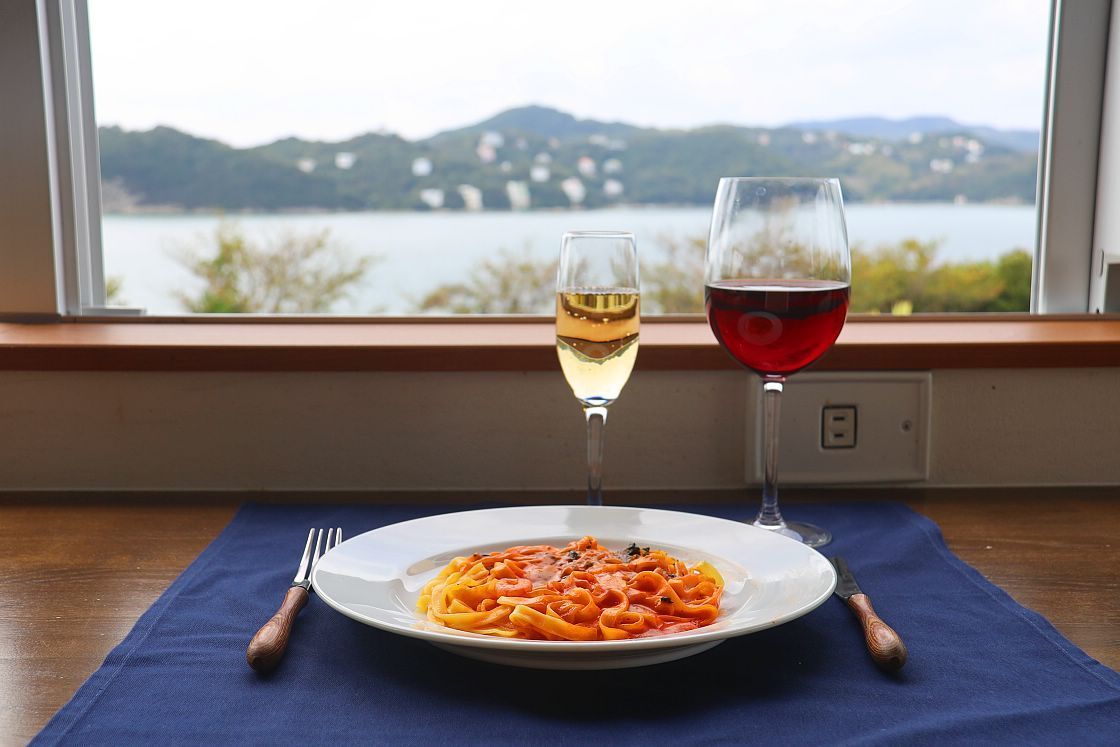 Discover More