Major renovations and constructions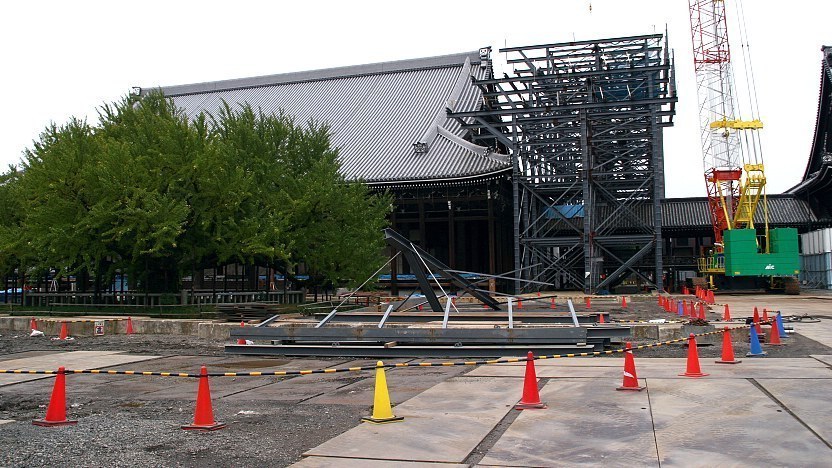 It is unavoidable that sightseeing spots get periodically affected by minor and sometimes major renovation and repair works, especially wooden historical structures, such as temples, shrines and castles. Furthermore, some local governments in Japan are continuing efforts to restore historical structures which have been lost in the past. As a result, a traveler may occasionally come across a sightseeing spot which is closed for renewal or affected by construction works.
In an effort to help avoiding bad surprises due to constructions and renovations, we are maintaining the following list of Japanese sightseeing spots which are currently (or have recently been) affected by major renovation or construction works. Note however, that this list is not complete and that there might be other major constructions going on at spots not listed below. If you know of one, please use the feedback form further down the page and let us know.
| | | | | | | |
| --- | --- | --- | --- | --- | --- | --- |
| Legend: | | closed | | major impact | | minor impact |
Meiji Shrine


Spring 2016 to August 2019
In preparation for the shrine's 100th anniversary in 2020, renovation works are carried out on some of the shrine's buildings. Efforts are made to keep the impact on visitors very low.
Rinnoji Temple


2007 to March 2019
The Sanbutsudo Hall, the temple's main hall, has been undergoing major renovation works for over ten years. During this period, the temple hall remained open to tourists, but it was covered by a huge scaffolding structure that is now being dismantled.
Toshogu Shrine


2007 to March 2024
Toshogu Shrine is being renovated in stages from 2007 until March 2024. But because only a couple of the shrine's many buildings are affected at any time, the impact on a visit is relatively small and Toshogu remains worth a visit. Renovation on the centrally placed Yomeimon Gate was completed in March 2017.
Kiyomizudera Temple


2008 to March 2020
Kiyomizudera's main hall is covered up from February 2017 to March 2020 for the renovation of its roof. Visitors will be able to enter the main hall during the renovations.
Chionin Temple


2012 to spring 2020
Chionin's main hall, the Miedo Hall, has been undergoing major renovation works since 2012 during which the hall has been covered by a large scaffolding structure and has been closed to visitors. The scaffolding is now being removed and will be fully gone by March 2019; however, the main hall's interior will remain closed to the public until spring 2020.
Enryakuji Temple (Hieizan)


2016 to 2026
Enryakuji's main hall is undergoing renovations from 2016 for about ten years. During the renovations, the main hall is covered by scaffolding, but it remains possible to enter the hall.
Yakushiji Temple


January 2011 to April 2020
The Eastern pagoda of Yakushiji is undergoing a major renovation over a time period of almost ten years, during which it is covered up by scaffolding. The other buildings are unaffected and still make a worthwhile visit.
Peace Memorial Museum


September 2014 to April 24, 2019
The Peace Memorial Museum is currently undergoing renovations, during which only one of the museum's two buildings will be open to visitors and the number of exhibits will be reduced. The museum is scheduled to fully reopen on April 25, 2019.
Dogo Onsen Honkan


January 2019 to 2026
In January 2019, renovation works started on the Dogo Onsen Honkan during which the bath house is closed partially over the period of seven years. During the first of two phases of the renovation works, two small baths on the first floor remain open to visitors (one for each gender), while the rest of the building, including the rest areas on the second and third floors, gets closed. Some parts of the building will be covered up by scaffolding; however, some of the building's sides (the front and north sides during the first phase of the renovations) will intentionally be kept free of scaffolding to reduce the impact on tourism.
Kumamoto Castle


Until spring 2021
Kumamoto Castle suffered serious damage in the earthquakes of April 2016. Many roof tiles fell, foundations were damaged, walls crumbled and entire structures collapsed. The inner grounds are currently closed to the public; however, it is possible to look at the massive fortress from the outside. The castle's main keep is scheduled to reopen to the public in spring 2021, while the rest of the grounds are expected to require about 20 years to be fully repaired. The main keep is scheduled to remain partially covered in scaffolding until autumn 2019.