Coronavirus Outbreak
The outbreak of the coronavirus is having a big impact on tourism in Japan. The country's borders remain closed to international tourists, and there are no signs that the borders will be opened to considerable numbers of tourists in the near future.
Current state of tourism: borders closed
Domestic Situation
Although the virus has not spread in Japan at a rate seen in Europe and North America, infection numbers have increased considerably around the turn of the year, and a national state of emergency was declared in January in some parts of the country. As of now, the state of emergency remains in place only in the greater Tokyo area (Tokyo, Saitama, Chiba and Kanagawa prefectures) and is set to last until March 21.
The state of emergency is somewhat less far reaching than the one observed nationwide in spring 2020 and focuses mainly on early closures of dining and drinking establishments, the discouragement of unnecessary outings and the promotion of remote work.
Inside the cities, public transportation has never been greatly affected; however, airlines continue to suspend a considerable amount of their domestic flights, while some long-distance railway services are being scaled back slightly.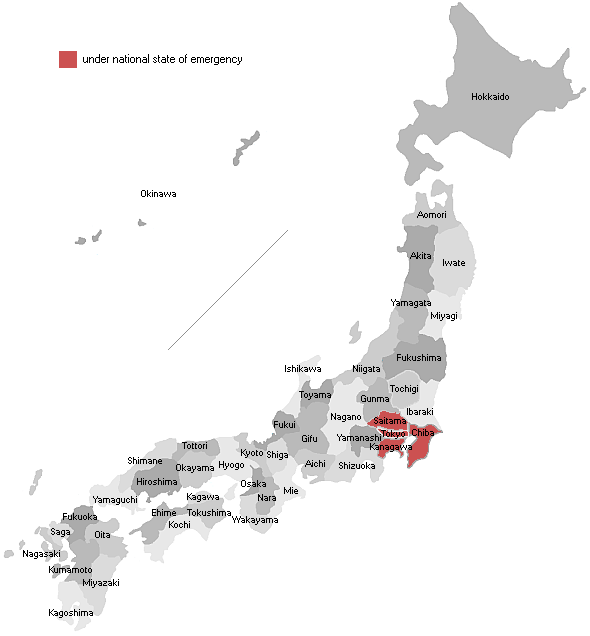 International Travel Restrictions
Due to the spread of new, more contagious strains of the virus, Japan is closing its borders until March 21 to all new foreign arrivals except foreign residents of Japan or under special circumstances.
It is currently undecided when regular tourists will again be able to enter the country, but it is unlikely to happen in considerable numbers before autumn 2021 after the end of the Olympic and Paralympic games.
Closures and cancellations
Most tourist attractions in Japan were closed in April and May 2020, and many events and festivals nationwide continue to be cancelled or postponed. Most tourist attractions have reopened in the meantime, and only a few remain closed. Some attractions in the areas affected by the new state of emergency have closed again or shortened their hours. Below is a list of major tourist attractions and their current state of business in some of the more popular destinations in our sightseeing guide: