Matt Evans Staff Writer,
japan-guide.com
A popular choice among visitors looking to venture beyond Japan's larger cities, Hiroshima Prefecture is well known for its beautiful coastal scenery, its relaxed atmosphere and of course its tragic war legacy.
For many visitors, an overnight stay here has become a routine addition to the classic 'golden route' of Tokyo and Kyoto. While this might be enough to enjoy some of the area's classic experiences, however - a stroll around the Memorial Peace Park and a visit to Miyajima with its iconic floating torii gate - it might leave you wondering what else the area could offer with just a little more time.
This is exactly what I set out to discover on a recent three-day visit to Hiroshima Prefecture, combining well-worn favorites with exciting new discoveries from off of the beaten track.
Day 1
While most visitors choose to arrive by shinkansen, I opted instead for an early morning flight into Hiroshima Airport, approximately an hour's drive east of the city itself. From here, I would be setting out to explore the region by rental car - opening up a world of picturesque towns, peaceful country roads and breathtaking views of the Seto Inland Sea. This would also be an easily repeatable itinerary for visitors able to begin their Japan experience here in Hiroshima before perhaps continuing their journey by train.
Leaving the airport behind, a 40-minute drive brought me to the quiet seaside town of Akitsu - once a key center for trade in the region, today best known for its chief export of oysters.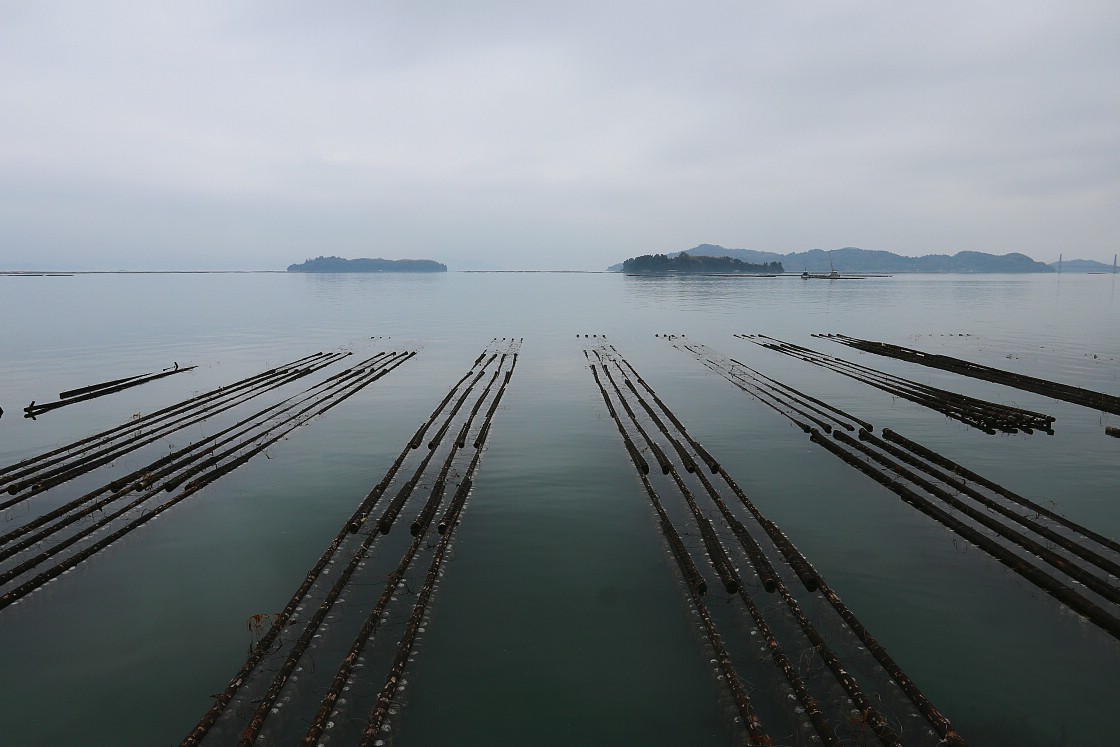 Due to a combination of factors - its calm, sheltered waters, the constant flow of nutrients from the Ota River and an abundance of phytoplankton - the Seto Inland Sea supports a thriving marine ecosystem, and is today the source of 60% of the oysters eaten nationwide.
While there would soon be plenty of opportunities to sample this local delicacy, I was here to enrich that experience by seeing first hand some of the work that goes into traditional oyster farming. Arriving into Akitsu Harbor, I hopped into a boat for the short journey out into the Mitsu Bay to a trawler owned by Shimamura-san, a local fisherman.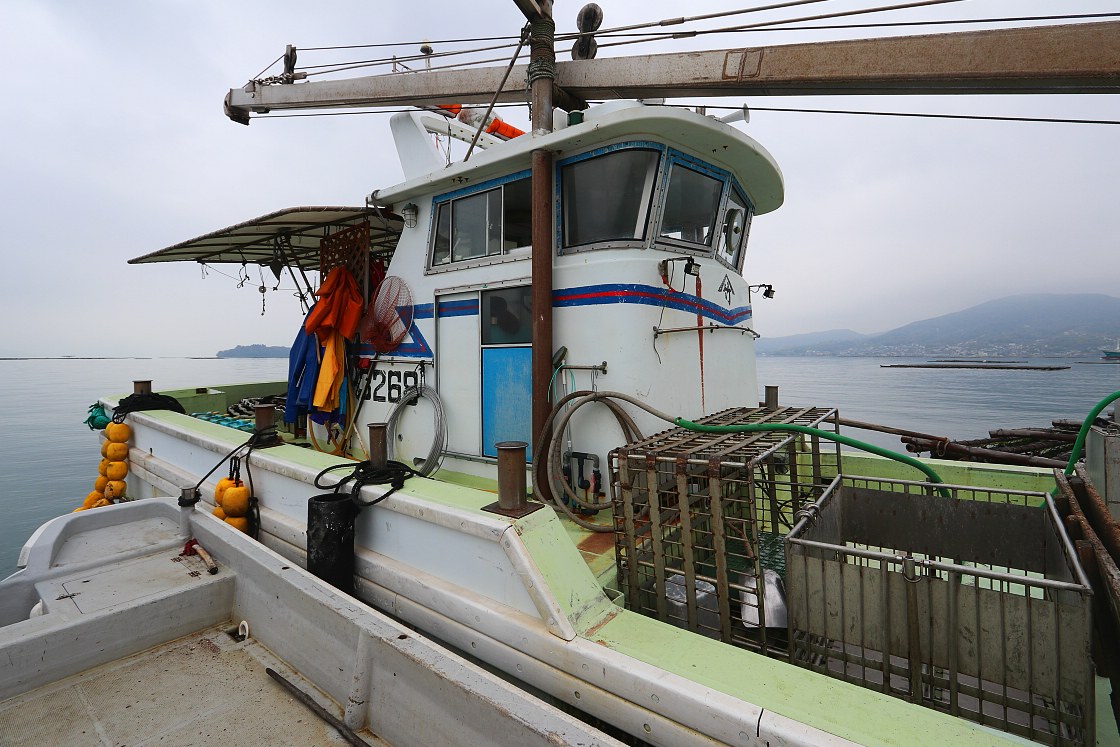 Born into a family of oyster farmers, Shimamura-san has felt a close personal connection with the Seto Inland Sea ever since his earliest experiences out on the water as a young child. Today, he is working to reduce the environmental impact of his profession through sustainable methods.
The oysters themselves spend the majority of their life cycle suspended in a kind of daisy chain from beneath a series of floating rafts, feeding on natural plankton while gradually maturing in tune with seasonal shifts in water temperature. While plastic piping has been the norm here for some time, Shimamura-san instead uses ropes to prevent further absorption of microplastics into the ecosystem.
As I watched, Shimamura-san leapt easily onto one of the rafts, clipping a long chain to a crane fitted to the boat before winching it free of the water, heavy with fat, healthy-looking shells. At the push of a button, the chain dropped from high overhead into a heavy steel cage, sending out a spray of seawater and tiny shell fragments.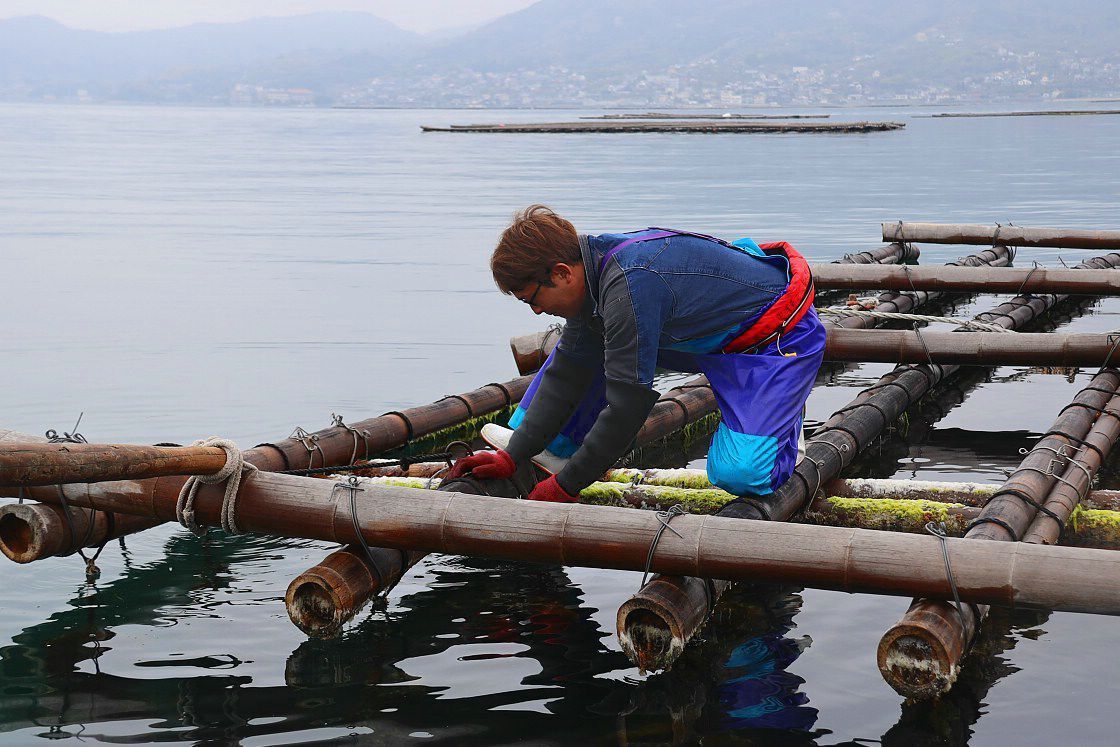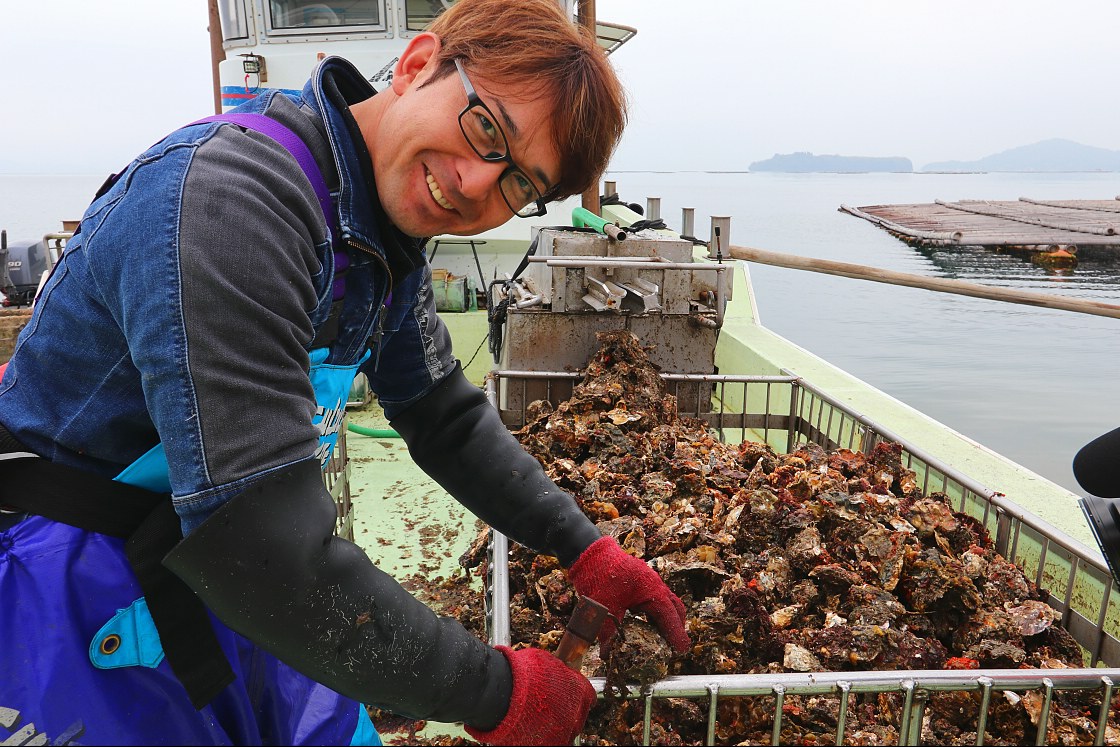 After a short but fascinating stop, it was time to get back in the smaller boat for the next leg of my journey and the uninhabited island of Ryuojima. Measuring just a few hundred meters from tip to tip, the island was once used exclusively by local boy scouts but due to its natural attractiveness is now open to visitors - making it the perfect place to enjoy a barbecue, a bit of fishing, and camping out under the clear night sky.
Armed with equipment borrowed from the nearby admin office, I began my visit with a leisurely half-hour of fishing at the dock. While it soon became clear that I wasn't going to be catching anything, I was quite content to enjoy the peace and quiet, and the beautifully clear, blue water. The problem was in any case not an absence of fish - as I later spotted a shoal of little pufferfish swimming disinterestedly in the deep water below.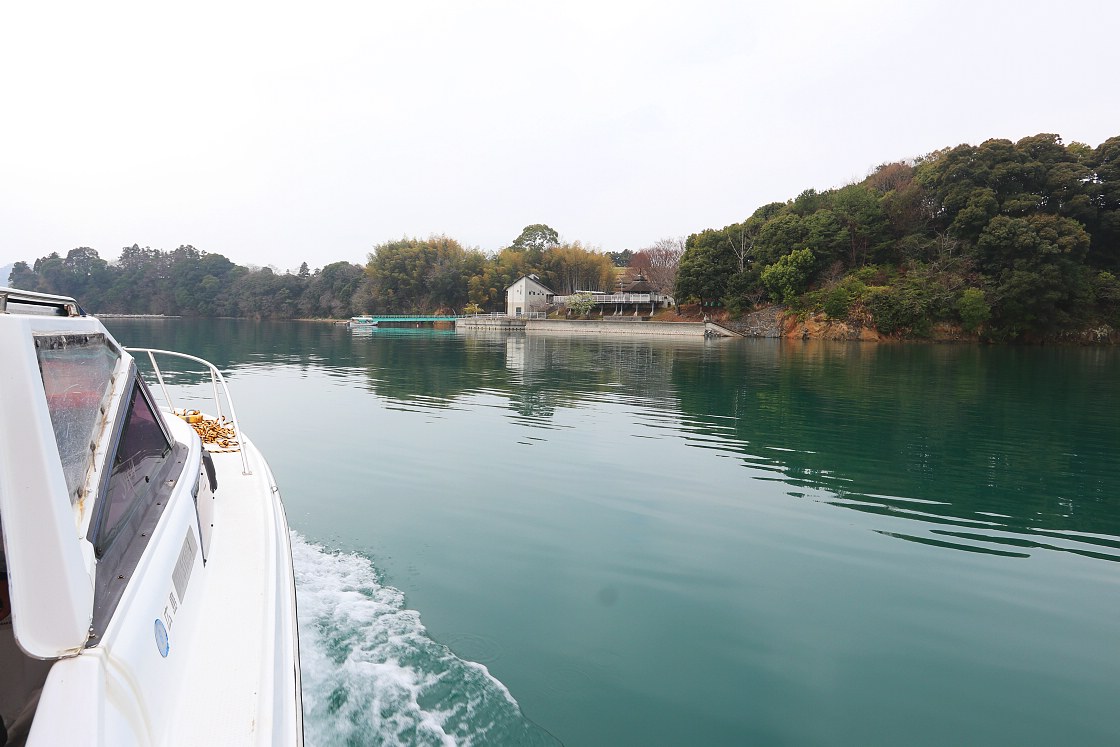 By now it was lunchtime, so I used a nearby fire pit to set up a simple camping barbecue with supplies I bought in advance, and was soon devouring platefuls of meat, vegetables and fat, delicious oysters, while drinking in the sea view. Deeply satisfied, I set out to explore the island along a series of short but beautifully maintained paths, dotted with lookout points, blossoming trees and inviting grassy spaces.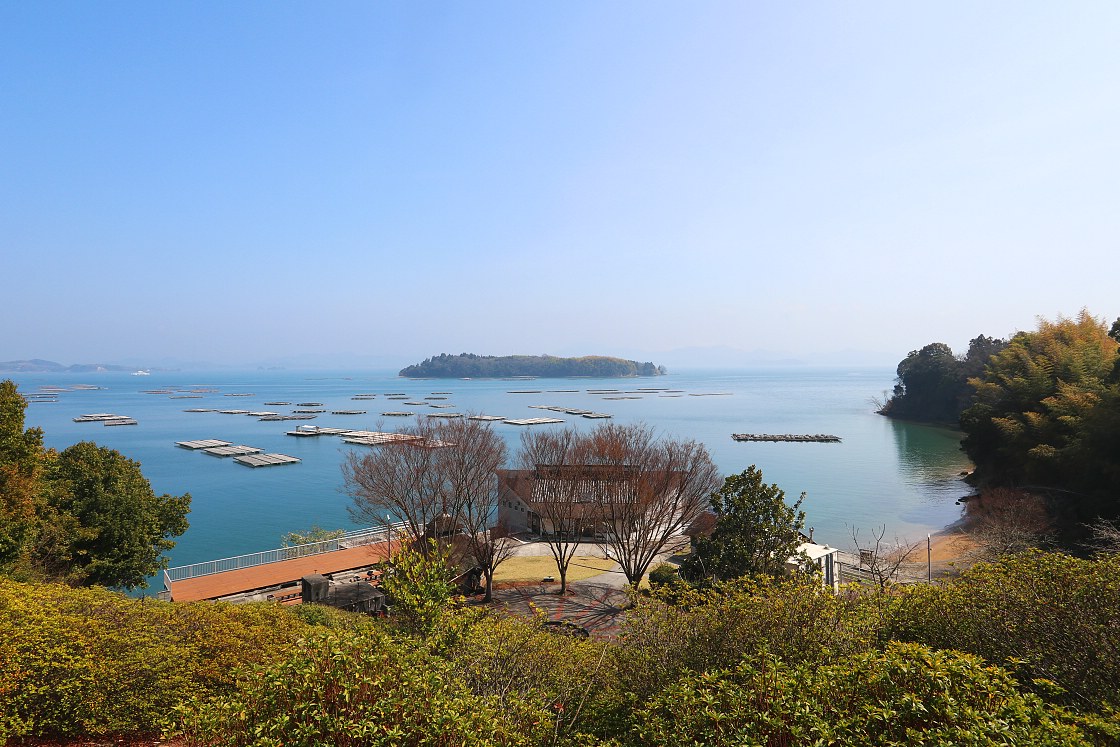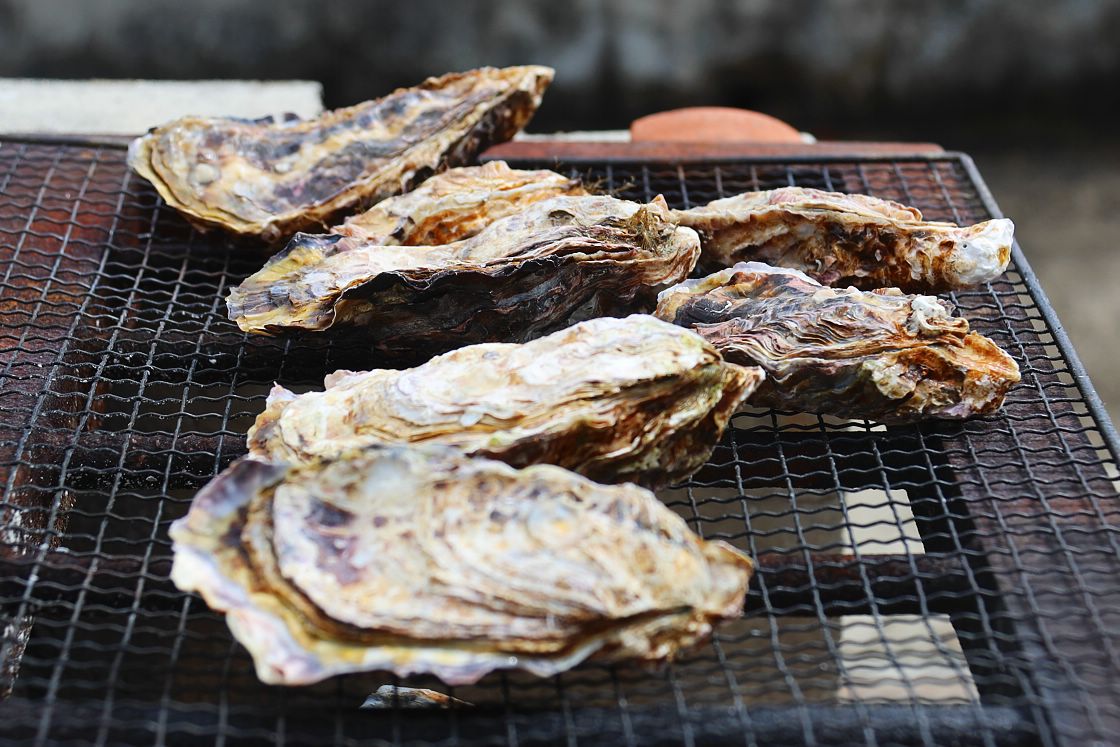 After one last look out towards a larger Island to the south and the eye-catching suspension bridge connecting it to the mainland, I was soon back in the little boat and heading for Akitsu Port. There, I changed back to my rental car for a slow, leisurely drive along the coast for Oshiba - the same island I had just been admiring from afar.
It's moments like these - winding my way between the shore and rolling hills dotted with fruit trees - that the freedom of a rental car really makes all the difference. At one point, I couldn't help making an unplanned stop to look at a perfect little island in the shape of a heart, called Koshibajima.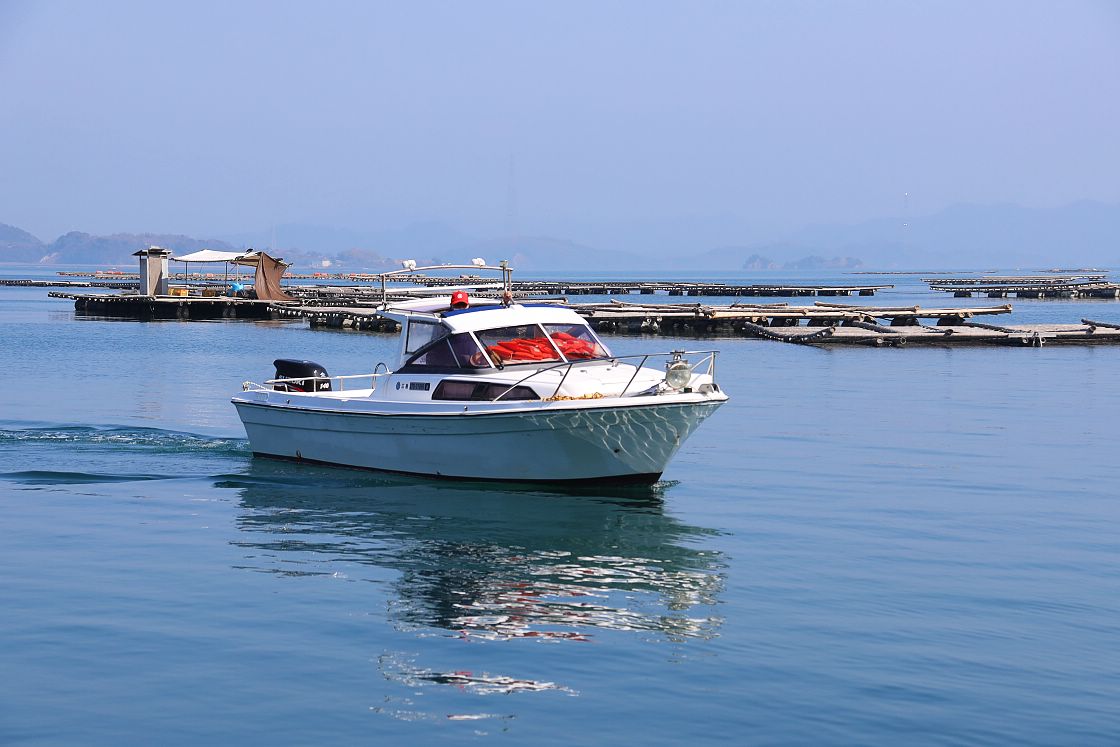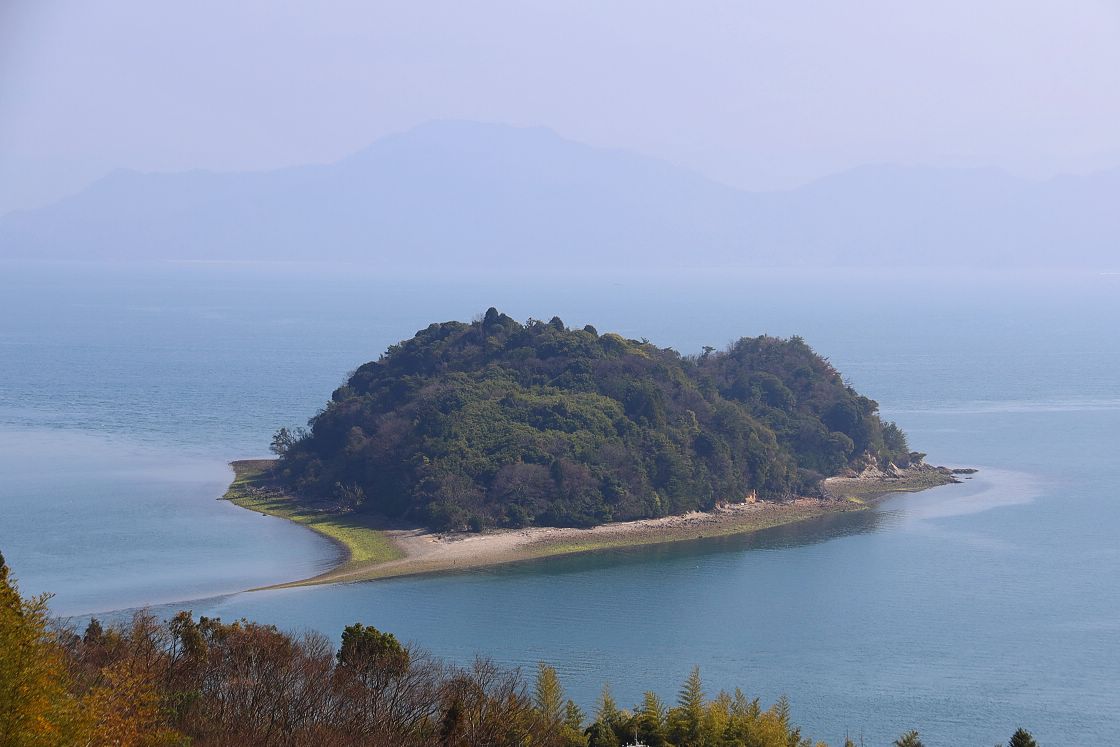 Before long, I was crossing the suspension bridge onto Oshiba Island, where I would be stopping to view two exciting rental properties - both located right by the shore, offering an ideal base to explore the area or perhaps just a secluded spot to enjoy the peaceful surroundings.
First up was Y51 - a two-story house with room for eight guests, complete with a deck, outdoor hot tub and even a set of free-to-use bicycles. The view is nothing short of breathtaking, while a set of stairs leading down to the water's edge makes it a perfect choice for SUP, with boards available to rent nearby.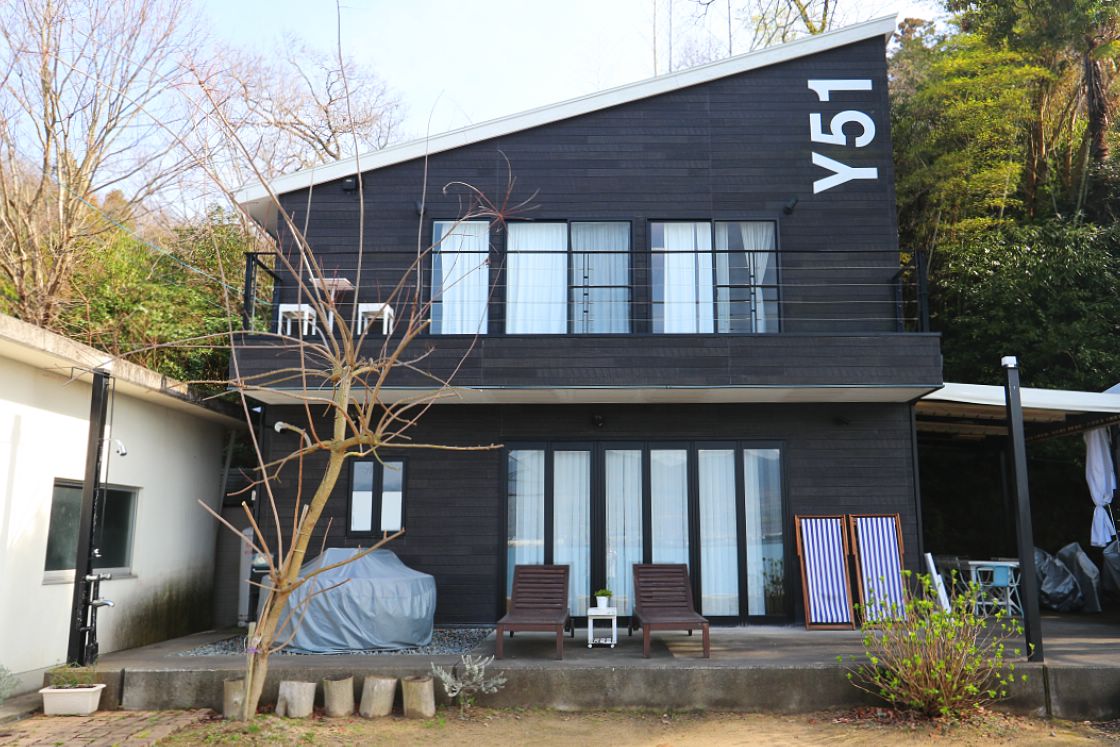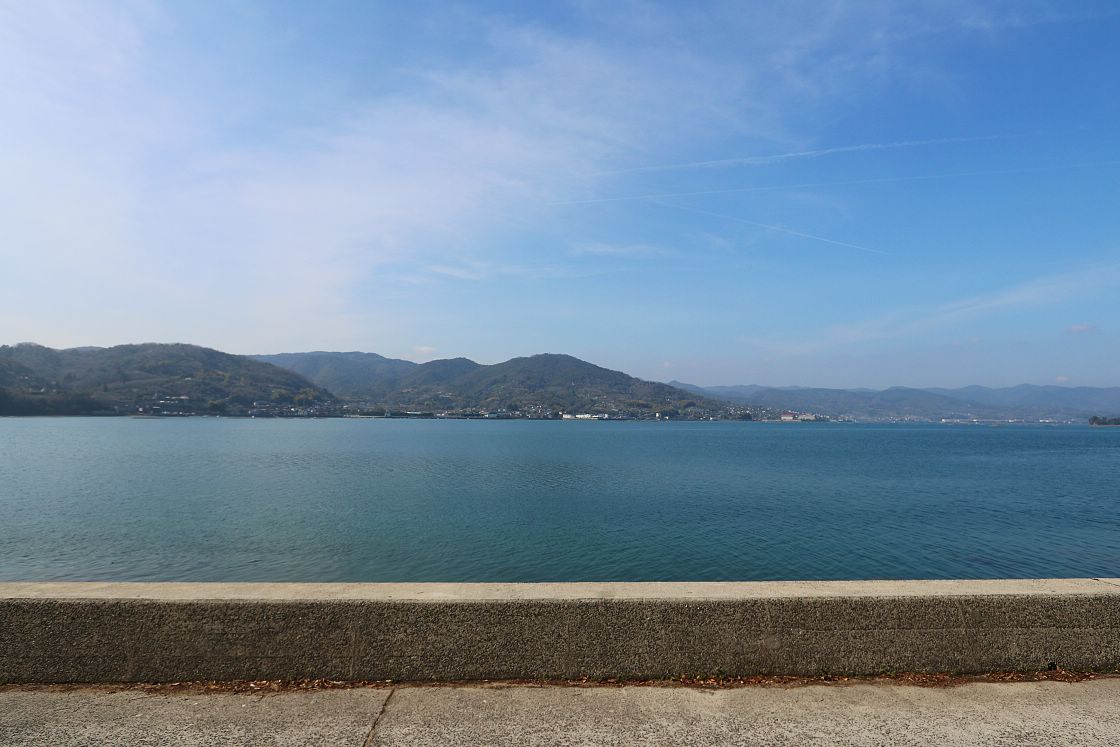 Winding my way around to the island's southeastern shore, I arrived at the second rental property known as Diary. With room for six guests, this single-story cottage has a chic, modern look and big, bay windows opening up the whole south-facing side to another spectacular sea view. With dusk closing in, I took a seat on the porch to enjoy the cool sea air and the sunset with a cold glass of local yuzu-infused sake.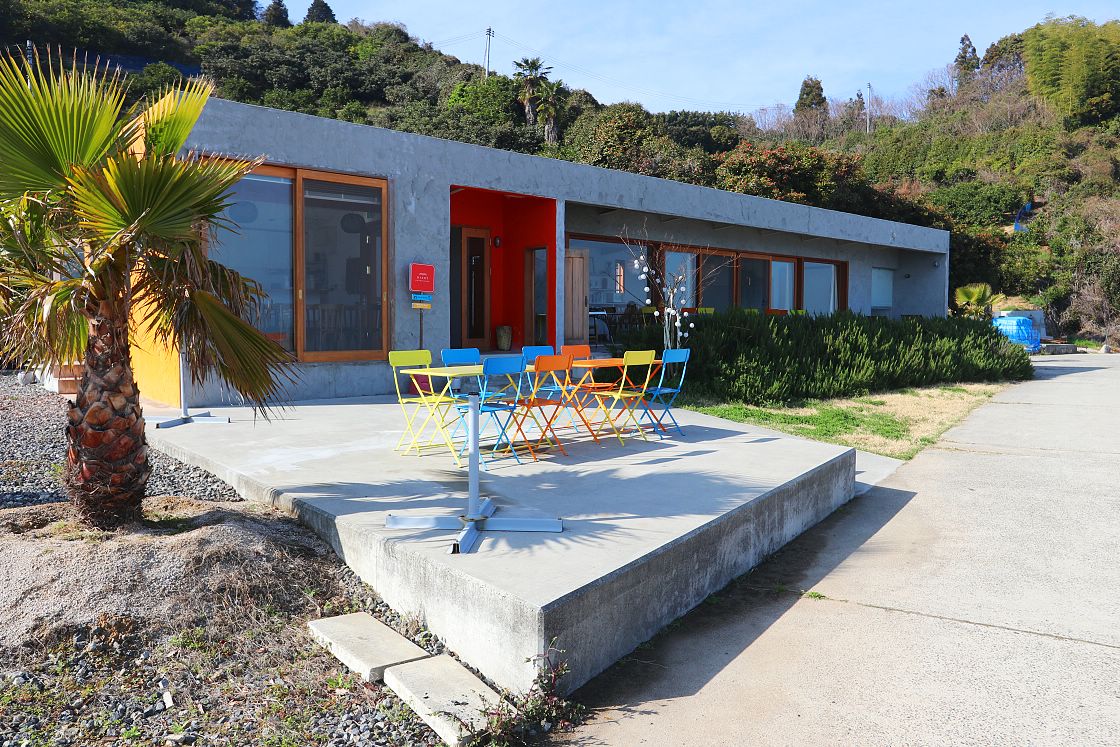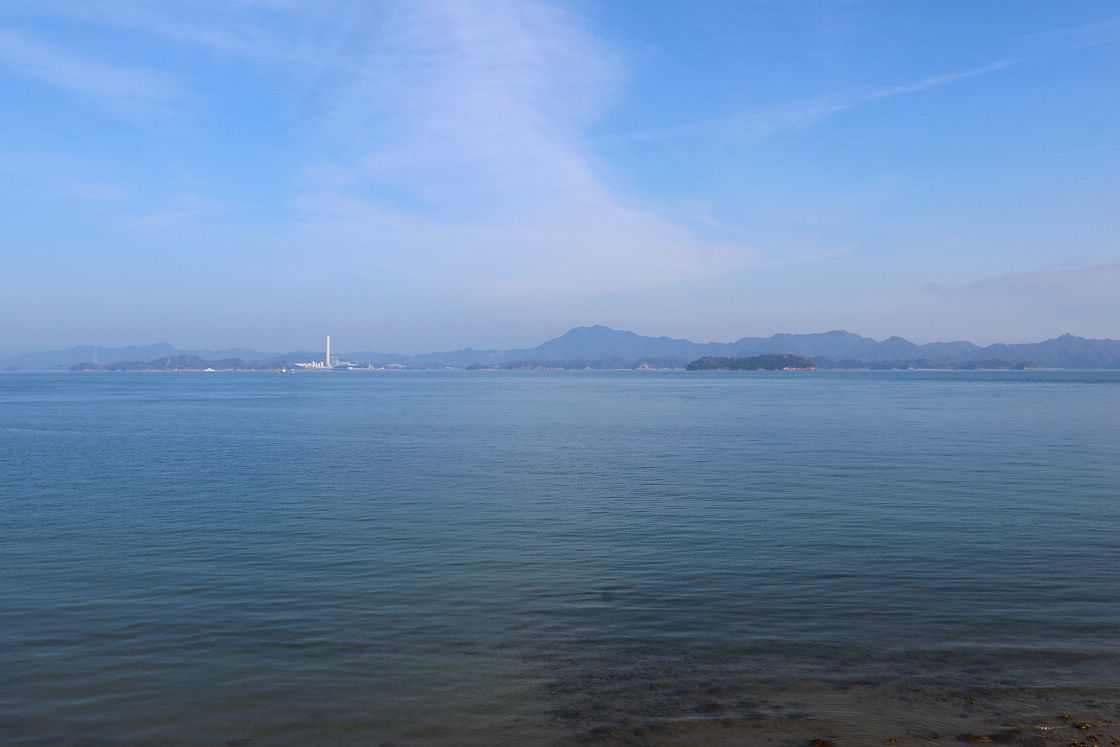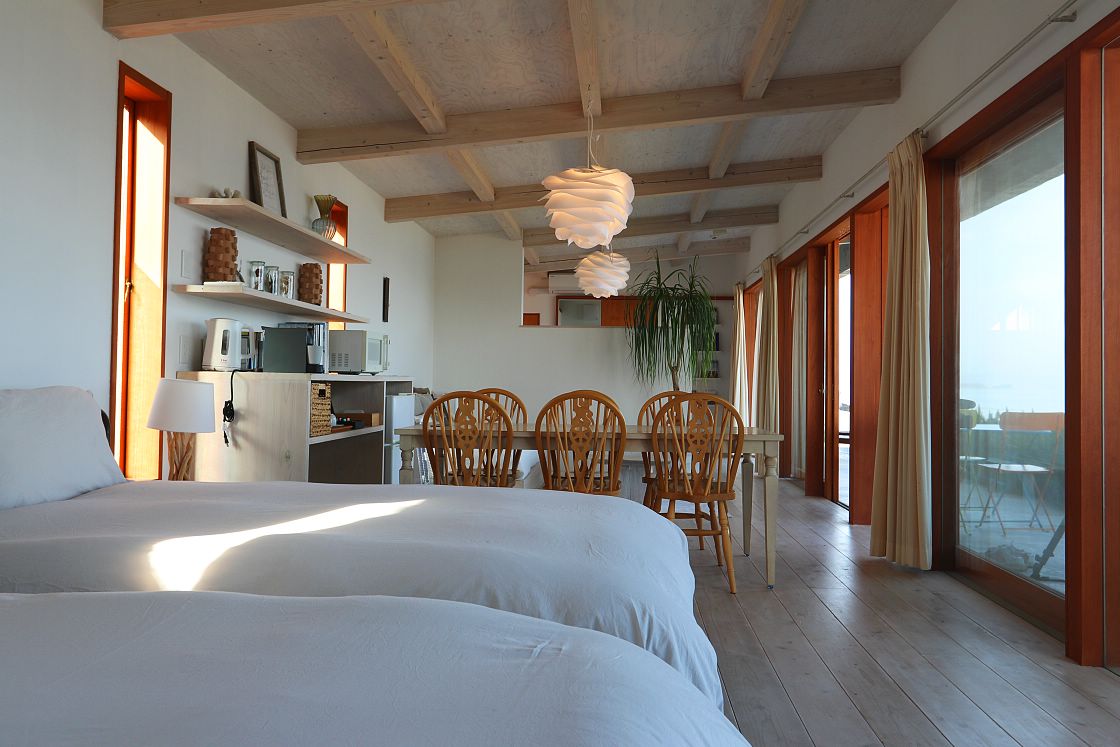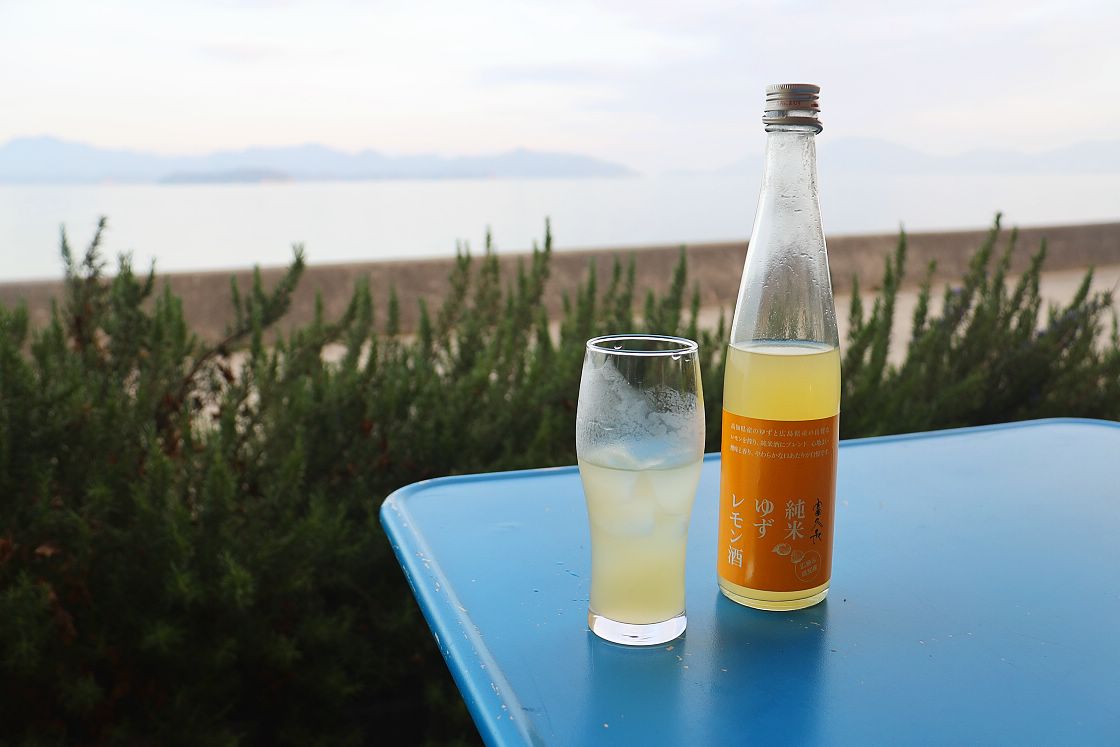 Day 2
The second day of my trip began in Saijo - another of the towns making up the city of Higashihiroshima and perhaps best known as one of Japan's most prestigious sake producers. Today, seven local breweries can be found along Sakagura Dori, or Sake Storehouse Street, in a series of lovely period buildings combining rustic and early industrial features. One especially attractive point is the white latticed effect seen on many of the brewery walls, called Namako walls after the Japanese word for sea cucumber and a common sight around the Seto Inland Sea.
My first visit here was at Saijo Tsuru - a brewery with over a century of history, whose bright and attractively renovated brewing floor sits alongside a traditional machiya-style residence within an original Meiji Period building. Guiding me on a tour of the facility was Inomoto-san, the company CEO, who explained in fluent English exactly what makes sake from Saijo so special.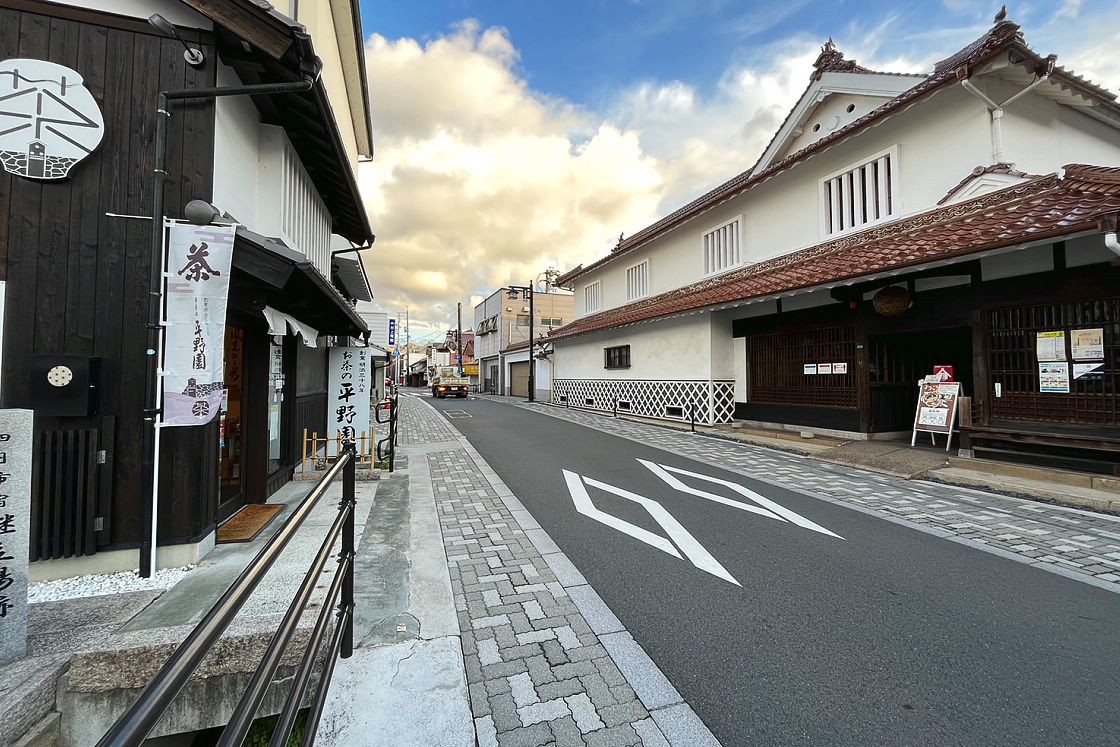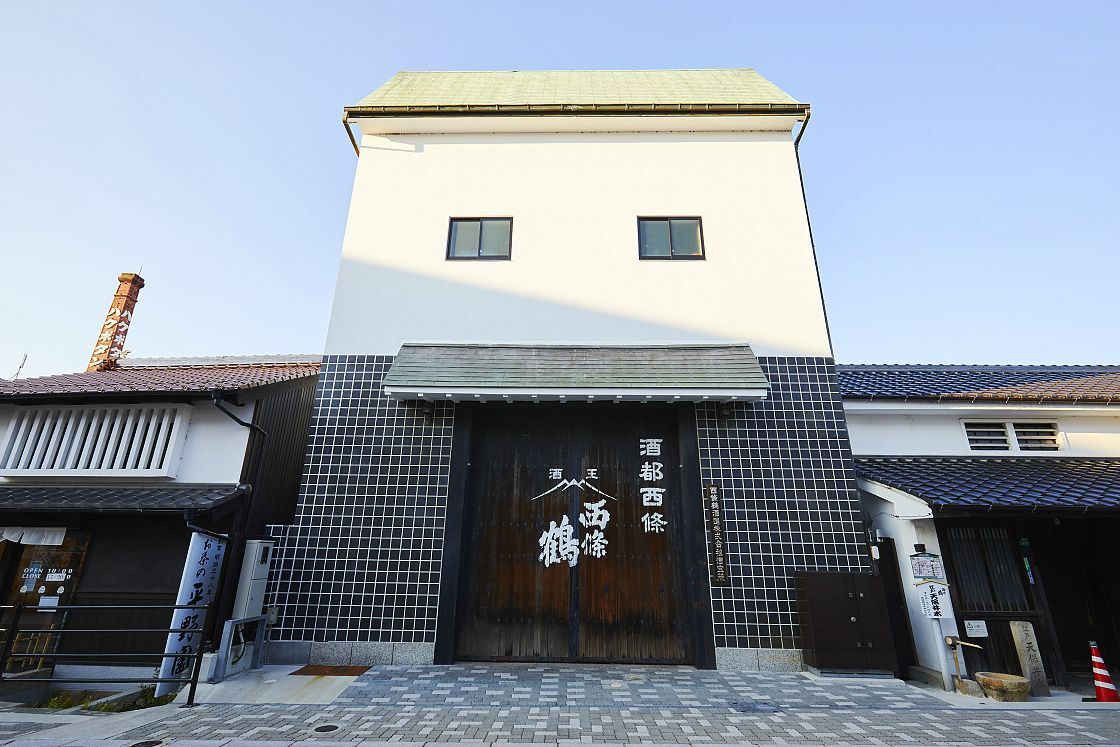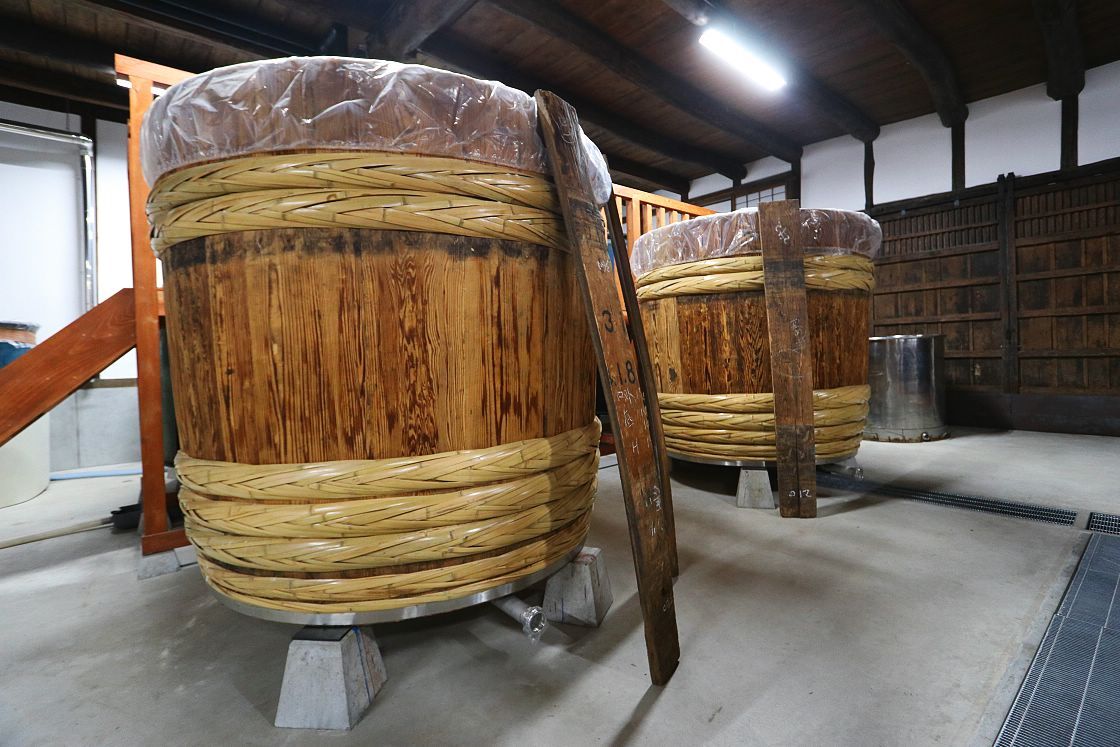 Although Saijo is today recognised as one of Japanfs top sake producing regions, its brewers at first faced an uphill struggle due to the low mineral content of its local springwater, making for a long and difficult fermentation process.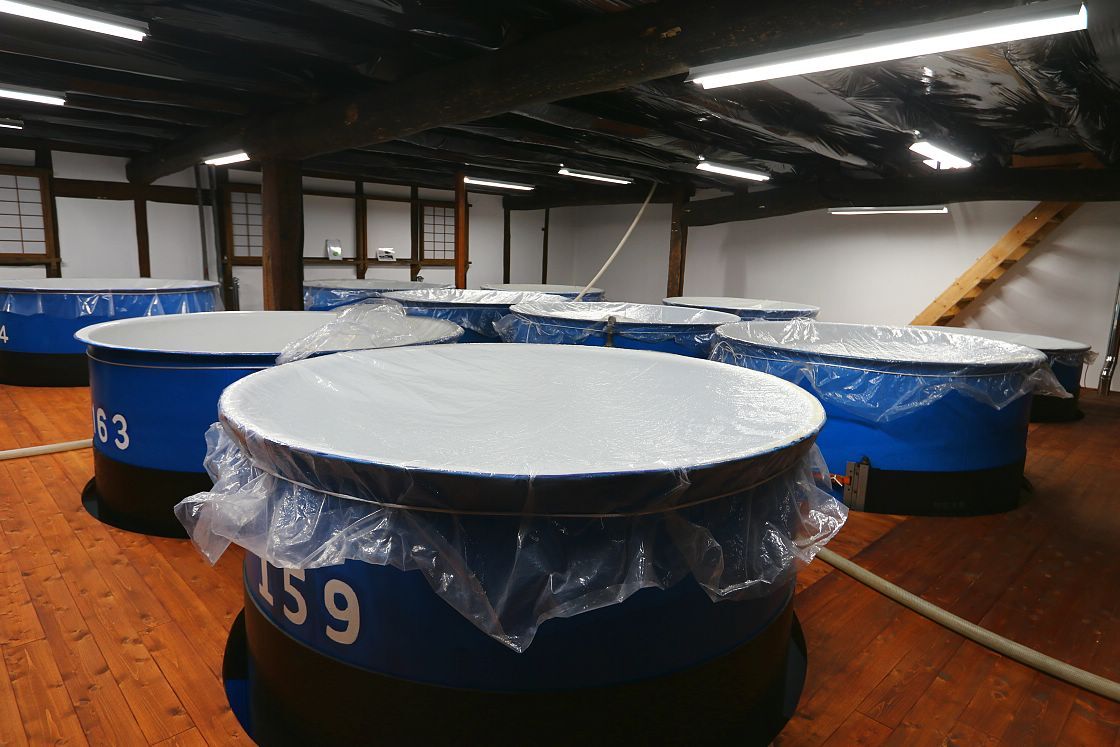 That all changed at the end of the 19th century, when Akitsu native Miura Senzaburo pioneered a new, more precise method inspired by advances in science. Through his techniques, Hiroshima brewers were able to turn the 'soft' local water to their advantage, producing a sake with a delicate, even floral profile - sometimes referred to as 'soft sake', in contrast with the more robust, 'strong' flavor of, say, Kobe's Nada District.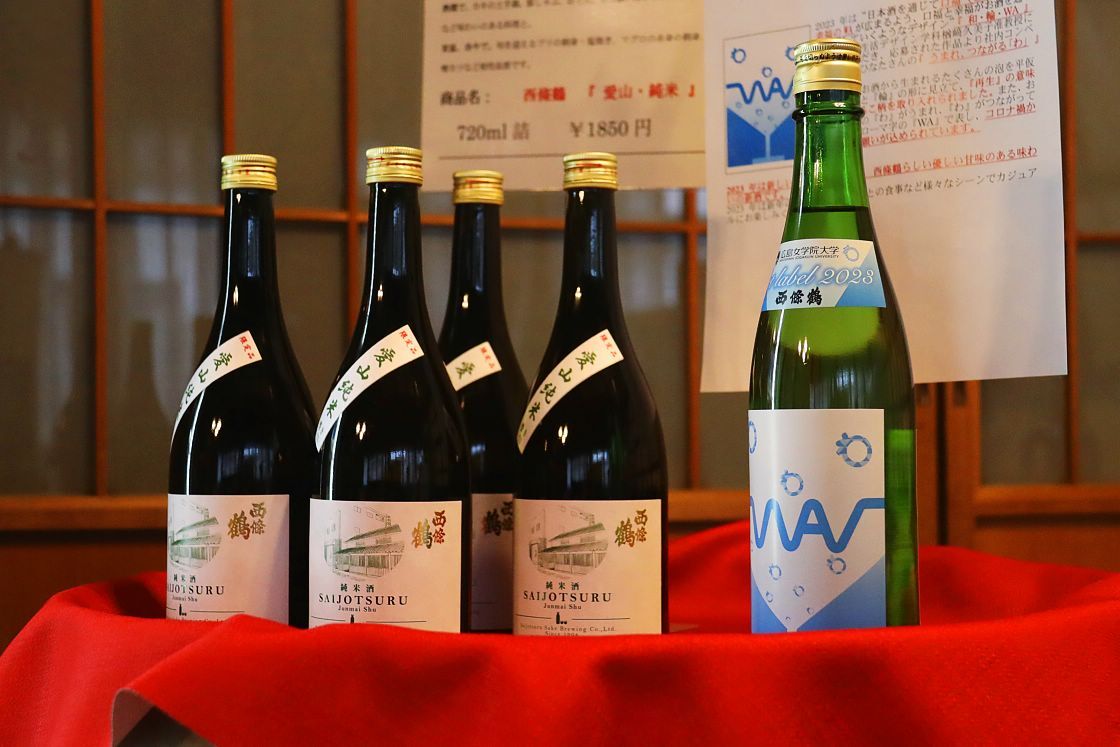 Saijo Tsuru takes pride in carrying on traditional handmade sake brewing, despite the extra time and effort required. As Miyaji-san explains, they see sake brewing as a gift from nature, created by the delicate harmony of the water and rice.
After a fascinating look at the processes that go into producing Saijo Tsuru's own sake, I made a second stop at Kamotsuru - another beautifully remodeled brewery, now with its own small museum and shop - where I learned more about the basics of Japan's national drink and had the chance to taste three of the brewery's flagship bottlings.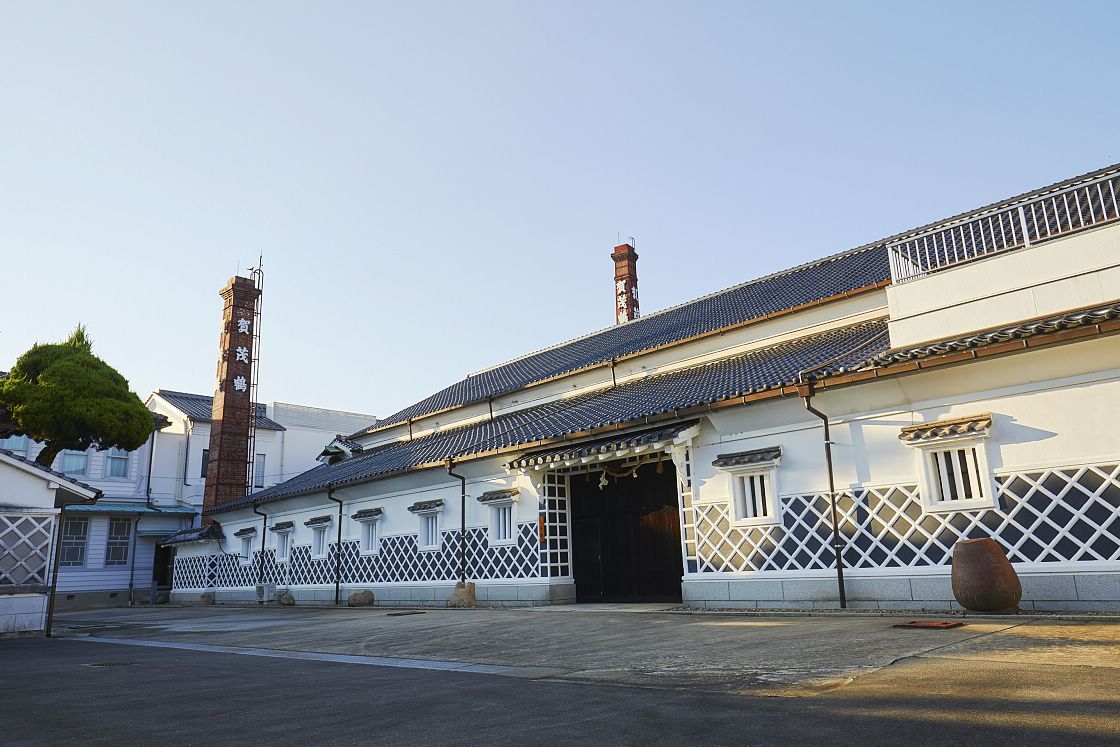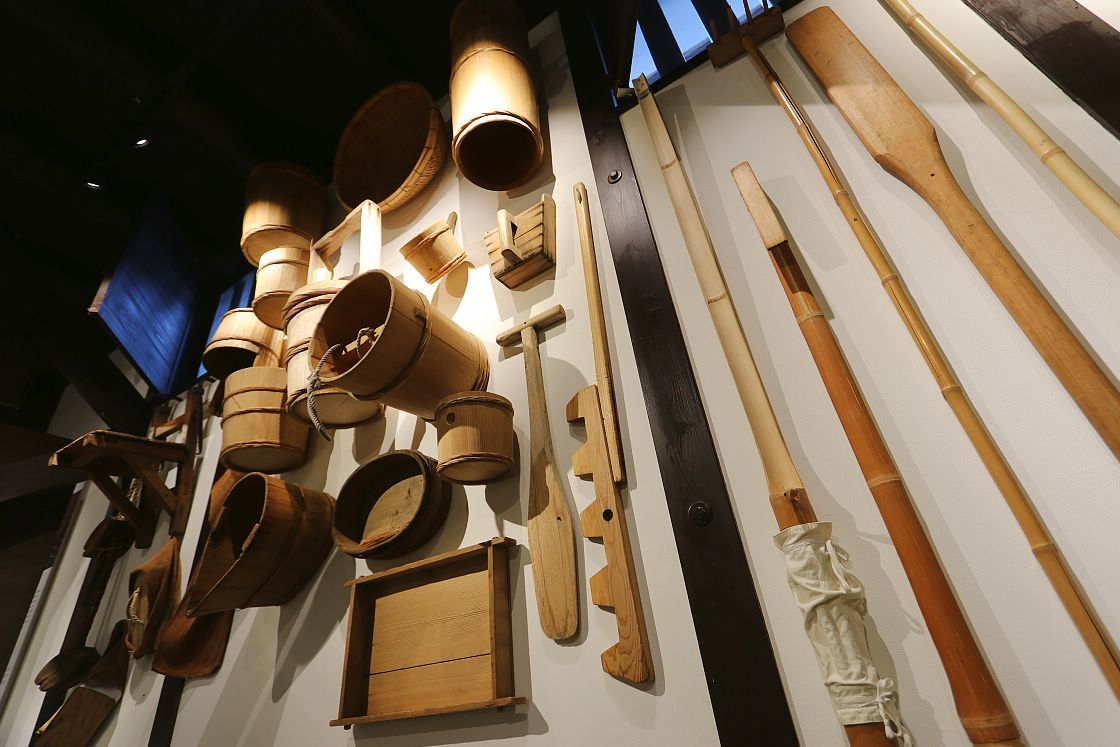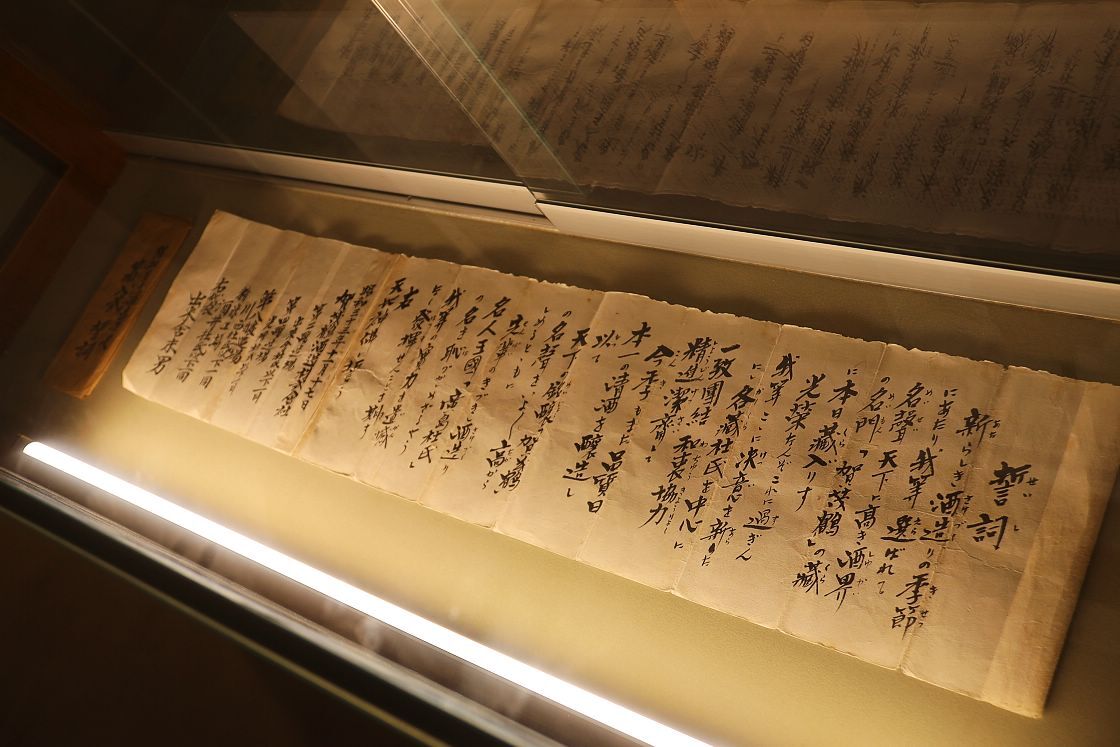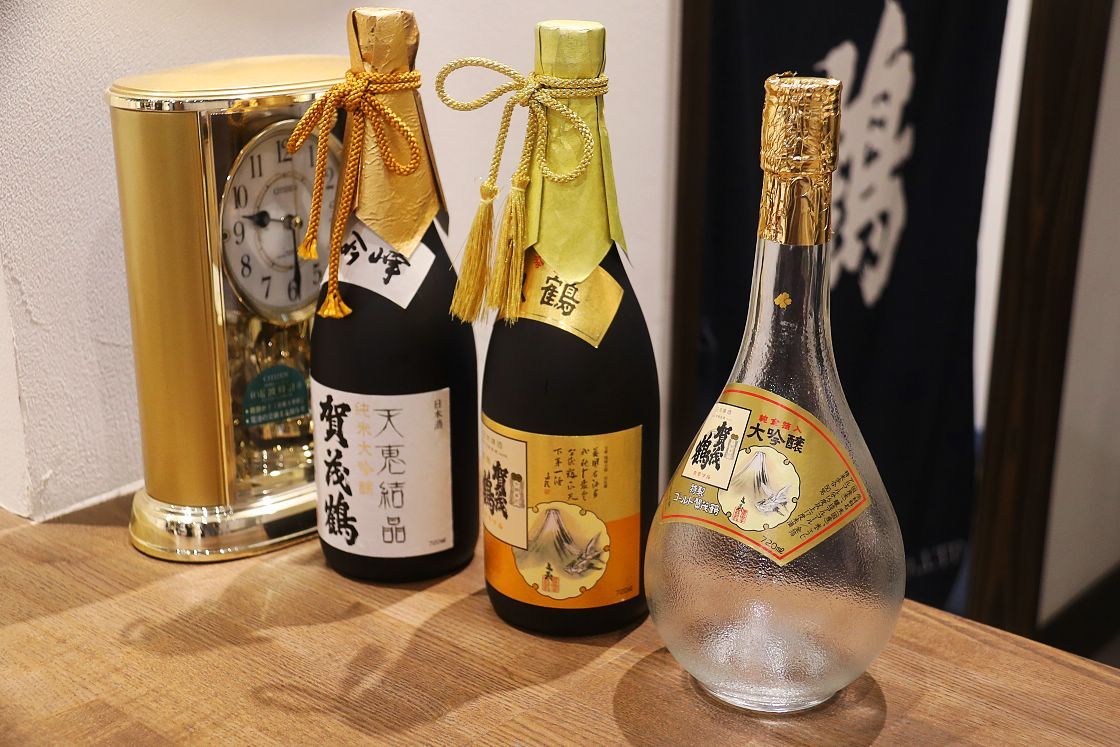 Next, it was time to try another local favorite in the form of Bishu nabe - a simple hot pot made with chicken, pork, local vegetables and lashings of sake - at a nearby restaurant called France Ya, also owned by the brewery. Said to be the invention of local breweries, the dish is rich, delicious and nourishing, but doesn't cloud the palette - perfect for a hard working sake maker with tastings to do.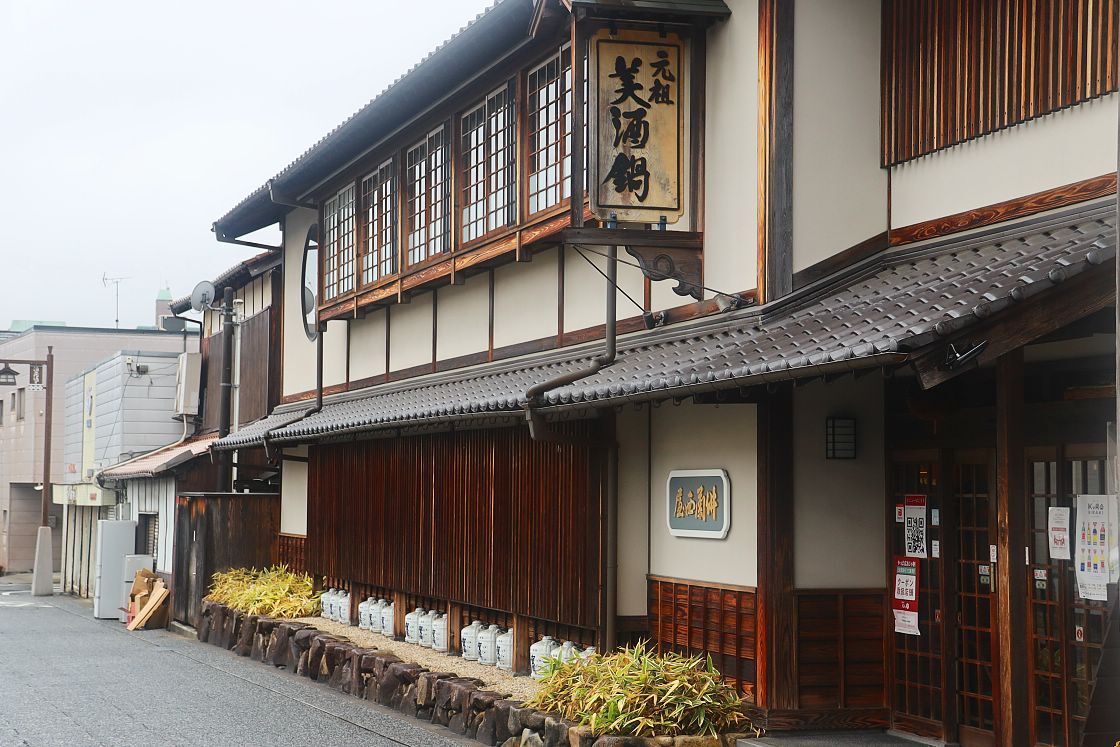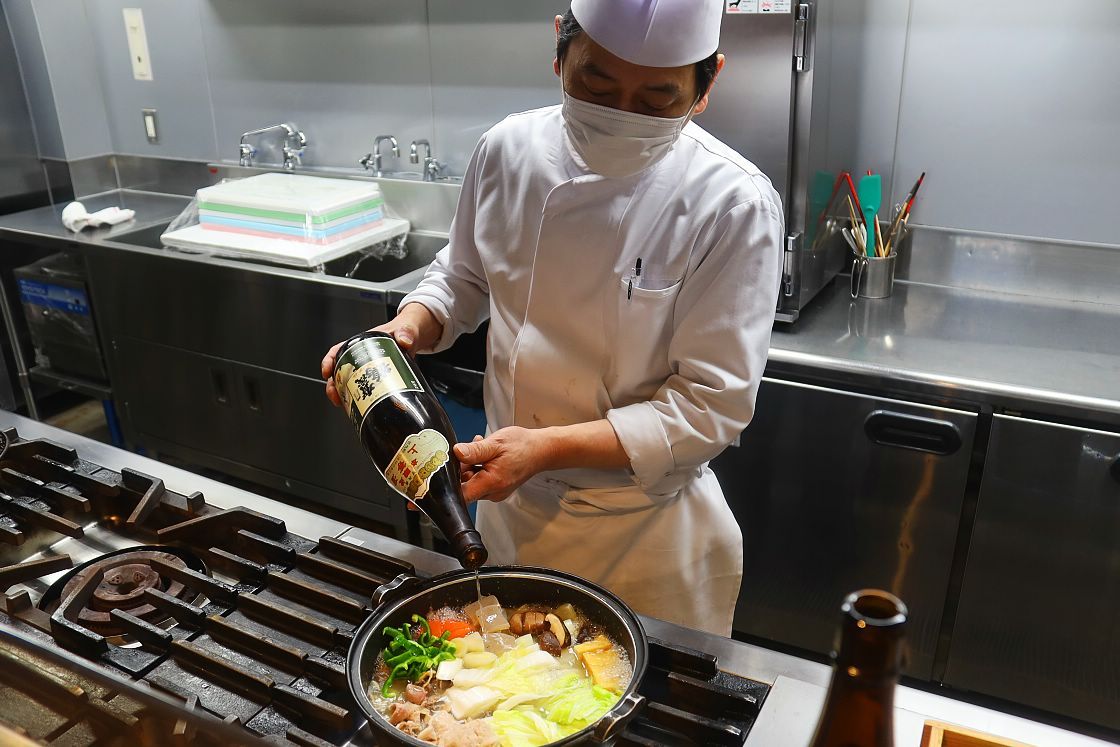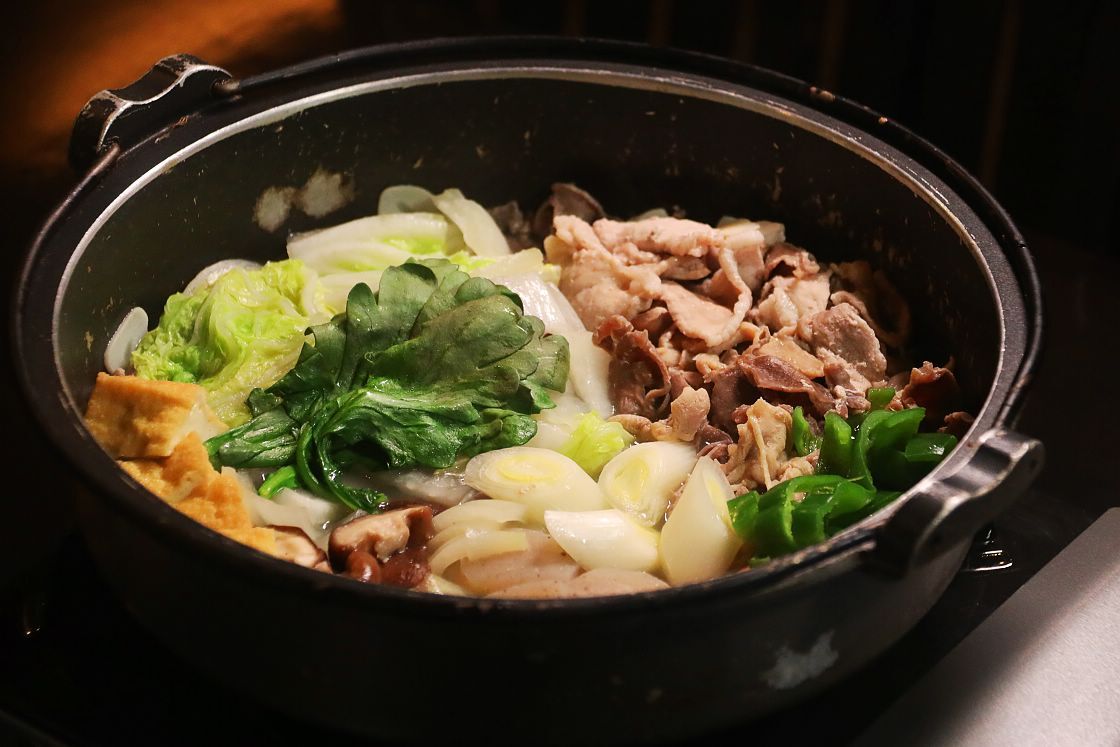 Soon, I was back in the rental car bound for Miyajima island, home of Itsukushima Shrine and the iconic floating torii gate. A 50-minute drive brought me to Miyajimaguchi Station - around 20 kilometers west of central Hiroshima along the Sanyo Coast - where I changed to a ferry for the 10 minute ride out to the island, by now wreathed mysteriously in a thin layer of mist.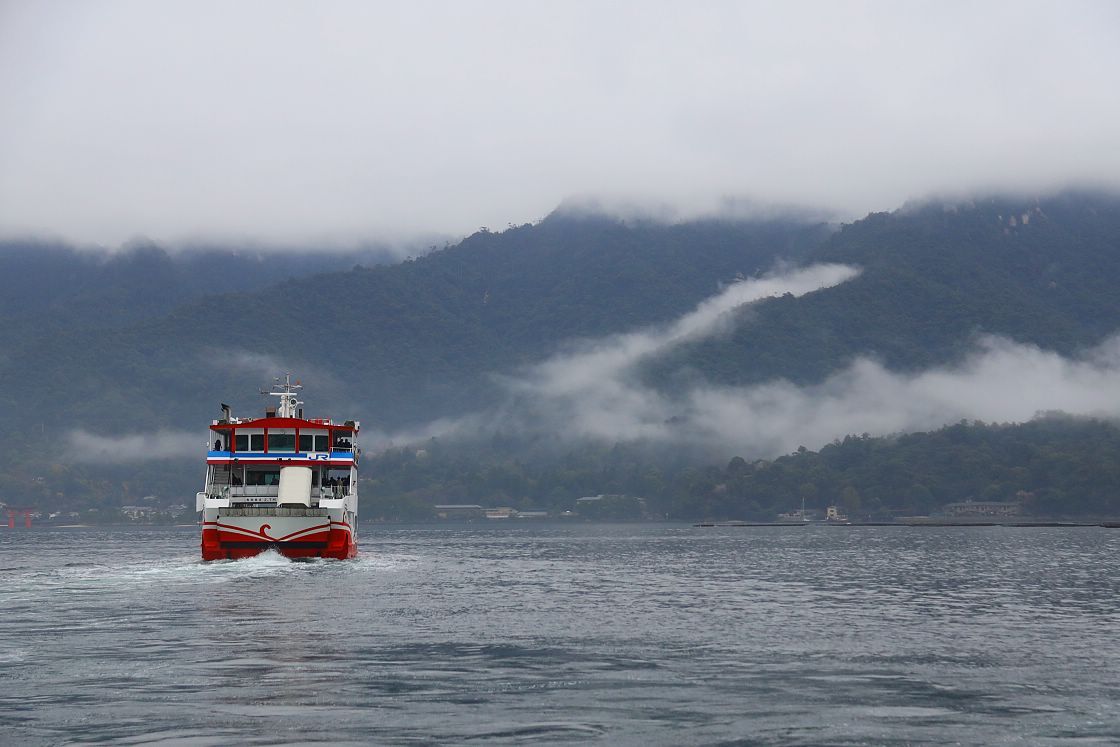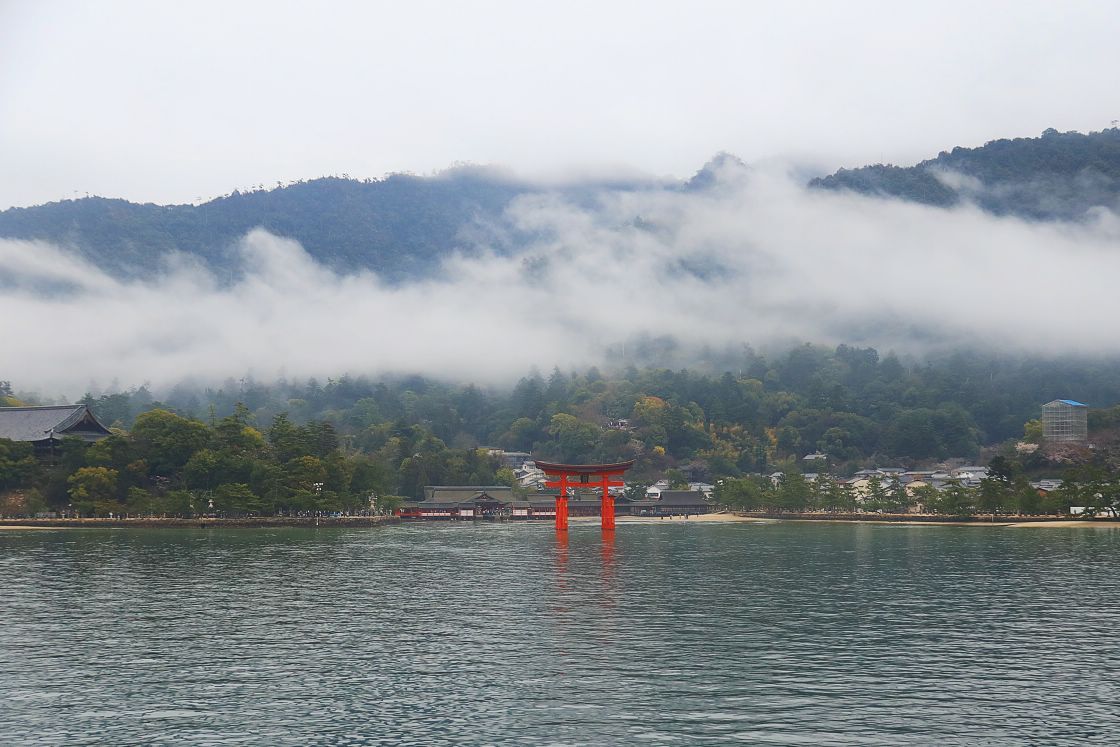 After a little bit of exploring, I made my way to Fujiiya - a popular local cafe and sweet shop - where I would be learning how to make a kind of traditional hard candy. The process begins with a high quality sugar called wasanbon, known for its fine grain and sweet, almost buttery smell. This is then hand pressed into a tiny wooden mold, forming one of a series of shapes reminiscent of the island - from the famous floating torii gate to one of its many tame deer.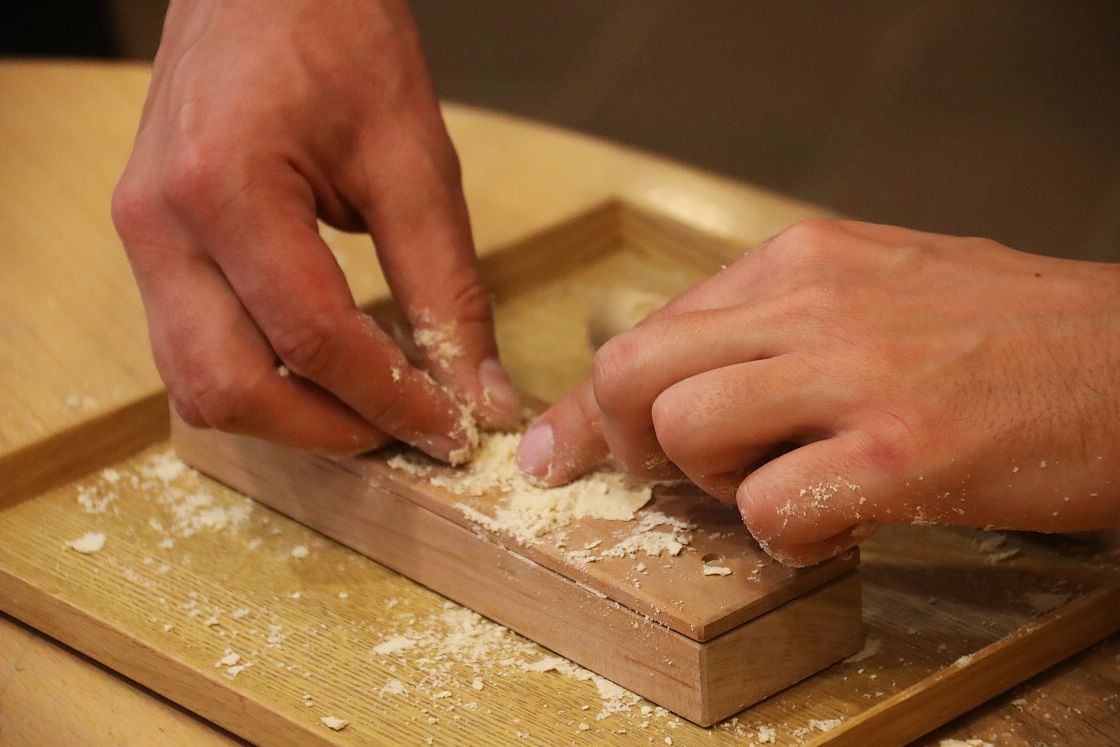 Having tried a couple of different shapes, I had the opportunity to taste a few of my new creations with a nice cup of hot matcha, while staff helpfully packed the rest into a neat little box for the journey home. The fine, powdery sugar melts away in the mouth, leaving only a delicate, caramel flavor behind.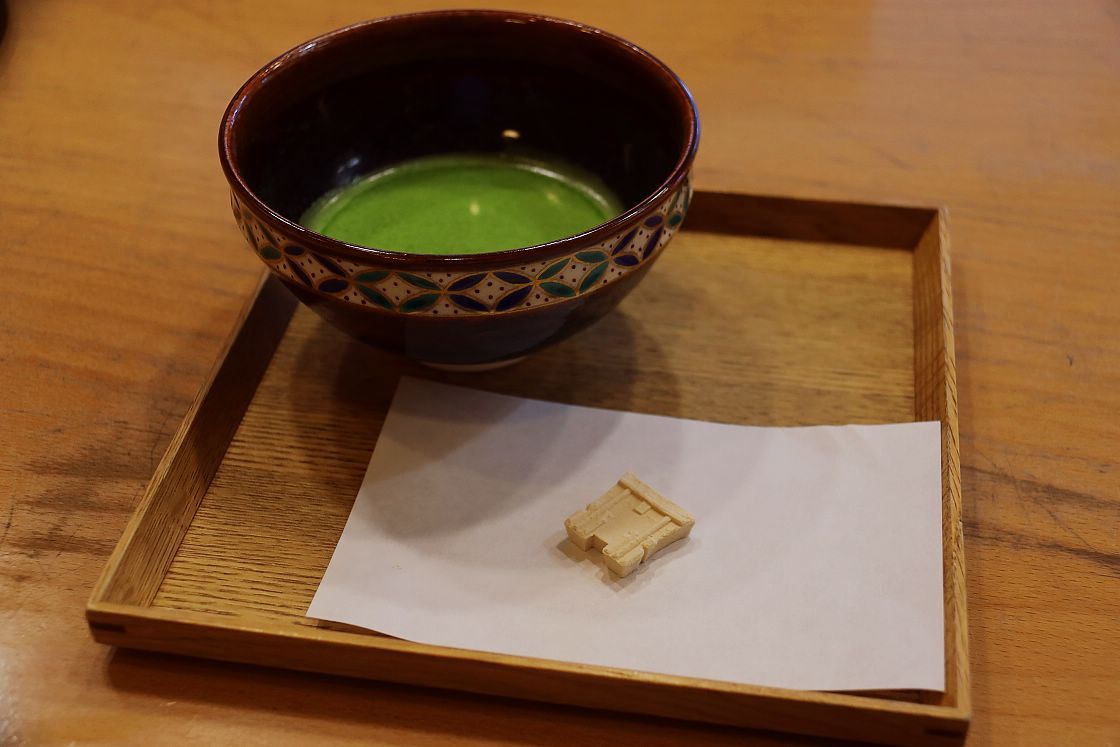 Before checking in at my hotel for the evening, there was just time for another quick stop at Miyajima Brewery - the only craft beer brewery on the island, located on the Omotesando shopping street just a stone's throw from Itsukushima Shrine itself. Squeezing into the tiny bar space to order, I found a spot in the upstairs seating area to enjoy my cup of Hiroshima Red Ale with a nice view down to the shoreline.
My accommodation for the night was the Itsukushima Iroha - a stylish boutique hotel with a slick modern look, tucked into a discrete spot just around the corner from the waterfront and a short walk from the ferry terminal. Despite the crowded streets just outside, the hotel's interior felt quiet and secluded from the moment I stepped inside.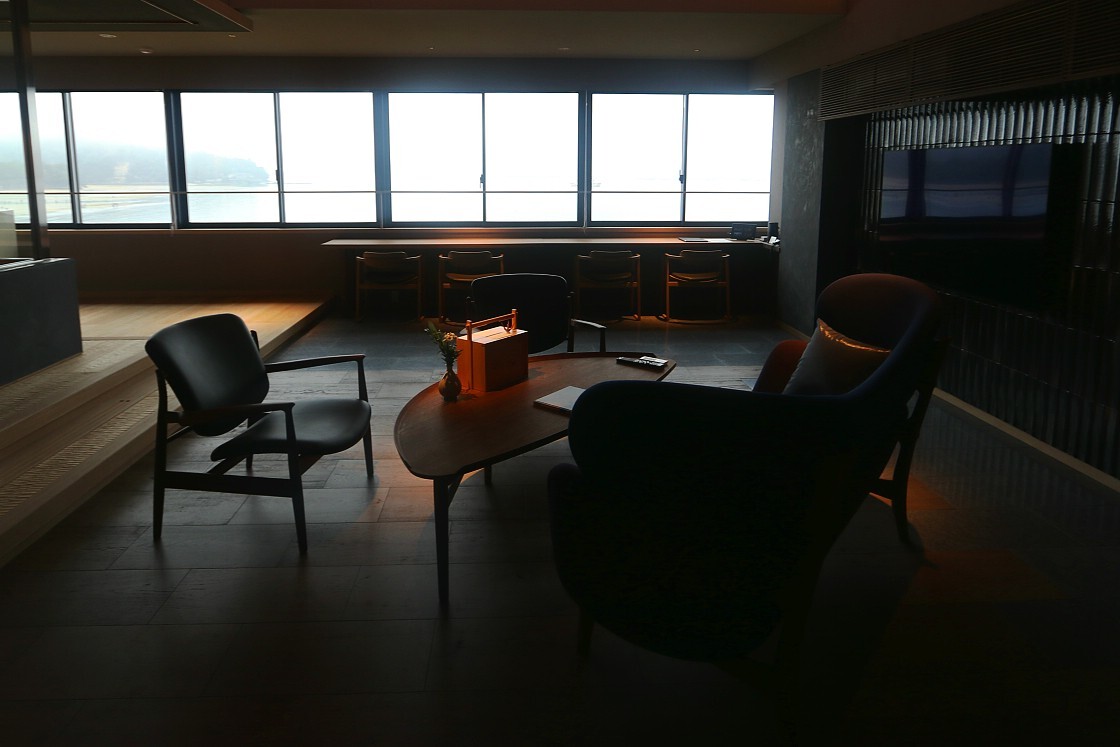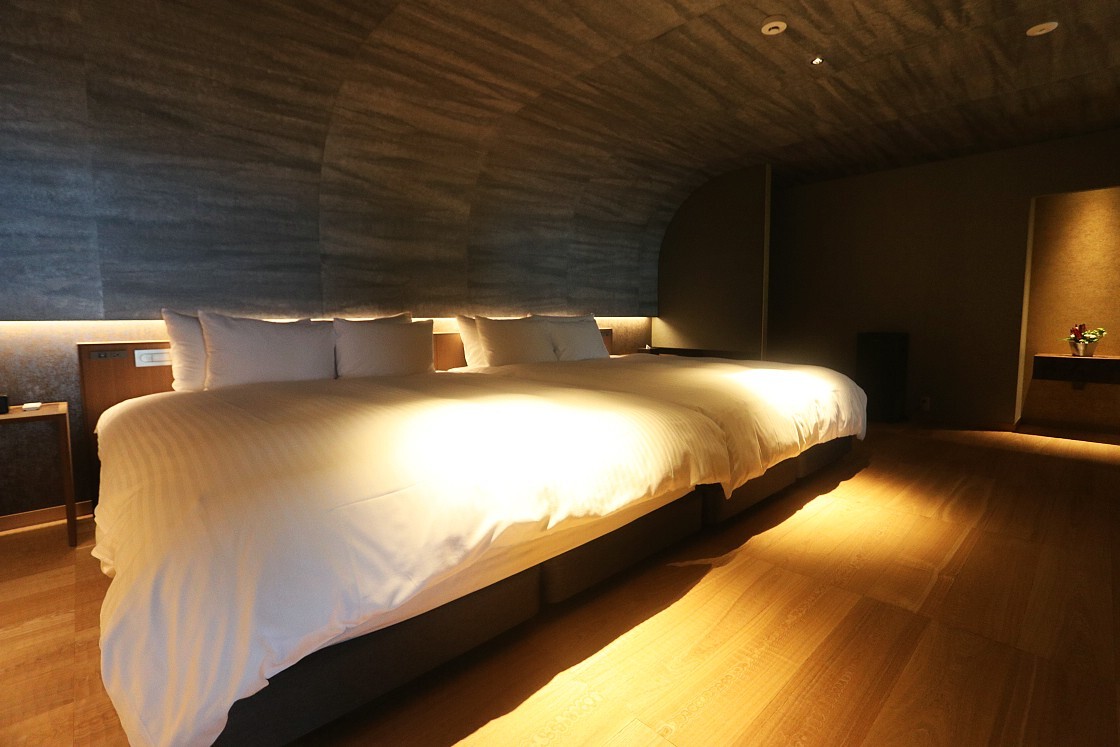 After a fast and seamless check in, it was time to take a look at my room for the night - a spectacular fourth-floor suite with sea view. From the fresh smell of hinoki as I walked through the door to its finely crafted furniture and fittings, it really was a breathtaking space.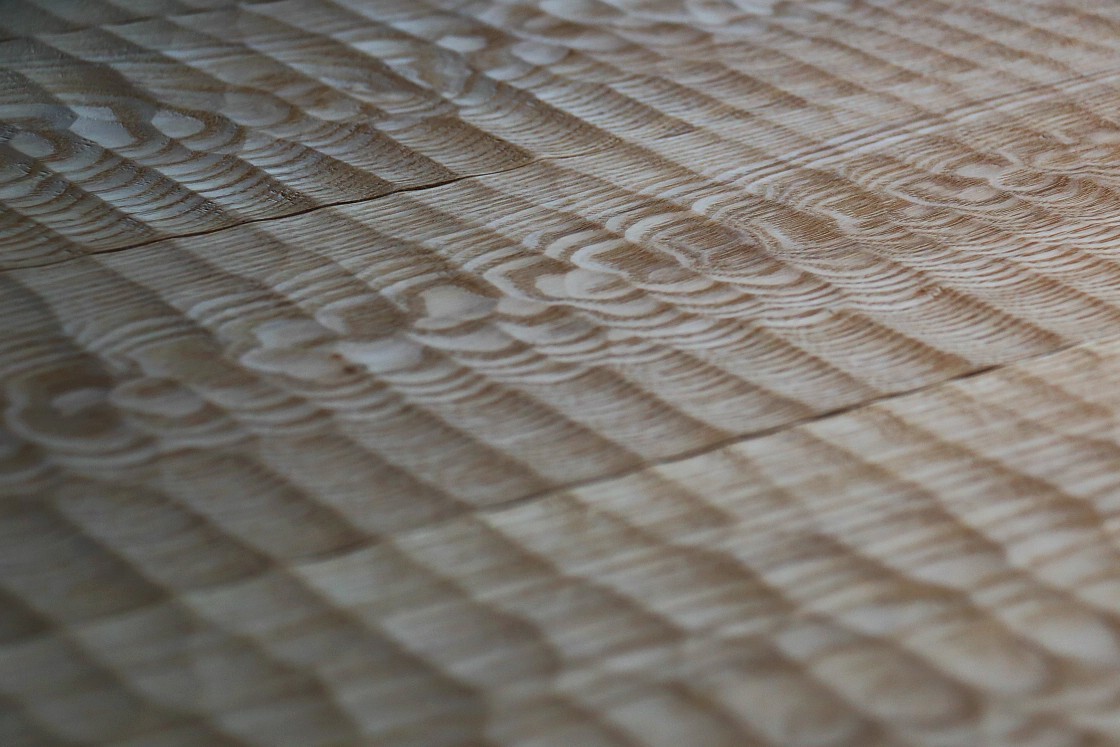 With a little time left before dinner, I managed to tear myself away from the room and set off for a gentle stroll around the nearby Itsukushima Shrine. Despite having been on the island many times before, this would be my first time seeing it after dark - and I was excited to see just how different the atmosphere would feel.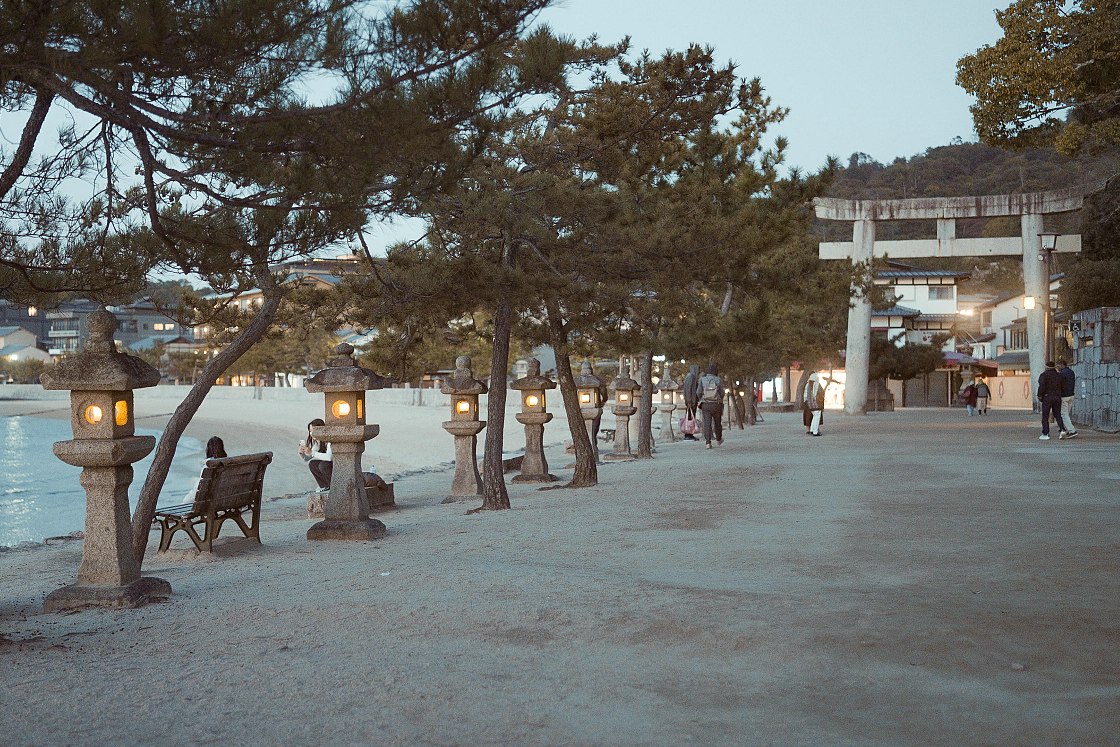 Back at the hotel, it was at last time for dinner, served in the same spectacular suite room. On the menu was a beautifully presented kaiseki course meal combining subtle flavors with poetic seasonal references, all thoughtfully explained by staff in English.
From appetizer to dessert, each new little plate had something wonderful to reveal, but two especially memorable touches were the bitesize piece of conger eel, feathered with dried bonito to represent spring snow, or the delicate slices of steamed flathead served in a rich pea soup.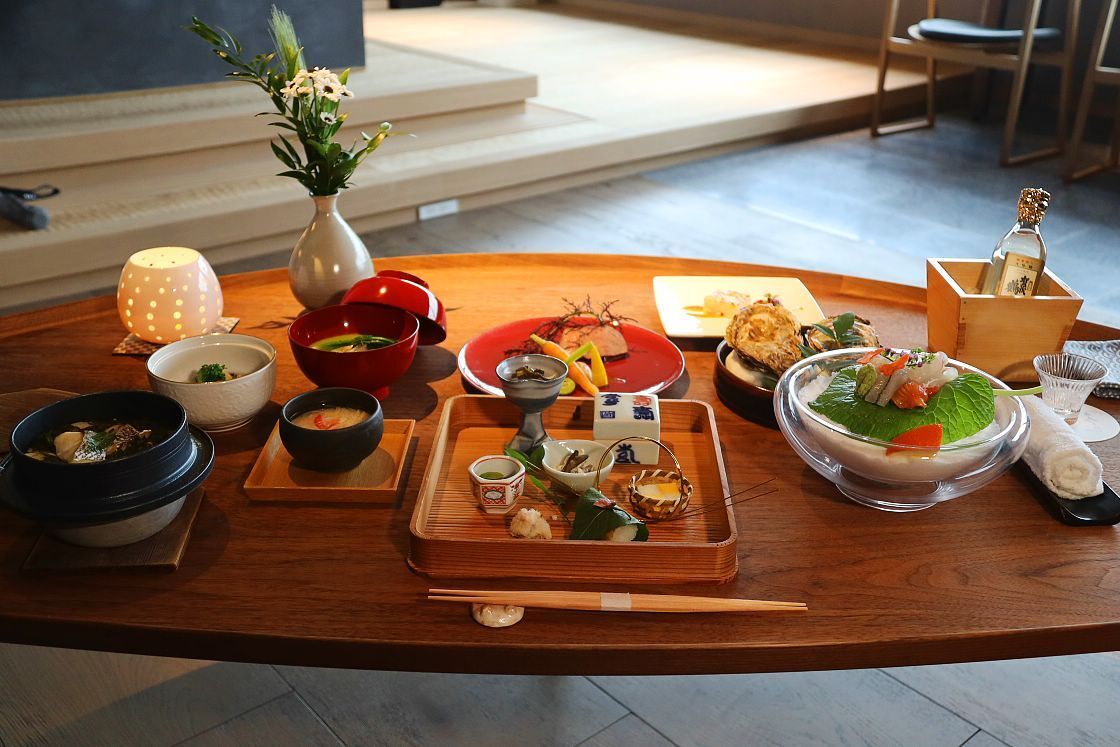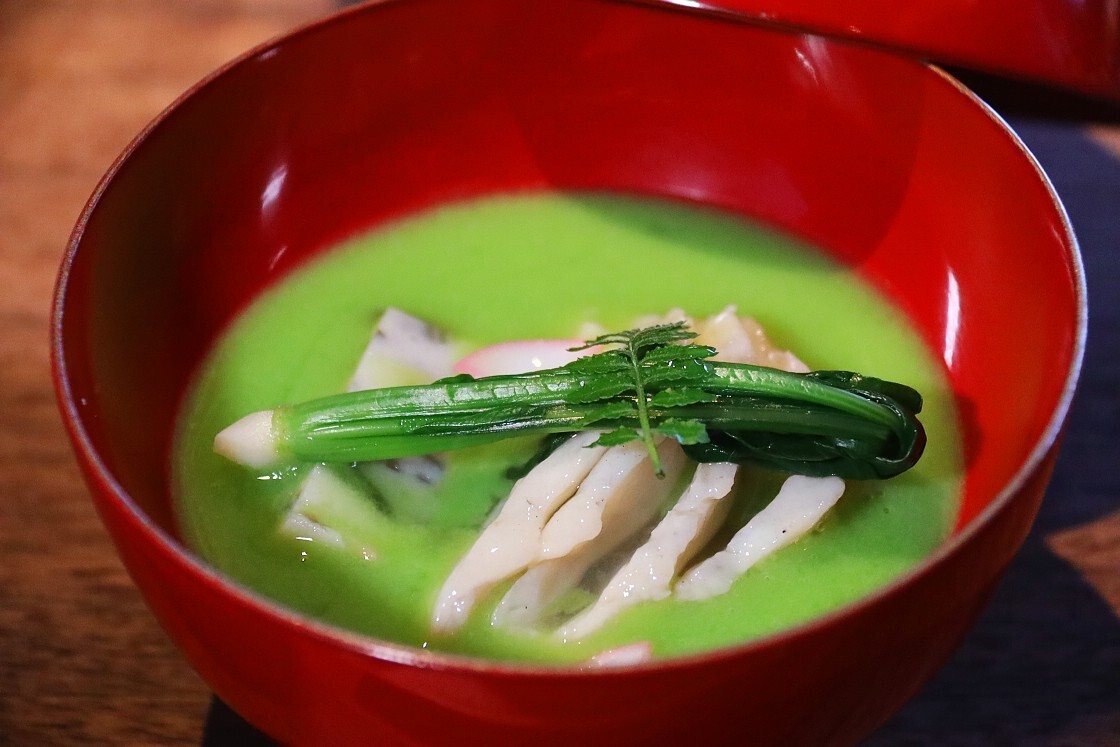 By now the day's busy itinerary was beginning to catch up on me, but there was still time for one last highlight - a visit to the Iroha's sleekly designed public baths on the top floor, including an open air rotenburo bath which somehow offered a sweeping view of the nearby shoreline while still feeling completely hidden and secluded.
Day 3
My final day in Hiroshima began with an early start and a traditional style breakfast, served in a spacious dining room on the second floor with big bay windows to better appreciate the dawn light.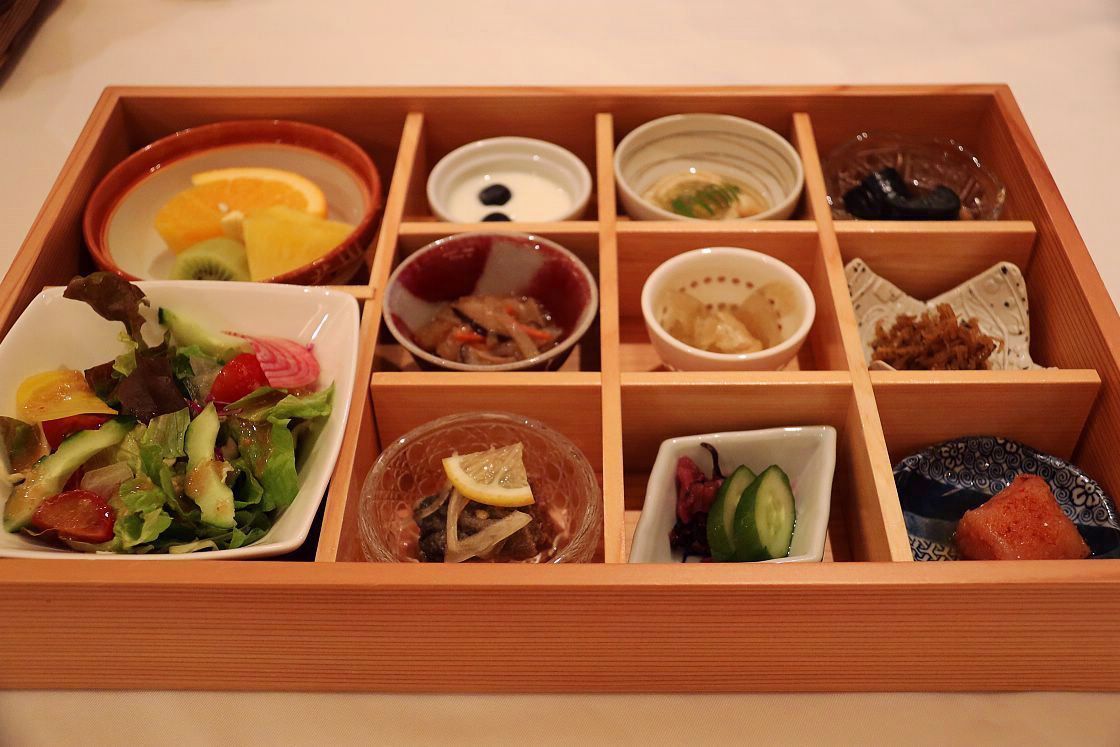 Although not naturally an early riser, I was especially excited for today's first experience - taking part in a very special ceremony at nearby Daisho-in Temple. One of the most important temples belonging to the Shingon sect of Buddhism, the complex is said to date as far back as 806, following a period of seclusion on nearby Mount Misen by the legendary monk and founder of Shingon, Kukai.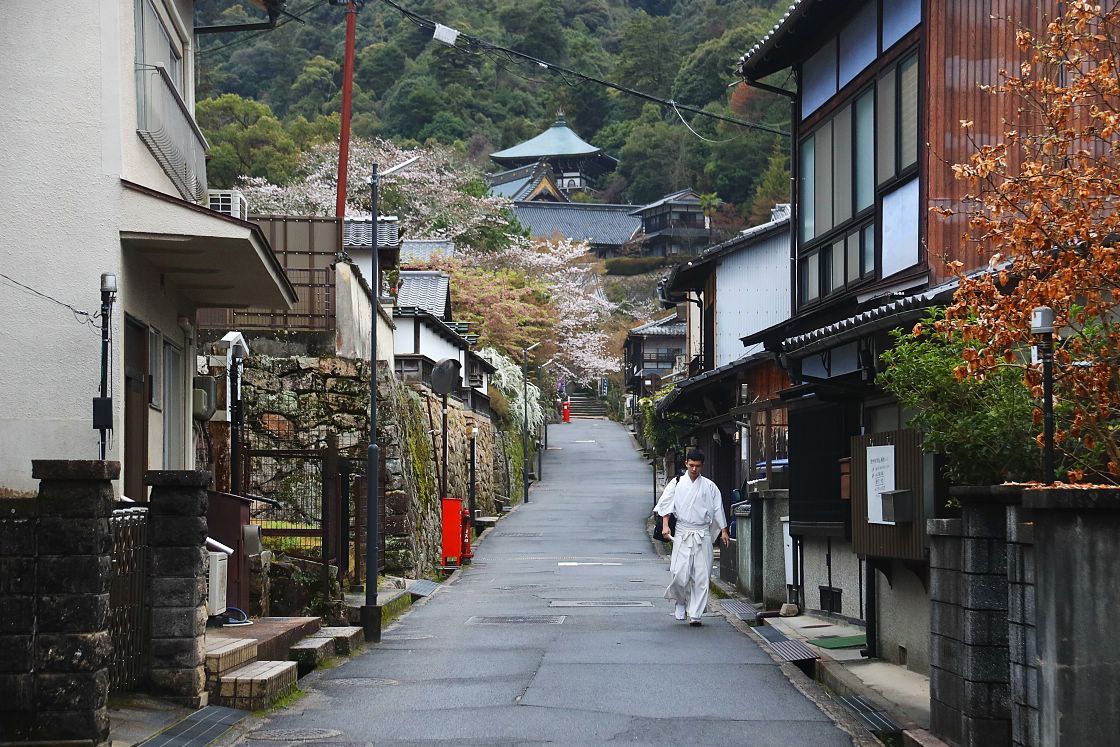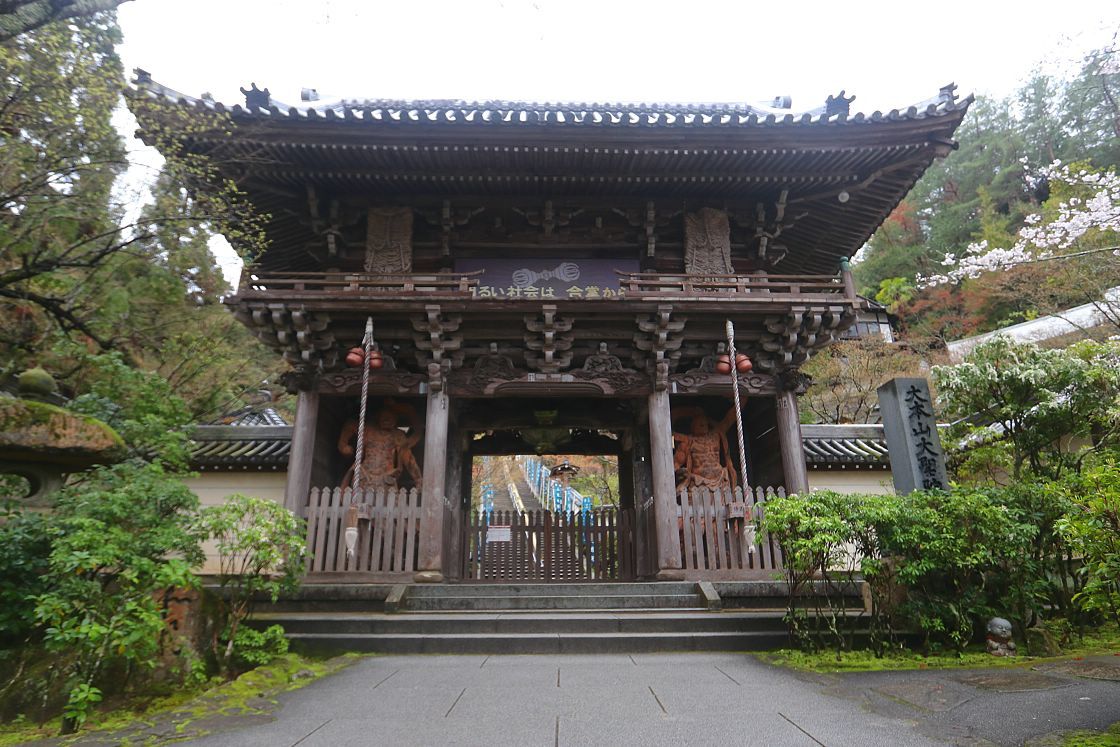 Today, it comprises a series of beautifully decorated buildings, set in spacious, leafy grounds and surrounded by a dazzling array of Buddhist statues and iconography.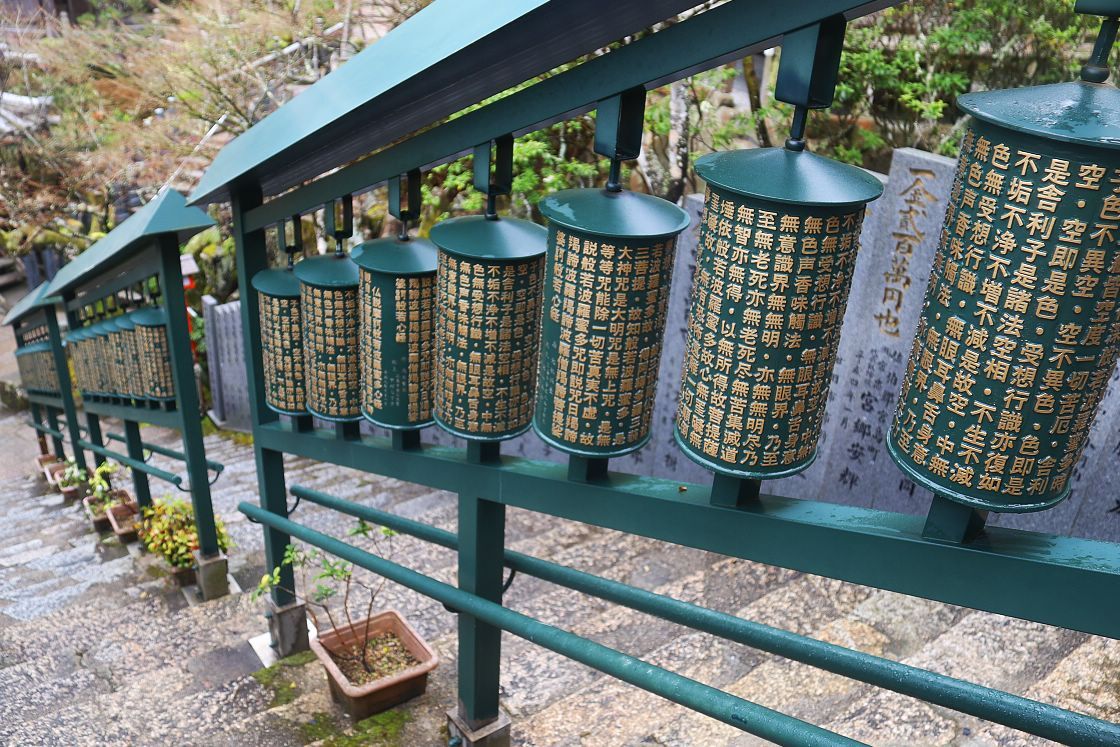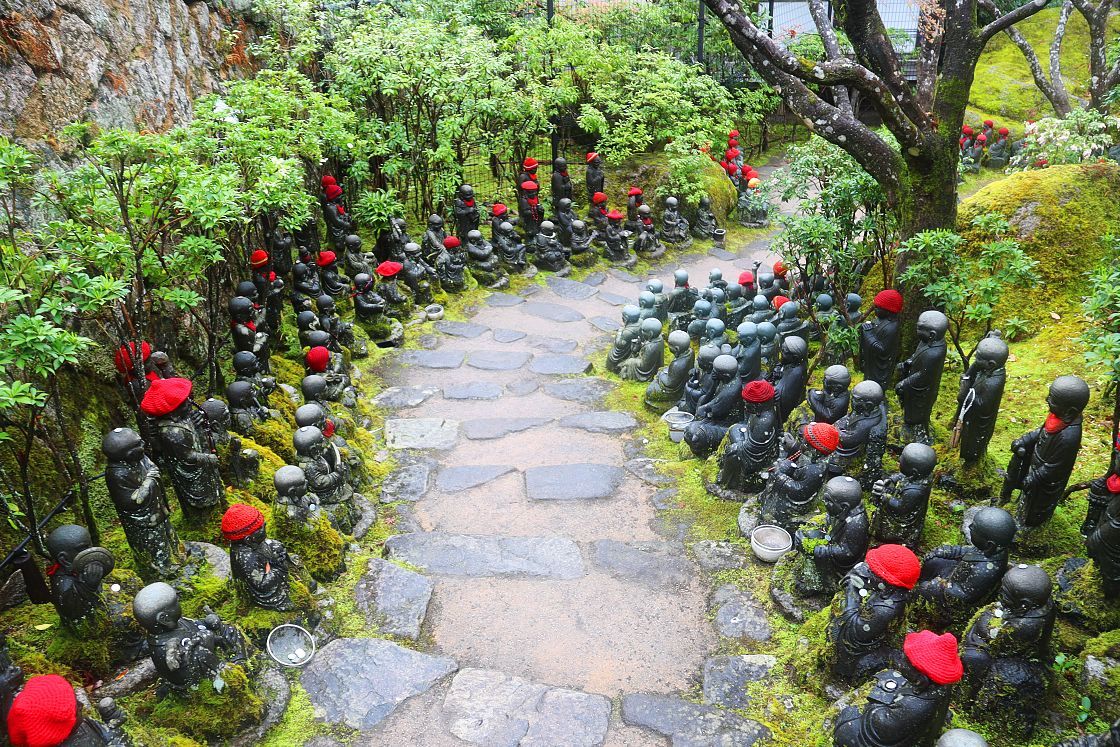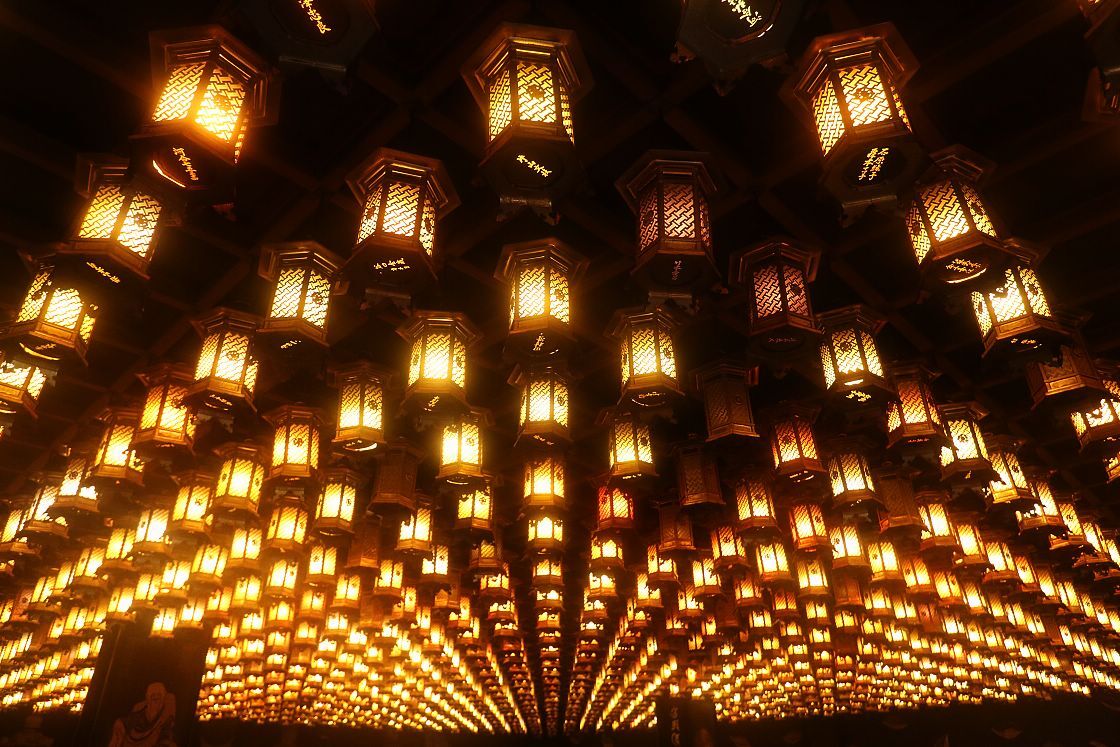 I was here to witness Goma Gyo - a practice unique to esoteric schools of Buddhism in which wooden sticks representing onefs hopes or desires are ritually burnt, cleansing the self of desire while invoking divine aid or protection. This was to take place at the Imperial Prayer Hall, a special building dedicated to the fierce deity, Fudo Myo-o.
Despite his frightening appearance - typically shown wreathed in flame, a sword in one hand and length of rope in the other - Fudo Myo-o is in fact a benevolent figure, charged with destroying evil and protecting Buddhist law.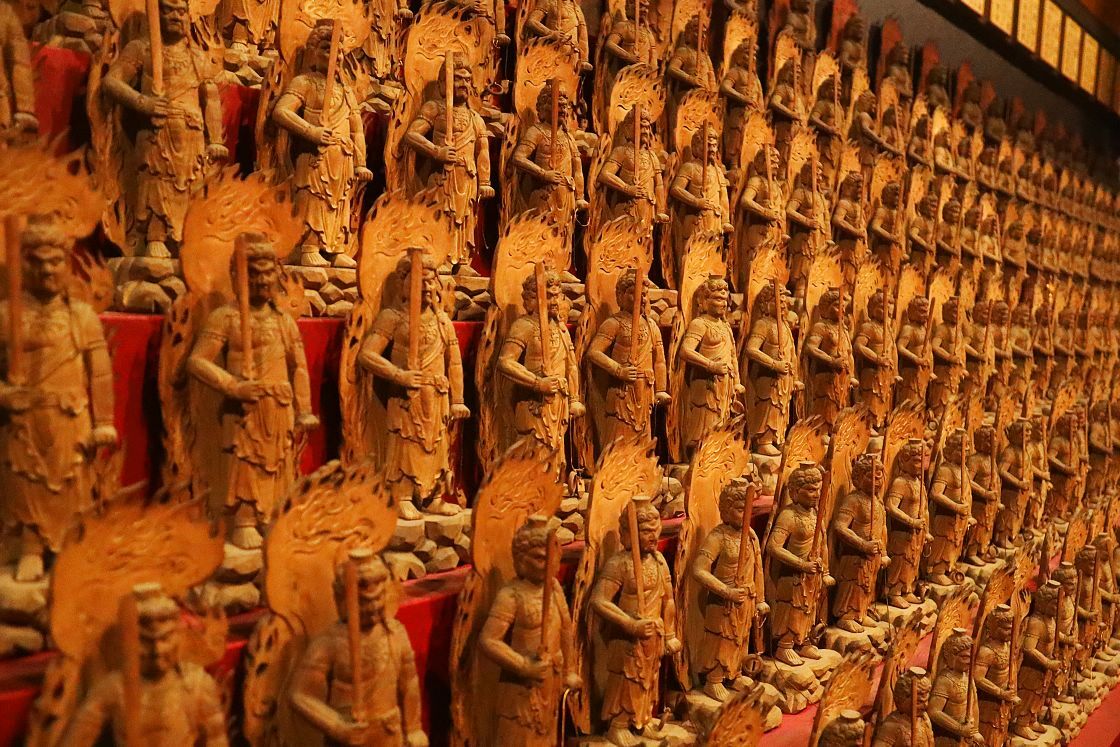 Before we could begin, I first had to choose from a selection of wooden prayer sticks - these come pre-dedicated to a particular benefit, like success in an exam or safety on a journey. I opted for the more general 'success with a personal goal'. After writing my name and address in rather wobbly Japanese, I took my place beside a monk at an impressive altar, set before a single life-size statue of Fudo and decked with esoteric ornaments.
In a few moments, the monk began the ritual by touching a fire to a stack of prayer sticks arranged neatly at the center of the altar. Soon, flames were leaping up towards the soot-stained rafters, and the sound of rhythmic chanting filled the room - a feast for the senses that soon put me in a meditative, almost trancelike state. Quite unlike anything I had seen before, I found it a deeply atmospheric, even moving experience and would recommend it to anyone with an interest in Buddhism.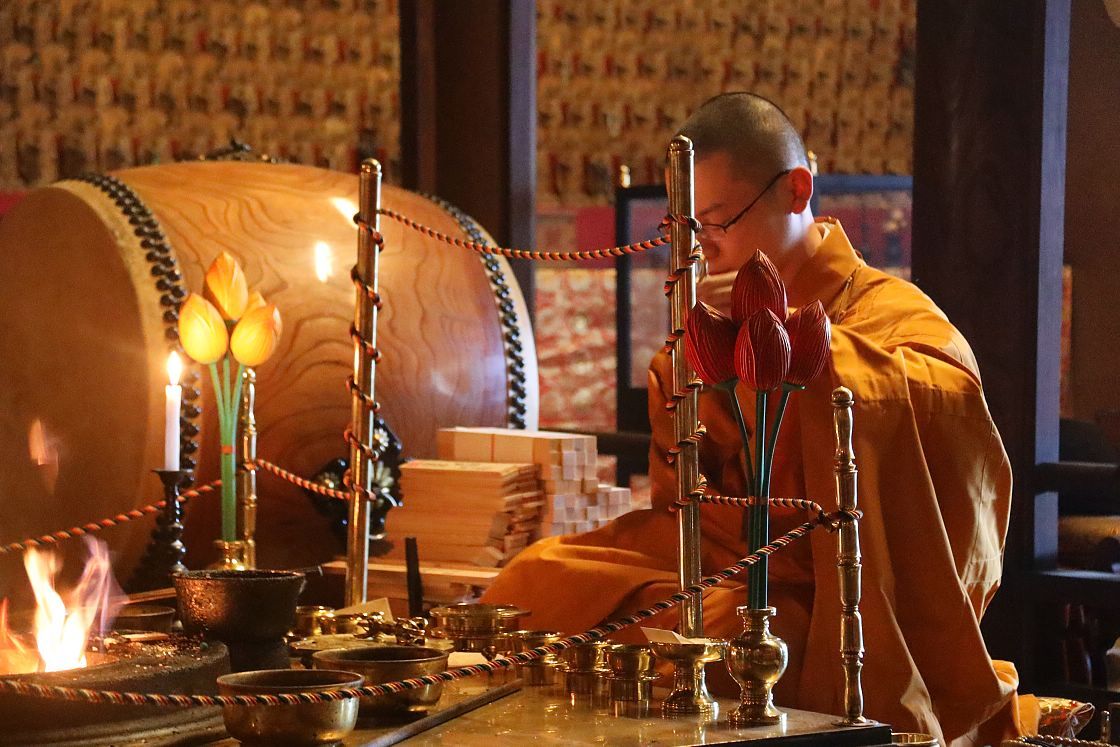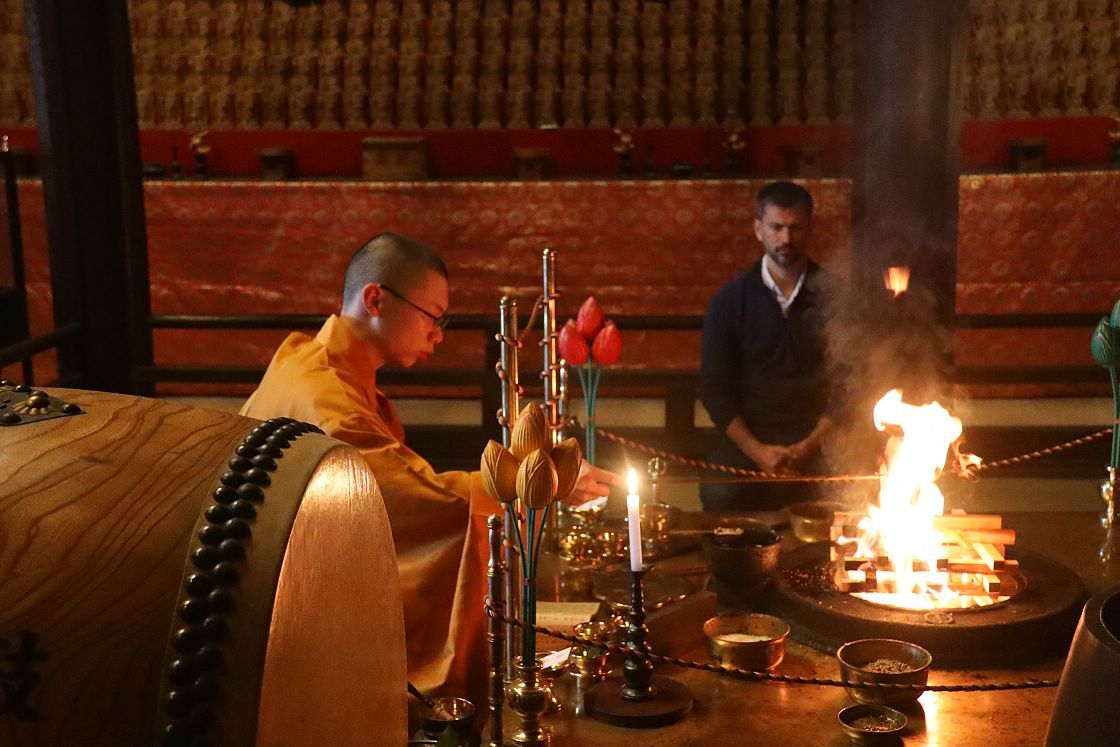 With a bit of time to spare before my ferry back to the mainland, I went for a final stroll on the island to check out some of the nearby landmarks. Despite its modest appearance, one of my favorites is the shrine to Taira Kiyomori, located just a stonefs throw to the west of the famous floating torii gate.
Built on the 770th anniversary of his death in 1954, the little shrine is dedicated to the 12th century warlord who built Itsukushima Shrine in its current form. With territories surrounding the Seto Inland Sea, the Taira Clan were for a while the dominant force in Japan until their violent overthrow at the hands of a rival family - a story well known in Japan from the epic war chronicle Heike Monogatari (tale of the Heike). Kiyomori remains a revered figure in Hiroshima, and the subject of a popular festival in March.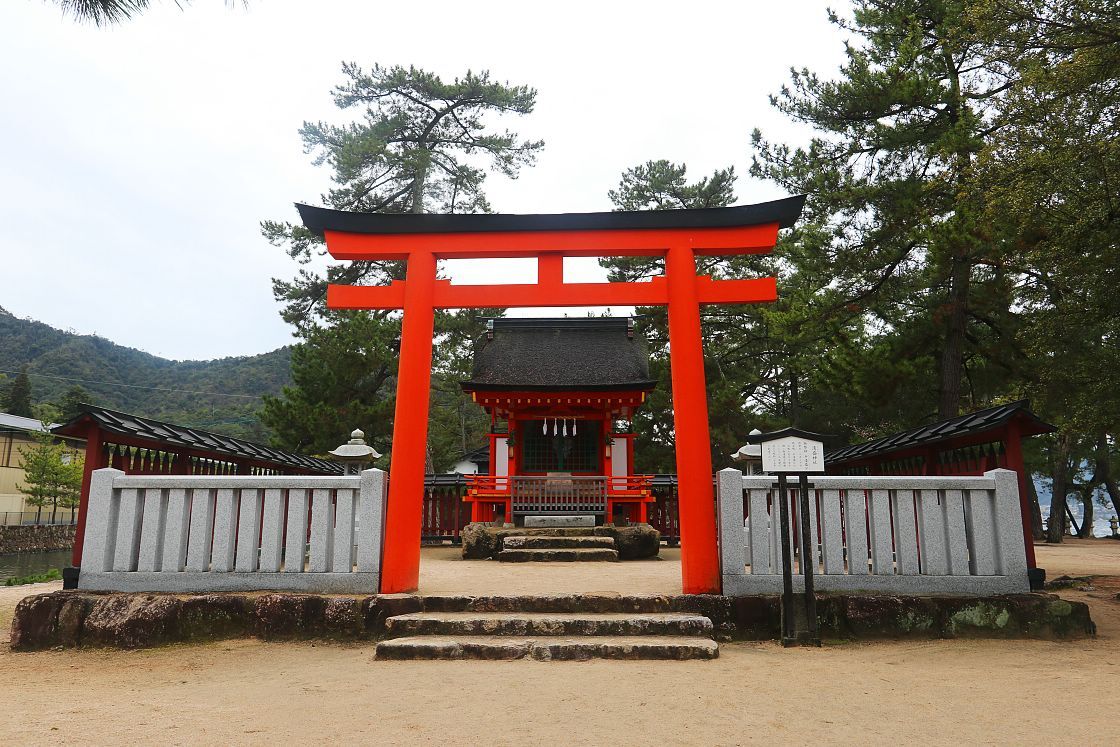 With my time on the island drawing to a close, it was time to retrace my steps to the port and board a fast boat bound for Hiroshima City - a 45 minute journey that would take me northwest across Hiroshima Bay, before turning up the Motoyasu River to my next stop, the Hiroshima Peace Memorial Park.
The first thing I noticed as the boat neared its mooring in the city center was the so-called A-Bomb Dome, its eerie skeletonized form looming down from the riverbank. Formerly the Prefectural Industrial Promotion Hall, the building somehow remained standing in the wake of the devastating atomic blast that struck the city on August 6, 1945, and has been preserved exactly as it was in the aftermath as a powerful reminder of the events of that day.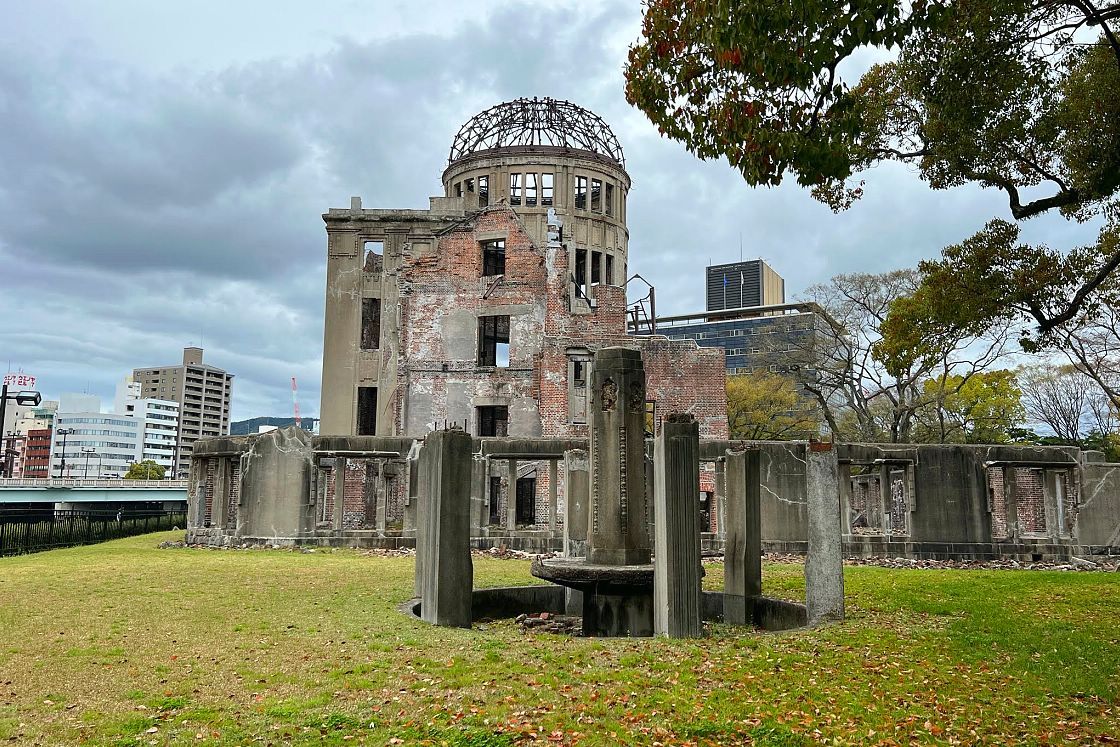 A short walk to the south on the opposite bank is the similarly affecting Childrenfs Peace Monument - an elongated, tripedal dome on which a little girl stands holding aloft a folded origami crane expressing the hope for a world free of nuclear weapons. The girl herself is 12 year old Sasaki Sadako - aged just two when the bomb struck - who would later succumb to the effects of the radiation ten years later. Sadako would become emblematic of a generation of survivors forced to live with the consequences of the blast, but also gave the city a powerful symbol of hope in the thousand cranes she folded before her death.
Time was running short, but I wanted to make one last stop here to pay my respects at the Flame of Peace. Designed by the renowned architect Tange Kenzo, this second monument takes the form of two upraised palms supporting a flame taken from the embers of the blast and kept burning to this day in protest of the continued existence of atomic weapons.
Located just across the street from the A-Bomb Dome, my second to last stop in Hiroshima was at HIROSHIMA ORIZURU TOWER. In addition to a souvenir shop and cafe, this 14-story building boasts an attractively designed rooftop observation deck, making it by far the best spot to enjoy commanding views of the city center and beyond.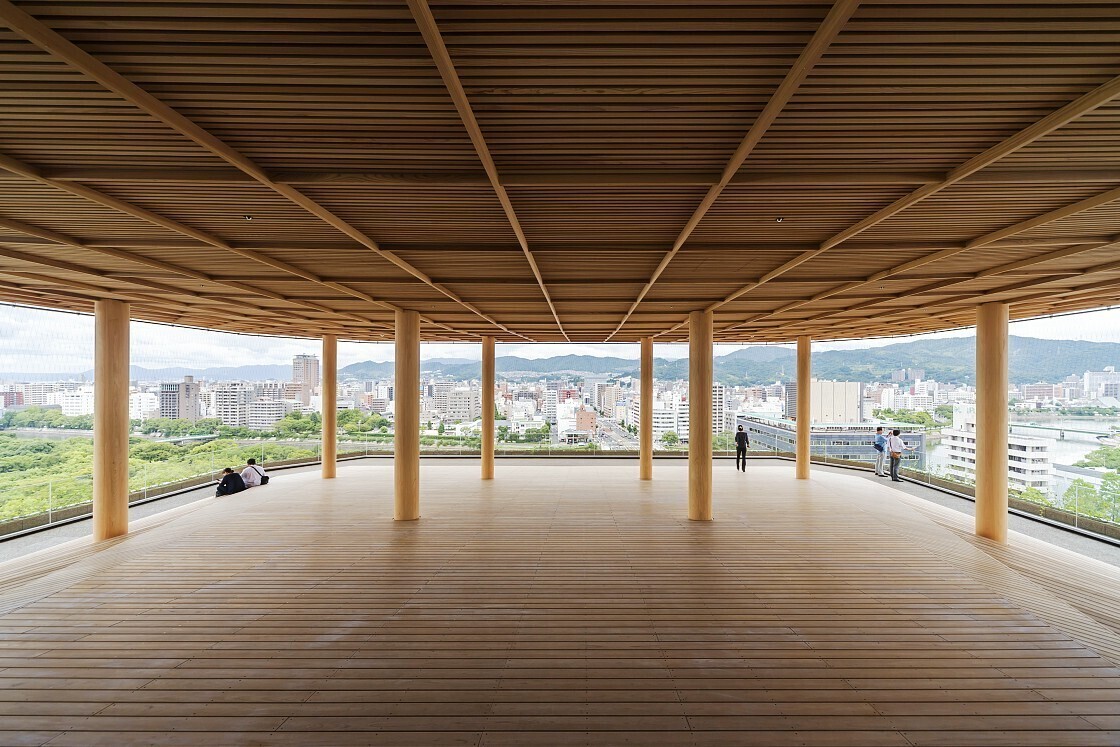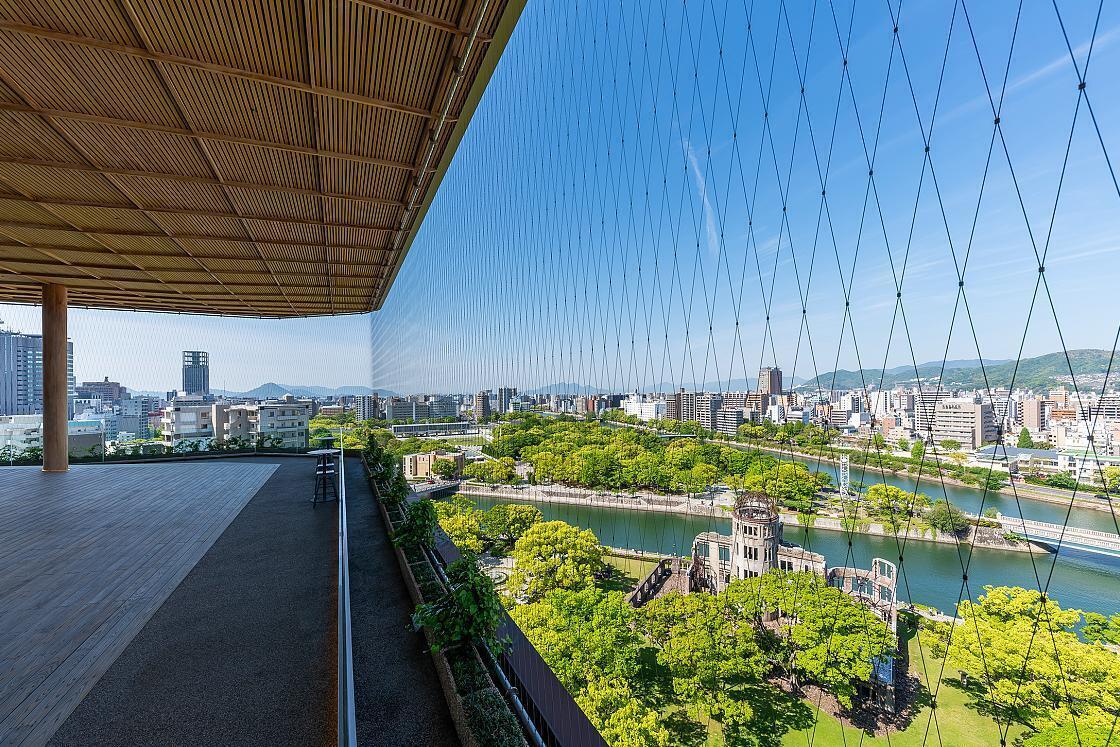 After taking some time to enjoy the scenery, I made my way down to the next level - a bright, airy event space with a number of interactive attractions. Here, with the help of a step-by-step video guide, I learnt how to create my own origami crane before dropping it into the giant glass enclosure forming part of the building's outer wall. The idea behind it is that by participating, visitors will gradually fill it creating a giant, colorful display representing the hope for peace.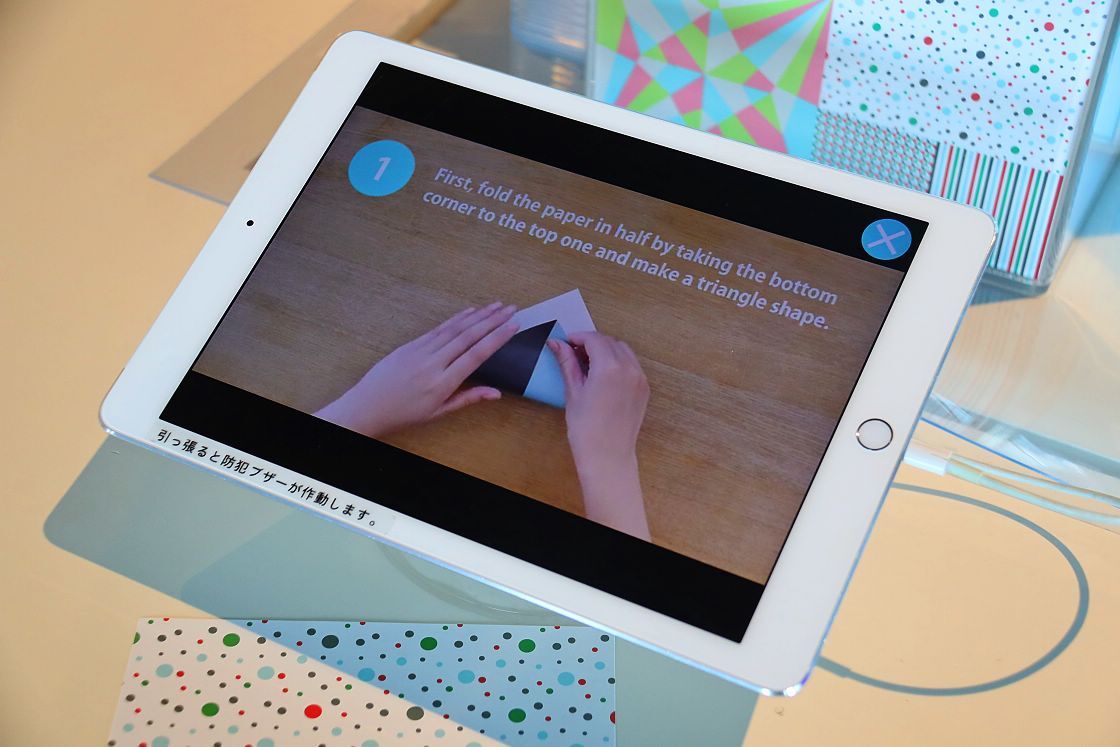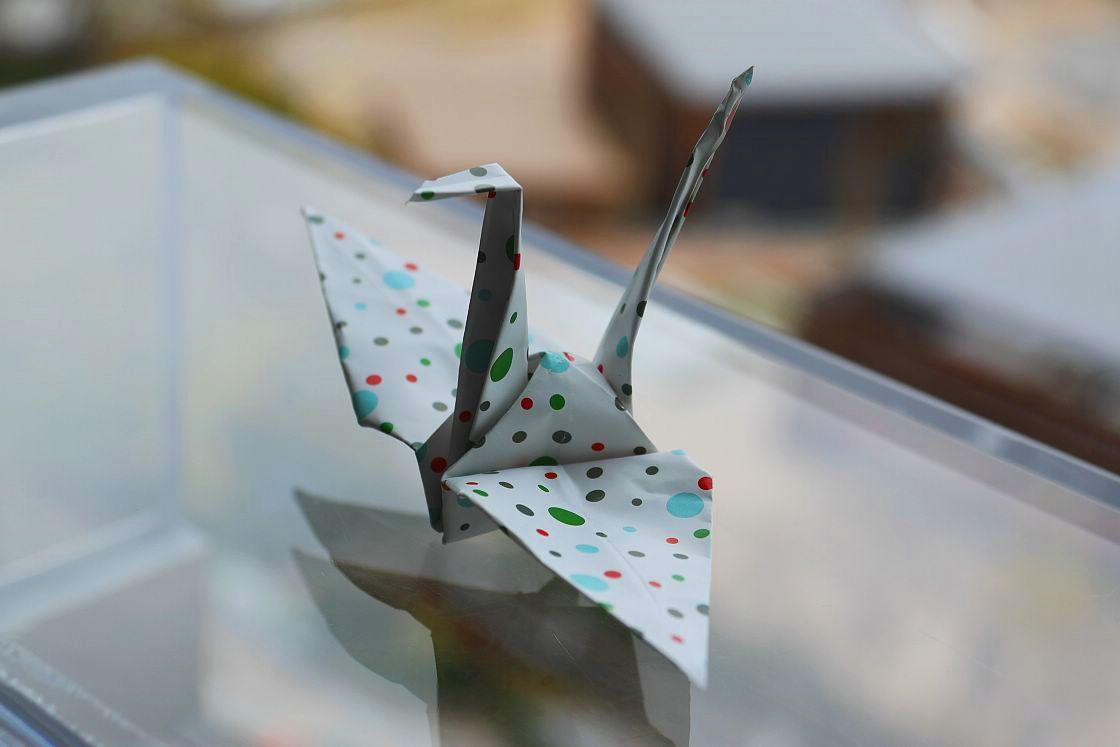 Another visual highlight can be found on the sloping, open-air ramp running all the way from the building's ground floor to the observation deck, where each story bears its own large-scale, vibrantly colored mural by a different artist with strong ties to Hiroshima.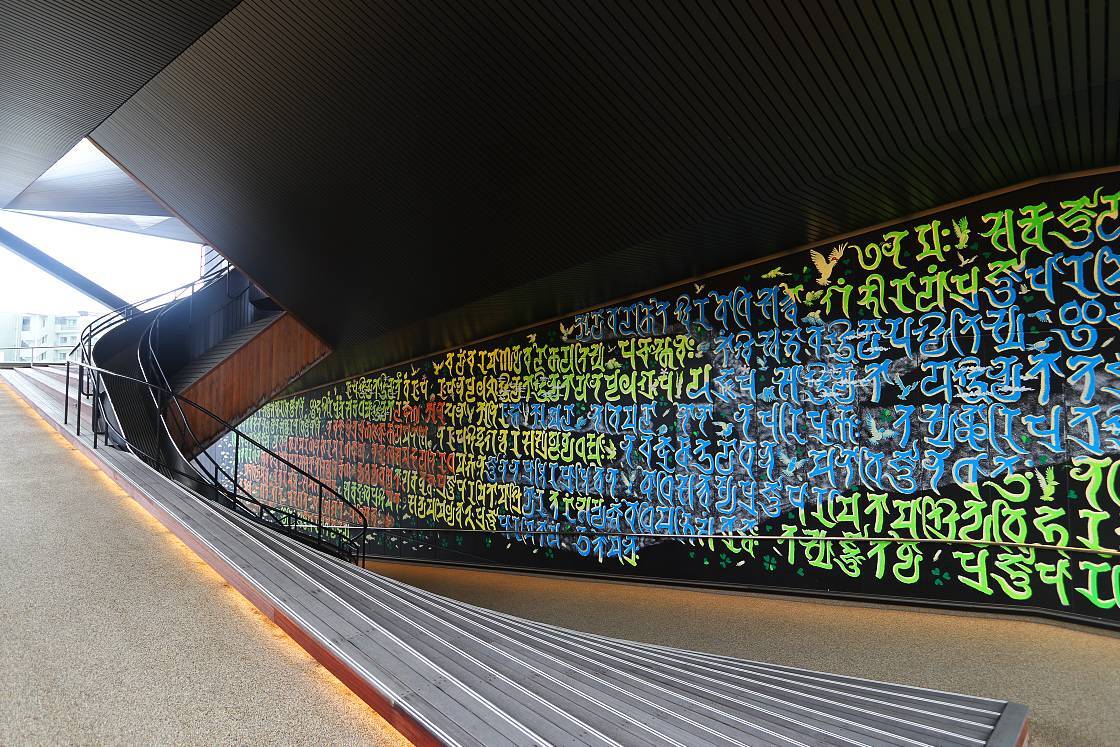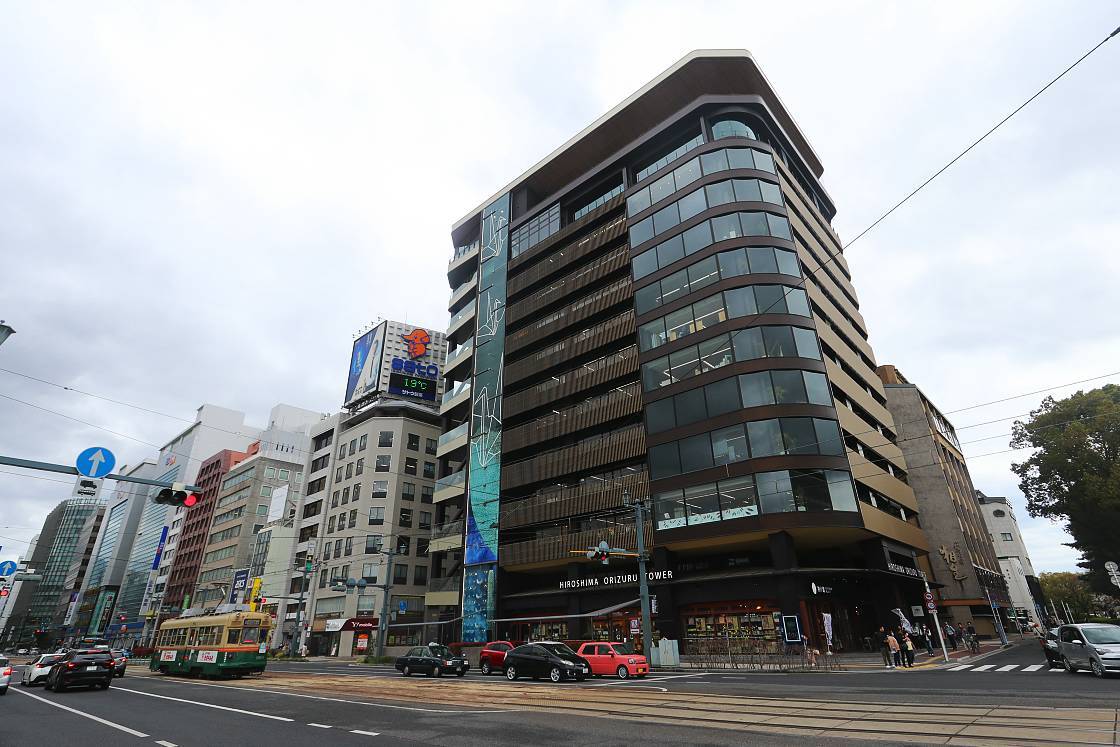 Back at ground level, my time in Hiroshima was almost over but it would have been remiss of me to leave without sampling the famous local take on okonomiyaki - often described as a kind of savory pancake made with batter, cabbage and one's own choice of extras. Here, batter is reduced to two thin layers, sandwiching a filling bulked up with soba noodles and egg.
With this in mind, I made a final stop at Hassei, a simple hole-in-the-wall style restaurant located just ten minutes' drive down Hiroshimafs main Peace Boulevard. Despite its unpretentious look, Hassei is consistently one of the best reviewed restaurants in the city due to its extraordinary flexibility - its owner, Harada-san, takes great care to stock alternative ingredients, allowing him to cater to every imaginable dietary or religious requirement from halal to gluten-free.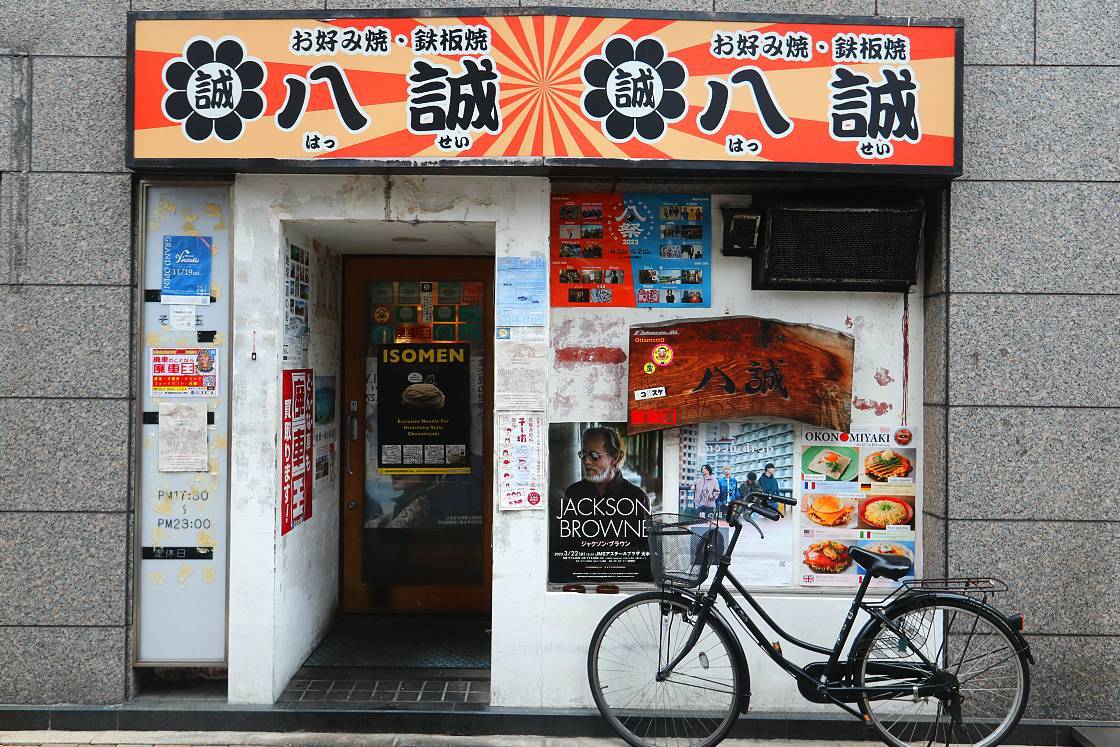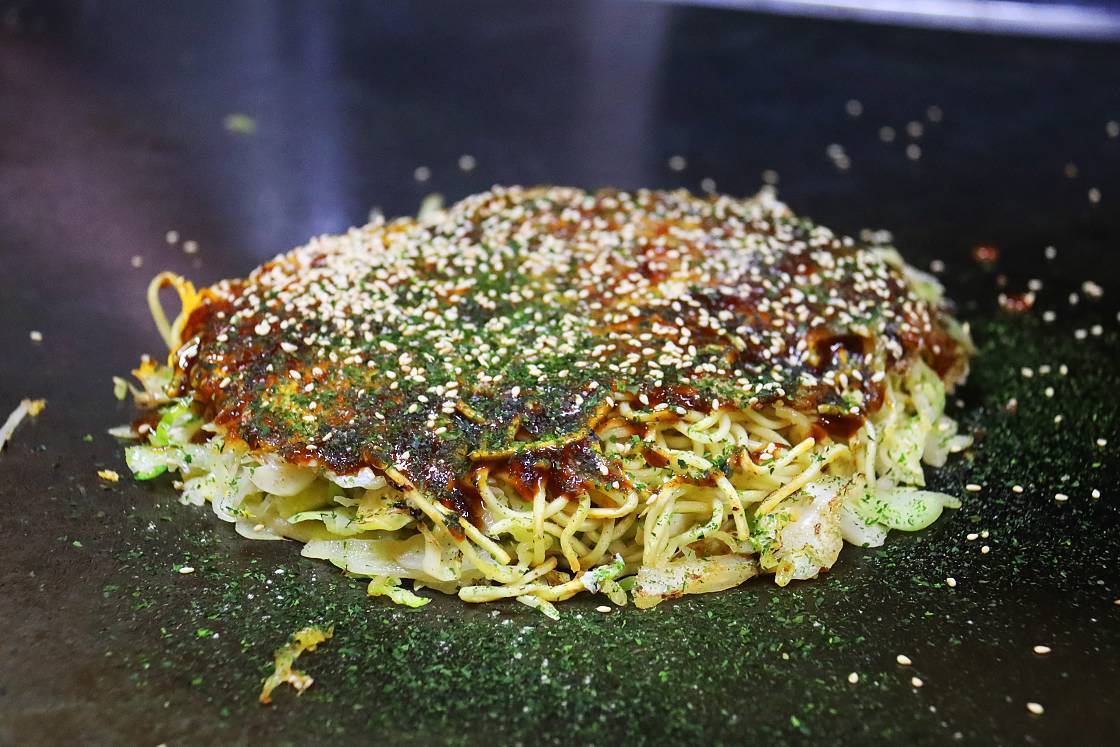 Belly full of okonomiyaki, it was at last time to say goodbye to Hiroshima city and make my way back to the airport. It had been a wonderful three days - packed so full of delicious food, beautiful scenery and new experiences that it would take some time for me to fully absorb. I was entirely convinced however, that a typical overnight visit to Hiroshima and its surroundings could never be enough to do it justice, and even after three days I was already wondering what my next visit would look like.
Discover More