Upopoy - the best place to experience Ainu culture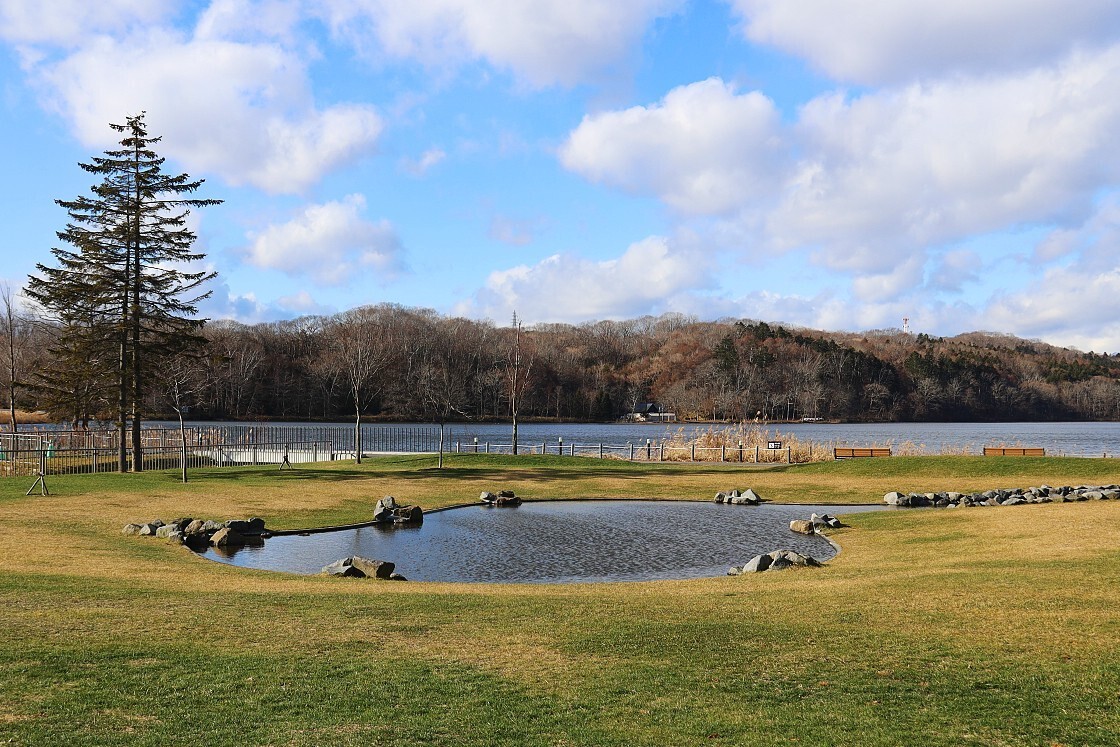 Matt Evans Staff Writer,
japan-guide.com
As a country known all too often for its ethnic and cultural homogeneity, it can sometimes come as a surprise to visitors to Japan that an indigenous population with its own distinct identity and culture can still be found within its borders.
Native to Hokkaido - today the second-largest of Japan's islands - the Ainu are believed to descend from the Jomon People who were among Japan's earliest inhabitants. While some Ainu left the island, settling throughout the Sea of Okhotsk as well as in Japan's Tohoku region, the core population remained on Hokkaido, living a hunter-gatherer lifestyle in village-sized communities known as kotan.
Evidence of contact between the Ainu and Japanese can be found from as early as the 13th century, with a trade-based relationship growing closer and more profitable over time. Sadly, cooperation between the two peoples gave way to widespread exploitation and even forced integration when Japan took control of Hokkaido at the turn of the 19th century. For a long time the Ainu were best known as perhaps the prime example of a vanishing culture. Thankfully however, this sad picture began to change in 1997 when the much-criticized Ainu Protection Act of 1899 was finally repealed, signaling a broader shift in Japanese public opinion.
Since then, another significant step forward was taken in 2020, with the construction of the Upopoy National Ainu Museum and Park - Japan's northernmost national museum, dedicated to the preservation of Ainu culture and taking its name from an Ainu word meaning to sing together in a large group. To find out more, I was very excited to get the chance to visit the museum as part of a recent two-day trip.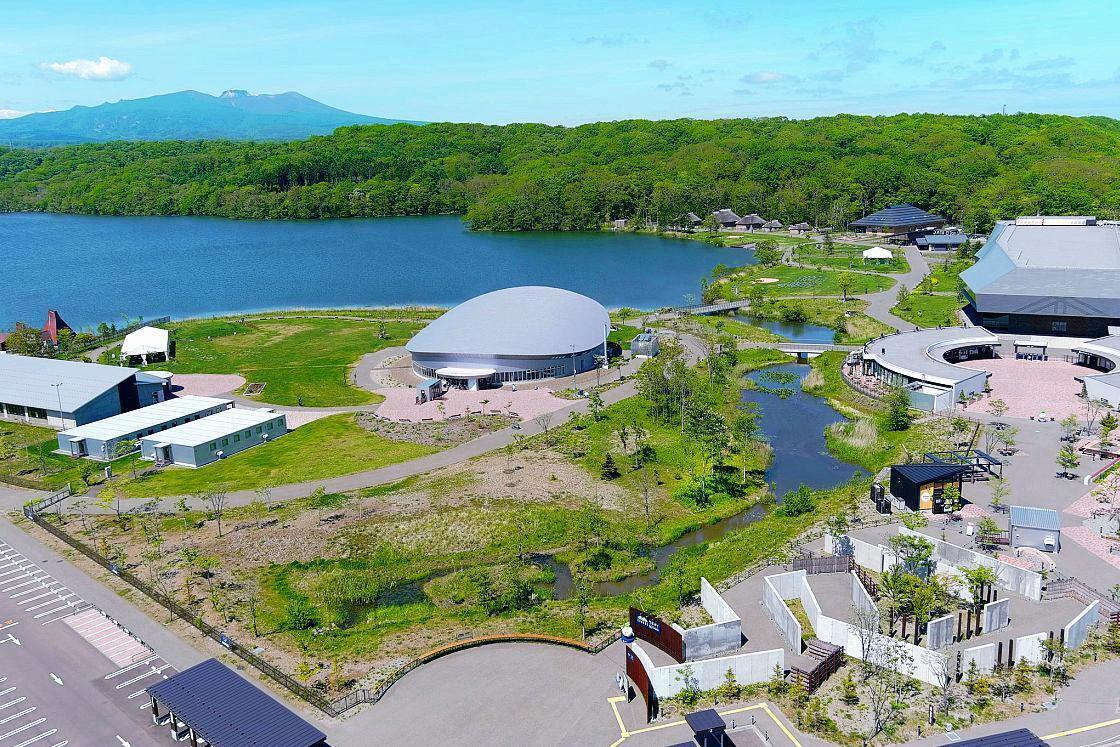 Setting off from Tokyo Haneda, a flight of about 90 minutes brought me to New Chitose Airport, a little to the southeast of Sapporo. From here, it was just a 40-minute ride on local, then limited express trains to the small coastal town of Shiraoi. Said to mean a place of many horseflies, Shiraoi was once the site of a large Ainu settlement and is still home to many people of Ainu descent. Upopoy is set in picturesque grounds at the shore of Lake Poroto, where mountain ridges meet the built-up area of the town.
Arriving at the main entrance, visitors are first led along an attractively designed outdoor gcorridorh with woodland scenes, emerging into an open square with a shop, cafe, and restaurant. By now it was lunchtime, so I decided to make a stop to try some food inspired by traditional Ainu cuisine.
Taking its name from a phrase used to give thanks for the blessing of food, Haru Ran Na is an attractive dining space built around local meats and vegetables roasted in traditional fashion over an open fire. My meal here turned out to be really quite spectacular - generous serving of Hokkaido venison with a colorful salad and sauces made from local herbs. This was soon followed with an equally delicious Catalan cream pudding topped with caramelized pear.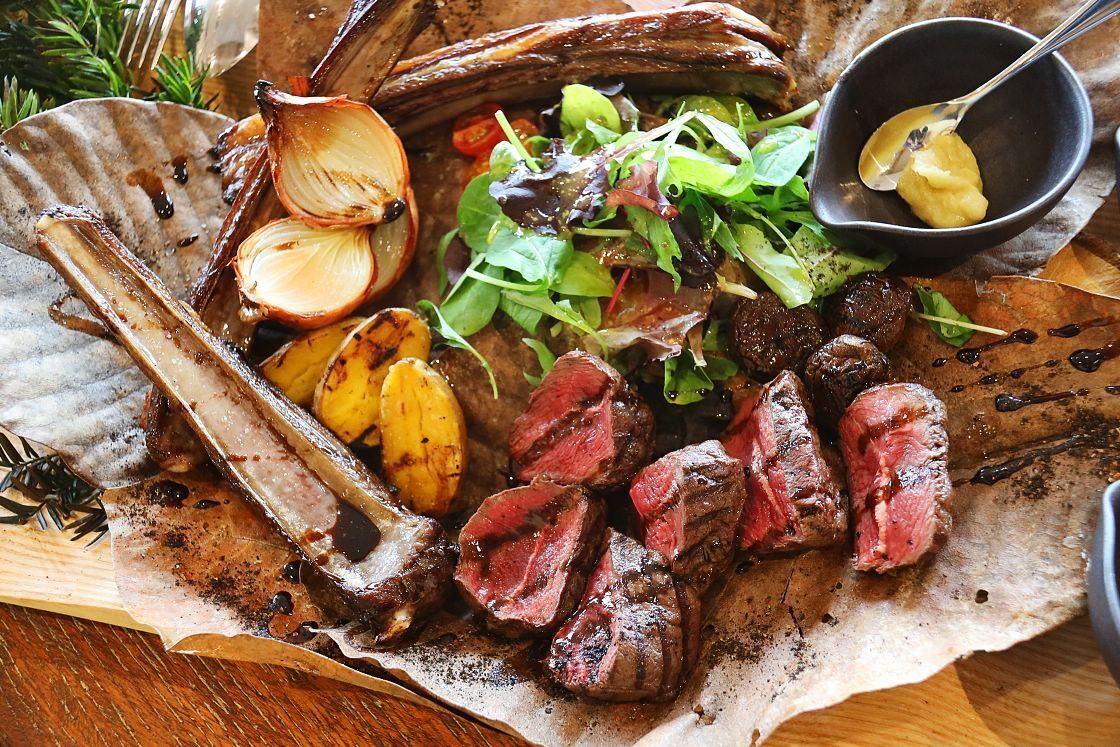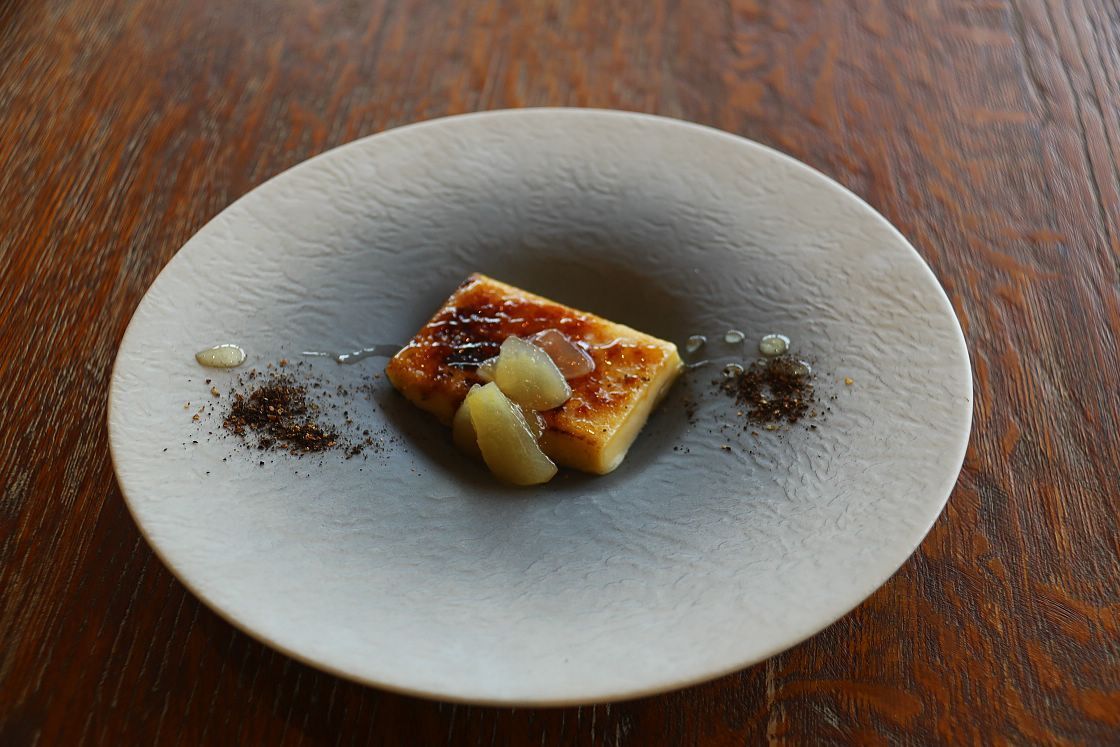 After an incredible meal, it was time to make my way inside the museum itself. The brainchild of Tokyo-based architect Kume Sekkei, the structure cleverly incorporates traditional Ainu symbolism into a bold, modern design - from intricate wooden lattice work surrounding the entrance to strips of titanium cladding reflecting the sky and surrounding landscape.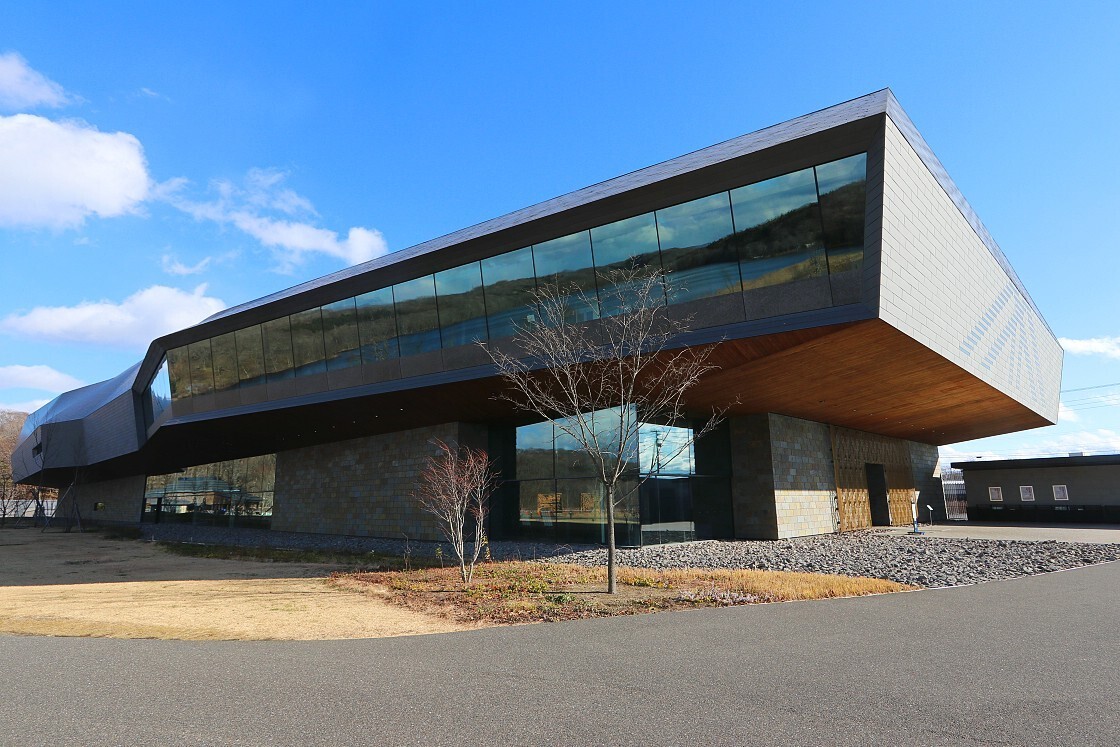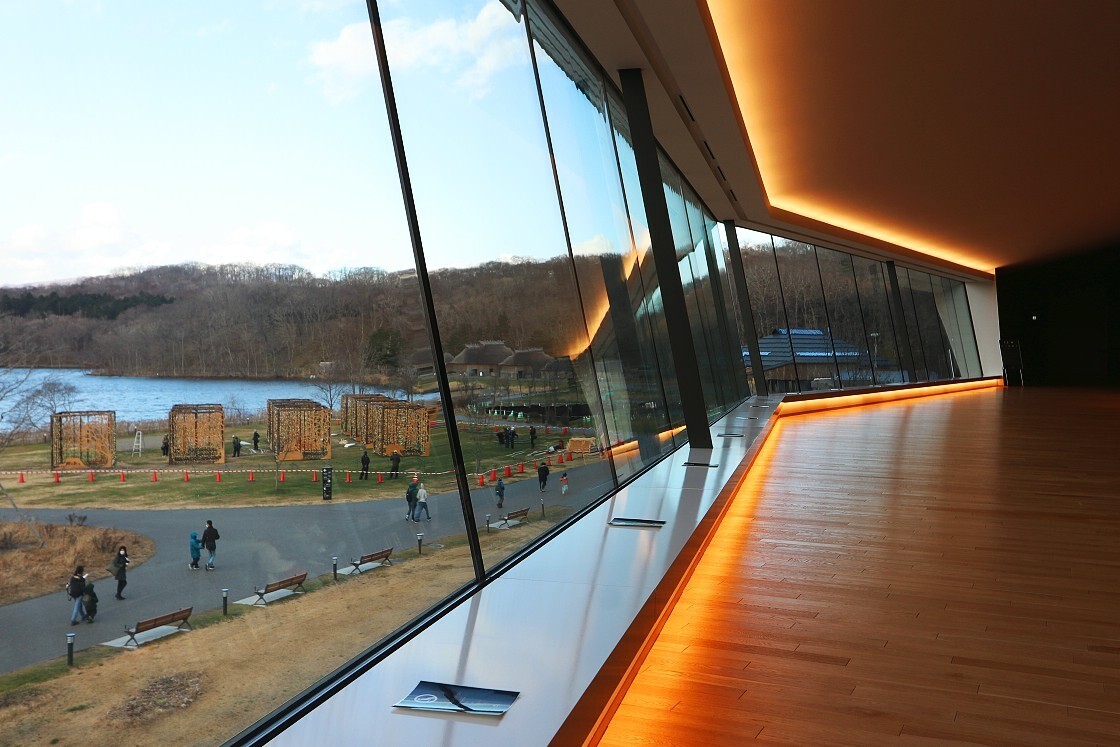 Inside the museum's large and open-plan exhibition room, I was greeted with rows of beautifully-presented exhibits arranged without a set order, allowing visitors to follow their noses. For me, this organic approach was a real delight, especially with so many eye-catching and instantly fascinating pieces on display.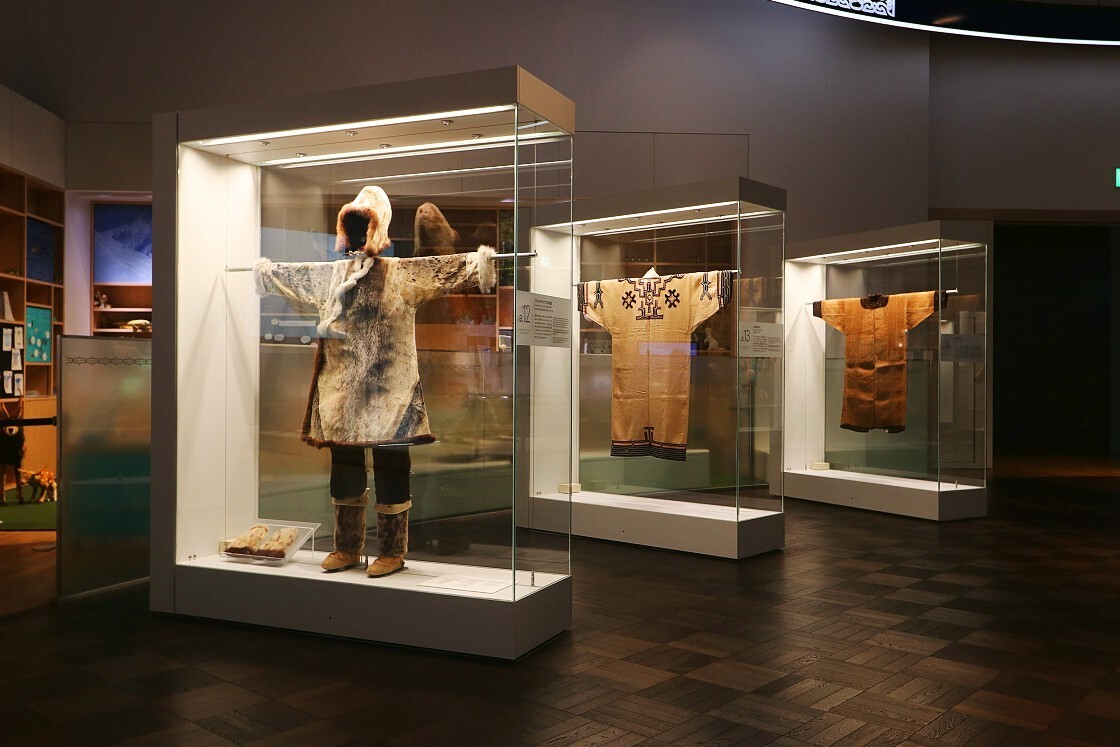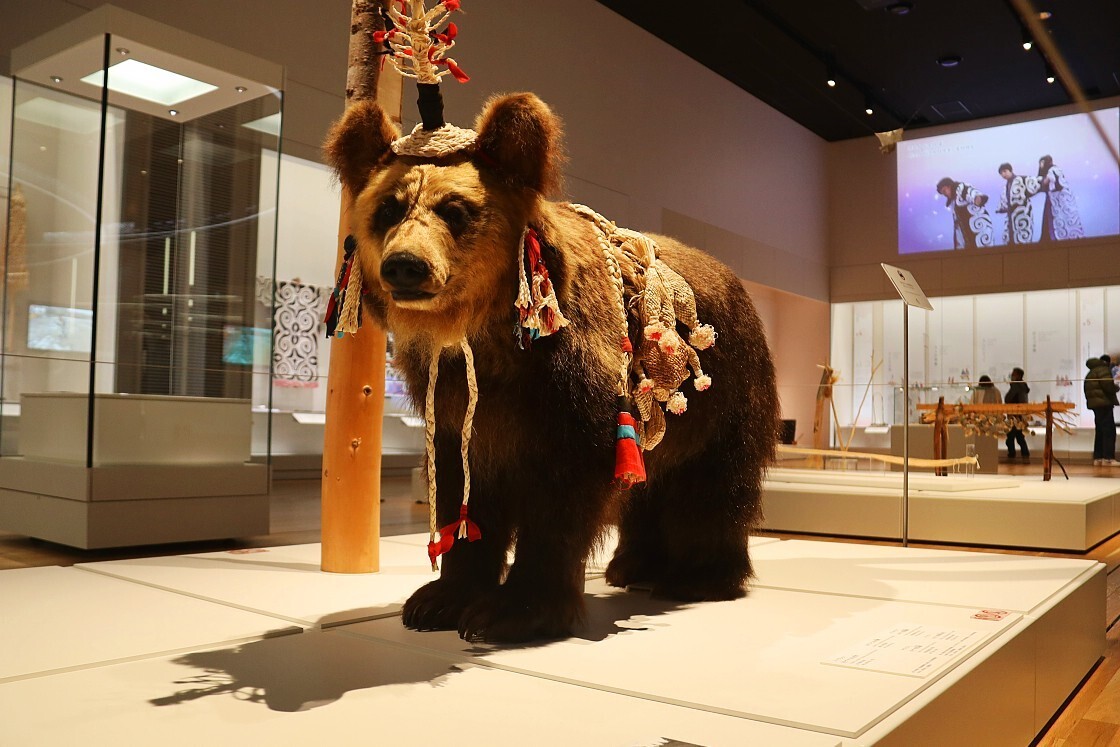 Especially striking were the many weapons and other assorted hand tools, everything beautifully handcrafted and presenting its own small glimmer of insight into the Ainu lifestyle. To judge from this collection, no item was too insignificant or surface too tiny to embellish with fantastically detailed and precise carvings, or flashes of vivid color.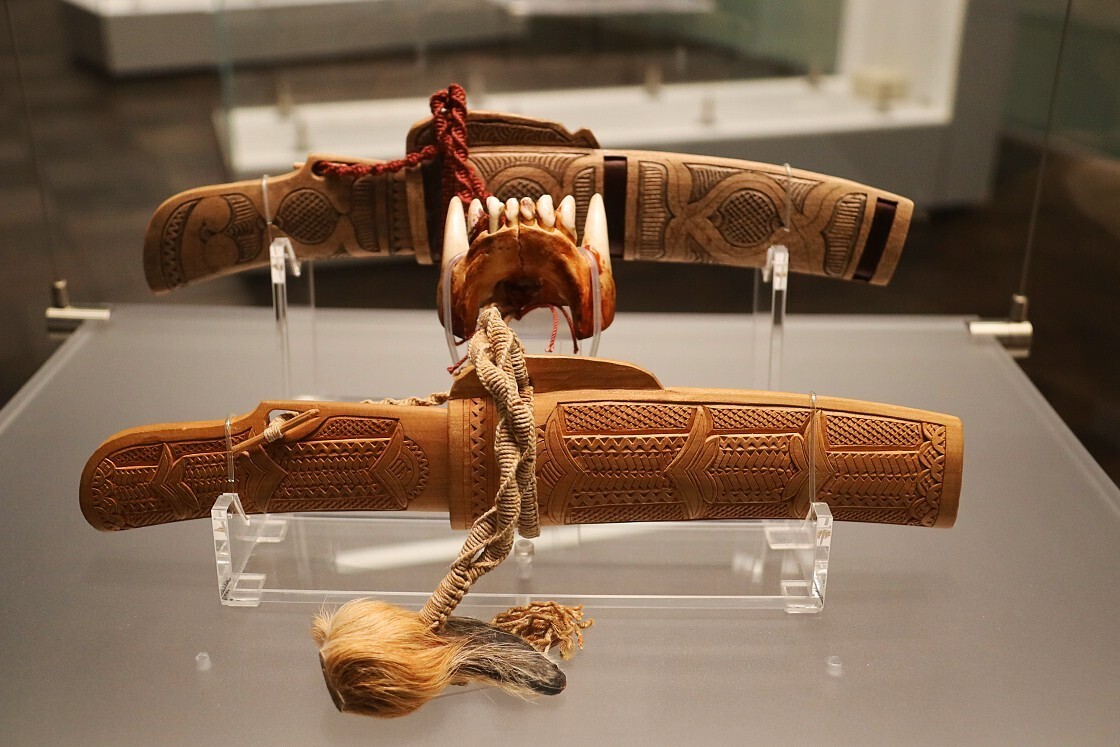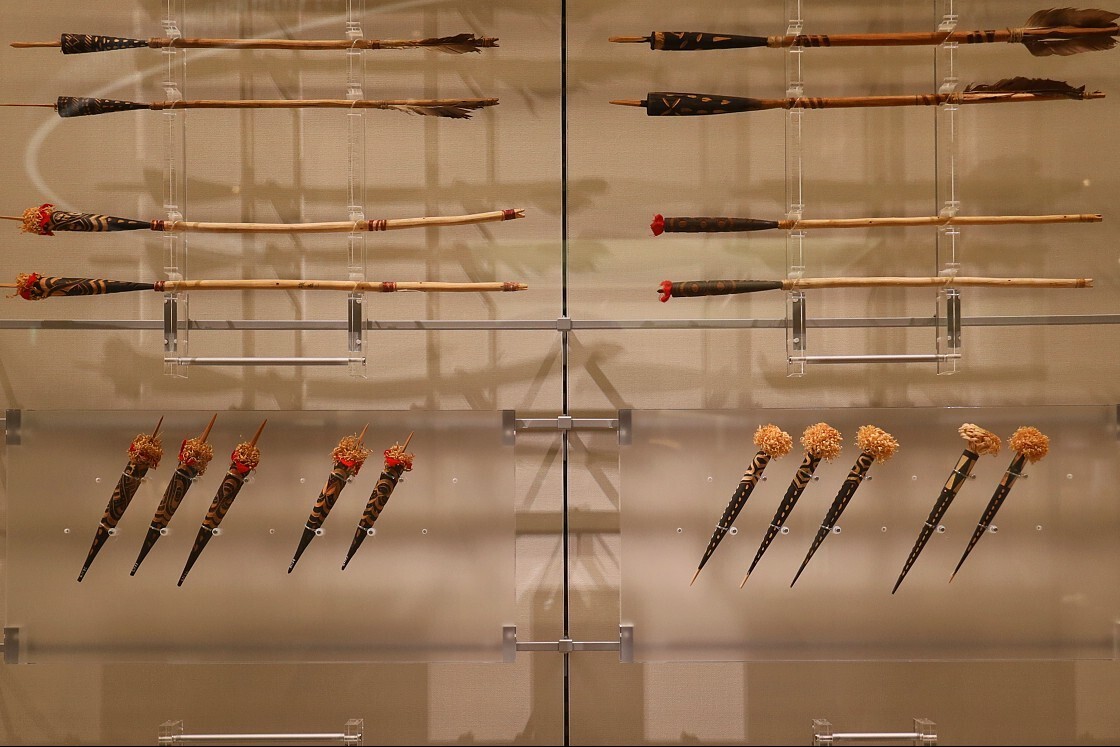 Many of the items on display can be handled, adding to the impressive overall sense of immersion. At one especially well-designed exhibit, visitors can try dressing figurines in authentically made outfits - a brilliantly tactile way to get across the form and functionality of traditional clothing.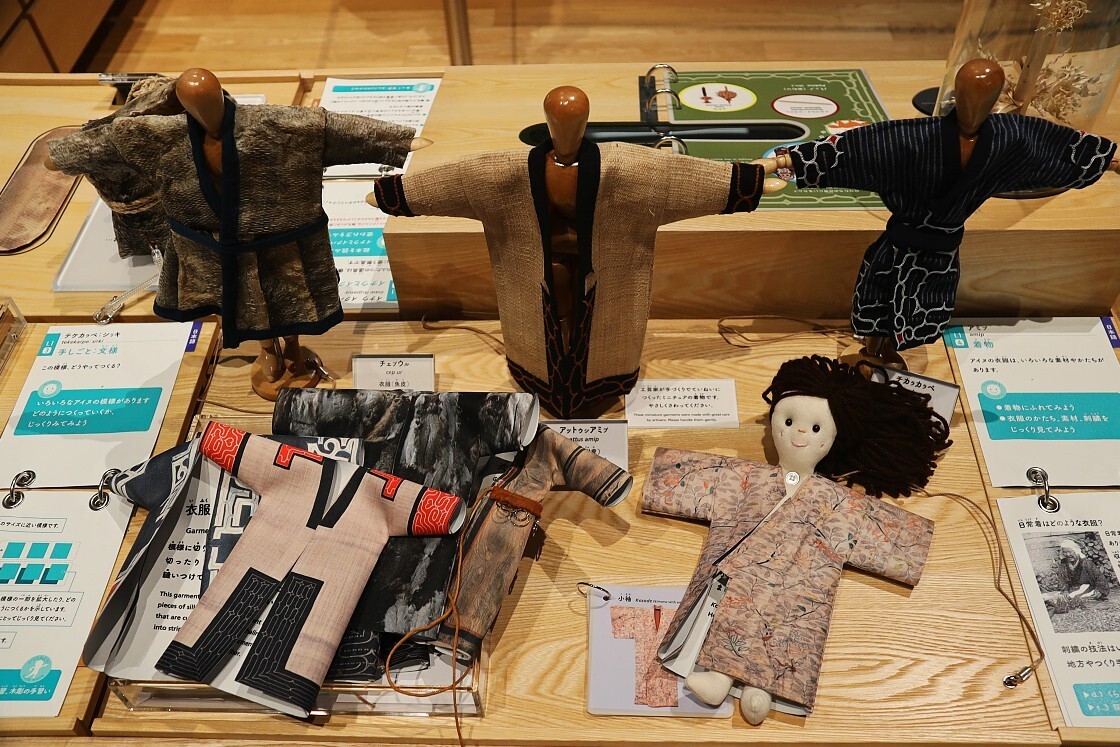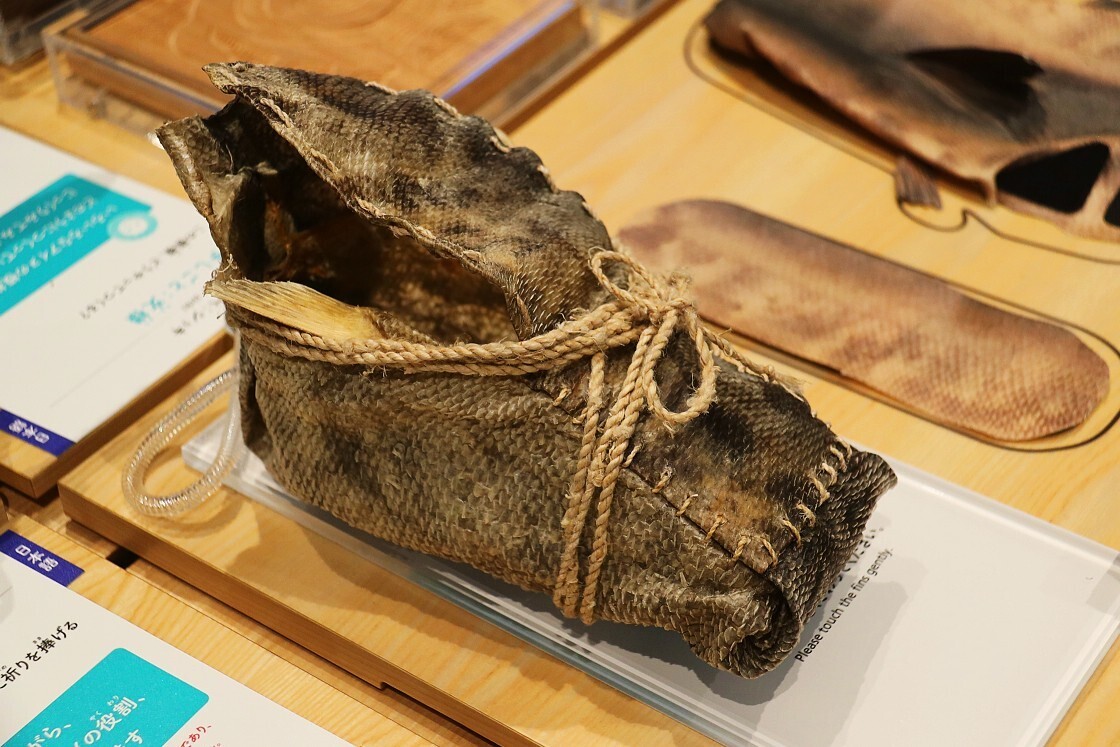 Lacking a written alphabet of its own, Ainu culture has always depended on aural transmission to pass the core of its identity from one generation to the next - something that must have posed an interesting challenge to the design team behind the exhibition. Their solution was to have Ainu people from various walks of life tell their own stories in a series of testimonials, presented together with items often chosen for their personal significance.
With only a handful of native speakers still alive, the future of Ainu as a living language hangs by a thread. One of several subtle but poignant ways the exhibition highlights this is to make Ainu the primary language for signs and explanations throughout.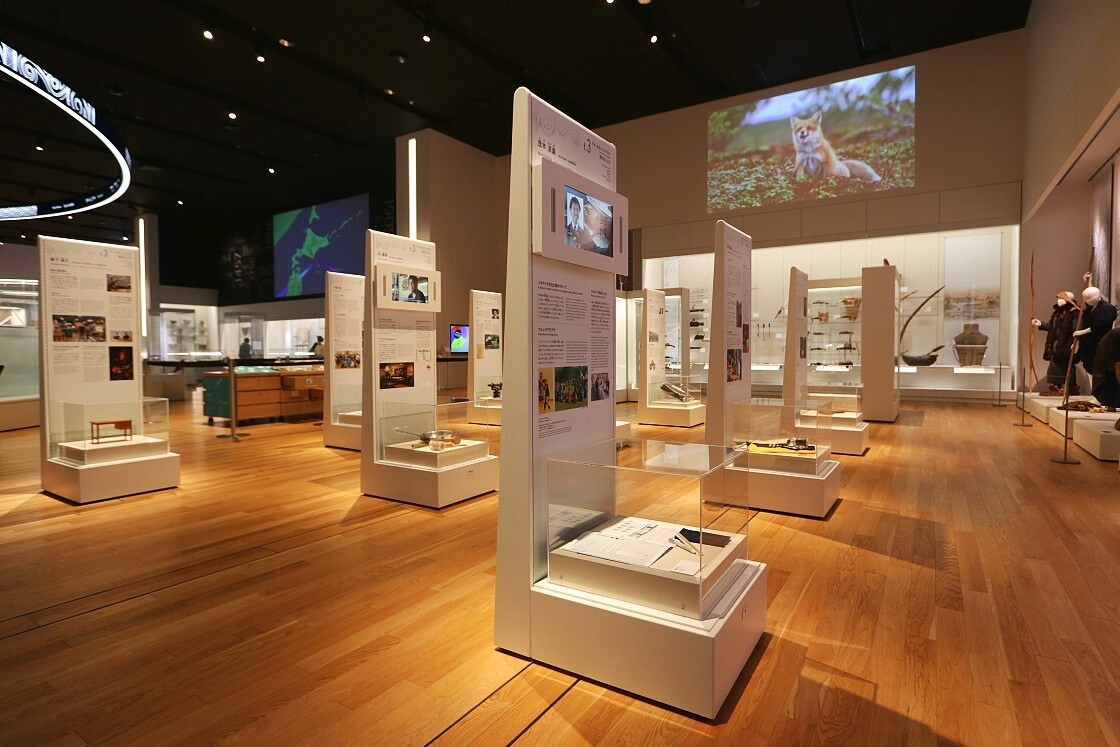 After a thoroughly enjoyable look around the museumfs exhibition room, it was time to join a group of other visitors at the Hands-On Learning Center for a beginner's lesson in Ainu cuisine. This began with a talk on the various kinds of foodstuffs that Ainu traditionally ate and how they were typically prepared. It was fascinating to learn how the rhythms of village life reflected the seasons, when survival through the harsh winter months could depend on preserved stores of food.
A tasty and highly versatile dish, the pene emo - a kind of pancake made from frozen potatoes - is easy to make and, correctly dried and stored, can be kept for years. Working in small groups, we practiced mixing potato with starch, salt and sugar, then pan-frying the mixture into a pleasantly sticky snack.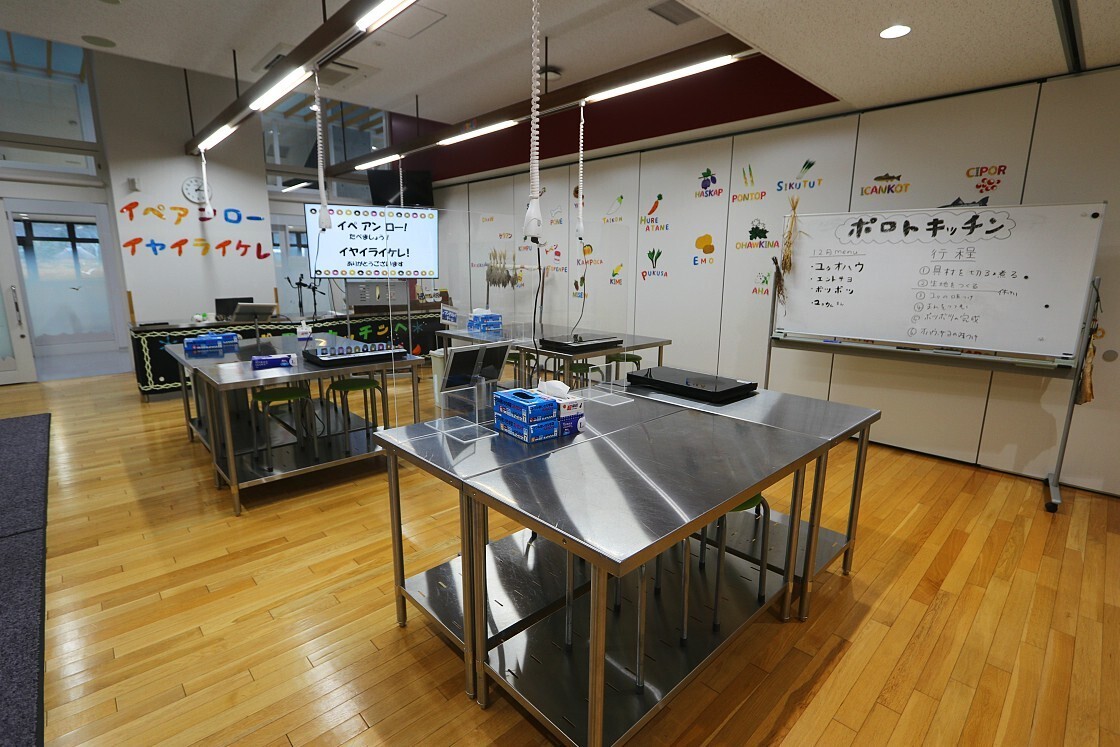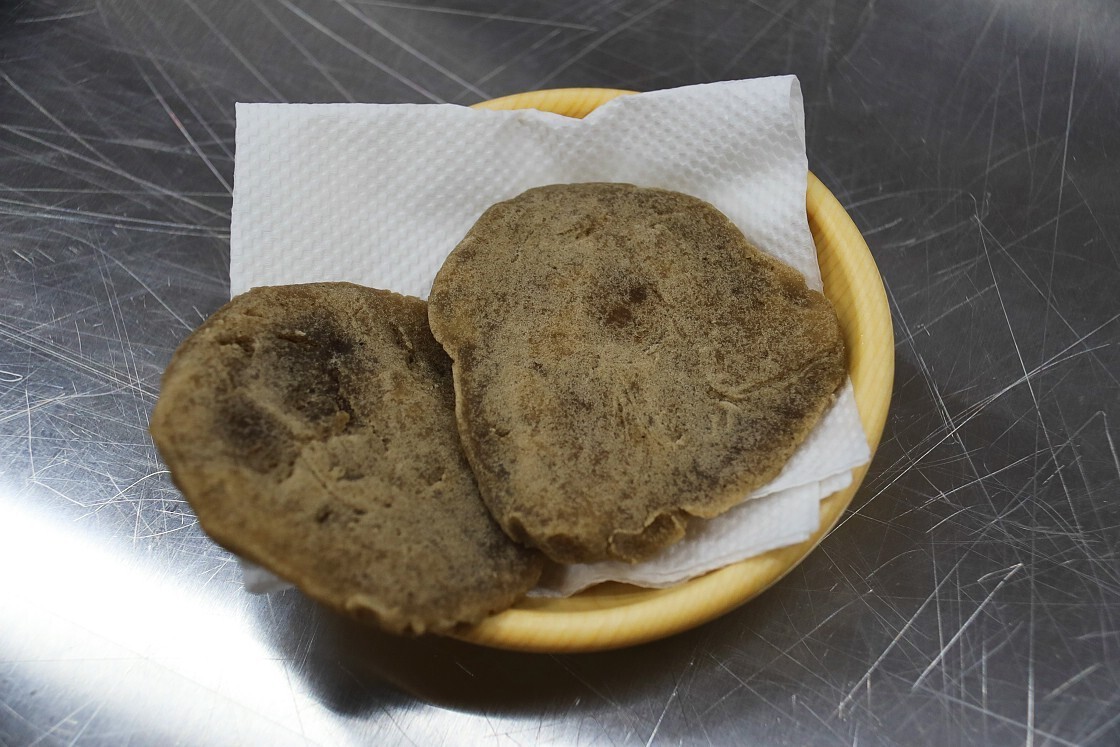 My first day at Upopoy was already drawing to an end, but there was still time to round off my visit with a performance of traditional arts at the Experience Exchange Hall. Taking a seat in a large, circular auditorium, I was treated to a genuinely engaging program of rhythmic chants, music and dance by a cast of Ainu performers in beautifully patterned robes.
Watching the show unfold, it's surprisingly hard to describe exactly how I felt about it. If you've ever watched a performance of this kind, you can probably imagine just how rote or slightly awkward it might feel in the wrong hands, yet somehow there was a vibrance and an energy here that I found quite moving. Much like the museum itself, the experience was well-served by its design, with natural scenes projected over the stage adding to the slightly dreamlike feel.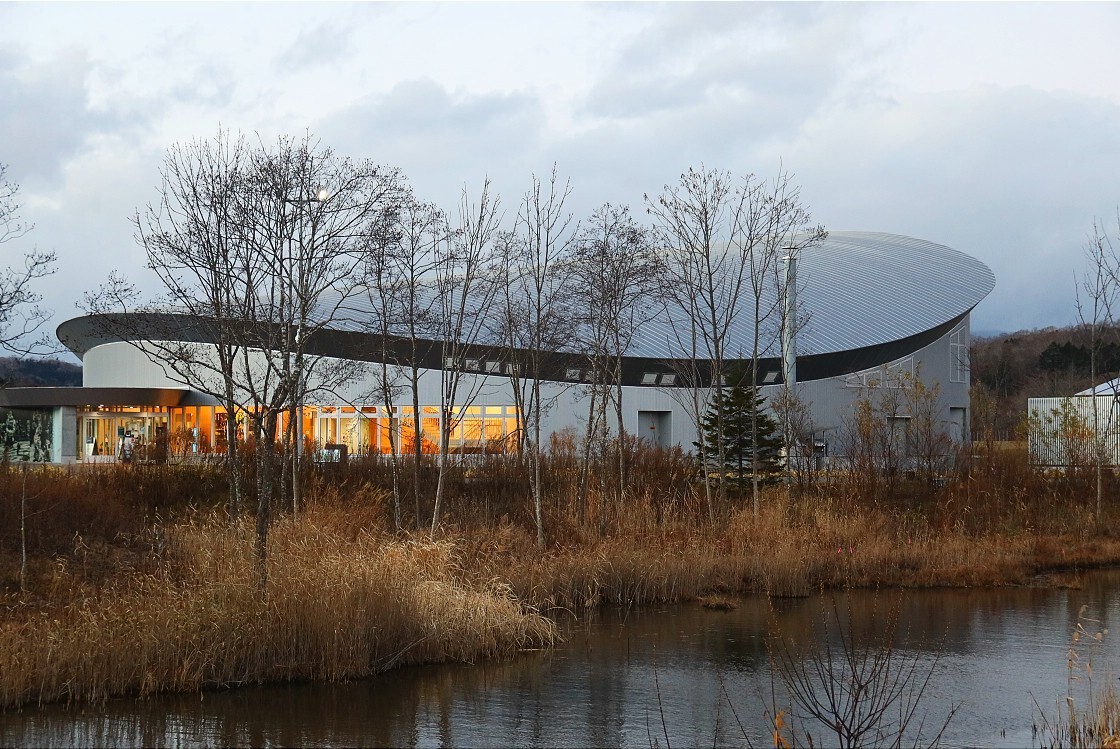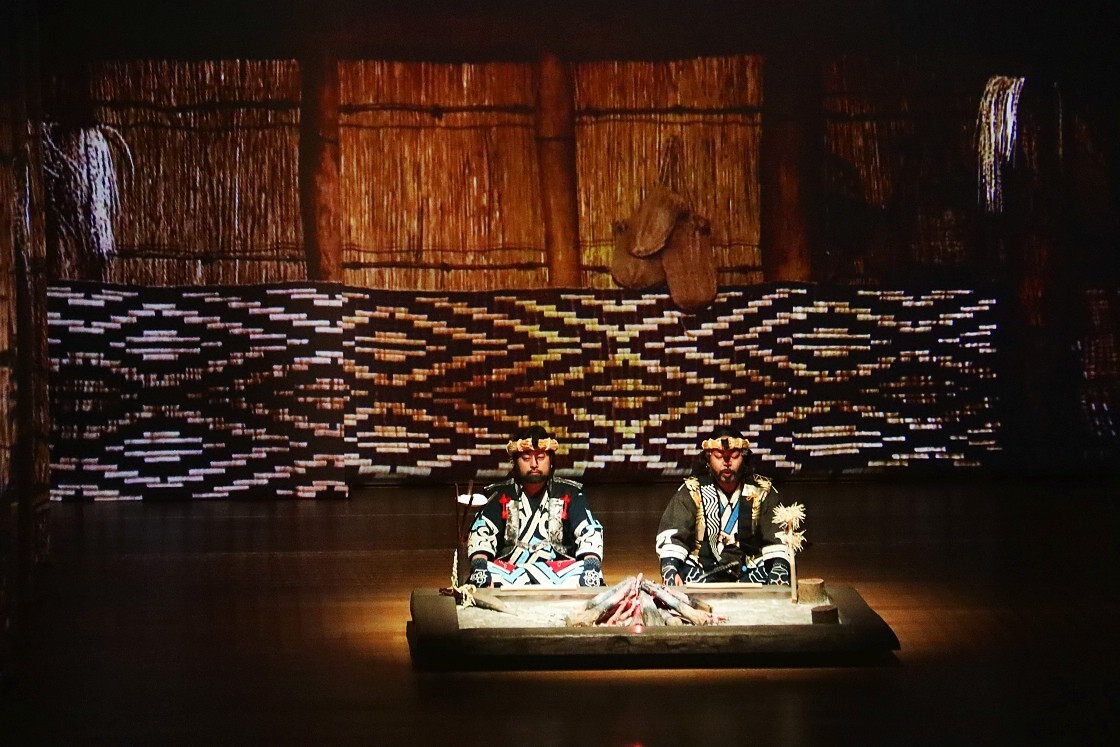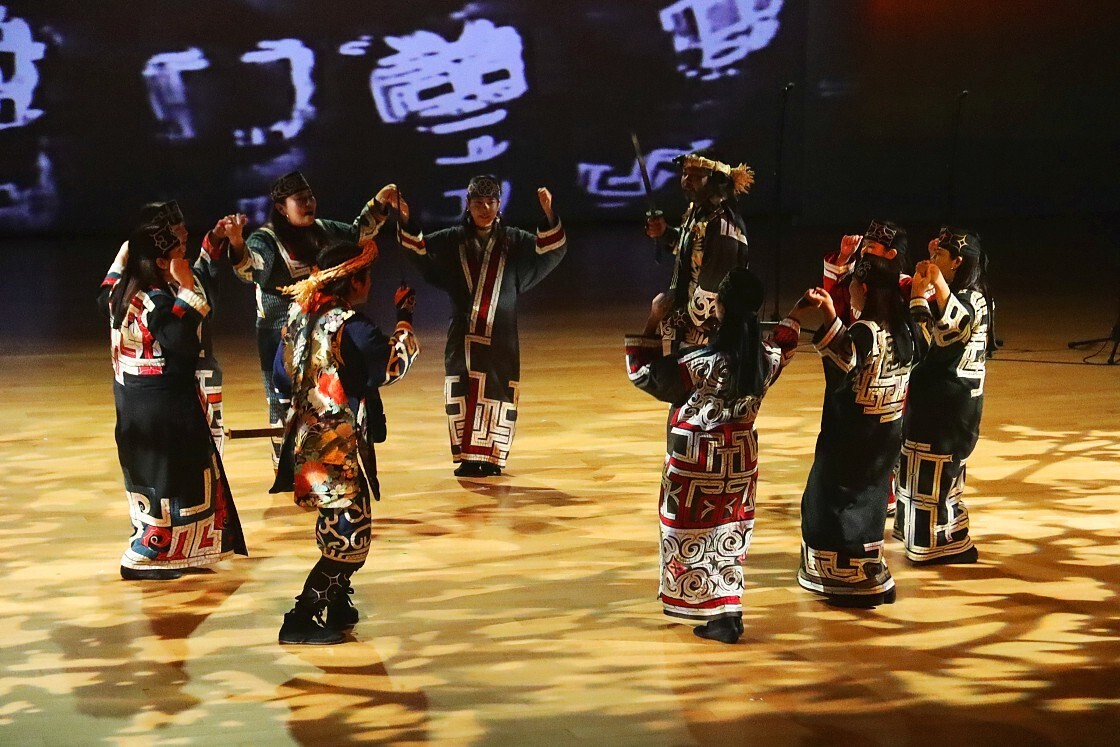 After a first day packed with new discoveries, it was time to set off for my evening's accommodation. Retracing my steps to Shiraoi Station, I took a thirty-minute bus ride south-west along the coast to Kojohama, jumping off just a few stops short of the town of Noboribetsu. Another 14 minute walk along the now pitch-black seafront brought me to the Furukawa Hotel, a mid-sized hot spring resort hotel with a stylishly laid-back look.
Upon checking in, I was greeted with a refreshing cup of matcha and a sweet, sticky manju bun in an attractive lobby space that was somehow cozy, minimal and pleasingly retro all at once. Taking a seat by the large bay window, I enjoyed the dark outline of the sea and the beginnings of a light snowfall.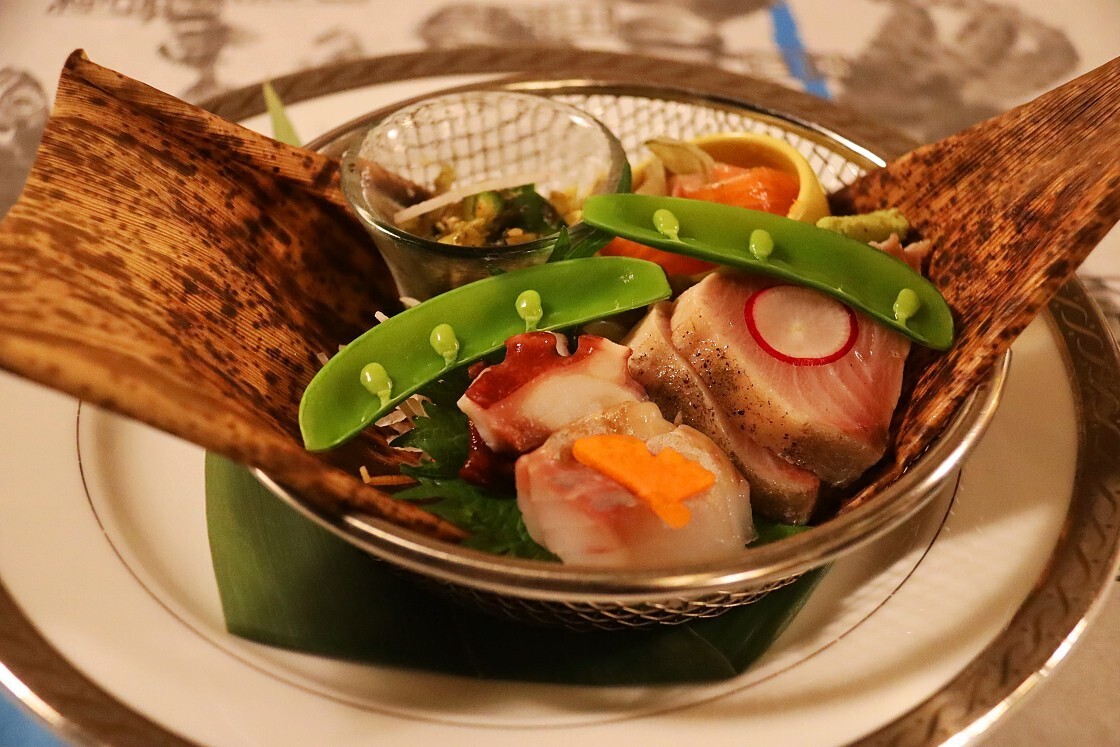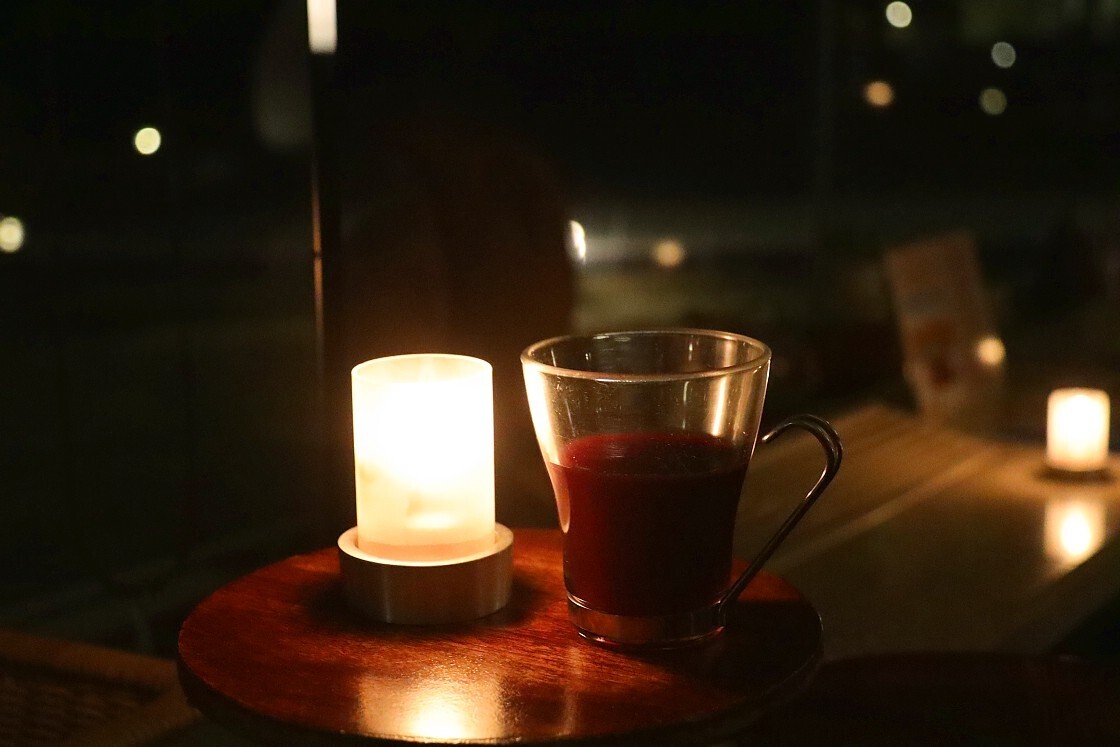 It had been a long and very enjoyable day, but I certainly wasnft going to pass up a complimentary glass or three of hot mulled wine when I discovered this on offer in the lobby. The hotelfs outdoor rotenburo bath also proved to be an especially atmospheric highlight, complete with stars overhead and little clouds of powdery snow whipped up by the icy wind.
Determined not to miss out on the ocean view, I managed to prize myself out of bed at around dawn for a chilly walk along the beach before warming myself up with a hotpot breakfast. In no time at all, I was back on the bus for a second day of activities at the National Ainu Museum.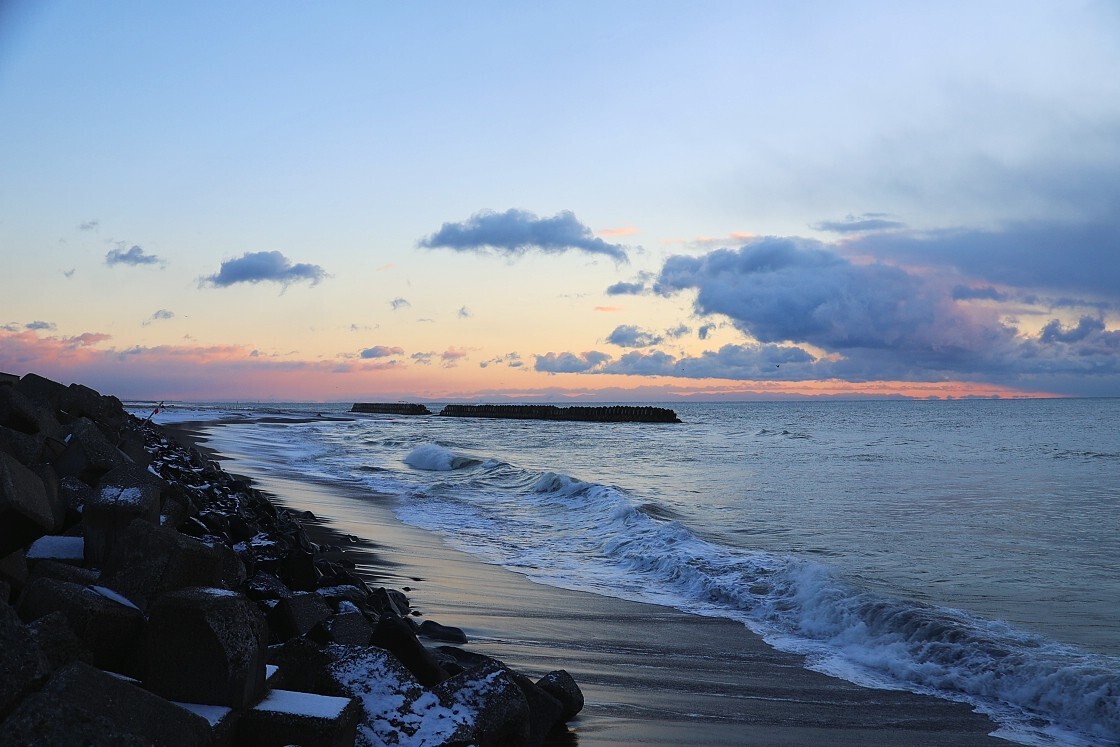 Located within the park on the lake's eastern shore is a cluster of houses built in Ainu style, with walls made from thick reed mats supported by a framework of wooden poles. In addition to creating the feel of a traditional village in miniature, the houses serve as a venue for various activities offering a further glimpse into Ainu heritage.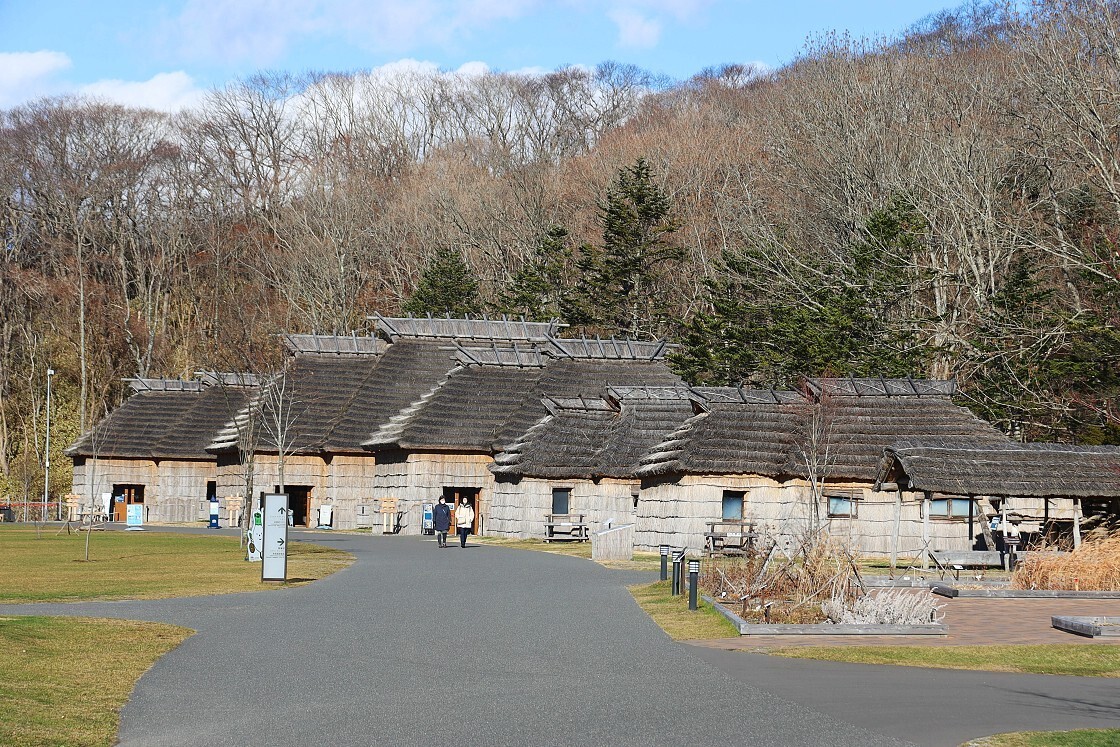 First on the day's program was an introduction to the mukkuri, or mouth harp - a single piece of bamboo about 10 cm across, with a narrow reed-like flap cut out of the center. A skilled staff member demonstrated putting it to her lips while blowing through the reed and tugging on an attached string to create a strange, pulsing melody that reminded me of a didgeridoo. A few people in our group were able to catch the method straight away, but I was not one of them!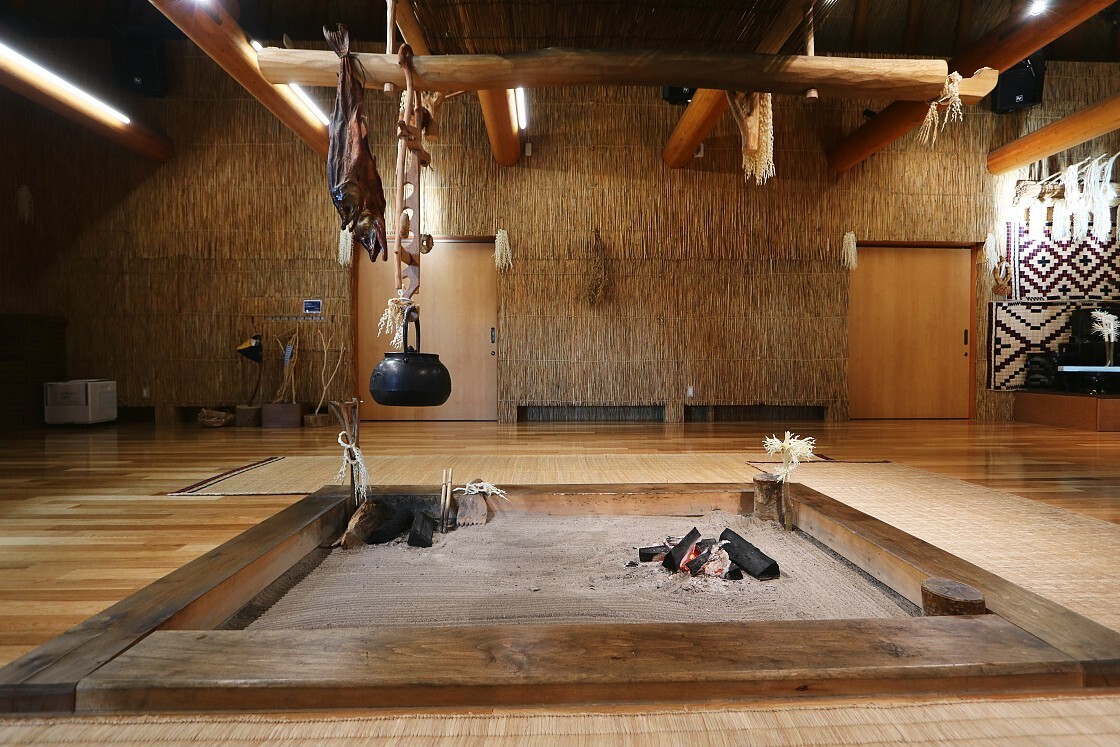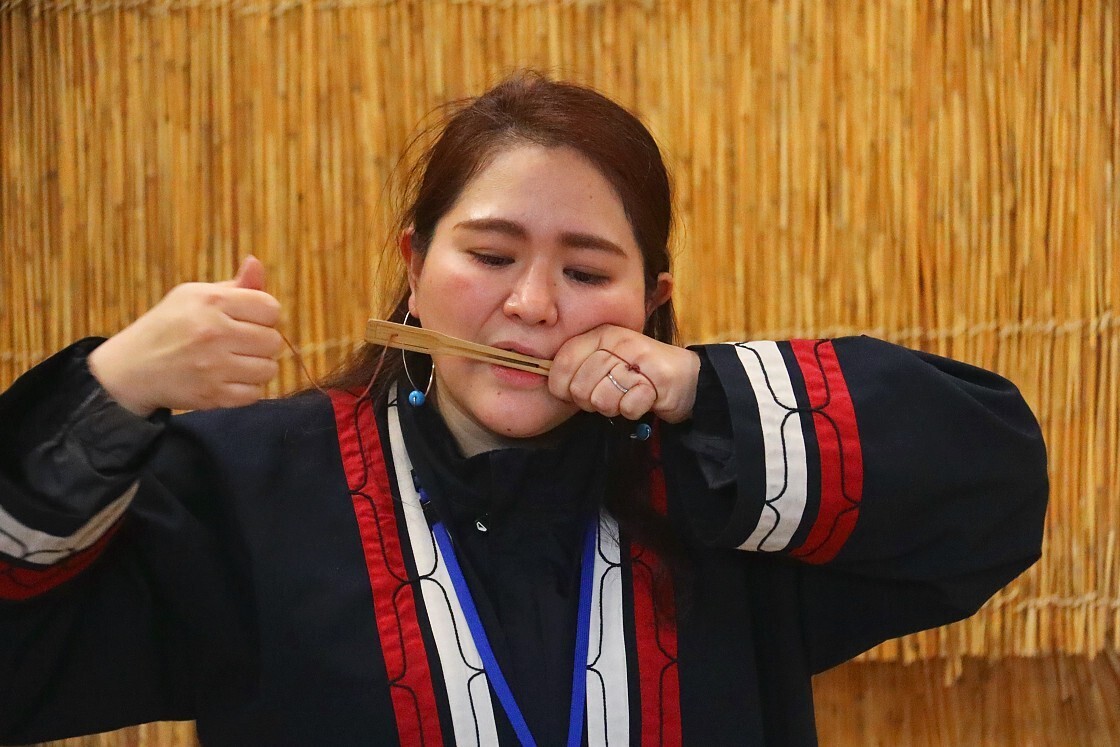 For our next experience, we took our seats around a wide, open hearth to hear one small part of an ancient Ainu epic poem, told just as it has been for countless generations. Chanted in a kind of verse punctuated with rhythmic taps of a stick, the story follows the adventures of the hero Okikurumi, credited with teaching the first Ainu the arts of hunting and fishing.
Although I was only able to catch a few snatches of the narrative, this would turn out to be one of the highlights of my trip and the perfect compliment to what I'd seen and learnt in the museum's exhibition.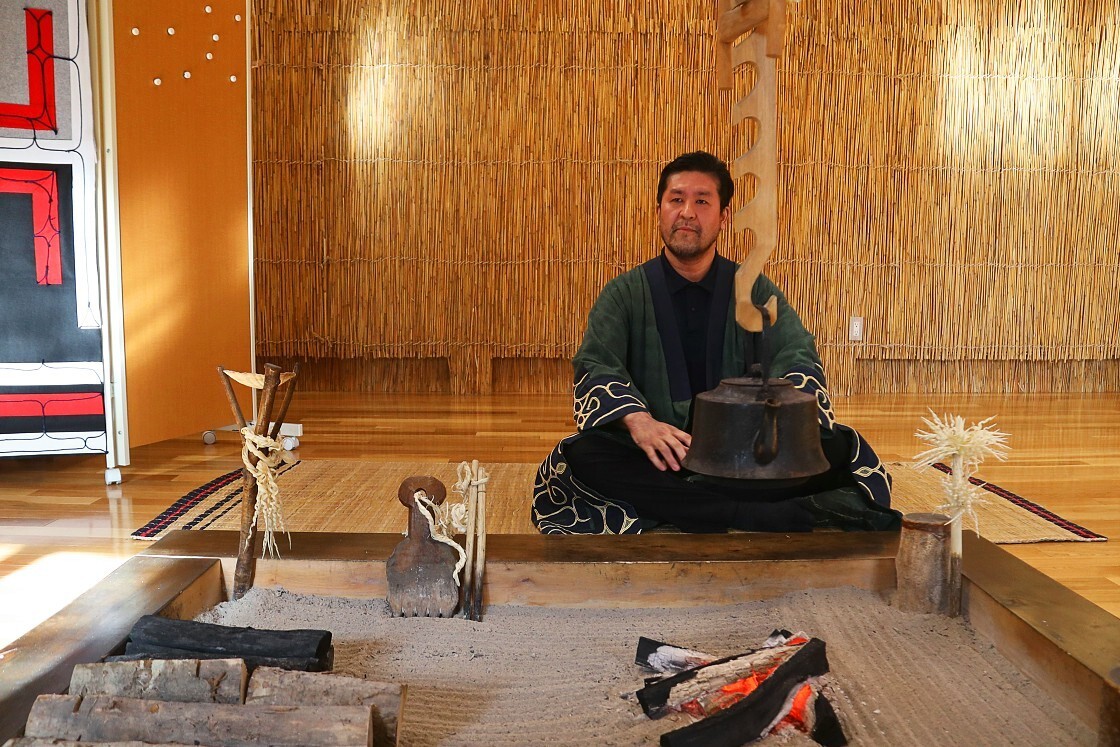 The final two activities were the briefest, but still highly absorbing. In the first, we learnt a bit about the distinctive robes worn by the Ainu and practiced sewing a simple geometric pattern with loops of thread. After that, we stepped outside for a chance to practice the Ainu style of archery, called aksinot, involving a short bow and simple, notched arrows. Even with some experience in western-style archery, I can report that this too was harder than it looked!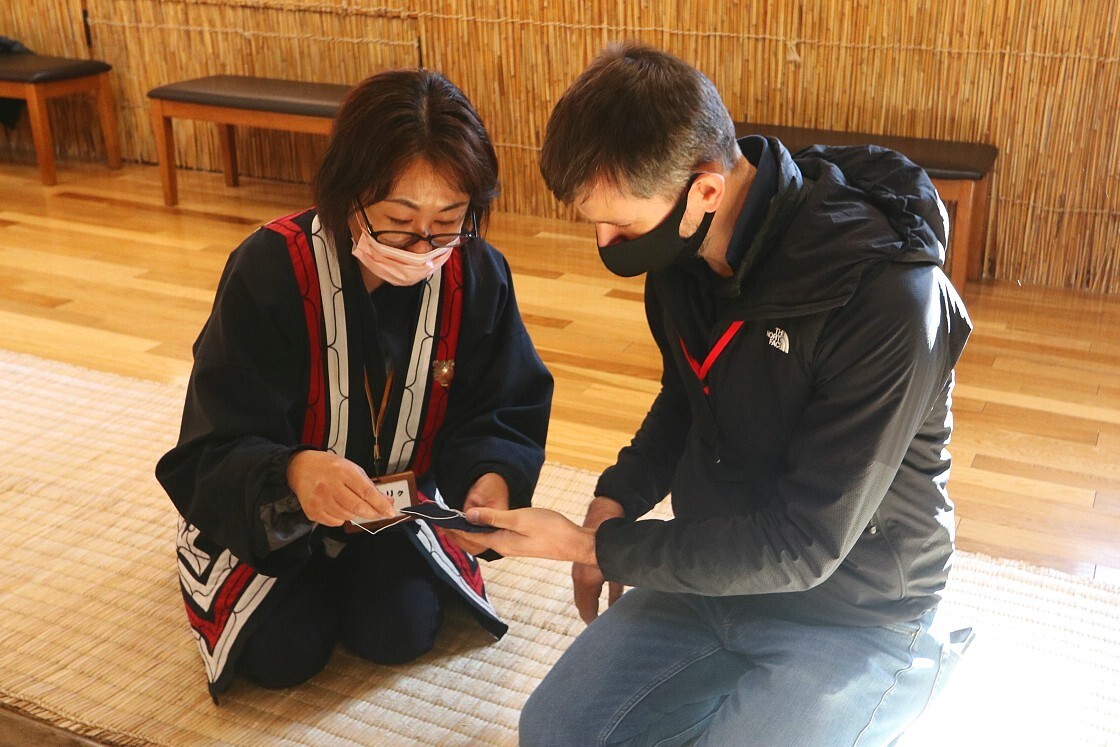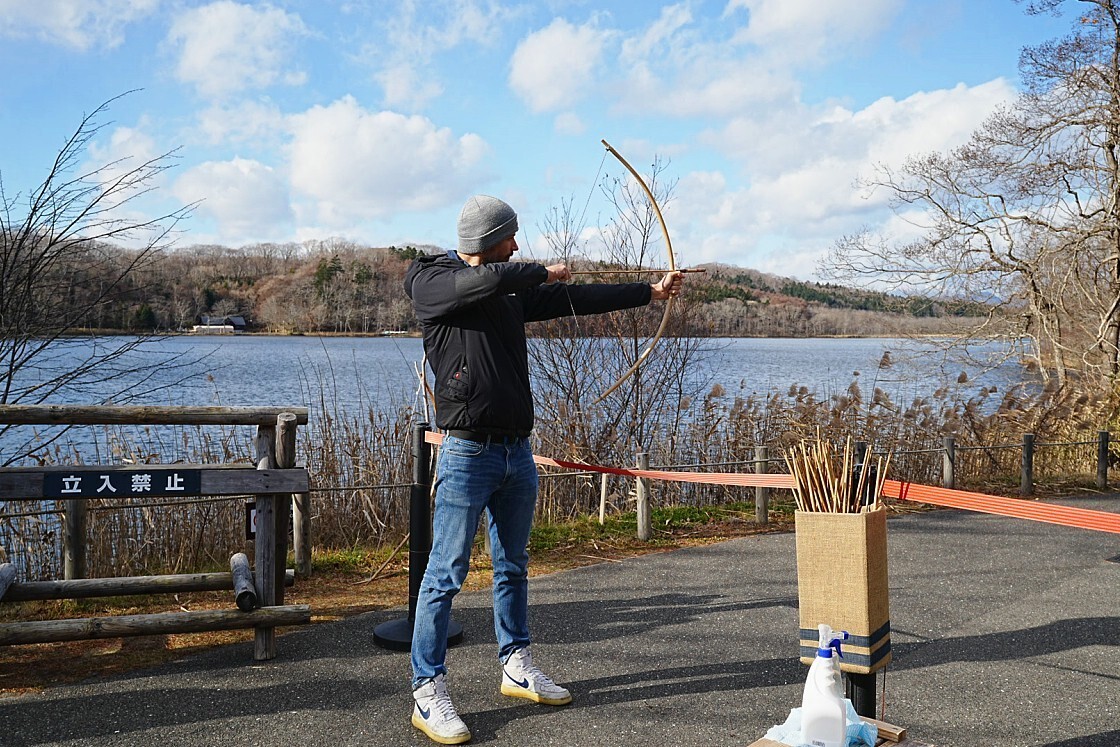 Marking the end of two days packed with fascinating new sights and experiences, it was time for the last stop on my itinerary - the Ikara Ushi or workshop. Here, visitors can not only enjoy a range of handcrafted items on display, but also watch and interact with Ainu craftspeople at work.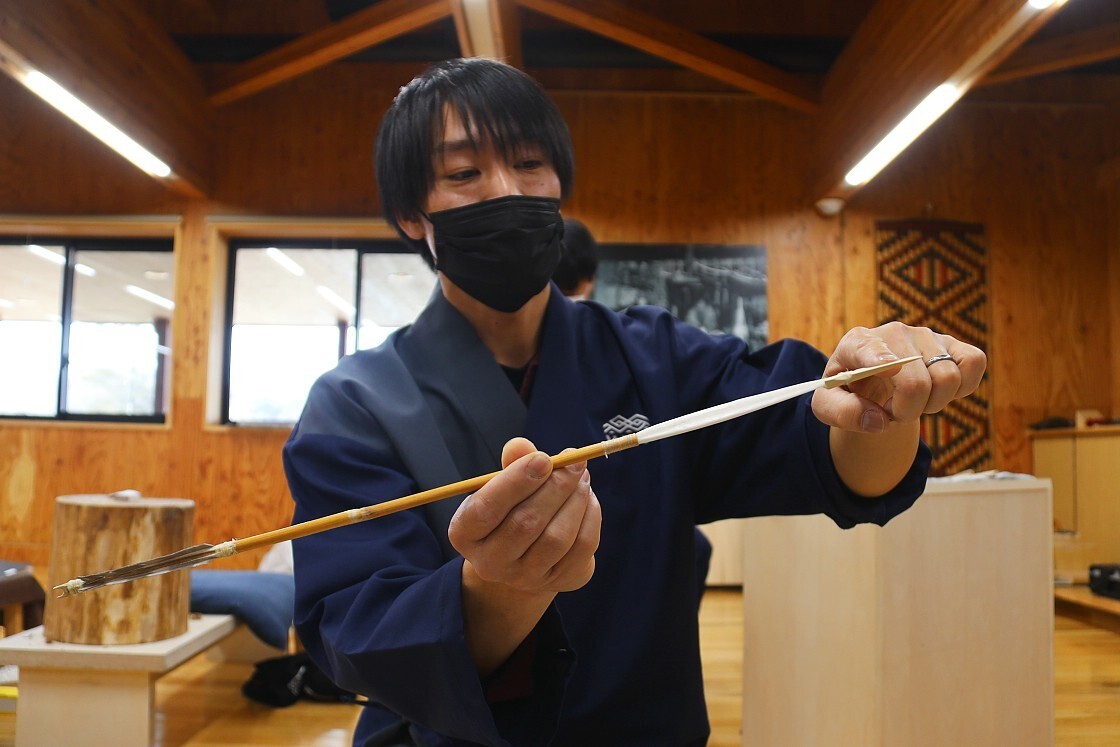 Nearby Attractions
Although entirely worth a visit in its own right, Upopoy can make a great addition to a multi-day trip exploring some of Hokkaido's most popular highlights. If you're planning your own trip, here are three other great destinations within easy reach:
Toyako Onsen
Located on the shores of a beautiful caldera lake and at the foot of an active volcano, this peaceful hot spring town comes with spectacular views and a geologically fascinating landscape. Visitors can enjoy the lake by sightseeing boat or from an attractive sculpture park extending some way around the southwestern shore.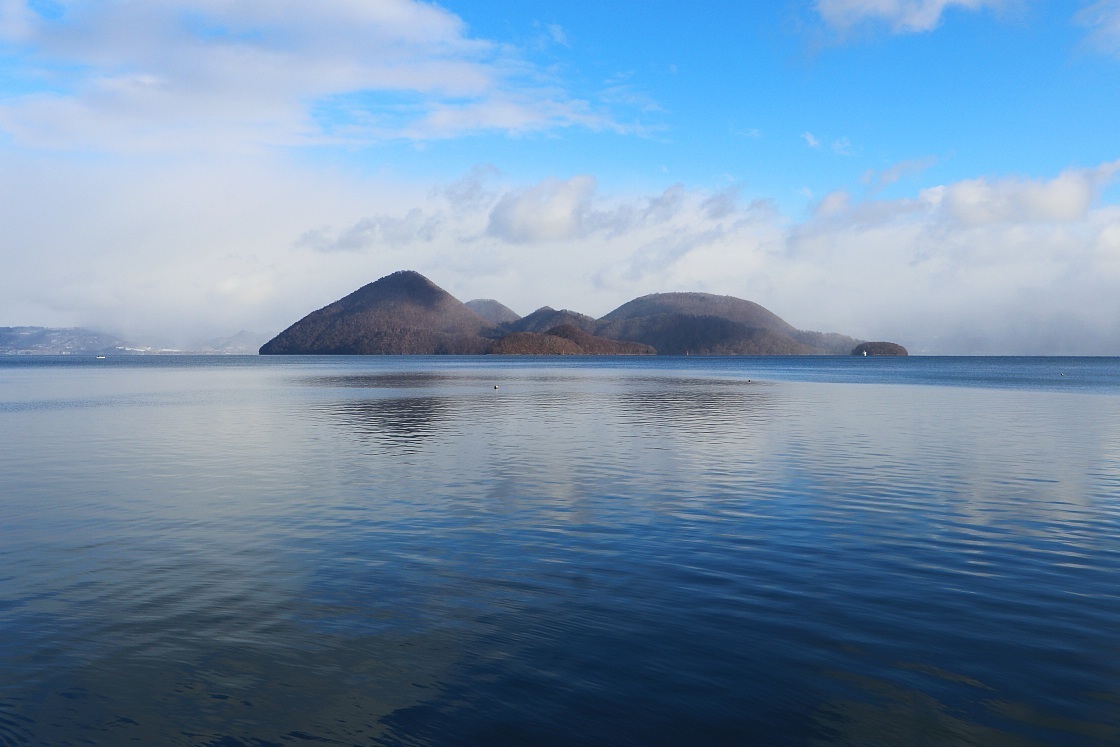 Noboribetsu Onsen
Hokkaido's best known hot spring town, Noboribetsu has been a popular destination for over 150 years both for its dramatic volcanic landscape and the high quality of its waters. The hills surrounding the town boast a number of attractive walking trails, but the centerpiece is its Jigokudani or hell valley - an otherworldly landscape of sulfurous rock and hissing steam vents.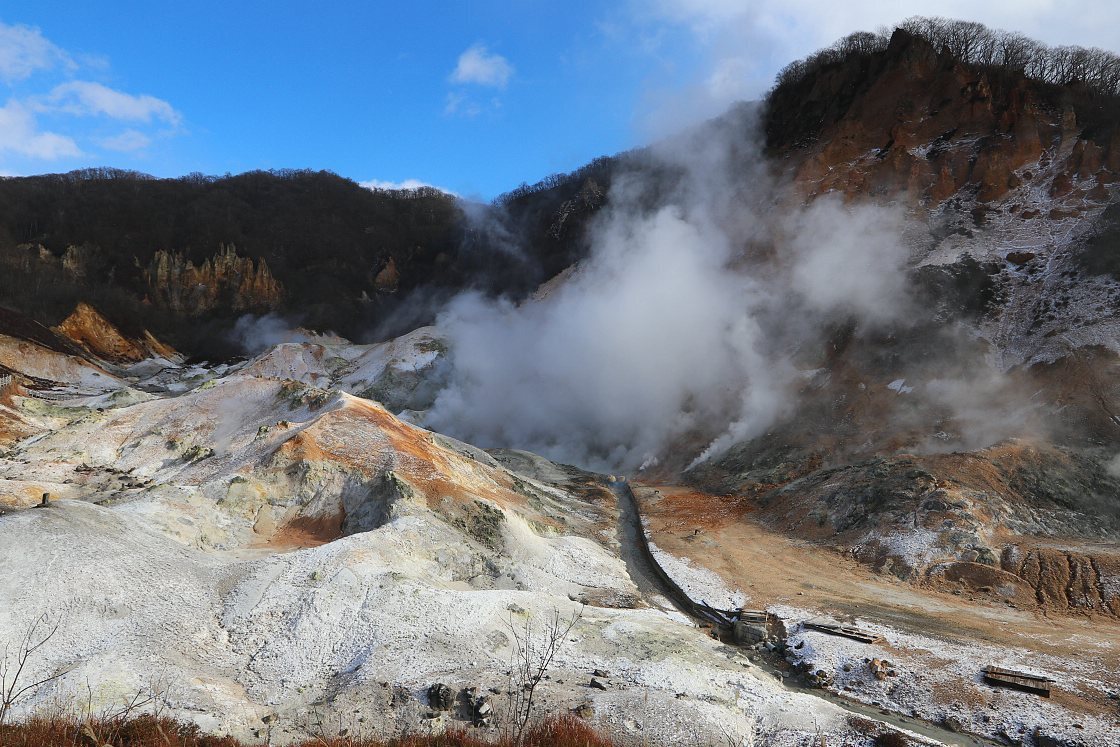 Sapporo Snow Festival
The highpoint of Hokkaido's tourist calendar, the Sapporo Snow Festival is a magical experience, with hundreds of intricately carved ice sculptures on display from prehistoric animals to the latest pop-culture and internet memes.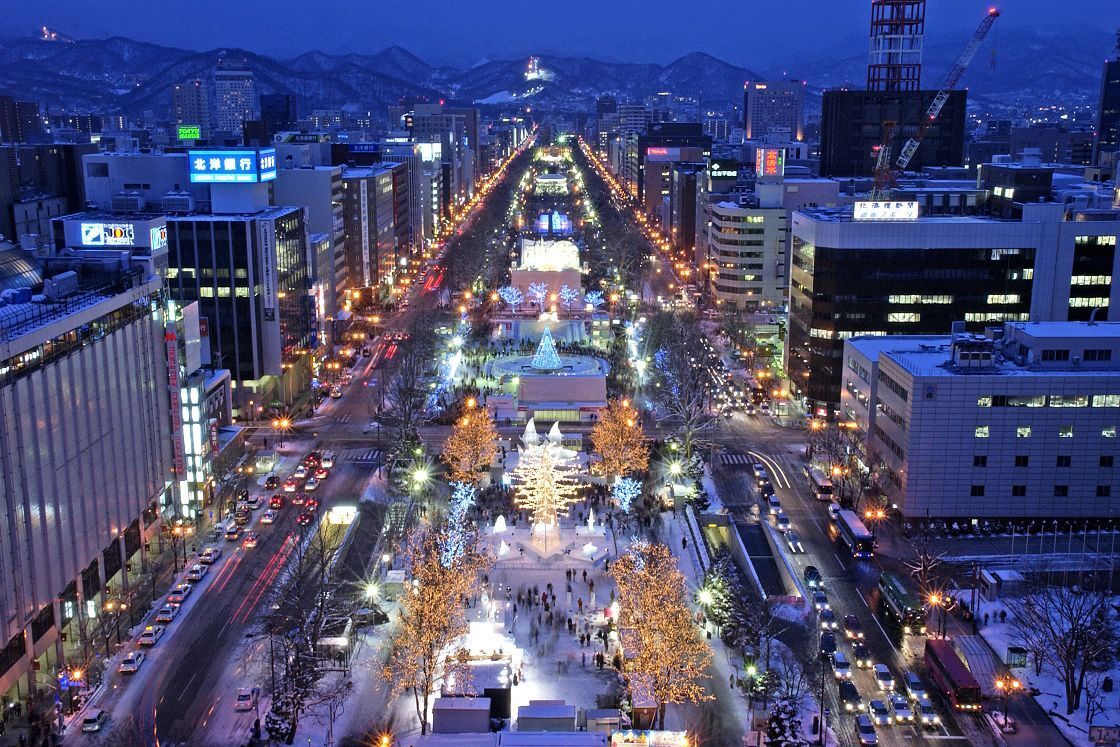 Access
From Tokyo, take a domestic flight from either Haneda or Narita Airport to New Chitose Airport, located on the outskirts of Sapporo City. The route typically takes around 90 minutes and is one of the world's busiest, with dozens of departures each day.
From New Chitose Airport, take a JR Rapid Airport train one stop to Minami-Chitose Station, and change to a Limited Express for Shiraoi. The journey takes about 40 minutes, costs around 2,000 yen and is covered by the Japan Rail Pass.
From Shiraoi Station, the entrance to Upopoy's grounds is a 15-minute walk or brief taxi ride.