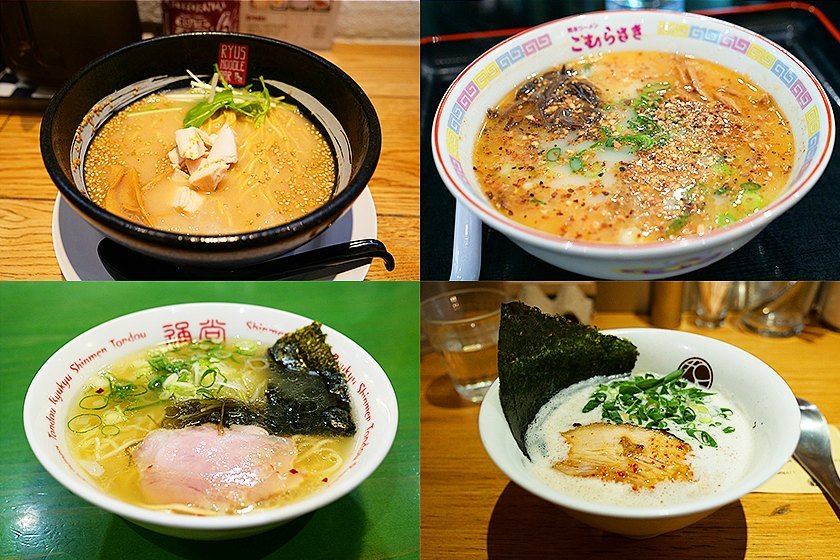 Hungry travellers welcome back for this second instalment of our Japan Food Trips series. For this food report, I wanted to explore the port town of Yokohama, Japan's second largest city and located less than an hour away from Tokyo.
The city is famous for its Chinatown district as well as its history with ramen, when the dish was brought from China after Yokohama became the first port town to open to foreign trade in 1859. The city has a lot of great food options and sightseeing spots to check out, so without further ado let's dive right into it.
Yokohama Ramen Museum
I started the day from Shin-Yokohama Station and made the 5 minute walk to the Shin-Yokohama Ramen Museum, where I was surprised to see a line waiting at the front, even though it was only 10:45 AM on a weekday. I got in line and checked the very well made English pamphlet to get more information regarding the types of ramen I would get to try once inside. The steel shutter opened at 11 AM sharp and I purchased my entrance ticket on a vending machine very reminiscent of those found outside ramen joints.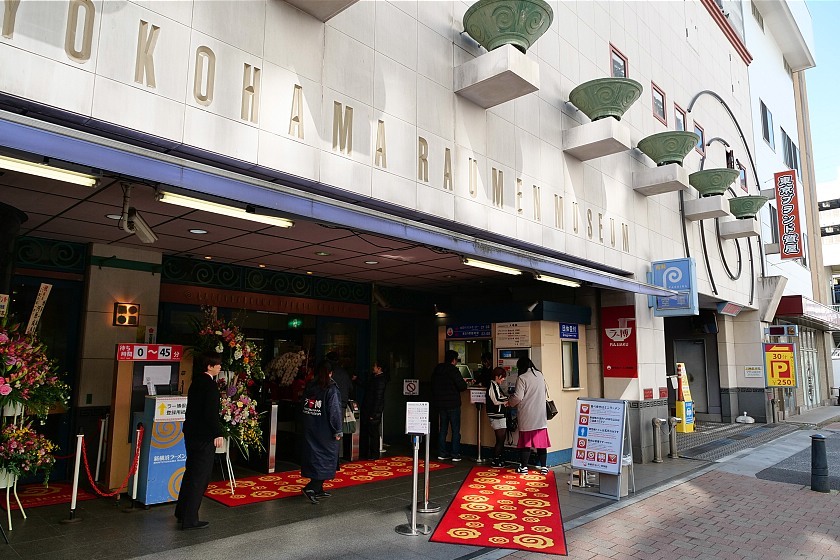 The first floor featured a little exhibition explaining the history of ramen, as well as a shop selling goods. As everybody was rushing to the basement floors, I decided to follow, as I hadn't eaten anything yet and my stomach was growling louder and louder.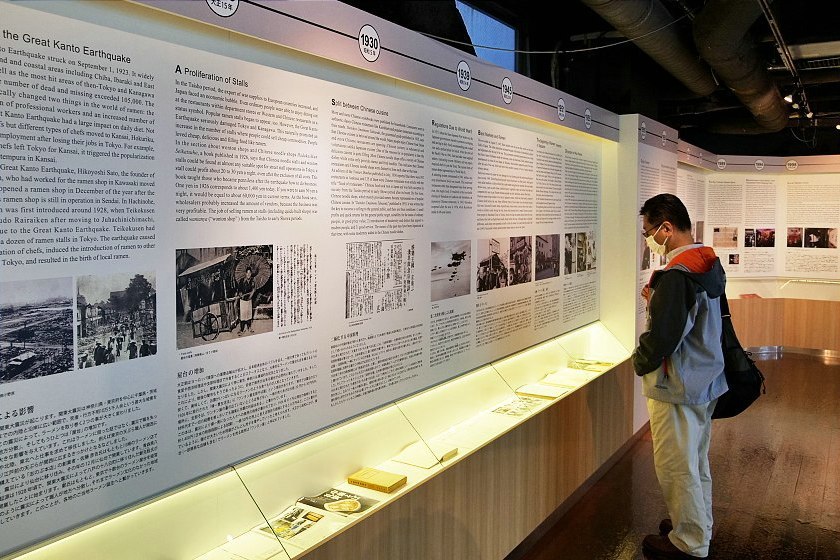 The main attraction of the Ramen Museum is its food hall, made to look like a trip back in time to Shitamachi, the old town of Tokyo around the year 1958 when ramen was becoming more and more popular. The attention to detail is great, with old movie posters on the wall, clothes drying out at prop windows, as well as old kanji names indicating where the toilets are.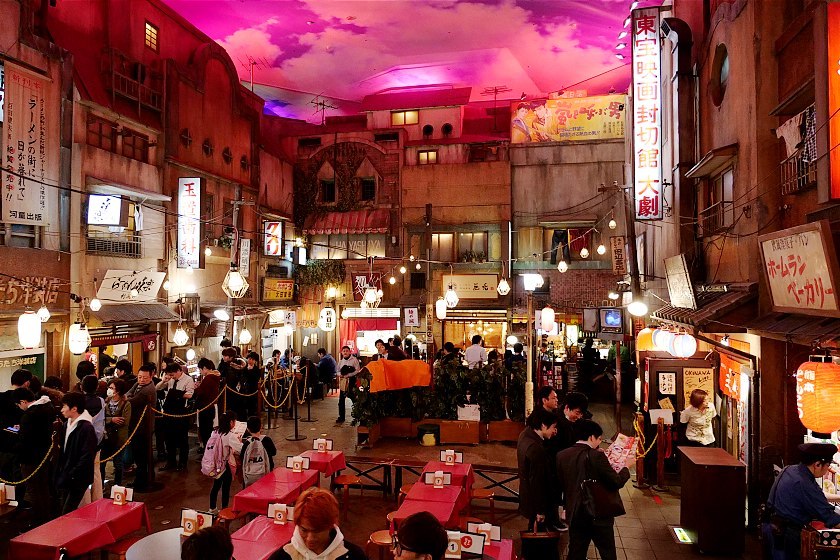 In this replica of a neighborhood, visitors can try out various ramen at nine different shops. These shops originate from different regions of Japan, as well as from overseas, and offer a mini version of their signature dish, allowing visitors to try out multiple bowls in a single visit. To do so, it's very simple, just head to the ticket vending machines located in front of each shop, put your money in and press the "mini ramen" button.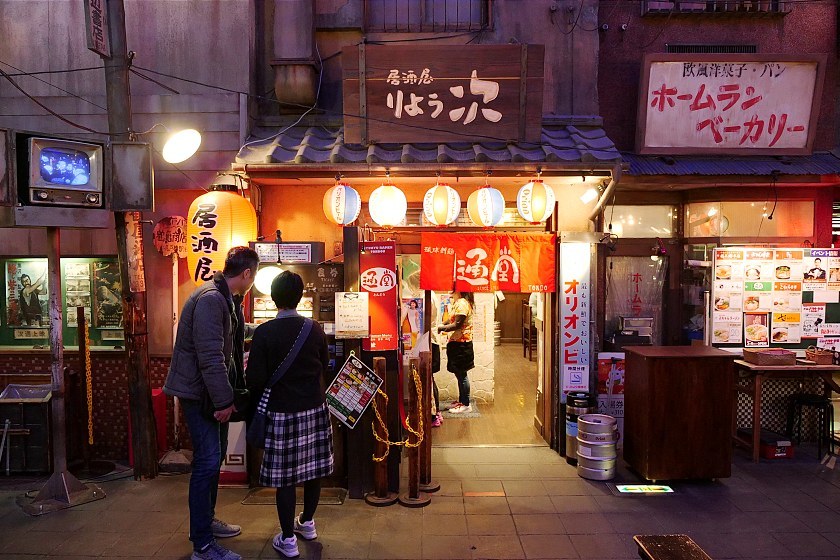 Of course, it is also possible for visitors to enjoy a regular or big portion, as well as side dishes and drinks. Being on a food adventure for the day, I did not want to overdo it and went for mini portions. This being my first time at the Ramen Museum, I walked timidly to one of the shops that caught my eye on the pamphlet: Muku Zweit, originating from Frankfurt, Germany.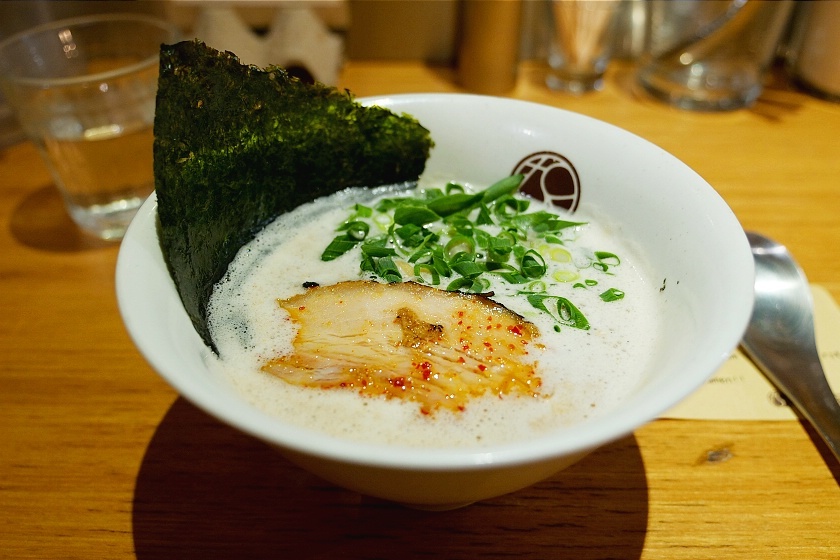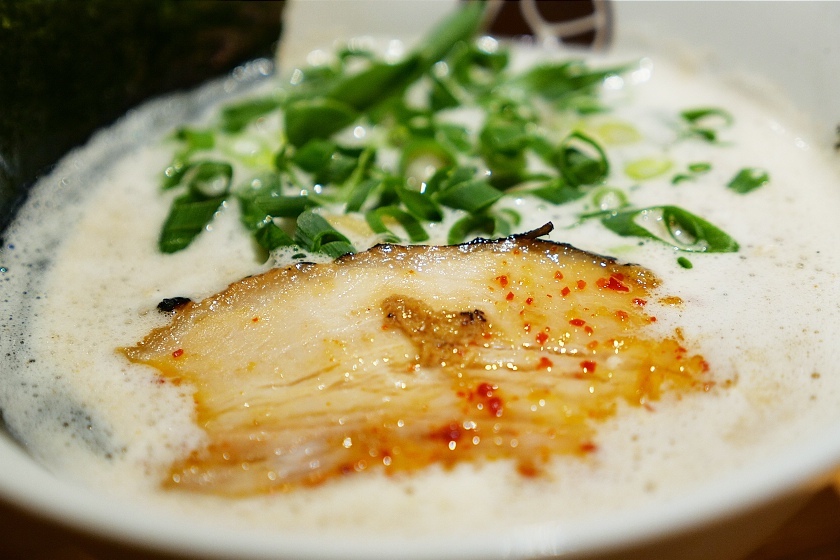 Their signature dish, a tonkotsu (pork based soup) and tori-gara (chicken) mix broth with a layer of chicken and seafood foam on the top was a real treat for the eyes, but how did it perform taste wise? The answer: extremely savory. The homemade noodles made with pizza flour were very soft and the roasted pork chashu topping elevated the bowl to a whole new level. Next time, I will definitely try their big size portion.
My second bowl for the morning was from a shop based in Kumamoto Prefecture, known for their thick tonkotsu ramen. Komurasaki offers a bowl with strong flavors, consisting of a thick tonkotsu broth made inhouse for a whole day at their home shop in Kumamoto before getting shipped to the branch shops, and topped with fried garlic as well as big slabs of chashu. Nothing fancy here, but this bowl delivered in terms of flavor.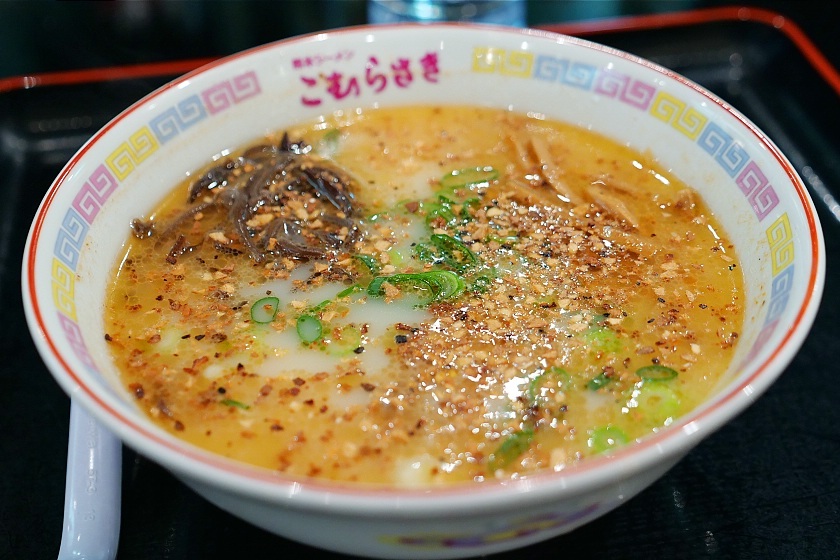 It was now time to try something a little lighter, so I made my way to the Okinawa based shop Ryukyu Ramen Tondo. The broth is made with pork, chicken and konbu, the noodles are thin with a little bite to them, and the chashu is accompanied with a delicious konbu topping.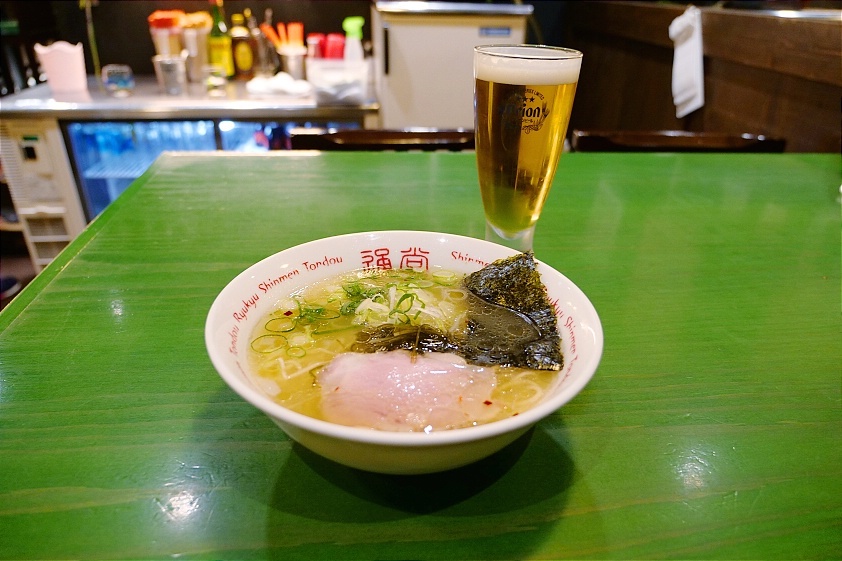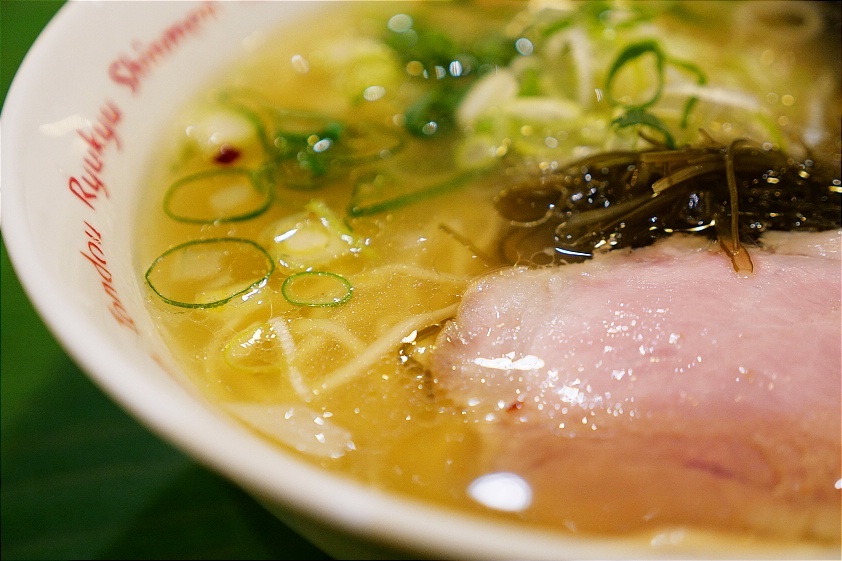 Finally, my last bowl for the morning was a ramen from Canada, a white chicken broth topped with incredible "melt in your mouth" chicken meat as well as lemon zest, ruccola, menma (bamboo shoots) and a nice dose of sesame seeds. I enjoyed the thickness of the soup and its more subtle flavors.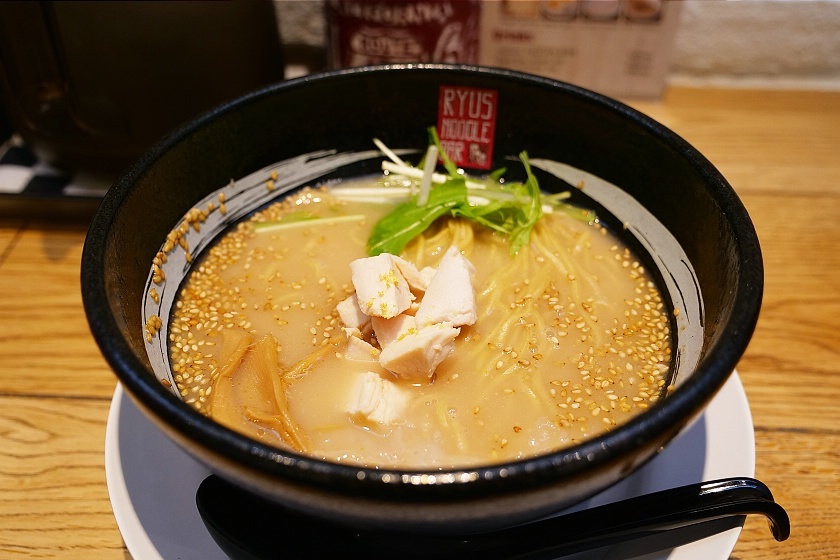 Cup Noodles Museum
My second Yokohama food related sightseeing spot for the day was the Cup Noodles Museum, only a 10 minute walk from Sakuragicho Station (15 min by train on the JR Yokohama Line from Shin-Yokohama). I used to walk in front of it many times in the past and always wondered what a museum about cup noodles would offer visitors.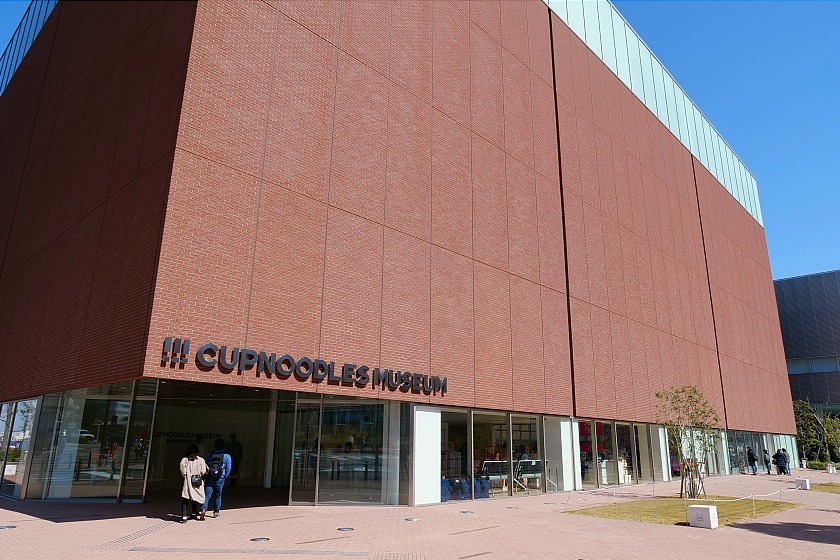 While lining up to buy my ticket, a staff member asked me if I wanted to partake in one of the activities offered by the museum, and I decided to try out the cup noodle making activity, to which I received a ticket informing me of the starting time. I made my way to the second floor where the activity was held and a staff explained everything in English in a very friendly way.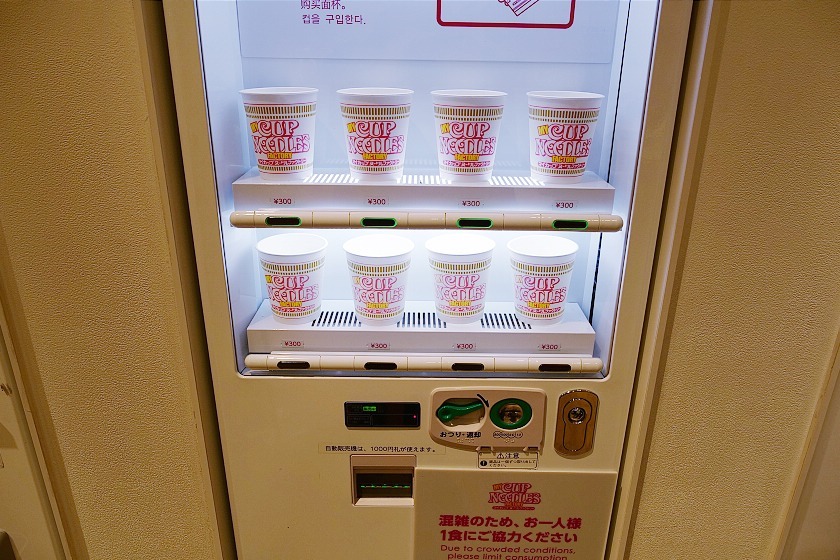 First, pick up your empty cup at the vending machine located at the entrance of the activity section.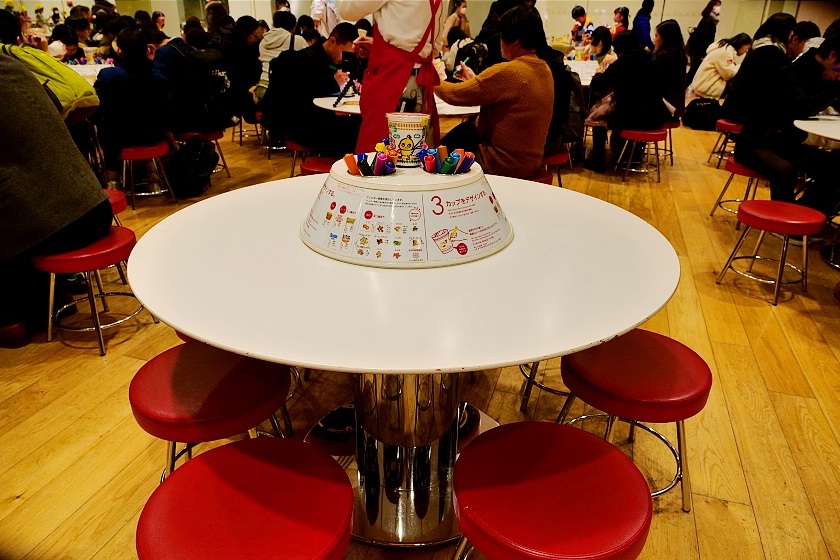 After that, you put your hands in an automatic soap dispenser to wash your hands, before being led to a table where you can decorate your cup. Once you're done, you head to the topping factory, where a staff will explain the whole process. First you put the dried noodles in the cup by rotating a little wheel.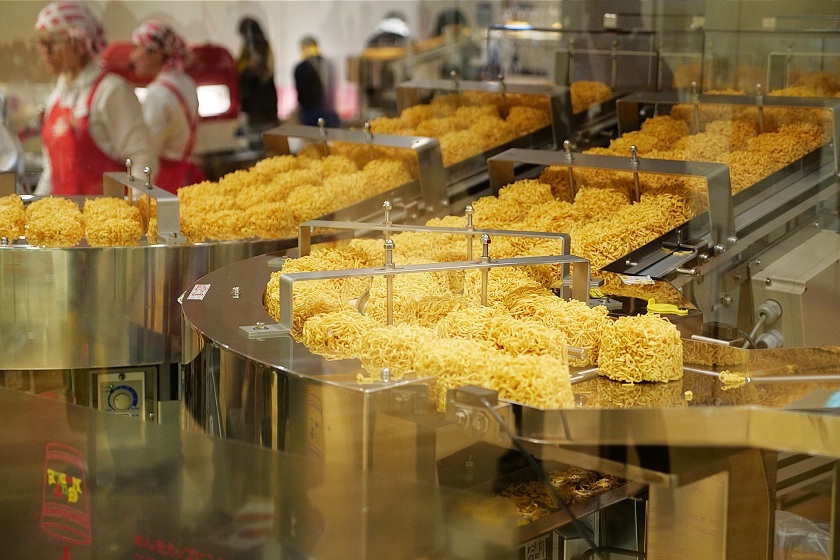 Then it's topping time! You can create whatever soup you want. I went for a chili tomato based soup topped with decorated dried naruto (cured fish surimi).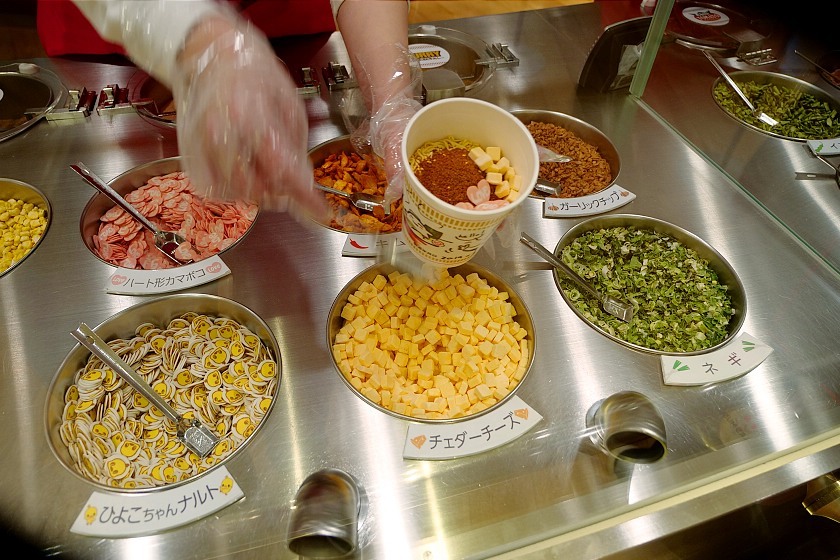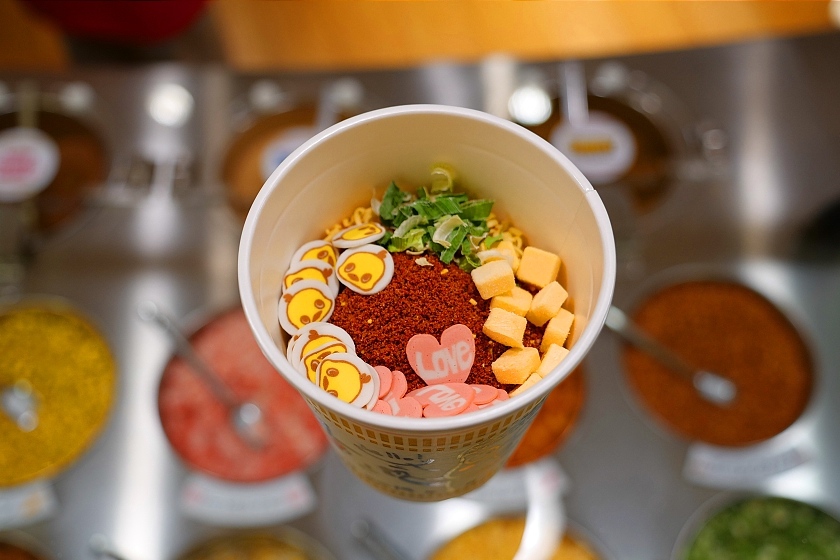 After this, you watch your cup get sealed and plastified, and voila, your own cup noodle is done! The staff will also give you some inflatable bags to carry the cup with you back home.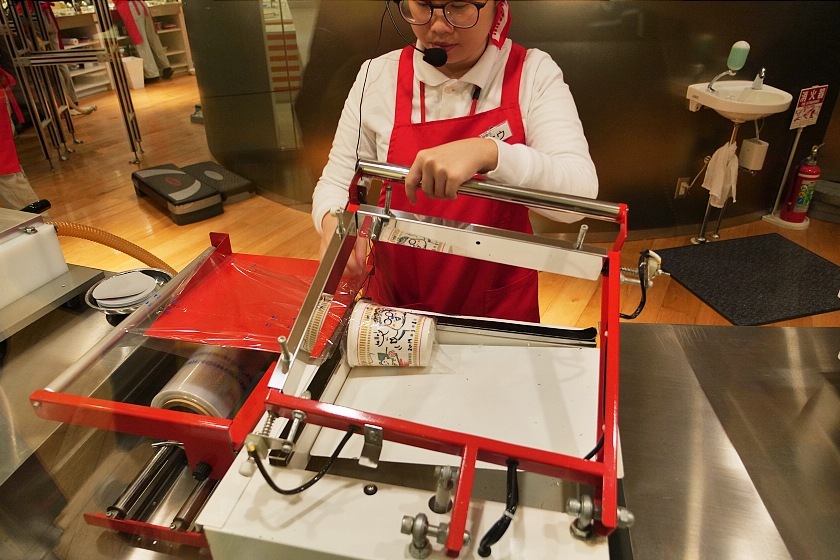 The museum part of the Cup Noodles Museum offers some very interesting artworks revolving around the cup noodle. There is also a replica of the old shed where cup noodles were invented.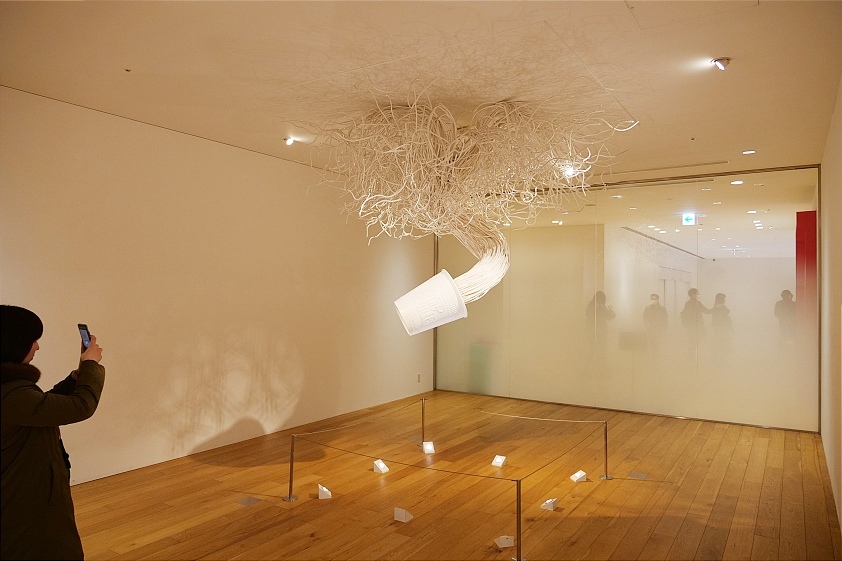 Fluffly Pancakes at Akarenga
Located a ten minute walk away from the Cup Noodles Museum is one of the Minato Mirai urban area's popular attractions: the Red Brick Warehouses (or Akarenga). It used to serve the area when it was a port but are now used to house various shops and restaurants. Located right next to the sea, it is a great place for a lunch break or a snack. Regular events are held there, as well as a Christmas market during the winter holidays.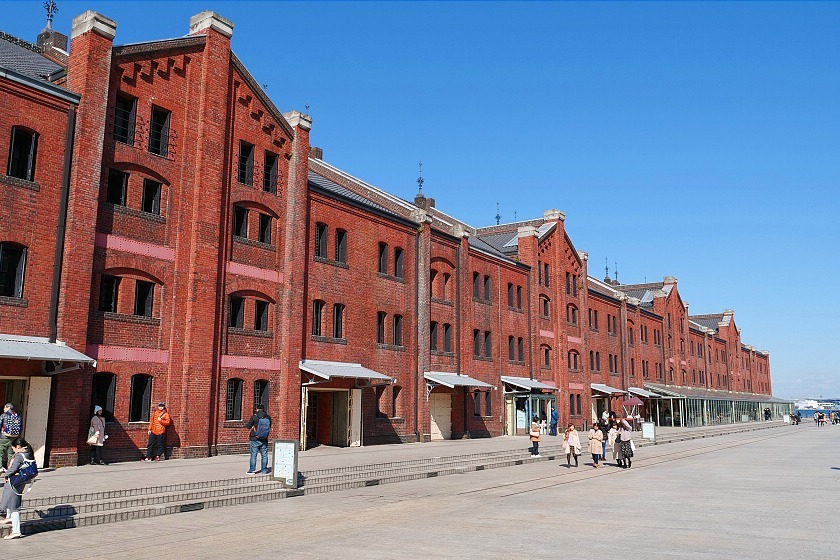 I made my way inside looking for a place that would serve a dish popular in Yokohama: pancakes. On my way to one of the pancake shops I came across a restaurant with a window inside its kitchen, allowing you to see the chef prepare Japanese Omurice with great technique and speed.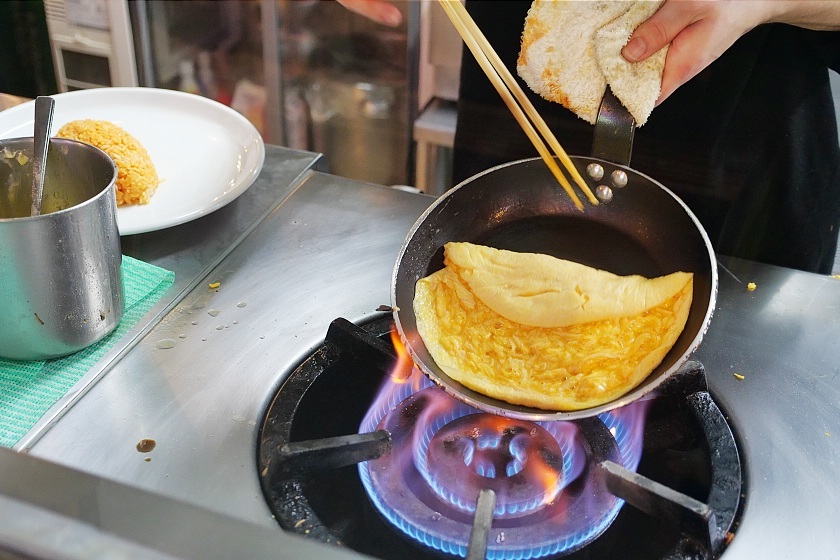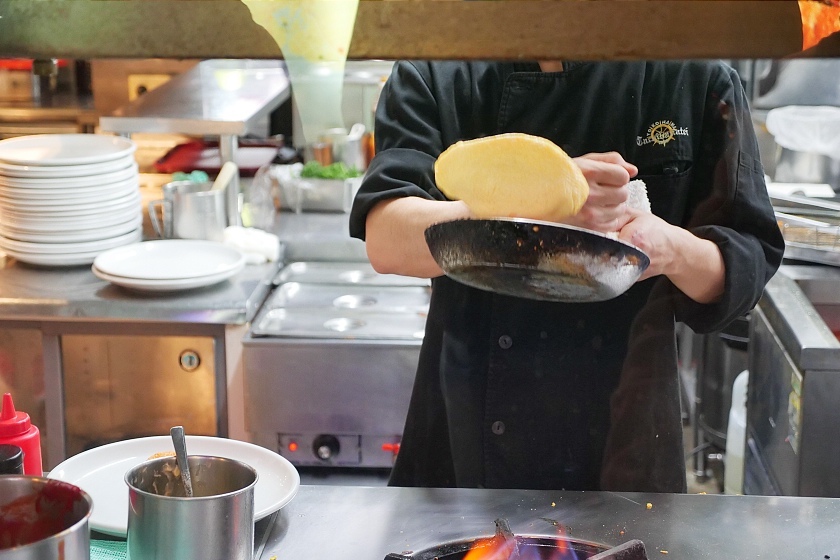 Located at the far end of the first floor, Bill's is a very popular cafe with branches in the fancy district of Ginza, Meguro and Odaiba, and is famous for their ricotta pancakes, which I was dying to try.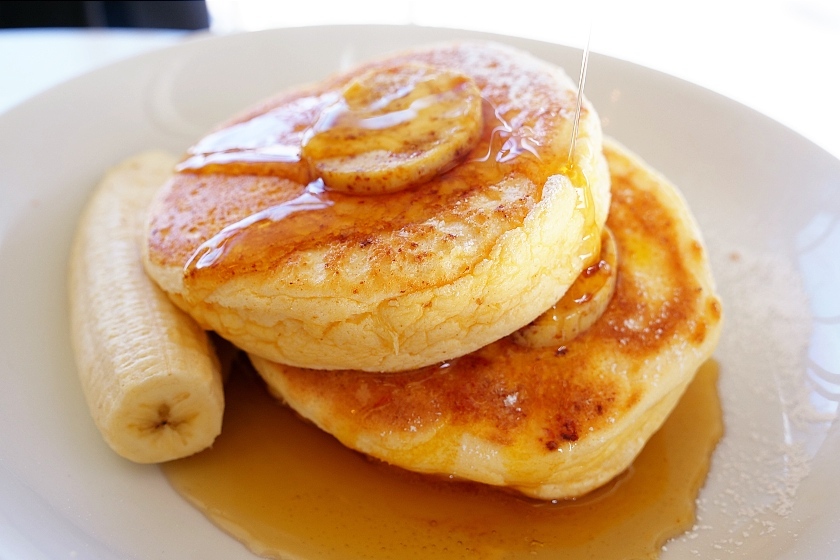 The three fluffy pancakes were extremely soft and sweet, topped with salted butter, and a generous dose of maple syrup. Delicious!
Yokohama Chinatown
Only a 10 min walk away from Akarenga is Yokohama's popular Chinatown district, which developed after the port of Yokohama opened to foreign trade in 1859. The entrance to the district is represented with the big colorful gates standing at four different sides of the neighborhood.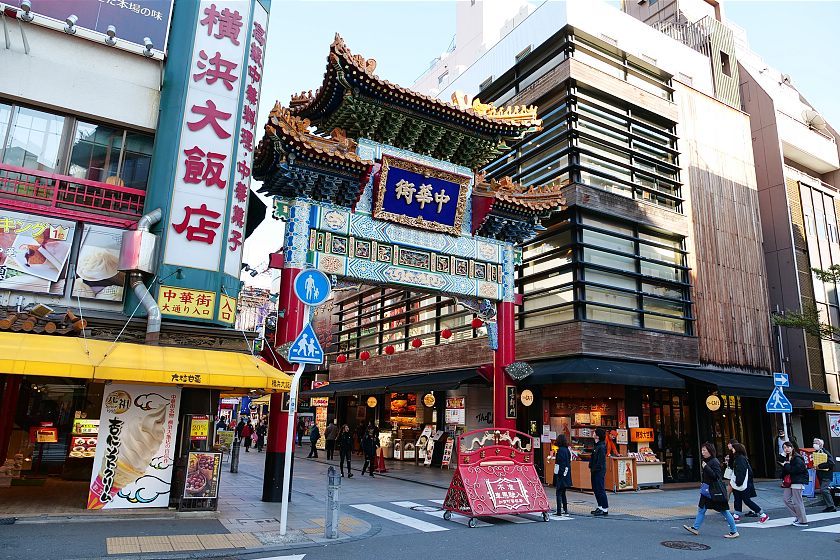 The atmosphere in Chinatown is really unique, with lots of shops selling street food, very interesting architecture and colorful lanterns hanging up. I almost got tempted to try a nikuman (meat bun), but however delicious they looked, my stomach was still full from the pancakes. Hopefully I will be back here in the near future for a more detailed food report on the good things you can eat there.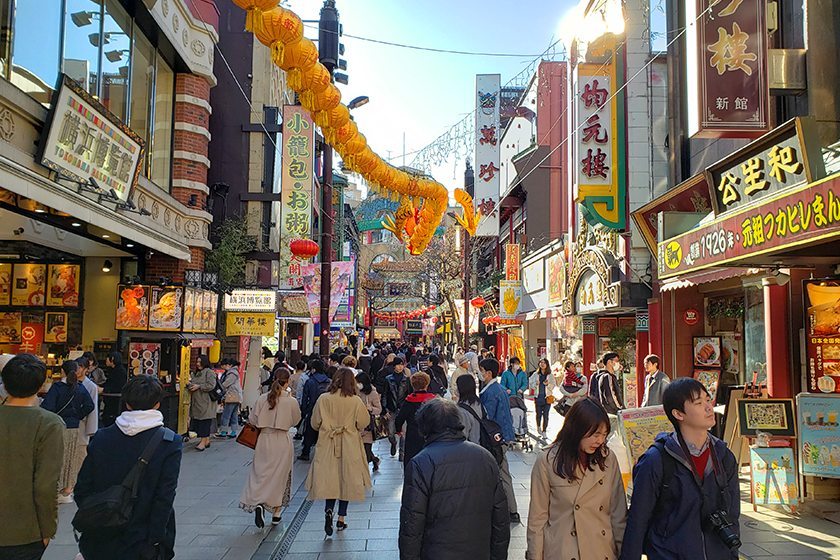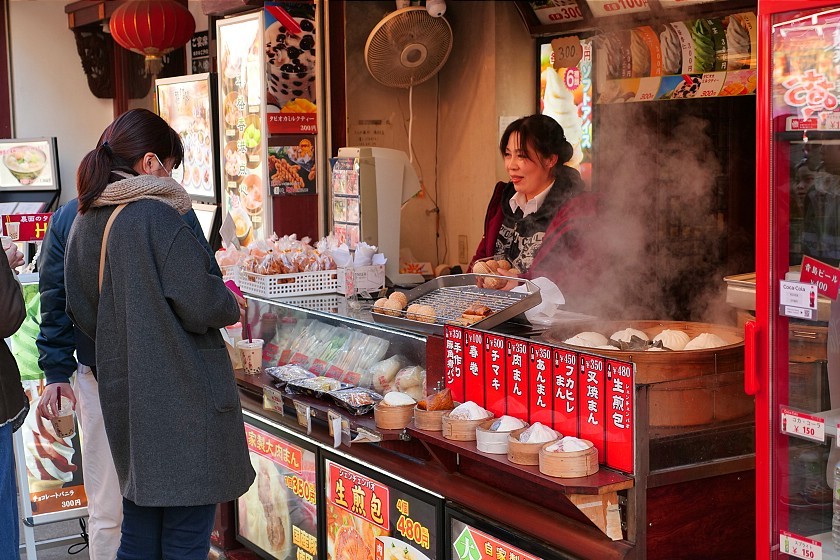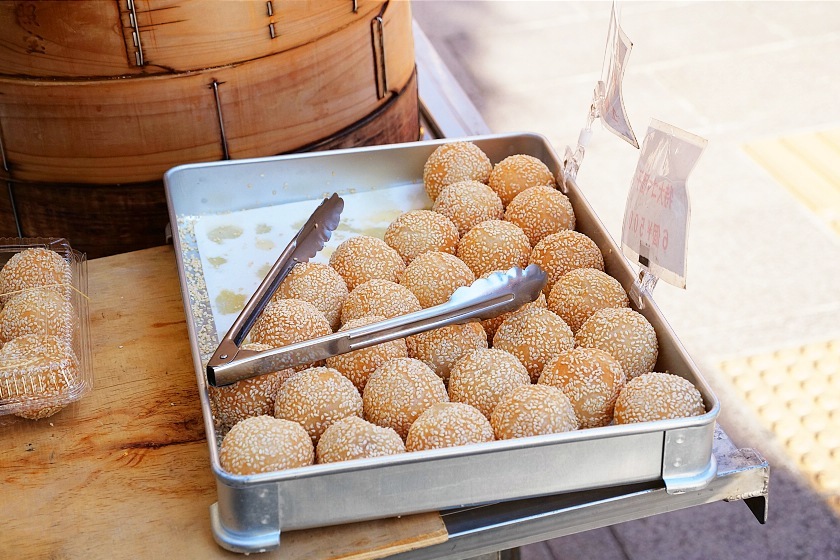 If you have the occasion, I definitely recommend exploring the side streets of Chinatown, particularly at night when the lanterns are all lit up.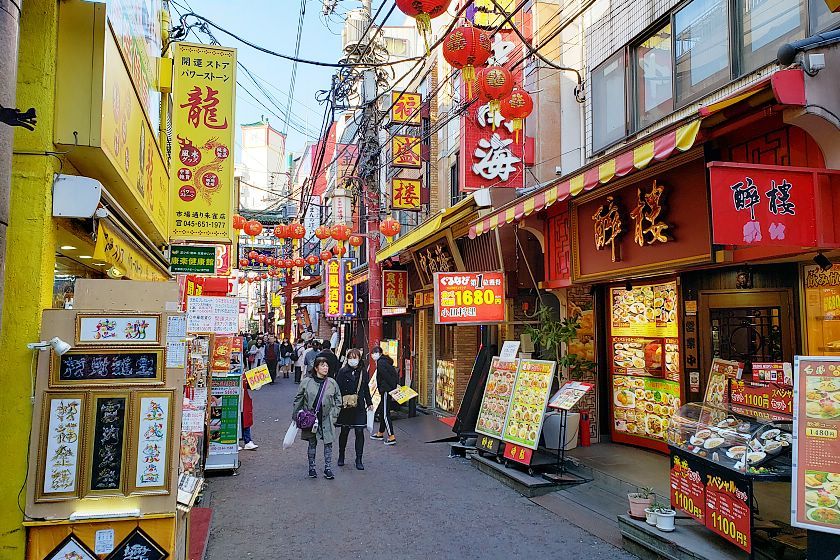 Sunset at Osanbashi Pier
My exploration of Chinatown over, I made the 10 min walk to Osanbashi Pier, a 400 meter long pier with walkways and green spaces that offers impressive views of the Minato Mirai skyline. I sat down on one of the benches and watched the sun go down on one of my favorite city views in Japan.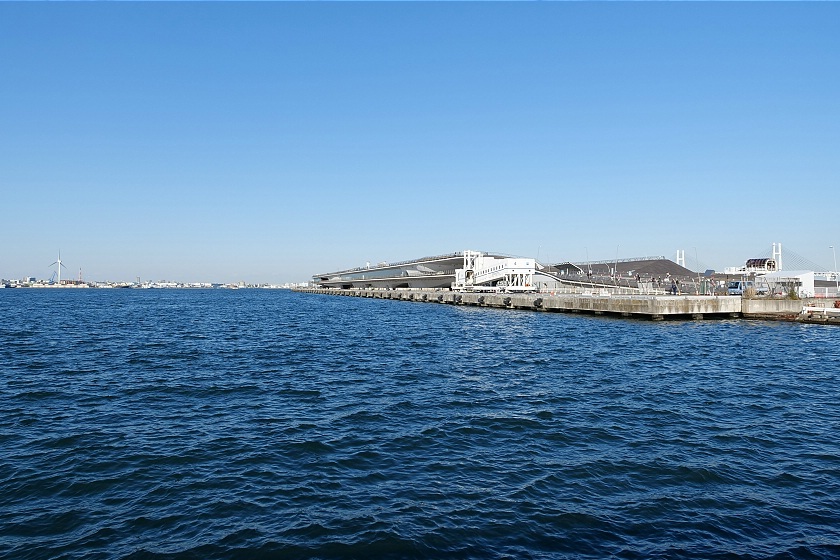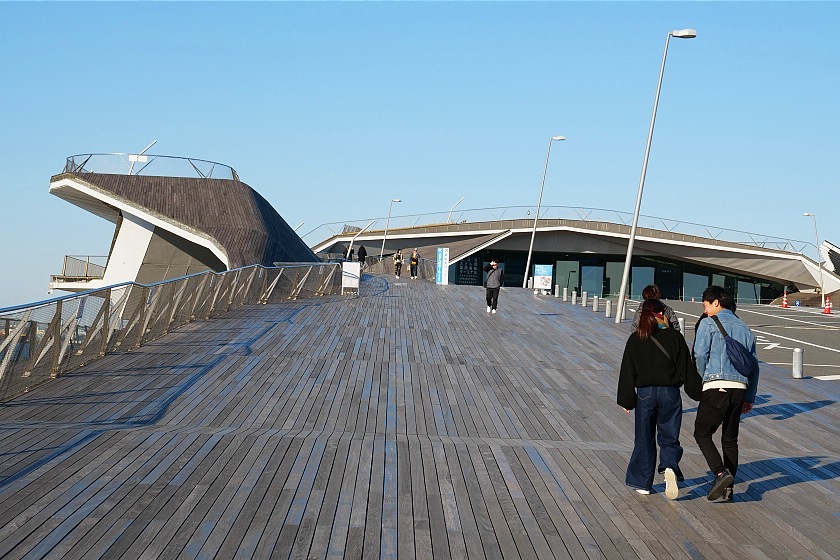 A cloudless sky and a clear view of Mount Fuji in the back made for an unforgettable moment. I recommend walking all the way to the end of the pier in order to get the best angle to see Mount Fuji.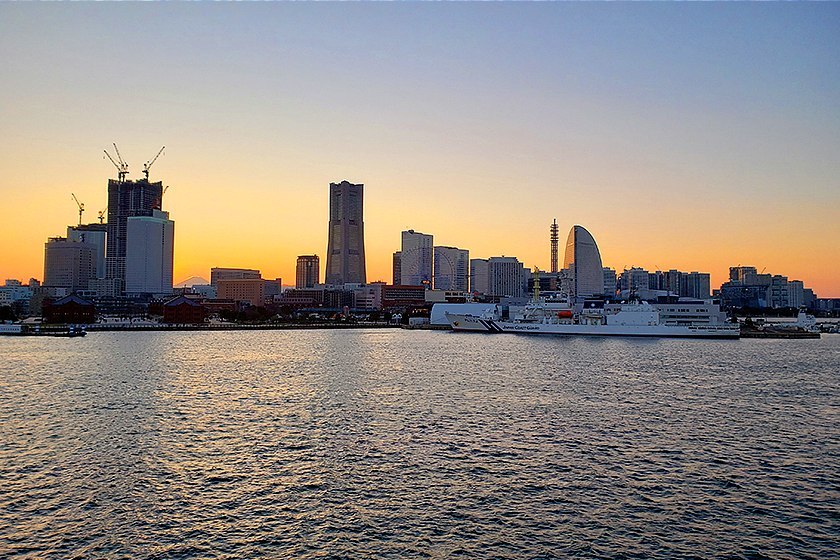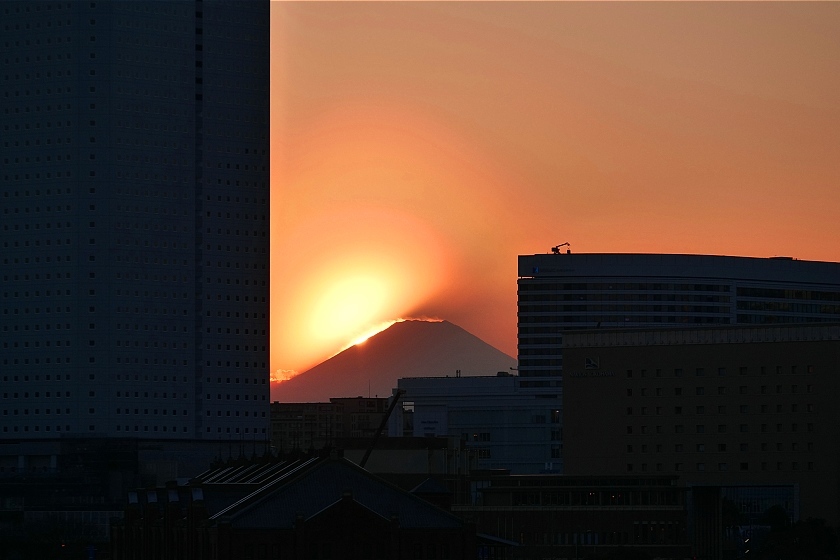 Yoshimura-ya Ramen
Before heading home, I went to one of Yokohama's ramen landmarks: Yoshimuraya, located not far away from Yokohama Station. What makes this ramen special? It is the very first shop to have started the iekei style of ramen in 1974. Iekei ramen consists of a tonkotsu-shoyu (pork and soy) broth and usually comes with a topping of spinach, a few sheets of nori (dried seaweed) and an egg. Many other shops and chains then adopted the iekei style, with the name iekei (家系) paying direct respect to the original shop by using the kanji character 家 (for ya) found in the name Yoshimura-ya (as opposed to the more usual 屋 kanji).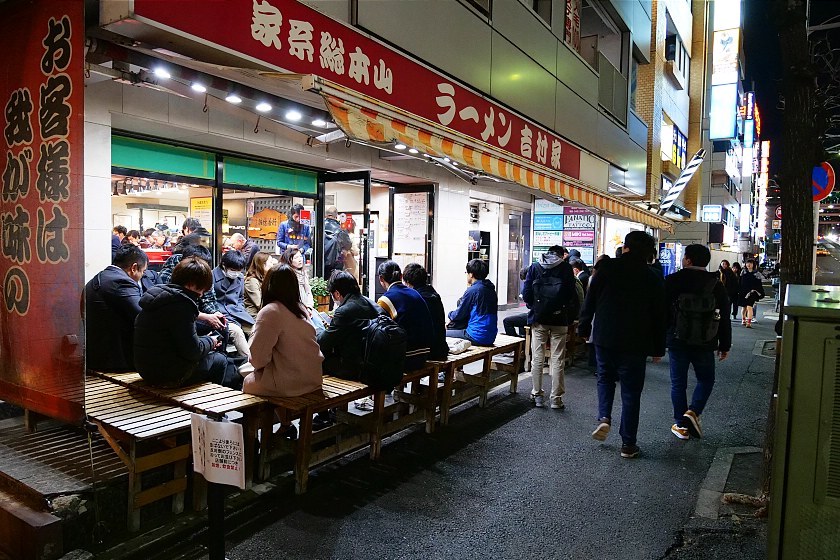 It was my third time trying out this bowl, and as usual there were at least thirty people waiting in line. It might seem like a long queue, but everything moves at a pretty fast pace. Here is how it goes: You go to the machine to buy a colored token corresponding to your order, you go wait in line, and wait for your turn. For speed efficiency the shop lets about 15 people go in at once and waits for 15 more people to leave the shop before letting the next group go in. This is why buying your token beforehand is key in order to not slow down the system.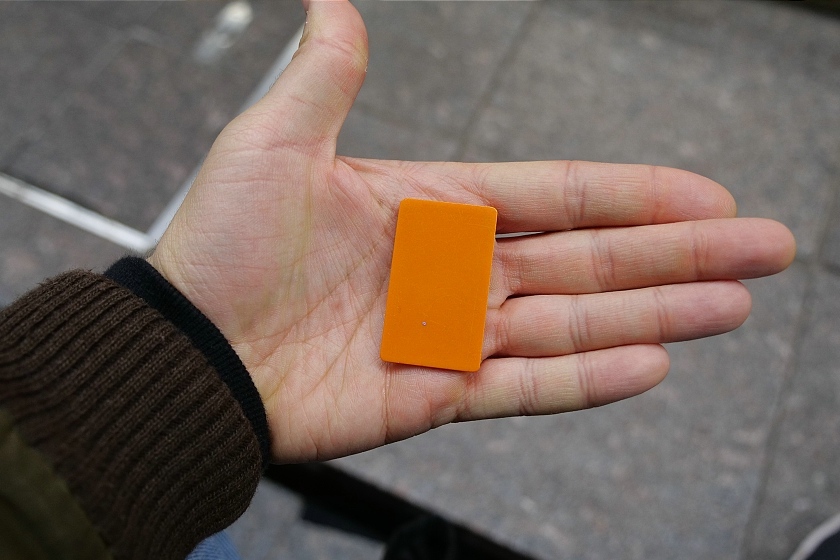 After a twenty minute wait, it was my turn to go in, along with 10 other people. I sat down at the counter, displaying the colored token in front of me, and the chef proceeded to ask everyone if they had any preference for their noodles: katame (kind of aldente), futsu (standard), yawarakame (soft). I went for standard.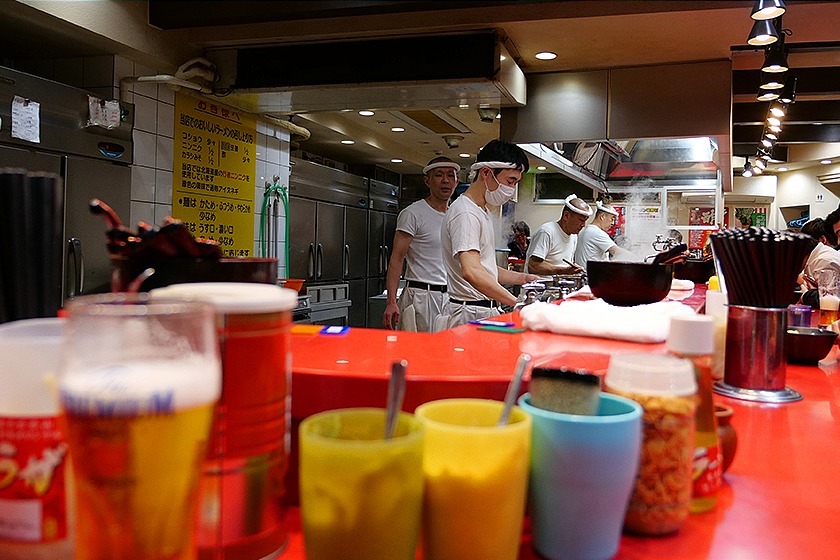 The speed and technique was really fascinating to watch, everybody doing their tasks with an impressive concentration, and preparing the 15 bowls almost like a ballet. 5 minutes later, the original iekei bowl was in front of me, and it looked and smelled fantastic.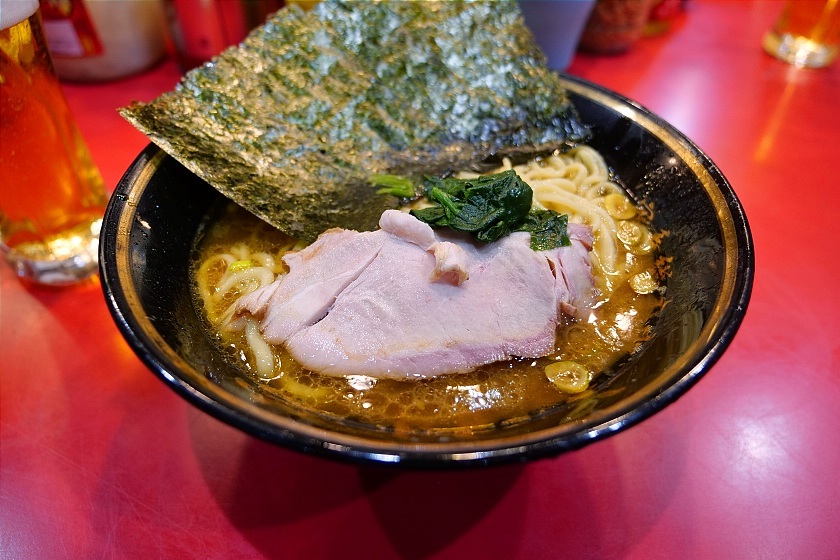 A few years ago I used to eat iekei ramen a lot in Tokyo, but this one was a whole other level, more refined in my opinion. The broth is very thick, very dense, the noodles were soft but with a little bite to them and the chashu had a great roasted flavor. I usually try not to drink the entire soup as it contains a lot of salt and fat, but this ramen was so delicious I couldn't resist.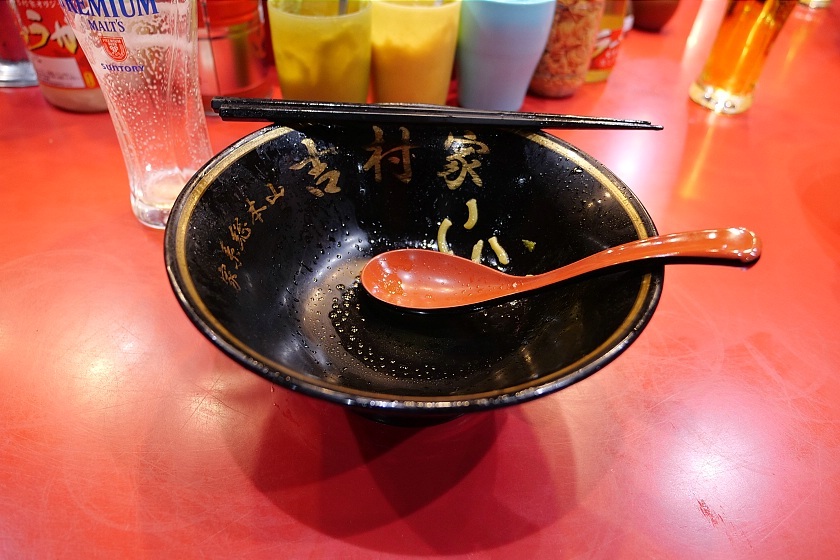 When it comes to eating iekei ramen, some people like to order a serving of rice that they would dump in the soup, mix it up before finishing it to the last grain. But I was too full and had a train to catch, which concluded my food journey to Yokohama. Gochisosama deshita!*
*Usually said after a meal is finished, meaning "thank you for the feast".