Francois' Japan Blog
by Francois, staff writer of japan-guide.com
2008/08/18 - Miyajima Trip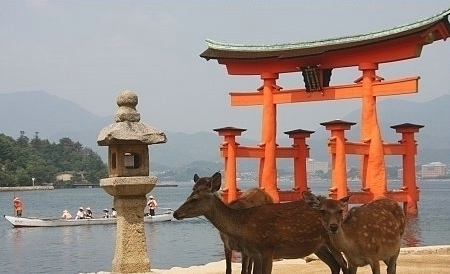 Recently I had the good fortune to spend a couple of days on Miyajima, an island famous throughout Japan for its shrine. In fact, the actual name of the island is Itsukushima, but because the island and its shrine are so closely associated in the mind of the general public, it is almost always refered to as Miyajima; directly translated from Japanese, "shrine-island".
Many Westerners may recognize Miyajima without being exactly sure of how or from where. The torii gate of the island's shrine is set on the water, and it has become an iconic and enduring image that is included in any definitive collection of Japanese landscapes. In fact, along with the Amanohashidate in Kyoto Prefecture and the bay in the town of Matsushima, Miyajima is considered to have one of the three most scenic views in Japan.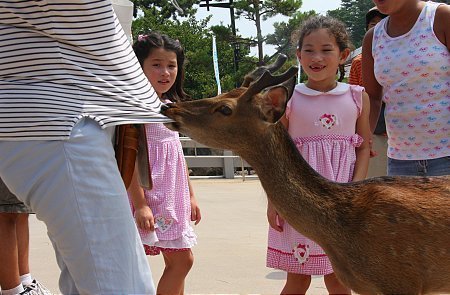 The most popular activity at Miyajima is simply to admire the torii, both from the shore and from inside the shrine itself. The shrine is interesting because it too is on the water; a series of boardwalks connect various religious locations, one of which is a lookout point onto the torii. Centered around the shrine area, a considerable amount of shops and commercial streets have developed which cater to visiting travellers.
Another feature for which Miyajima is well known is the population of deer that inhabit the island. Like the deer that inhabit the public park of Nara, Miyajima's deer have become completely desensitized to human presence. They roam around the streets almost completely oblivious to the people around them. The deer make quite a pleasant addition to the surrounding scenery. The children travelling with their parents were particularly amused by the boldness of the creatures.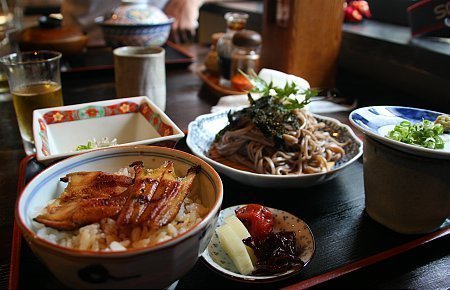 To further add to the enjoyment of a visit to Miyajima, there are a few local specialties which should definitely be tried during a stay. I took refuge during the sweltering heat of high noon at a nice restaurant just at the foot of the Daisho-in temple. Though they weren't serving oysters, one of Miyajima's specialties, they were serving the other, salt-water eel ("anago" in Japanese). The eel, as with the rest of the meal, was quite good. I am quite fond of eel, but I usually eat the fresh-water variery, "unagi", so it was nice to see the difference between them.
One thing that visitors to Miyajima should be aware of is the times of both and high and low tide. The torii is certainly more picturesque when it is viewed at high tide, when it seems to be floating on the water. But if you want to get a closer look, when the ebb tide has receded the water enough, it is possible to walk right out to it.