Cherry Blossom Report: Tokyo
Francois' Japan Blog
by Francois, staff writer of japan-guide.com
2009/03/29 - Cherry Blossom Report: Tokyo
Chidorigafuchi
March 29, 2009 - opening (10-50%)
Chidorigafuchi, one of the moats of the Imperial Palace, is located just south of Yasukuni Shrine. Both are popular spots for seeing cherry blossoms. The outer grounds of Yasukuni Shrine have space for typical cherry blossom viewing parties, and along the moat it is possible to rent boats.
The walking route along Chidorigafuchi, was very crowded today, and many rental boats were in the water. The trees were at about 30%. At Yasukuni Shrine, however, they had only opened about 10%.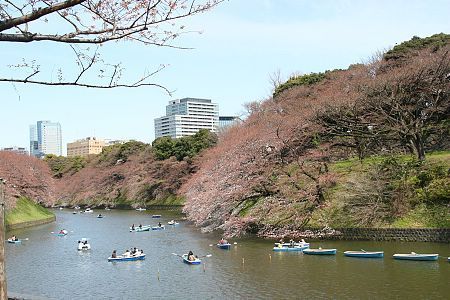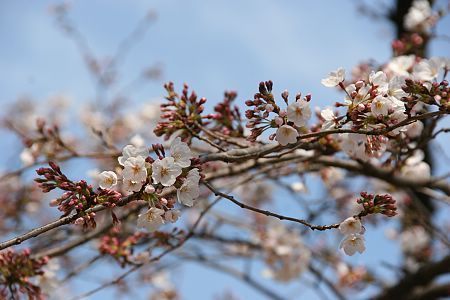 ---
Roppongi
March 29, 2009 - just opened (less than 10%)
Roppongi is the location of two popular building complexes; Roppongi Hills and Tokyo Midtown. Both have organized special events around the cherry blossom season, including concerts and night time illuminations.
Many of the trees in the area are still just barely opened. Roppongi Hills and Tokyo Midtown have cherry tree lined slopes, but neither has more than a few opened flowers. The Mori Garden area behind Roppongi Hills is presently the best place to see the flowers. There are a few trees at Tokyo Midtown here and there that are more advanced.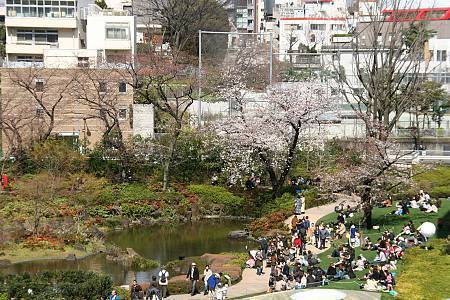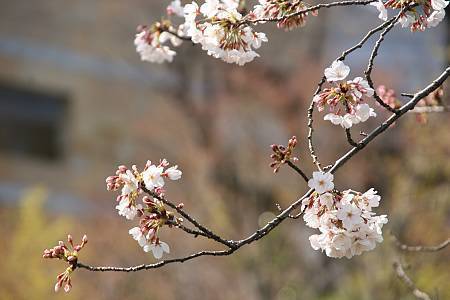 ---
Shiba Park
March 29, 2009 - opening (10-50%)
Shiba Park is located just beside Tokyo Tower, which makes for an interesting view in conjunction with the blooming cherry trees.
The flowers have not opened up that much yet, only about 15%. Nonetheless, there are already large groups assembling at the best locations. The park has a designated Cherry Tree Garden area, but the trees there have hardly opened yet.