Francois' Japan Blog
by Francois, staff writer of japan-guide.com
2010/01/23 - Wakakusa Yamayaki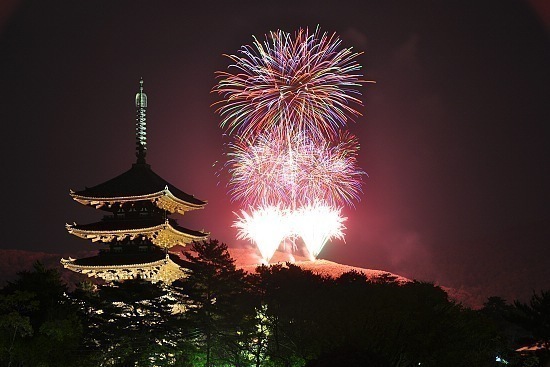 This weekend the japan-guide staff attended Nara's Wakakusa Yamayaki event, during which the grass of the Wakakusayama mountainside was set afire and could be seen all through the city. We positioned ourselves in different locations so that we could get pictures from a variety of angles. I spent most of the day in Nara Park at the base of the mountain (where most of the activity took place), Scott was positioned on the rooftop of a hotel just below Kofukuji Temple, and Schauwecker was around the Heijo Palace.
There was a variety of minor events that preceded the burning of the hillside, starting from about noon. One of the most fun was a contest for throwing an extra large sembei cracker, which tourists will recognize as the deer food sold throughout Nara Park. The event seemed quite popular, as there was a long line of people eager to pay the 300 yen fee to participate. There was also a stage with some local dancers and other shows.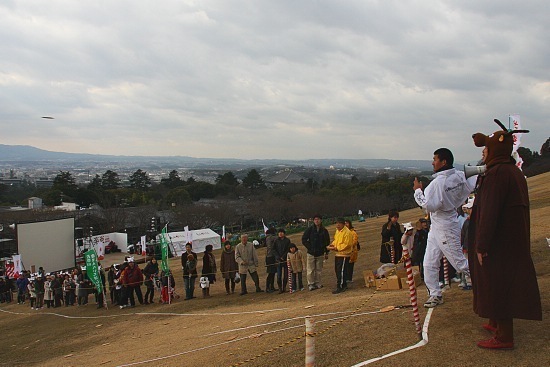 The burning ceremony began just before 5 o'clock, but there was no fire on the mountain until about 6 o'clock. The hour in between consisted of a procession from the Silk Road Exchange Hall in Nara Park to the mountain, with a couple of stops for performing rituals along the way. During the procession I was reminded of my visit to the Omizutori Festival last year, as both events had an interesting combination of Shinto ritual and burning torches. By the time the fire arrived at the mountain thousands of spectators had gathered, and a few hundred had walked along with the procession, myself included.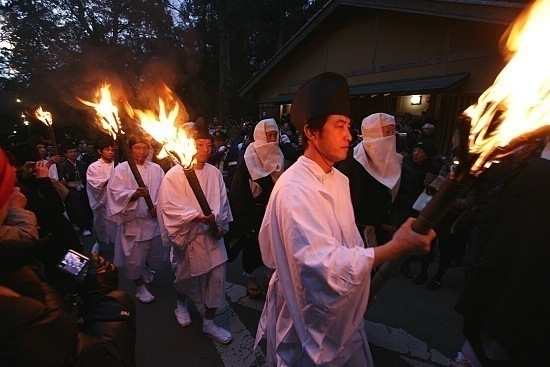 At about 6pm a large fire was made just below the thick grass. But before the entire mountain was set on fire, an entertaining 15 minute fireworks show was held. I quite enjoyed the display, and was impressed by a few particular creative displays, such as the writing out of "1300" in celebration of Nara's 1300th anniversary. Scott was able to get some great photographs of the fireworks and Kofukuji's five story pagoda together.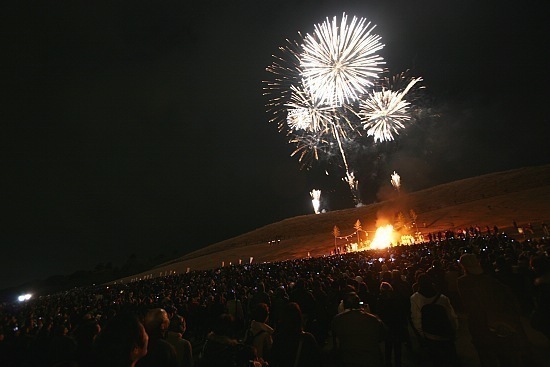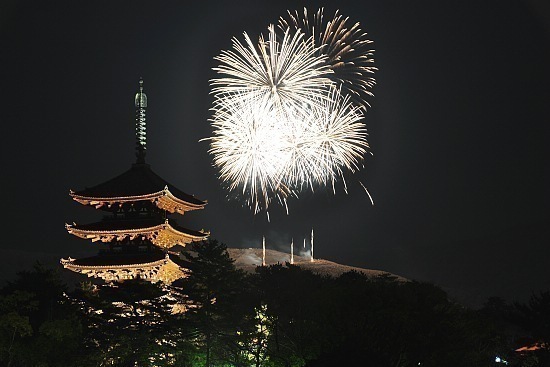 When the fireworks were finished, a line of people walked out to the edge of the thick grass and at the same time set the mountainside ablaze. The fireworks were very impressive, but I had a unique feeling seeing the glowing red mountain. I don't think I've ever seen such a large fire, and watching it gave me an impression of the destructive power that fires had in Japanese cities in earlier times. Schauwecker was able to get some really interesting pictures near Yamato-Saidaiji Station of the burning mountainside and the soon to be opened Imperial Audience Hall at Heijo Palace.