Cherry Blossom Report: Tokyo
Francois' Japan Blog
by Francois, staff writer of japan-guide.com
2010/04/01 - Cherry Blossom Report: Tokyo
The cherry blossoms in Tokyo have developed quite a bit since I last visited a couple days ago for the March 30 cherry blossom report. As suspected, many places in the city are at or approaching full bloom and this weekend should be the best time this year to see cherry blossoms in Tokyo as long as the weather is agreeable.
Yasukuni Shrine
April 1, 2010 - approaching full bloom (50-80%)
Yasukuni Shrine is located just north of the Tokyo Imperial Palace. A long approach to the shrine, which begins at a massive torii gate near the exit from the subway, has a number of groves of cherry trees that attract hanami parties and food stalls. On the main shrine grounds there is a variety of different cherry blossom species.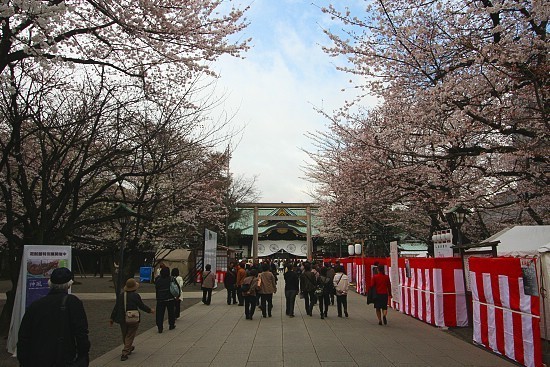 The cherry trees at Yasukuni are almost at full bloom, and probably just under 80% open. They should reach full bloom by tomorrow and remain so through the weekend.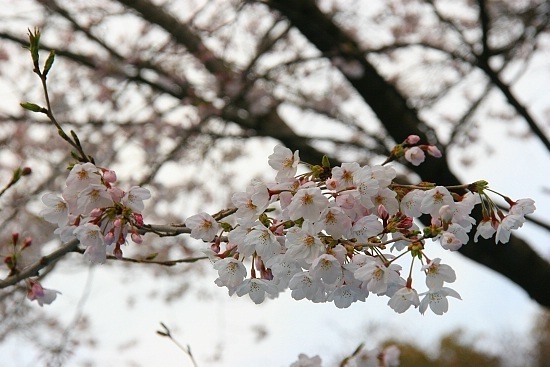 Because Yasukuni was my first stop in the morning, there were very few cherry blossom viewing parties taking place. However, the area seems to be in high demand as most spots under the trees had already been prepared for parties later in the day.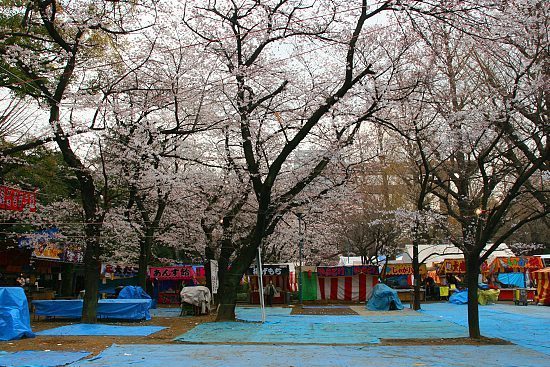 Chidorigafuchi
April 1, 2010 - approaching full bloom (50-80%)
Chidorigafuchi is the northern part of the moat of Tokyo Imperial Palace. Cherry trees line the moat and visitors can walk through a path that leads through a tunnel of cherry blossoms. Another interesting option is renting a boat and admiring the flowers from the water.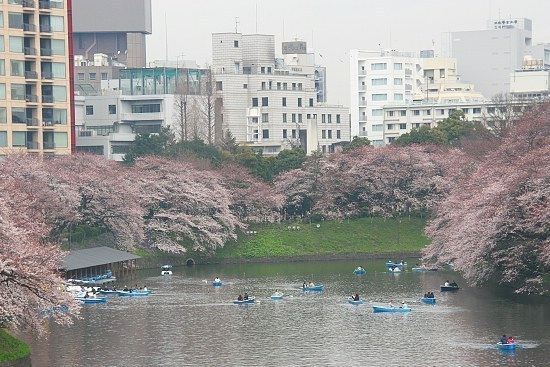 Just like scott had found in his March 26 cherry blossom report, I also found that the state of the flowers of Chidorigafuchi was very similar to the state of the flowers at Yasukuni Shrine. The flowers of Chidorigafuchi are slightly less advanced, being a bit over 70% open, but like at Yasukuni Shrine they should reach full bloom in the next day or two.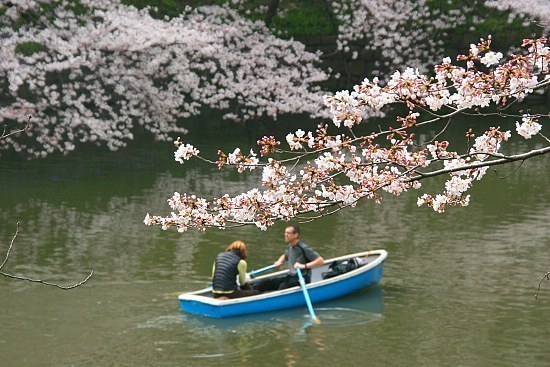 Shiba Koen
April 1, 2010 - approaching full bloom (50-80%)
Shiba Koen is a park that is located just beside Tokyo Tower, which can be seen from many locations within the park. As there are only about 200 cherry trees, Shiba Koen does not have massive amounts of flowers. However, there are a few areas of dense trees, and the added view of Tokyo Tower makes Shiba Koen a unique spot for viewing cherry blossoms.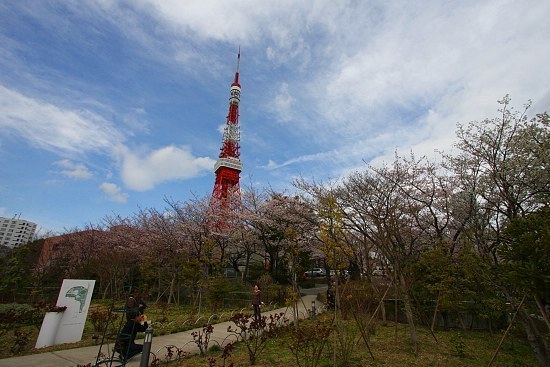 The cherry blossoms at Shiba Koen are quite advanced, with about 70% of the flowers open. In the areas of the park where the cherry trees were most dense there were already many cherry blossom viewing parties taking place when I visited today around noon.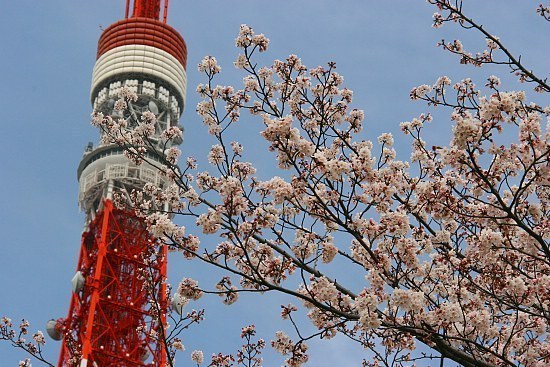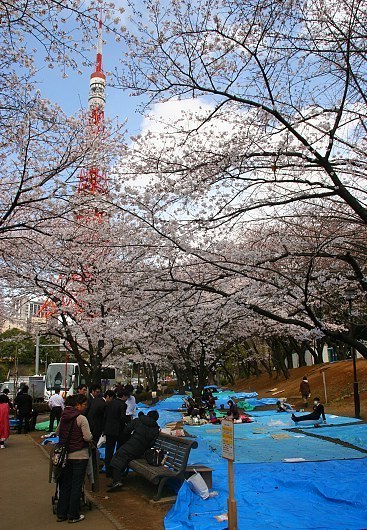 Sumida Koen
April 1, 2010 - approaching full bloom (50-80%)
After lunch I went to investigate the cherry blossoms at Sumida Koen, which is a park that stretches for a few hundred meters along the Sumida River in the Asakusa district of Tokyo. Like at Chidorigafuchi, there are boat rides available but here you won't have to paddle yourself.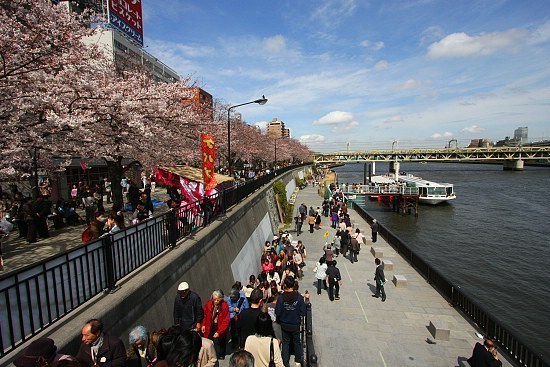 The cherry trees at Sumida Koen park have between 70 and 80% of their flowers open, and should reach full bloom within the next couple days. Today the area was quite busy with visitors, flower viewing parties, and food vendors.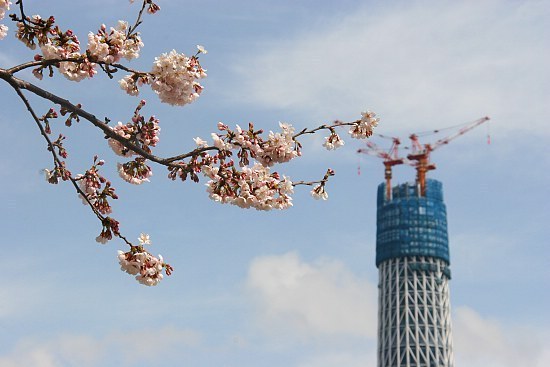 Apart from the cherry blossoms, there was a new tree in the area that I was particularly interested to see. Having just surpassed Tokyo Tower's height of 333 meters earlier this week, the Tokyo Sky Tree building became the tallest structure in Japan and is becoming an ever more dominant feature of the cityscape. While it stands at over 340 meters tall now, it will be over 600 meters when it is completed next year.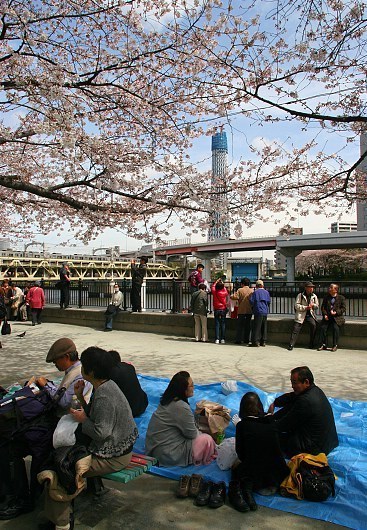 Ueno Park
April 1, 2010 - full bloom
Just like a couple of days ago for my March 30 cherry blossom report, I ended the day at Ueno Park. The park is one of the most popular cherry blossom spots in the country, and last time it was very crowded. This time it was even more so, as the flowers at the park have reached full bloom.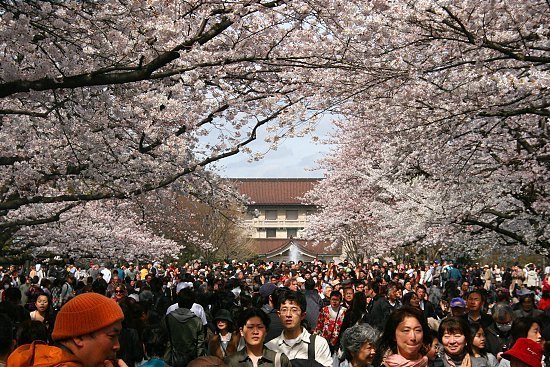 There was a great atmosphere at the park today as the flowers were at their height of fullness. The branches overhead seemed like light clouds of petals for almost the whole length of the park's main walking path. In contrast to the lightness of the flowers, the crowd was dense and hard to navigate, but the many people added to the festive feeling in the park.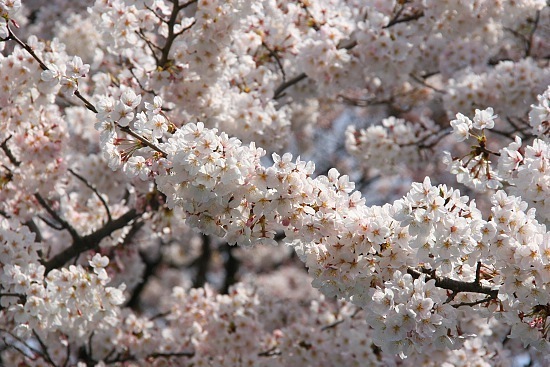 At one point a noticed a large crowd of people clustering around a certain tree to get a picture. I have been to the park many times before and never noticed such focused attention on that one spot so I was curious to find out what it was that people were shooting.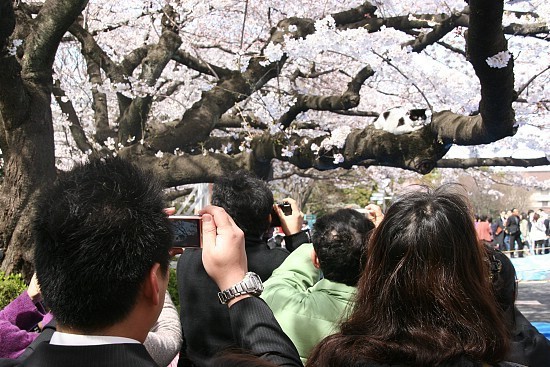 As I approached, I was amused and surprised to see that for some reason a cat had found its way up to one of the branches and seemed to be sleeping heavily as the dozens of surrounding people took its picture. It didn't seem like a good place for a nap, but I thought maybe that cat had also tired itself out on a tour of Tokyo's cherry blossom spots as they approach full bloom. Hanami can be serious business!