Cherry Blossom Report: Tokyo
Francois' Japan Blog
by Francois, staff writer of japan-guide.com
2011/03/30 - Cherry Blossom Report: Tokyo
The cherry blossoms officially opened in Tokyo two days ago on the 28th, the day after Schauwecker's initial report from the city. Today I visited a number of the same attractions that were visited on the March 27 cherry blossom report.
The current situation in Tokyo is very similar to how it was three days ago: the most common variety of cherry trees, the somei yoshino, are still at a very early stage of development and as of yet are not very attractive, but there are a number of early blooming varieties that are near full bloom that are currently very impressive. With warm weather predicted to continue into the weekend, hanami parties should be quite nice starting from Friday. However, full bloom certainly wont' happen until at least next week.
Ueno Park
March 30, 2011 - just opened (0-10%)
Ueno Park, widely considered the most famous of Tokyo's cherry blossom spots, has only a few of its many flowers opened. The impressive pedestrian walkway that will later have a sea of overhanging petals still mostly consists of small buds and branches.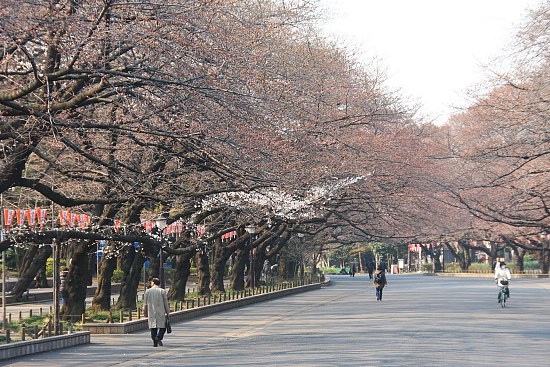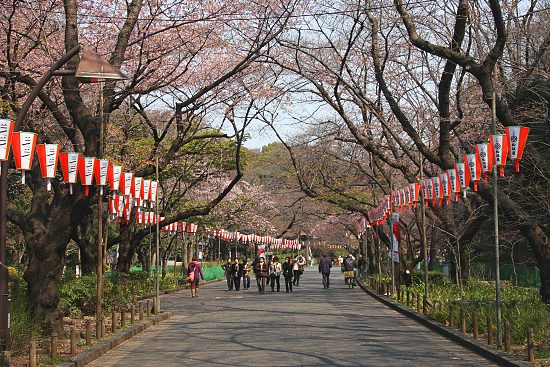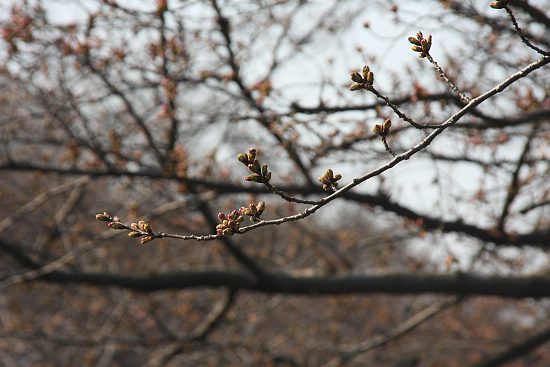 Across the expansive park grounds there are hundreds of cherry trees and dozens of different varieties. Visitors who come to the park in the next few days will still be able to find many attractive flowers, such as the komatsu-otome tree in front of Ueno Zoo, the kanhizakura trees beside the Bentendo Hall or the weeping cherry tree at the park's entrance.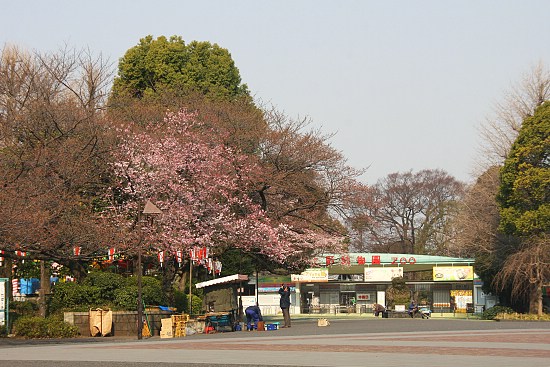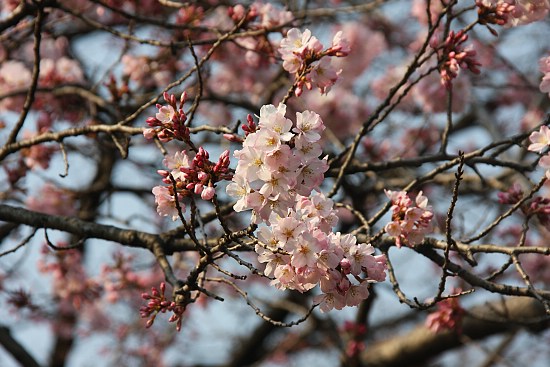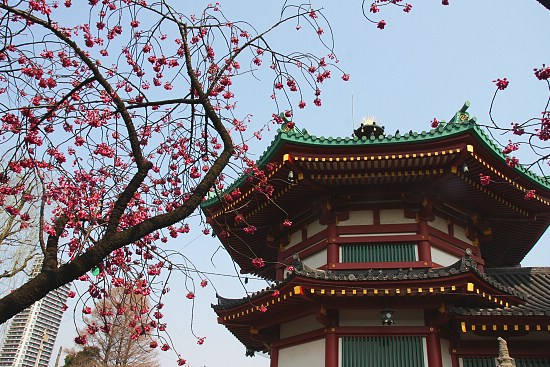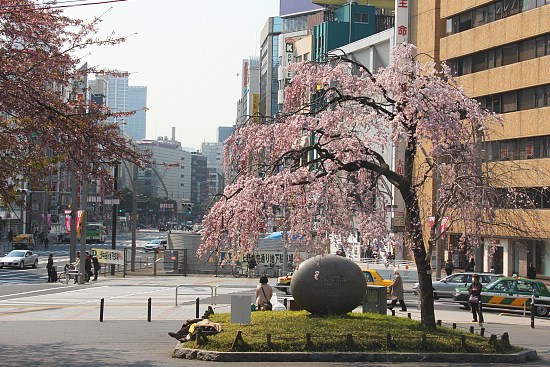 Koishikawa Botanical Garden
March 30, 2011 - just opened (0-10%)
The somei yoshino trees at Koishikawa Botanical Garden are at a similar state of development as those at Ueno Park, though they may be a bit further developed. The garden has about 160 cherry trees, half of which are somei yoshino. The number and varieties of trees are not as extensive as at Ueno, but there are still a few early blooming cherry tree varieties that can be enjoyed now, particularly a small cluster of trees in the park's northern area that includes an oshima-zakura tree and a mame-zakura tree.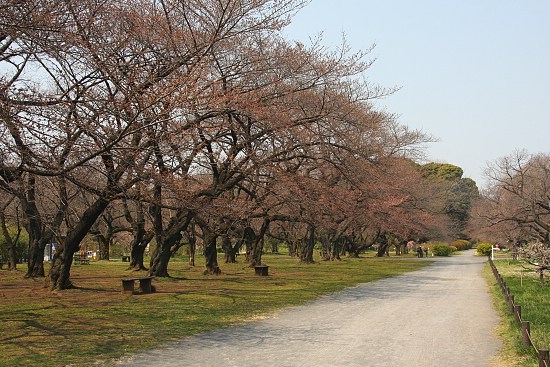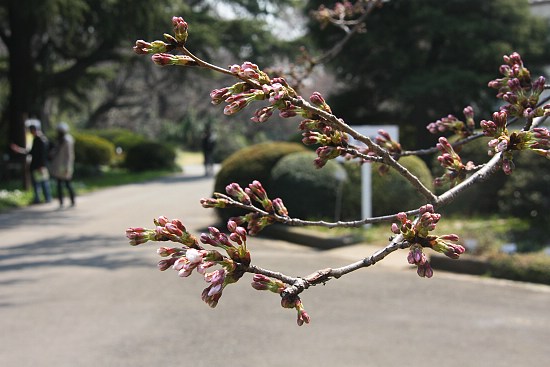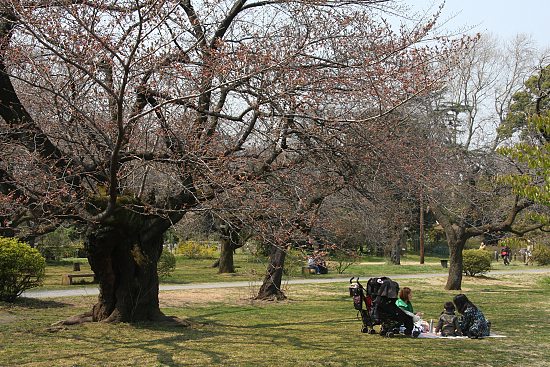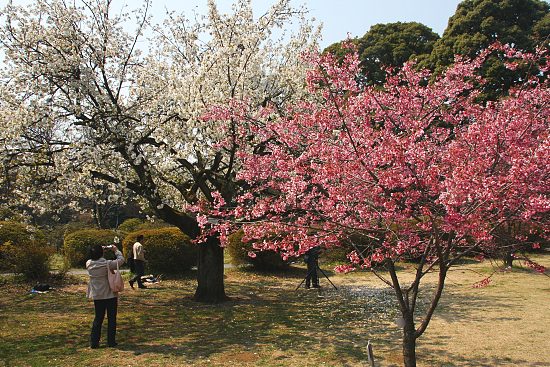 Koishikawa Korakuen
March 30, 2011 - opening (10-50%)
The main cherry trees at Koishikawa Korakuen are the early blooming weeping variety, so the park is more advanced than most other cherry blossom spots in Tokyo. With the continuing warm weather the trees should be nearing full bloom by the weekend, though I do not think full bloom will be reached until next week.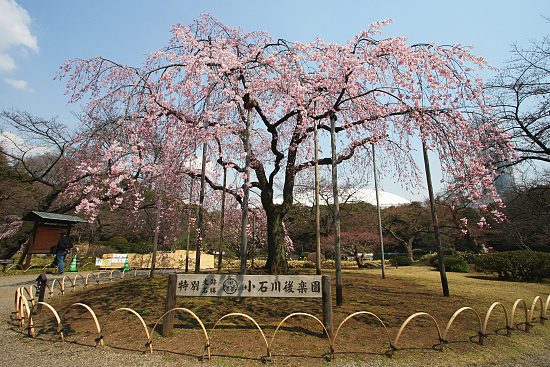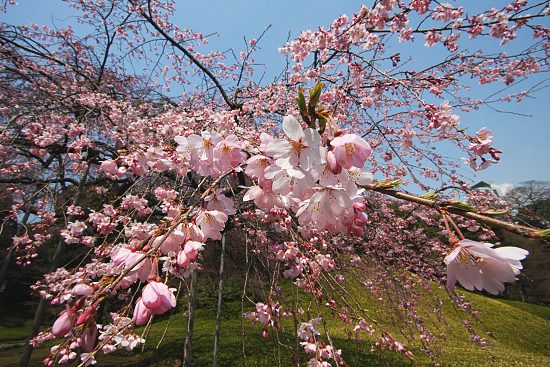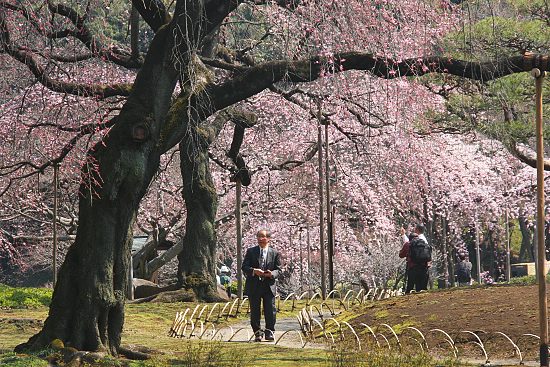 Shinjuku Gyoen
March 30, 2011 - about to open
My final visit of the day was to Shinjuku Gyoen, where the somei yoshino trees seemed to be at the least advanced state of all the sites I visited. Like Schauwecker on Sunday, I found the park to be surprisingly busy, especially since I was visiting on a weekday. Similar to Ueno Park, Shinjuku Gyoen has a massive number of cherry trees of a number of different varieties, so although the majority of trees are not open flowers are still sure to be found.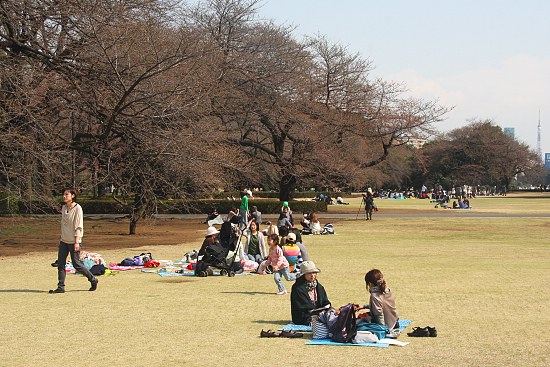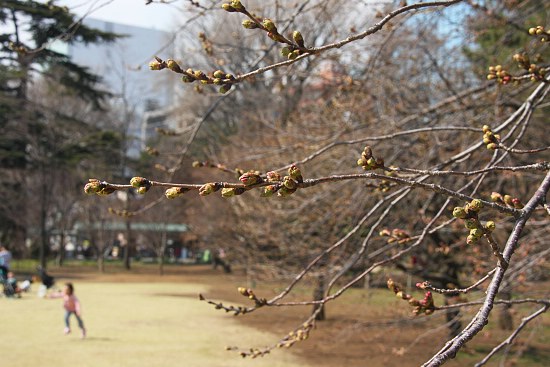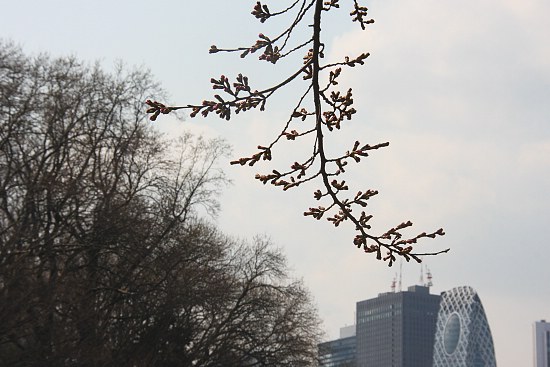 I checked on the same group of weeping cherry trees near the park's lower pond that Schauwecker was impressed with three days days ago on Sunday. The trees were still very impressive, and are currently at or very near full bloom. Those trees should continue to be very attractive into the weekend, when Shinjuku Gyoen will surely become very busy with visitors.