Cherry Blossom Report: Kanazawa
Francois' Japan Blog
by Francois, staff writer of japan-guide.com
2011/04/14 - Cherry Blossom Report: Kanazawa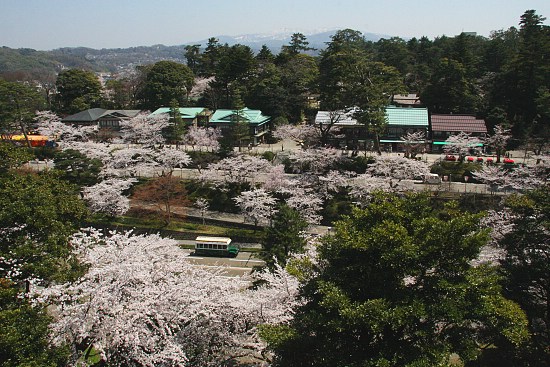 Today I visited the most famous cherry blossom spots of Kanazawa and found the city's flowers to be at full bloom. From now and into the weekend will be the best time to see the flowers in the city this year. Today was the only cherry blossom report from Kanazawa this season.
One of the main benefits of visiting Kanazawa is the convenient location of its attractions, which are all clustered in the downtown area close to the station. The Kanazawa Loop Bus can be taken directly from the station to all of the nearby sites. Today I took a rental bicycle, but it is also possible to walk to the spots in around 30 minutes.
Kanazawa Castle Park
April 14, 2011 - full bloom
Kanazawa Castle Park consists of the castle grounds and its reconstructed buildings, which were made with painstaking effort to resemble the original constructions. The park has a beautiful open lawn area just after the main entrance through the Ishikawamon Gate, but there are only a smattering of cherry trees. The most attractive spot for cherry blossoms is a tunnel of flowers created by the trees that line the castle's northern moat.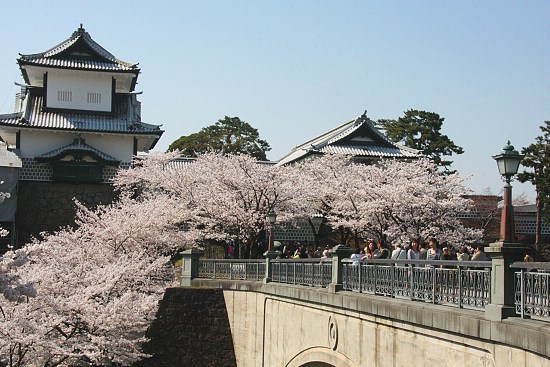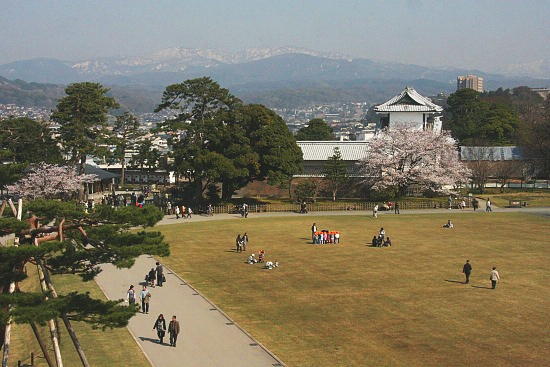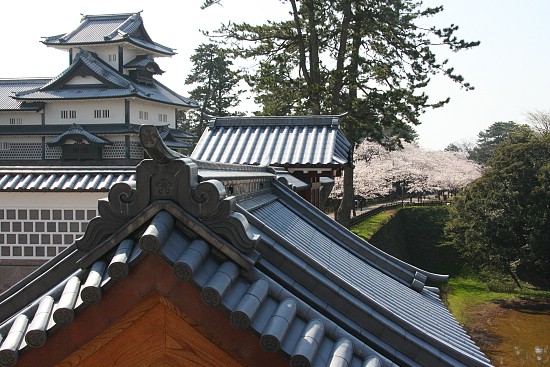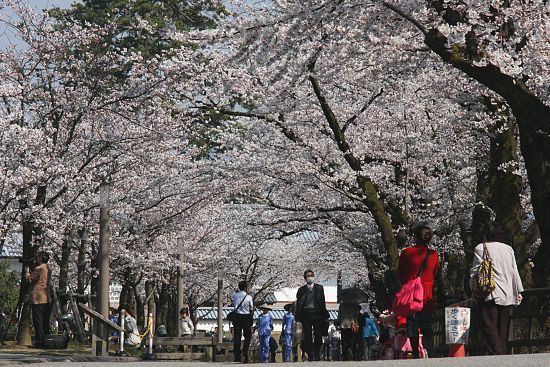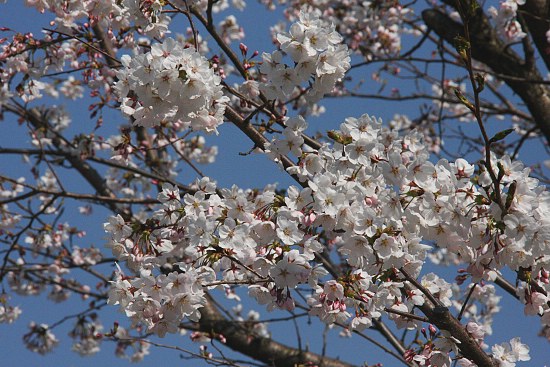 The one negative aspect of today's visit was the fact that the wall beside the Ishikawamon Gate is currently undergoing construction so that the area below is not as attractive for hanami parties as it was last year. There is also another good spot for hanami parties near the northern moat.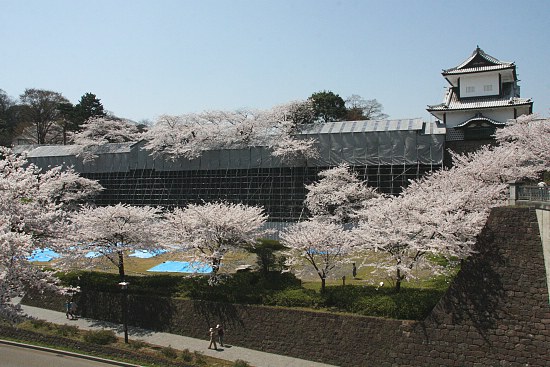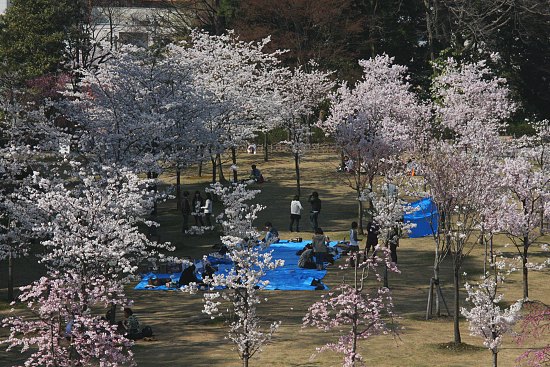 Kenrokuen Garden
April 14, 2011 - full bloom
Just across from the castle is Kenrokuen Garden, considered one of the country's three most famous traditional gardens. The garden certainly is beautiful, and I enjoyed today's visit as much as my previous ones. There are about 400 trees across the garden, which are also at full bloom.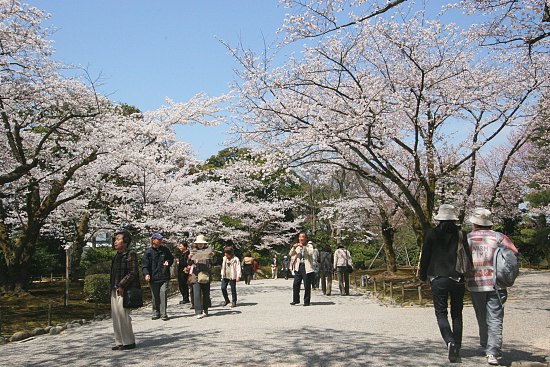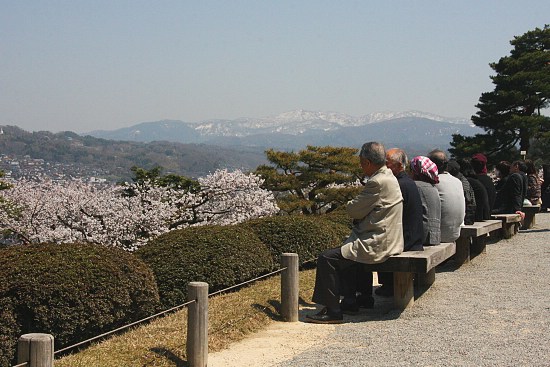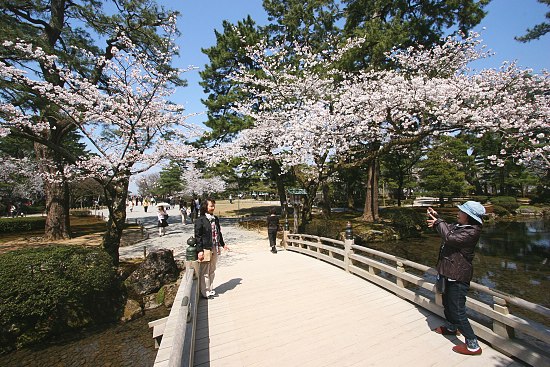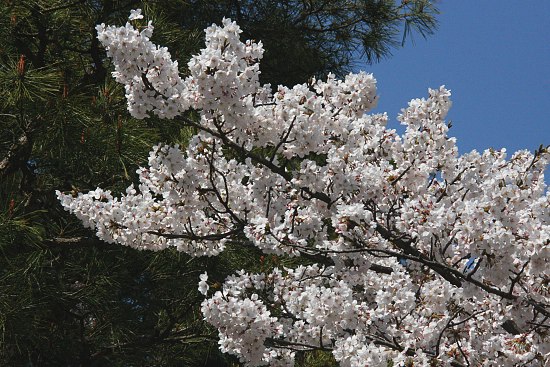 Kazuemachi Chaya District and Asano River
April 14, 2011 - full bloom
I originally didn't plan on visiting the city's Chaya Districts, but since they were so close I figured that I might as well enjoy their special, traditional atmosphere a bit. While I was there I noticed that the riverside Kazuemachi Chaya district and the Asano River had quite a few attractive cherry trees that are also at full bloom, so I decided to include them in today's report.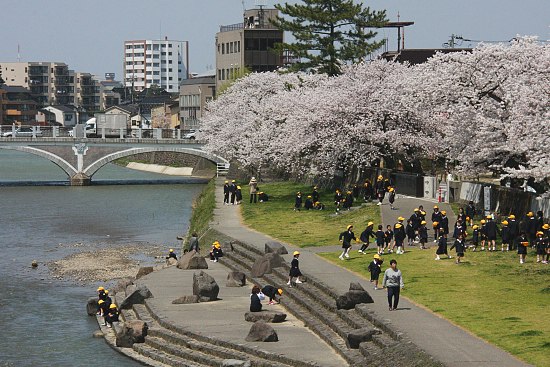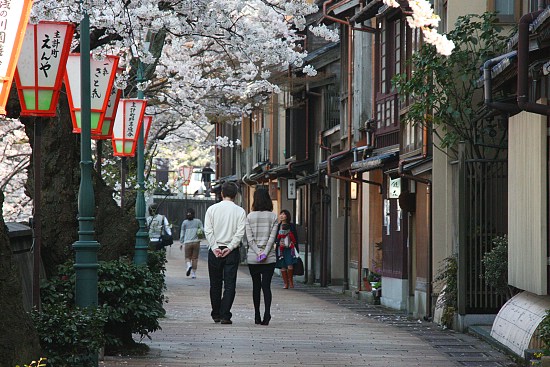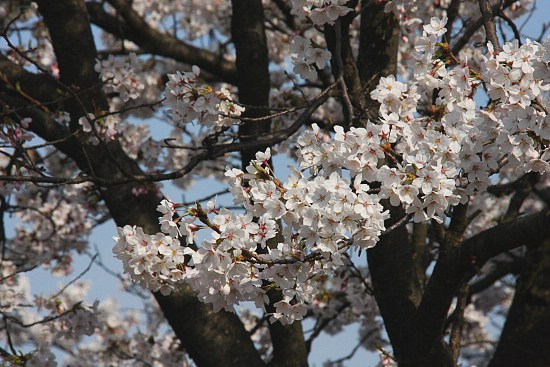 The flowers today were fantastic and I was also lucky enough to visit during a clear, sunny day. In my opinion, the very best flowers were technically not in any of the sites I visited, but were actually found on the rows of trees between the castle and the garden. Visitors to the area should take the time to take a stroll under these blossoms if they have the good fortune to visit Kanazawa in the next few days.