Seasonal Illumination: Kobe Luminarie 2014
Joe's Japan Travel Journal
by Joe, staff writer of japan-guide.com
2014/12/15 - Seasonal Illumination: Kobe Luminarie 2014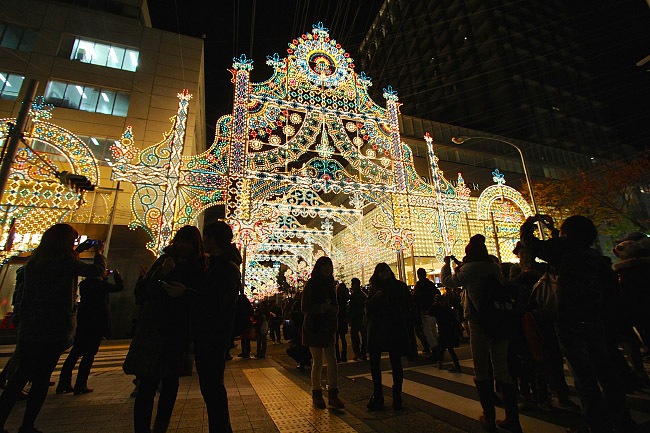 Winter nighttime illuminations have become a tradition throughout cities in Japan in the last few decades, and the tradition is thought to have started in 1995 with a special event in Kobe called the Kobe Luminarie. After the disastrous Great Hanshin Earthquake in January of 1995, which claimed 6000 lives and devastated the city of Kobe, artists Valerio Festi and Hirokazu Imaoka used hundreds of thousands of lights donated by the Italian government to create a one-time light display set up the centrally-located Higashi-yuenchi Park. The display was meant to serve as a memorial for the city's victims and to inspire hope in rebuilding and moving on.
The original display was so well-received, it has been continued annually ever since and continues to draw more than 3 million people to the city ever December. The display is held during the first half of December, and features 2-to-3-storey, intricately-designed, handmade wooden structures covered in symmetrically-arranged patterns of colorful lights. Thanks to its reputation as one of Japan's most preeminent illuminations, the crowds can be intense, queuing up in line that snakes around several city blocks before being able to see the lit facade at the entrance of the display. The line moves at a fairly brisk pace, however, and once inside the exhibition, don't seem to mar the wondrous atmosphere.
The 2014 Kobe Luminarie was from December 4 through December 15, and has just finished for this year. The next opportunity to enjoy the festival will be next year in 2015.