Seasonal Illumination: Osaka
Joe's Japan Travel Journal
by Joe, staff writer of japan-guide.com
2014/12/16 - Seasonal Illumination: Osaka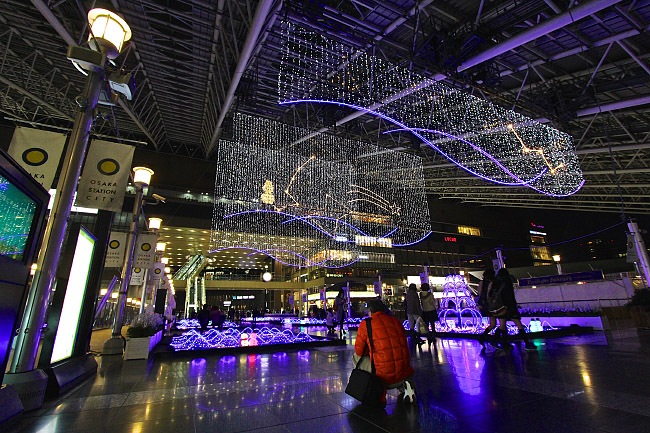 If you're in the Kansai Region in the winter and want to get into the holiday spirit, the bustling cities of Osaka and Kobe won't leave you disappointed. While Kobe's hugely popular Kobe Luminarie light festival draws huge crowds every December (see my report from this year's Luminarie), Osaka also sports a wide array of winter illuminations in many of its popular tourist hot spots. This week I spent a cold, but colorful evening making my way around the city looking for its best seasonal nighttime light displays.
My first stop was the central Osaka Station City. The station has a nice display set up on its fourth floor open air walkway with huge sheets of lights hanging from the ceiling, a music-synchronized light show, and even some interactive features. Just outside the station, the plaza between the station city and the massive Grand Front Osaka shopping mall has lit up its trees, set up hot food and drink stalls, and even made an ice skating rink for visitors to enjoy. The displays in both places shall stay lit in the evenings this winter until about 23:00 every night.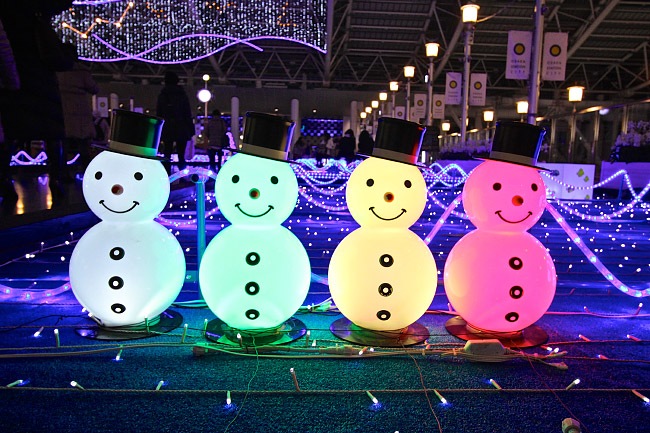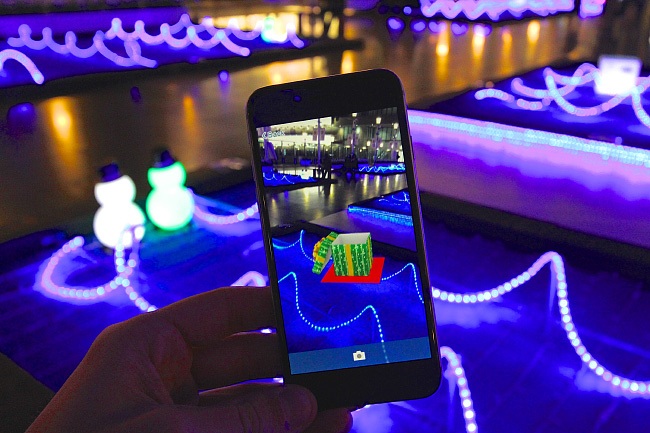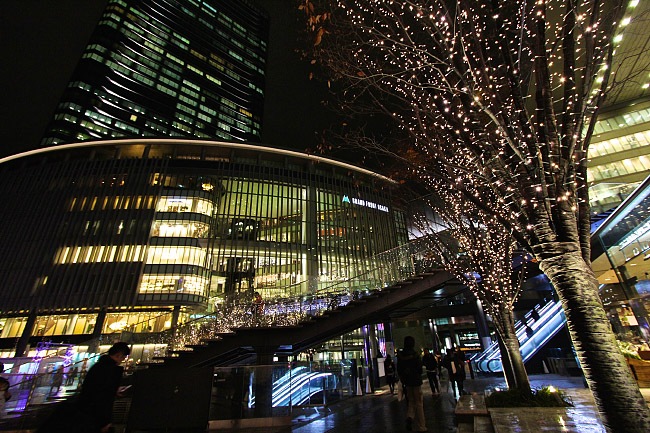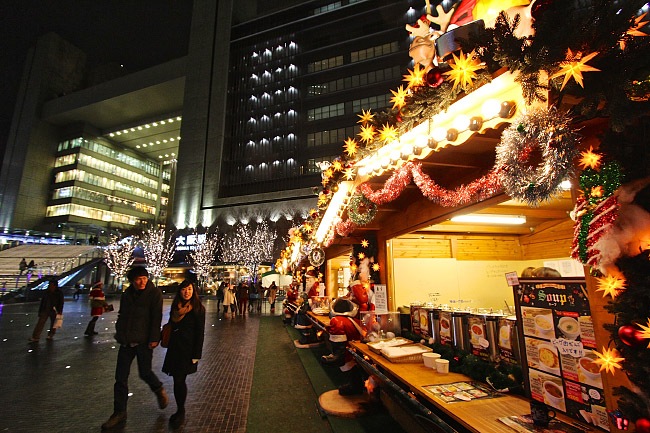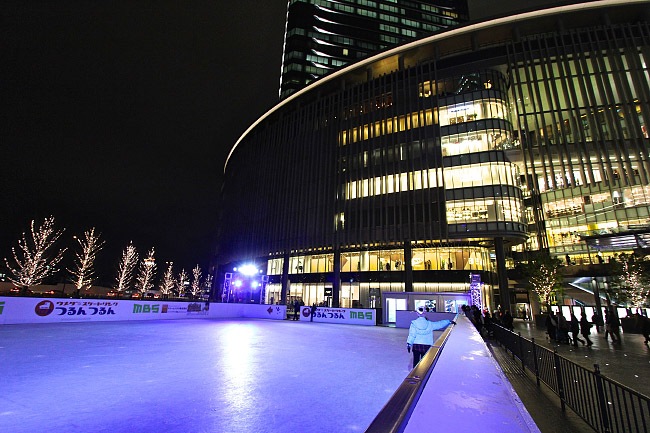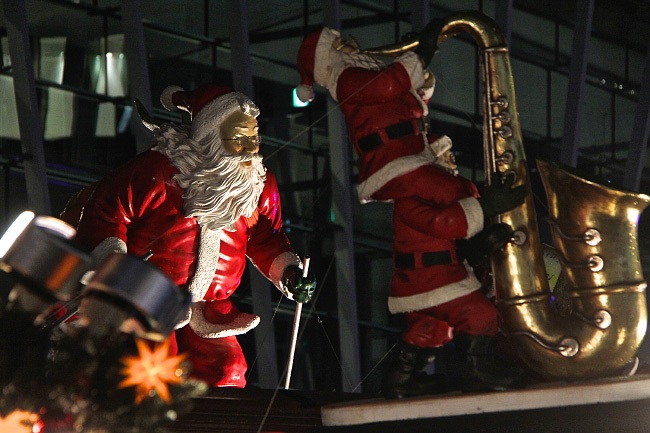 In bustling Tennoji district, in the shadow of Japan's newly-opened tallest skyscraper, Abeno Harukas, Tennoji Park displays a large illumination in its grounds every winter. The Abeno Tennoji Illuminage features a variety of light displays, most of which include Osaka-centric iconic images. Arguably, though, the most enjoyable display is the running ninja that visitors follow the entire length of the exhibit. The illumination costs 1000 yen to see, and is open from November 1, 2014 through February 1, 2015, 17:30-21:30 every night.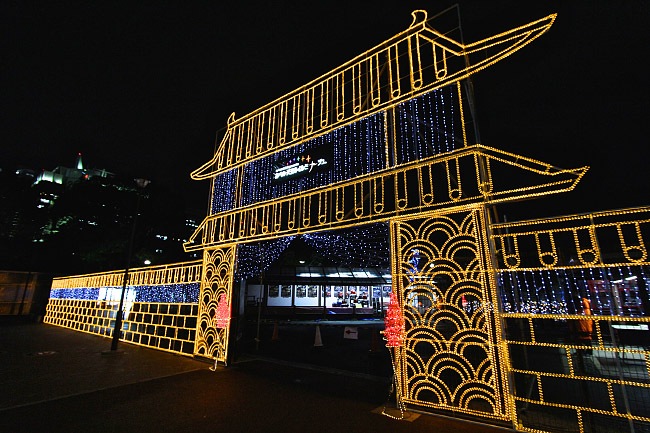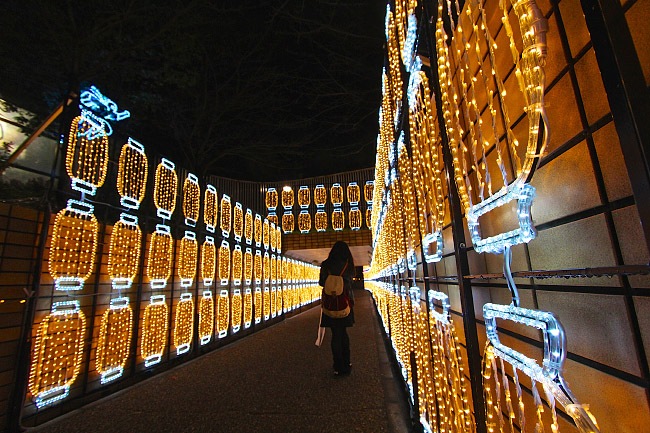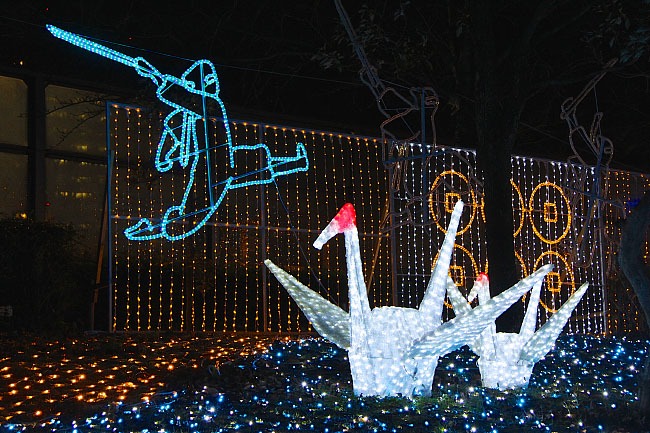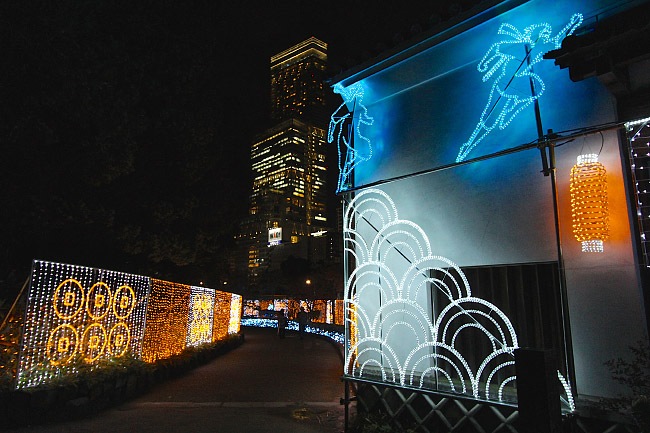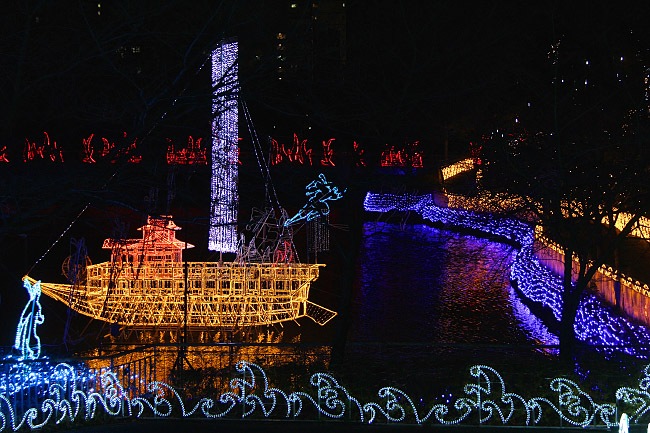 My last stop of the evening took me from Osaka's upscale Namba area to the administrative center of Nakanoshima Island along the Midosuji Road. Almost the entire length of the 3-kilometer road is lined with ginko trees, which in the winter are covered in colorful lights. Several of the buildings along the street also decorate their store fronts and surroundings creating a lovely atmosphere to stroll through.
On Nakanoshima Island, the event of the season is the Osaka Hikari Renaissance. Several of the beautiful old buildings on the island are lit up with creative displays and there are several light tunnels and art displays to enjoy, too. Combined with music-synchronized light shows and food stalls and cafes selling good, the atmosphere here was festive and lively. Most of the lights on Nakanoshima also stay lit till 22:00 and are free for visitors to enjoy.