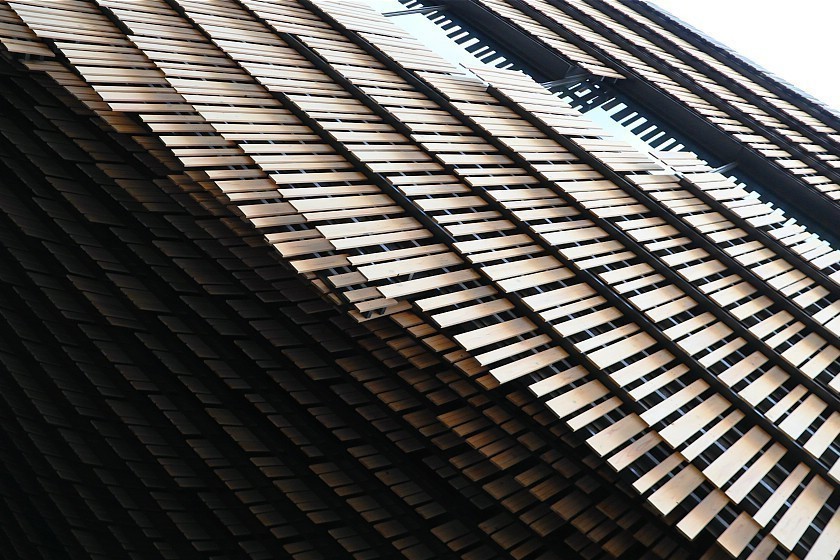 Making regular appearances in magazines and Instagram feeds around the world, Tokyo's daring and innovative modern architecture is a key component in its reputation as one of the worldfs most futuristic cities. For my first report, I wanted to introduce a few of the most interesting locations with a particular focus on my favorite architect Kuma Kengo, who famously designed the new Olympic stadium in Shinjuku .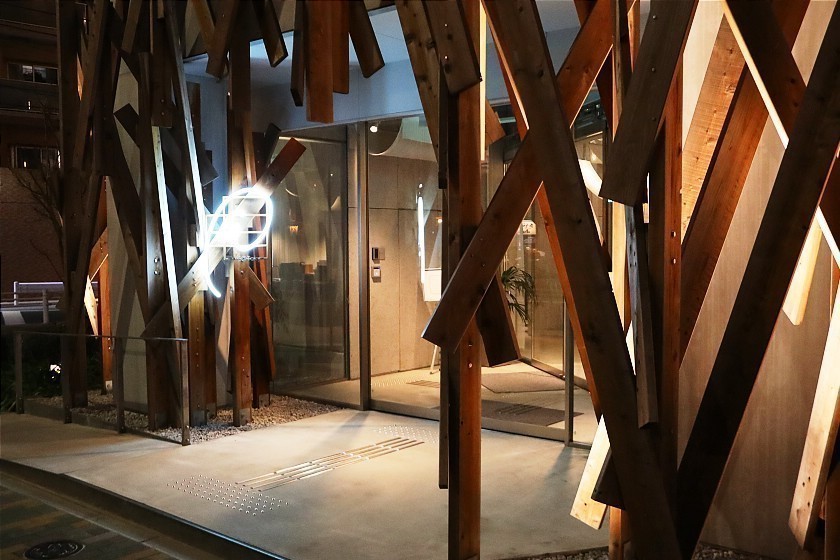 I began my trip at One@Tokyo, a contemporary hotel located in Oshiage just a stone's throw from the iconic Skytree and with easy access to Asakusa and Ueno stations. Designed by Kuma to reflect Oshiage's history as a manufacturing hub, the hotel's walls are made of cement panels with a facade of interlaced wooden panels evoking a factory or warehouse.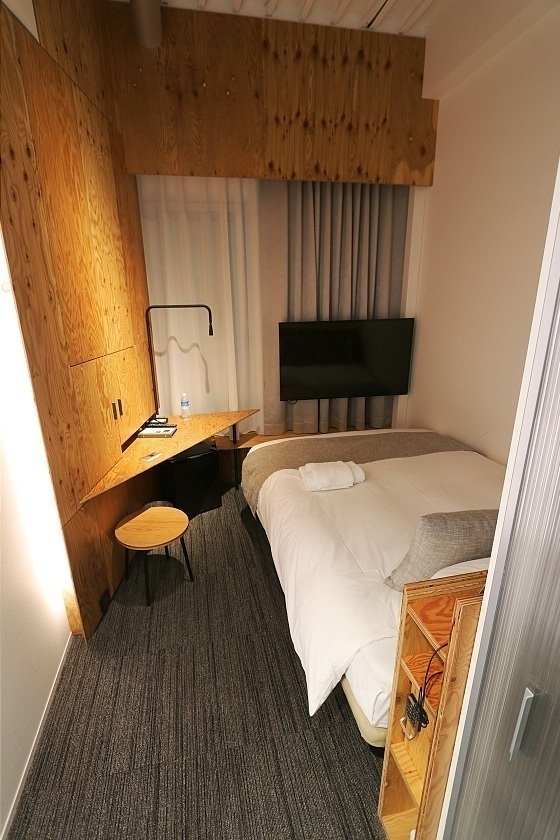 The industrial feel continues inside, with a simple but elegant reception dining area, strikingly minimalist guest rooms and corridors where lace curtains hang like factory tarpaulin. After checking-in, I made my way to the restaurant and enjoyed a plate of prosciutto followed by a pork roast with vegetables - both were delicious and artfully presented, perfectly matching the sophisticated atmosphere.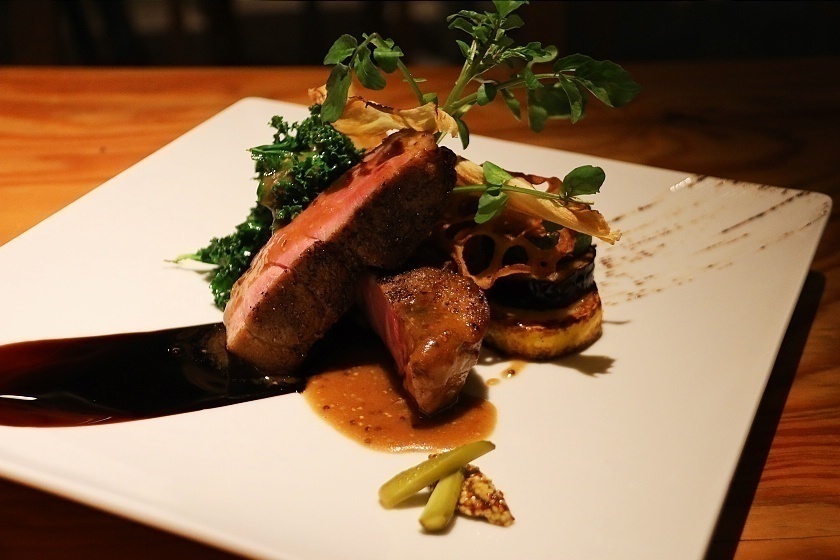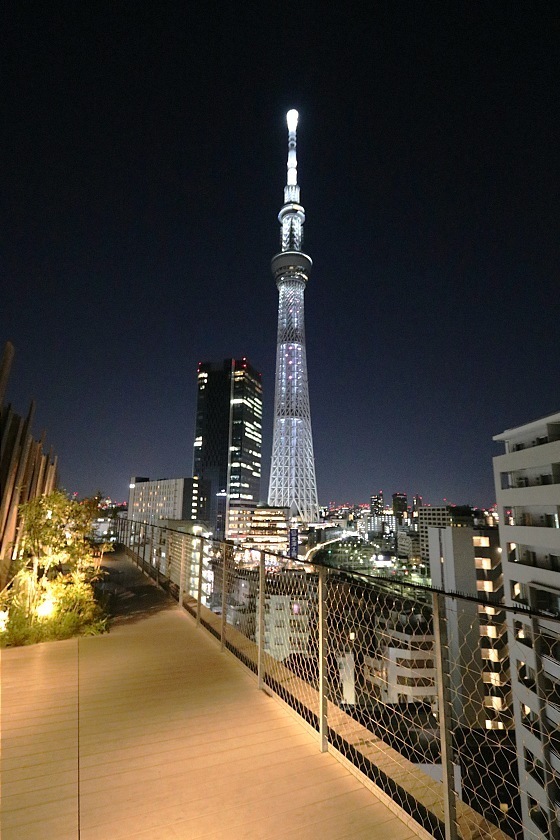 From Oshiage I took a five-minute subway journey to Asakusa in Tokyofs historic Yanaka district. This part of town combines a laid-back, old world atmosphere with a host of things to see and do within easy walking distance making it an ideal starting point for tours of the city. Directly opposite the Kaminari Gate of the famous Sensoji Temple is the Asakusa Culture and Tourism Center, a lively eight-storey structure of glass and steel that looks rather like a series of simple houses arranged on top of one another.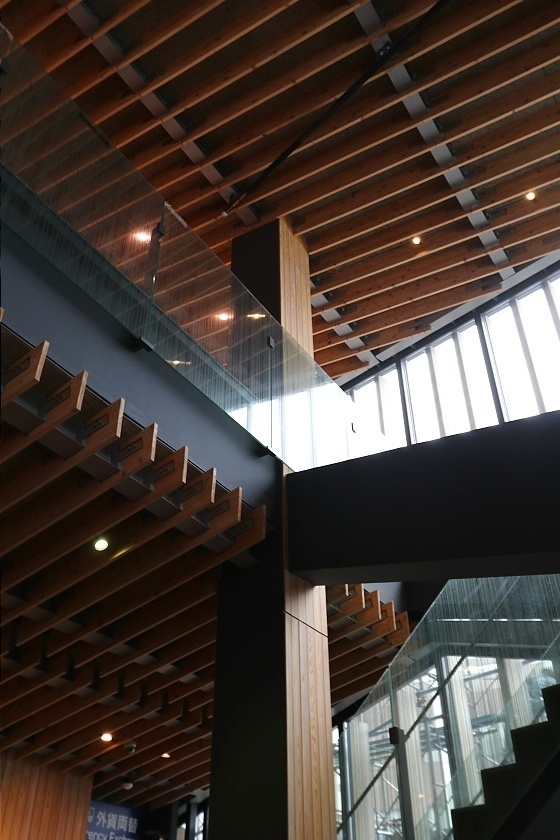 From the outside, the mashed-together roofs seem to point down towards the Kaminari Gate and have a playful quality while keeping a geometry familiar from traditional Japanese buildings. On the inside, they delineate the space and create some of the functions of the building, with one sloping roof creating a theatre in the floor above. Meanwhile, Kuma's love of industrial-looking materials and trademark wooden slats are on display wherever you look.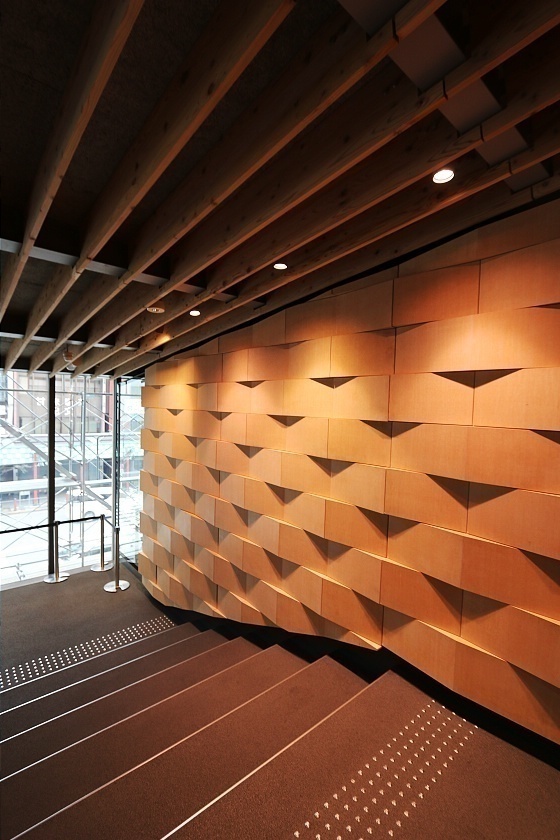 From Asakusa I took a twenty-minute subway ride to Kuma's own neighborhood of Kagurazaka, an old part of the city where winding alleys and rickety wooden houses exist alongside large-scale modern housing developments. A short walk from the station you'll find La Kagu, one of Kuma's more low-key creations - a very modern lifestyle store and event space built on the site of an old book warehouse, with wooden stairs flowing down from the second floor forming an open plaza. The steps are interspersed with trees, adding to the organic, earthy feel.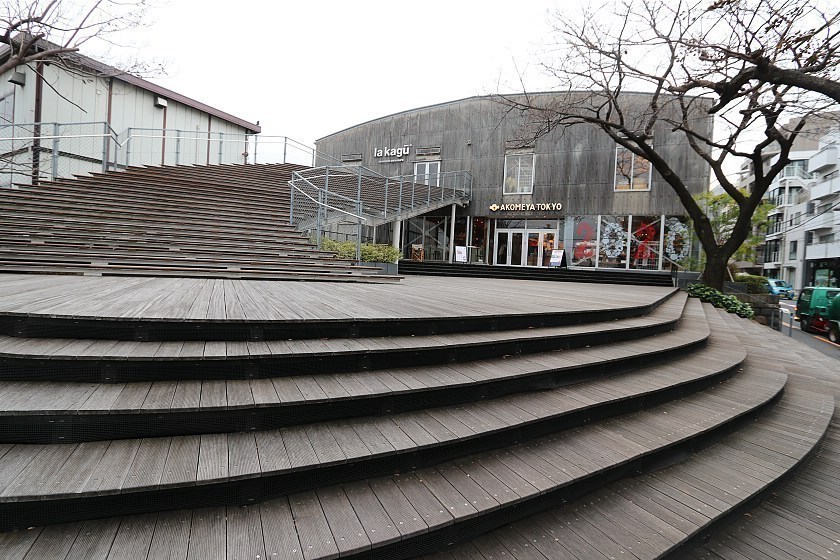 Inside, the ground floor houses a pleasant cafe and various craft products for sale, while the upper story serves as a temporary workshop and design showcase.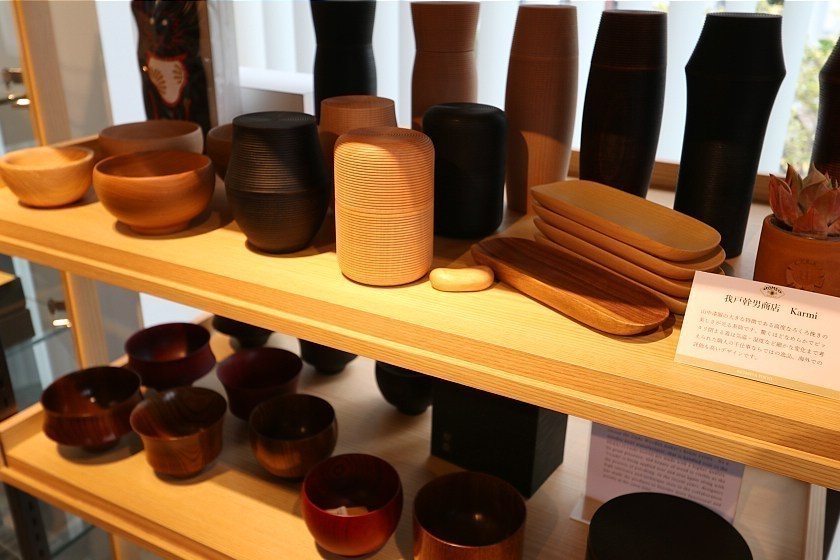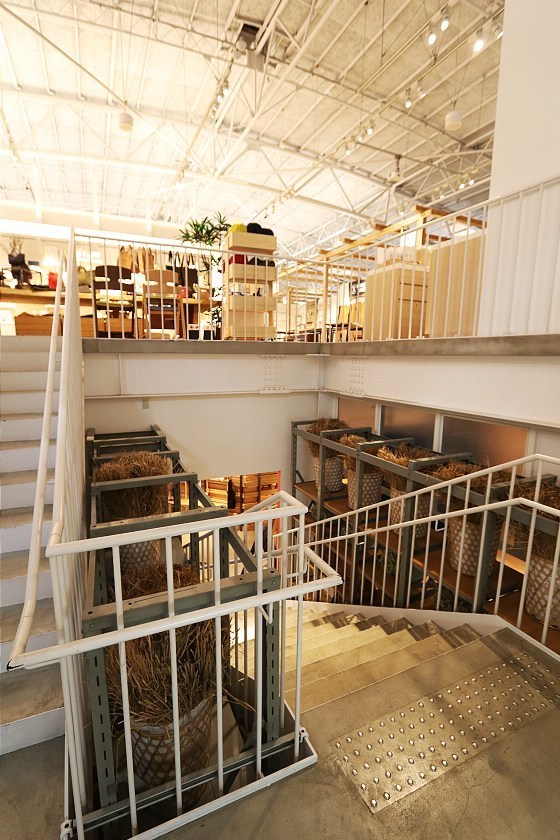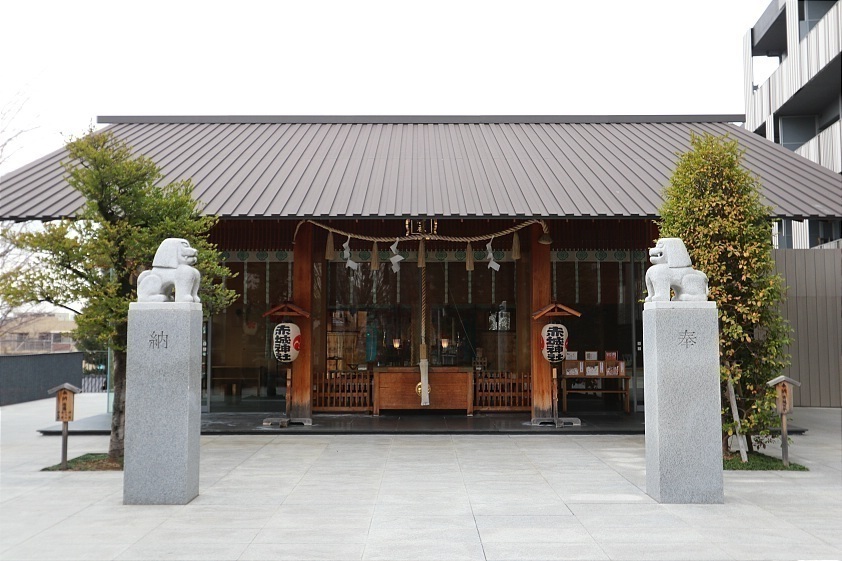 No day of sightseeing would be complete without at least one temple or shrine, and it just happens that one of the most architecturally interesting examples can be found just around the corner from the La Kagu development. Akagi Shrine is another creation of Kuma's and while at first glance the haiden (prayer hall) looks like any other, a closer look soon reveals his signature steel-plate and wooden lattice.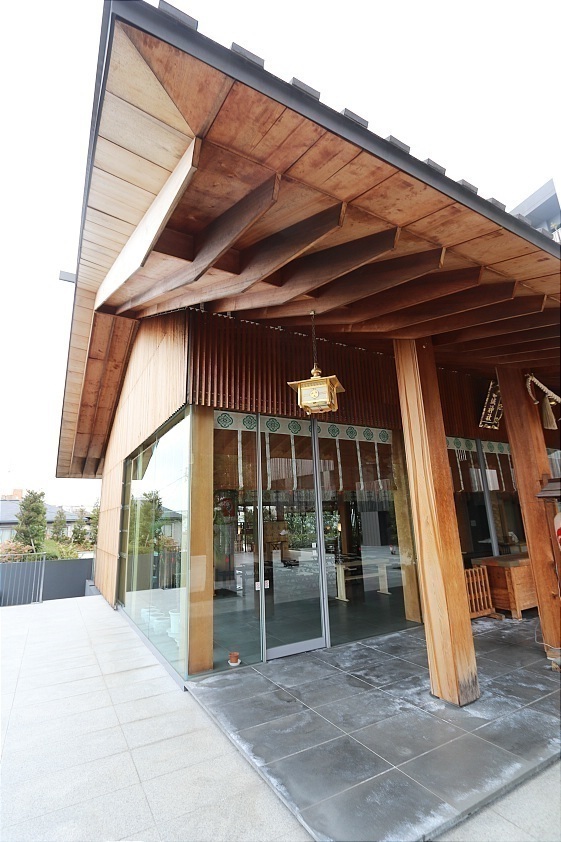 Most striking of all is the extensive use of glass, allowing us to see straight through to the inner shrine, surrounded by pristine white gravel. Raised on metal stilts to the left is a smaller building, serving as a sub-shrine and occasionally a stage for Kagura (traditional theatre) performances.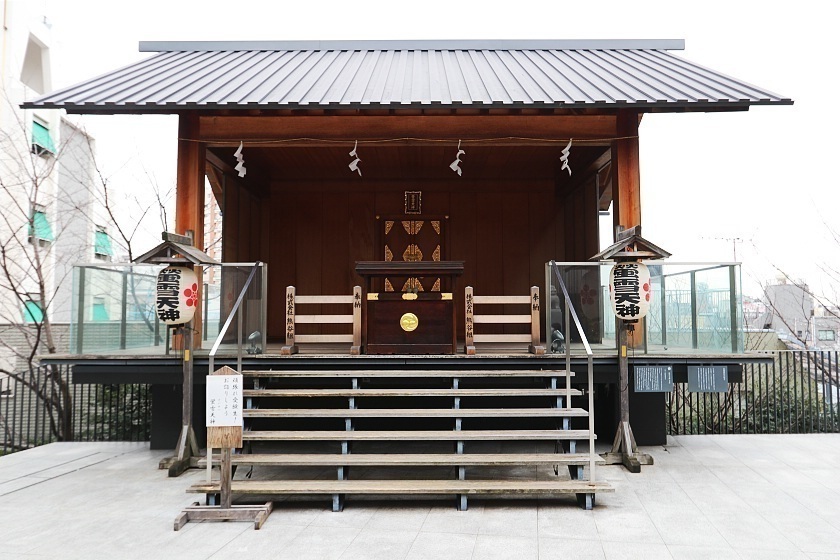 After a busy morning's exploration it seemed like the perfect moment to stop for a bite to eat, and sticking with my Kuma Kengo theme I decided to drop by Kamachiku near Nezu Station to sample some of their famous udon (thick buckwheat noodles). In this neighborhood strongly associated with Meiji-era writers and artists, Kuma and associates renovated a stone warehouse first built in 1910, adding a modern glass and steel extension while keeping its many unique period features on display.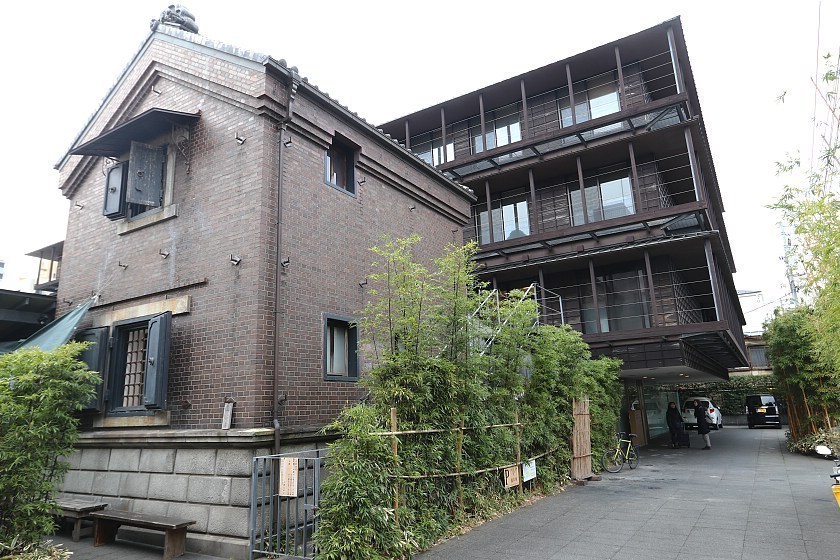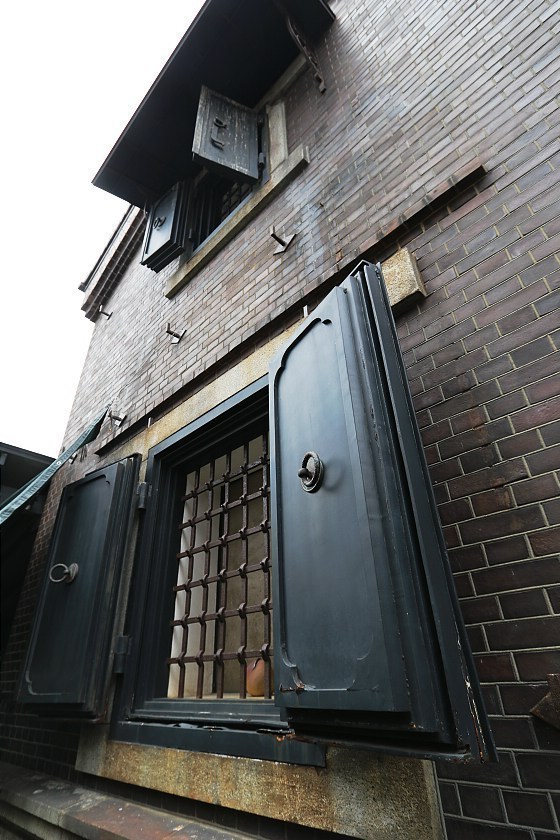 Guests enter from the side into a seating area around a single large table, facing onto a leafy garden with a pond. The grand warehouse entrance has been preserved and leads up into the original stone structure, now a cozy interior space with low tables and exposed wooden beams overhead.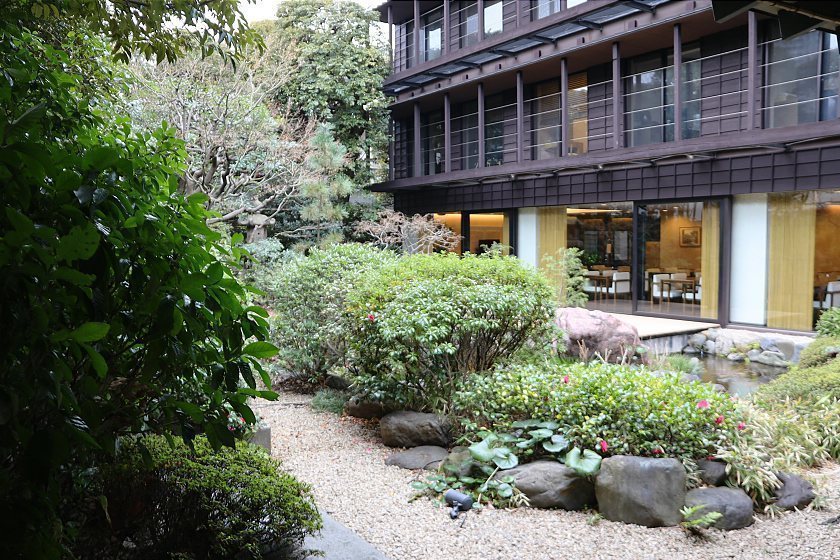 I ordered kamaage udon, a serving of thick, hot noodles with a bowl of soup for dipping - the idea is to gradually transfer your noodles from one bowl to the other and allow them to soak up the flavor before eating, the dipping soup gradually diluting enough that you can drink it down at the end - and a side dish of tempura. The noodles were among the best I've ever tasted, with a delicate flavor and firm, springy texture.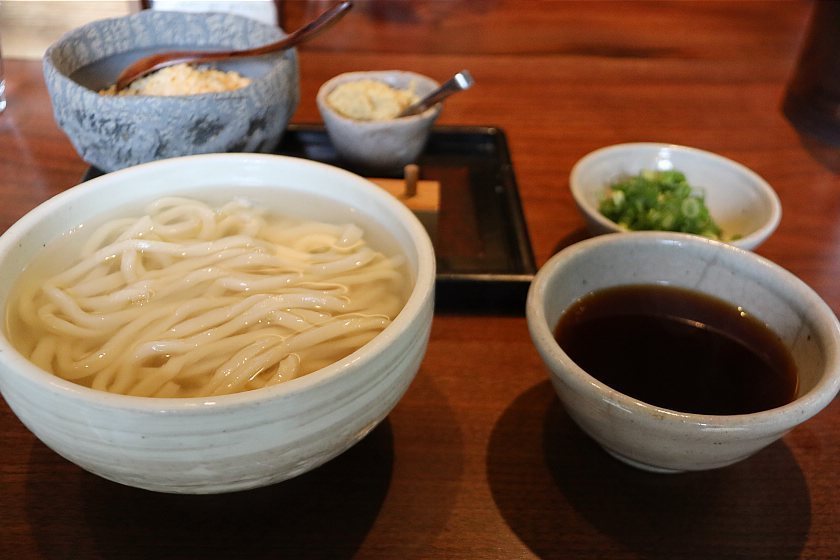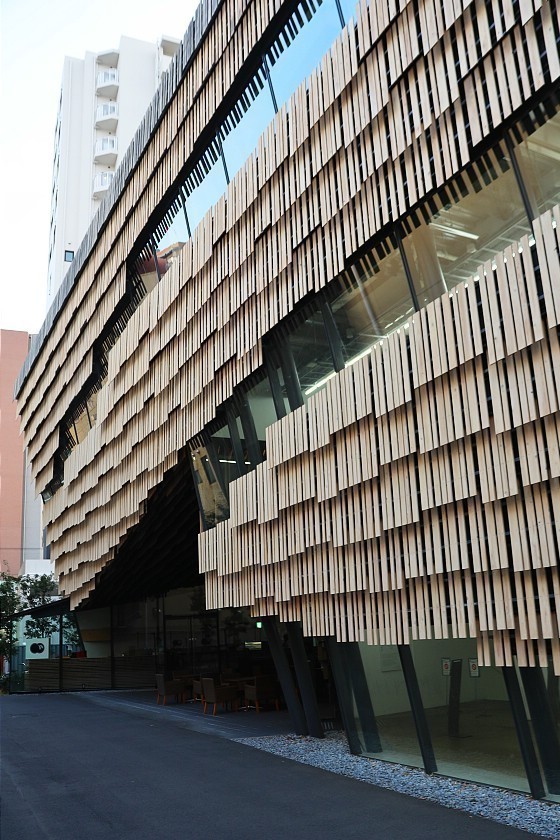 Full of delicious noodles, my next stop was the curiously named Daiwa Ubiquitous Research Building, a state-of-the-art educational and research center belonging to the University of Tokyo where Kuma is himself a professor. Aiming to break away from the kind of heavy, overbearing buildings often associated with Universities, Kuma covered most of the building's surface with a facade of cedar strips and created a large opening, offering a glimpse through to the park on the other side. The sheltered space underneath is home to a confectionary cafe by Michelin starred chef Jun Kurogi.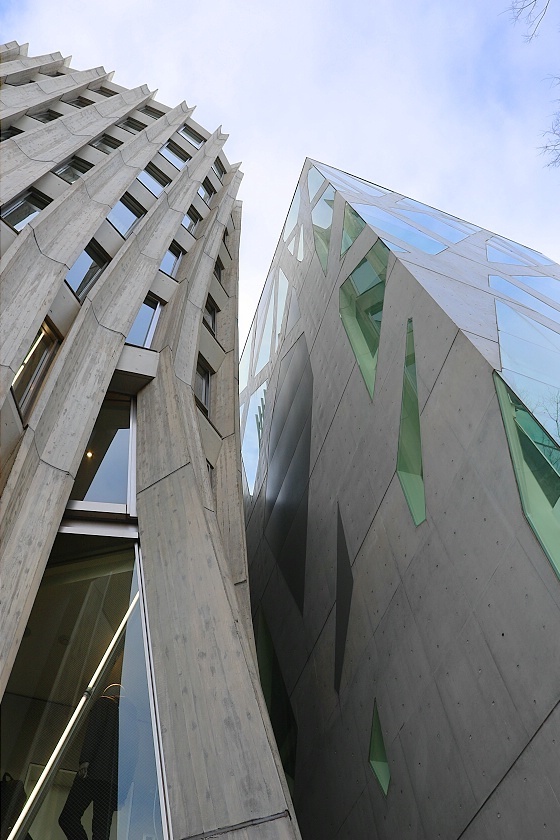 For the grand finale of my tour, I made my way to Omotesando station for a stroll through the upmarket shopping district of Aoyama, where fashion and high-concept architecture collide in a series of spectacular boutique store designs.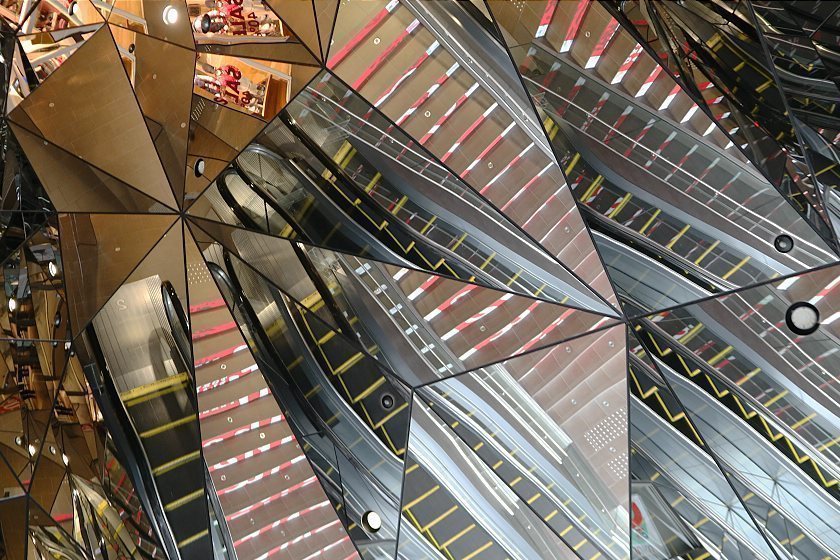 Enjoying the many eye catching and quirky shop fronts, I first made my way to the colorful Louis Vuitton Store where the top floor has been set aside for a small gallery called
Espace
. Light streams through the big windows and reflects off the shiny white surfaces, creating a dazzling interior with impressive views of the surrounding neighborhood, an ideal respite from the crowded streets outside.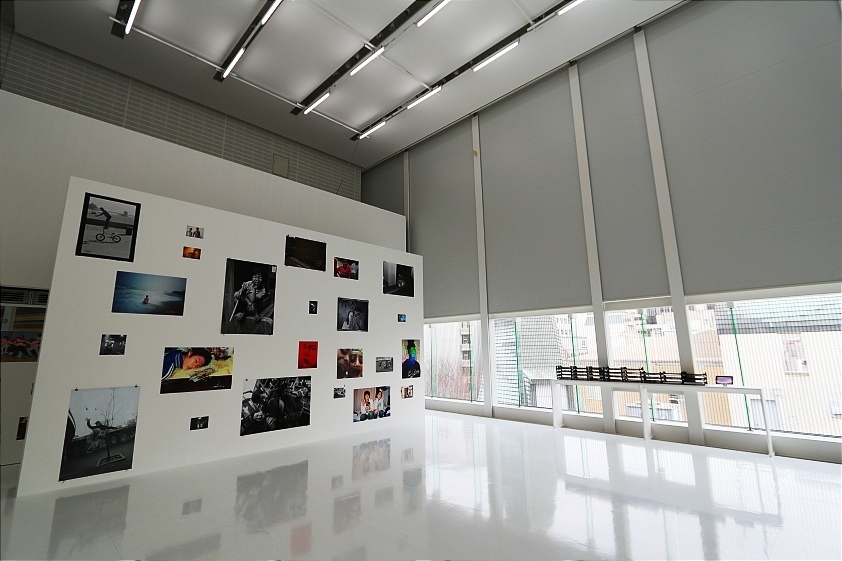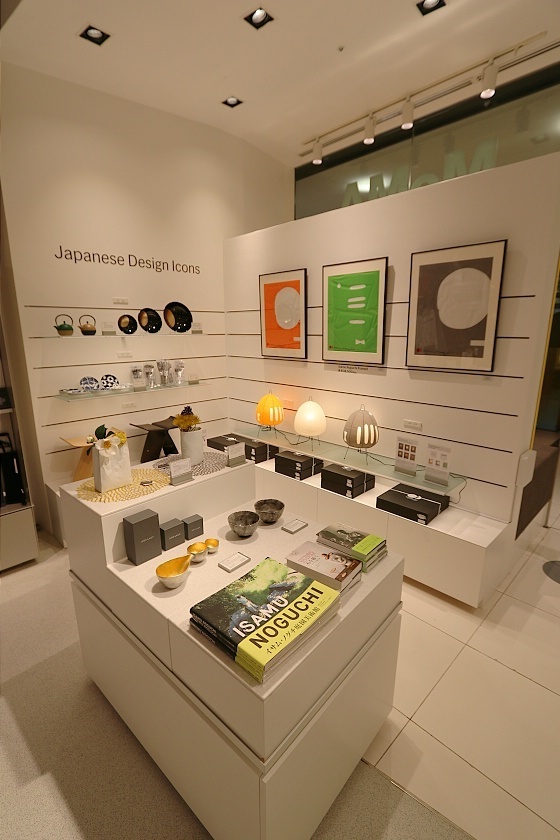 A little further along the main Aoyama shopping street and resembling a haphazard stack of boxes, the GYRE building features a number of smart designer shops built around a futuristic atrium. Fans of modern Japanese design will particularly enjoy the MOMA Design Store on the third floor and the beautiful gallery space opposite is also worth a look.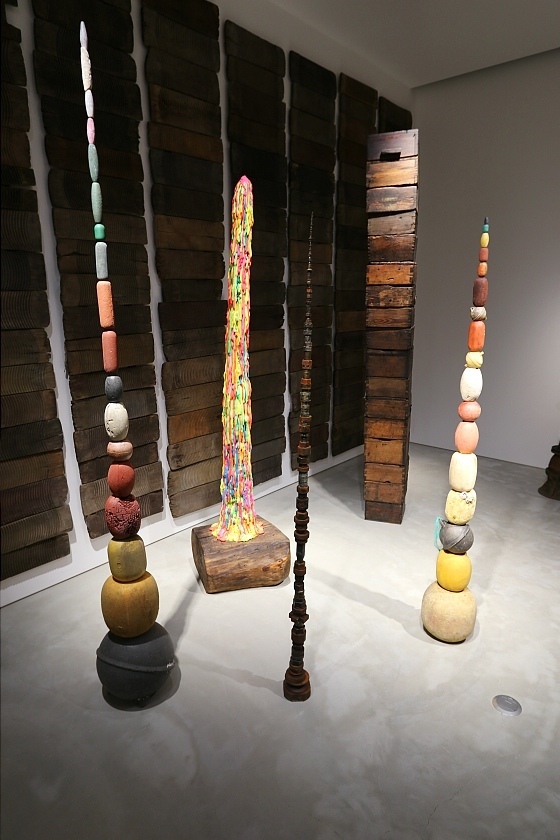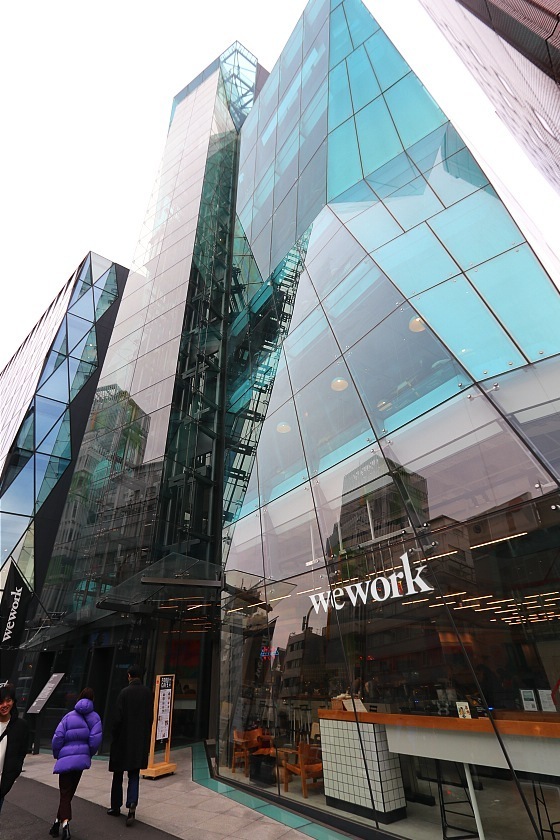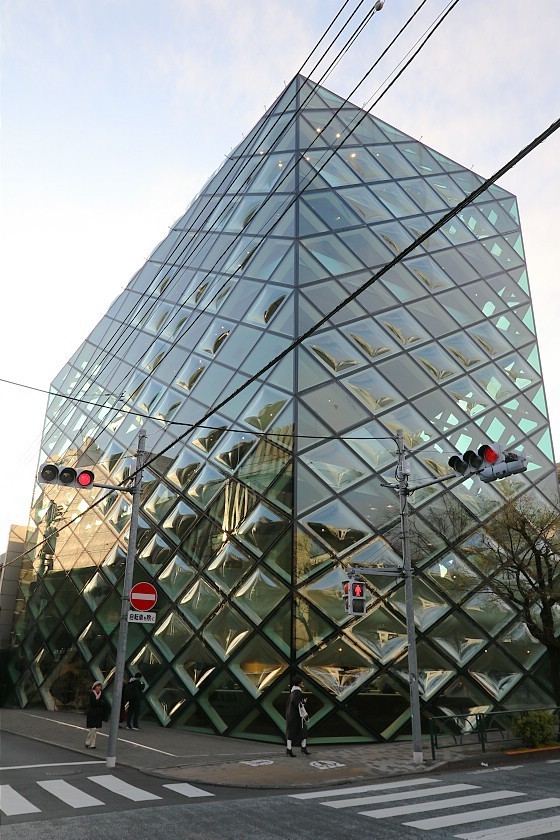 It wonft come as a surprise that out of these extravagant designs my favorite is the Sunny Hills pineapple cake store located on a sloping side street and designed by, you guessed it, Kuma Kengo and associates. Here the trademark wooden latticework forms a three-dimensional mass like a wicker basket around and inside the store.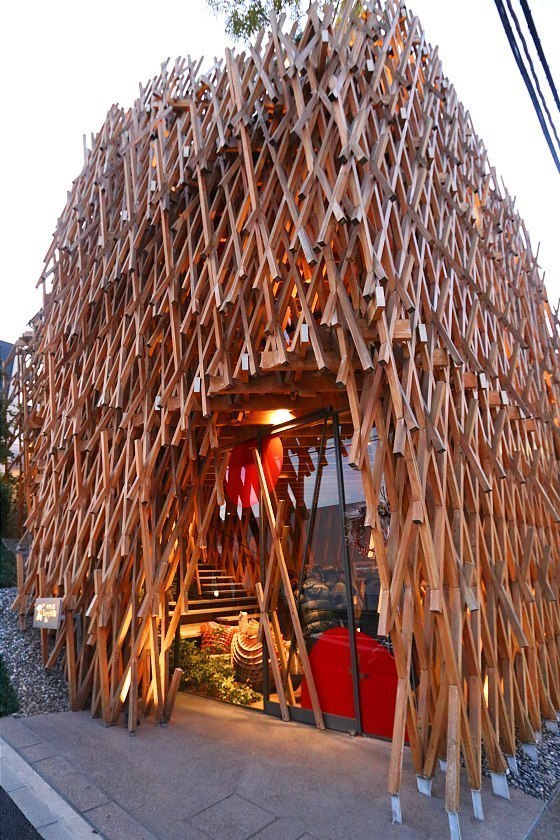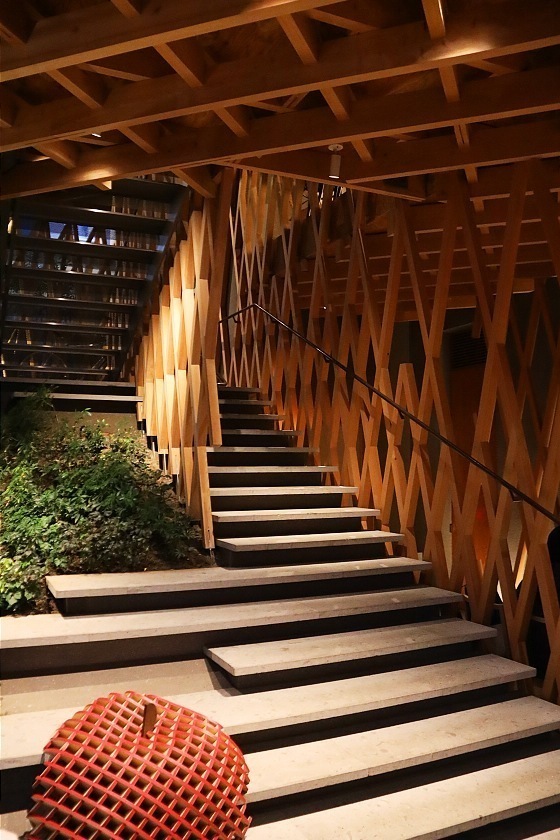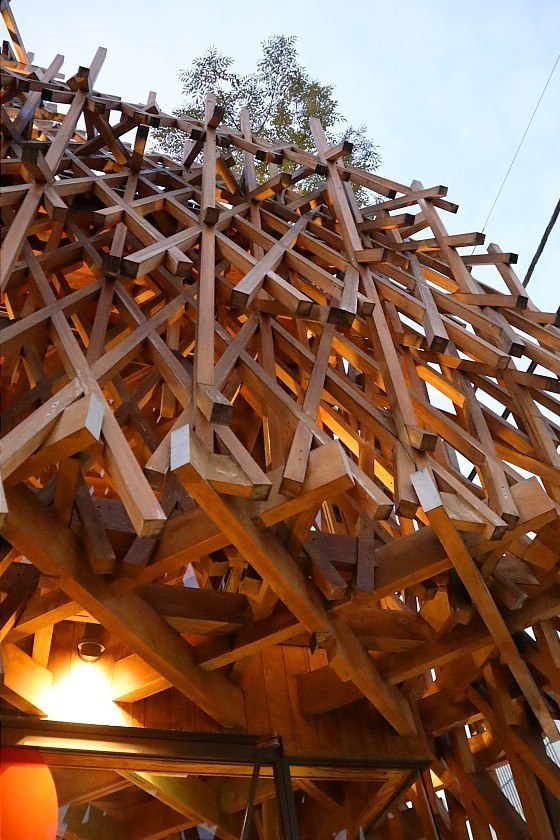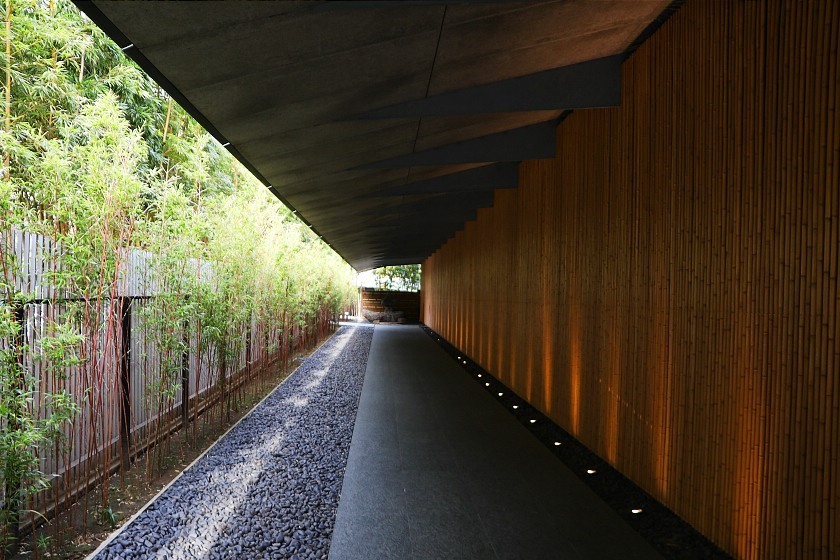 At the end of the main stretch of the main Aoyama shopping s treet I came to the final stop of my tour, the Nezu Museum. Built to house a world-renowned collection of traditional Japanese and South East Asian art, what I really love about the museum is the way it combines those instantly recognizable Kuma trademarks with traditional forms to create a serene, minimalist space perfectly attuned to the collection inside.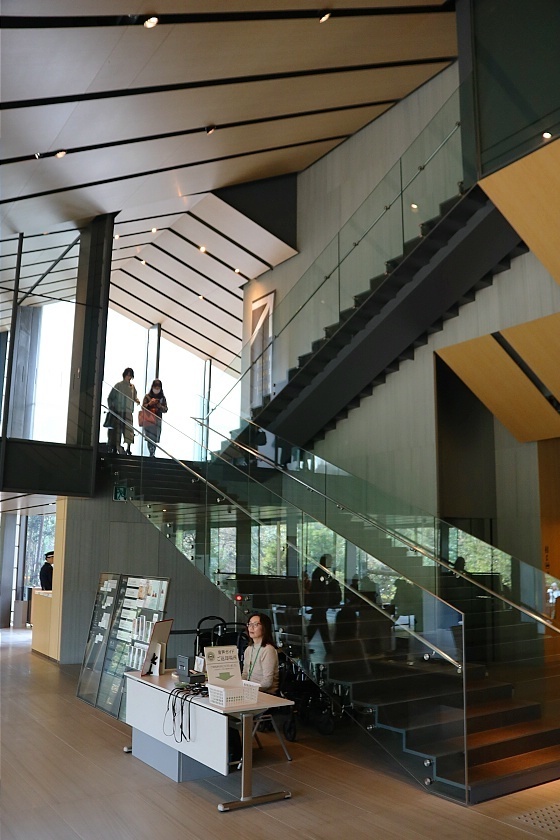 To enter, visitors pass through a bamboo thicket and under the eaves of a huge, slanted roof. Inside, a large, open hall faces onto a traditional landscape garden with its own separate teahouse.