Tokyo Cherry Blossom Report
Raina's Japan Travel Journal
by Raina, staff writer of japan-guide.com
2014/03/26 - Tokyo Cherry Blossom Report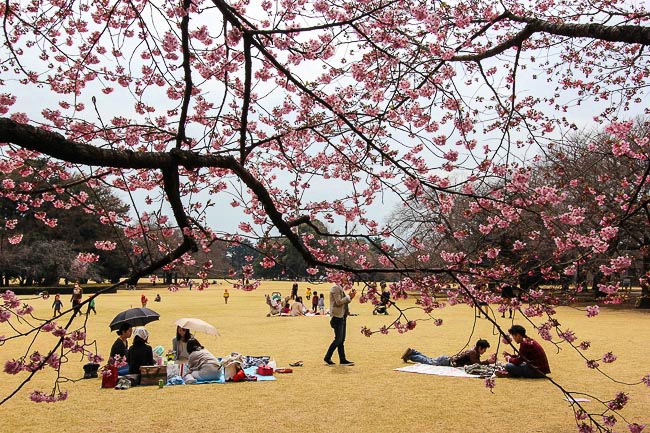 Exactly three weeks after my early Tokyo blossom report, yesterday was the official start to Tokyo's sakura (cherry blossom) season. Kaika (first opening) this year started a day earlier than the average year's but nine days later compared to last year's record breaking early season. Today, I headed to Yasukuni Shrine to check out Tokyo's representative tree for myself and revisited Ueno Park and Shinjuku Gyoen. If the current warm weather situation holds up, it is predicted that the cherry blossoms in Tokyo will reach mankai (full bloom) by early next week.
Over in Kyoto, kaika (first opening) is expected to happen tomorrow. Meanwhile, in many prefectures in Kyushu, the flowers opened about a week ago and are expected to reach mankai (full bloom) by the end of this week. Head over to Scott's reports for updates in Fukuoka and Kyoto over the next few days.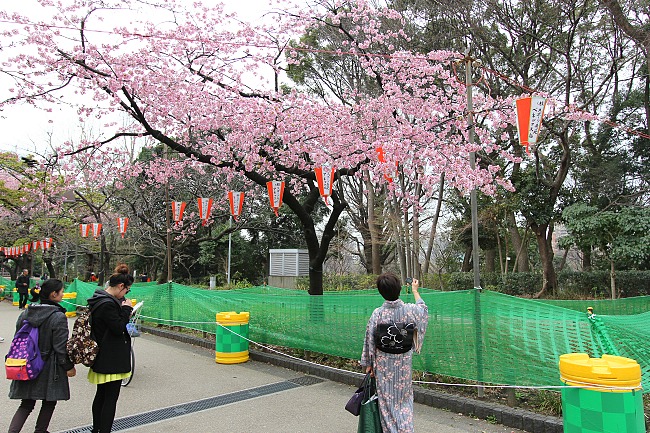 Yasukuni Shrine
March 26, 2014 - just opened (0-10%) (Somei Yoshino)
The first place I visited today was Yasukuni Shrine, I was looking forward to see Tokyo's official representative tree. Once there are five to six blossoms open on this tree, it marks the official start to the cherry blossom season in the capital. Most of the cherry trees on the shrine grounds are of the mainstream Somei Yoshino variety and it won't be long before they blossom, provided the temperature stays warm over the next three to four days.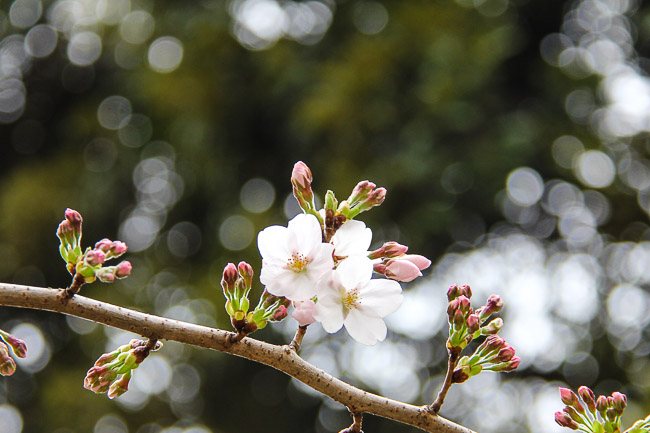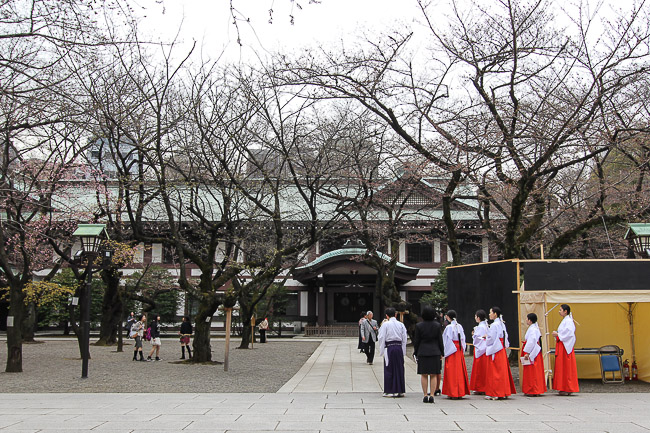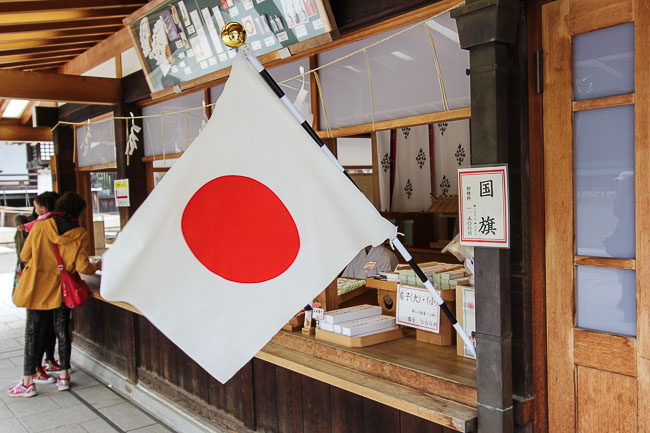 Ueno Park (Ueno Koen)
March 26, 2014 - just opened (0-10%) (Somei Yoshino)
March 26, 2014 - approaching full bloom (50-80%) (weeping cherry trees)
March 26, 2014 - full bloom (early blooming varieties)
Ueno Park is a very popular spot for hanami (cherry blossom viewing). Even though it was only mid morning when I was there, there were people laying out their blue picnic sheets and reserving prime spots for viewing the cherry blossoms.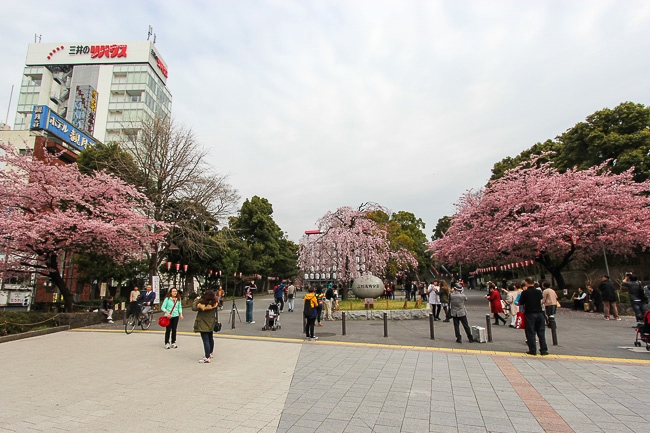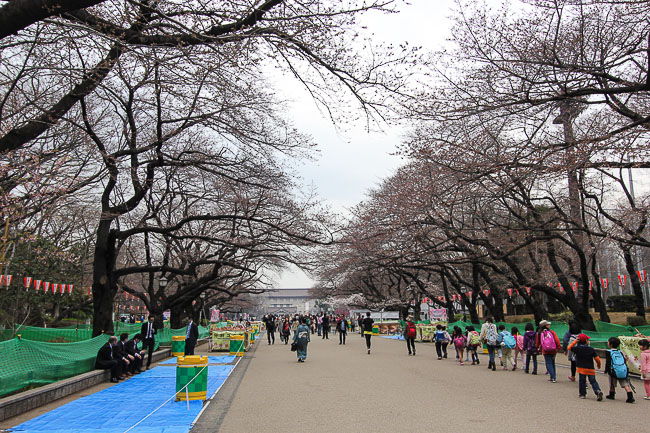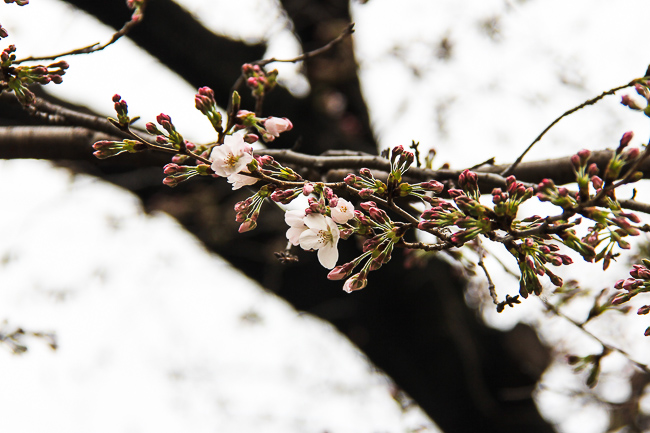 The weeping cherry tree from three weeks ago has blossomed and looked very impressive standing right at the entrance of Ueno Park. Another early blooming variety, the Okanzakura, were starting to lose their petals, leaving the ground pink with small sakura petals. However, most of the Somei Yoshino have barely started to blossom, with the best views expected to reach the park in four to five days. I saw many visitors to the park enjoying themselves taking pictures of the early blooming varieties.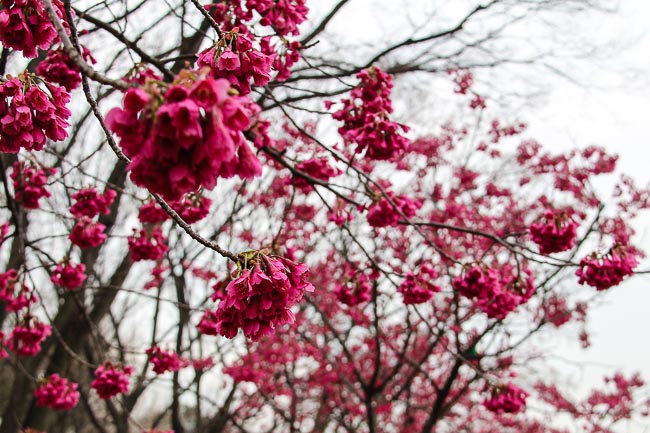 Shinjuku Park (Shinjuku Gyoen)
March 26, 2014 - just opened (0-10%) (Somei Yoshino)
March 26, 2014 - approaching full bloom (50-80%) (Weeping cherry trees)
March 26, 2014 - opening (10-50%) (early blooming varieties)
My last stop of the day was at Shinjuku Gyoen, home to a wide variety of cherry trees and flowers and one of the best hanami spots in Tokyo. With the Somei Yoshino and the early blooming varieties having already started their season, it will not be more than a few days before the garden is filled with cherry blossoms and people having hanami parties.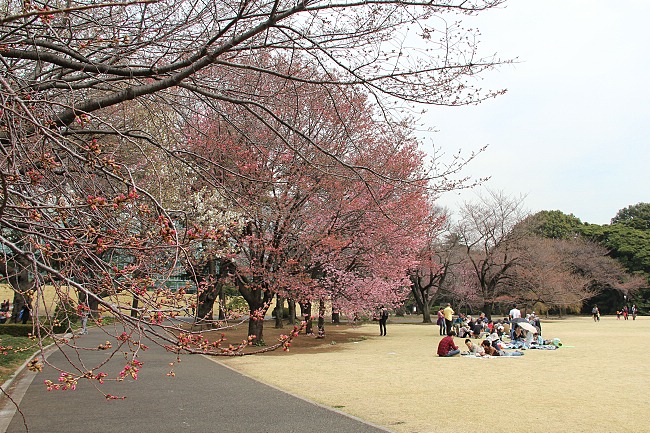 Moving southeast along a stream in the garden, I found a few weeping cherry trees, whose flowering periods tend to be a few days before the Somei Yoshino's, approaching full bloom. Today, they had the highest concentration of people taking pictures of their beautiful blossoms and the narcissus' growing beneath them. On the other hand, a quick look at the Okanzakura trees that I visited three weeks ago, showed that this variety is at the end of their season.