Kitakami Cherry Blossom Report
Raina's Japan Travel Journal
by Raina, staff writer of japan-guide.com
2014/04/24 - Kitakami Cherry Blossom Report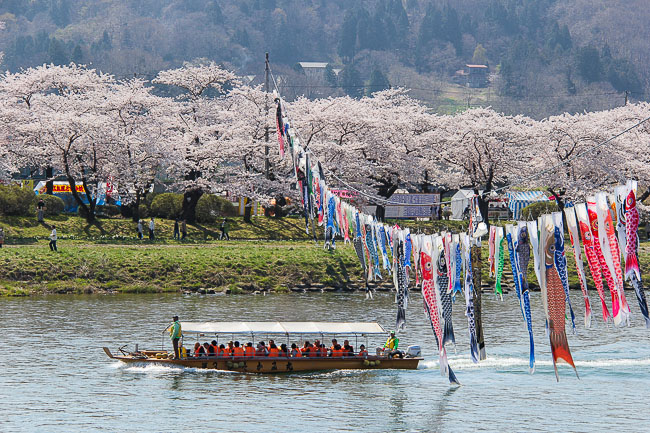 Kitakami is under 3 hours away by bullet train from Tokyo, and that's where I headed today. Kitakami, in Iwate prefecture, is one of Tohoku's top three cherry blossom viewing spots, the other two being Hirosaki Castle and Kakunodate, which Scott will be covering over the next couple of days.
From Kitakami station, it is a 15 minute walk to Sangobashi bridge and towards the start of the two kilometer cherry tree lined path. The other alternative is a ferry (350 yen), boarding point about 5 minutes walk from the station, which brings you across the river to the other end of the cherry tree path. There are about 150 different varieties of cherry trees and an estimated 10,000 cherry trees located in Tenshochi Park.
There is a temporary Kitakami Tenshochi festival information booth just outside the east exit of the station with a limited number of bicycles for rent (300 yen), and a bag drop service (300 yen). The Kitakami Tenshochi Sakura Festival will run till May 6, so visitors can enjoy the flowers and festivities all through golden week. The cherry tree path and the park are lit up in the evenings from 18:00 - 21:00 and there are also scheduled performances at the park during the festival period.
Tenshochi Park
April 24, 2014 - full bloom
The number of visitors increased by the bus loads while I was there. It was particular crowded near the car park and festival food stalls but the crowds thinned out towards the bridge. With about 500 cherry trees along the path, it was a great place to see cherry blossoms and of course, to take pictures of the flowers. I saw school children on excursion, family outings, as well as bus tour groups. With good weather forecast for the rest of this week, Tenshochi Park is the place to be if you want to see cherry blossoms at full bloom this weekend.