Sam's Japan Travel Journal
by Sam, staff writer of japan-guide.com
2016/07/28 - Hakone Update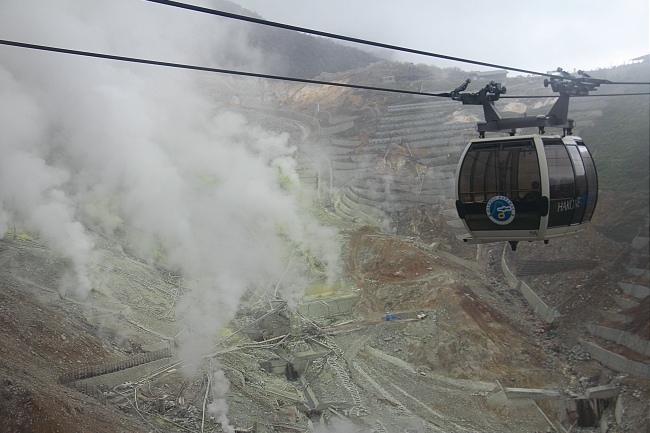 The Hakone Ropeway, one of Hakone's major attractions, has been marred by disruption since it closed all services due to increased volcanic activity in the area around Owakudani over a year ago. Since then, sections of the ropeway have incrementally reopened as the volcanic activity has decreased. The section between Owakudani and the Sounzan terminus was the final leg out of service until it reopened a few days ago on July 26. The opening of this final section means that the Hakone Ropeway is now back in service in its entirety.
Previously, ropeway users were prohibited from leaving the Owakudani Station building, but now visitors are free to walk around the area that surrounds the station and contains a souvenir shop, cafes and a museum in addition to impressive views of the volcanic sulfur fields and surrounding mountains. However, the surrounding hiking trails and hot spring area remain closed due to toxic volcanic gases (which are also present in lower concentrations around the station, making it advisable for people with respiratory problems to stay away).
The atmosphere around the station is lively as people relax and take in the views. As well as human traffic, vehicular traffic is granted access, with the road leading up to Owakudani open to cars, buses and motorcycles. It is worth noting that the ropeway will be closed on August 4 and 25 for inspection and maintenance.