Autumn colors at Mount Tanigawa
Schauwecker's Japan Travel Blog
by Stefan Schauwecker, webmaster of japan-guide.com
This blog is intended to record some of my travel activities in Japan.
2006/10/25 - Autumn colors at Mount Tanigawa
Today I made my first visit to Minakami Town in northern Gunma Prefecture. The trip's objectives: autumn color viewing around Mount Tanigawa and hot spring bathing at Takaragawa Onsen.
One of "Japan's 100 greatest mountains", Mount Tanigawa (Tanigawadake) is a group of mountain peaks along the border of Gunma and Niigata Prefecture. Its highest peak reaches 1977 meters above sea level. Tanigawa is well known for autumn colors and has been reported to be at its best these days.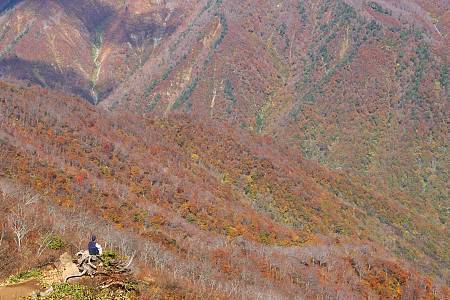 Single traveler enjoys lunch on Tanigawa
Like the man on the photo above, I traveled alone today, accessing Mount Tanigawa by car via the Kanetsu Expressway. Traffic was relatively smooth, although heavier than expected. Like minded seniors on autumn leaf viewing tours crowded the expressway's service area.
Parking proved to be no problem thanks to a 6-storey parking house at the lower ropeway station. Nevertheless, there was a twenty minute line up for boarding the gondolas, which were departing at an interval of about one minute and each seated up to 22 persons.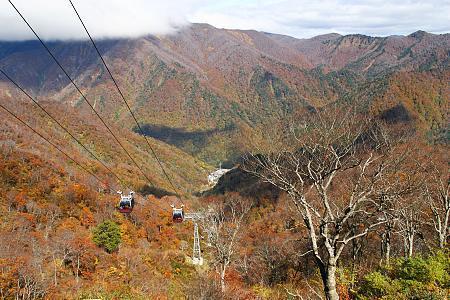 View from Tenjindaira
The ropeway journey takes roughly 10 minutes and terminates at Tenjindaira at an elevation of around 1400 meters, where you find a small ski area, a tourist restaurant and a chair lift, leading further onto the 1500 meter high summit of Tenjinyama, from where you have great views over the mountains of Gunma.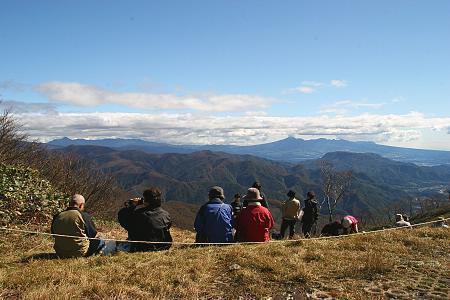 View from Tenjinyama over the mountains of Gunma Prefecture
Most leaves had already fallen around the top station of the ropeway, and the most beautiful colors were to be seen along the lower three fourths of the ropeway. Since the ten minute ropeway ride did not satisfy my appetite for autumn leaves yet, I decided to waste my return trip ticket and walk back down the mountain, absorbing the colors at a slower pace.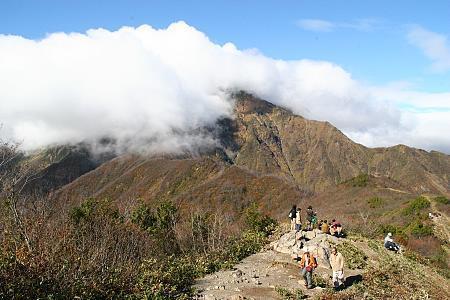 Summit of Tanigawa, wrapped in clouds. Viewed from Tenjinyama
On the search for the trail down the mountain with a map only in my head, I first walked about 30 minutes along the ridge towards the summit of Tanigawa, which was wrapped in clouds. It would have taken me another hour or so to reach the peak, when I turned back and finally found the actual trail down.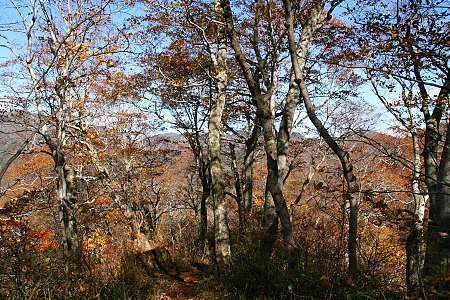 Along the descent
The descent took me about one hour, and was, as expected, the highlight of the trip in terms of autumn leaves, although the path was steep and slippery at times. Surprisingly, I encountered only two other people hiking down the mountain. Everybody else seemed to prefer the ropeway.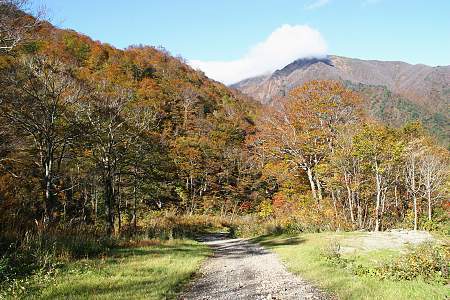 Along the descent
Before returning home, I wanted to check out Takaragawa Onsen, about which I had been hearing a lot in the japan-guide.com forum and elsewhere. It took me about half an hour to reach it from the Tanigawa ropeway station by car. Autumn leaves were at their best.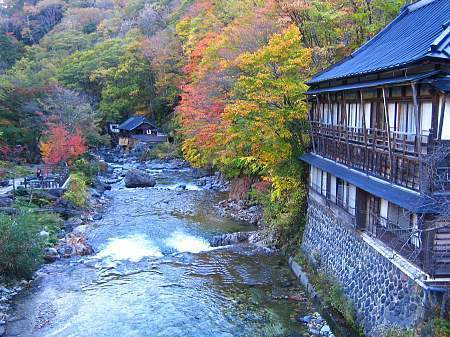 Takaragawa Onsen
Takaragawa Onsen features three large open air pools on both sides of a beautiful mountain river. The three baths are mixed, i.e. they are shared by men and women. An additional pool for exclusive use by women is found further down the river.
Many bathers, especially women, entered the water completely wrapped in their towels, which is usually considered a manner violation at Japanese hot springs, as you are not supposed to put your towel into the bathing water.