Schauwecker's Japan Travel Blog
by Stefan Schauwecker, webmaster of japan-guide.com
This blog is intended to record some of my travel activities in Japan.
2006/11/08 - Shima Onsen
Shima Onsen is a hot spring town in the mountains of Gunma Prefecture, attractively located along the river of a wooded valley. The timing was good for viewing autumn colors.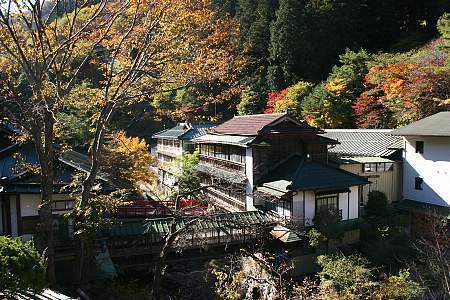 Although it is considered one of Gunma's four most famous onsen resorts besides Kusatsu, Ikaho and Minakami, Shima Onsen feels considerably smaller than the other three resorts, and there exists almost no English language information about the town.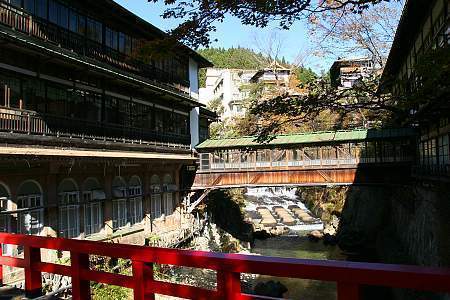 I first visited Shima Onsen one year ago, when traveling along Japan's Romantic Road, however, then I had barely an hour to explore the town. This week, my wish to spend more time in Shima Onsen came true. We spent one night at one of the resort's largest and oldest ryokan, the Shima Tamura.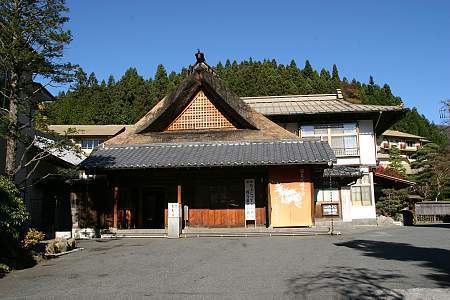 Entrance of the Shima Tamura Ryokan
The Shima Tamura Ryokan is a huge complex, consisting of several buildings with a capacity to accommodate close to 300 guests. It took us almost five minutes to walk from the lobby to our room, and the journey included two elevator rides.
The ryokan offers as many as seven different baths, although I ended up entering only three of them. First, I checked out the main bath, which consisted of a few indoor baths and two outdoor baths (rotemburo), nicely located next to the river.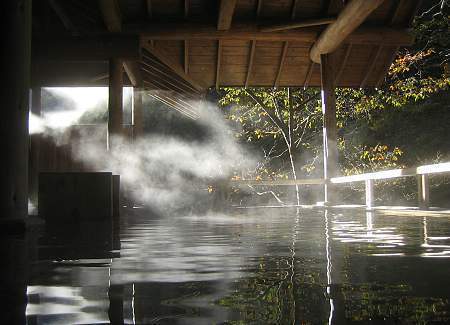 Mori no Kodama bath
Then I visited the "mori no kodama" rotemburo, beautifully designed and constructed all in wood, and located close to the river's waterfall. It was the highlight of my stay. The following morning, I checked out the hinoki bath, an indoor bath made of fragrant cypress wood.
Mori no Kodama bath