Kyoto Autumn Color Report (3): Takao
Schauwecker's Japan Travel Blog
by Stefan Schauwecker, webmaster of japan-guide.com
This blog is intended to record some of my travel activities in Japan.
2006/11/18 - Kyoto Autumn Color Report (3): Takao
Today I made my first trip to Takao, a small temple town in a wooded valley in the mountains north of Kyoto, famous for autumn leaves.
Takao is one of Kyoto's few tourist spots reported to already have reached the peak of the autumn leaf season, while the trees in most temples and parks of central Kyoto are reported to have turned colors by around 50 percent so far (according to the information board at Kyoto Station).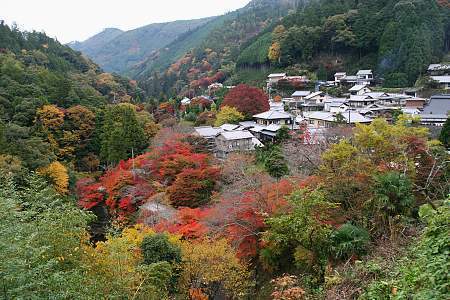 Takao
Kyoto on a weekend during the autumn leaf season is very busy and can be stressful. Especially, if you visit Takao on a Saturday when Takao is one of the few spots reported to have already reached the peak of autumn colors, you should expect big crowds.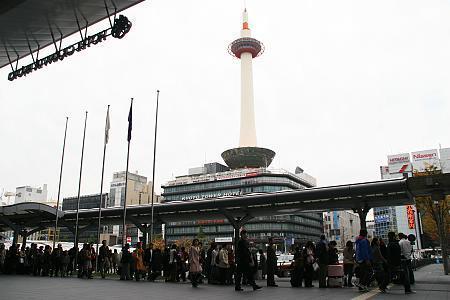 Line up for taxis in front of Kyoto Station
Good planning, flexibility and patience are the keys to enjoy Kyoto sightseeing on a busy day like today. While I lacked both, good planning and patience, I was able to save time by changing my plans in a flexible way.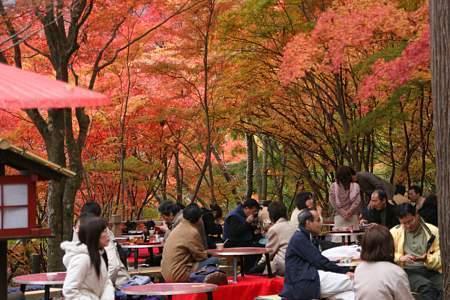 A restaurant along the approach to Jingoji
Luggage became the first issue: All coin lockers at Kyoto Station were occupied this morning. Consequently, a long line built up in front of the baggage storage counter. The waiting time was 20 minutes when we got there.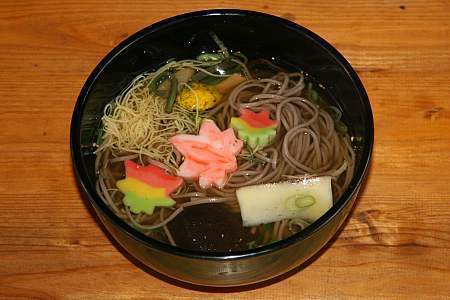 Momiji Soba ("Maple leaf soba noodles")
Because we were short of time and there was no line in front of the luggage delivery counter, we decided to deliver the luggage directly to our next hotel, instead of lining up for 20 minutes. Same-day delivery from the station to a hotel costs 750 Yen per piece.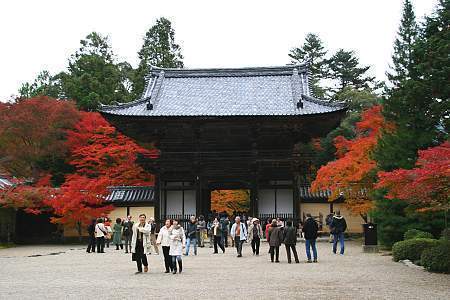 Jingoji
Next we noticed the long line ups in front of the bus stops, and the especially long lines for buses bound for Takao. We did not like the thought of lining up and then possibly having to stand for the whole one-hour bus trip to Takao, so we decided to look for alternatives.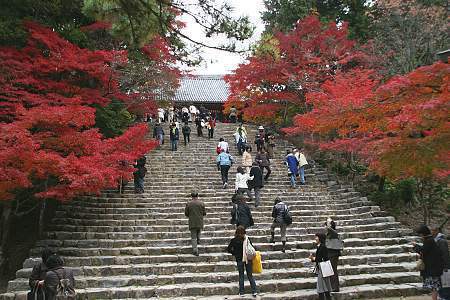 Jingoji
To my surprise, we were able to get a rental car from the outlet in front of Kyoto Station promptly without prior reservations. The cost was 6300 Yen for a compact car to be dropped off by 20:00 on the same day, which was admittedly double the cost of taking the bus for a party of three.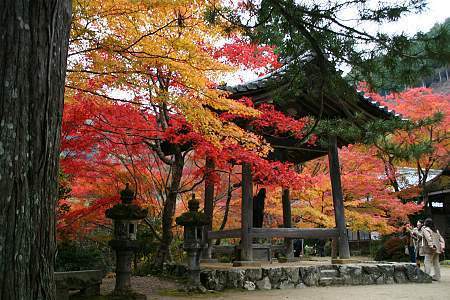 Saimyoji
But the car made access to Takao faster and more comfortable, although, parking space in Takao was scarce and expensive (1000 Yen), and on our way back to Kyoto Station we got stuck in Kyoto's weekend evening rush hour.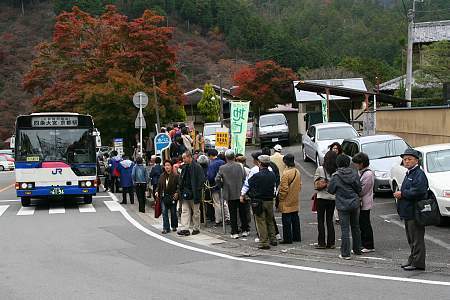 Line up for the bus back to Kyoto
The autumn leaves at Takao were at their best. The colorful trees on the temple grounds and along the approach to Jingoji were particularly spectacular. They were surely worth the effort of going to Takao. Highly recommended! But try to avoid weekends and public holidays.
Access to Takao:
By JR Bus from Kyoto Station (covered by the Japan Rail Pass) or by Kyoto City Bus number 8 from Shijo-Kawaramachi. The one-way trip takes around one hour and costs around 500 Yen.